Instant Rabdi | Instant rabri | easy rabdi | quick rabri | rabdi without condensed milk | 5 ingredients rabdi | instant malai | shahi rabdi | milk rabdi | malai for north indian sweets | badam paal step-by-step pictures and video recipe. You can also check out the instant rabdi recipe. If you like this recipe pls SUBSCRIBE to my channel. Check out other Almond flour recipes in TMF

Why evaporated milk for rabdi
traditionally rabdi is prepared by boiling milk for hours together, milk gets evaporated and thickened. Instead of making homemade evaporated milk to save time I have used store-bought evaporated milk.
is evaporated milk the same as condensed milk?
no evaporated milk is not sweetened and it will be in pouring consistency. Condensed milk is thick and sweetened.
can I replace condensed milk instead of evaporated milk?
For the best rabdi I would recommend evaporated milk. however if you couldn't find evaporated milk, boil milk with condensed milk.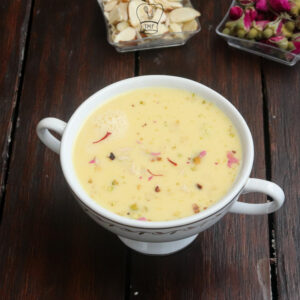 can I skip almond flour?
almond flour makes the rabdi flavorful and also gives a perfect texture to the malai. If you don't have almond flour, soak 6 almonds. Peel and grind with other ingredients.
should I grind almond flour?
yes, it gives a good texture to the malai so I would recommend grinding.
amount of sugar
Adjust according to your sweetness and also the dish to which you are going to add the milk.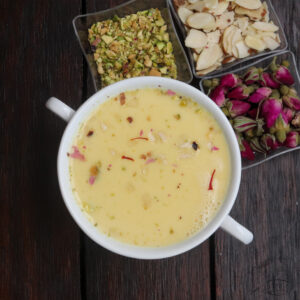 Skip Food color?
food color is optional but it gives a nice color to the malpua rabdi .
what should be the consistency of instant rabdi?
I prefer milk consistency runny rabdi as sweets get soaked better in that consistency. adjust the consistency according to your preference.
How can I use this rabdi?
Milk is tasty on its own. You can serve it hot /cold as a payasam. I like using it for sweets like paal poli, shahi tukda, bread malai, rasamalai etc.
variation for instant rabri
Soak almonds and use them instead of almond flour
Add any nuts of your choice
You can rose essence/ kewra water etc.
adjust sugar according to your taste
if you prefer thick milk increase the almond flour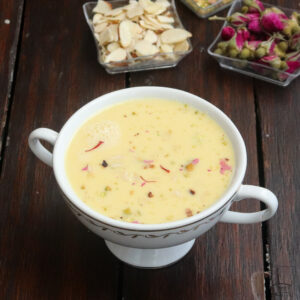 ingredients
to grind
1/4 cup whole milk
1 tablespoon almond flour
1/4 teaspoon cardamom powder
malai
1 can of evaporated milk
saffron pinch
yellow food color
1/3 cup Sugar
Serve
Nuts of your choice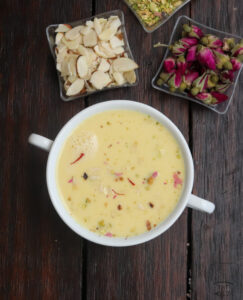 how to make instant malai with step-by-step picture
First, Add almond flour, milk, and cardamom powder to a mixie jar and grind well; keep aside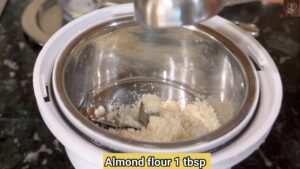 add evaporated milk to pan and heat in medium flame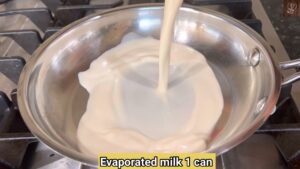 Boil for 5 minutes, mix malai in between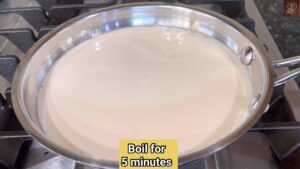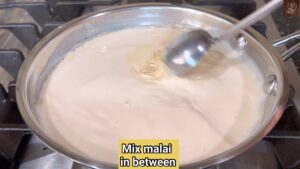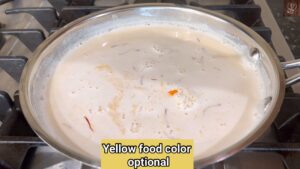 Boil for 5 minutes, mix malai in between
Turn off the stove. serve with nuts of your choice
Ingredients
to grind
1/4

cup

whole milk

1

tablespoon

almond flour

1/4

teaspoon

cardamom powder
malai
1

can of evaporated milk

saffron pinch

yellow food color

1/3

cup

Sugar
Instructions
First, Add almond flour, milk, and cardamom powder to a mixie jar and grind well; keep aside

add evaporated milk to pan and heat in medium flame

Boil for 5 minutes, mix malai in between

Furthermore, add saffron, almond milk and sugar; mix well

add food color and mix well

Boil for 5 minutes, mix malai in between

Turn off the stove

serve with nuts of your choice
Video
Notes
traditionally rabdi is prepared by boiling milk for hours together, milk gets evaporated and thickened. Instead of making homemade evaporated milk to save time I have used store-bought evaporated milk
almond flour makes the rabdi flavorful and also gives a perfect texture to the malai. If you don't have almond flour, soak 6 almonds. Peel and grind with other ingredients
grinding almond flour gives a good texture to the malai so I would recommend grinding
Adjust according to your sweetness and also the dish to which you are going to add the milk
food color is optional but it gives a nice color to the malpua rabdi 
I prefer milk consistency runny rabdi as sweets get soaked better in that consistency. adjust the consistency according to your preference
variation for instant rabri
Soak almonds and use them instead of almond flour
Add any nuts of your choice 
You can rose essence/ kewra water etc.
adjust sugar according to your taste 
if you prefer thick milk increase the almond flour