Paal poli | Milk poli | Paal Poori | Sweetened milk poli | how to make milk puri | Indian traditional sweet recipe | paal poori recipe | bhogi recipes | bhogi easy poli variety | halu holige | poori payasam | payasam recipe | authentic sweet recipe | traditional south Indian sweet | dessert
with step by step pictures and video recipe. Check out the
Paal poli
recipe
.
If you like the video pls
SUBSCRIBE to my channel

.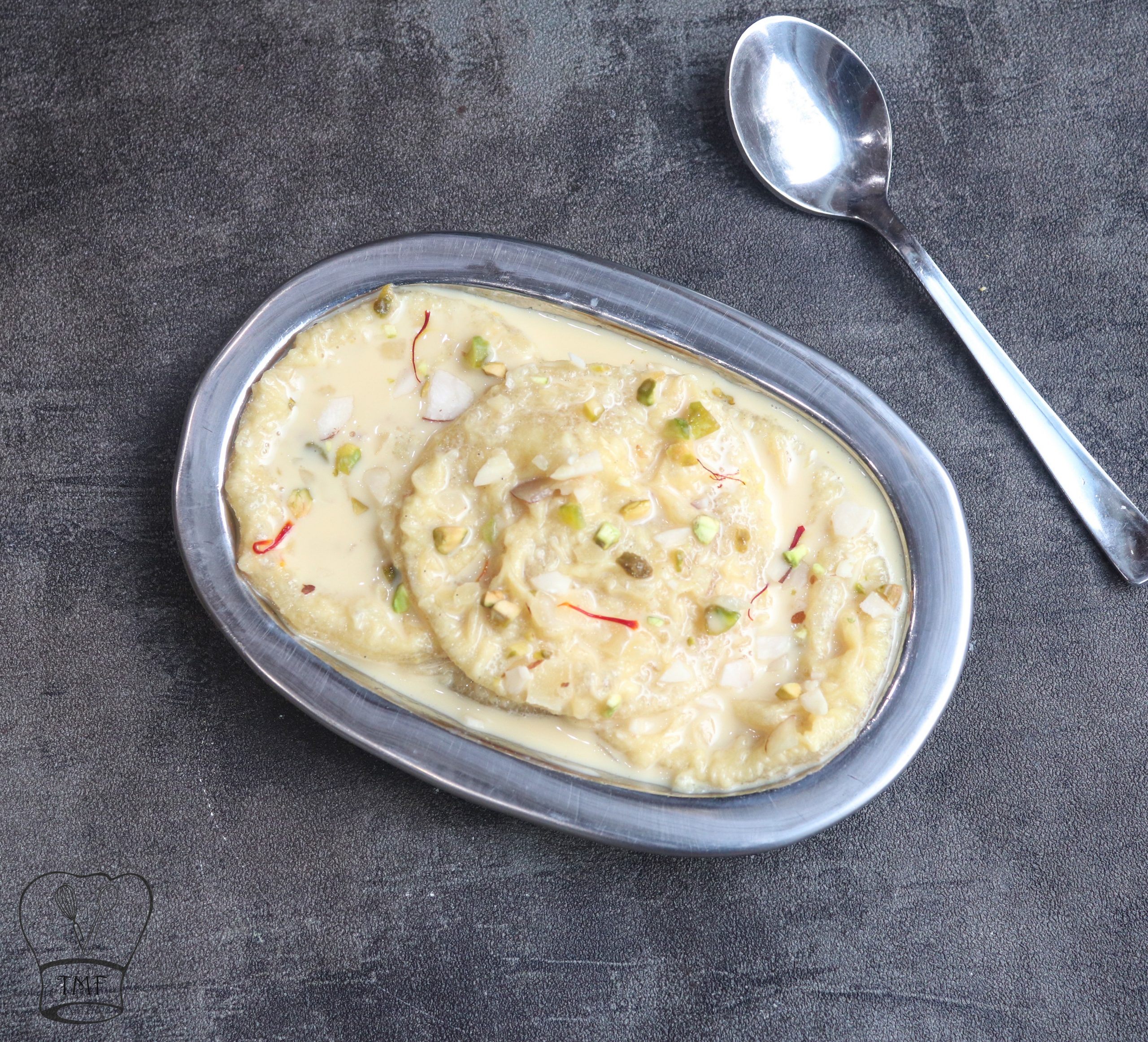 Paal poli | Milk poli | Paal Poori | Sweetened milk poli | how to make milk puri | Indian traditional sweet recipe | paal poori recipe | bhogi recipes | bhogi easy poli variety | halu holige | poori payasam | payasam recipe | authentic sweet recipe | traditional south Indian sweet | dessert
is prepared with deep-fried poori, soaked in rich flavorful milk. Traditionally evaporated milk is made by boiling milk for hours, but I have used store bought evaporated milk which makes it super easy and no compromise in taste. I originally posted this recipe with baked Poori but a few years back updated the traditional deep-fried version too. Bhogi
in India during childhood days is very special. Fire the unused stuff and play bhogi melam. For me, Festive days are all about yummy food and watching tv for hours together.
Usually, one variety of boli such as
Paruppu Boli
,
thengai poli
, milk poli,
payasam,
and
paruppu vadai
are prepared during bhogi. I love Paruppu Poli and my sister likes paal poli so Amma alternates both. Paal Poli is an authentic and traditional south Indian sweet recipe popular in Tamil Nadu, Andhra Pradesh. After posting this recipe I believe it is also popular in Bengal, Luchir Payesh. is a famous Bengal sweet. Reducing the milk for hours together gives a great taste but for a lazy cook like me who always looks for a quick instant version in all my cooking, Evaporated milk is a great saver. Within 10 minutes delicious Paal (milk sauce) is ready.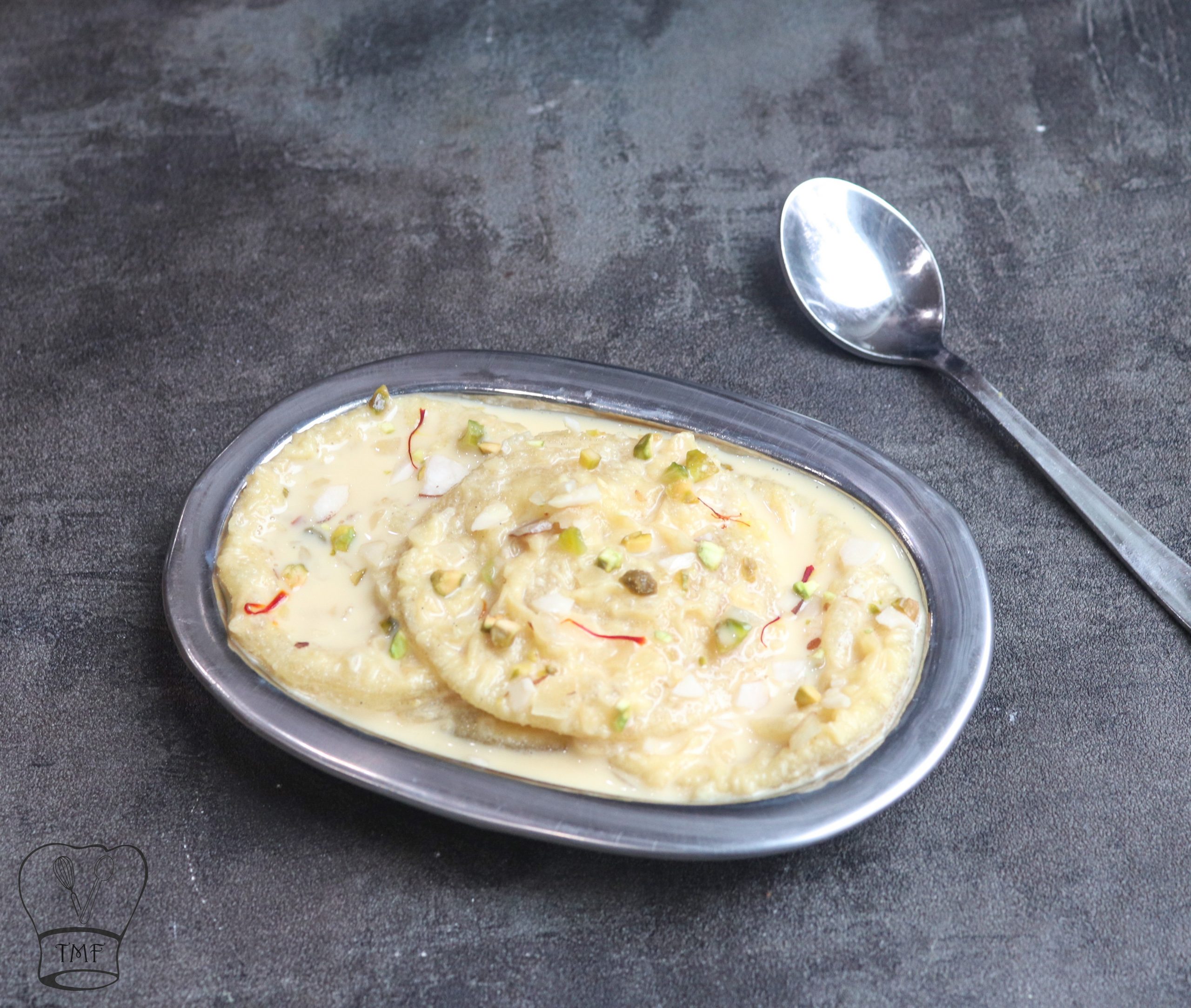 Can I use regular milk for Paal poli?
Yes, you can boil milk and cook till the milk is reduced to 1/2 the quantity. To speed the cooking I used evaporated milk. Boil 6 cups of milk and col till the milk reduces to half the quantity.
Can I use condensed milk instead of evaporated milk?
Yes, you can use condensed milk but add very little as it will make the milk thick. Use around 2 tablespoon of condensed milk for 3 cups of reduced milk.
Should I add sugar to the Poli?
No, milk in the paal (milk) is enough for the Paal poli dish. After the paal poli gets well soaked in the milk, poli gets flavorful and tastes delicious.
How big should I make poori for paal poli?
The size of the poori depends on individual preference. I prefer making smaller poori as it is a good portion size for my kids. You can also make big paal pori.
Can I use jaggery for Paal poli?
You can add any sweetener of your choice. In our home, we generally prefer adding sugar for paal poli.
Can I consume Paal poli right after it is prepared?
No, we need to soak poli for at least 2 hours for the best taste. Sometimes my son enjoys eating some poori with the prepared milk as a side but immersing the poli in milk yields the best taste.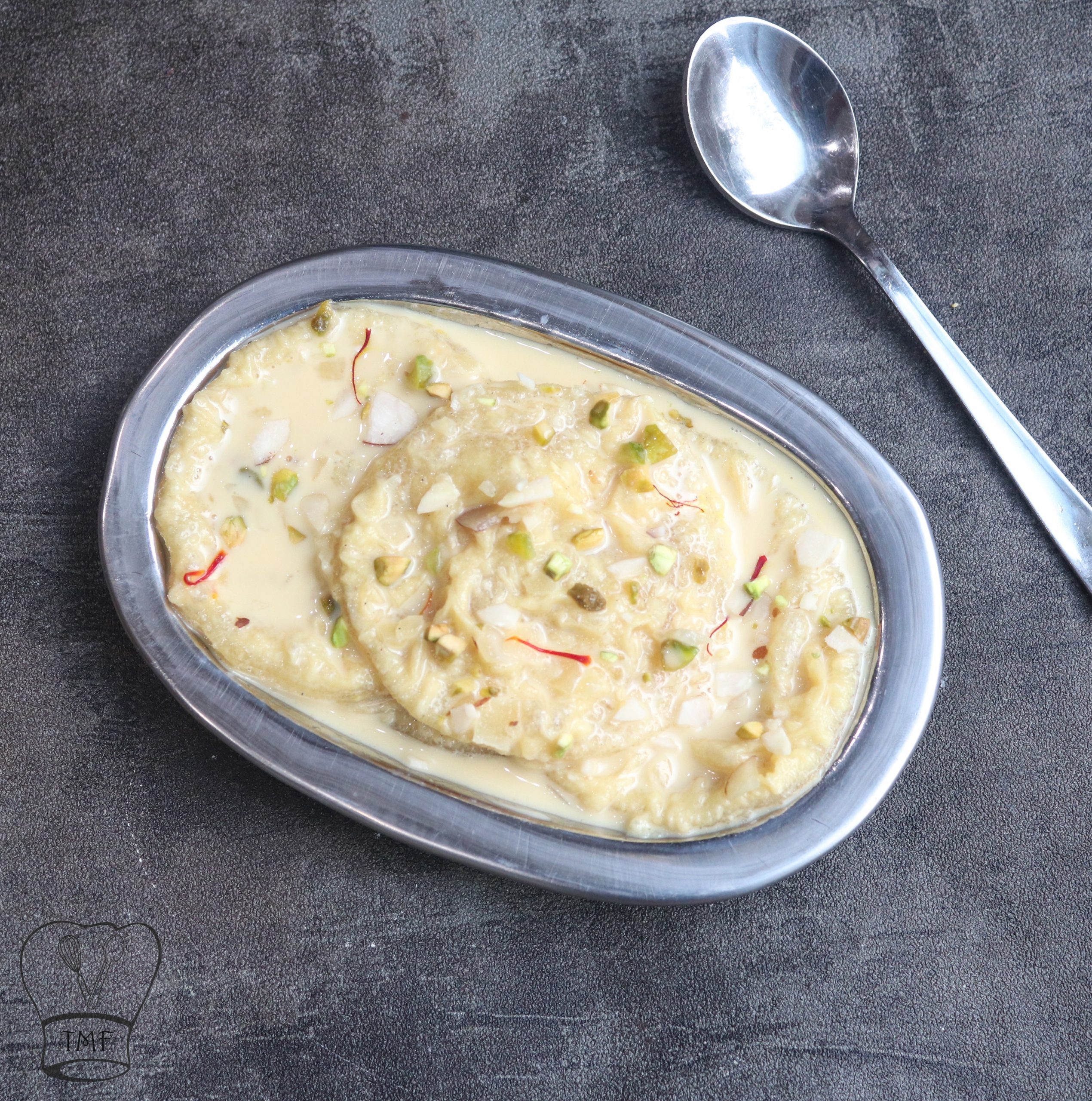 See more Payasam recipes
Paal kozhukattai
Pongal recipes | Bhogi recipes | kannum Pongal recipes
Other Poli recipes in TMF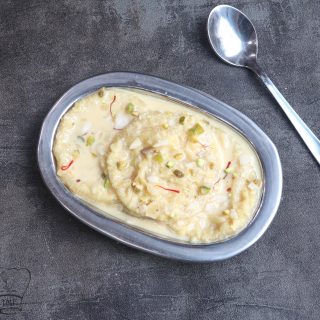 Paal Poli - Baked Poori
Baked poori soaked in rich milk sauce makes a great dessert
Print
Pin
Comment
Ingredients
For Poori
Maida - 1 cup

Rava/ Sooji - 1 tbsp

Salt - pinch

Oil - 1 tablespoon + to fry

Lukewarm Water - around 1/3 cup
For Paal
Evaporated Milk - 2 cans

Sugar - 3/4 cup

Adjust according to your taste

Saffron - few

Cardamom powder - 1/4 tsp

Almond flakes + pista - to garnish
Instructions
In a wide bowl combine Maida, rava, salt, and mix well. Add 1 tablespoon of oil and make crumbs out of the flour. Slowly add water little by little till you get a pliable poori dough

Furthermore, Great your hands with little oil and knead the dough well for a minute. Cover with a damp cloth and let it sit for at least 1 hour

In a wide pan on medium heat, add evaporated milk and cook for 5 minutes

Furthermore add saffron, cardamom powder, and sugar and boil for 5-6 minute and switch off

After 2 hours roll the dough into slight thick poori and cut into desired size
Deep-fried version:
Heat oil in a wide pan and when oil is hot add the poori and cook till the poori is cooked on both sides

Warm the milk a little for better soaking

Tap the poori gently with a paper towel to remove oil

In a wide vessel add poori and drizzle the milk over the poori and add remaining milk and let paal poli sit for at least 2 hours. Serve it at room temperature or chilled with garnishes nuts
Baked Version:
Add extra 1 tablespoon of oil and 1/4 teaspoon of baking powder while preparing the dough and follow the rest of the process

Preheat the oven to 400 degrees Fahrenheit and place aluminum foil/ parchment paper on the baking tray and grease it will generous oil

Place it on the baking tray and if the top surface is dry, brush with little oil or uses cooking spray. Bake it for 7-10 minutes
Video
Notes
Milk can be used instead of evaporated milk. Boil 6 cups of whole milk and cook till it's reduced to 1/2 the quantity
Condensed milk can be added for extra flavor but avoid adding more
Cashews, walnut, or any other nuts of your choice can be used
Avoid making thick poori as it won't absorb milk. The thickness should be like usual poori. Refer video for the thickness
Over baking may result in cracked baked poori so watch out the oven after 7minutes
Nutrition
Calories:
1288
kcal
|
Carbohydrates:
181
g
|
Protein:
40
g
|
Fat:
45
g
|
Saturated Fat:
19
g
|
Polyunsaturated Fat:
24
g
|
Cholesterol:
114
mg
|
Sodium:
721
mg
|
Fiber:
4
g
|
Sugar:
85
g
Ingredients:
For Poori
Maida - 1 cup Rava/ Sooji - 1 tbsp Salt - pinch Oil - 1 tablespoon + to fry Lukewarm Water - around 1/3 cup
For Paal
Evaporated Milk - 2 cans Sugar - 3/4 cup (Adjust according to your taste) Saffron - few Cardamom powder - 1/4 tsp Almond flakes + pista - to garnish
How to make Paal poli step by step pictures:
In a wide bowl combine Maida, rava, salt, and mix well. Add 1 tablespoon of oil and make crumbs out of the flour. Slowly add water little by little till you get a pliable poori dough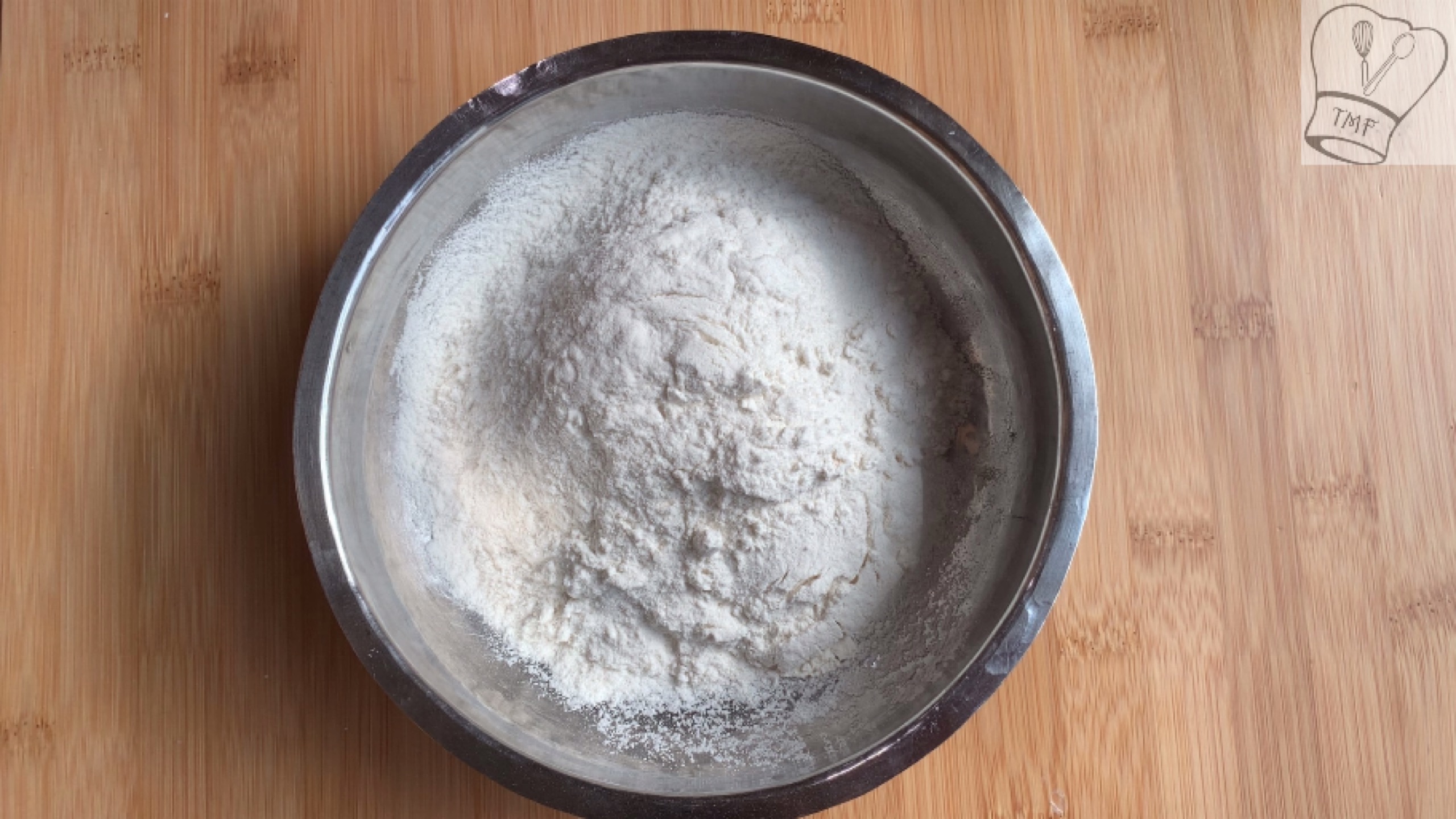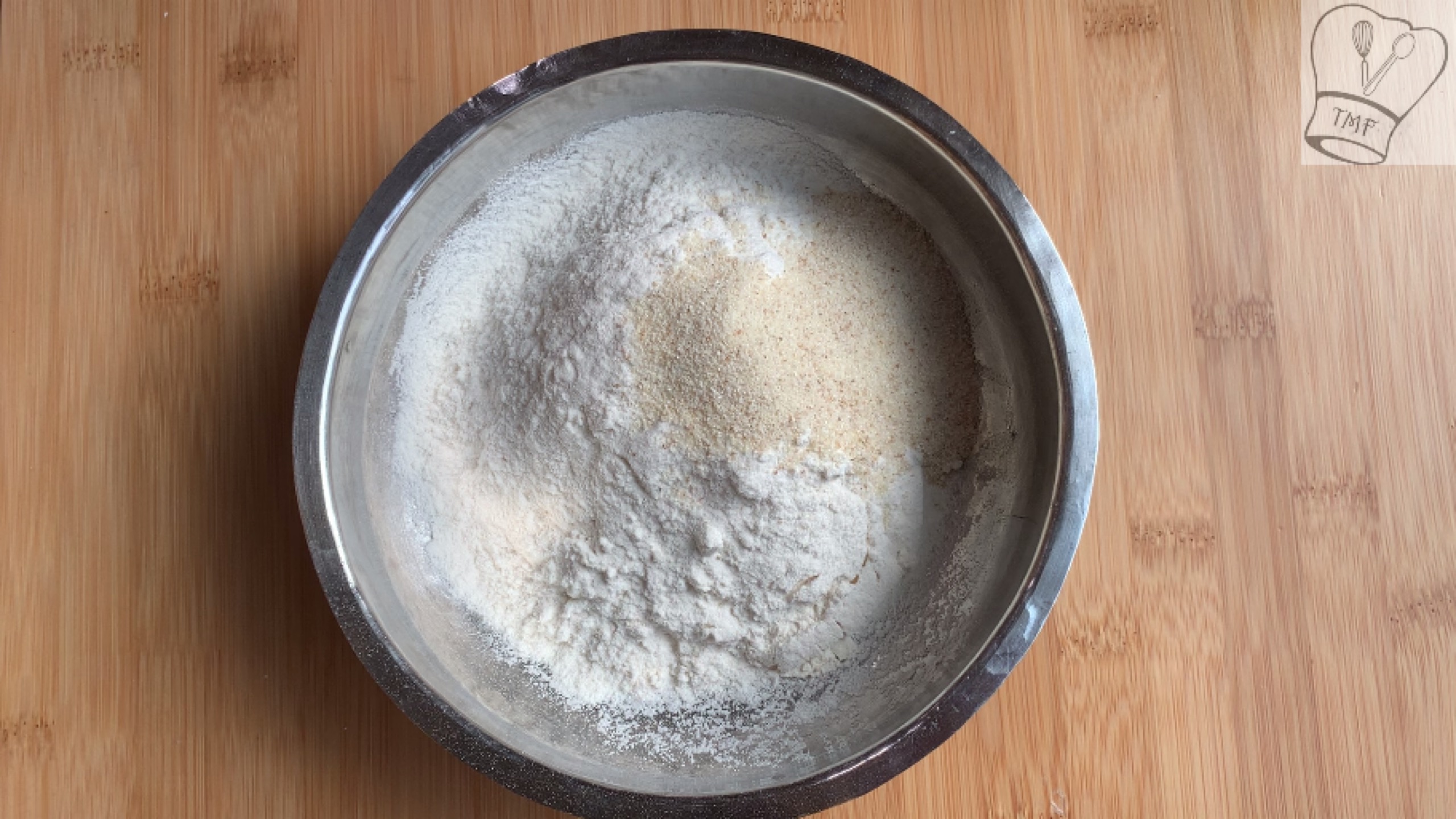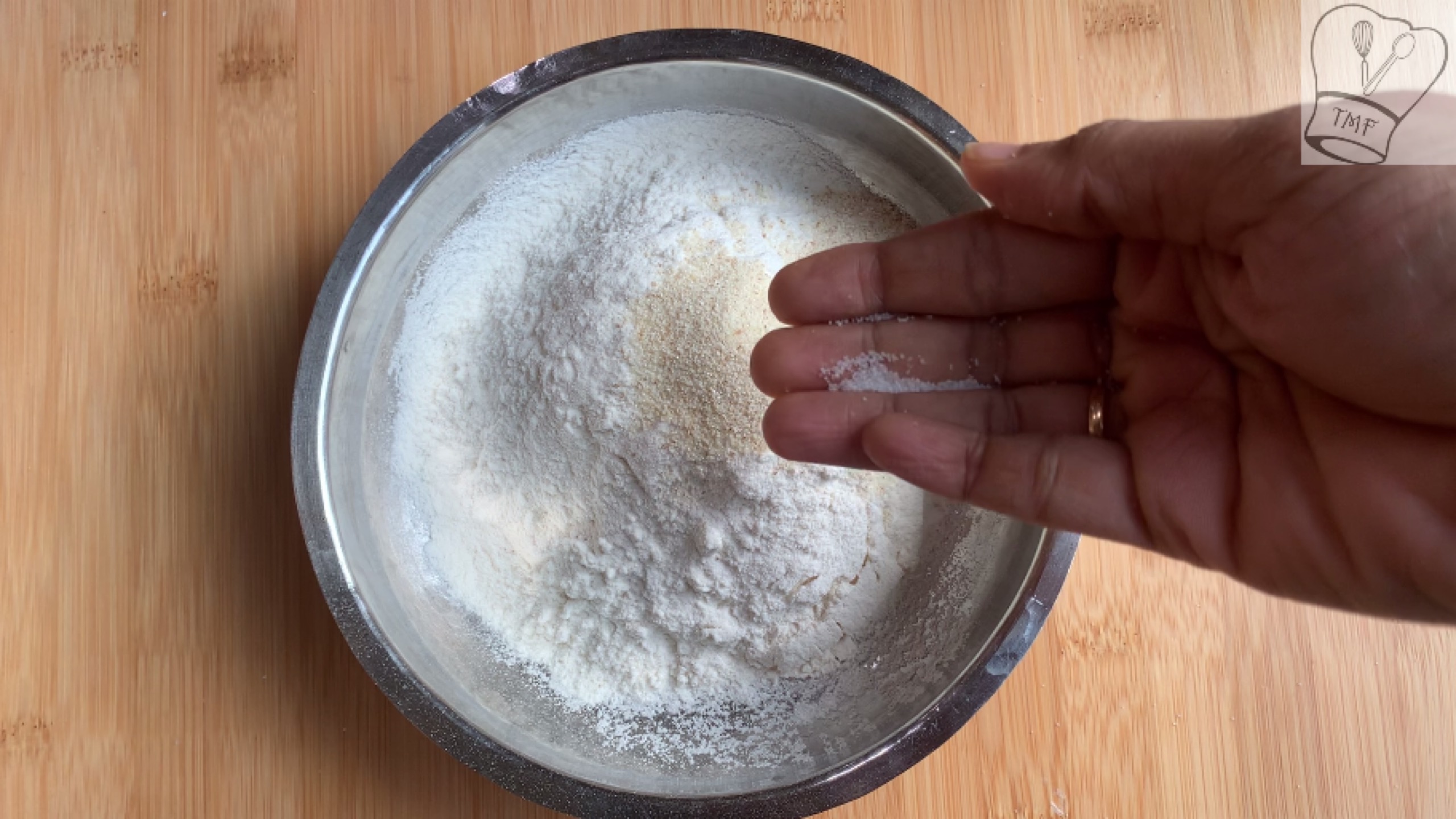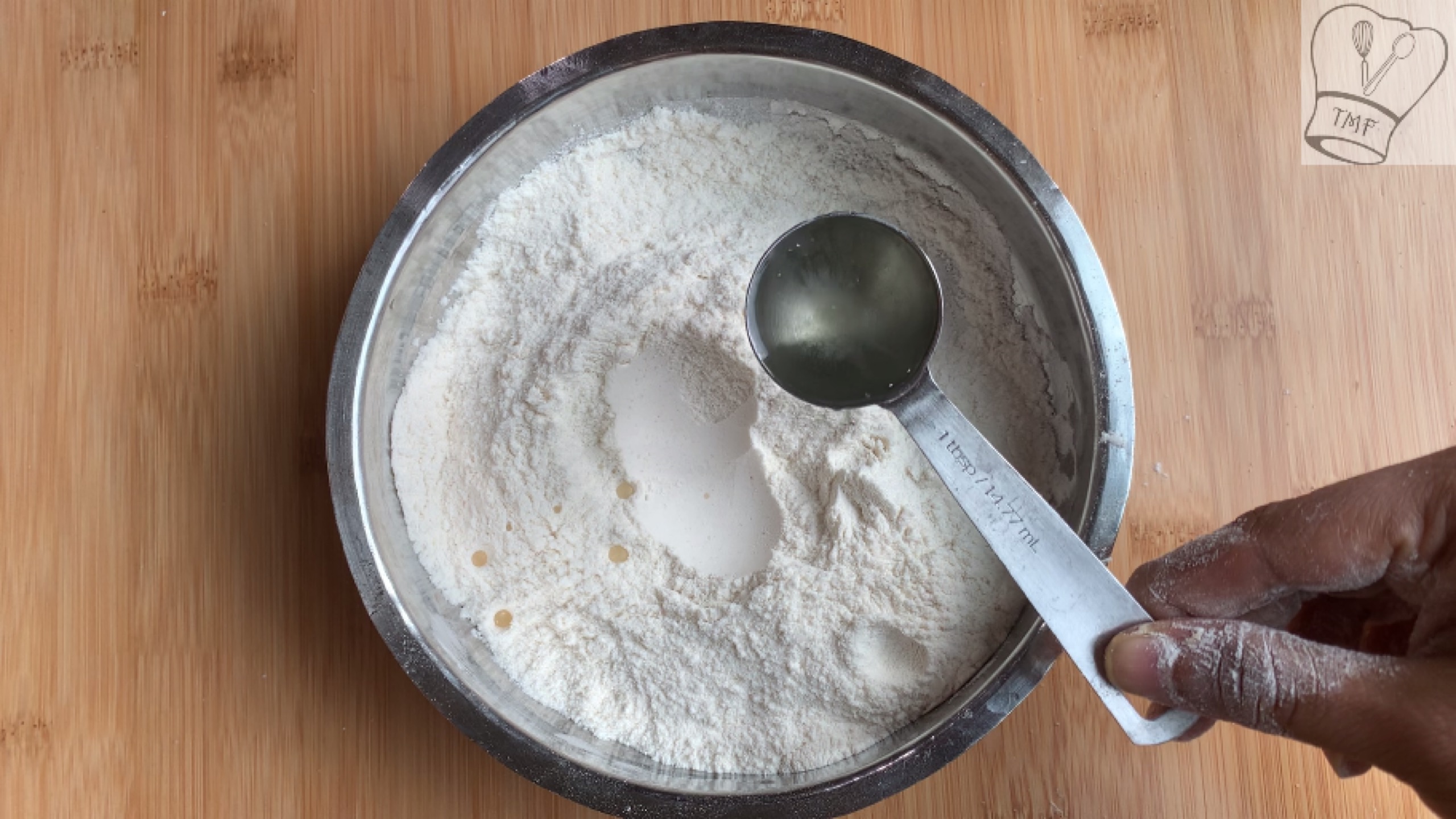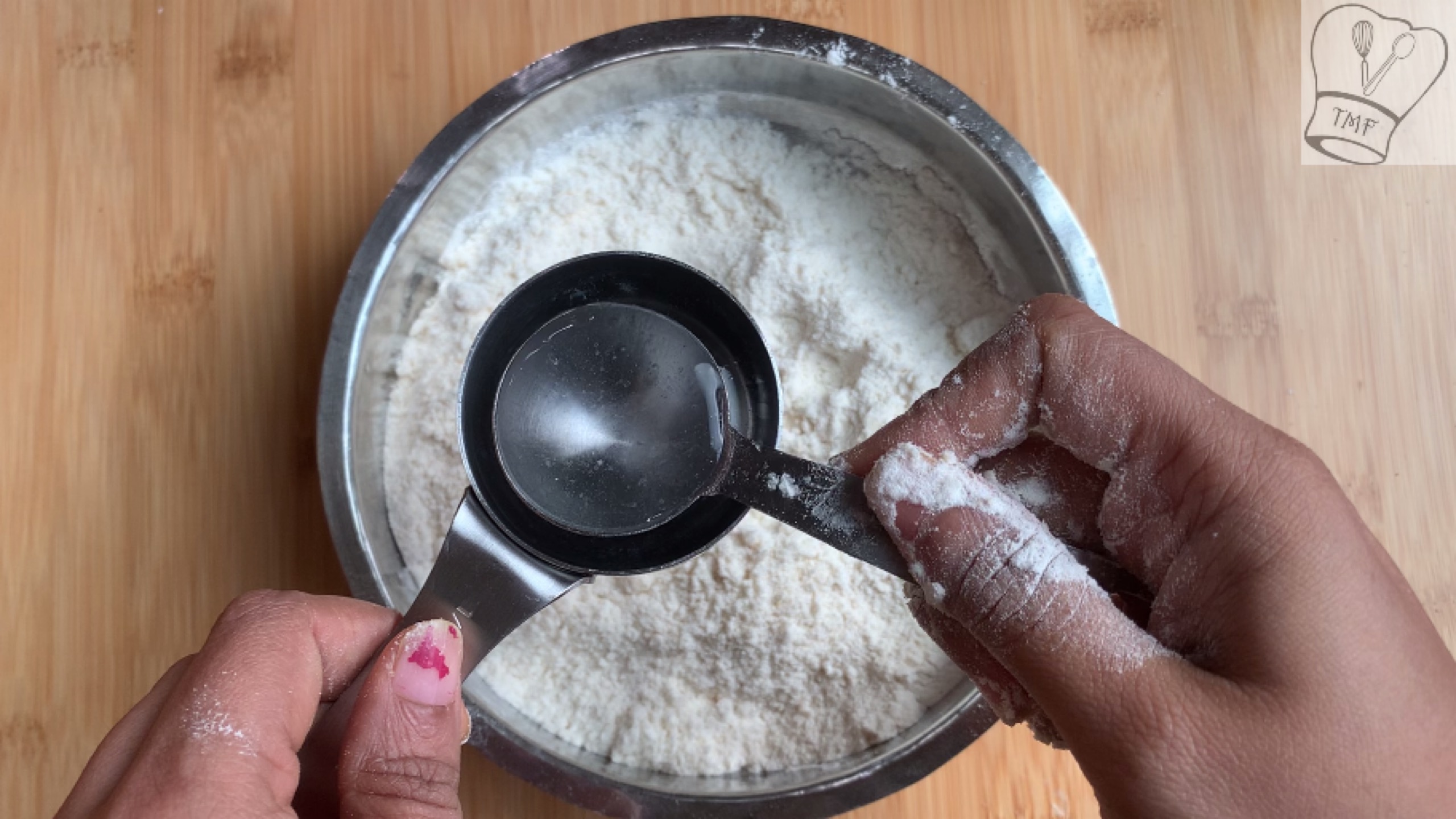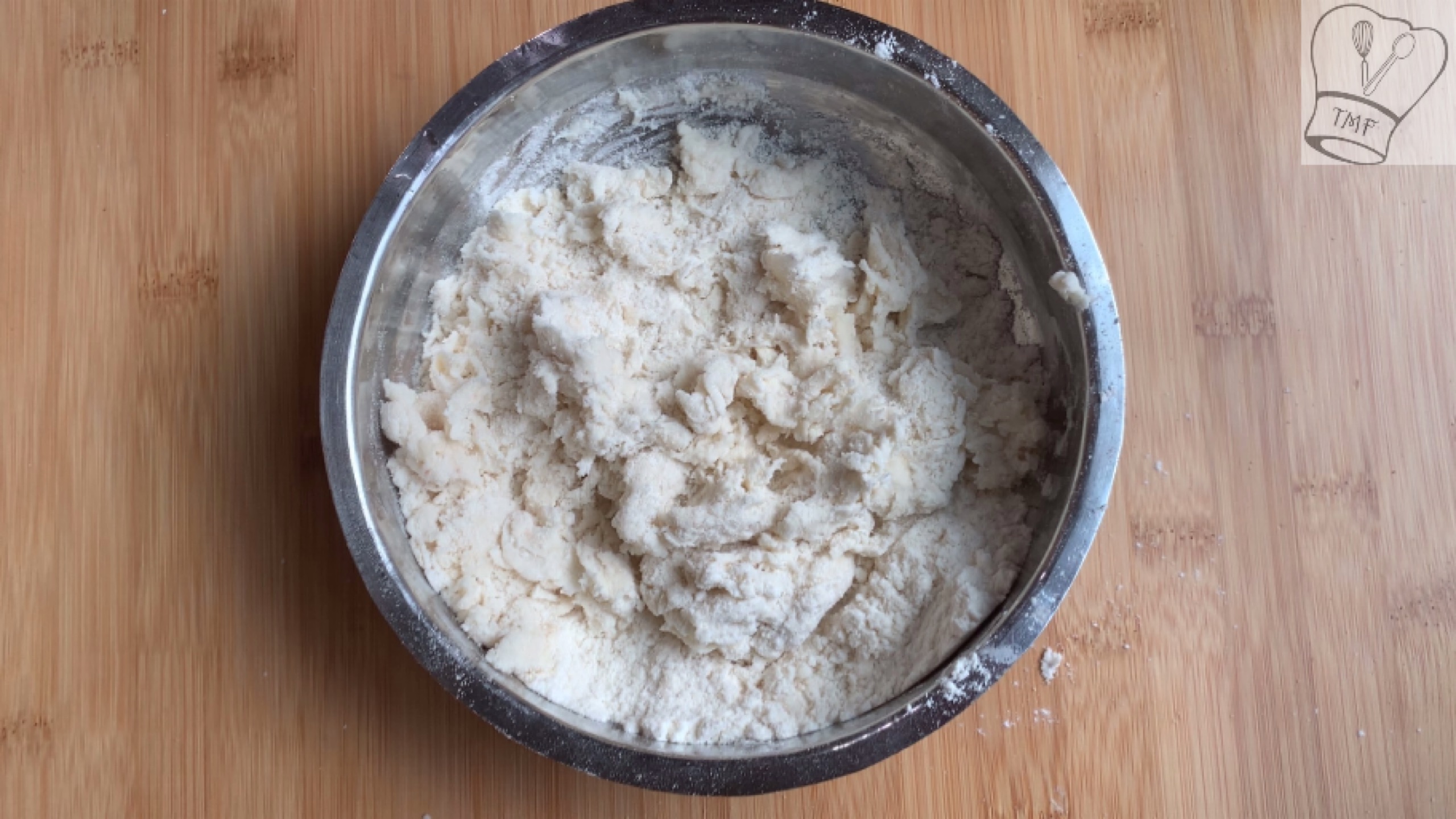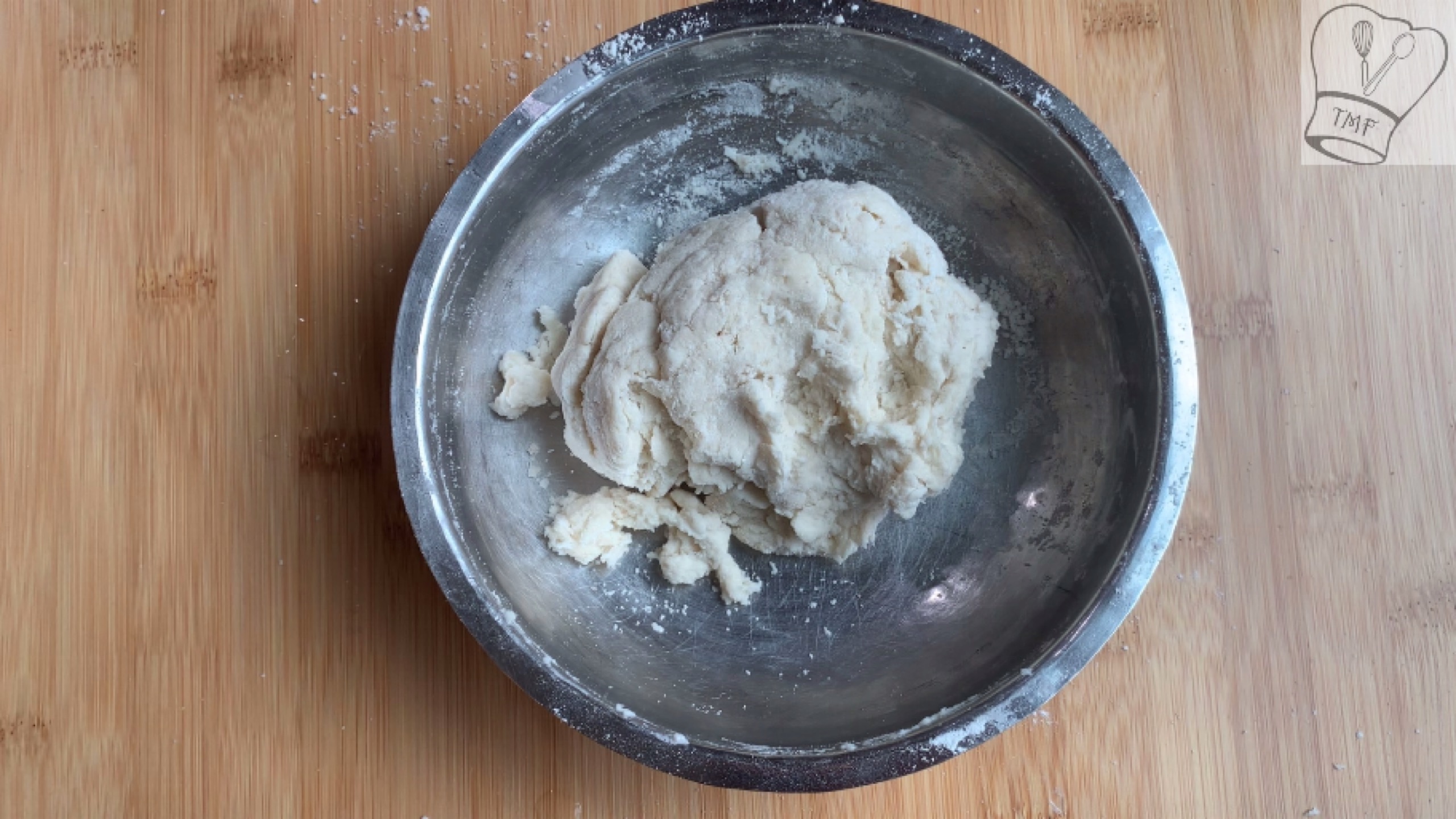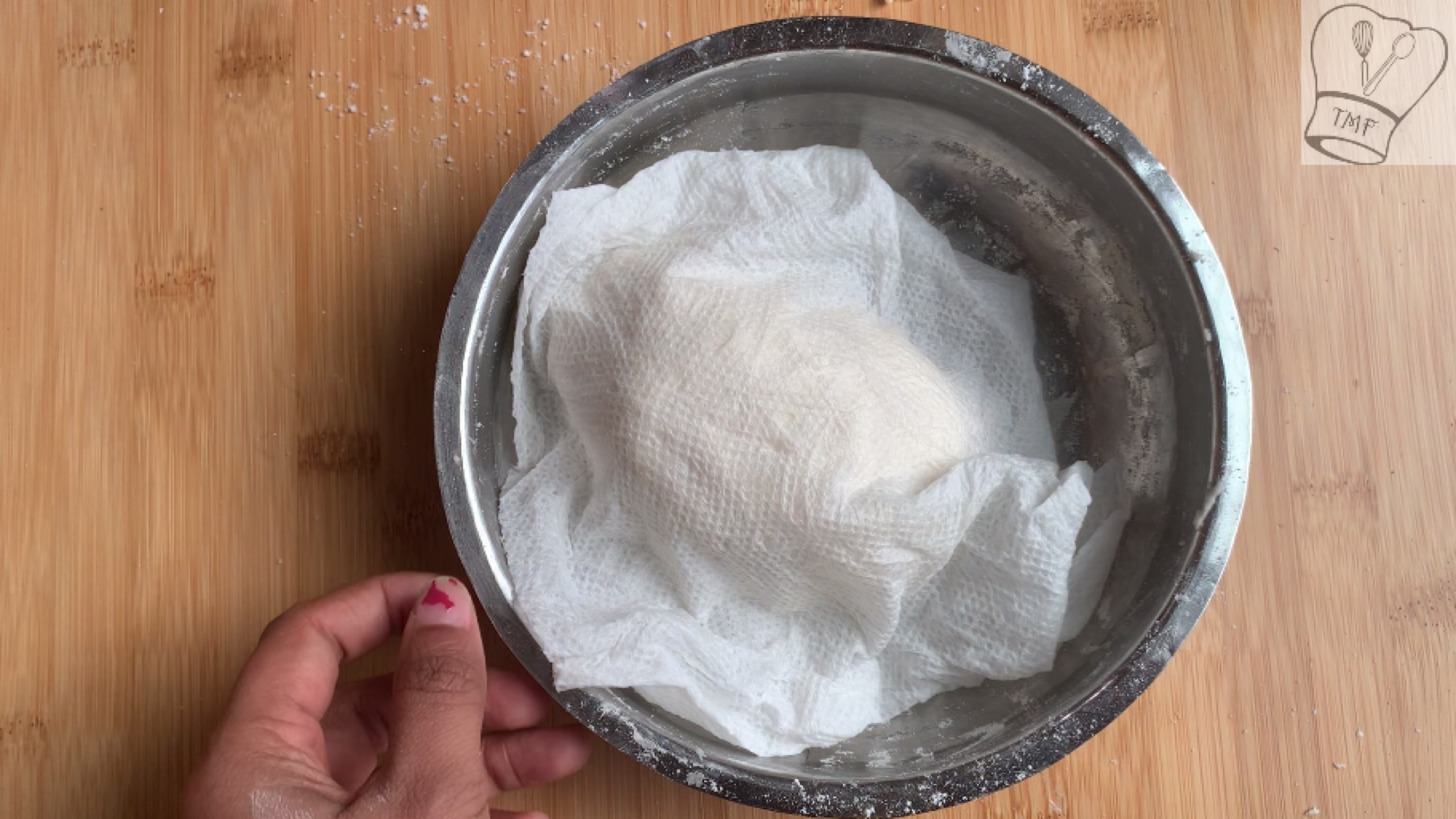 Furthermore, Great your hands with little oil and knead the dough well for a minute. Cover with a damp cloth and let it sit for at least 1 hour
In a wide pan on medium heat, add evaporated milk and cook for 5 minutes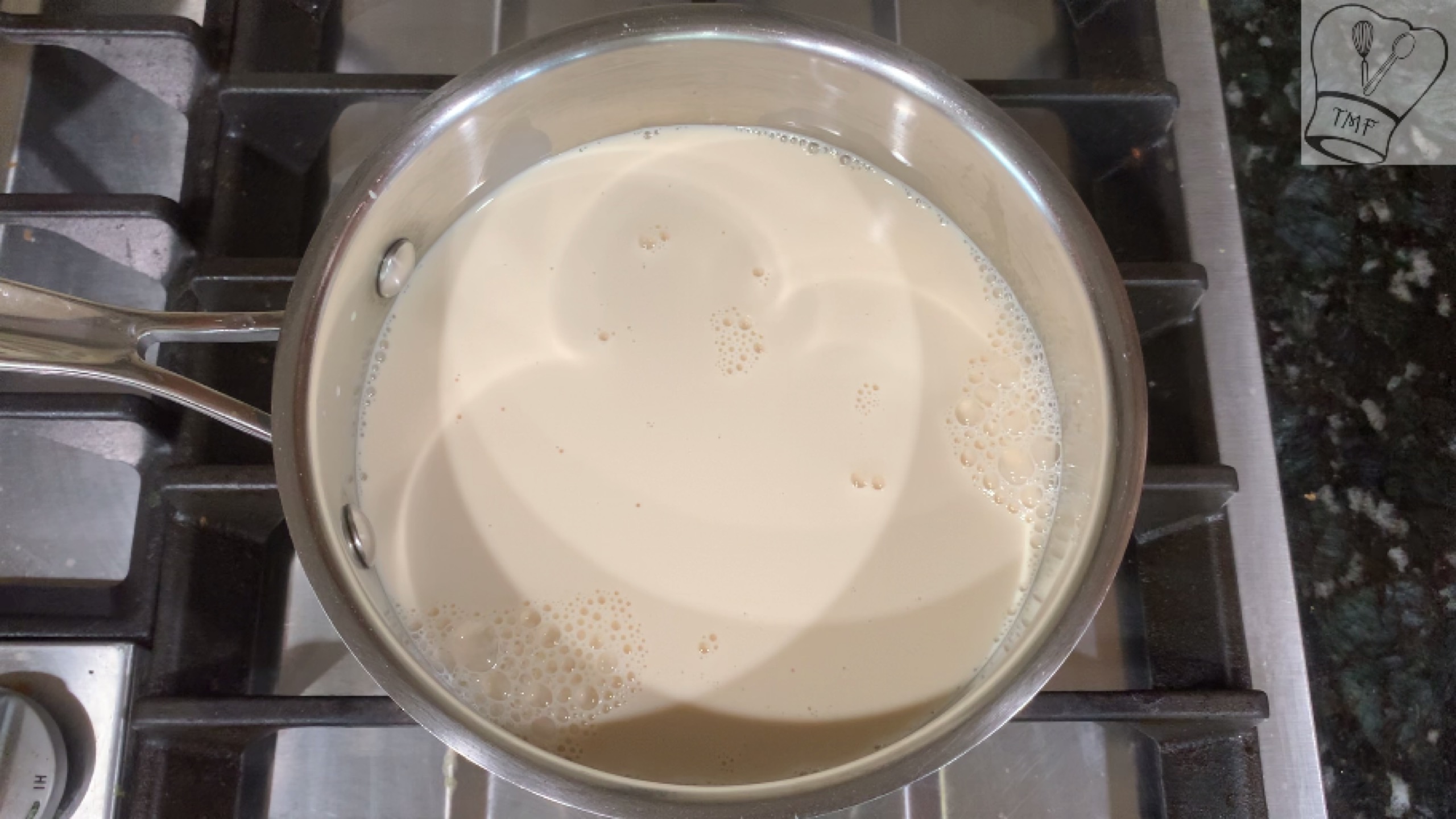 Furthermore add saffron, cardamom powder, and sugar and boil for 5-6 minute and switch off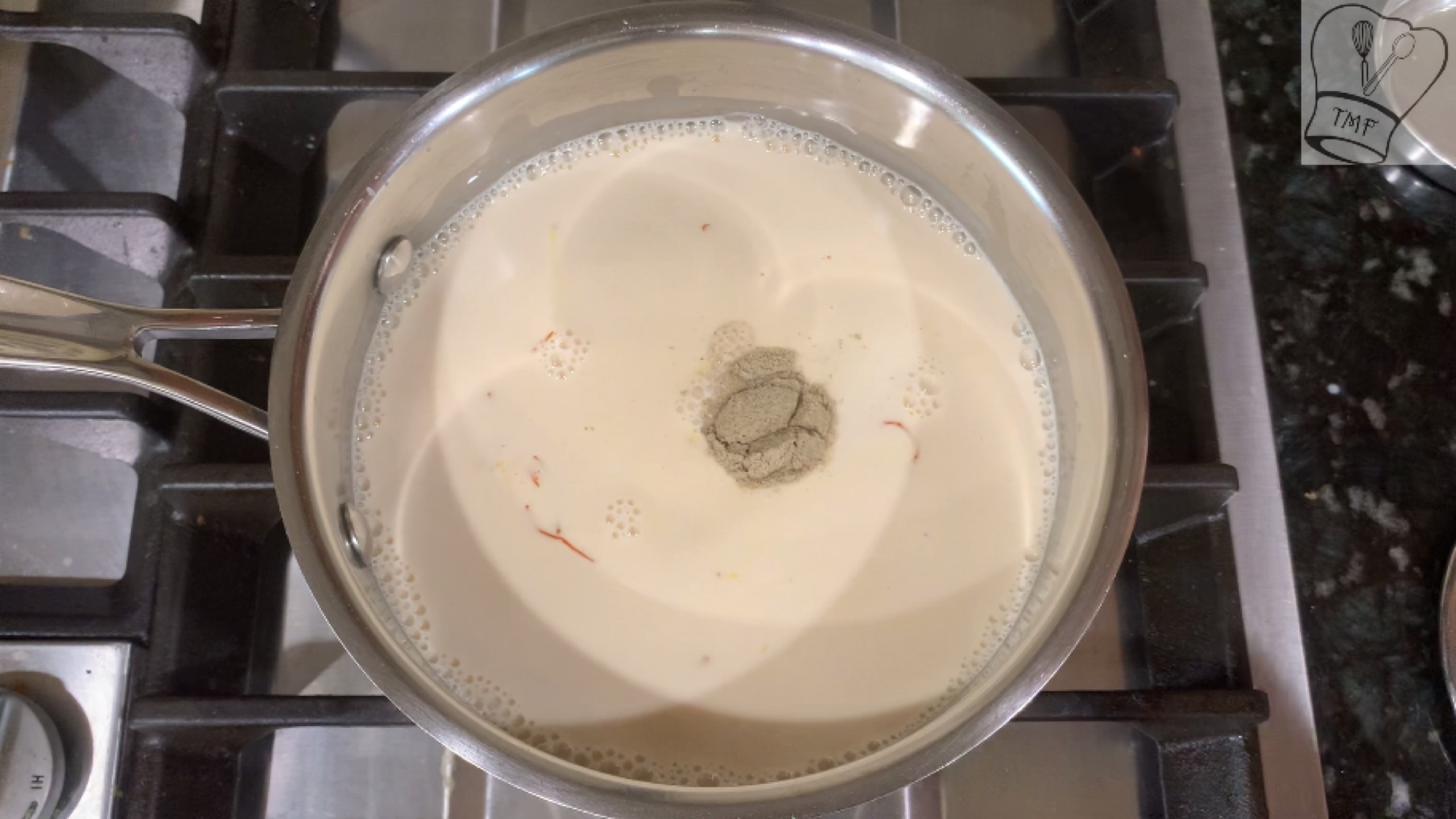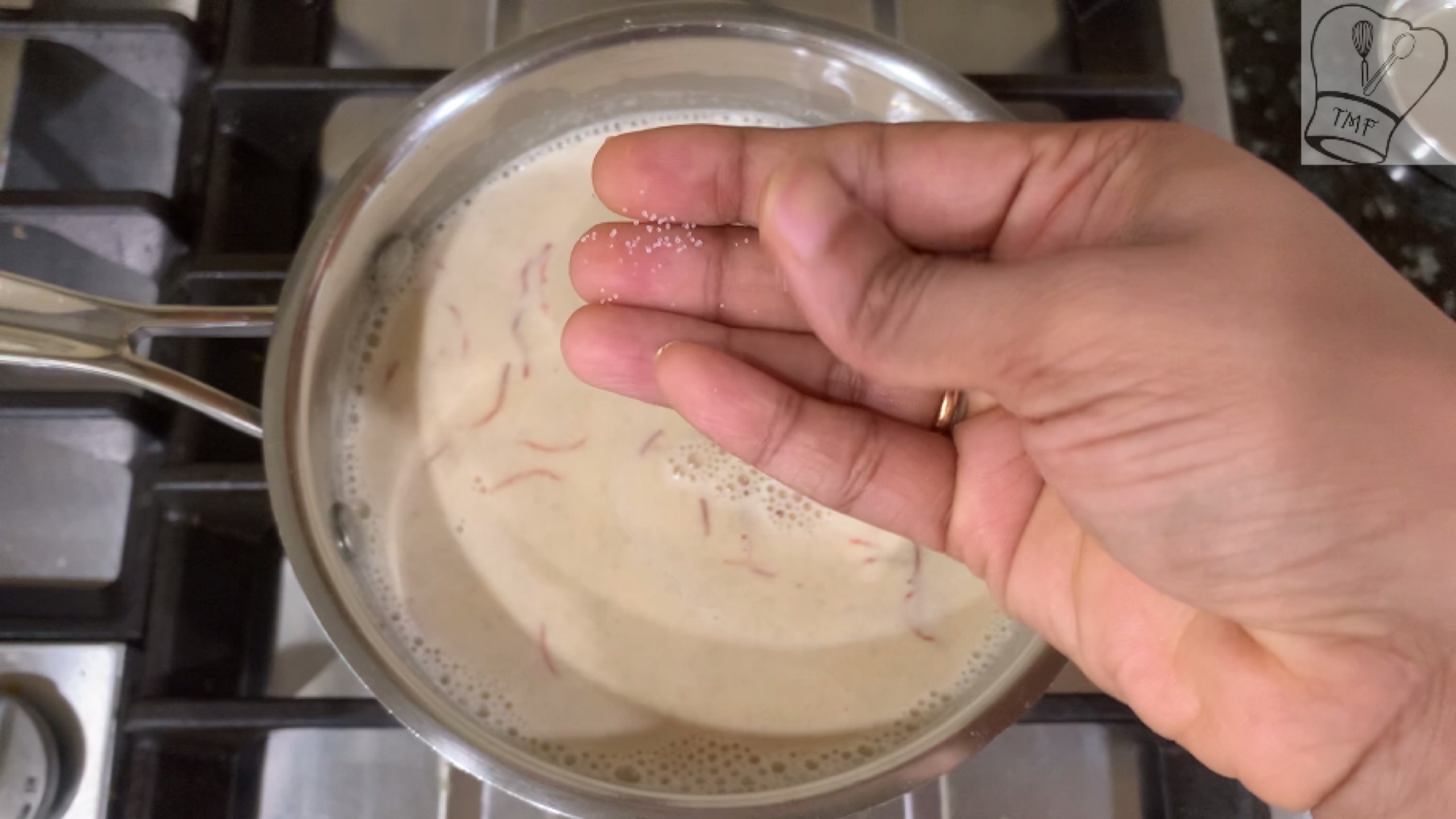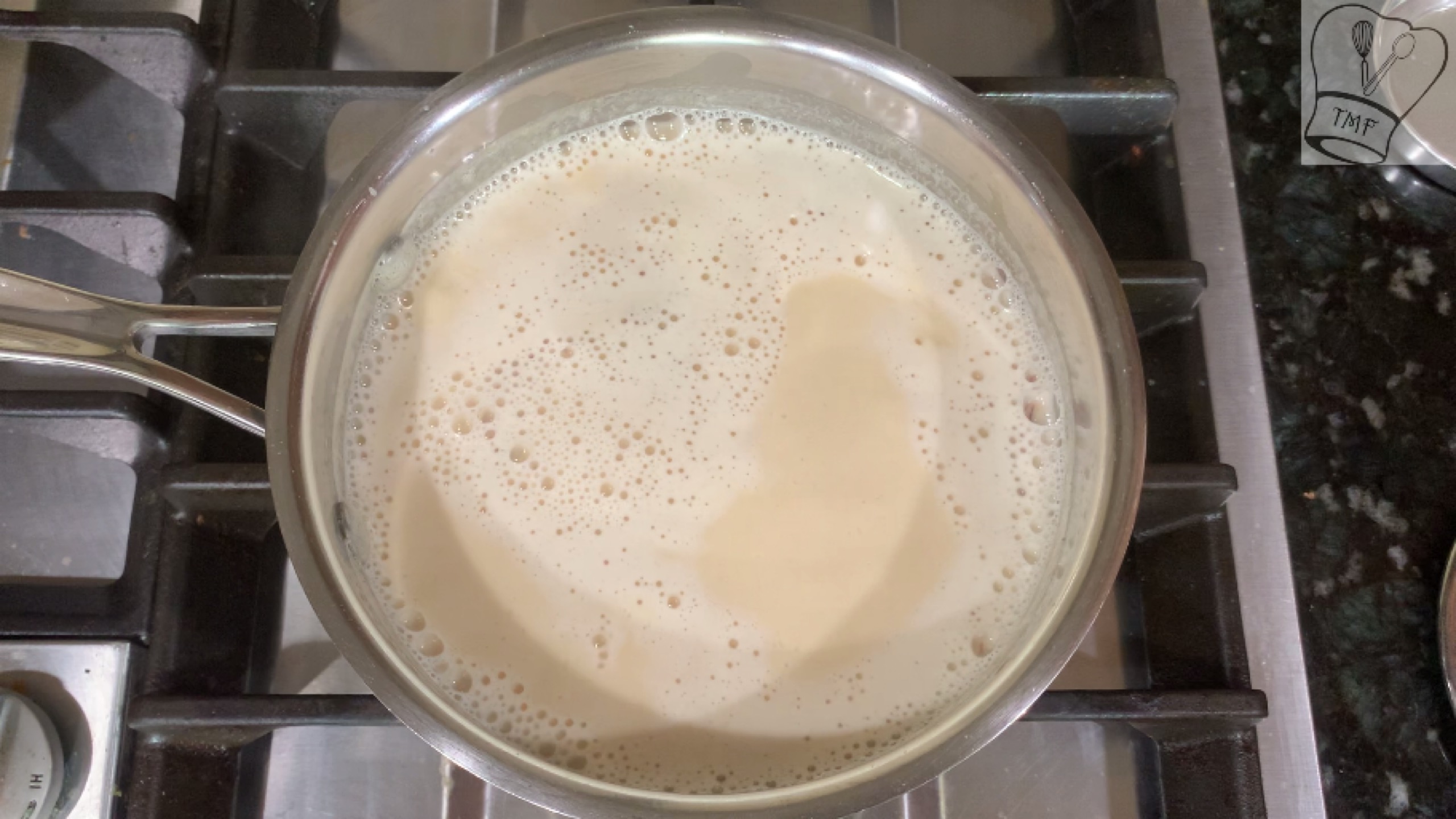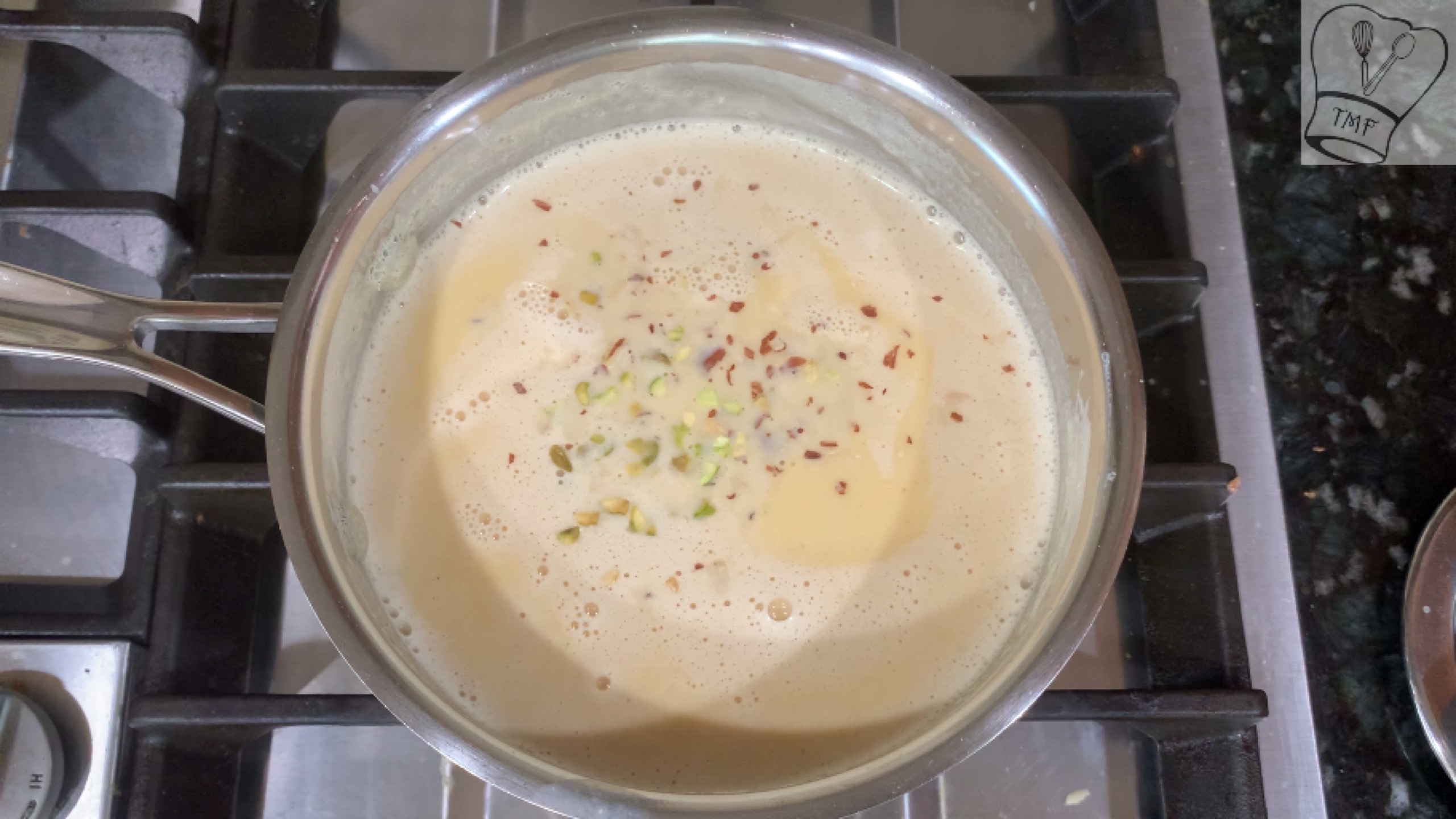 After 2 hours roll the dough into slight thick poori and cut into the desired size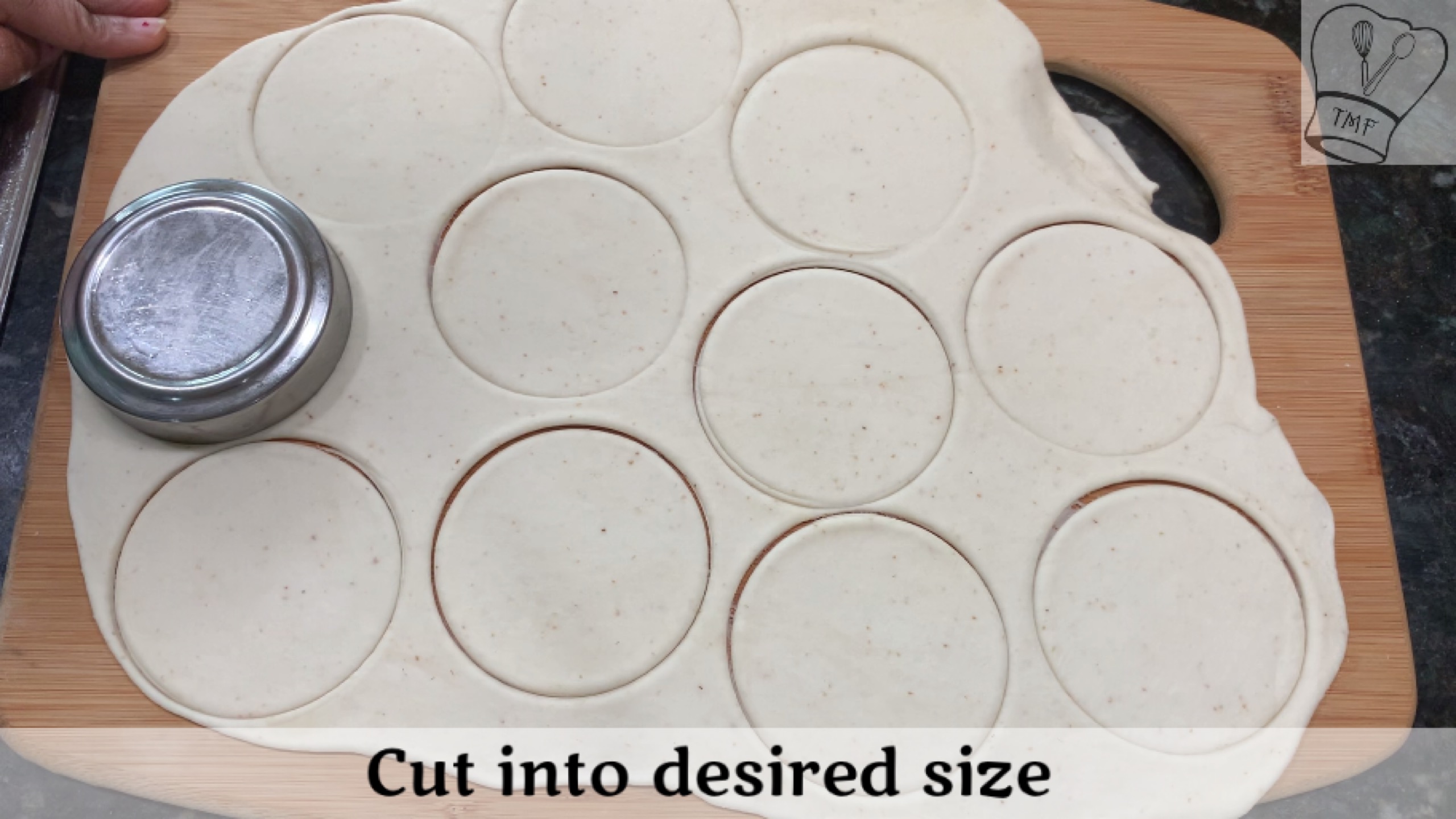 Deep-fried version:
Heat oil in a wide pan and when oil is hot add the poori and cook till the poori is cooked on both sides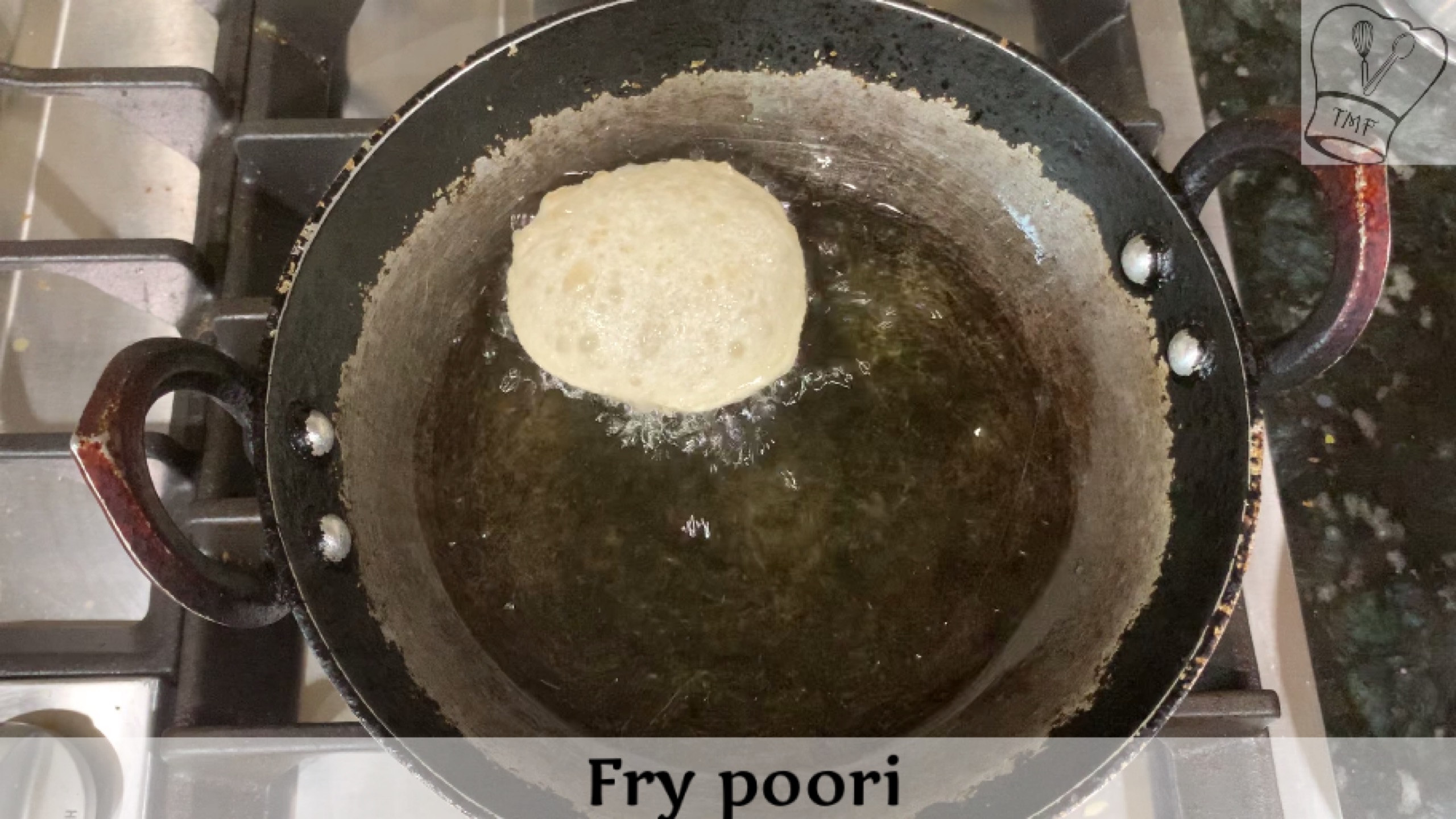 Warm the milk a little for better soaking
Tap the poori gently with a paper towel to remove oil
In a wide vessel add poori and drizzle the milk over the poori and add remaining milk and let paal poli sit for at least 2 hours. Serve it at room temperature or chilled with garnishes nuts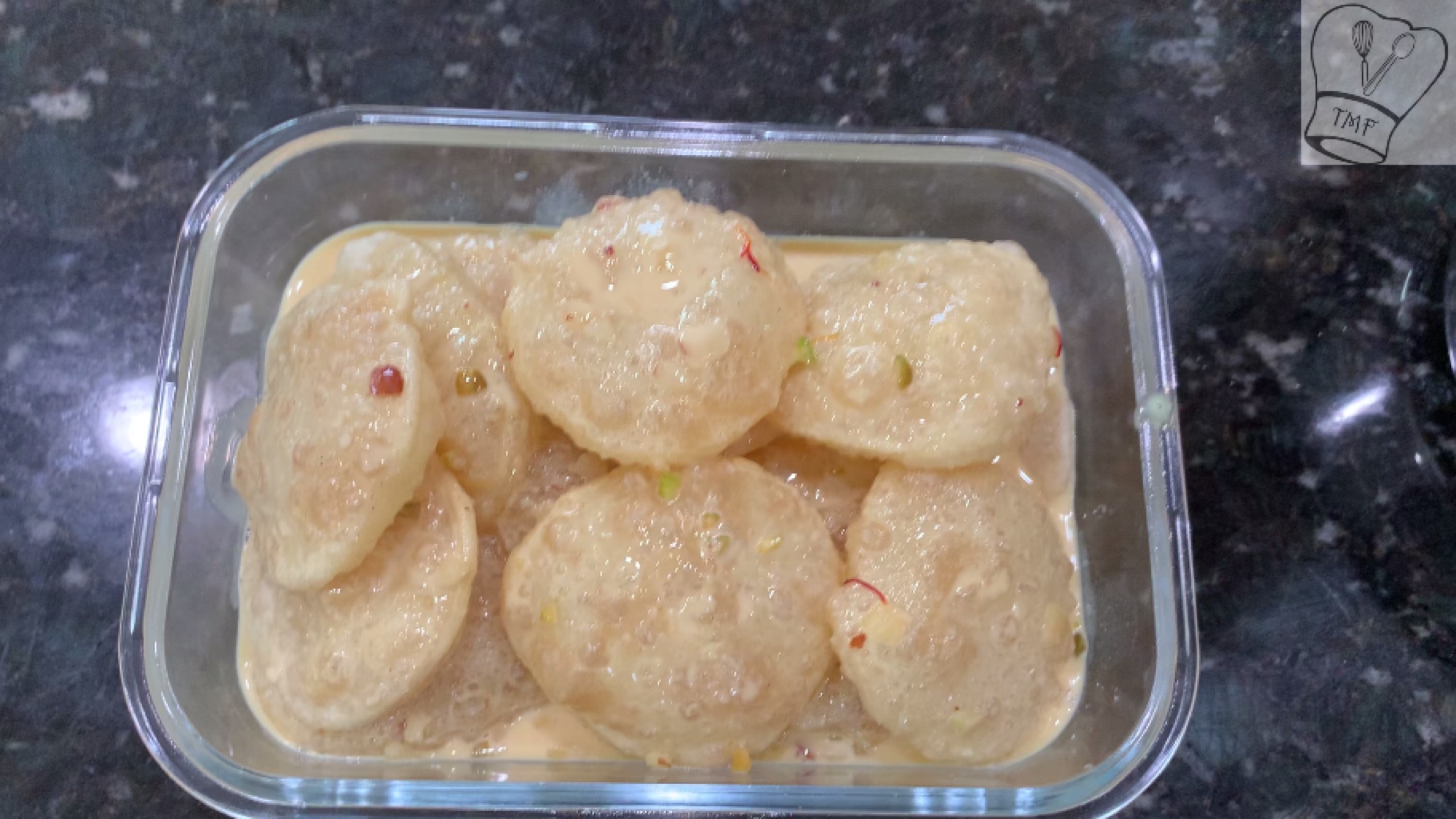 Baked Version:
Add extra 1 tablespoon of oil and 1/4 teaspoon of baking powder while preparing the dough and follow the rest of the process
Preheat the oven to 400 degrees Fahrenheit and place aluminum foil/ parchment paper on the baking tray and grease it will generous oil
Place it on the baking tray and if the top surface is dry, brush with little oil or uses cooking spray. Bake it for 7-10 minutes