Sojji appam | Stuffed poori | Sojji Poori | sweet poori recipe | rava appam | suji appam | sweet Sojji appam | Kesari stuffed poori | sojji poli | rava purunam | sweet Poli with step by step pictures and video recipe. Check out the sojji appam recipe. If you like the video pls SUBSCRIBE to my channel.
Sojji appam | Stuffed poori | Sojji Poori | sweet poori recipe | rava appam | suji appam | sweet Sojji appam | sojji poli | rava purunam | sweet Poli is a tasty traditional Tamil brahmin sweet recipe widely prepared during sumangali prarthanai and Navaratri times. Deep-fried poori with Sweet Kesari stuffing gives an amazing taste to sooji appam. It is also a famous prasadam in Madurai Thiruparamkundram temple.
Sumangali prarthanai Sojji appam
In our home, we generally prepare Sojji appam during sumangalai prarthanai. Next to thani kootu, this is my favorite pooja special recipe. It requires little planning /preparation but this is one super easy sweet recipe.
Addictive Sojji appam recipe
It reminds me of paal poli. In both recipes, we use maida dough for poori. For paal poli, we soak poori in sweetened milk but for Sojji appam we make sweet Kesari poranam and stuff it in the Poori. I love Kesari and paal Kesari and this is one of my favorite sweet recipes.
What is Sojji appam
Sojji is a type of sweet recipe prepared with sooji | rava | semolina | Rawa | suji. Sojji sweet is popularly known as Kesari | Kesari bath | sooji ka halwa. Poori's outer layer is prepared with maida and the stuffing inside is sojji. In the olden days Appam was generally deep fried in oil, but nowadays I make Appam in panniyaram pan like wheat appam.
Can I use the pressure cooker to make Sojji?
Yes, you can follow my Kesari recipe and prepare Kesari. For stuffing, we need to cook the Kesari further till it turns into a non-sticky ball. You can also make Kesari in an instant pot like paal Kesari but use water instead of milk and cook till Kesari turns into a nonsticky ball. Avoid food coloring for sumangali pararthanai Sojji Appam
Can I use jaggery for stuffed poori?
I have shared traditional grandma's recipes. In our home we always use sugar but you can use jaggery instead of sugar, but the taste may slightly vary
How much sugar should I use?
In our home we all have sweet tooth hence I always prefer a 1:2 rava: sugar ratio but you can use equal or half the quantity of sugar
Can I use nuts for Kesari stuffing
I generally prefer to skip nuts for a smooth poori outer layer. If you are adding nuts make sure you chop them finely
Will I have leftover Sojji stuffing?
Yes, the mentioned quantity will have leftover Kesari stuffing. In our home, we prepare to eat it as Kesari. If you don't want extra sweetness halve the Sojji recipe
Can I add food color to the sojji?
We usually make sojji appam as a prasadam for sumangali prarthanai and hence skip food color. You can add a little food color according to your choice but it might alter the appam color.
Shelf life for Sojji Appam?
Puffiness goes on over a period of time but it tastes and stays good for 2 days at room temperature. Microwave the stuffed poori for a few seconds and enjoy the hot.
Can I use coconut?
In our home, we don't add coconut to sojji appam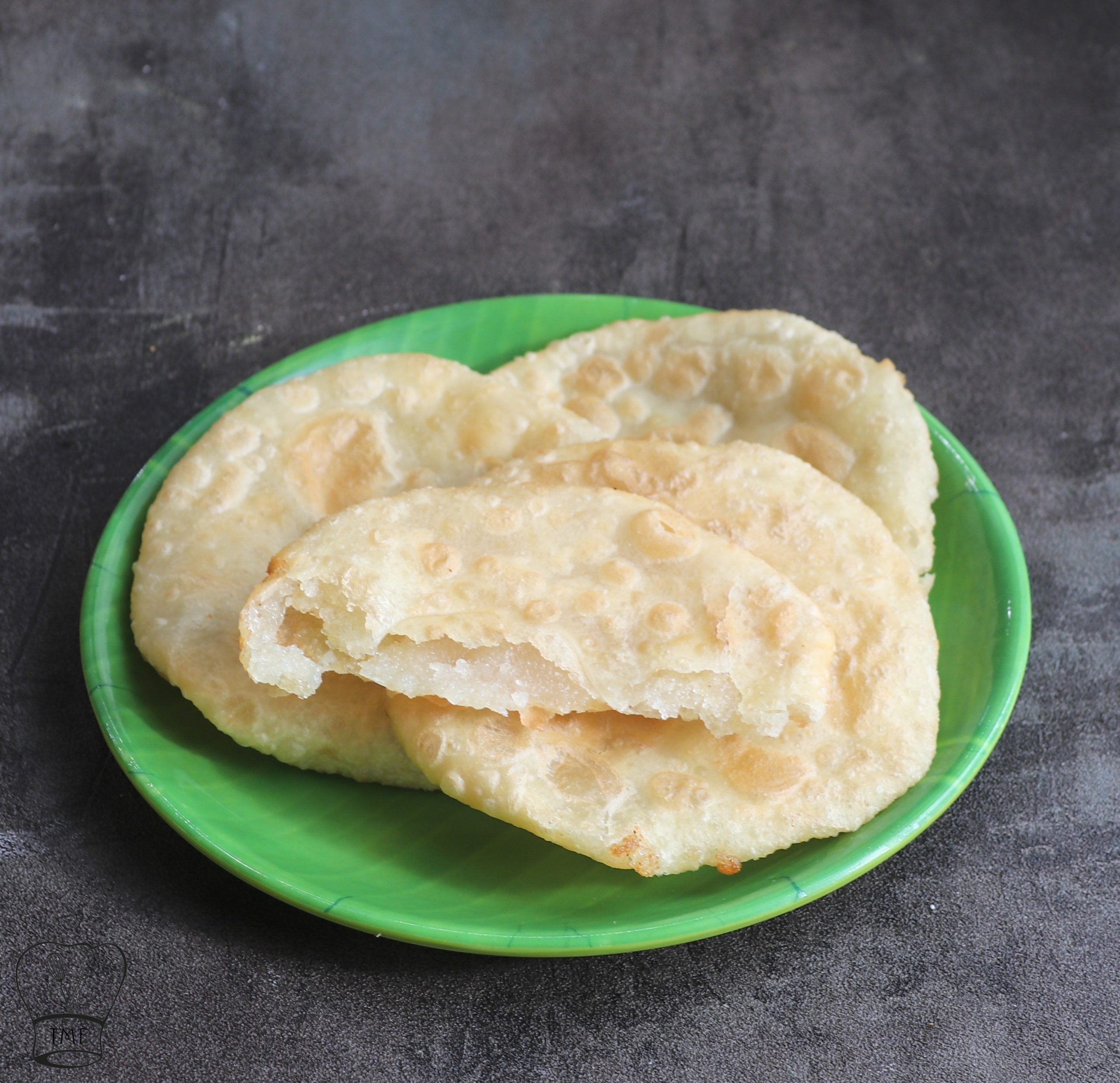 Other Poli recipes in TMF
Ingredients
For the dough
1

cup

Maida | all-purpose flour

1

tablespoon

ghee

Pinch

of salt

Water as required
For the sojji
1

cup

Semolina

2

cups

sugar

1

tablespoon

Ghee

1

pinch

of Cardamom powder
Instructions
To prepare the dough

Take a wide deep mixing bowl and add all-purpose flour, a pinch of salt, and ghee

Mix well and make sure all the ingredients are combined well

Add water little by little and knead well till the flour comes together as a dough

Grease your hands with little ghee and knead the dough well for 2 minutes till you get a pliable, non-sticky dough

Finally, cover the dough with a damp cloth and let the dough sit for at least 2 hours

To prepare the sojji

Firstly add ghee to a heavy-bottomed pan and add semolina

Roast on low flame till you get a pleasant aroma

In the meantime boil 2 +3/4 cups of water on a stovetop or kettle

Gently add the boiling water to the roasted semolina

Stir well and cook till the semolina gets cooked and the mixture starts to thicken

Add sugar and mix well. Stir continuously for lump-free sojji

Further, add cardamom powder and ghee; mix well and continue cooking

Cook till the Sojji thickens and comes together like a ball

Turn off the stove and let the Kesari cool down completely

To prepare the Sojji Appam

Mash and knead sojji well with your hands and make sure the sojji is lump-free

Grease your hands with little ghee and take a small lemon ball-sized sojji and keep it aside, repeat the process

Knead the maida dough once and take slightly smaller balls out of the maida dough

Grease the chappathi rolling board with little oil

Take a dough ball and flatten it with your hands on a chappathi rolling board

Place a Sojji ball on it

Pull the edges together over the filling and cover the dough

Gently press together with your fingers and seal

Keep the sealed side down and roll/ pat the poori into a thick and flat Appam

Heat oil in a Kadai and when the oil is hot try frying a small piece of dough if it raises in a few seconds oil is ready

Carefully slide a Sojji Appam into the hot oil

Gently press the sojji Appam with a ladle till it puffs up

Flip the Appam and fry till it becomes golden brown in color

Drain the Sojji Appam using a perforated ladle and keep the sojji Appam in a filter with a kitchen towel to remove excess oil. Close with a lid after they are cool or spread out the Sojji Appams on a dry plate and allow them to cool down
Video
Notes
If you are using the rolling pin to flatten the Sojji Appam make sure you keep the Appam thick
Avoid crowding the oil with Sojji Appams, preferably fry in batches
The appams should be thick and the stuffing should not be exposed. Exposed sojji
Appam will absorb more oil and sojji might come out while frying
Preferably make the Appam thick but make sure there is enough Kesari
Sojji Appams are crisp when fresh and they tend to soften after storing But the taste remains ambrosial
Dough rested for longtime yields soft poori
Add sugar only after rava is cooked
Always stir continuously after adding sugar to avoid lumps
Use fine sugar or grind the sugar once in mixie for lump-free sojji
Always cook sojji till it comes in a thick mass
Sojji stuffing should be neither stiff nor sticky
The size of the sojji Appam is an individual preference but smaller Appam is my preference
If the sojji becomes hard knead it well with greased hand
Sprinkle little hot water and knead if the sojji turns dry
For perfect puffing gently press the Appam in hot oil. You can also pour some hot oil over the appams to make them puff too
The dough should be soft and pliable. Otherwise, it will not be easy to spread it as appam
Ingredients
Oil to fry
For the dough
1 cup Maida | all-purpose flour
1 tablespoon ghee
Pinch of salt
Water as required
For the sojji
1 cup Semolina
2 cups sugar
1 tablespoon Ghee
1 pinch of Cardamom powder
How to make Sojji Appam with step-by-step pictures
To prepare the dough
Take a wide deep mixing bowl and add all-purpose flour, a pinch of salt, and ghee
Mix well and make sure all the ingredients are combined well
Add water little by little and knead well till the flour comes together as a dough
Grease your hands with a little ghee and knead the dough well for 2 minutes till you get a pliable, non-sticky dough
Finally, cover the dough with a damp cloth and let the dough sit for at least 2 hours
To prepare the sojji
Firstly add ghee to a heavy-bottomed pan and add semolina
Roast on low flame till you get a pleasant aroma
In the meantime boil 2 +3/4 cups of water on a stovetop or kettle
Gently add the boiling water to the roasted semolina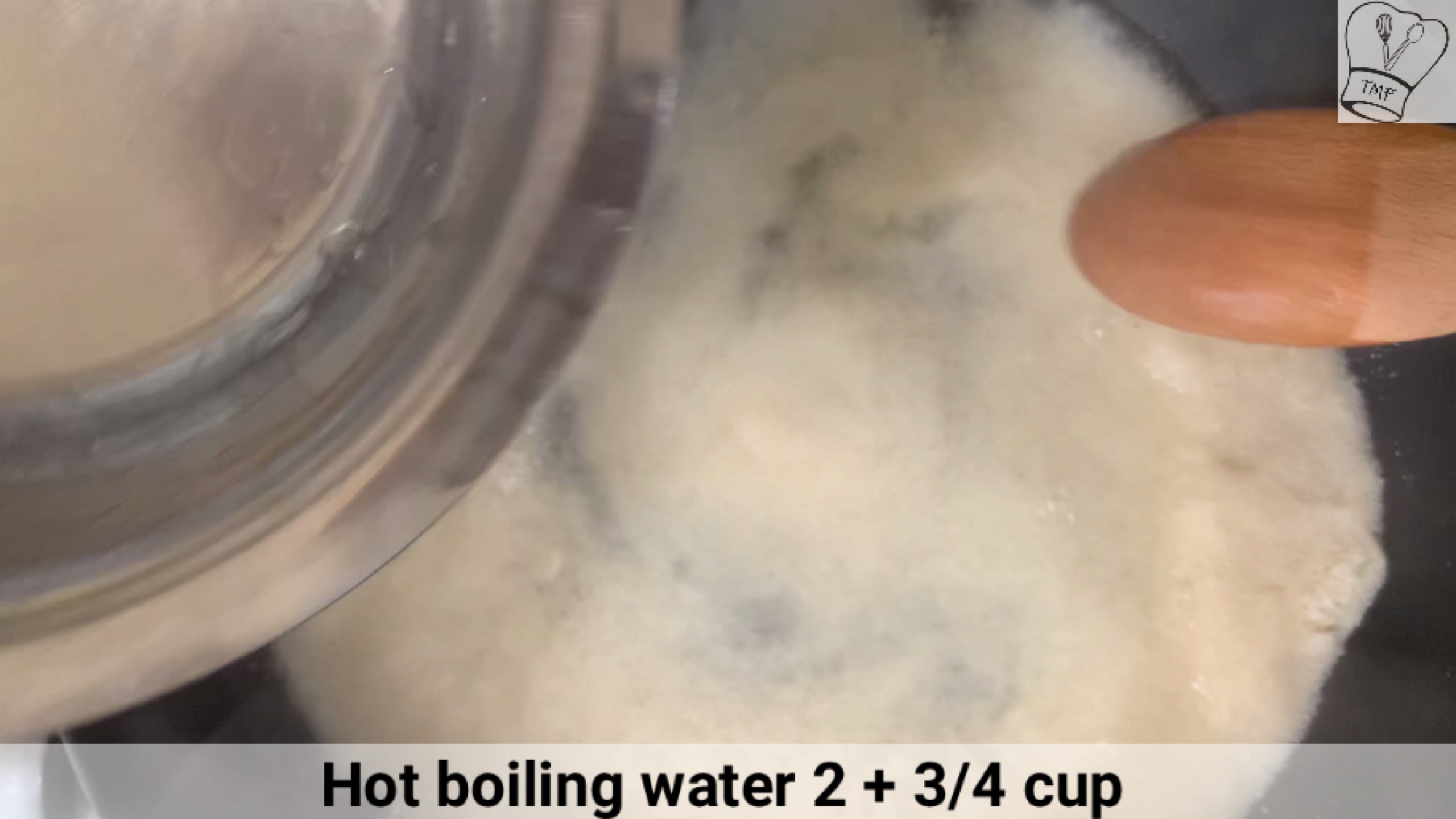 Stir well and cook till the semolina gets cooked and the mixture starts to thicken
Add sugar and mix well. Stir continuously for lump-free sojji
Further, add cardamom powder and ghee; mix well and continue cooking
Cook till the Sojji thickens and comes together like a ball
Turn off the stove and let the Kesari cool down completely
To prepare the Sojji Appam
Mash and knead sojji well with your hands and make sure the sojji is lump-free
Grease

your hands with a little ghee take a small lemon ball-sized sojji and keep it aside, repeat the process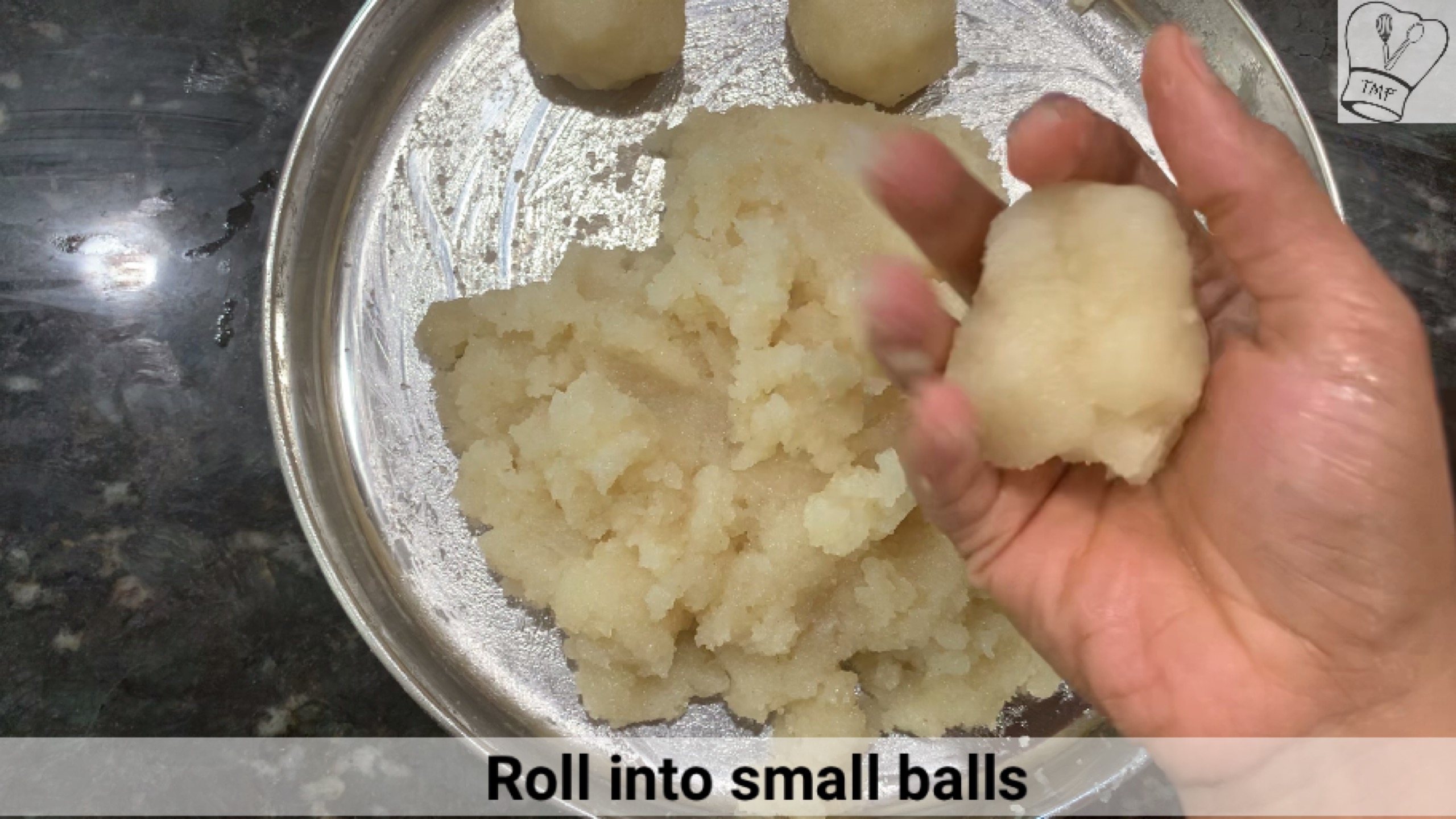 Knead the maida dough once and take slightly smaller balls out of the maida dough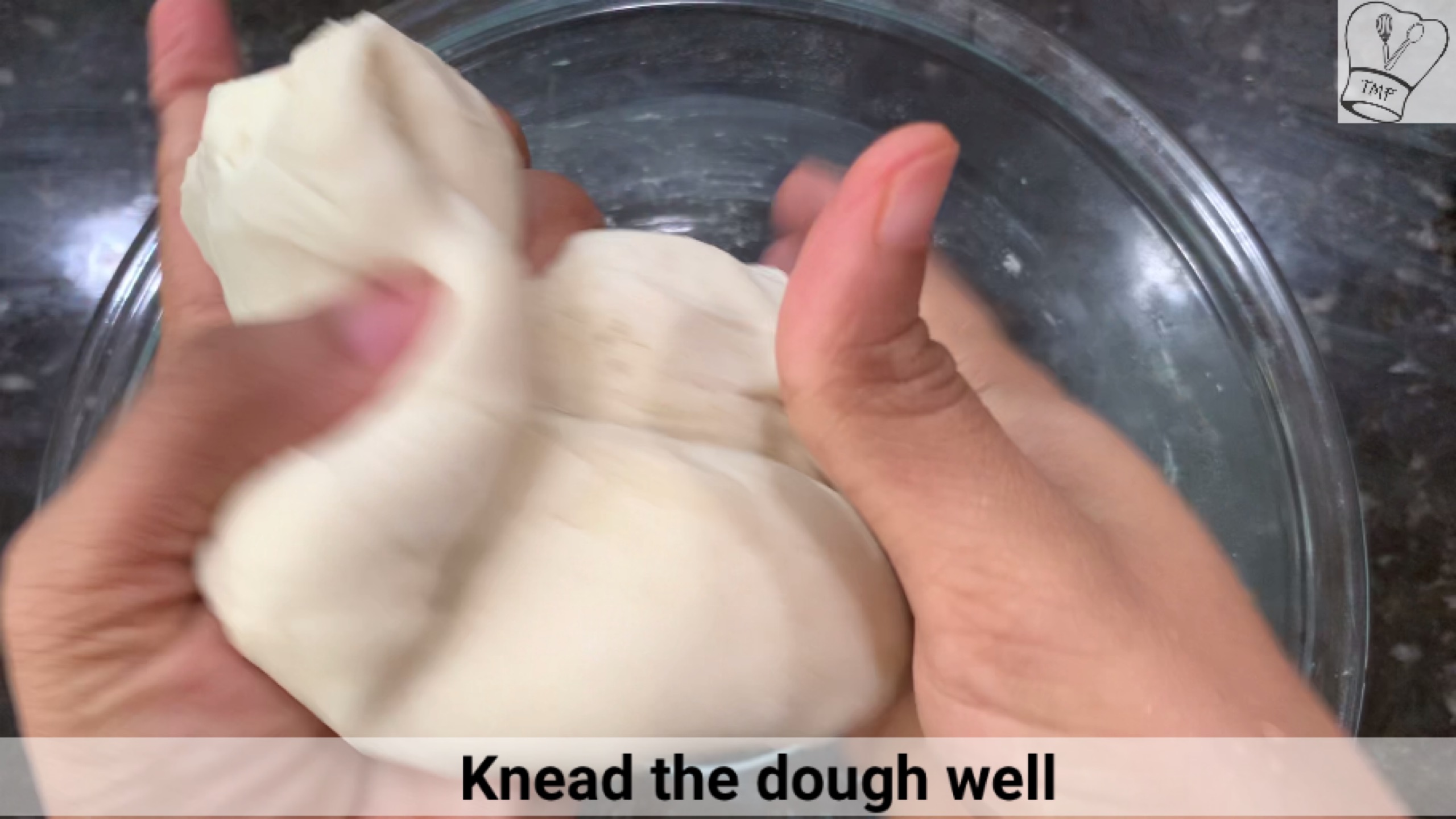 Grease the chappathi rolling board with a little oil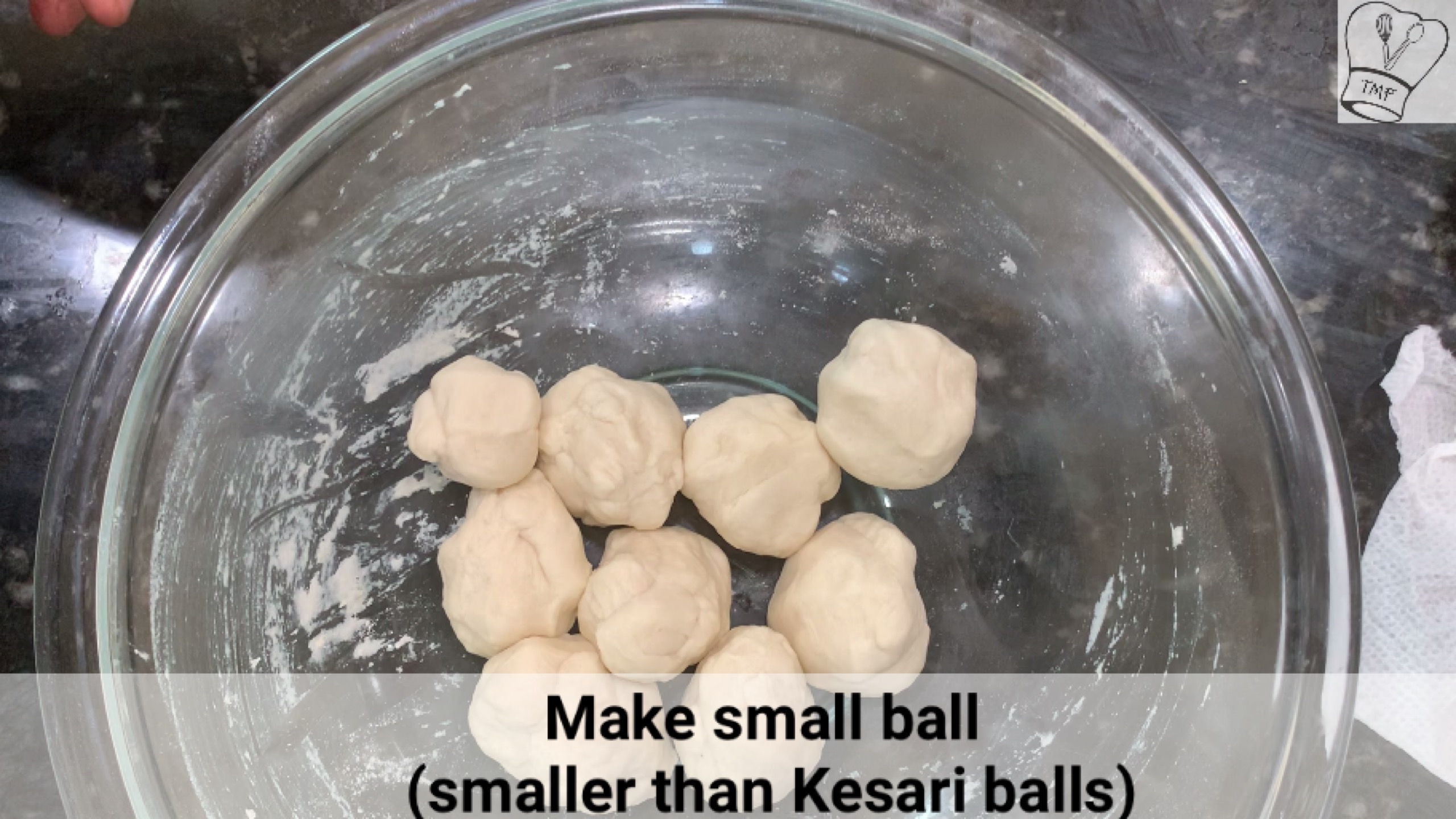 Take a dough ball and flatten it with your hands on a chappathi rolling board
Pull the edges together over the filling and cover the dough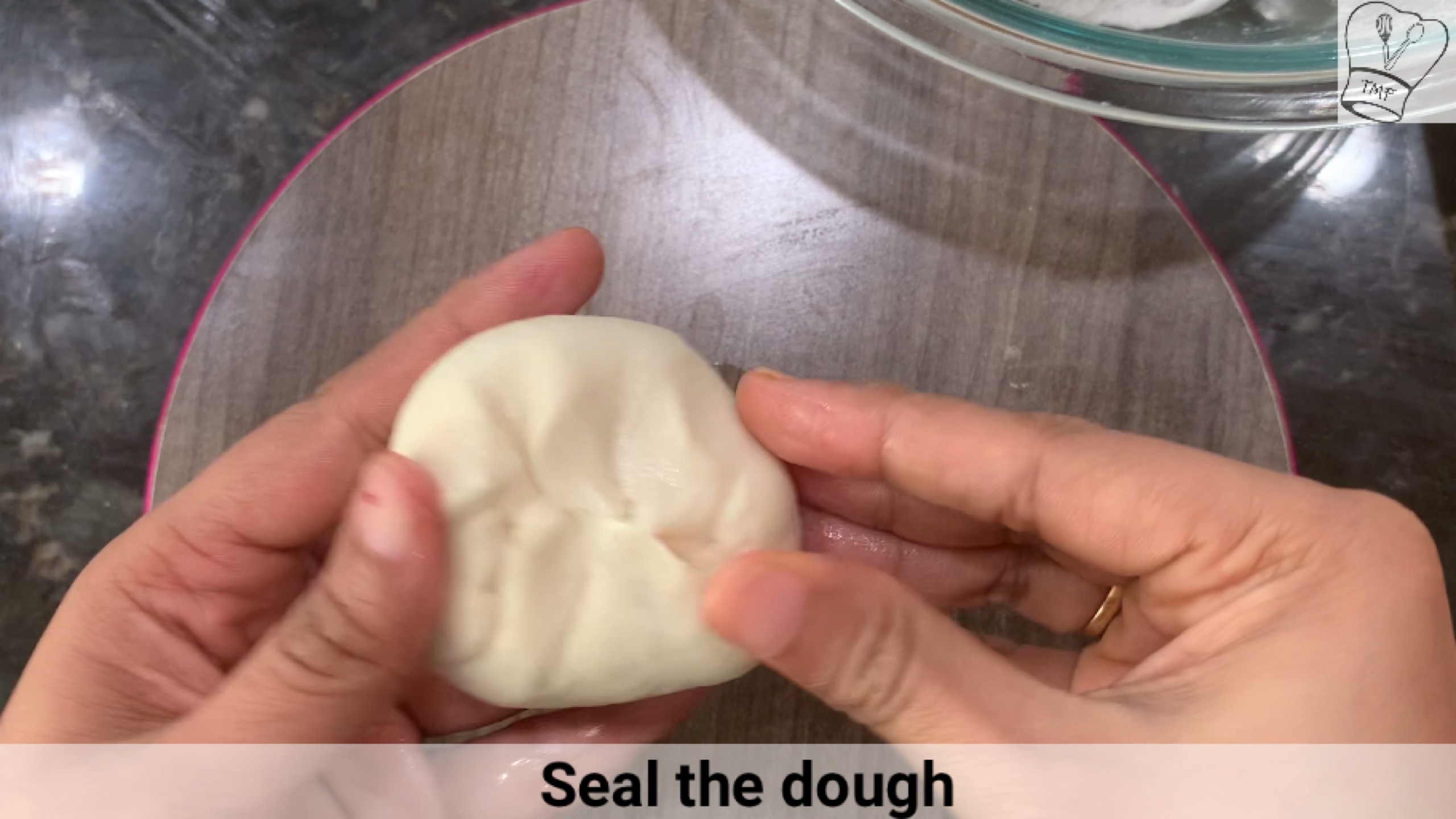 Gently press together with your fingers and seal
Keep the sealed side down and roll/ pat the poori into a thick and flat Appam
Heat oil in a Kadai and when the oil is hot try frying a small piece of dough if it rises in a few seconds oil is ready
Carefully slide a Sojji Appam into the hot oil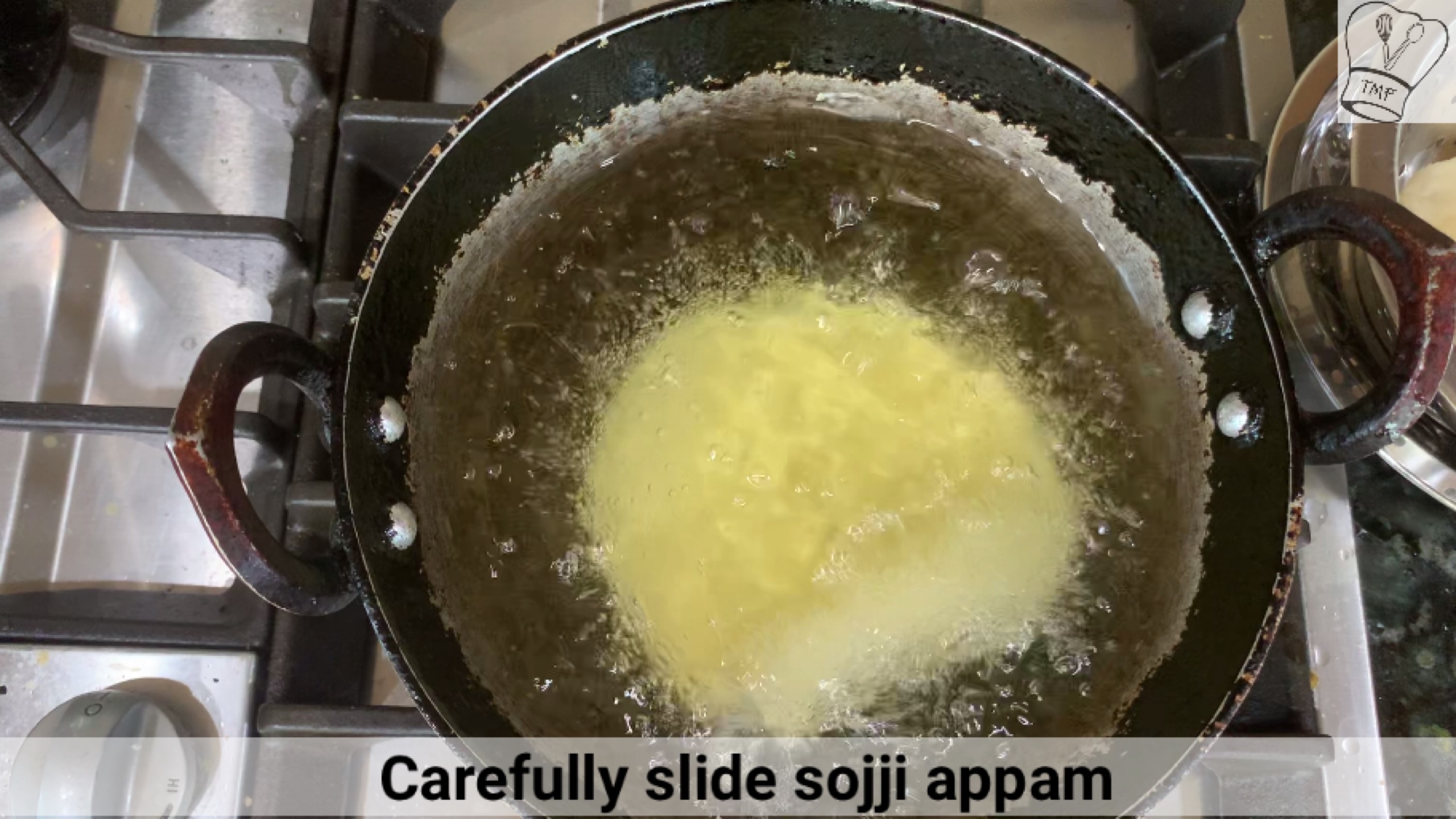 Gently press the sojji Appam with a ladle till it puffs up
Flip the Appam and fry till it becomes golden brown in color
Drain the Sojji Appam using a perforated ladle and keep the sojji Appam in a filter with a kitchen towel to remove excess oil. Close with a lid after they are cool or spread out the Sojji Appams on a dry plate and allow them to cool down