Jeera poli | Jeera boli | sweet poli | sweet poori | sweet poli | Bombay khaja | north Arcot jeera poori | zeera poli | inipu poli with step by step pictures and video recipe. Check out the Jeera poli recipe. If you like the video pls SUBSCRIBE to my channel.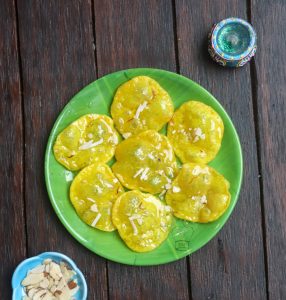 Jeera poli | jeera boli is an easy and tasty south Indian sweet recipe. Deep-fried poori soaked in jeera (sugar syrup) and garnished with nuts and sweetened coconut. It is a popular sweet from many boli stalls.
CAN I USE WHEAT FLOUR INSTEAD OF ALL-PURPOSE FLOUR?
Traditionally all varieties of polis are made using all-purpose flour, but you can use half measure of maida and half measure of wheat flour also. In our family, we like the taste of poli prepared with All-purpose flour, so I generally do Boli with it. The texture and taste of poli with wheat flour slightly differ.
IS TURMERIC POWDER MANDATORY FOR inipu poli?
To avoid food color I prefer using turmeric powder instead You can also add yellow food color or make poli without any add-on color.
Should I rest the poori dough?
Yes always rest the dough for at least 30 mins then make poori. I prefer using oil for dusting the board. You can also use flour but excess flour might burn in oil so remove it before frying.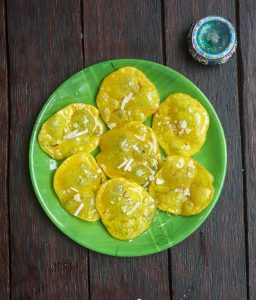 WHAT IS THE SHELF LIFE OF THE jeera boli?
If you live in a cold place It stays good at room temperature for 2 days.
HOW BIG SHOULD I MAKE POORI FOR

POLI?
The size of the poori depends on individual preference. I prefer making smaller poori as it is a good portion size for my kids. You can also make big jeera poori.
CAN I USE JAGGERY FOR POLI?
No, for this poli always use sugar. You can try thengai poli or paruppu poli for jaggery based poli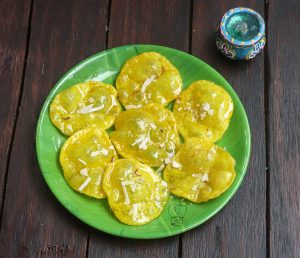 Other Poli recipes in TMF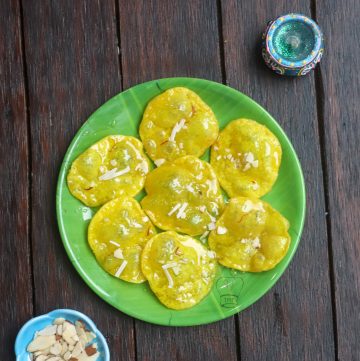 Ingredients
FOR THE DOUGH
1/2

cup

Maida | all-purpose flour

1

tablespoon

fine rava

1/4

teaspoon

turmeric powder

1/2

teaspoon

oil

water around 3 tbsp

Pinch

of salt

Water as required
Sugar syrup
3/4

cup

hot water

1

cup

sugar

Saffron generous portion

1/4

teaspoon

cardamom powder

Pinch

of turmeric powder
Poli
Sweetened coconut flakes

crushed almond flakes
Instructions
prepare the dough
firstly add all-purpose flour, a pinch of salt, turmeric powder, oil

Mix well and make sure all the ingredients are combined well

Add water little by little and knead well till the flour comes together as a dough. I added around 3 tbsp

Grease your hands with little oil and knead the dough well for 3-4 minutes till you get a pliable, non-sticky dough

Finally, drizzle oil and cover the dough with a damp cloth and let the dough sit for at least 30 minutes
prepare sugar syrup
Add 1/2 cup of hot water, sugar, cardamom powder, saffron, turmeric powder, and mix well

Cook in medium flame till sugar melts

Furthermore, add 1/4 cup of hot water and cook for 4-5 minutes until sugar syrup Boils well

Sample a little of the sugar syrup in between your thumb and index finger

Initially, you will get sticky consistency

Cook for 1 more minute for half-string consistency. Little sugar syrup in between your thumb and index finger and stretch- you will get a string but it will break immediately if you try to stretch further it will break. (this stage usually comes around 5-6 minutes)

Add a few drops of lemon juice and cover the sugar syrup. Move aside
Fry Poori
Knead the dough once and divide the dough into 4 balls

Grease the chappathi rolling board with little oil

Take a dough ball and roll into a thin and flat poori

You can roll big poori or cut into smaller poori

Heat oil in a Kadai and when the oil is hot try frying a small piece of dough if it raises in a few seconds oil is ready

Carefully slide the poori into the hot oil

Gently press the poori with a ladle till it puffs up

Flip and fry both sides. Drain the Poori using a perforated ladle and keep them in an oil filter/ colander with a kitchen towel to remove excess oil
Jeera poli
If sugar syrup is not warm add a teaspoon of water and warm the sugar syrup in low flame

When sugar syrup crystalize add little extra water and warm

Transfer the batches of warm poori to plate and add warm sugar syrup (not hot)

Soak for 2 mins on both sides. Transfer and serve the sugar syrup
Serve Jeera poli
Drizzle sugar syrup on top of the jeera poli and sprinkle nuts and desiccated coconut
Video
Ingredients:
Oil to fry
FOR THE DOUGH
1/2 cup Maida | all-purpose flour
1 tablespoon fine rava
1/4 teaspoon turmeric powder
1/2 teaspoon oil
water around 3 tbsp
Pinch of salt
Water as required
Sugar syrup
3/4 cup hot water
1 cup sugar
Saffron generous portion
1/4 teaspoon cardamom powder
Pinch of turmeric powder
Poli
Sweetened coconut flakes
crushed almond flakes
How to make Jeera poli with step by step pictures:
prepare the dough
firstly add all-purpose flour, a pinch of salt, turmeric powder, oil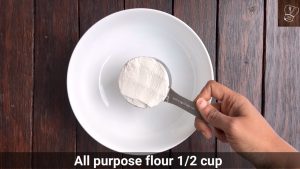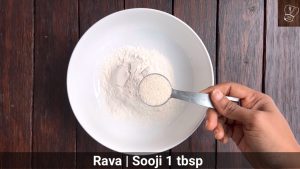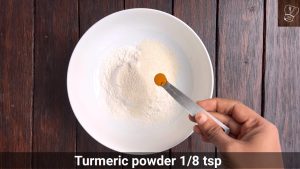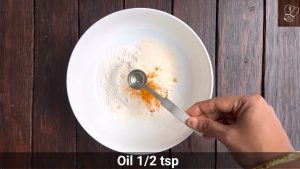 Mix well and make sure all the ingredients are combined well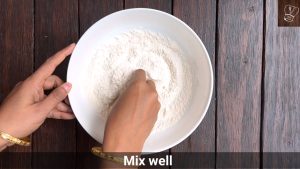 Add water little by little and knead well till the flour comes together as a dough. I added around 3 tbsp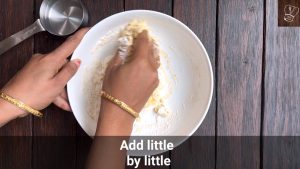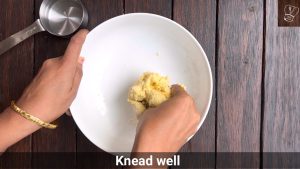 Grease your hands with little oil and knead the dough well for 3-4 minutes till you get a pliable, non-sticky dough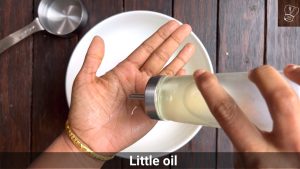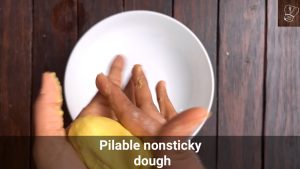 Finally, drizzle oil and cover the dough with a damp cloth and let the dough sit for at least 30 minutes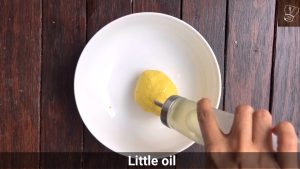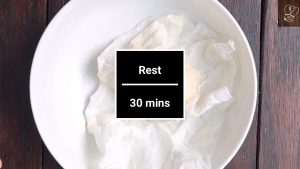 prepare sugar syrup
Add 1/2 cup of hot water, sugar, cardamom powder, saffron, turmeric powder, and mix well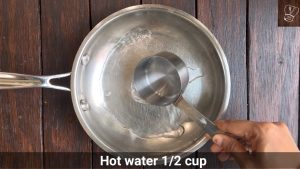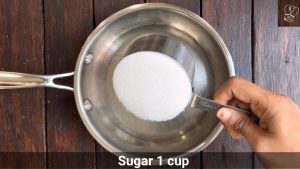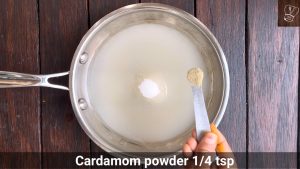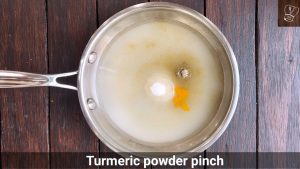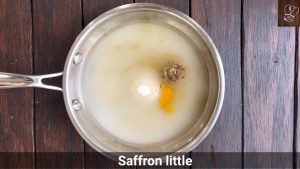 Cook in medium flame till sugar melts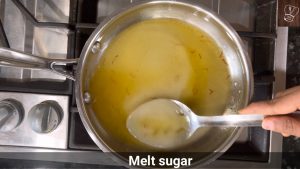 Furthermore, add 1/4 cup of hot water and cook for 4-5 minutes until sugar syrup Boils well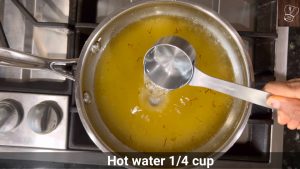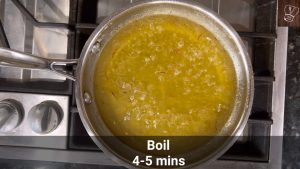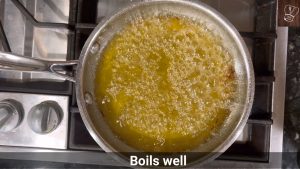 Sample a little of the sugar syrup in between your thumb and index finger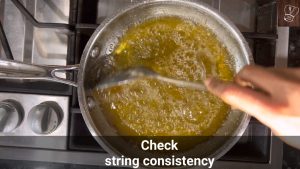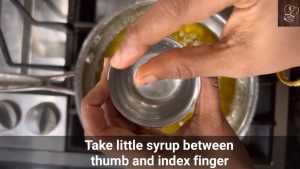 Initially, you will get sticky consistency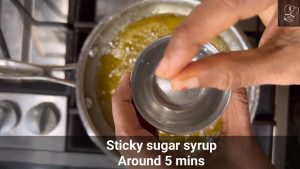 Cook for 1 more minute for half-string consistency. Little sugar syrup in between your thumb and index finger and stretch- you will get a string but it will break immediately if you try to stretch further it will break. (this stage usually comes around 5-6 minutes)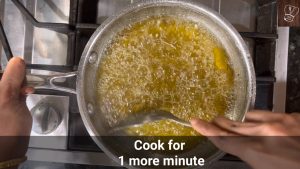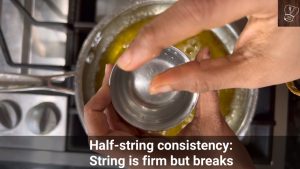 Add a few drops of lemon juice and cover the sugar syrup. Move aside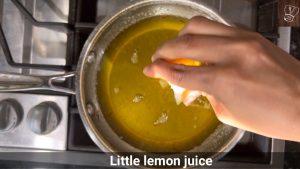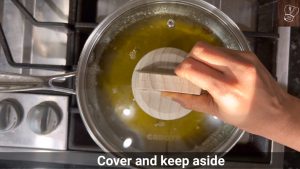 Fry Poori
Knead the dough once and divide the dough into 4 balls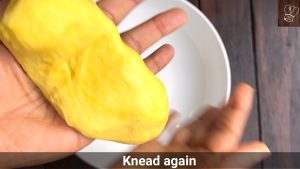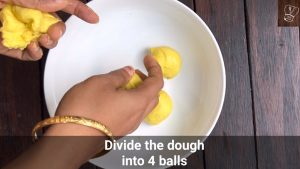 Grease the chappathi rolling board with little oil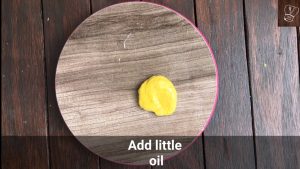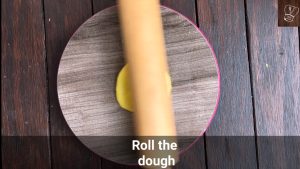 Take a dough ball and roll into a thin and flat poori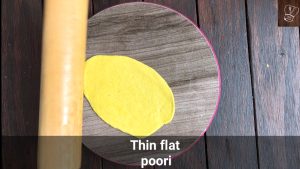 You can roll big poori or cut into smaller poori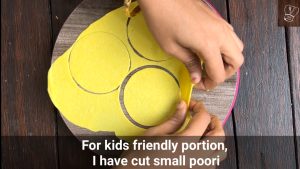 Heat oil in a Kadai and when the oil is hot try frying a small piece of dough if it raises in a few seconds oil is ready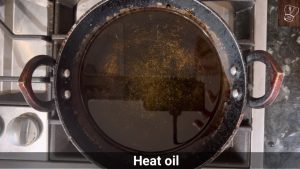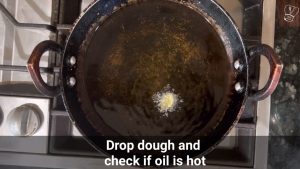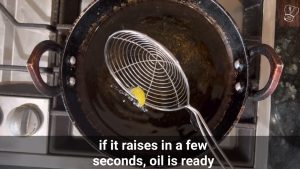 Carefully slide the poori into the hot oil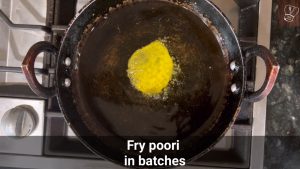 Gently press the poori with a ladle till it puffs up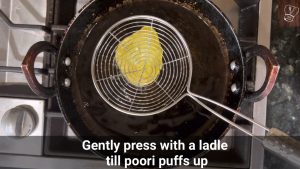 Flip and fry both sides. Drain the Poori using a perforated ladle and keep them in an oil filter/ colander with a kitchen towel to remove excess oil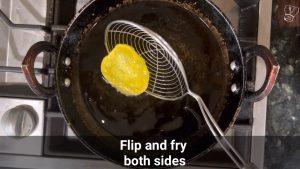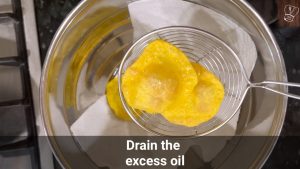 Jeera poli
If sugar syrup is not warm add a teaspoon of water and warm the sugar syrup in low flame
When sugar syrup crystalize add little extra water and warm
Transfer the batches of warm poori to plate and add warm sugar syrup (not hot)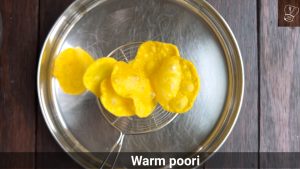 Soak for 2 mins on both sides. Transfer and serve the sugar syrup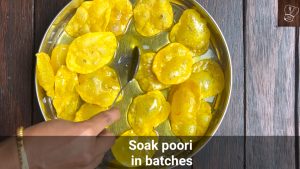 Serve Jeera poli
Drizzle sugar syrup on top of the jeera poli and sprinkle nuts and desiccated coconut