Poori recipe | how to make the popular deep-fried Indian flatbread poori | puri recipe with detailed step-wise pictures. Check out the poori recipe. For poori masala recipe in English and Poori masala recipe in tamil. If you like the video pls SUBSCRIBE to my channel.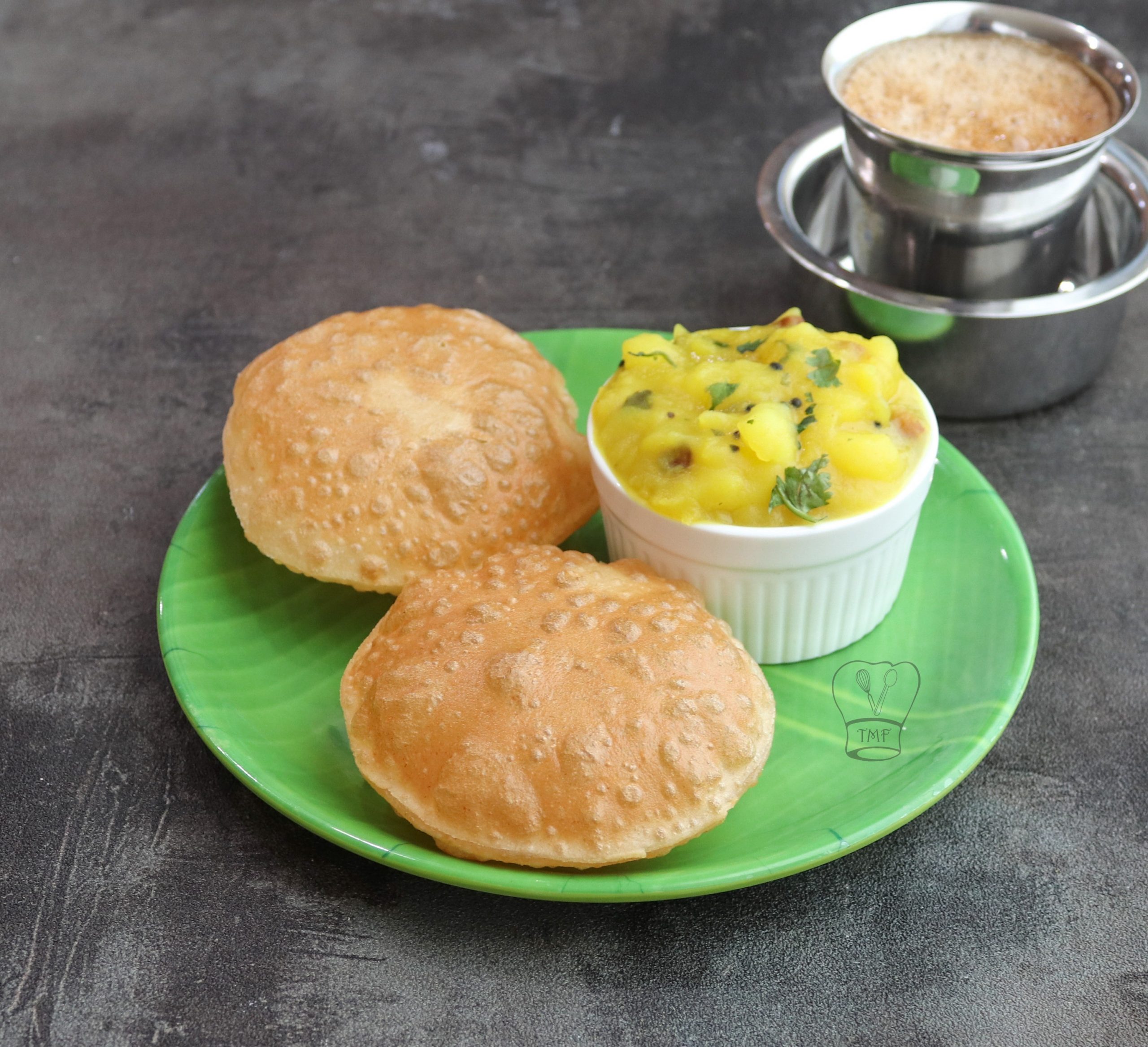 Poori recipe | Puri recipe Perfectly Puffy and non-oily poori recipe. No baking soda, no Maida for the best poori recipe .
Poori - Indian tiffin recipe
Poori is a traditional Indian breakfast popular in both south and north India. tips and tricks to prepare perfect slightly crisp, soft, and fluffy poori. poori without oil residue is best for weekend tiffin or special occasion. Homemade puri is super easy to make and can be prepared in no time
Traditional poori
My mother makes a traditional poori with only 3 main ingredients- wheat flour, salt, and water. Restaurants | tiffin centers sometimes use little all-purpose flour and semolina. In our home, I generally skip Maida but add little semolina as it gives crispness and helps to retain the puffiness of the puri.
Can I use multigrain flour for preparing poori?
Yes, you can use whole wheat flour or multi-grain flour for preparing puri. Both yields the best puffy puri without soaking much oil
Can I skip sooji?
Yes, rava is optional. It helps to retain the puffiness for a longer time. If you for making dough explicitly for puri I would recommend little sooji. Avoid using sooji dough for Chappathi.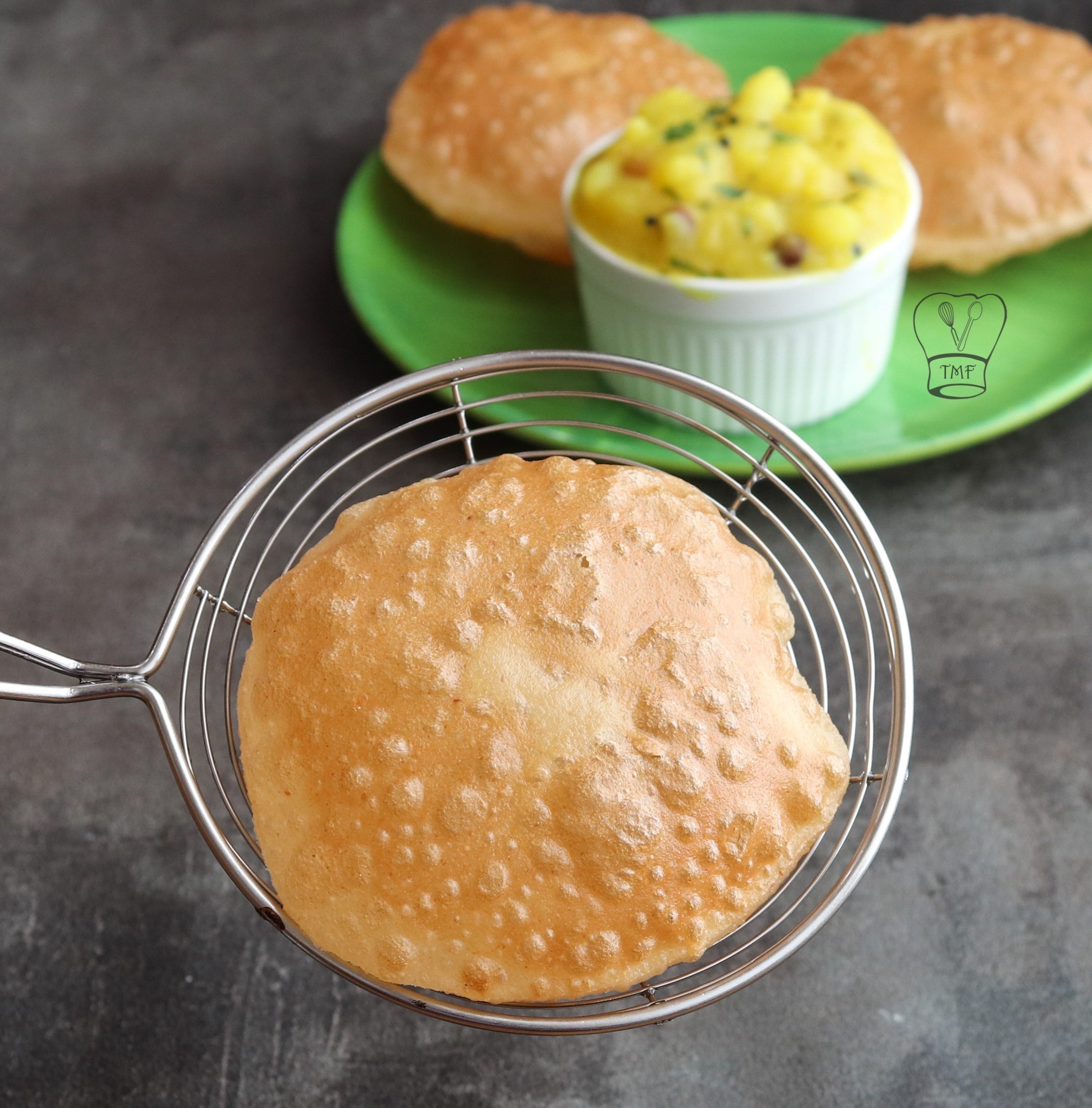 Can I skip sugar?
Yes, sugar is optional. It gives an appetizing brown color to the poori so I generally add it.
The trick for the perfect poori is dough
Rightly kneaded dough gives the best-puffed puri. It must not be loose like chappati dough. The loose dough might turn into oily puri. the exact amount of water might vary based on the flour you use. Add 1/4 cup for 1 cup of flour and gradually add little as required
Avoid over kneading
Mix water and gently knead the dough for a short time until the dough comes together without any cracks. If you press the dough it should be firm and tight. Do not knead the dough till it turns into chappathi dough softness
Rest for a shorter time to avoid oily poori
Resting time is yet another key for the best poori recipe. Always rest the dough for few minutes then start rolling. Dough tested for a long time might absurd more oil. If you are making a large quantity if puri needs the dough the batches. Pooris are best with freshly prepared dough
Rolling puri
While rolling give even pressure and make sure poori is the same thickness all around. Rolled poori should be neither too thick nor too thin. Thin poori turns into appalam(papad). Too thick poori won't puff. Right thickness results in perfectly puffed puri.
Can I use flour for rolling
Never use dry flour while rolling puri. That dry flour will get burn during the frying process and those burnt particles might stick to the next batch of poori. I generally use oil. If you add flour add little and dust before frying
Frying
Check the oil temperature before frying. Always add a small piece of dough if it raises immediately without browning oil is the right temperature. Maintain the heat. If the dough comes up and turns brown oil is too hot. If the dough is not coming up oil needs to be hot
Why puri turns hard?
If the dough is too dry, puri might turn hard. Sprinkle little water and form the dough. Also, check if the oil is at the right temperature. Poori fried for a long time might turn hard
Poori not puffing
Roll the dough evenly to the correct thickness. Avoid hard press the dough on hot oil. Also, make sure oil is hot
What tastes best with puri?
Poori tastes best with urulaikizhangu masala, Chana masala, coconut chutney, veg kurma, sagu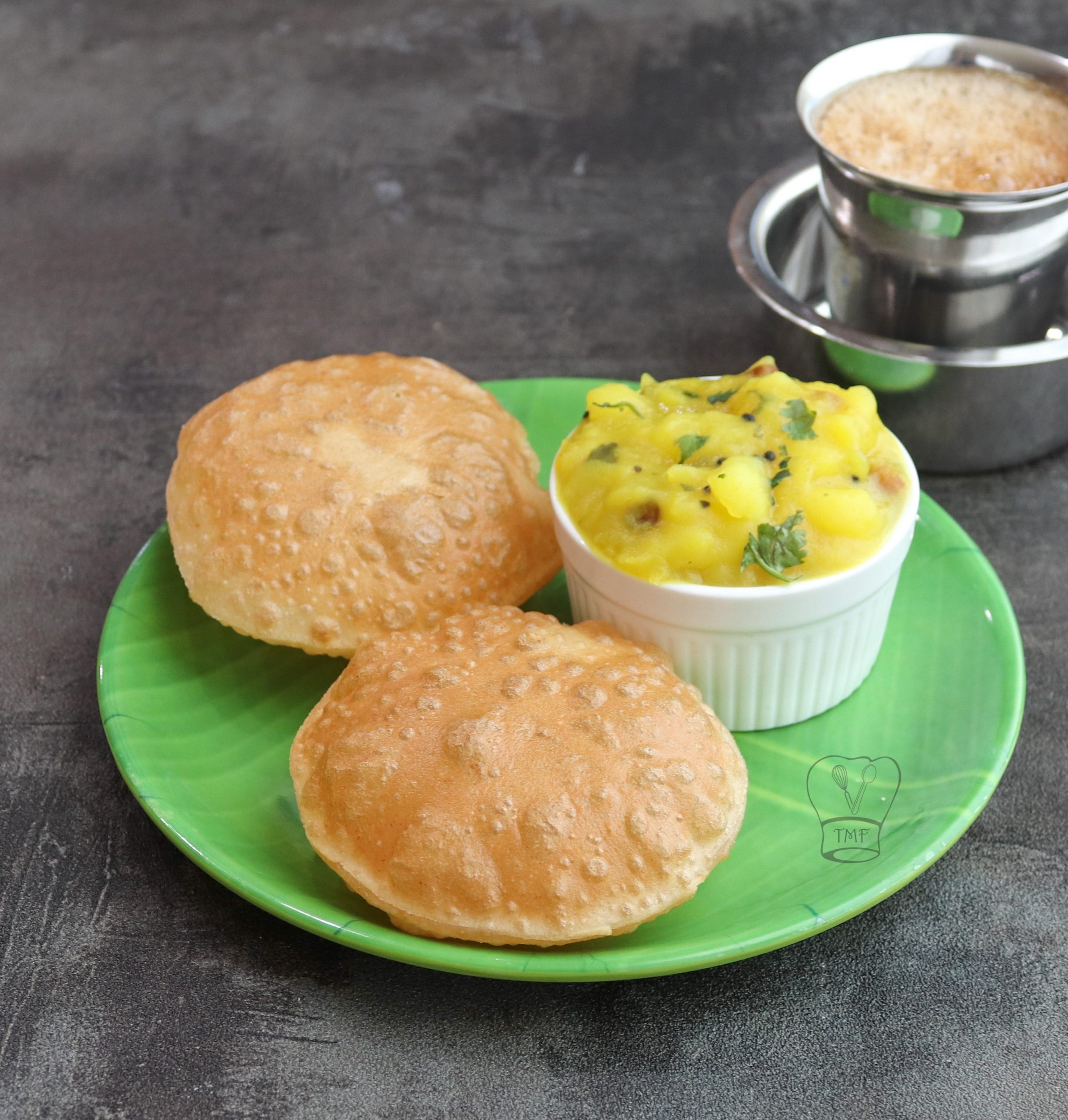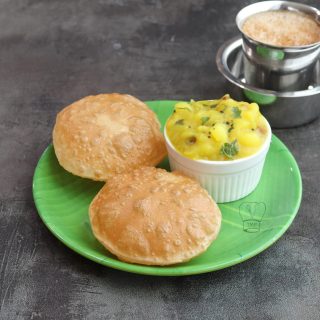 Ingredients
Dry ingredients:
1

cup

wheat flour

required salt

pinch

of sugar

1/2

teaspoon

fine rava
Wet ingredients:
1/2

tablespoon

oil

1/4

cup

+ as needed water
Instructions
Add wheat flour, fine rava, salt, a pinch of sugar in a wide bowl; mix well

Spoon oil and mix well

Add 1/4 cup of water and mix well to form a stiff dough

Furthermore, sprinkle and add water little by little and knead (around 2 -3 tbsp)

Knead and make stiff & tight dough that is neither soft like roti dough nor crumbly or dry

Avoid over kneading. If you press the dough with your fingers, you will still feel it tight and stiff, not soft

Grease the dough with little oil and cover the poori dough with a damp cloth and rest for 5 minutes

Add oil in a heavy-bottomed pan and let oil gets hot

After 5 minutes of resting roll the dough once and pinch a small portion of the dough. Keep the remaining dough covered

Roll the dough with your palm and flatten the dough with a rolling pin

Add little oil on the board and roll the poori not so thick /thin. It should be moderately thick otherwise puri will not puff

Do even rolling as it helps did puffy poori. You can sprinkle little flour and roll but dust it before frying else excess flour might burn in the oil

roll big poori (around 1/8 inch thickness) and cut into the desired size with a cookie cutter or lid or roll small poori

Place the rolled poori on a kitchen towel and place it for at least 2 minutes before frying

Check if the oil is hot drop a small piece of dough if it raises immediately then the oil is at the right temperature

If it browns oil is too hot reduce

If it doesn't raise oil heat oil for some more time

Gently slide the puri from the side. If you have used flour, do dust off the excess flour before frying. As soon as i

Soft press the poori with a slotted ladle or spider ladle to make the puri puff and cook evenly

If you press too hard, holes can form on the poori and will not puff.

Poori puffs well and frothy bubbles settle

turn over the puri and gently press the poori, fry another side

After both sides turn golden brown transfer the fried puri to an oil filter or steel colander/ plate lined with kitchen towels to absorb any excess oil

Fry the remaining puri, maintain the oil temperature by increasing or reducing the flame as needed .make sure the oil is hot enough but not smoking hot. Avoid crowding the oil with puri, Fry in batches based on pan size
Video
Notes
If you have used flour, do dust off the excess flour before frying. As soon as it is added to the pan, it sinks completely.

Avoid resting the dough for longtime
After rolling poori rest it for a minute then fry
Sooji is optional but it makes poori puffy
Ingredients:
Dry ingredients:
1 cup wheat flour
required salt
pinch of sugar
1/2 teaspoon fine rava
Wet ingredients:
1/2 tablespoon oil
1/4 cup + as needed water
To fry:
Oil
How to make poori with step by step pictures
Add wheat flour, fine rava, salt, a pinch of sugar in a wide bowl; mix well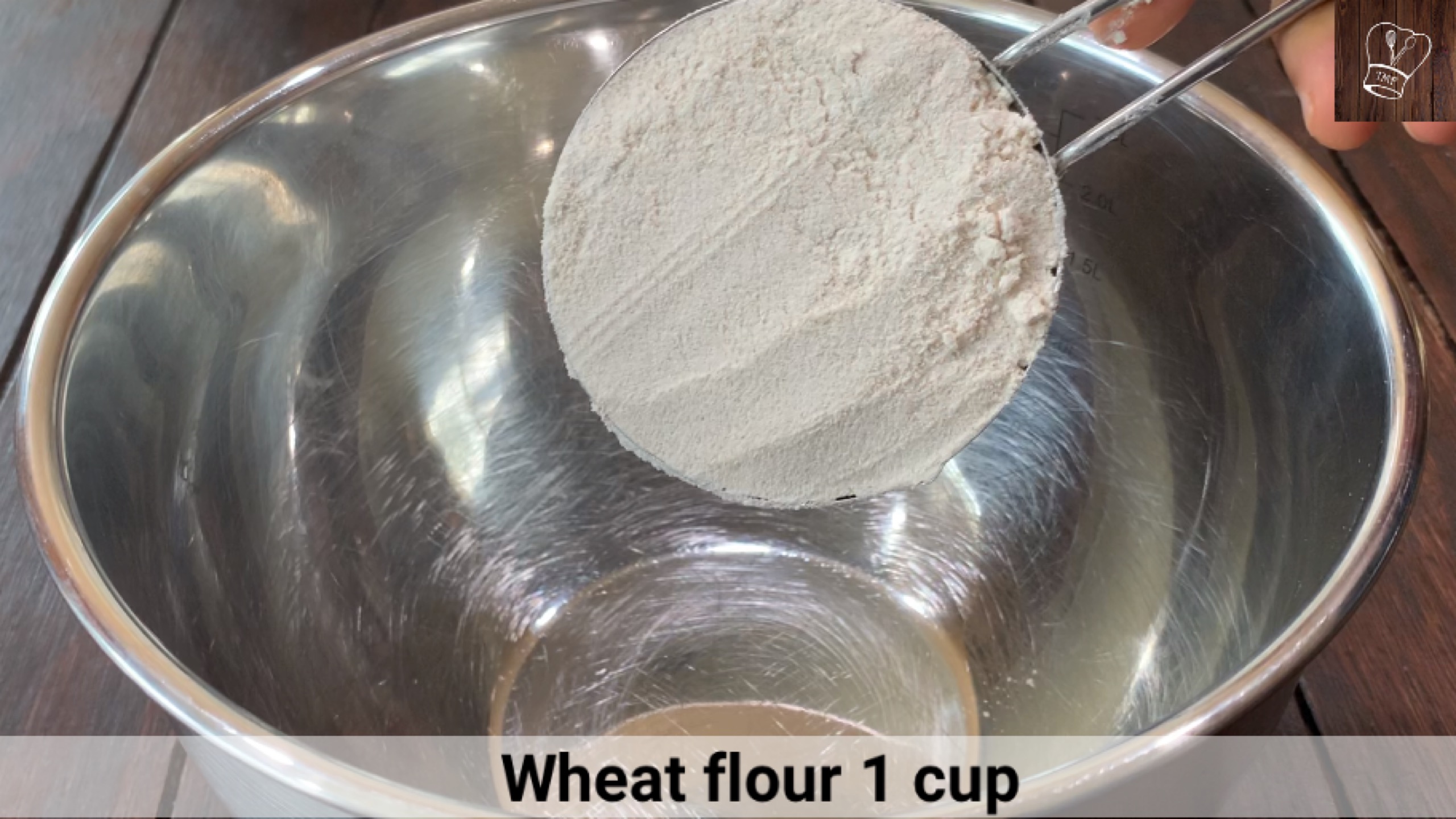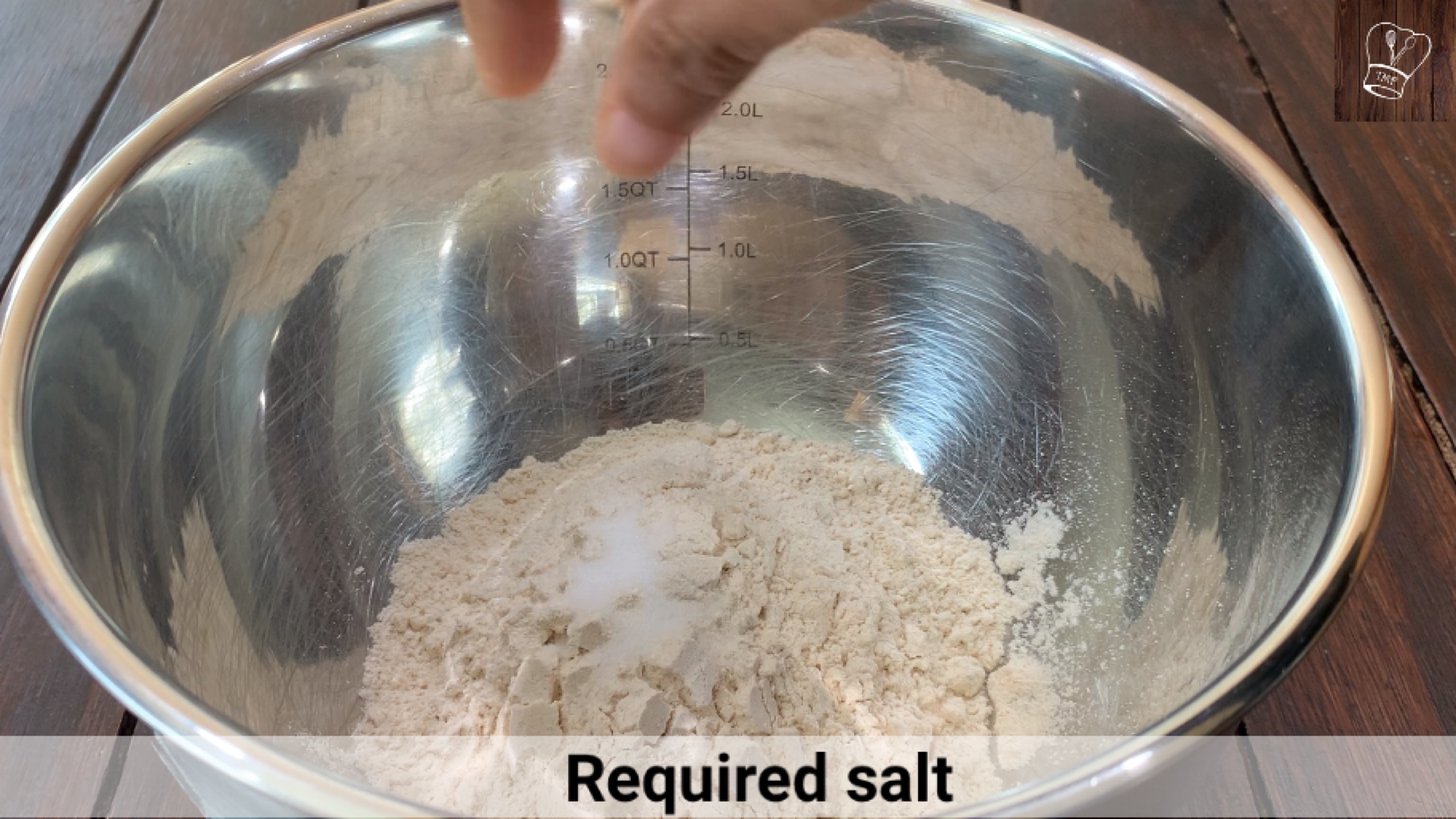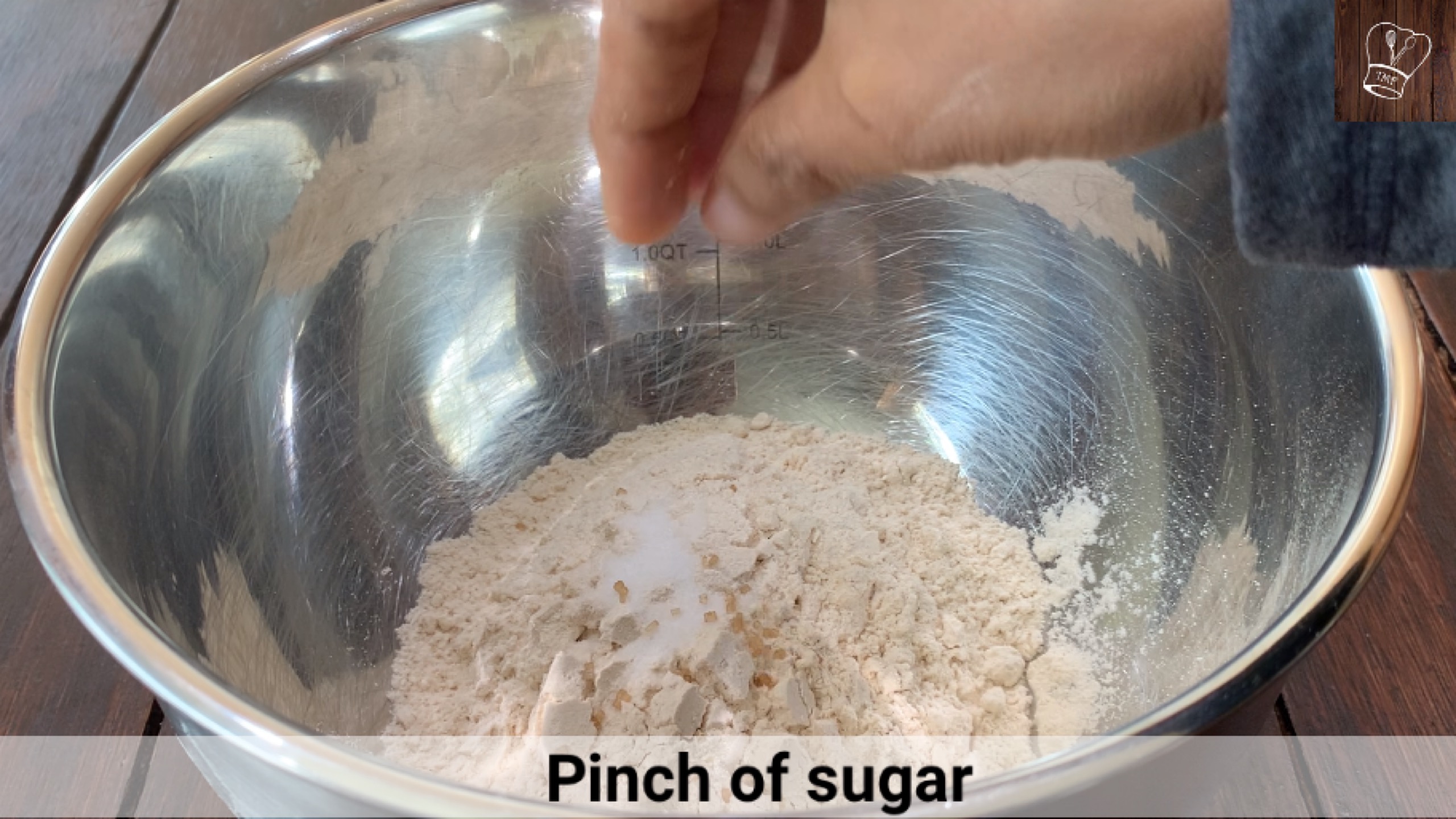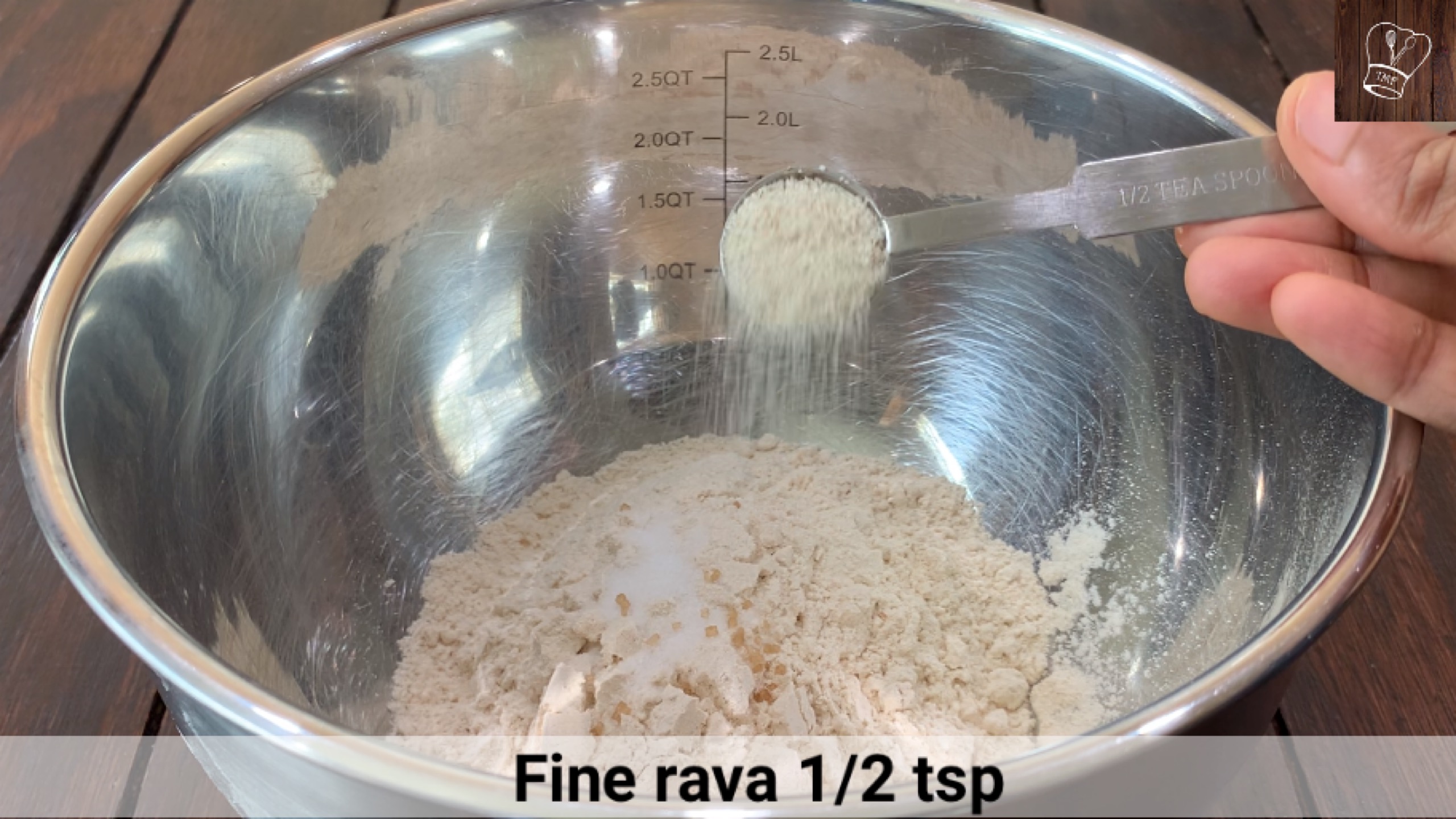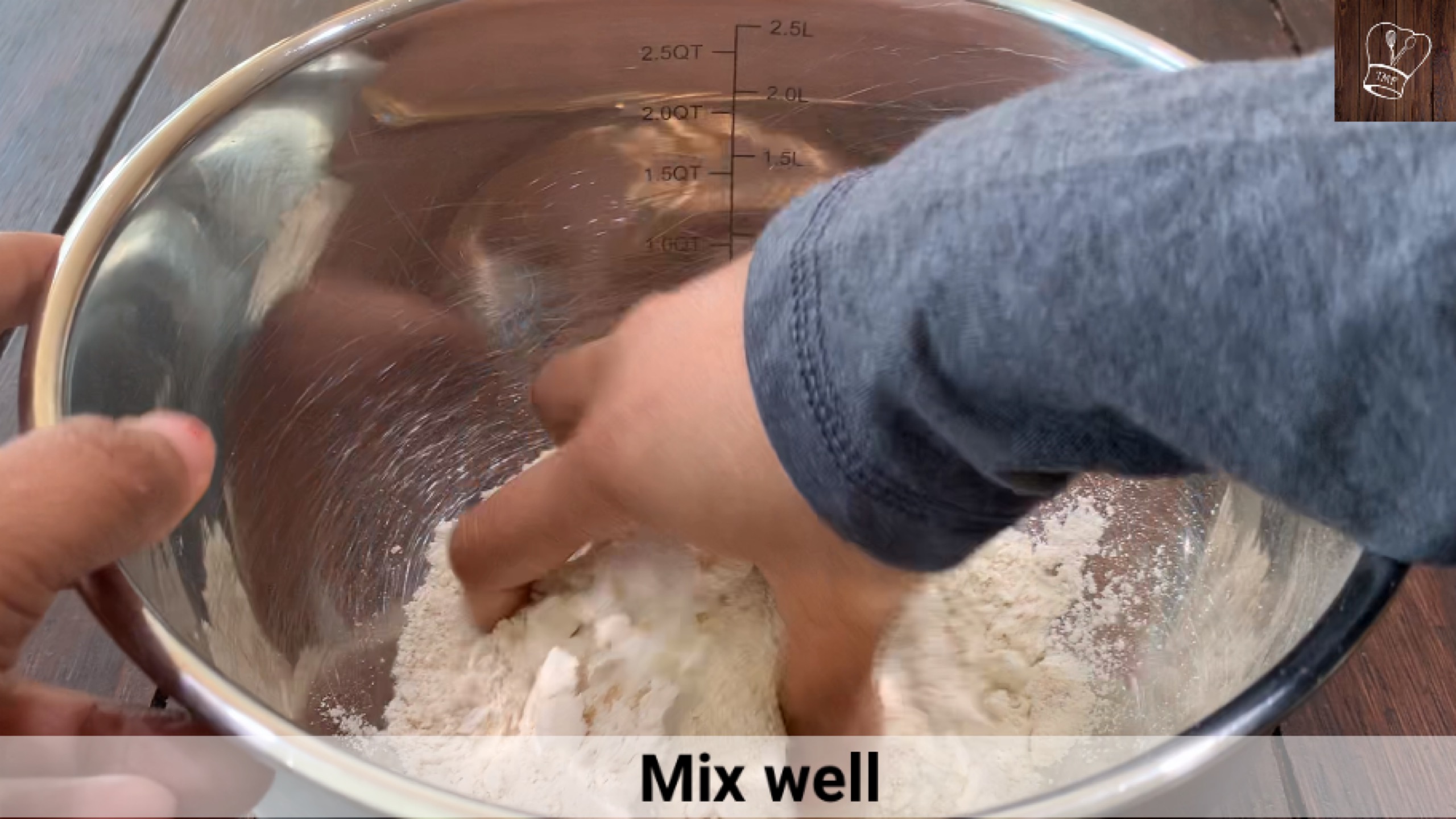 Add 1/4 cup of water and mix well to form a stiff dough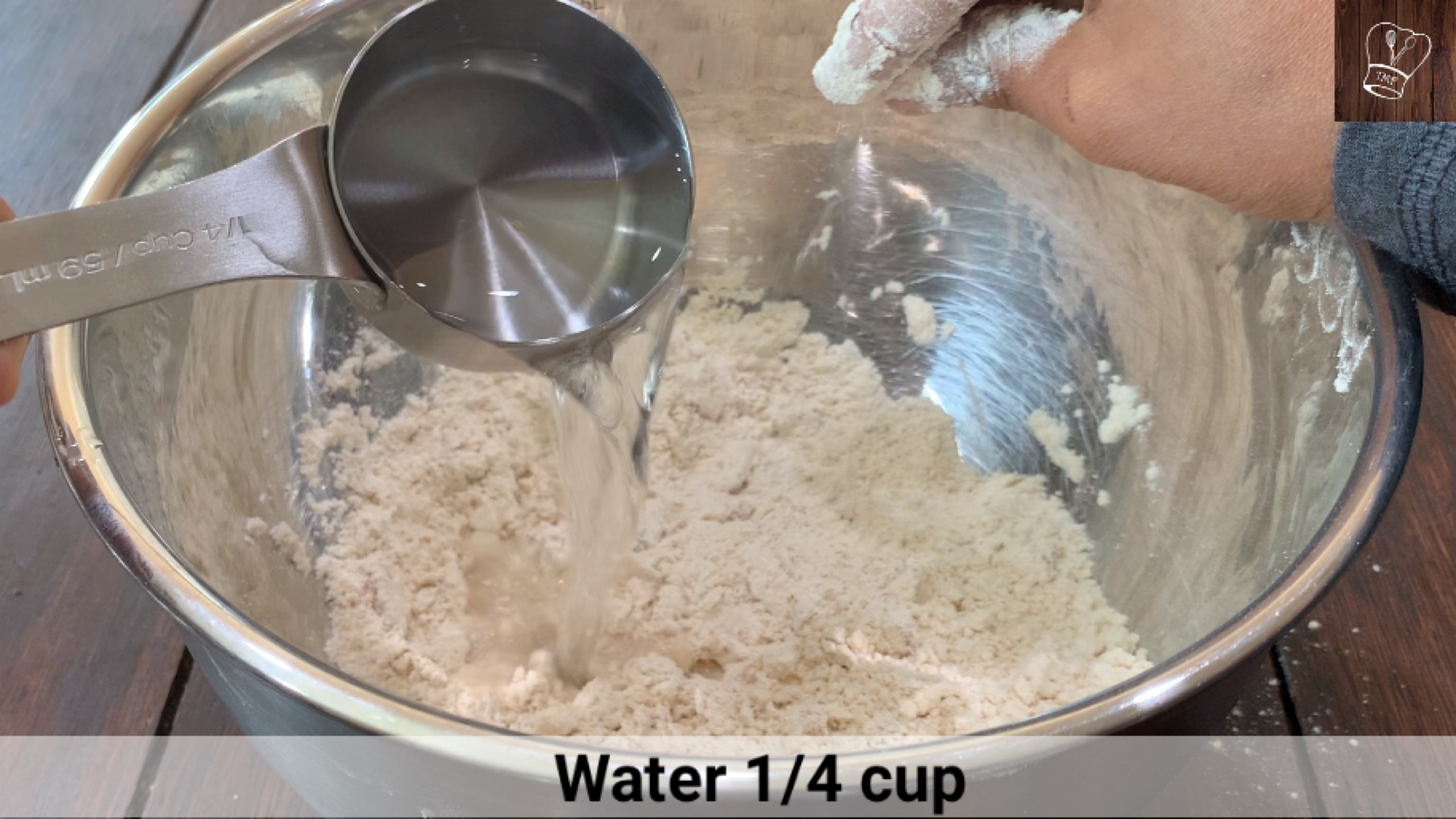 Furthermore, sprinkle and add water little by little and knead (around 2 -3 tbsp)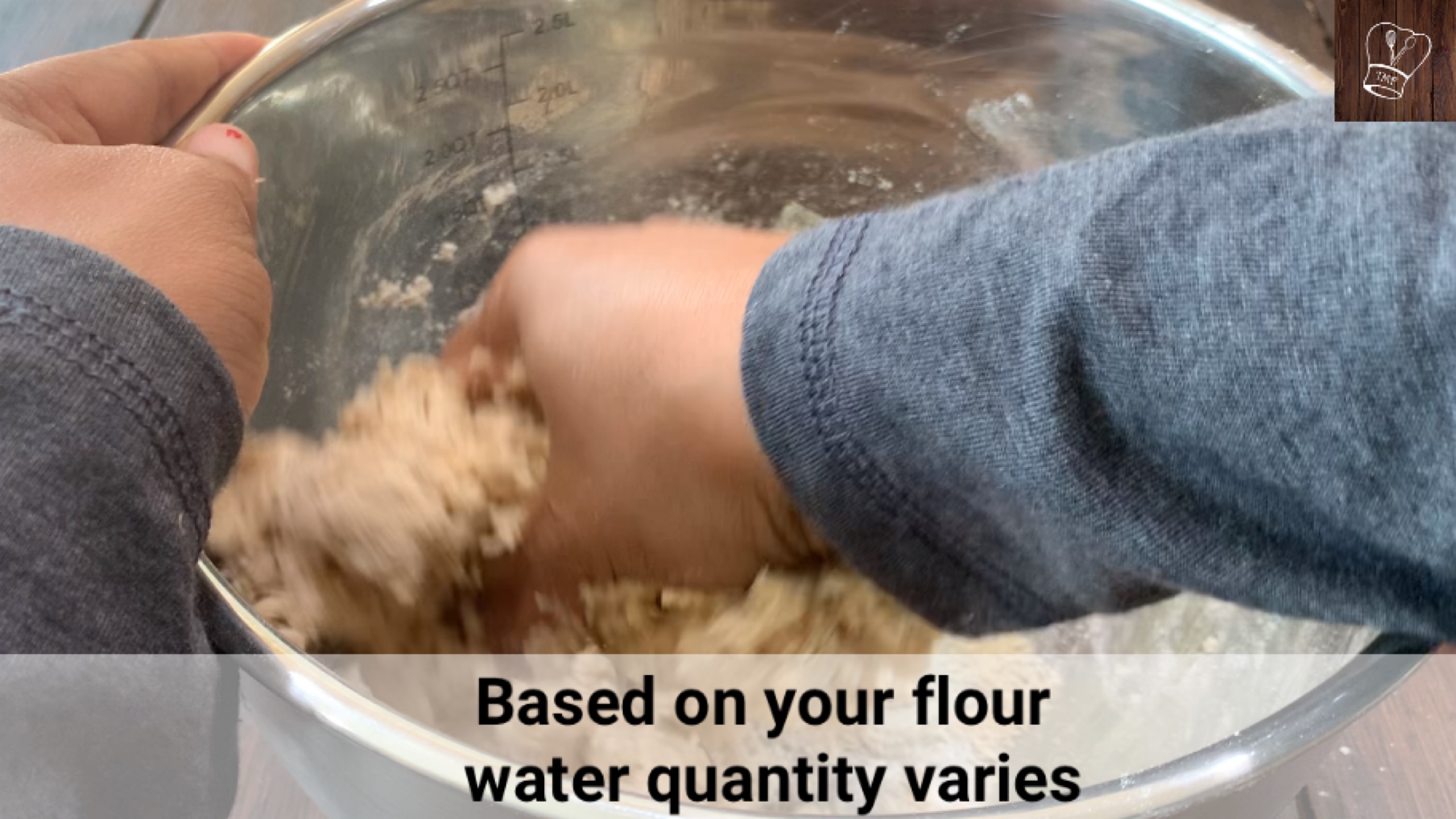 Knead and make stiff & tight dough that is neither soft like roti dough nor crumbly or dry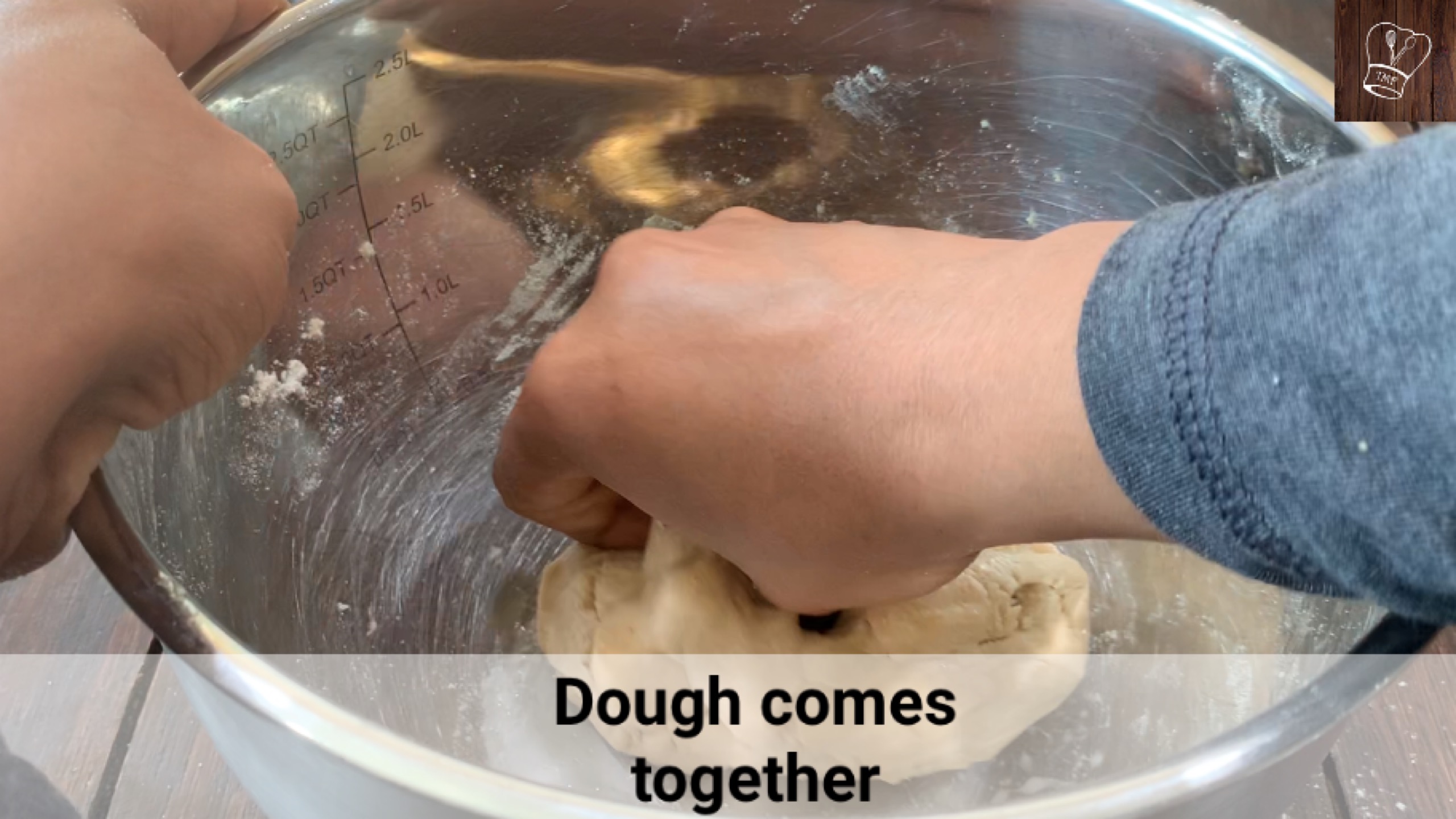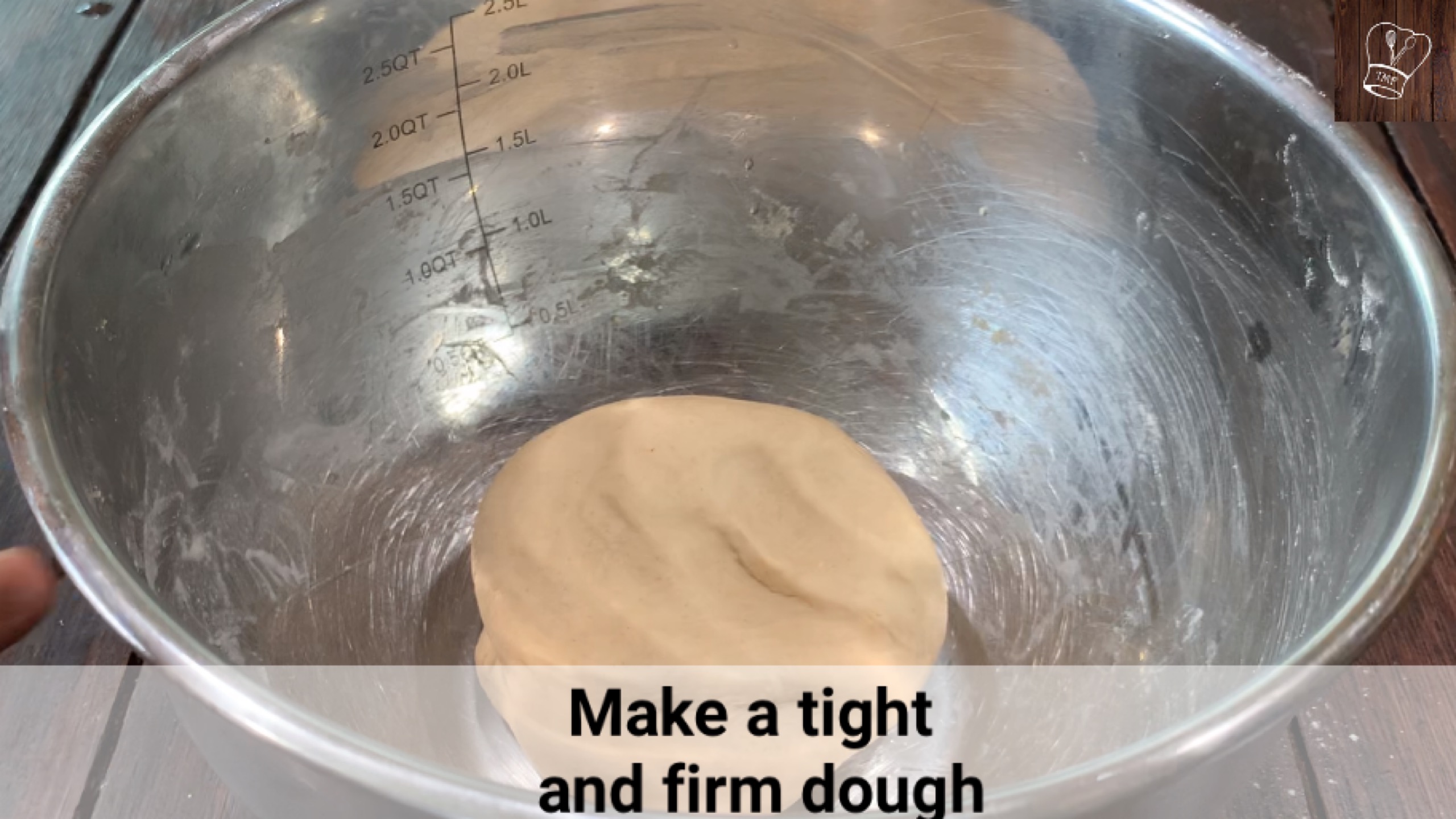 Avoid over kneading. If you press the dough with your fingers, you will still feel it tight and stiff, not soft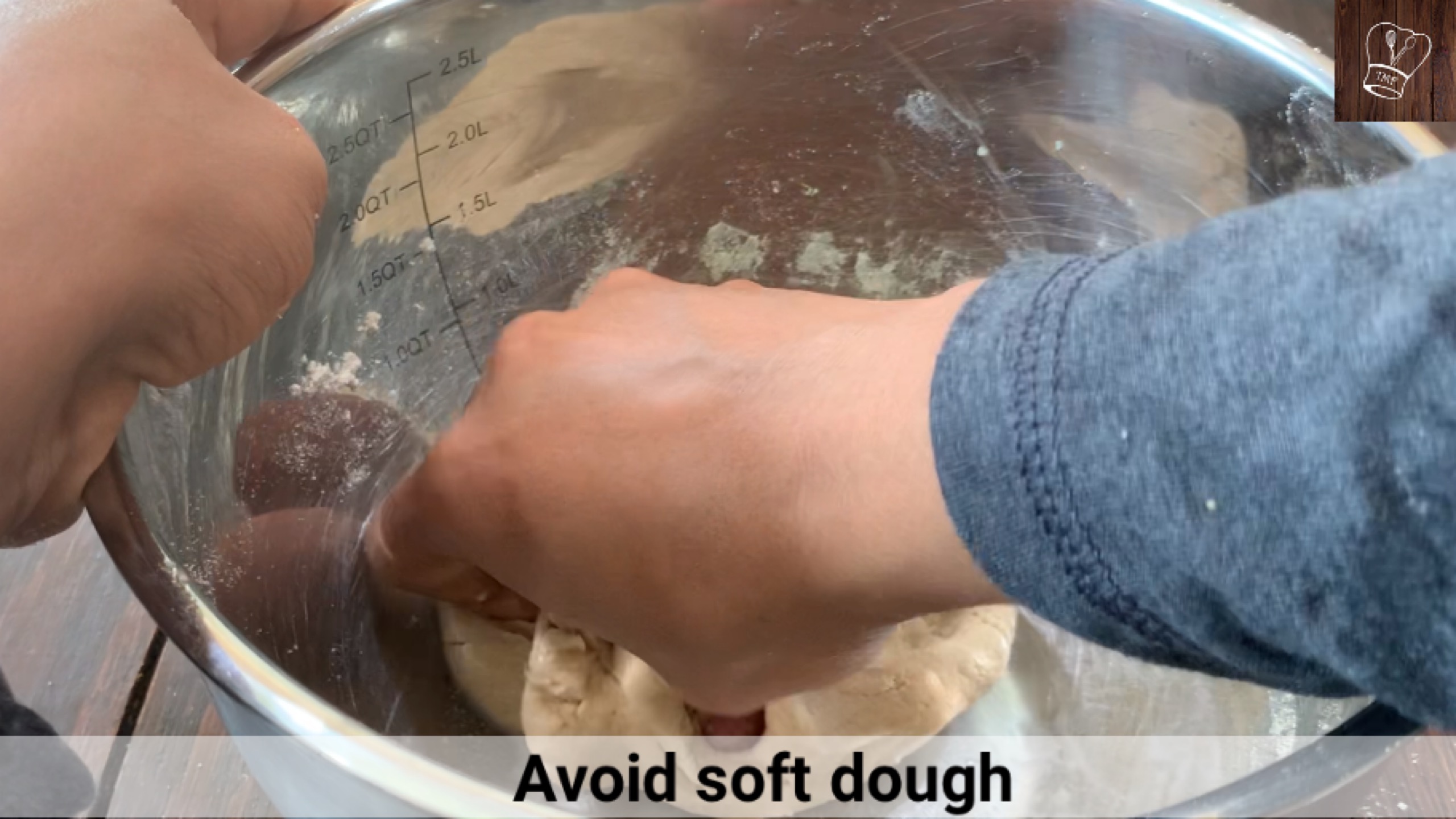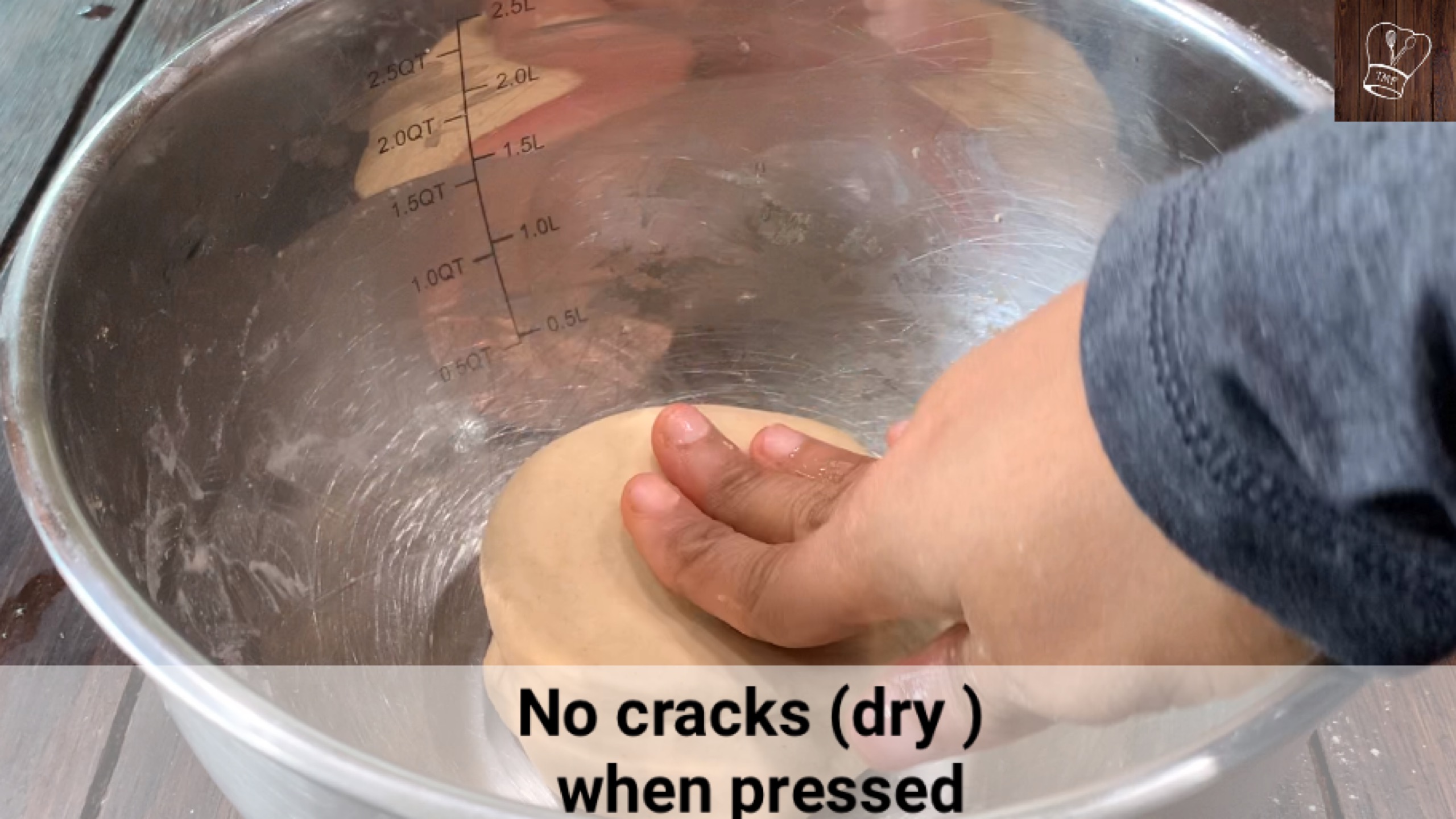 Grease the dough with little oil and cover the poori dough with a damp cloth and rest for 5 minutes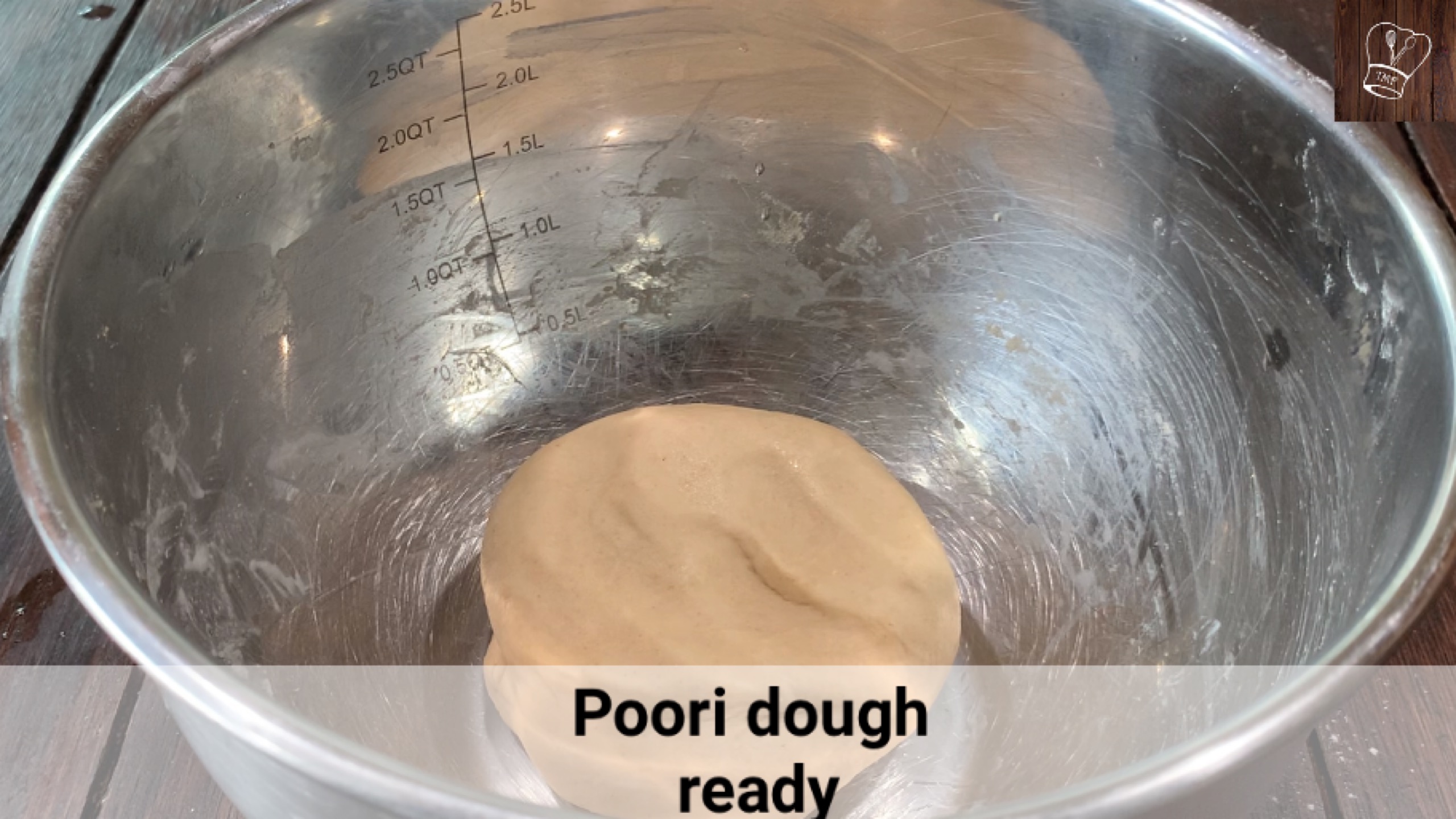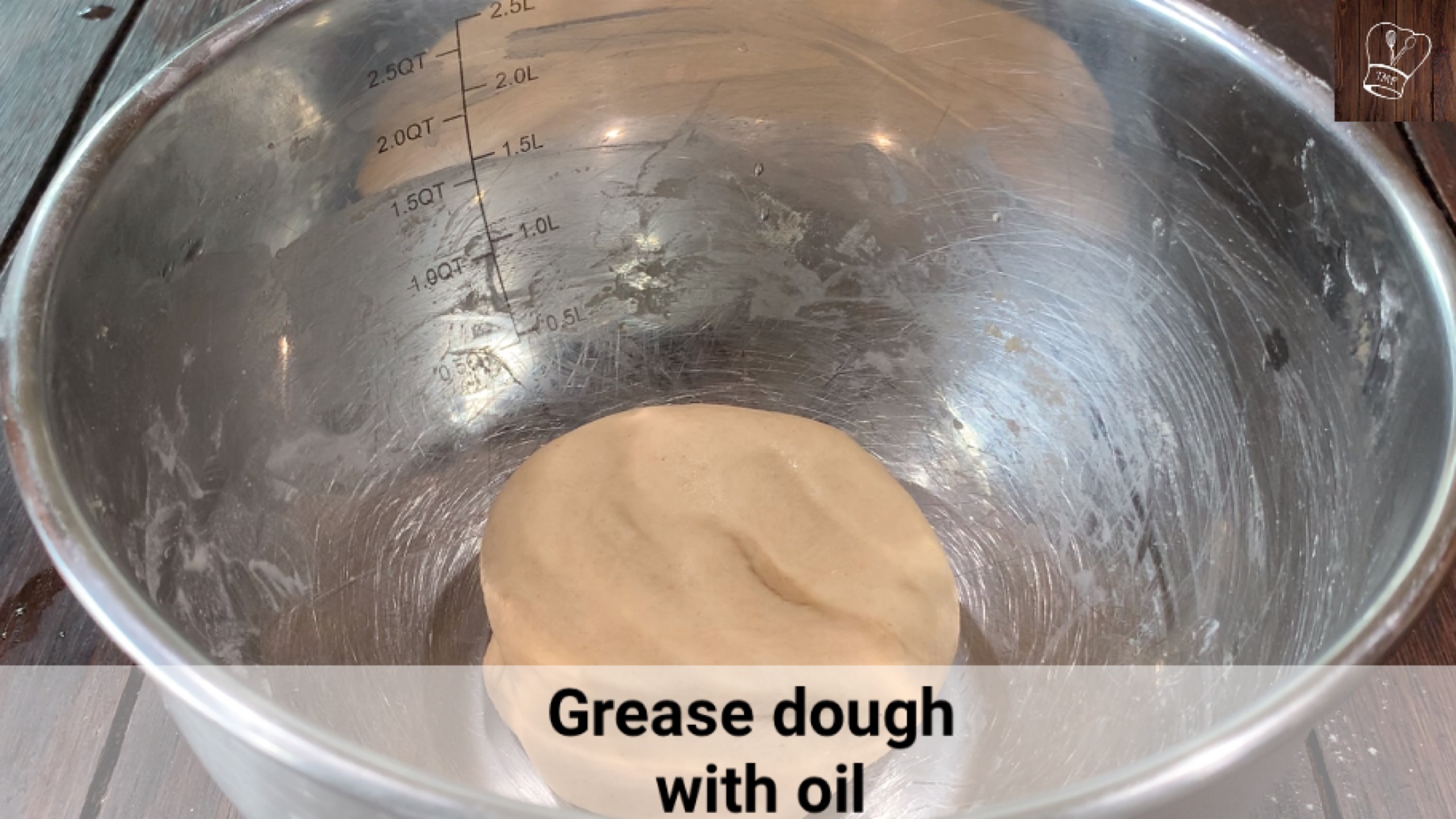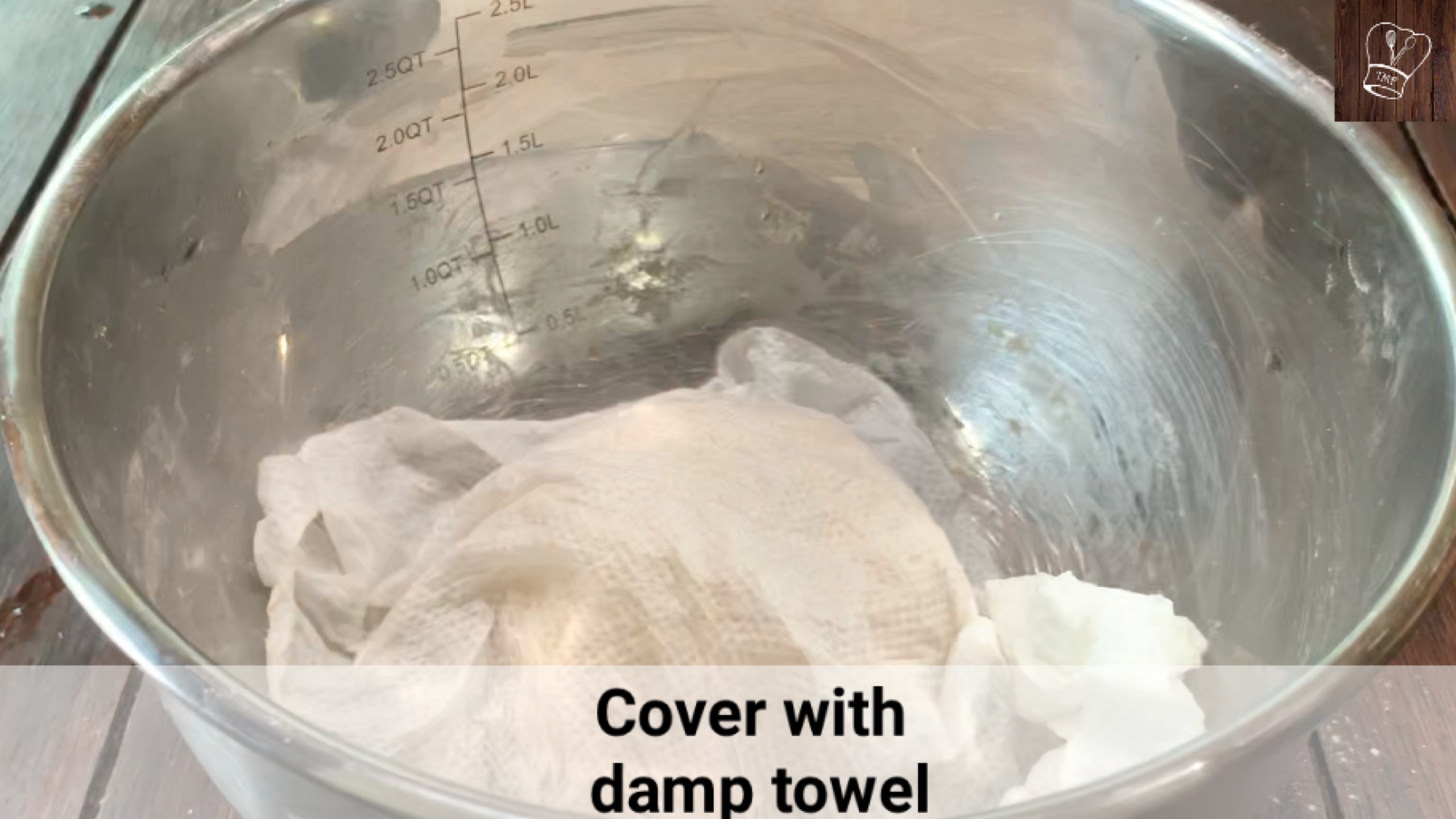 Add oil in a heavy-bottomed pan and let oil gets hot
After 5 minutes of resting roll the dough once and pinch a small portion of the dough. Keep the remaining dough covered
Roll the dough with your palm and flatten the dough with a rolling pin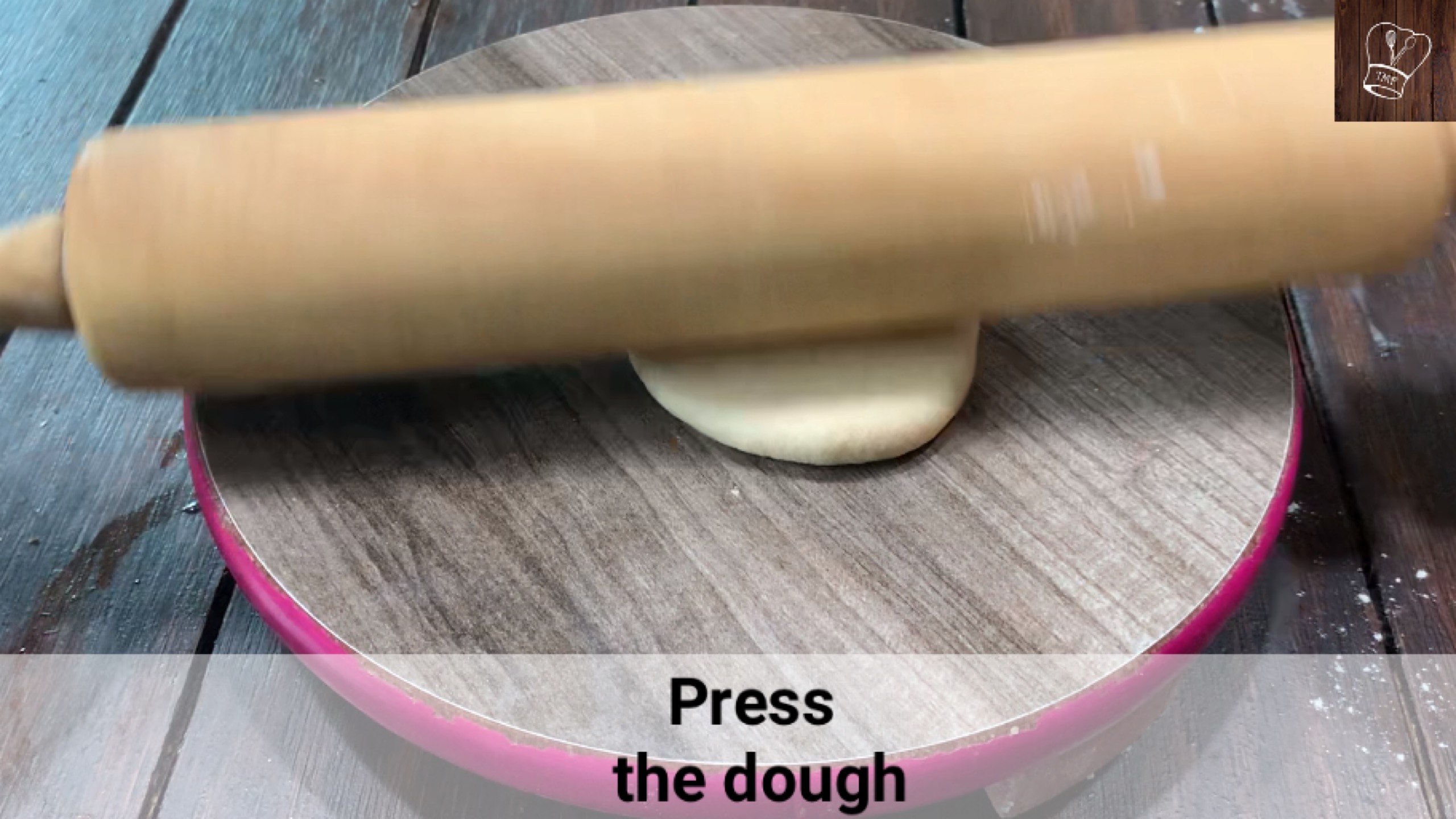 Add little oil on the board and roll the poori not so thick /thin. It should be moderately thick otherwise puri will not puff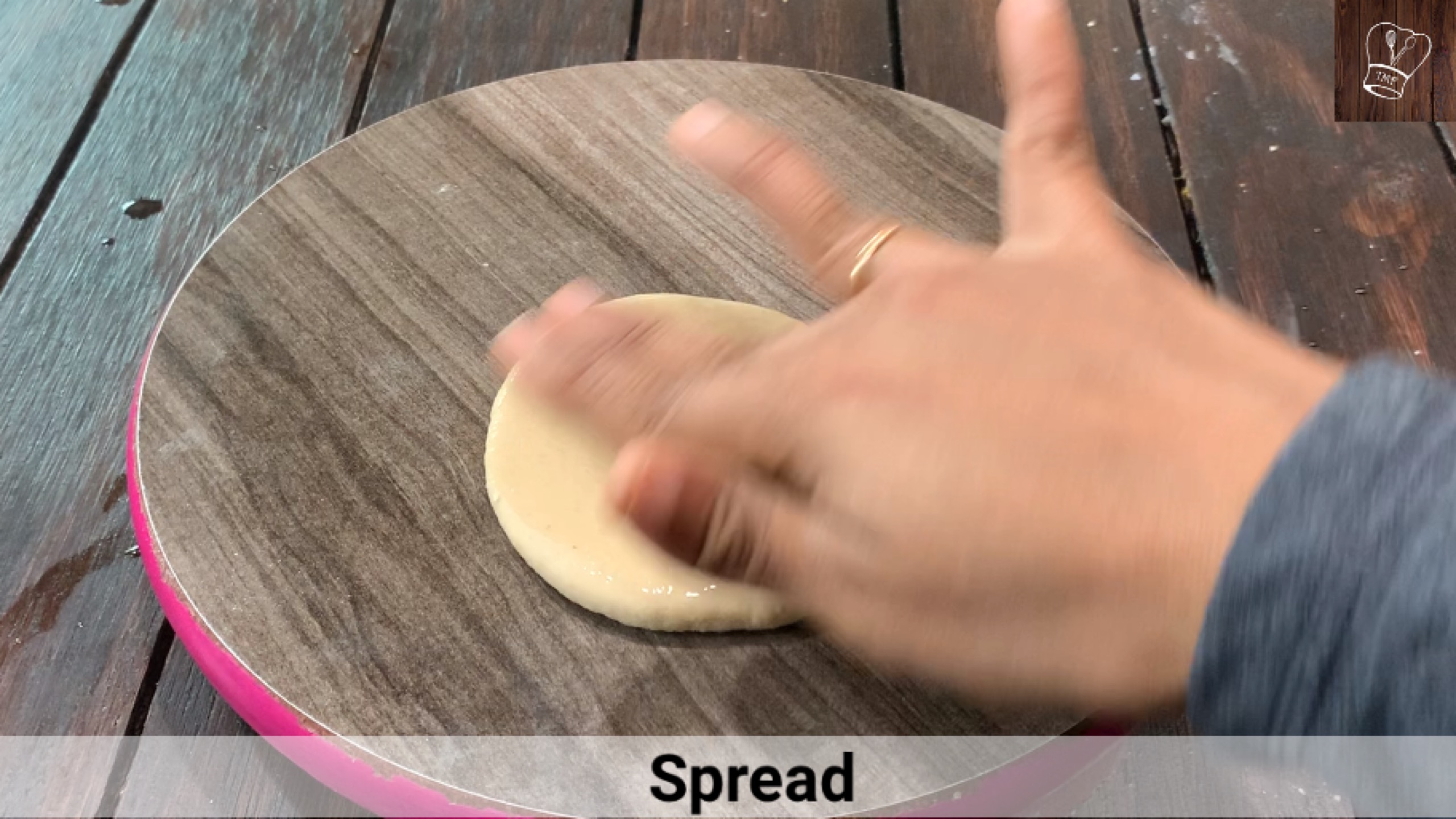 Do even rolling as it helps did puffy poori. You can sprinkle little flour and roll but dust it before frying else excess flour might burn in the oil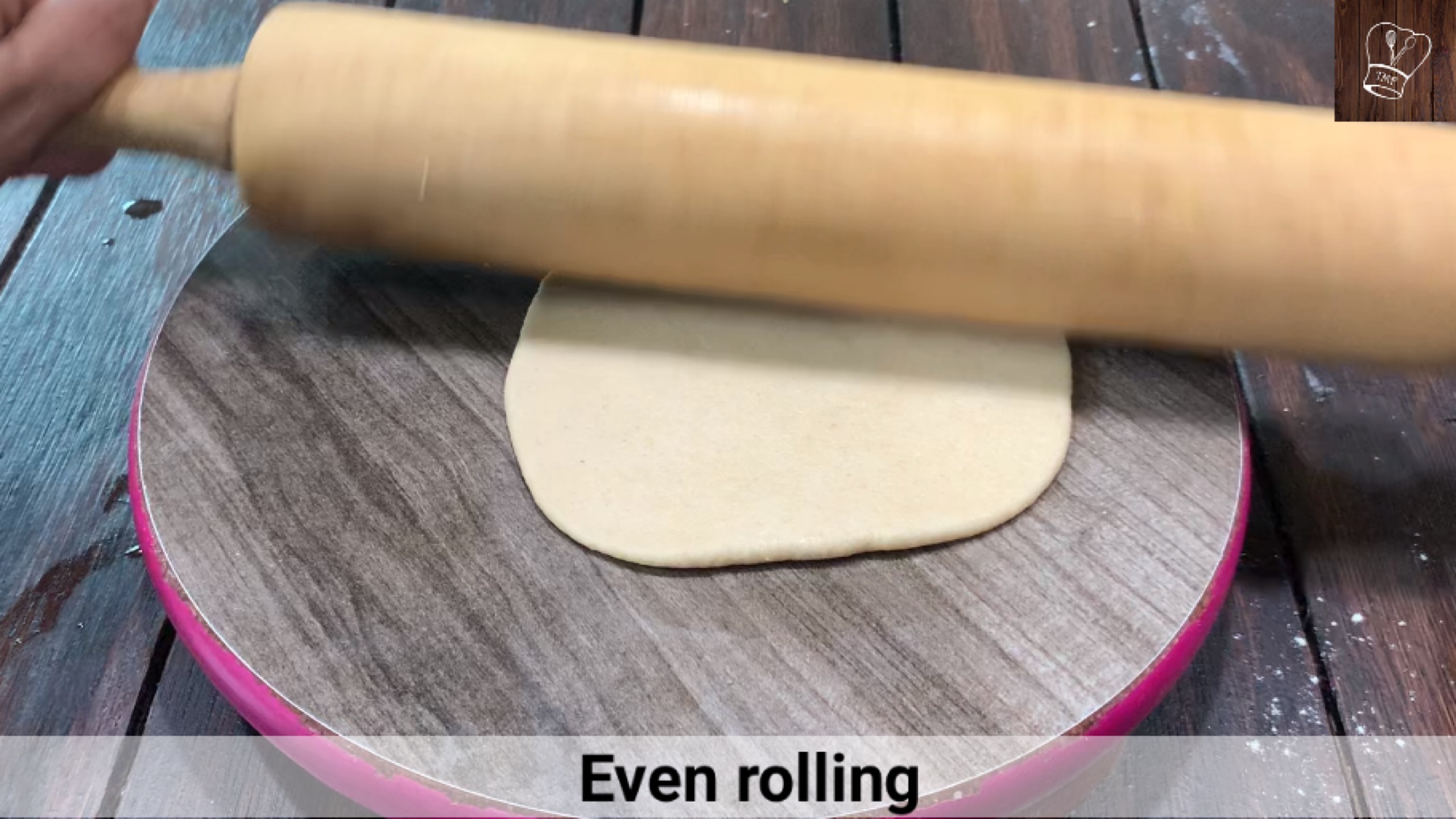 roll big poori (around 1/8 inch thickness) and cut into the desired size with a cookie cutter or lid or roll small poori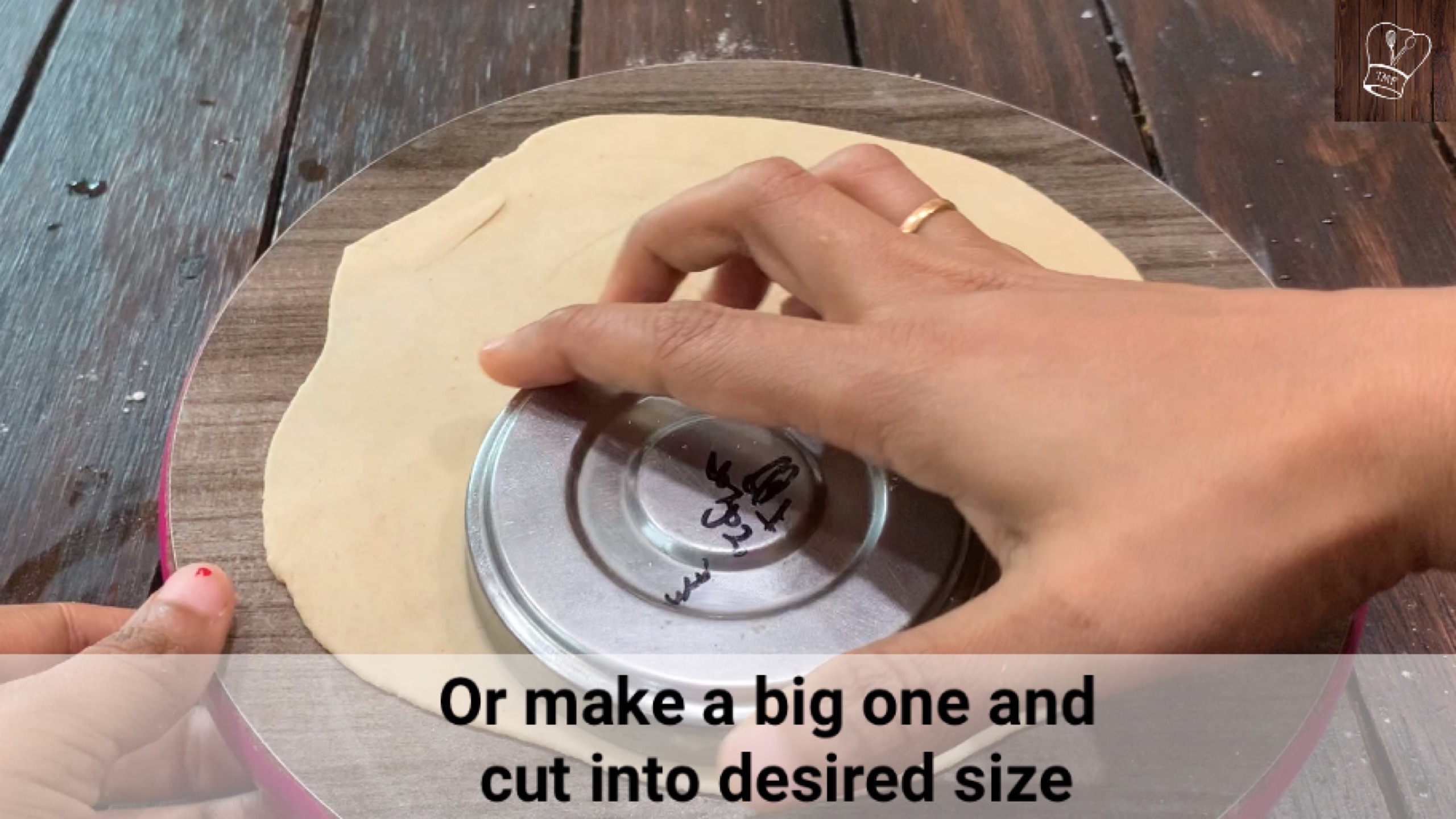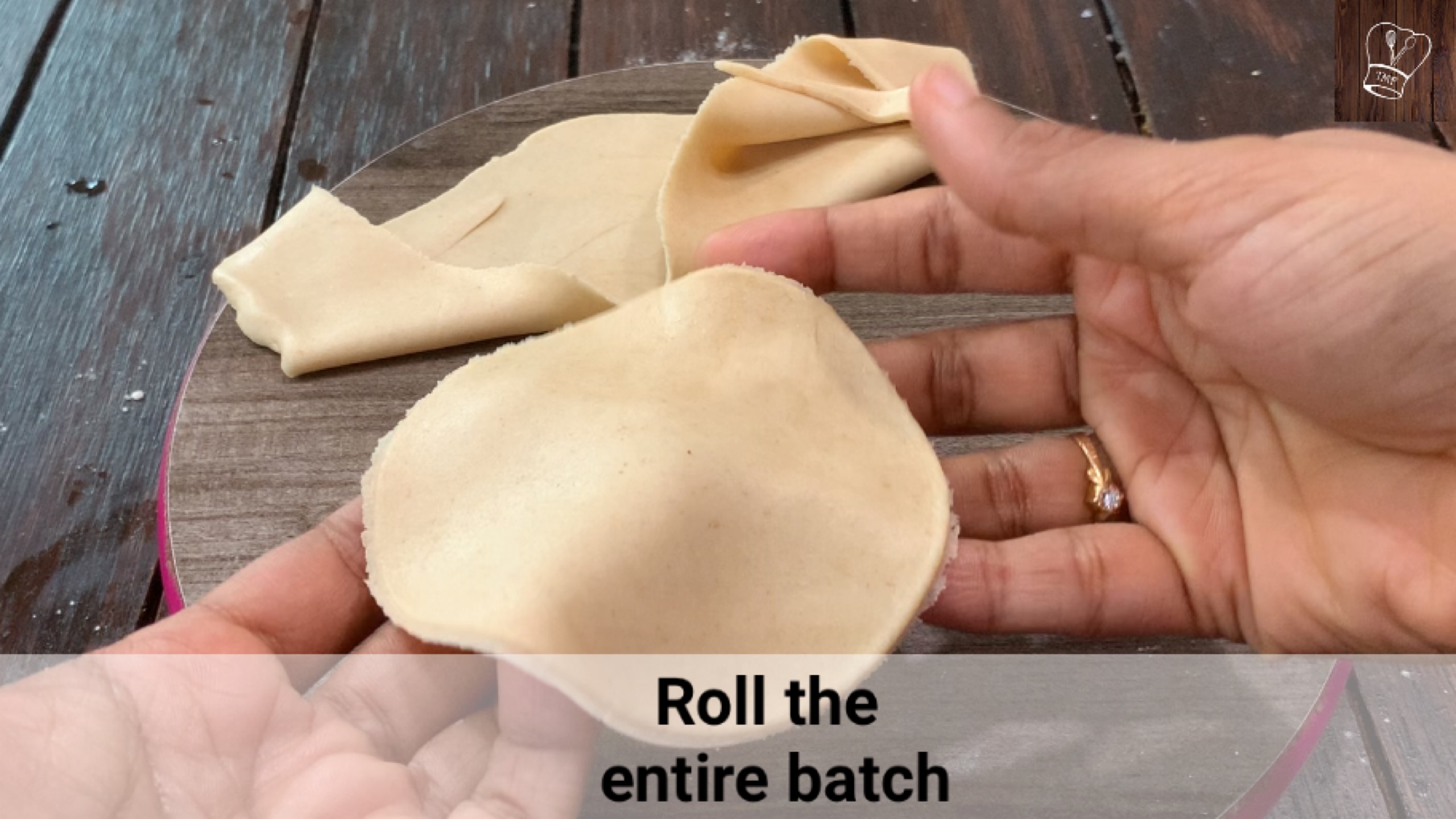 Place the rolled poori on a kitchen towel and place it for at least 2 minutes before frying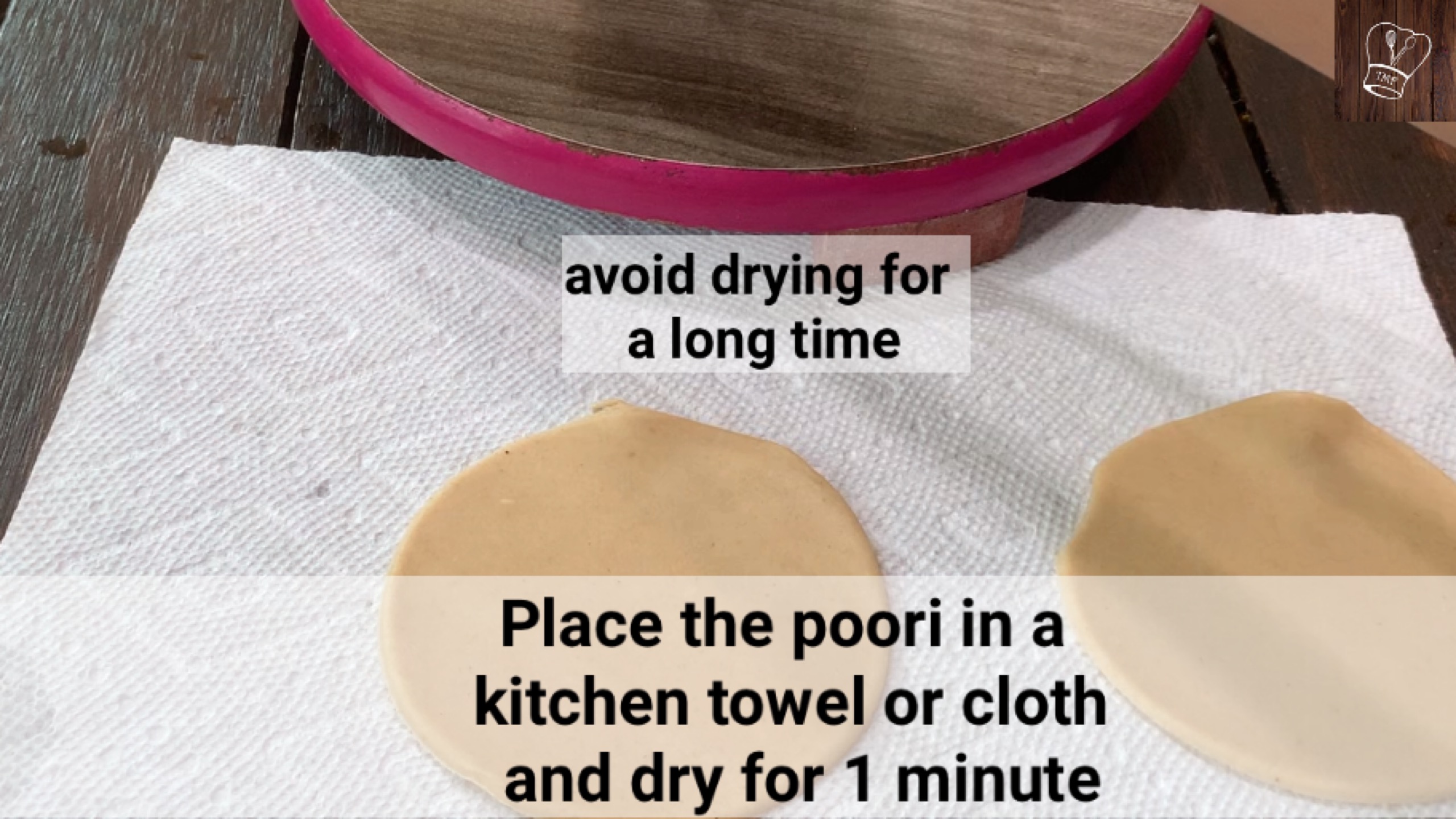 Check if the oil is hot drop a small piece of dough if it raises immediately then the oil is at the right temperature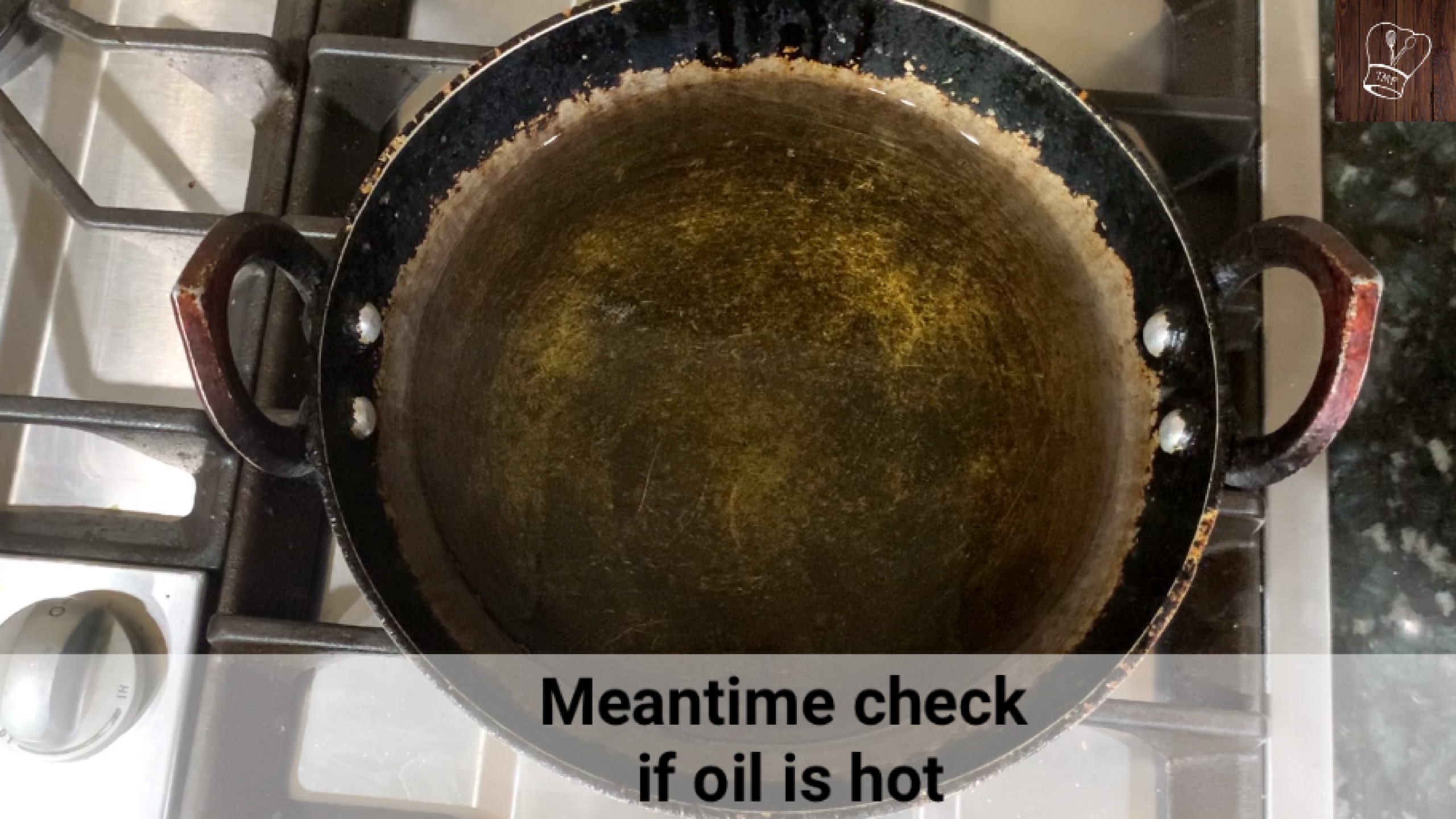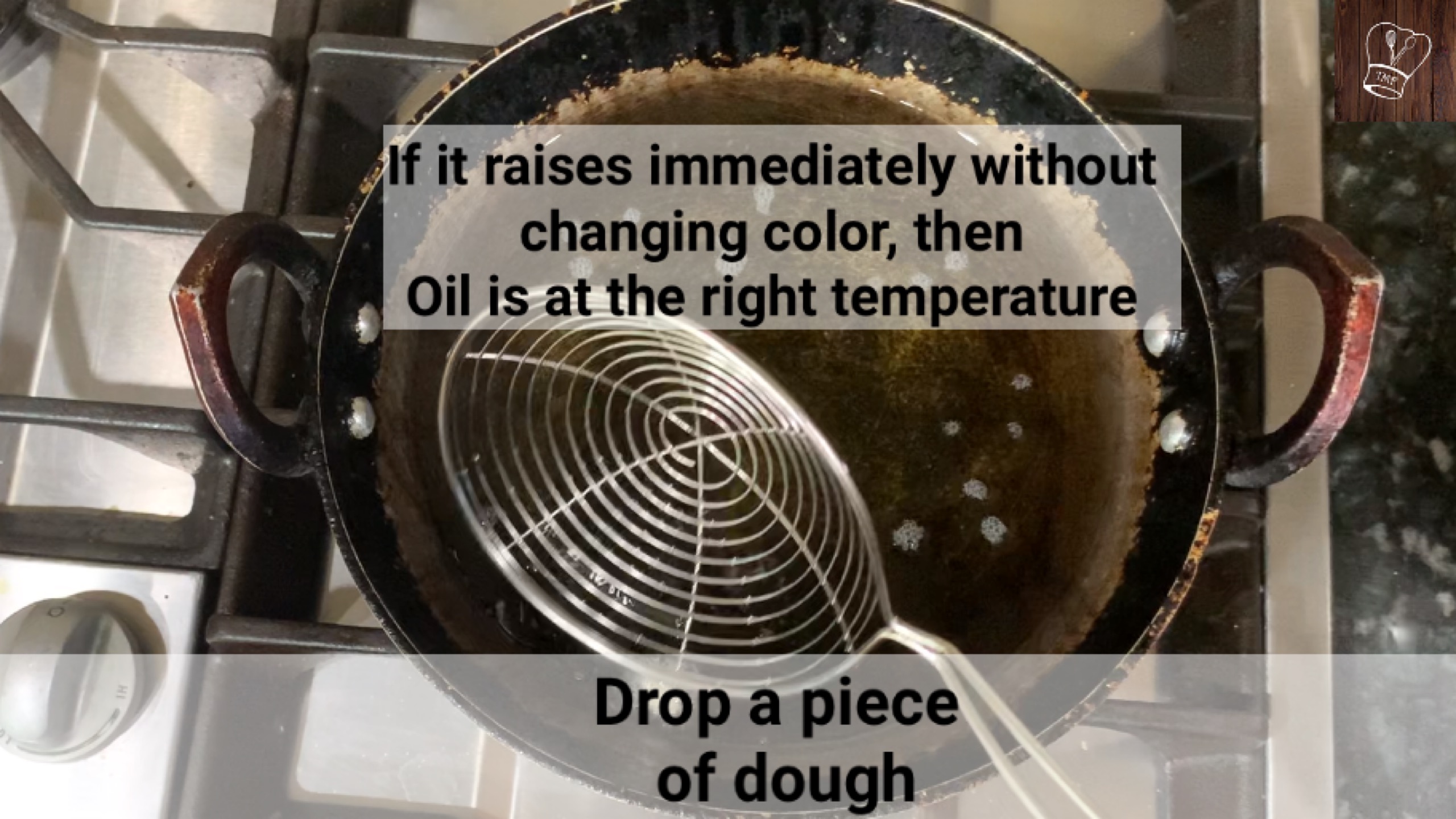 If it browns oil is too hot reduce

If it doesn't raise oil heat oil for some more time

Gently slide the puri from the side. If you have used flour, do dust off the excess flour before frying. As soon as i

Soft press

the poori with a slotted ladle or spider ladle to make the puri puff and cook evenly

If you press too hard, holes can form on the poori and will not puff.

Poori puffs well and frothy bubbles settle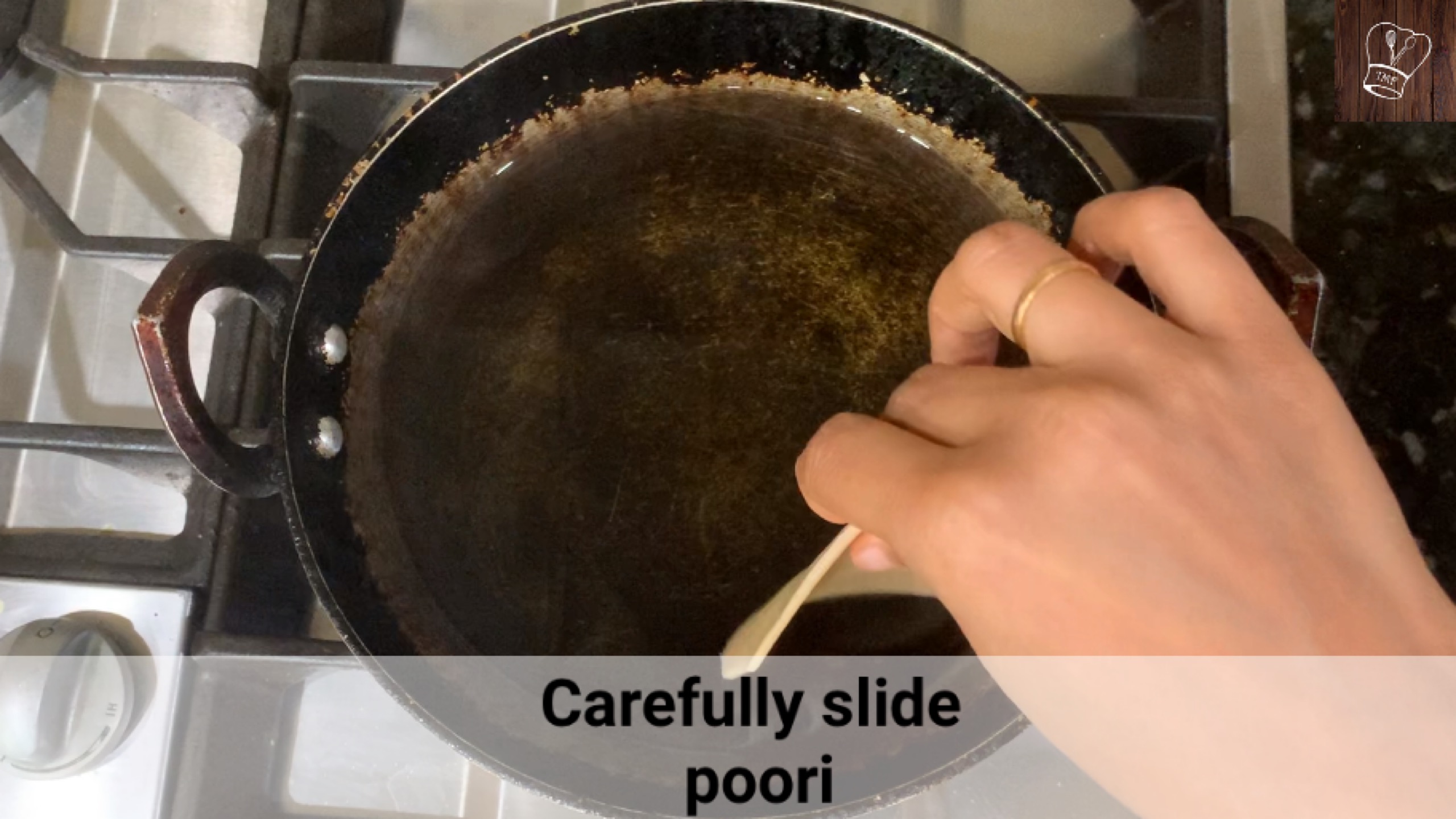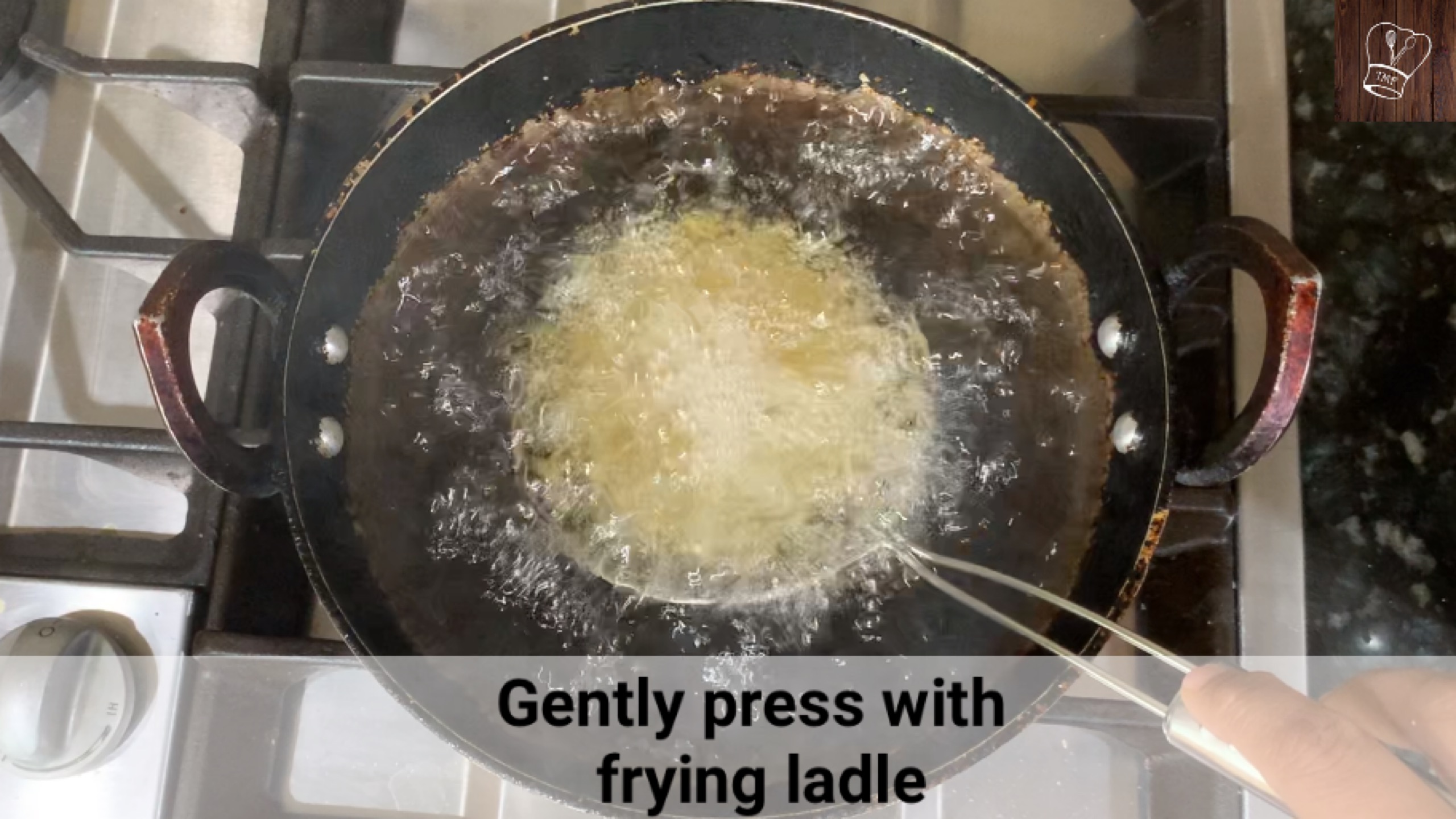 turn over the puri and gently press the poori, fry another side

After both sides turn golden brown transfer the fried puri to an oil filter or steel colander/ plate lined with kitchen towels to absorb any excess oil

Fry the remaining puri, maintain the oil temperature by increasing or reducing the flame as needed .

make sure the oil is hot enough but not smoking hot.

Avoid crowding the oil with puri, Fry in batches based on pan size