Thengai Poli | sweet Poli | coconut poli | coconut poli recipe | how to make coconut poli | Naariyal Puran poli | Kayi holige | coconut sweet poli | sweet boli | boli stall Thengai poli recipe | coconut obbattu | puran Poli | is a traditional south Indian sweet | boli recipe | holige | poli recipe
with step by step pictures and video recipe. Check out the
Thengai poli recipe
and If you like the video pls
SUBSCRIBE to my channel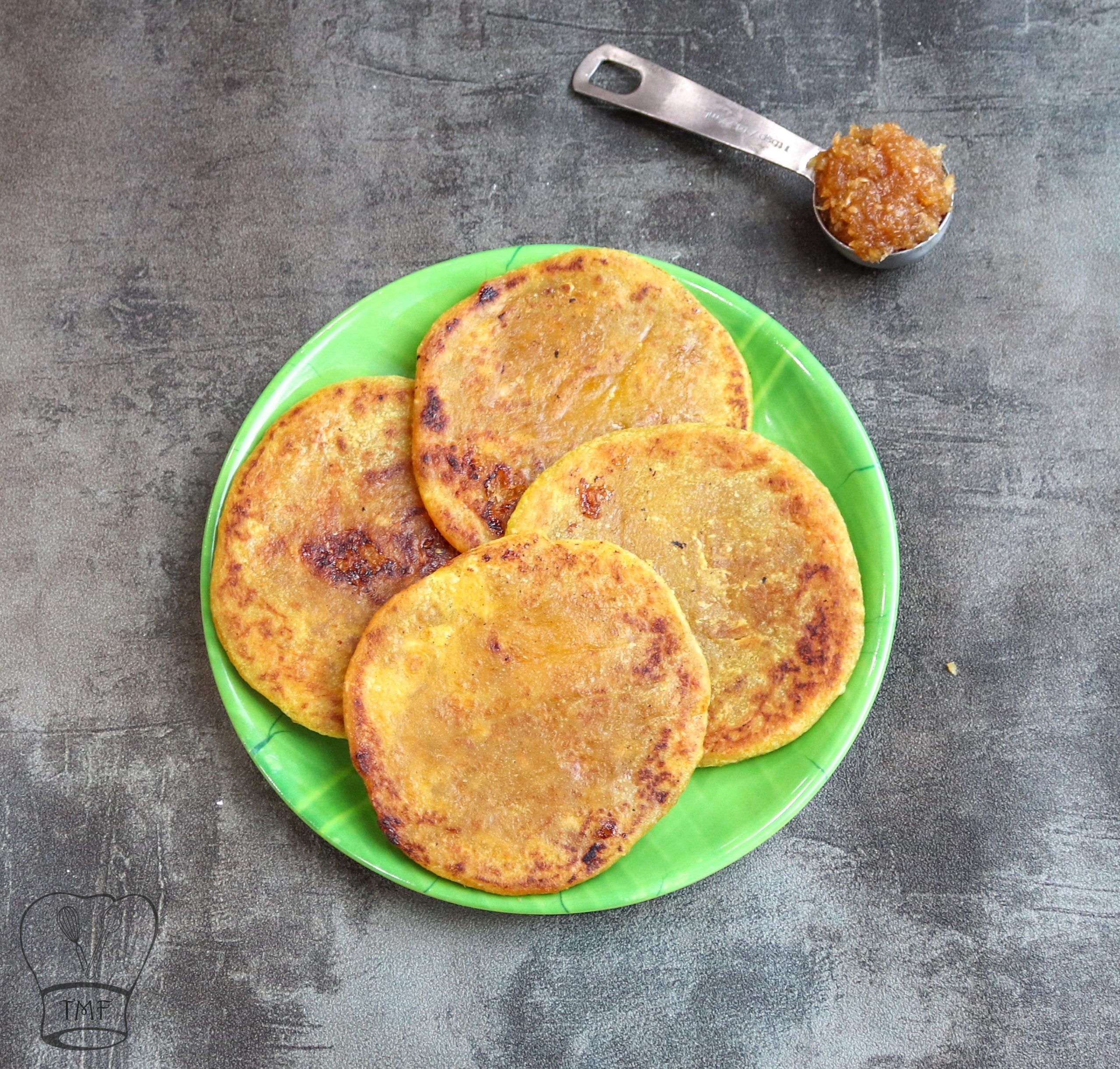 Thengai Poli | sweet Poli | coconut oil | coconut poli recipe | how to make coconut poli | Naariyal Puran poli | Kayi holige | coconut sweet poli | sweet boli | boli stall Thengai poli recipe | coconut obbattu | puran Poli | is a traditional south Indian sweet | boli recipe | holige | poli recipe
is a traditional Indian festive sweet recipe. Indian flatbread stuffed with coconut + jaggery filling, popularly known as pooranam. It is popularly known as boil / poli in Tamil, Obbattu or kaye holige in Karnataka, naariyal puran poli in Maharashtra. After spending two decades of my life in West mambalam, thanks to Boli stalls, thengai poli is my favorite.
Thengai Poli recipe
Poli is a delicious Indian sweet recipe. Poli is generally made during Avani Avittam, bhogi pandigai,varalakshmi nombu etc. You can also make it for Diwali, Navaratri, or for evening snacks. It is also served in many Tamil brahmin wedding. In our home, we make paruppu poli, paal poli, thengai poli. This coconut poli is one of the favorite sweet variety from Boli stalls. Especially from Venkatramana/ Venkateshwara boli stall and also in many other sweet shops in south India.
Can I use Wheat flour instead of all-purpose flour?
Traditionally all varieties of polis are made using all-purpose flour, but if prefer you can use half measure of maida and half measure of wheat flour also. In our family, we like the taste of poli prepared with All purpose flour, so I generally do Boli with it. The texture and taste of poli with wheat flour slightly differ.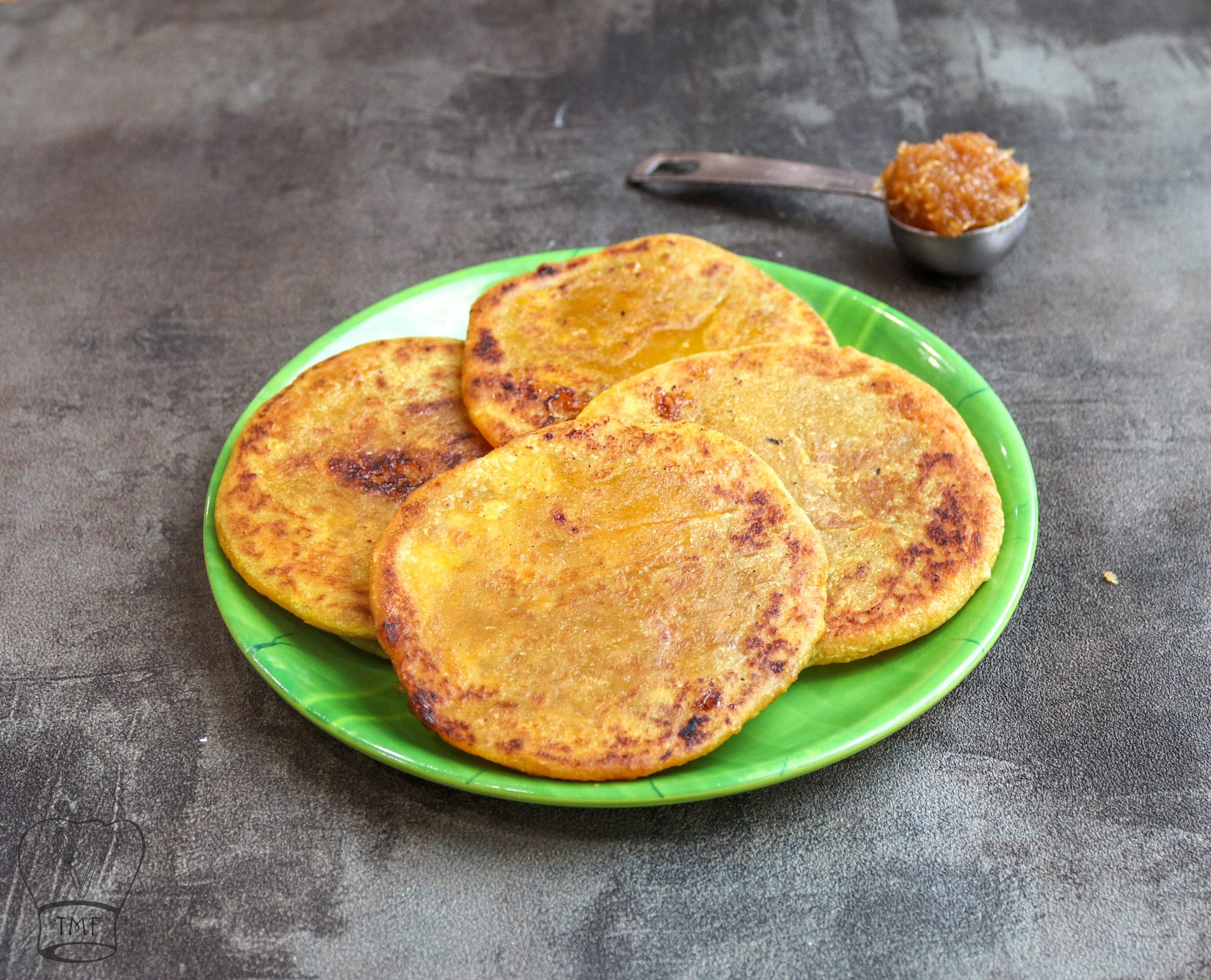 Is turmeric powder mandatory for thengai poli?
No, my Mother in law add turmeric powder to her
Paruppu Poli
and I love the yellow color hence I follow the same. You can also add Kesari powder or food color while making Poli or make Thengai Poli without plain without any add-on for color.
Is rice flour required for Coconut pooranam?
No, I added little rice flour for extra biding. Even without the rice flour coconut poli comes to good to prevent the additional moisture in the pooranam I added very little rice flour.
What is the shelf life of the thengai poli?
The shelf life of coconut poli is less because of coconut. If you live in a cold place It stays good at room temperature for 2 days. Refrigerating the poli helps for longer shelf life(up to 5 days). Warm it up before consuming
Tricks to make a perfect Poli
🌱Generous oil
🌱Extra kneading
🌱Resting time and cooling time for Puran and maida dough
🌱Cook with ghee
🌱 Avoid cooking Poli in too low flame 🌱To maintain a soft texture always stack and keep the poli. I prefer stacking and storing the poli in a casserole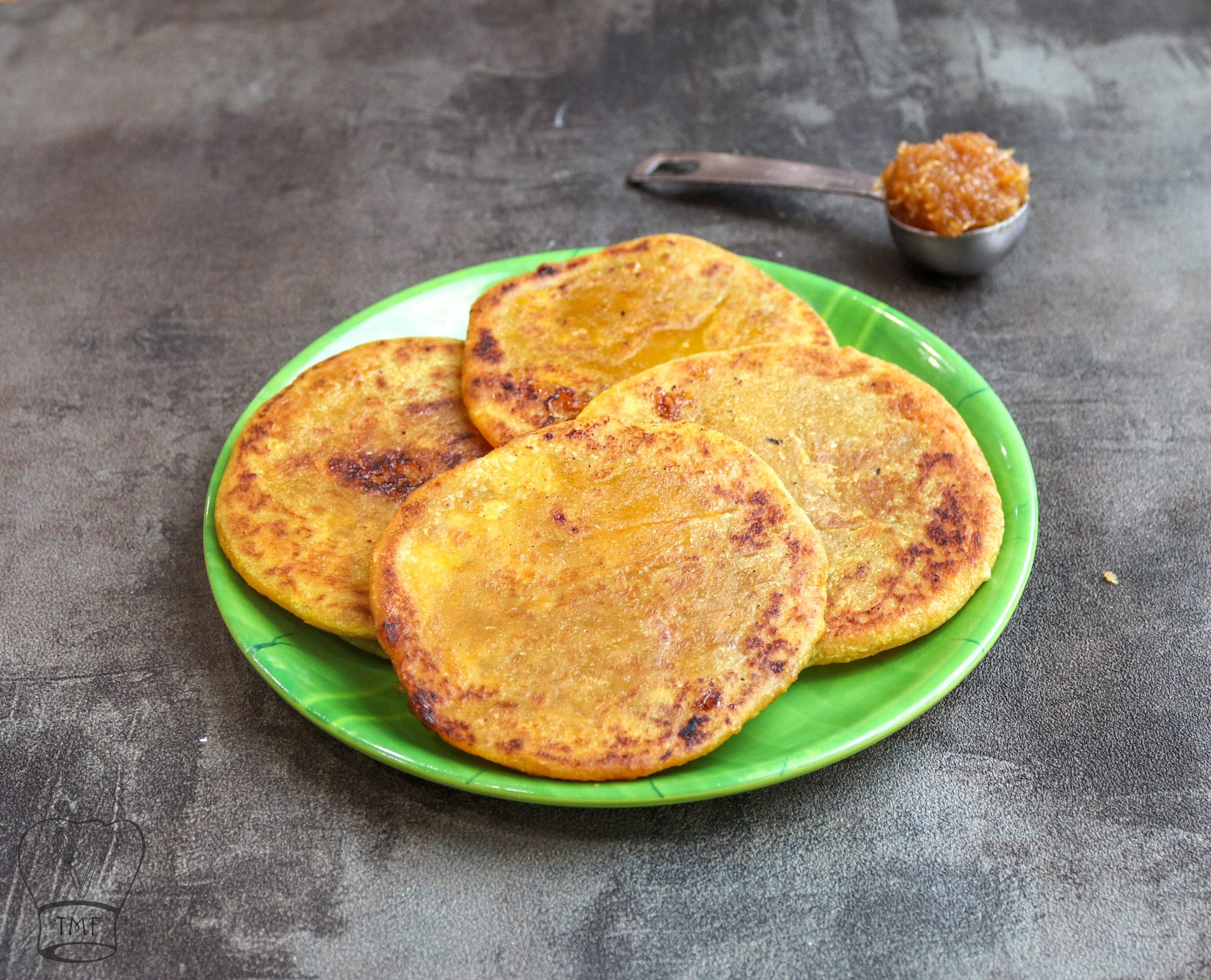 Coconut based recipes in TMF
Other Poli recipes in TMF
Ingredients
For the outer layer:
Maida | All-purpose flour - 1 cup

Sesame oil - 4 tbsp

Turmeric powder- 1/4 tsp

Salt - pinch

Water - 1/4 cup
For the stuffing
Jaggery – 1 cup

Coconut

grated - 1 cup, tight pressed

Ghee/clarified butter – 1/2 tsp

Cardamom powder- 1/2 tsp

Rice flour - 1/2 tsp

For Poli

Ghee - for Poli

Sesame oil - to grease hands
Instructions
In a wide bowl add maida, salt, and turmeric powder, mix well

Add 1 tablespoon of sesame oil and 1/4 cup of water and mix well and start kneading

Furthermore, Add 1 tablespoon of oil and water little by little and knead

Add 1 tablespoon of oil and continue kneading. If required drizzle drops of water

Knead well and make a pliable dough

Add 1 tablespoon of oil around the dough; spread well and cover the bowl with a plate and rest it for 3-4 hours. If you are running late rest the dough for at least one hour

Soak jaggery in 1/4 cup of hot water and microwave for 1-2 minutes till the jaggery syrup melts. Avoid making jaggery syrup

Strain the jaggery syrup and keep it aside

Boil the jaggery syrup till you see a frothy boil

Add coconut and cardamom powder to the jaggery syrup and cook

Furthermore, add ghee and mix well

Keep mixing and cook till the poornam comes together without water coming separately. Turn off the stove immediately

Transfer the pooranam to a cup and let it cool completely. Avoid closing pooranam

Let the  puranam  cool for at least  an hour

After the dough is rested for a few hours. Take the dough and knead again once. The dough with be pliable but still, it will be tacky

Pinch almost equal amount of small dough balls and keep aside

Take an almost equal size of small puranam dough balls and keep them aside

In a parchment paper/banana leaf and apply oil to grease the paper

Grease your hands with sesame oil and take one dough and place it on the parchment paper

Gently pat (press) the dough with your fingers and make a circle to keep puranam

Keep pooranam and wrap the dough

Press the dough into a thin poli

Heat the dosa pan in medium flame and add ghee

Cook poli on one side, flip and cook another side

Stack the poli on a casserole. Warm poli and enjoy
Video
Notes
The dough for Poli is pliable but it is tacky
Prepare jaggery water and strain if jaggery has impurities
Rice flour is optional
Adding generous oil yields soft poli
Always knead the dough well. Well kneaded dough results in the softest poli
Ample resting time and cooling time for Pooranam and maida dough helps for soft tasty poli
I prefer cooking the poli with ghee. If you are cooking with oil, serve with ghee for extra flavoring
Avoid cooking Poli in too low flame. It might turn flaky
If you make a big batch of Poli refrigerate them in an airtight container. Microwave Poli for 10-15 second and serve with little ghee
To maintain a soft texture always stack and keep the poli. I prefer stacking and storing the poli in a casserole
If you want to cut down the oil. Then use rice flour for rolling the Poli but the poli texture might vary. Personally, I like the Poli dough prepared with generous oil
Stuffing can be made in advance and stored in a refrigerator. Keep it at room temperature for an hour and use it for stuffing
Keep the stuffing in the fridge only if your puranam is prepared the previous day. If you are planning to prepare the poli the same day no need to refrigerate the puranam
For the given quantity I get some little leftover poornam
Kesari powder can be used for color
I used Indian store maida (All-purpose-flour) for this poli. I have also tried Poli with all-purpose-flour(non-Indian store).
If you are using a non-Indian store all-purpose-flour water quantity may vary
Non- Indian store all-purpose-flour Poli may turn slightly hard after preparing but if microwave for 10 seconds and poli turns good
Cover the pooranam with a lid only after it comes to room temperature
Ingredients:
For the outer layer:
Maida | All-purpose flour - 1 cup
Sesame oil - 4 tbsp
Turmeric powder- 1/4 tsp
Salt - pinch
Water - 1/4 cup
For the stuffing
Jaggery – 1 cup
Coconut (grated) - 1 cup, tight pressed
Ghee/clarified butter – 1/2 tsp
Cardamom powder- 1/2 tsp
Rice flour - 1/2 tsp
For Poli
Ghee - for Poli
Sesame oil - to grease hands
How to make Paruppu poli with step by step pictures:
In a wide bowl add maida, salt, and turmeric powder, mix well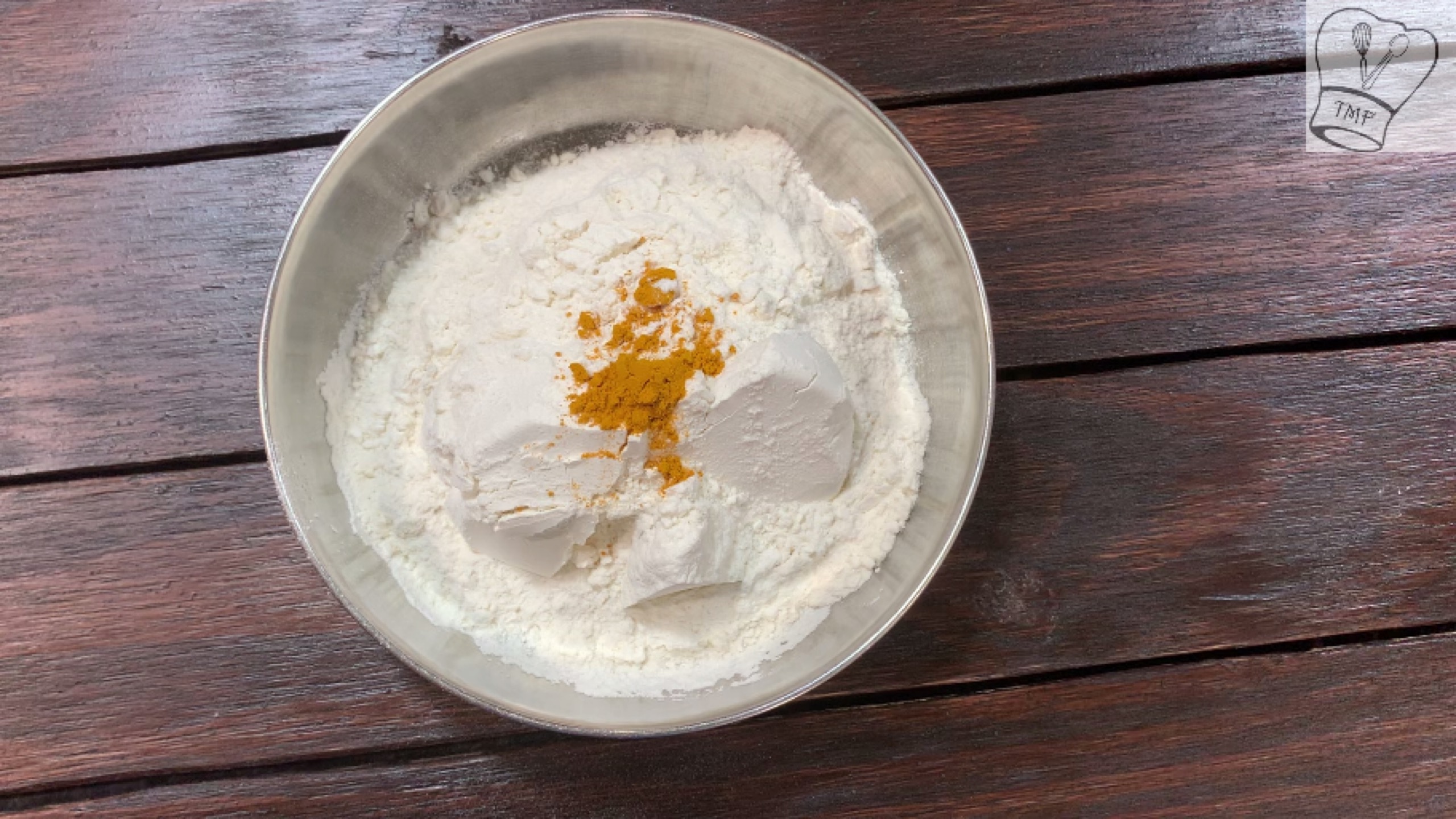 Add 1 tablespoon of sesame oil and 1/4 cup of water and mix well and start kneading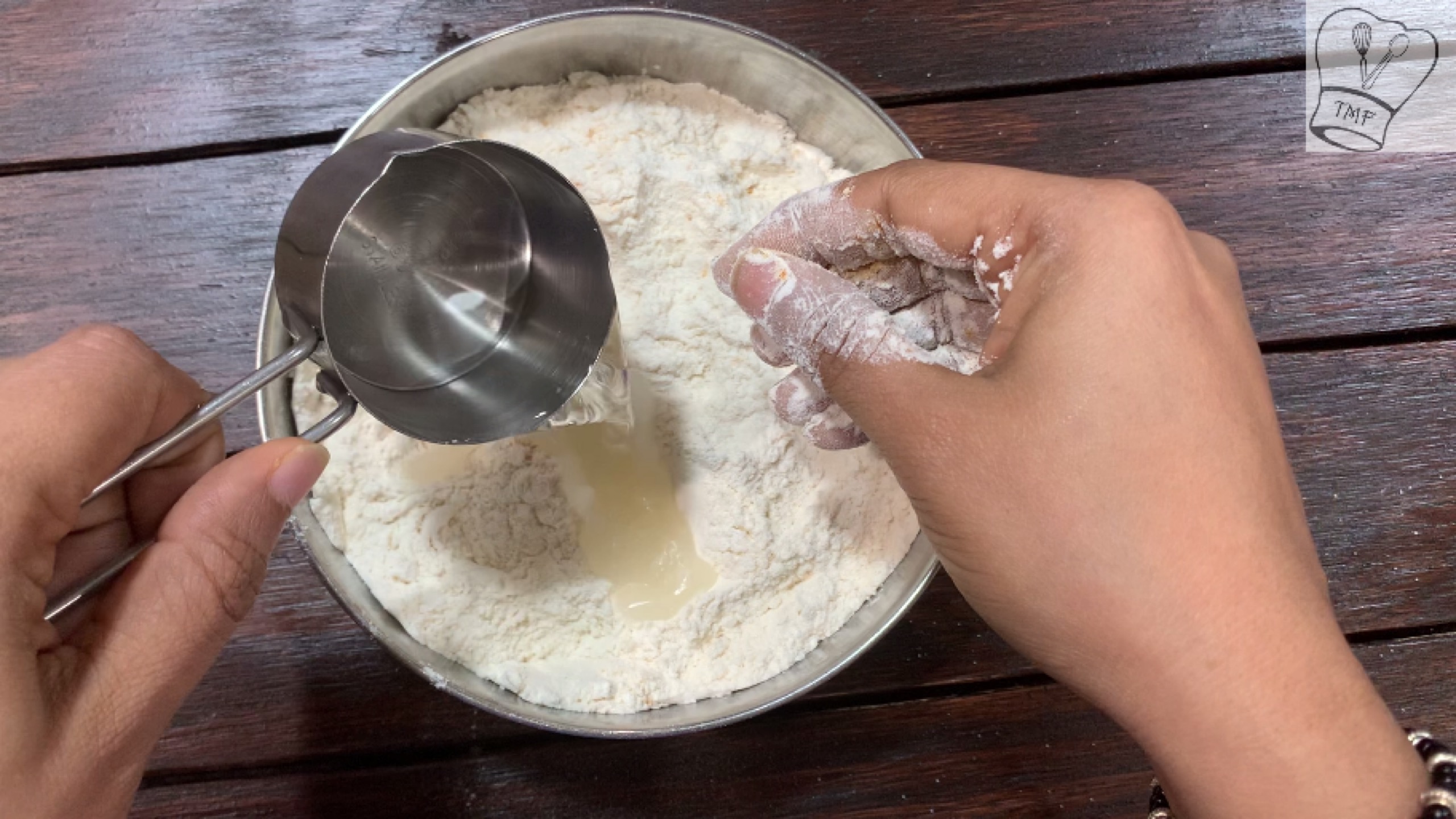 Furthermore, add 1 tablespoon of oil and water little by little and knead
Keep adding water and oil, continue kneading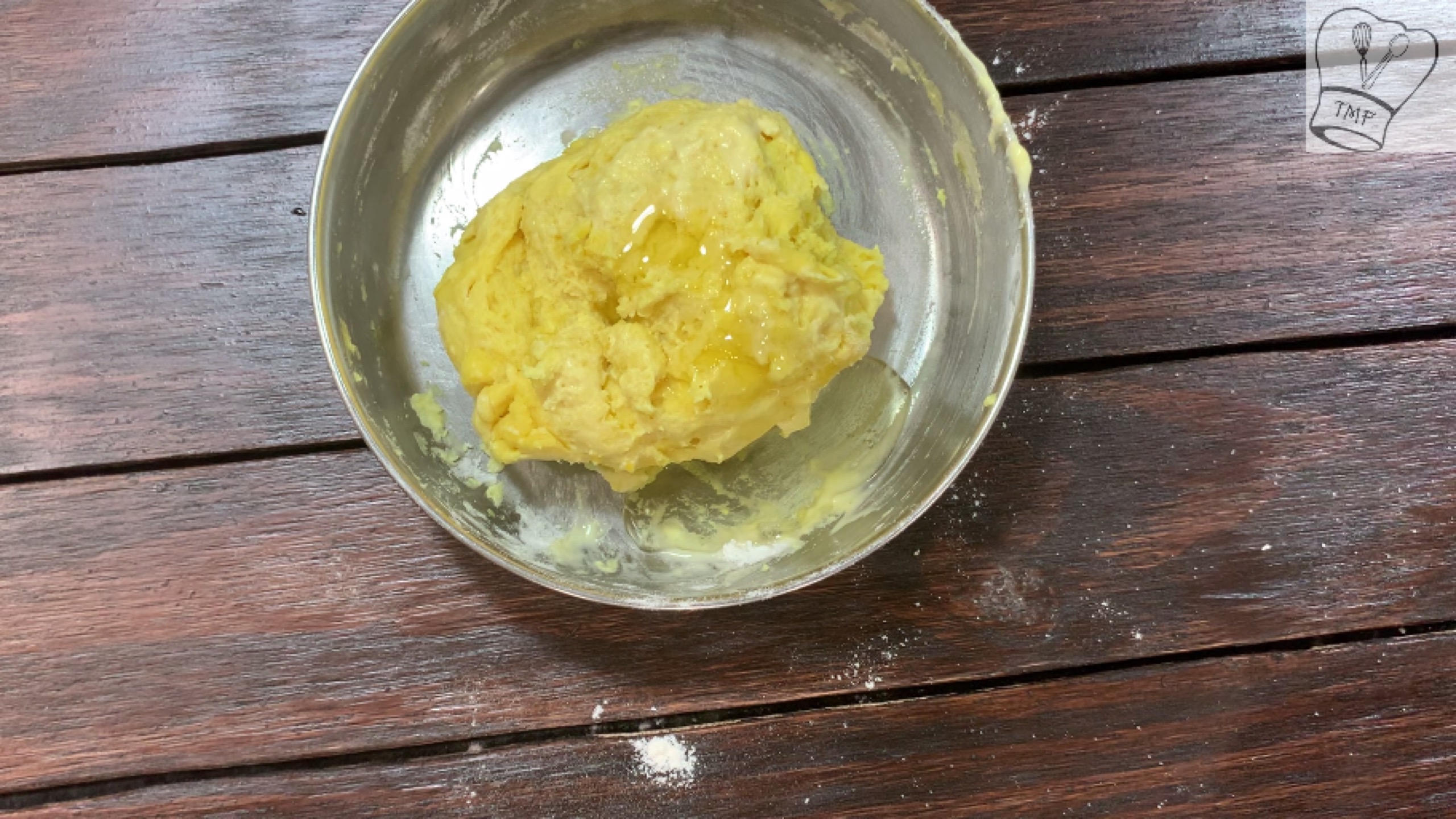 Knead well and make a pliable dough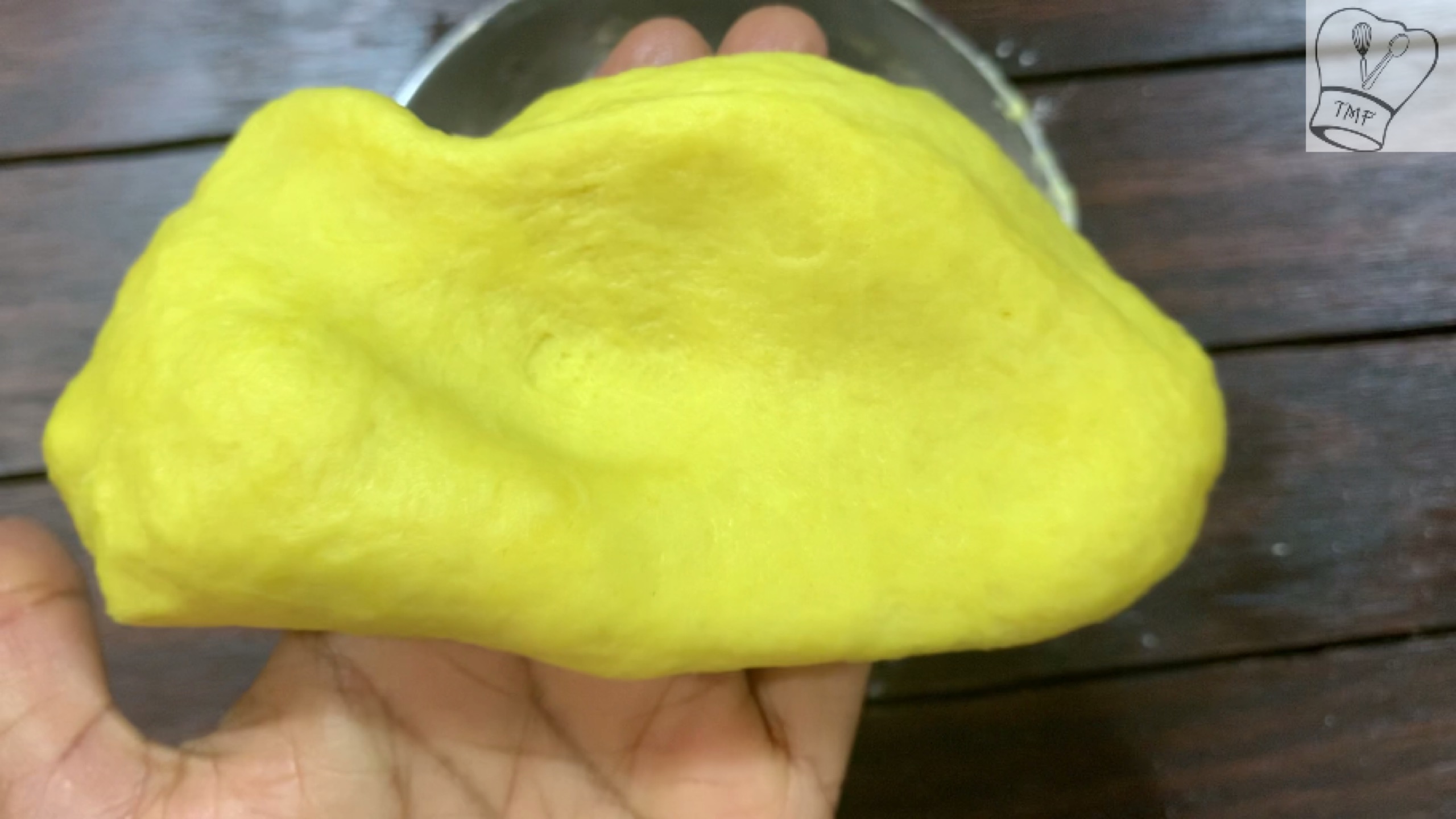 Add 1 tablespoon of oil around the dough; spread well and cover the bowl with a plate and rest it for 3-4 hours. I generally keep for 3 hours if you are running late rest the dough for at least one hour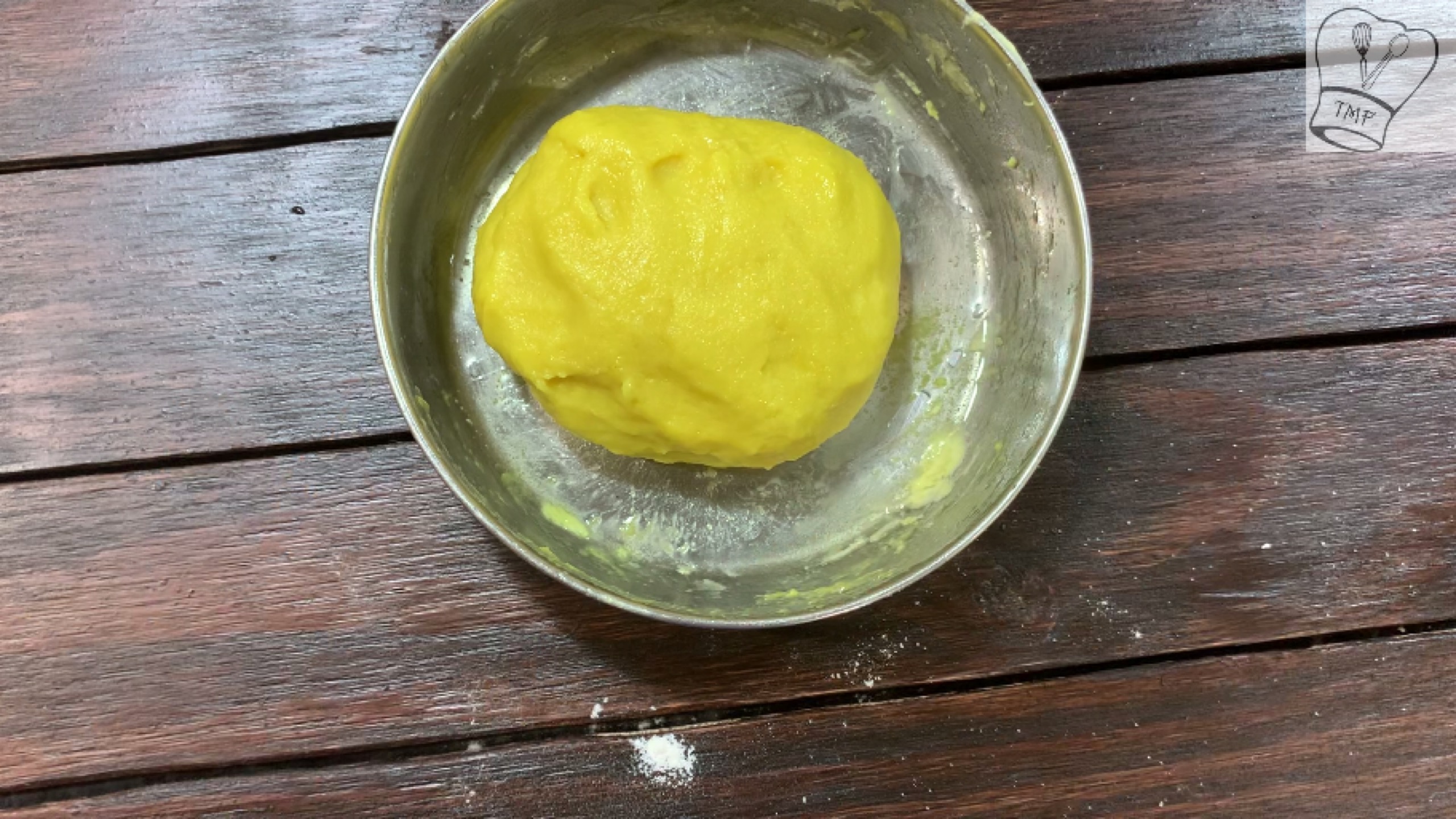 Soak jaggery in 1/4 cup of hot water and microwave for 1-2 minutes till the jaggery syrup melts. Avoid making jaggery syrup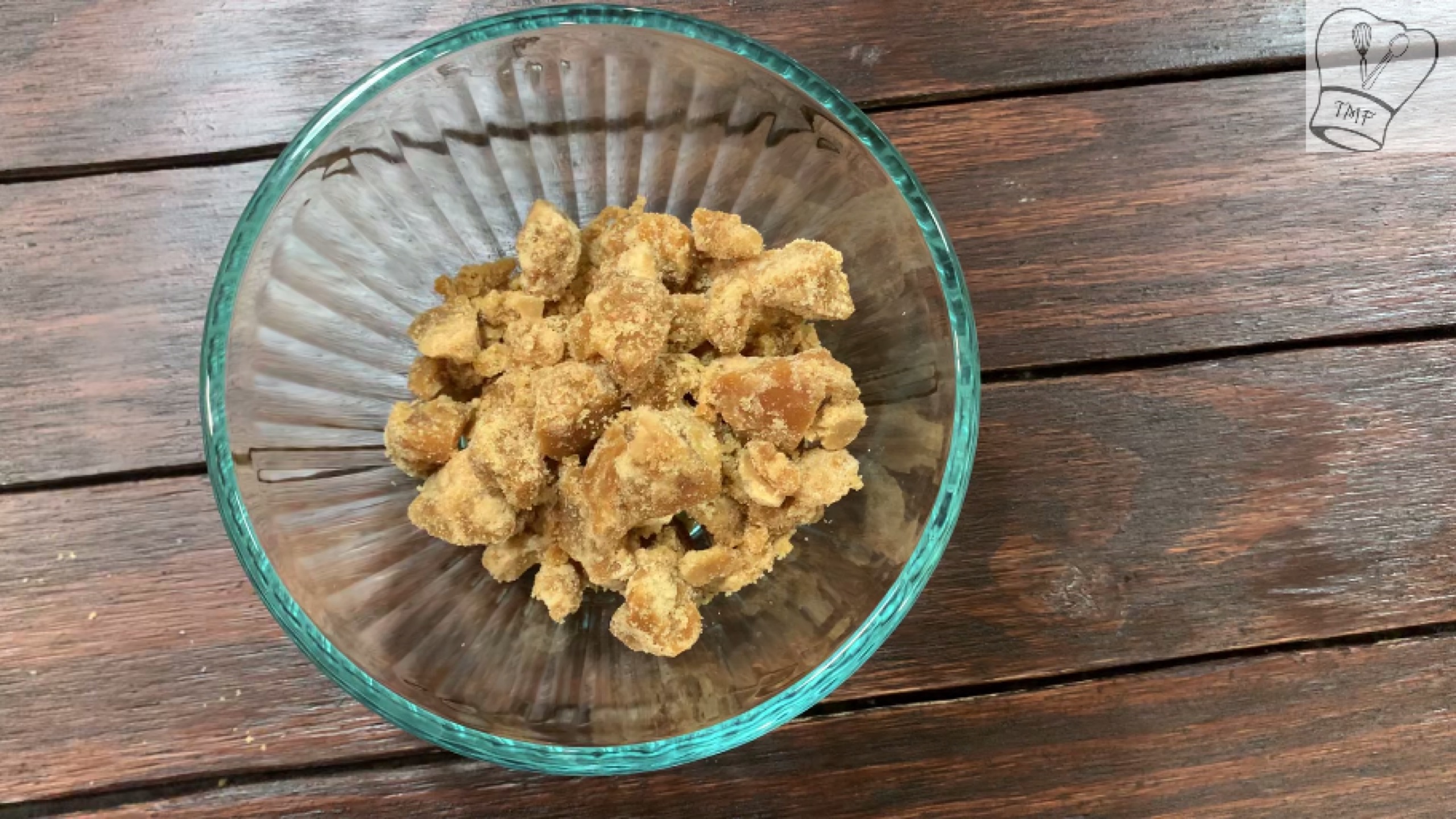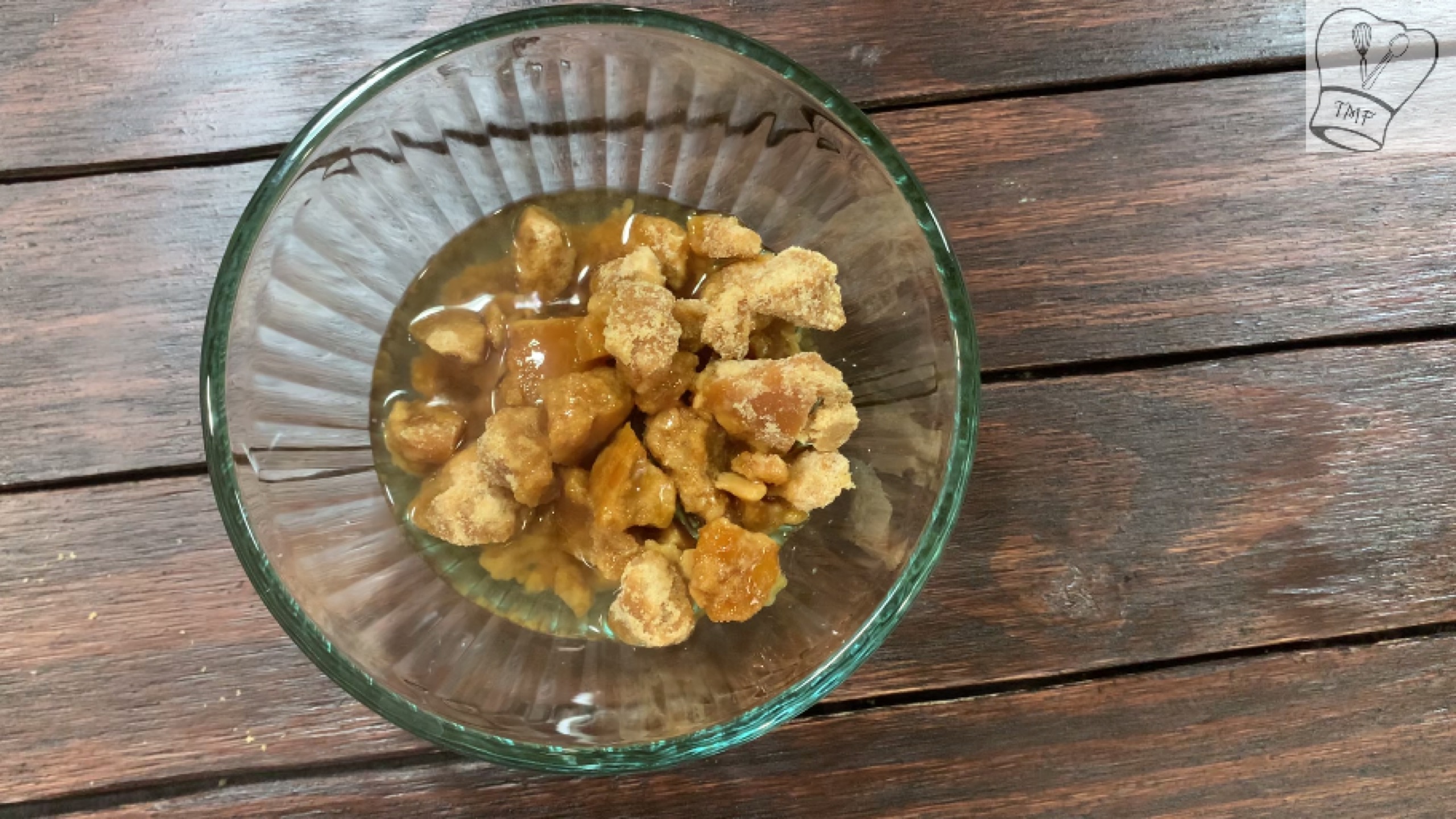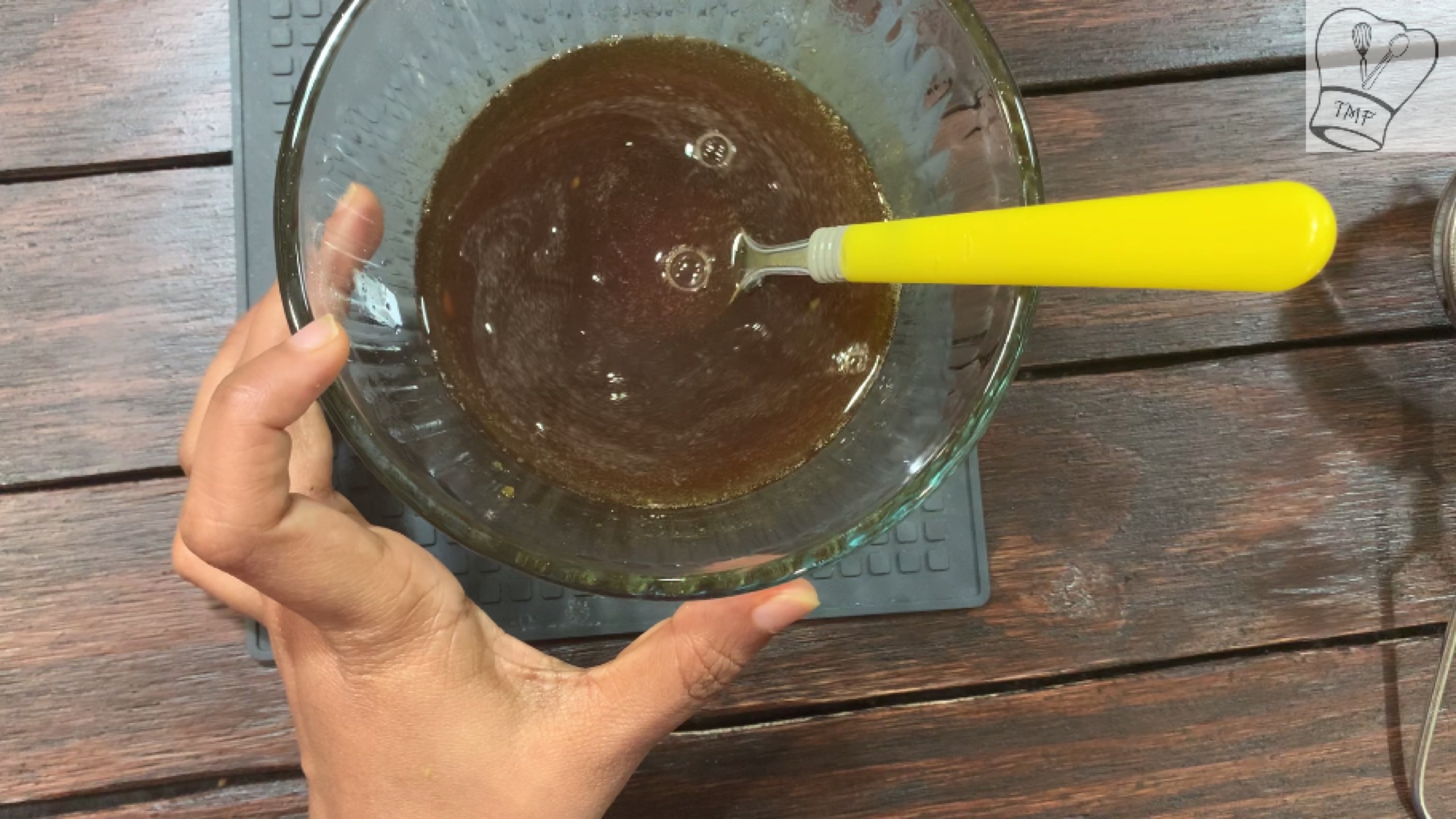 Strain the jaggery syrup and keep it aside
Boil the jaggery syrup till you see a frothy boil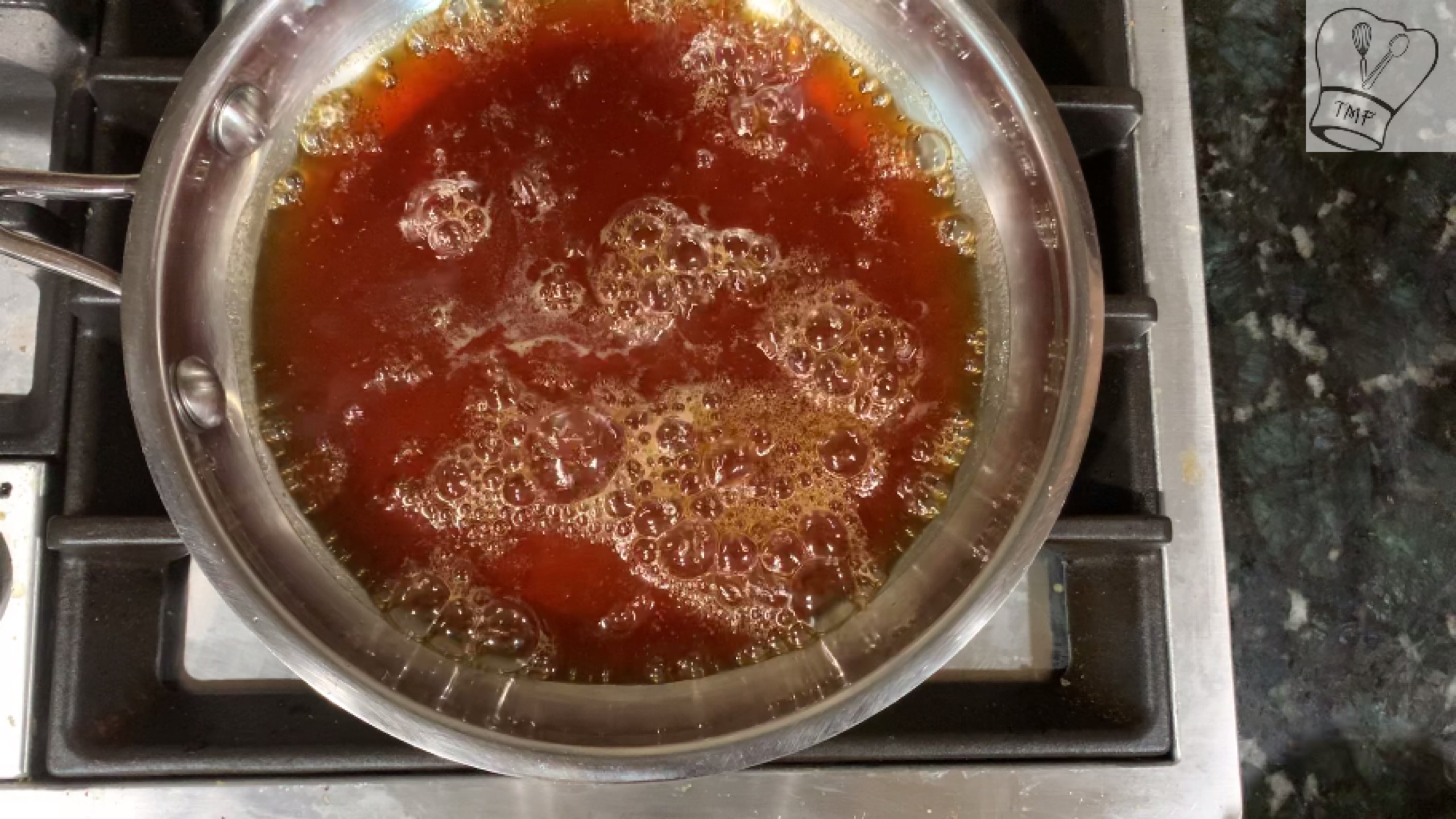 Add coconut and cardamom powder to the jaggery syrup and cook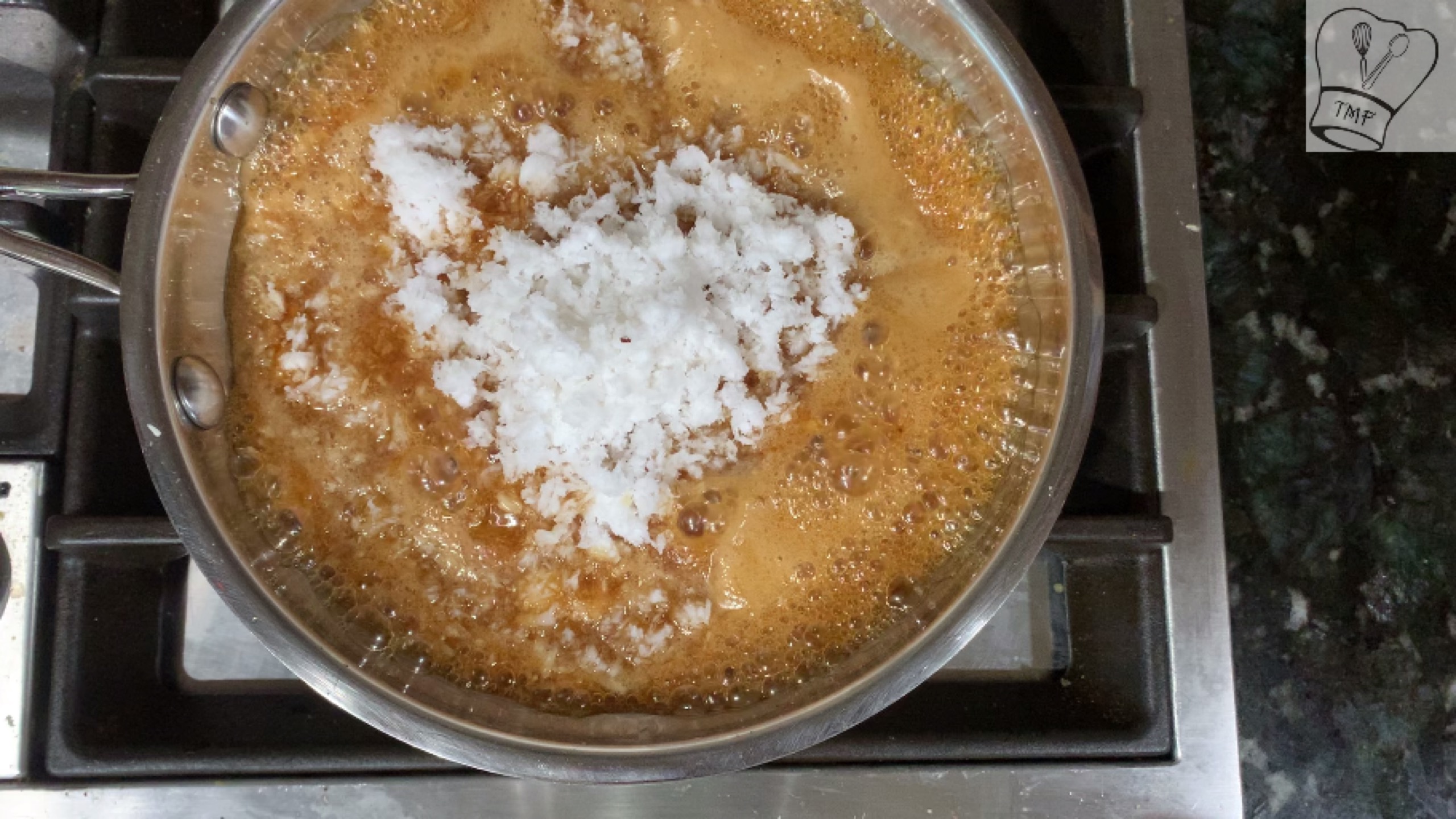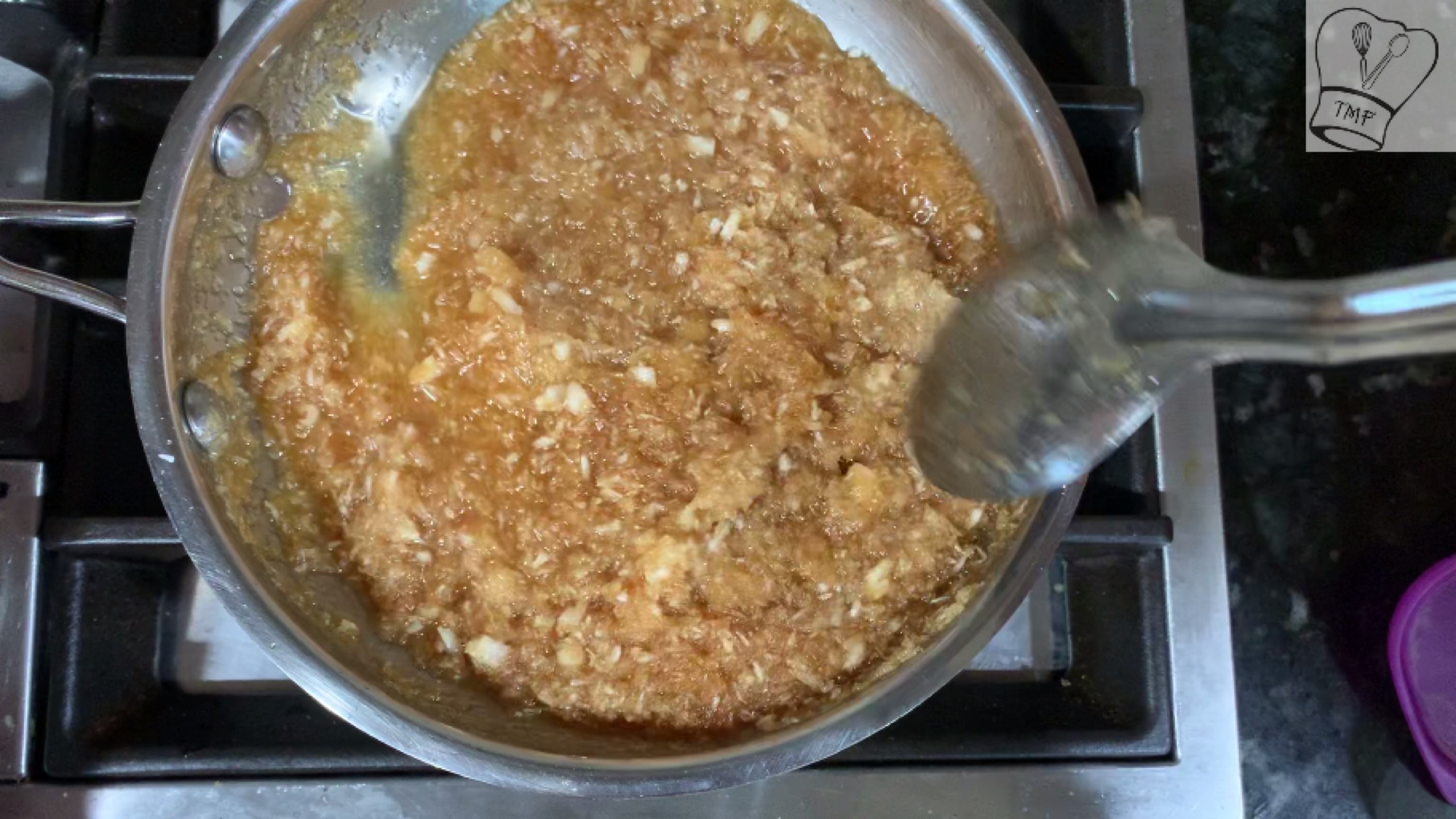 Furthermore, add ghee and mix well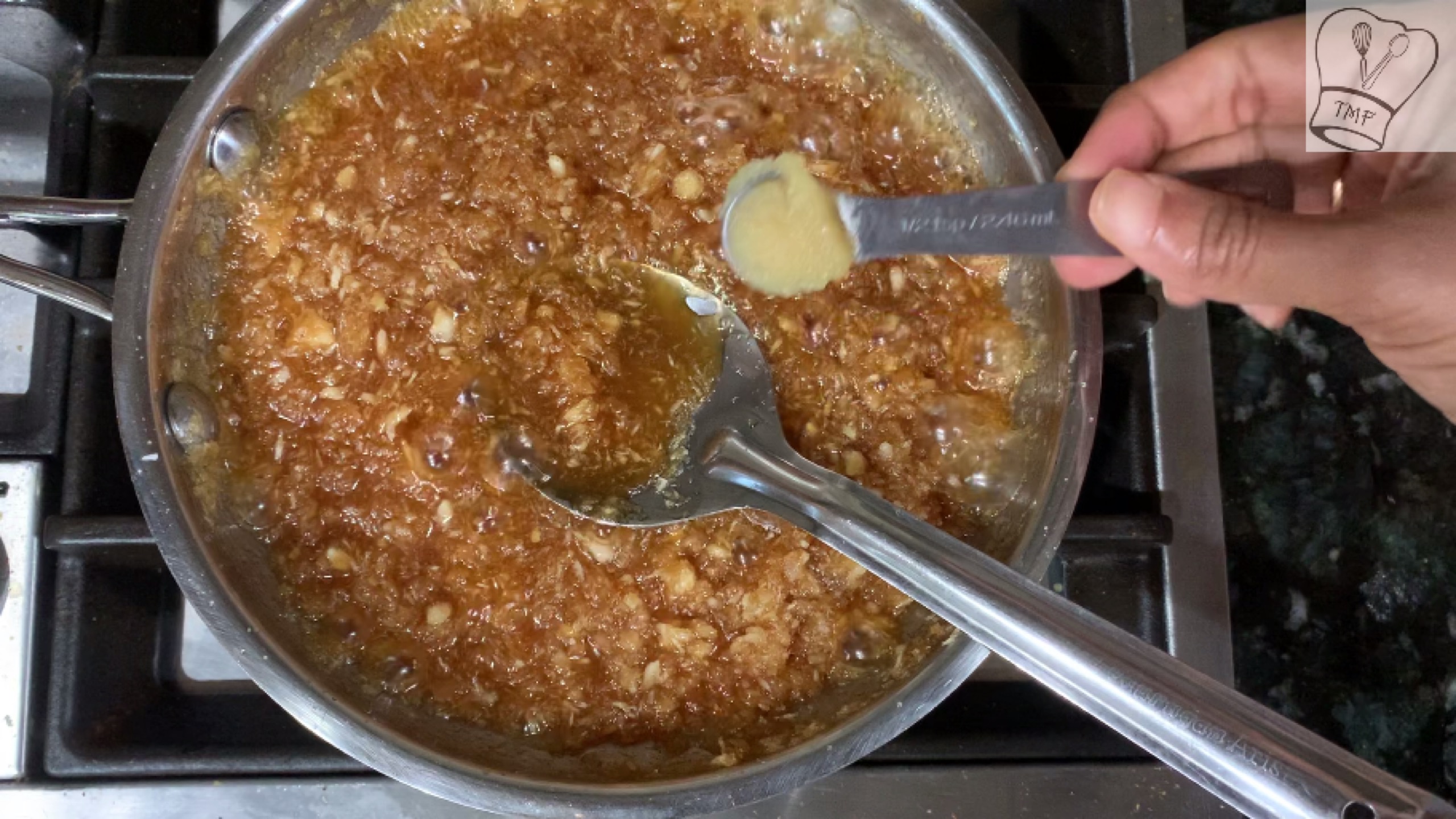 Keep mixing and cook till the poornam comes together without water coming separately. Turn off the stove immediately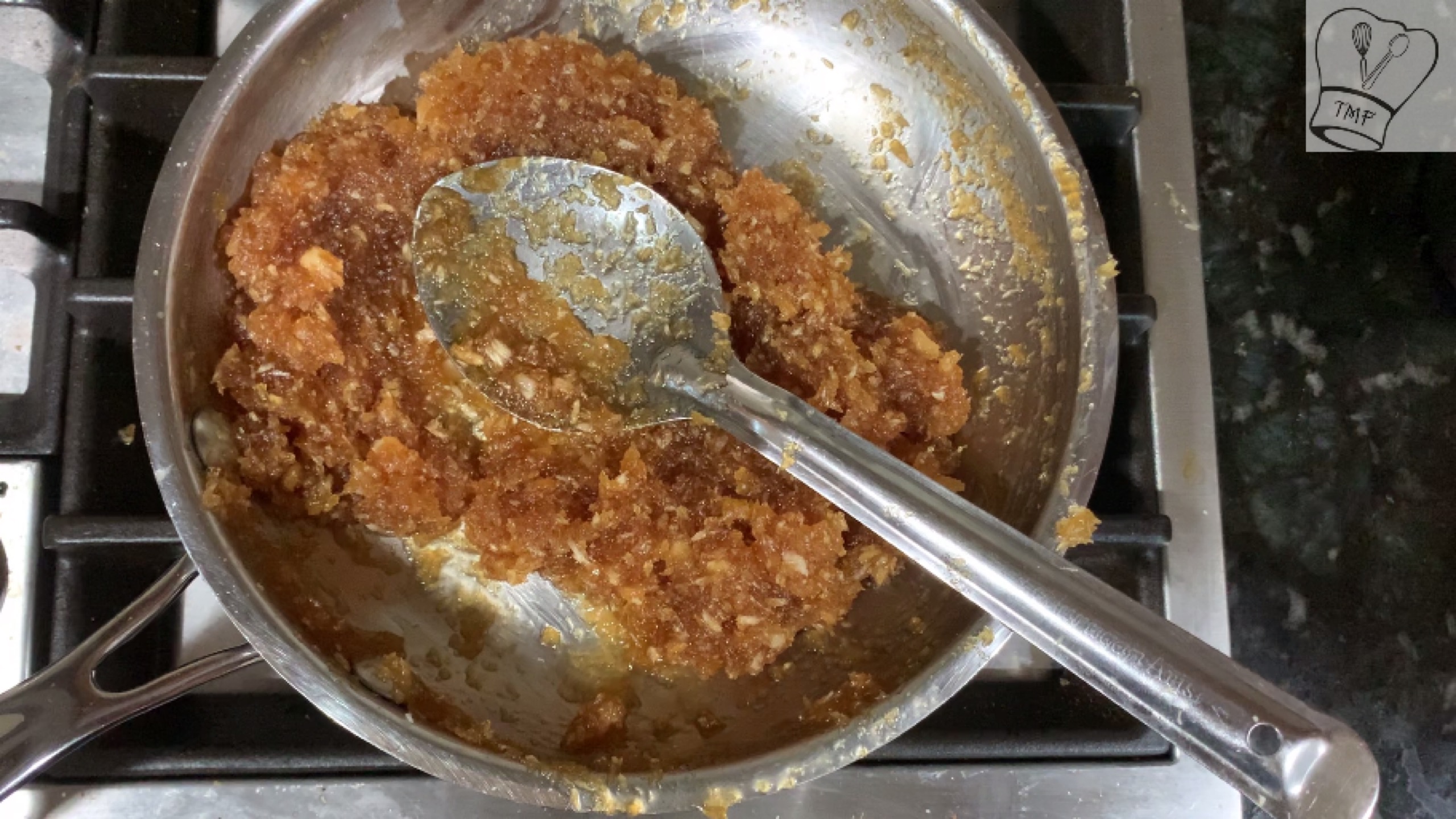 Transfer the pooranam to a cup and let it cool completely. Avoid closing pooranam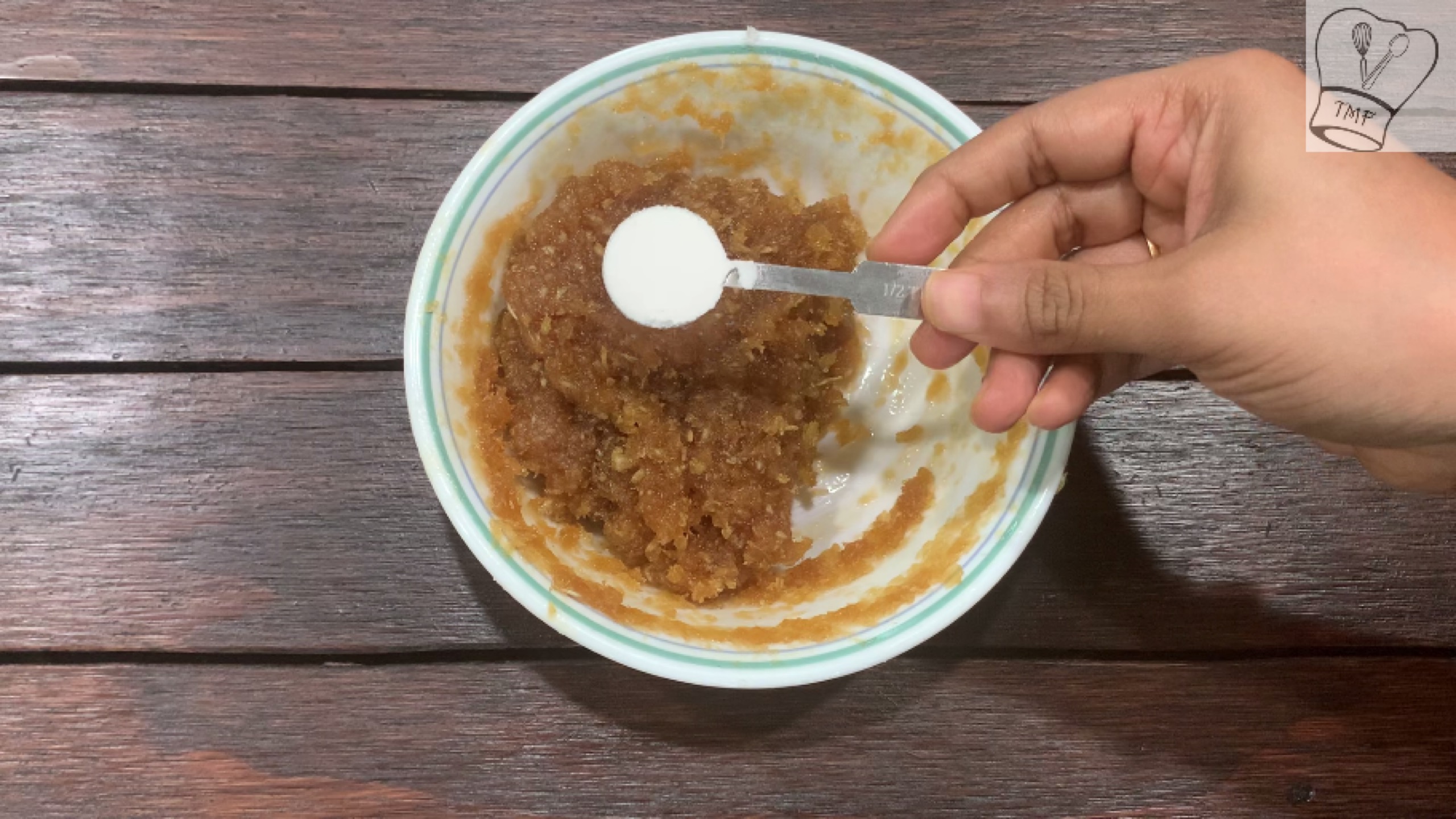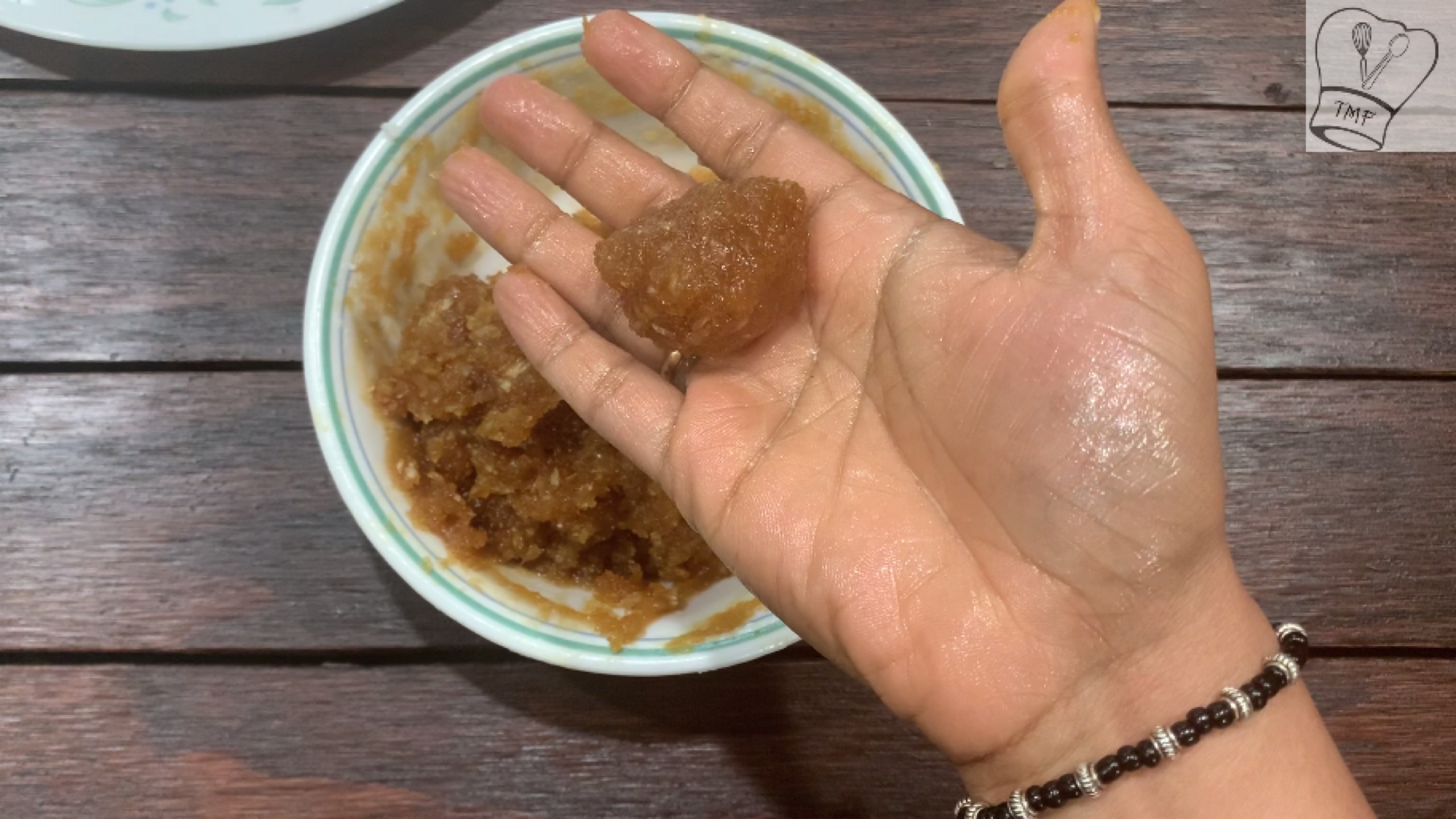 Let the puranam cool for at least an hour
After the dough is rested for a few hours. Take the dough and knead again once. The dough with be pliable but still, it will be tacky
Pinch almost equal amount of small dough balls and keep aside
Take an almost equal size of small puranam dough balls and keep them aside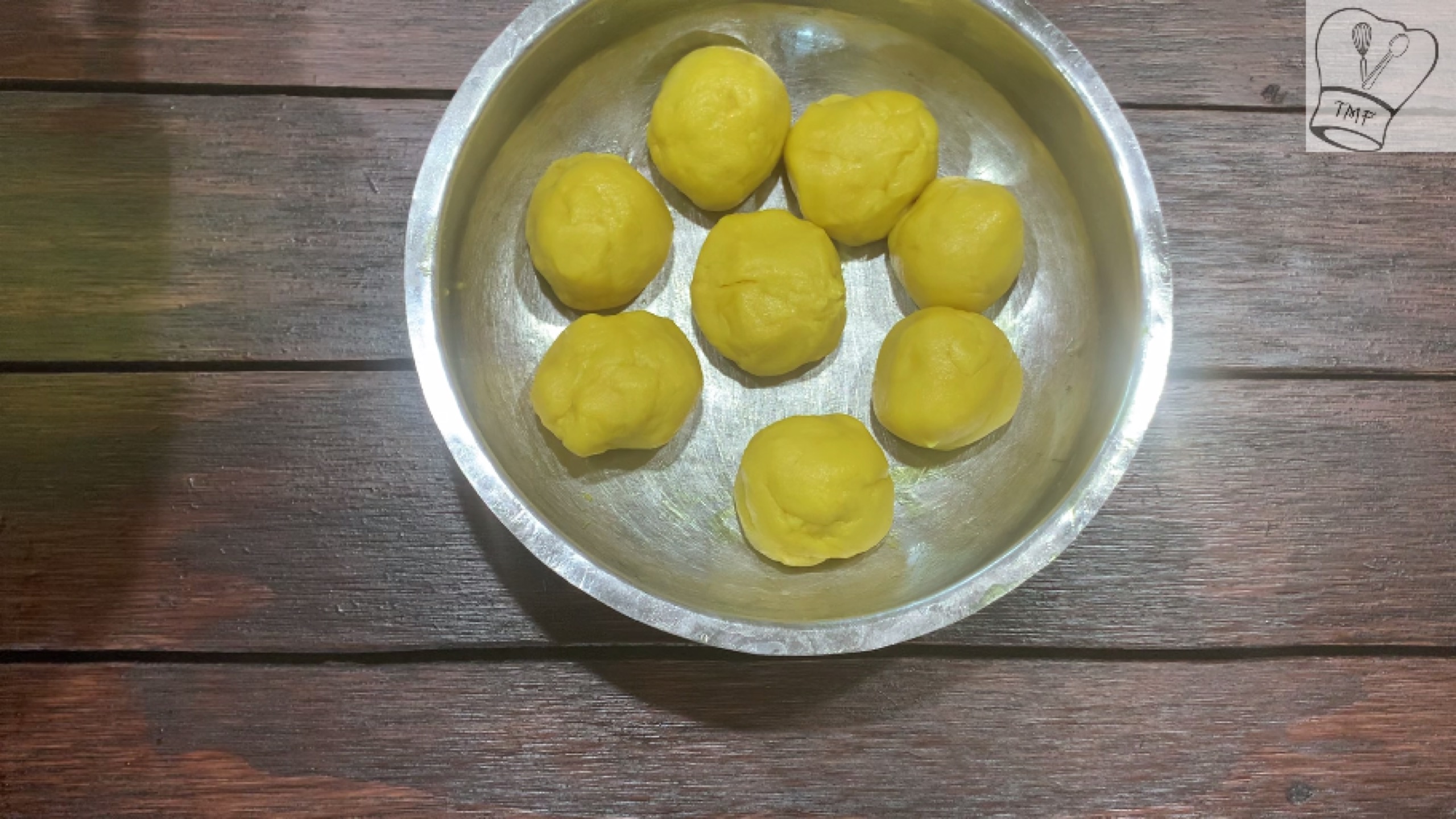 In parchment paper/banana leaf and apply oil
Grease your hands with sesame oil and take one dough and place it on the parchment paper
Gently pat (press) the dough with your fingers and make a circle to keep puranam
Keep pooranam and wrap the dough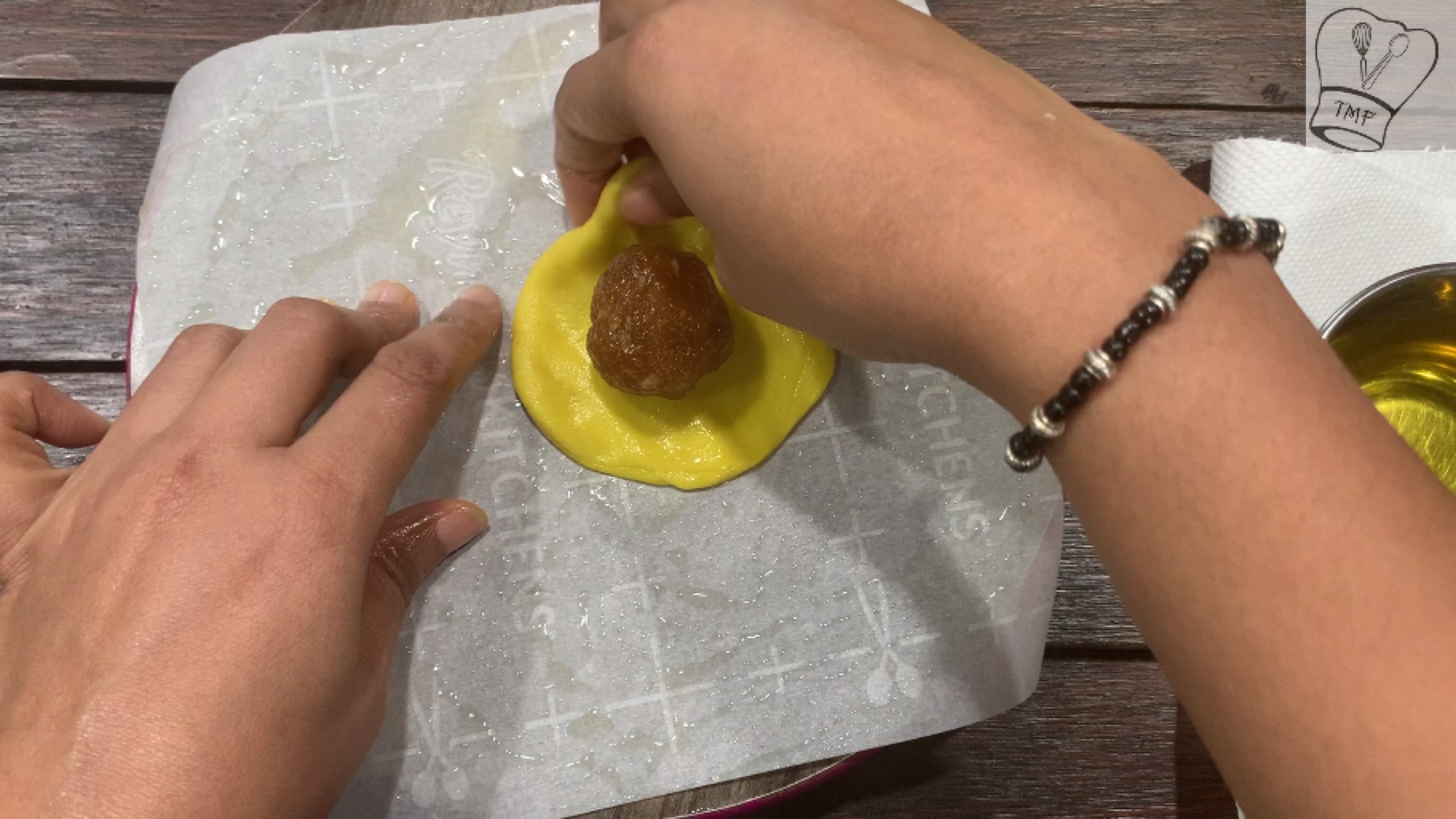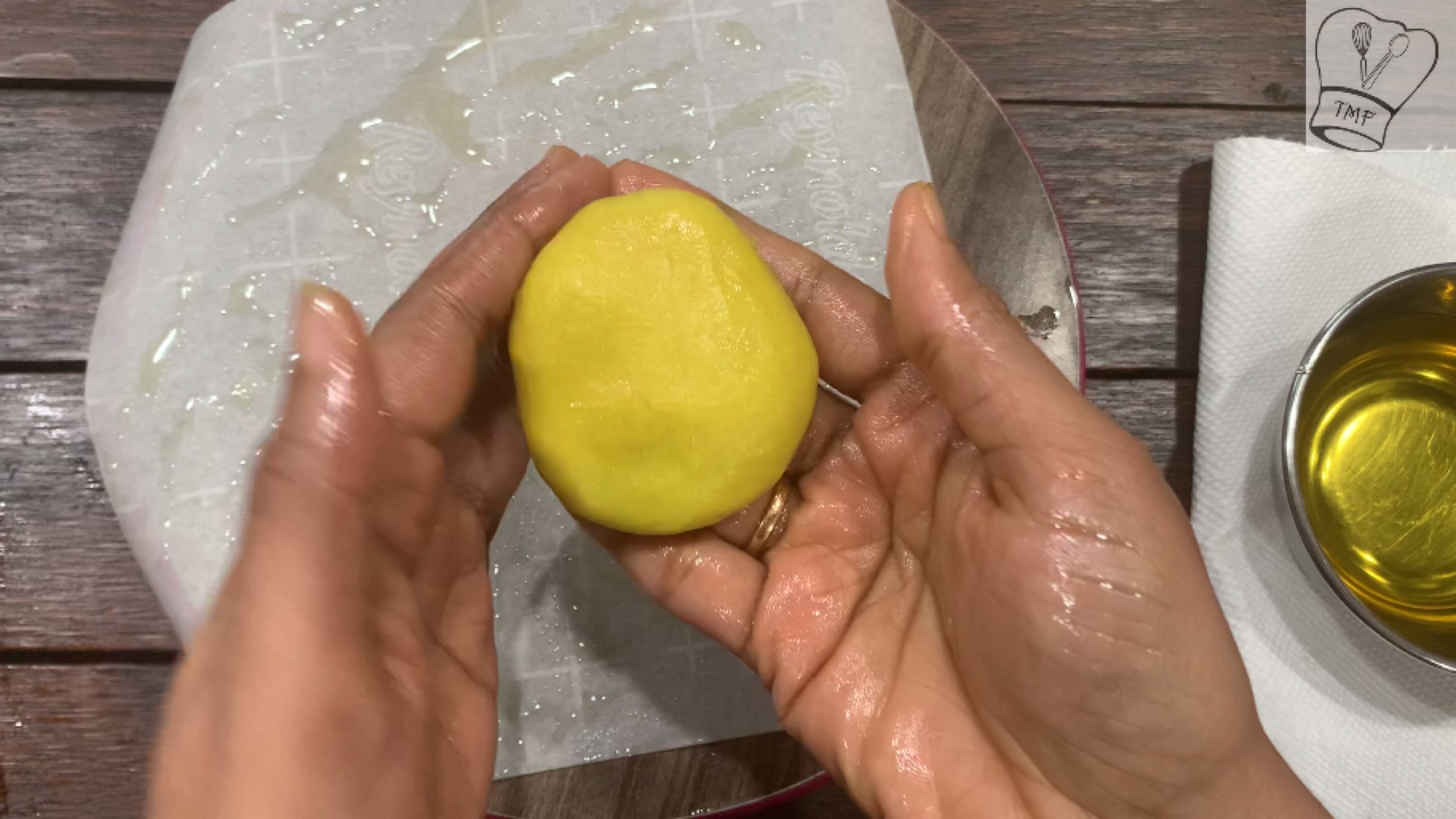 Press the dough into a thin poli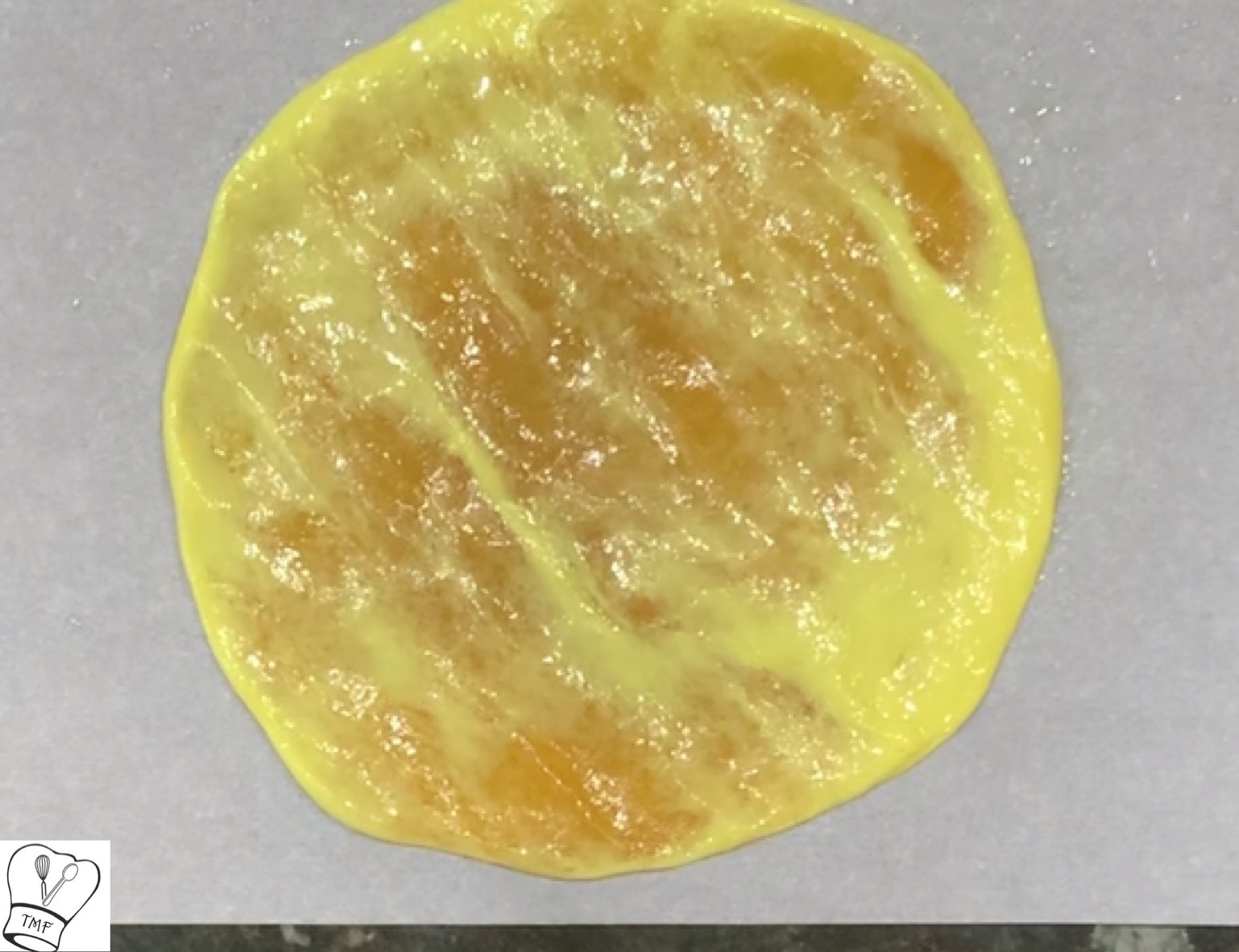 Heat the dosa pan in medium flame and add ghee
Cook poli on one side, flip and cook another side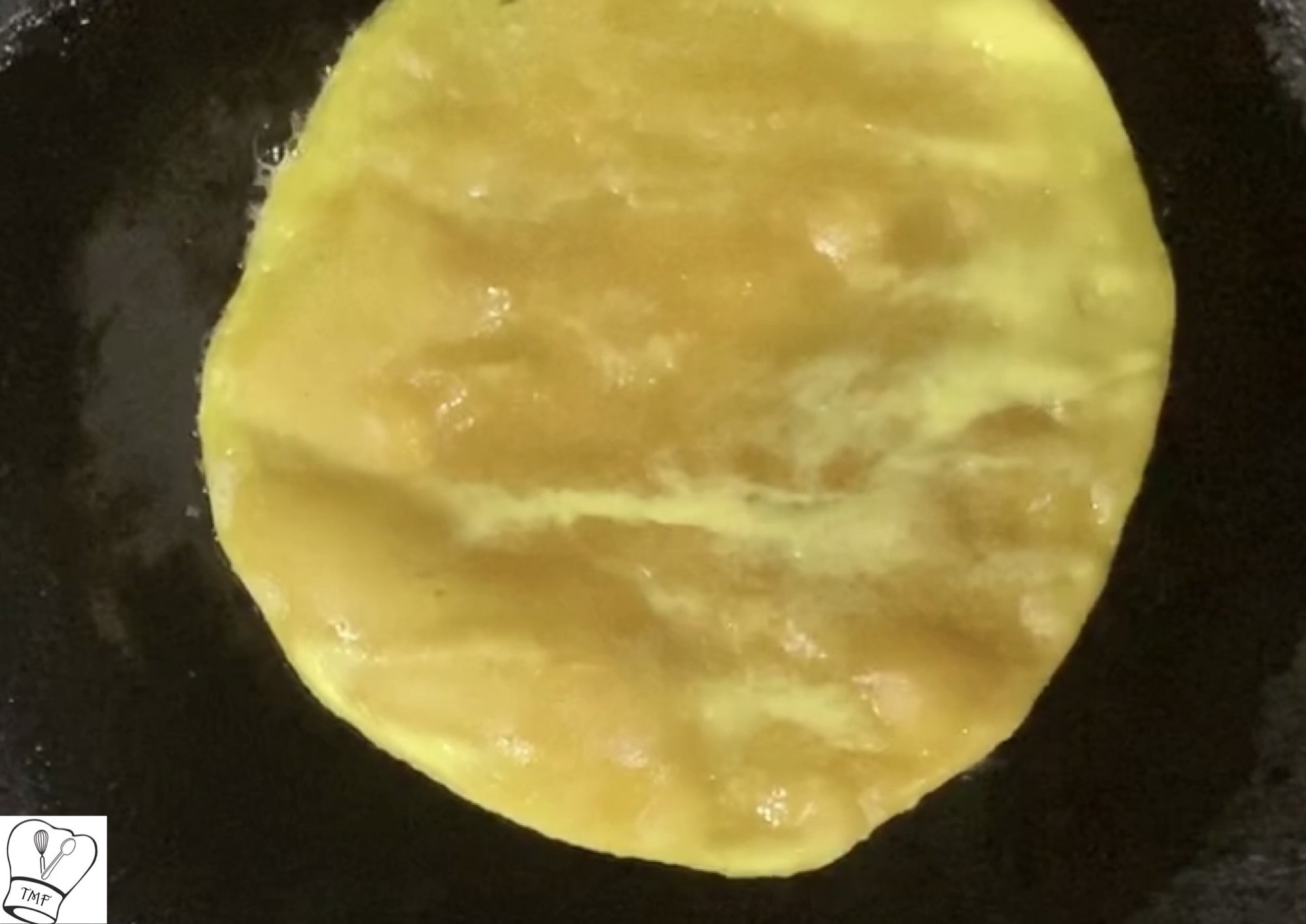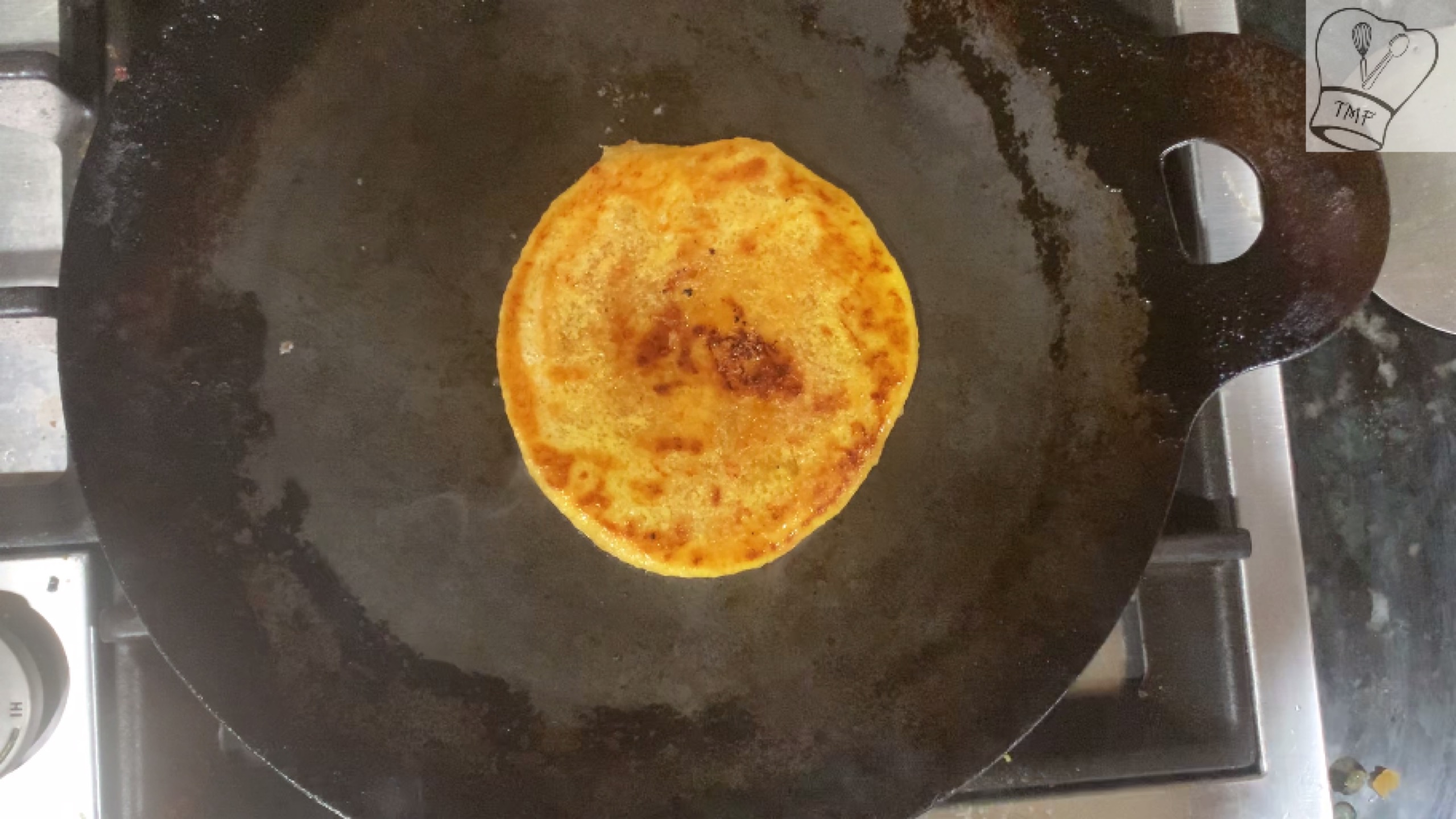 Stack the poli on a casserole. Warm poli and enjoy