Pineapple Kesari bath | Pineapple Sheera | Pineapple rava Kesari | Pineapple halwa | how to make Kesari recipe | sooji halwa | Kesari bath | sweet semolina pudding | pineapple Kesari hotel-style | pineapple suji halwa Kesari without lumps | Kesari sweet recipe | catering style Kalyana Kesari | கல்யாண வீட்டுகேசரி ரகசியம் திரும்ப கேட்டுவாங்க அல்வா | wedding style Kesari recipe | trick of the Kesari served in Weddings | halwa recipe | sooji halwa | suji halwa | sojji halwa with step-by-step pictures and video recipe. Check out the Pineapple Kesari video recipe and if you like the video pls SUBSCRIBE to my channel. 

Pineapple Kesari bath | Pineapple Sheera | Pineapple rava Kesari | Pineapple halwa | how to make Kesari recipe | sooji halwa | Kesari bath | sweet semolina pudding | pineapple Kesari hotel-style |  suji halwa | sojji halwa is a popular Indian sweet recipe. Pineapple gives amazing flavor to the tasty Kesari. The Detailed recipe with tips and tricks to make a lump-free Kesari bath is a great beginner-friendly recipe to try. cooking fine roasted sooji in pineapple sugar water makes the best Kesari without lumps

BEST LUMP-FREE RAVA KESARI RECIPE

Kesari is one of my favorite easiest delicious Indian dessert recipes. For sudden guests / quick sweet / get-together/party / festivals this is the default option.  After various trials and errors, I found this method to make smooth lump-free best Kesari bhath without hassle stirring.  If you have just started cooking this quick 15 minutes pineapple Sooji sheera is a great sweet variety to try.
SECRET FOR KALYANA KESARI
Whenever I taste catering Kesari at a wedding or any special occasion, special taste and texture always impress me. It resembles a halwa texture, every spoon is melting in the mouth. For a perfect wedding, Pineapple rava Kesari always roasts Rava till they turn aromatic, saute pineapple in ghee, add double the amount of sugar, at least 1/2 quantity of ghee compared to Rava, and never skip the oil. 
HOW MUCH SUGAR SHOULD I USE?
For pineapple sheera, I usually put a 1:2 rava: sugar ratio. in our home, we have sweet tooth so I follow the 1:2 ratio. Depending on your sweetness you can adjust the sugar. Avoid adding less as it will affect Kesari's taste. 
What kind of pineapple should I use for Pineapple sooji halwa?
Always use fresh ripe juicy pineapple. Ripe pineapple looks bright yellow which gives the best flavor for the Kesari. Avoid raw or pale yellow pineapple as it might be sour. Avoid using can pineapple. 
Can I use store-bought pineapple juice?
No fresh pineapple juice gives the best flavor. During our trip to Maui, Hawaii I got whole fresh pineapple. They tasted best. I cut the whole pineapple and kept it in the fridge and used the liquid juice for pineapple sheera halwa. If you don't have enough fresh pineapple juice. You can use an equal amount of water and, add pineapple essence for the flavor. 
HOW TO ACHIEVE LUMP-FREE KESARI?
If you follow this Pineapple rava Kesari bath recipe you won't end up with lumpy Kesari. hot sugar syrup and perfectly roasted rava take care of the texture.
WILL RAVA GET COOKED IN SUGAR SYRUP?
If you use fine rava it gets cooked well but make sure you roast the rava well first. Also, add roasted rava to the boiling hot sugar water and cook it in medium flame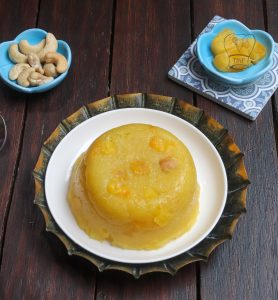 HOW TO FIX THE KESARI SUGAR?
if you feel sweet is less add sugar and cook on low flame for a few minutes. If you think pineapple sheera  is over sweet, You can add a few spoons of almond flour but that might alter the Kesari texture it will become like halwa
WILL THE KESARI SMELL OILY?
No, Kesari won't smell the oil. I used peanut oil but you can use any flavorless oil for the best taste. The amount of ghee we add makes the Pineapple halwa aromatic
Should I ADD  pineapple  ESSENCE?
I used ripe sweet pineapple and pineapple juice for preparing pineapple sheers so it had enough pineapple flavor hence I didnt add essence. If the pineapple you use is not juice. Add 1/4 teaspoon of the essence after turning off the stove, mix gently.
WHAT IS THE SHELF LIFE OF KALYANA pinEapple KESARI?
Since we don't add milk, Kesari stays good for around 3 days in the fridge. It also depends on the weather condition. For best texture and taste always warm the Kesari before serving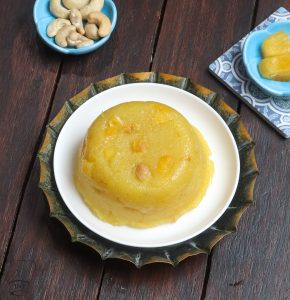 Ingredients
Roast Rava
1/4

cup

butter

1

tablespoon

flavorless oil

12

cashews

roughly chopped

1

cup

fine Rava
roast pineapple
2

tablespoon

ghee

1

+ 1/2 cup pineapple

heaped
Prepare sugar water
2

cups

sugar adjust according to your sweetness

1/4

cup

fresh Pineapple juice

3

cups

water

1/4

cardamom powder

Pinch

of salt

Food color
Instructions
Add butter in a heavy-bottomed pan and turn on the stove in medium flame

Furthermore add oil and mix well

Melt butter and add cashew; quick saute

Add Rava and roast for 4-5 minutes until rava turns aromatic and slightly change color

Transfer and keep aside

Add ghee to the same pan

furthermore, add pineapple and saute for 2 mins

Add sugar and mix well

Furthermore add pineapple juice, water, cardamom powder, salt, and food color; boil for 4-5 mins

Add ghee and mix well

furthermore, add roasted rava and cashew; mix well

cook for 2 minutes or until rava Kesari thickens

Turn down the flame to the lowest setting cover with a lid and cook for 2 minutes

Finally, add ghee and mix well; and turn off the stove. Best pineapple Kesari is ready
Video
Ingredients:
Roast Rava
1/4 cup butter
1 tablespoon flavorless oil
12 cashews, roughly chopped
1 cup fine Rava
roast pineapple
2 tablespoon ghee
1 + 1/2 cup pineapple, heaped
Prepare sugar water
2 cups sugar adjust according to your sweetness
1/4 cup fresh Pineapple juice
3 cups water
1/4 cardamom powder
Pinch of salt
Food color
Kesari
2 tablespoon ghee
How to prepare Pineapple Kesari with step by step pictures
Add butter in a heavy-bottomed pan and turn on the stove in medium flame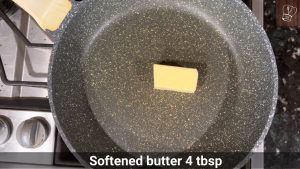 Furthermore add oil and mix well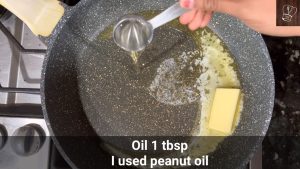 Melt butter and  add cashew; quick saute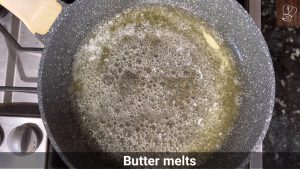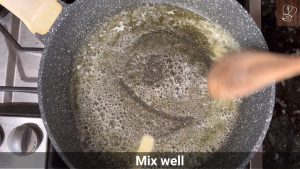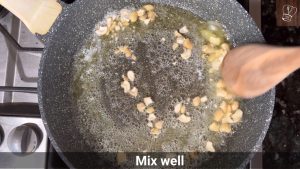 Add Rava and roast for 4-5 minutes until rava turns aromatic and  slightly change color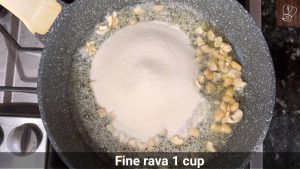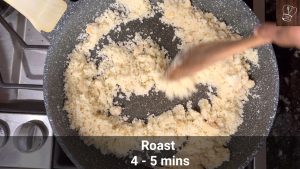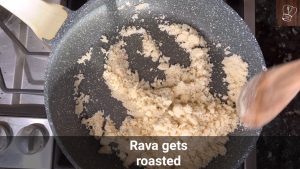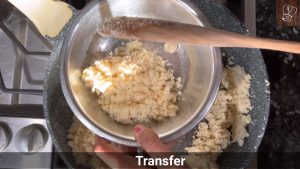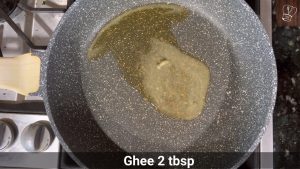 furthermore, add pineapple and saute for 2 mins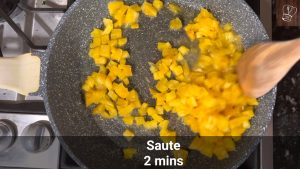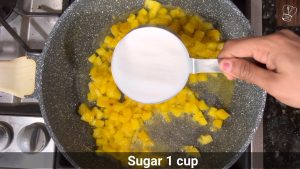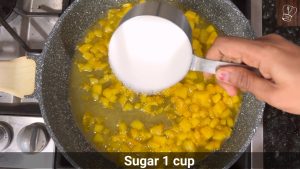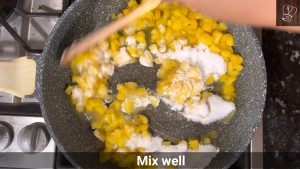 Furthermore add pineapple juice, water, cardamom powder, salt, and food color;  boil for 4-5 mins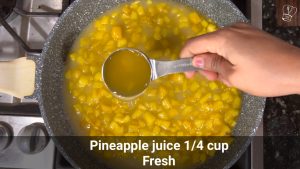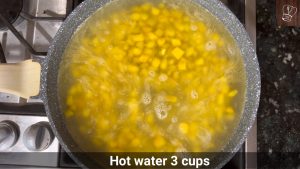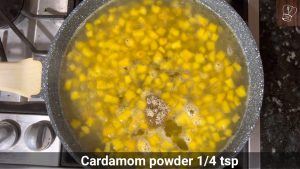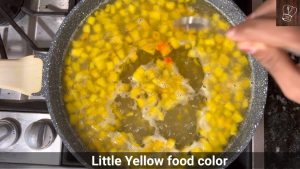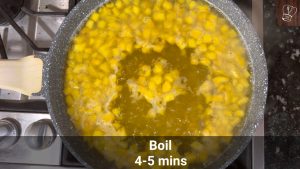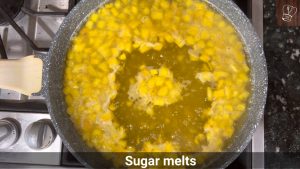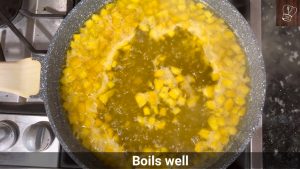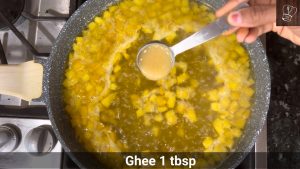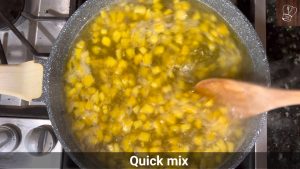 furthermore, add roasted rava and cashew; mix well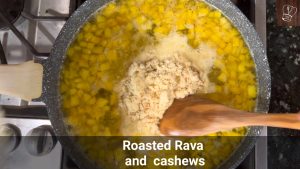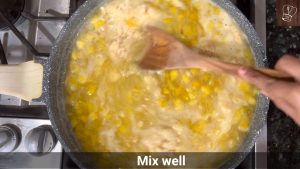 cook for 2 minutes or until rava Kesari thickens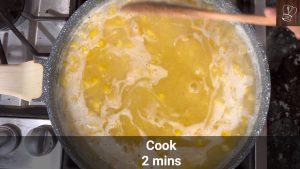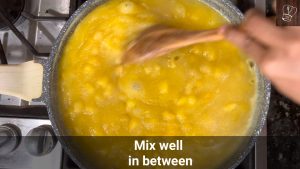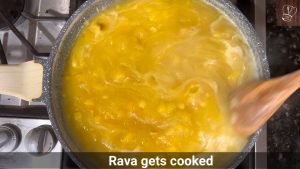 Turn down the flame to the lowest setting cover with a lid and cook for 2 minutes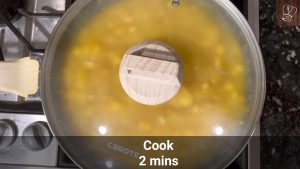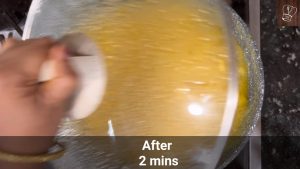 Finally, add ghee and mix well; and turn off the stove. Best pineapple Kesari is ready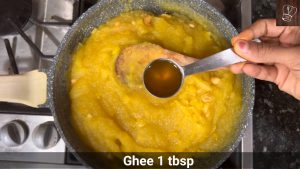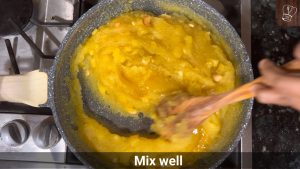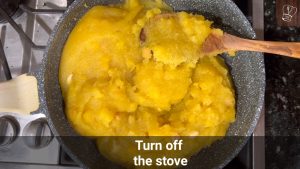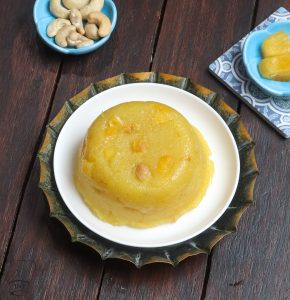 Other Kesari varieties in TMF