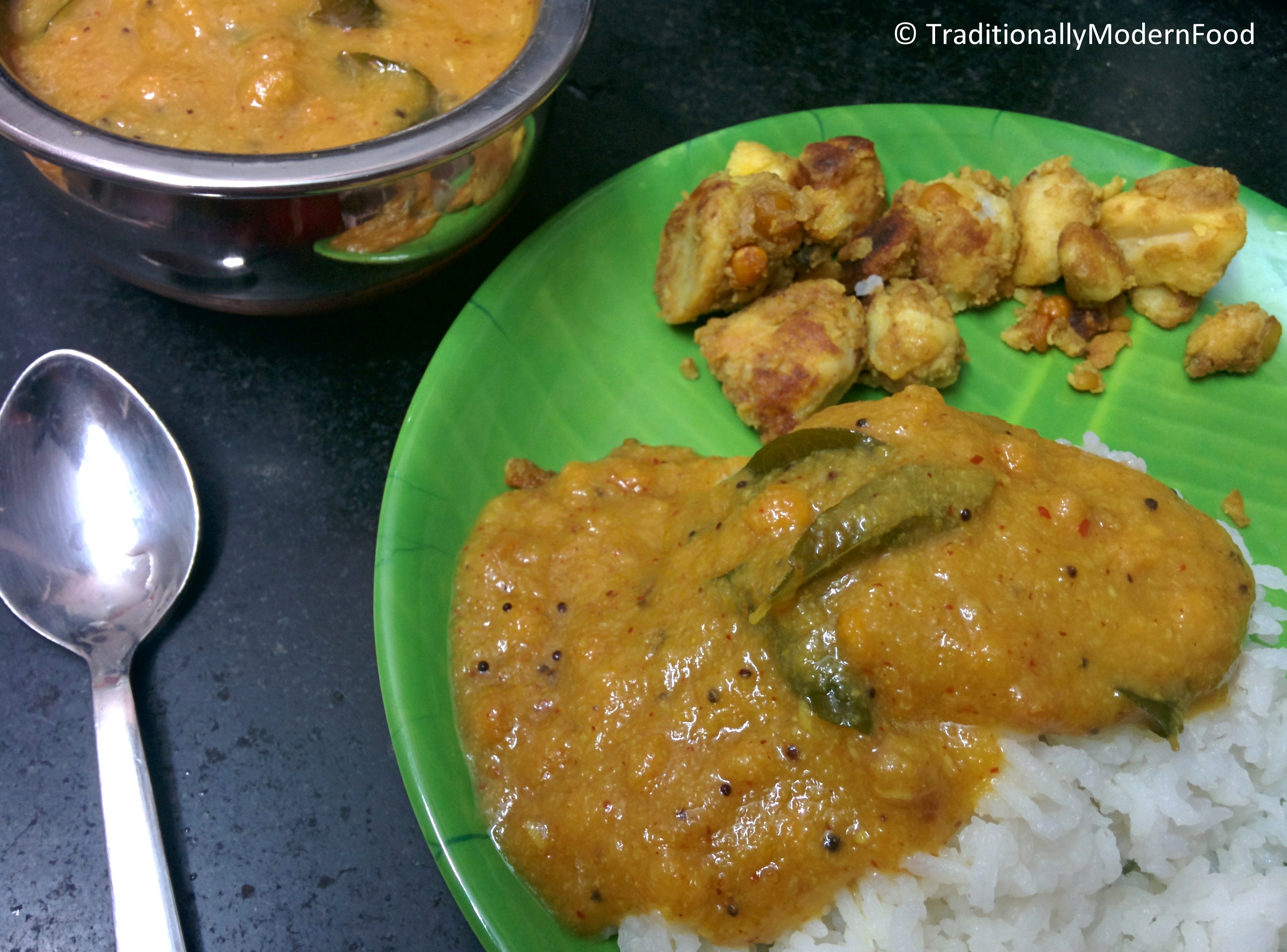 Thani Kootu is a traditional Tamil brahmin speciality prepared during "Sumangali Prarthanai". Loaded with coconut this tamarind based gravy with fresh spice powder and lots of jaggery is so addictive. Unlike other kootu this Thani kootu doesn't have cooked dal.
Ever since we had this at a relative's pooja, my sister and I are big fans of thani kootu. I still remember days when I have put this in a bowl and enjoyed with a spoon. Since we like it my mother prepares even during regular days.
Last summer when I went to India, my sister told Amma to prepare Thani Kootu for lunch with Sepppankizhangu Fry. My Amma told haven't tried this combo before don't know how it will taste. My sister asked when we can have Pavakkai Pitlai / Thaala Kuzhambu with Potato fry why not this.
My Amma started preparing the dish, I was standing next to her and was clicking pictures in my phone. I was constantly telling her my comments, don't add this much oil, too much coconut, lot of jaggery for kuzhambu. She was smiling and said this is not your traditionally modern recipe with many modifications. I said I will just have very little portion, she didn't reply anything. Well she knew what would happen:-)
We all started eating and as I told I started with a very small portion. Myself and my sister were speechless with its taste and we almost finished thani kootu with just two/three spoons left for my Amma. I understood the fact that certain Traditional dishes are best in the way they are cooked.
My sister told me post this in the blog. I said I will post it after going to US (I heard some people cook this for pongal (Sankranti) so I thought of posting it today, after 7 months, I can imagine her mind voice after seeing this post:-)). Though I am an amatuer photographer I usually try clicking some 20 pics in camera and select better ones. That day's pics from my Nexus and I wasn't sure how it looked.
My mother told me, if you are clicking again from camera for posting don't alter the recipe. Amma this is for you – as usual I am late in posting but I haven't changed the traditional way followed in our home.
Kootu recipe collection in TMF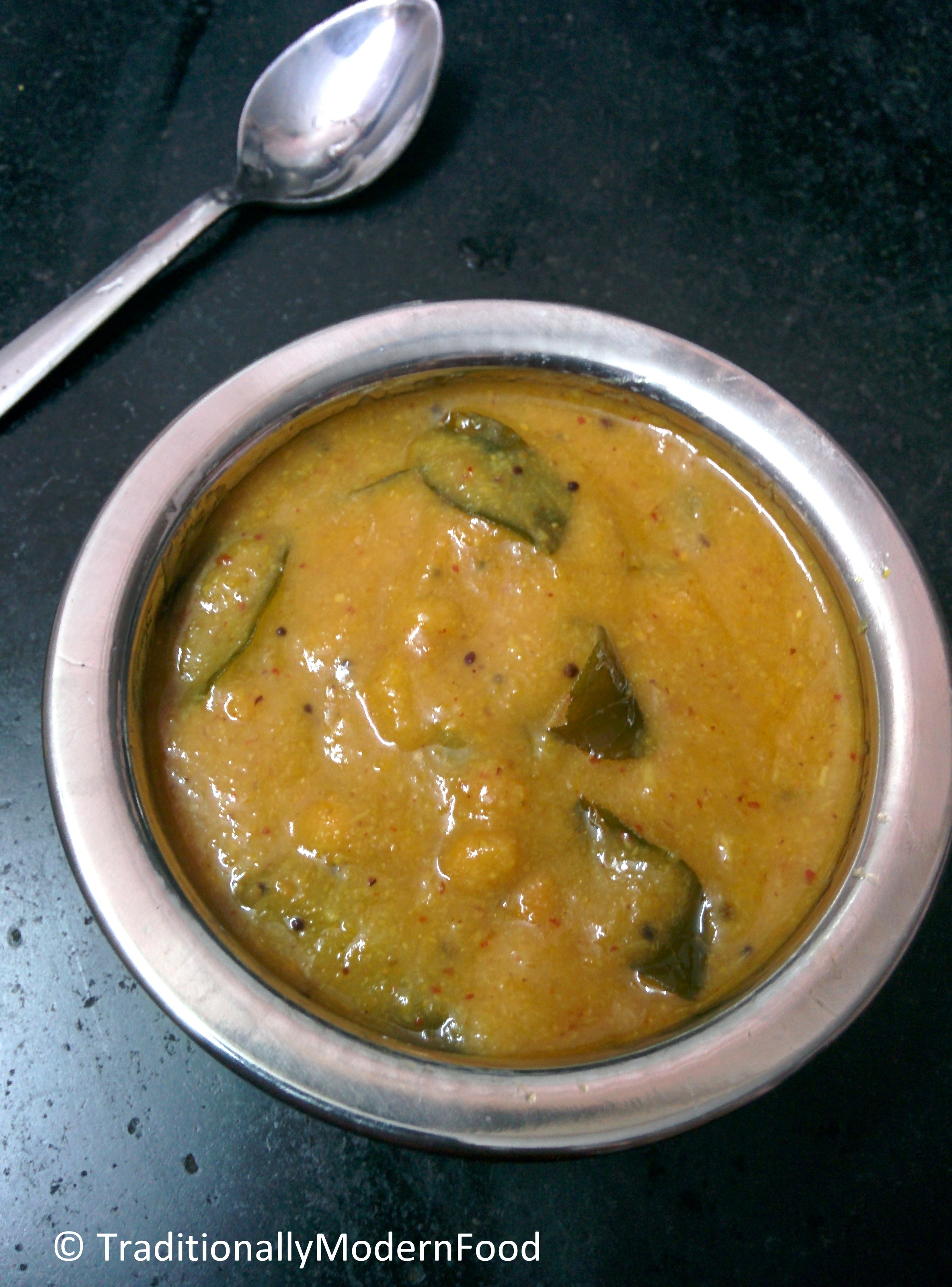 Ingredients:
Tamarind – gooseberry size
Water – 2 cups + 1/3 cup
Salt – as needed
Turmeric powder – generous pinch
Fresh/ Frozen Coconut – 1/2 cup
Jaggery – 1/4 cup
To Grind
Coriander Seed – 2 tbsp
Channa Dal – 2 tbsp
Red chilli – 5/6 (Adjust according to your taste)
To Temper
Coconut oil – 2 tbsp
Channa Dal – 2 tbsp
Curry leaves – few
Mustard seed – 1/4 tsp
Asafetida – generous pinch
Method:
In medium heat cook tamarind extract, salt and turmeric powder till the raw tamarind smell goes off
In the meantime dry Roast Coriander Seeds, Channa Dal and red chilli till the aroma comes and Dal changes its color. Cool it and grind it into fine powder without adding water

Add little water and bring coconut into coarse mixture
Take 1/3 cup of water and add the ground powder; mix it without lumps. After the tamarind raw smell goes, add the mixture to it and continue boiling

Add ground coconut after 2-3 minutes and cook till it boils well. Add the jaggery to the kuzhambu and cook till it is melted; switch off
Add oil to a small pan and when the oil is hot and the ingredients added under 'to temper" and cool til the mustard crackle. Add it to the Kootu and mix well. Though it is Kootu in our home we like to mix it with rice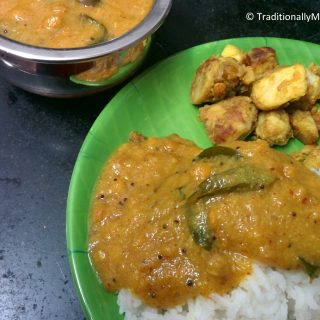 Thani Kootu
Traditional Kootu prepared with Tamarind, coconut, jaggery and Spice mix during Sumangali Prathanai, pongal
Print
Pin
Comment
Ingredients
Tamarind - gooseberry size

Water - 2 cups + 1/3 cup

Salt - as needed

Turmeric powder - generous pinch

Fresh/ Frozen Coconut - 1/2 cup

Jaggery - 1/4 cup
To Grind
Coriander Seed - 2 tbsp

Channa Dal - 2 tbsp

Red chilli - 5/6

Adjust according to your taste
To Temper
Coconut oil - 2 tbsp

Channa Dal - 2 tbsp

Curry leaves - few

Mustard seed - 1/4 tsp

Asafetida - generous pinch
Instructions
In medium heat cook tamarind extract, salt and turmeric powder till the raw tamarind smell goes off

In the meantime dry Roast Coriander Seeds, Channa Dal and red chilli till the aroma comes and Dal changes its color. Cool it and grind it into fine powder without adding water

Add little water and bring coconut into coarse mixture. take 1/3 cup of water and add the ground powder; mix it without lumps. After the tamarind raw smell goes add the mixture to it and continue boiling

Add ground coconut after 2-3 minutes and cook till it boils well. Add the jaggery to the kuzhambu and cook till it is melted; switch offAdd oil to a small pan and when the oil is hot and the ingredients added under 'to temper" and cool til the mustard crackle. Add it to the Kootu and mix well. Though it is Kootu in our home we like to mix it with rice
Notes
Some people boil channal Dal and add it to the Kootu instead of adding while tempering. Avoid mushing the Dal
Vegetables can be added to the kootu. if you are cooking that way, boiled vegetables like white pumpkin, Snake guard,cluster beans,chow chow,brinjal, etc. can be boiled and added to the kootu
Ground powder can be directly. To avoid lumps it is mixed with water and added
Nutrition
Serving:
3
g
|
Calories:
227
kcal
|
Carbohydrates:
27
g
|
Protein:
1
g
|
Fat:
14
g
|
Saturated Fat:
12
g
|
Polyunsaturated Fat:
1
g
|
Sodium:
101
mg
|
Fiber:
3
g
|
Sugar:
23
g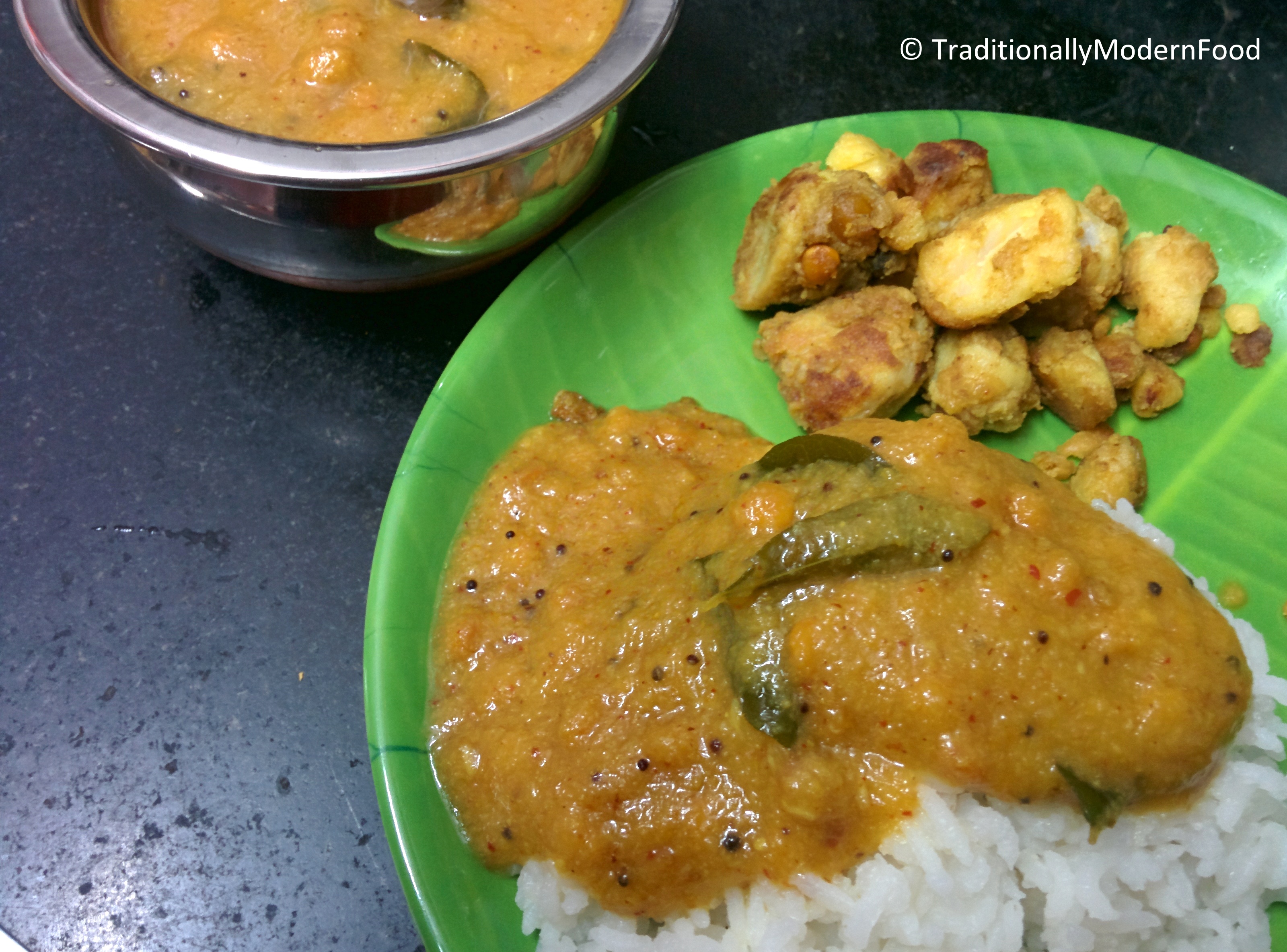 [cplw category="33″ width="500″ height="500″ effects="scrollVert" posts_to_show="6″ time="3000″ sort_by="rand" excerpt_length="10″ thumb_width="150″ thumb_height="150″ date_format="F j, Y" display="thumb" order="desc"]