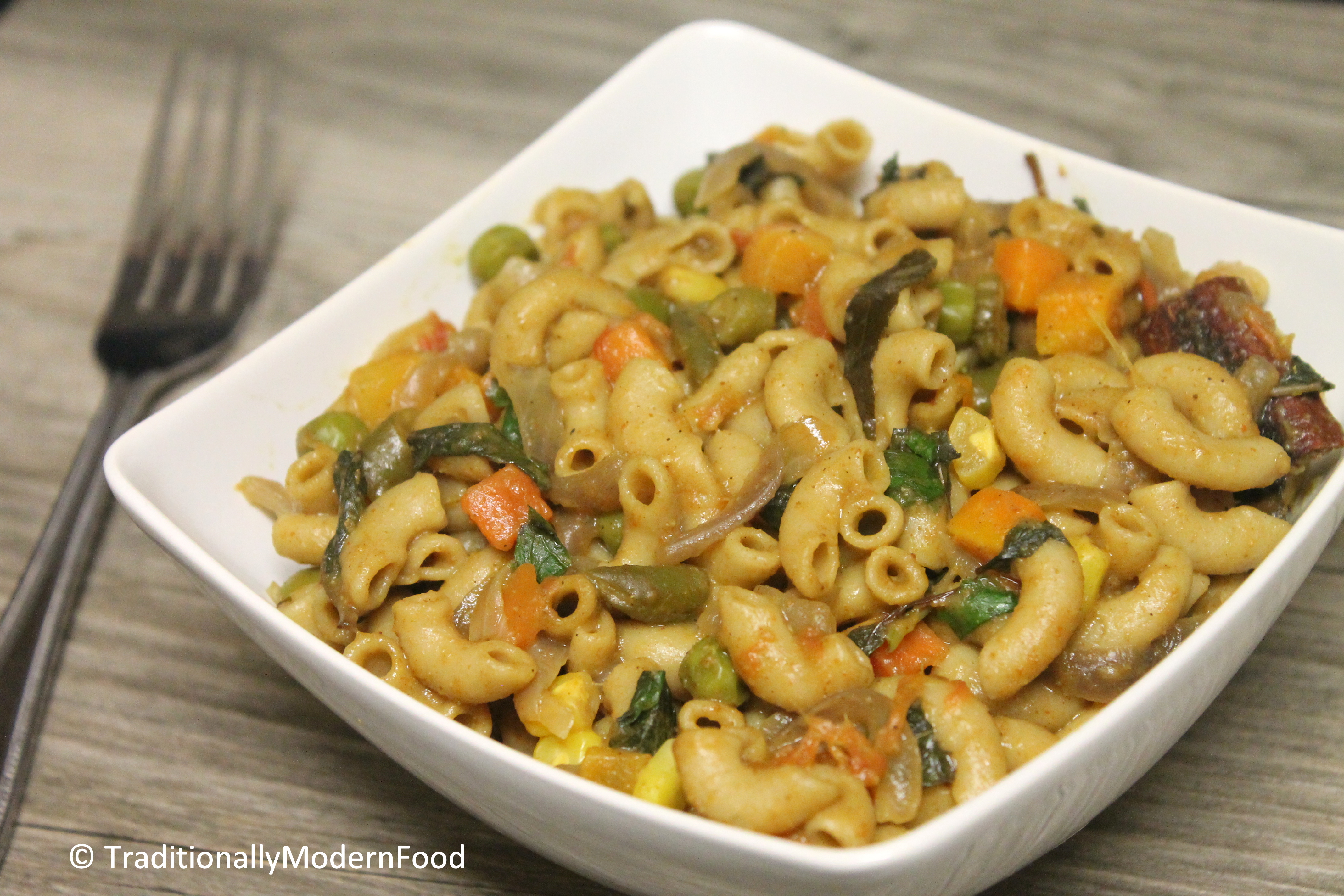 Pasta kIchadi | pasta upma is a tasty indian version of pasta. Well I have added all the spices I use it for gravy so call it pasta kichadi. Medely of vegetables and pasta
Choosing a name is always a difficult job, not only for a child but also to a dish like this which I prepared with everything that I saw in my kitchen. Couple of weeks ago I prepared Mac and cheese for my son, my hubby sneak peek into the kitchen and told, Italian dinner today.
I understood he want to eat pasta but richness in mac and cheese alarmed me. I boiled water separately and put macaroni for us. I told it is Indian pasta kichadi, he said hope you don't kill the pasta with your fusion attempt.
Every since my childhood days I am a big fan of Rava and Semiya kichadi. Tried to infuse those flavours in pasta and luckily it turned out well:-) While serving the dish I told my husband it is pasta kichadi. He said it is in Indian style, but whole garam masala spices and mint gives more biryani/ pulav flavour. If you are thinking how pasta will taste with Indian spices try this. Based on the name you give to dish, serve it with either chutney or raita. I am more inclined towards the title kichadi:-)
For sweet lovers, macaroni payasam is great twist with leftover pasta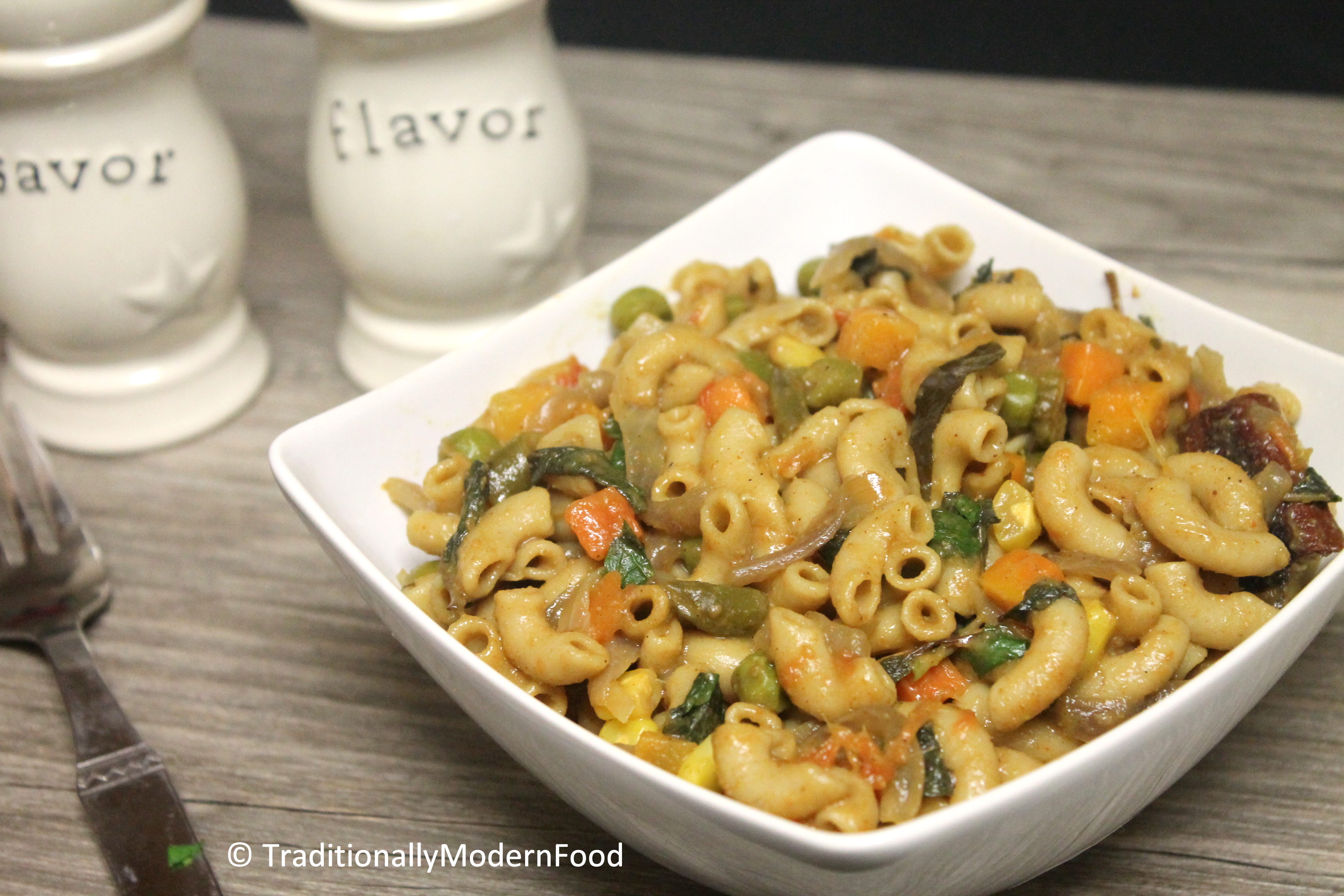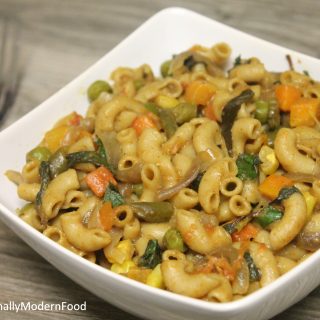 Pasta Kichadi
Pasta cooked in Indian style with veggies and spice mix
Print
Pin
Comment
Ingredients
Ingredients
Macaroni - 1 cup

I used whole wheat macroni

Onion - 1

thinly chopped

Tomato - 1

finely chopped

Carrot - 1

peeled and cut into small cubes

Beans - 7

cored and chopped

Frozen/Fresh peas - 3 tbsp

Frozen/Fresh corn - 3 tbsp

Green chilli - 1

slit

Ginger garlic paste - 1/2 tsp

Turmeric powder - 1/8 tsp

Garam masala - 1/2 tsp

Coriander Powder - 1/2 tsp

Cumin Powder - 1/4 tsp

Water - 2 cups

Cardamom pods - 1

Cinnamon - 1/8 stick

Cloves

- 1

Bay leaf - 1

Fennel seeds powder - 1/8 tsp

Star Ansie - 1

Salt - as needed

Oil/ Ghee - 1/2 tbsp

Curry leaves

Coriander leaves and mint - few
Instructions
Add oil to pan and when the oil is hot add clove, bay leaf, Star Ansie, cardamom pod, cinnamon and fennel seed powder; cook for 30 secs

Add onion, green chilli and ginger-garlic paste and sauté them till the onions are translucent. Add tomato and cook till they became mushy

Add carrot, beans, corn and peas; sauté till vegetables are half cooked. Add garam masala ,turmeric powder, cumin powder, coriander powder and cook for a minute

Add the pasta and sauté for a minute. Add water, salt and ghee; close the lid, stirring occasionally. When the pasta is 3/4 th cooked continue cooking without the lid. Cook till water is absorbed, check the pasta once to make sure it is cooked and add coriander and mint. Serve with any chutney
Notes
1.Biryani Masala/ kitchen king Masala can be used along with other powder for extra flavour
2.Penne, Fettuccini, rotini etc. Can also be used
3.Peanut, cashew, almond, roasted channa Dal can be added for extra crunch
4.Potato, cauliflower, paneer, broccoli, capsicum or any other veggies can be added
Nutrition
Serving:
3
g
|
Calories:
58
kcal
|
Carbohydrates:
13
g
|
Protein:
2
g
|
Sodium:
79
mg
|
Fiber:
3
g
|
Sugar:
5
g
Ingredients:
Macaroni - 1 cup (I used whole wheat macroni)
Onion - 1, thinly chopped
Tomato - 1, finely chopped
Carrot - 1, peeled and cut into small cubes
Beans - 7, cored and chopped
Frozen/Fresh peas - 3 tbsp
Frozen/Fresh corn - 3 tbsp
Green chilli - 1, slit
Ginger garlic paste - 1/2 tsp
Turmeric powder - 1/8 tsp
Garam masala - 1/2 tsp
Coriander Powder - 1/2 tsp
Cumin Powder - 1/4 tsp
Water - 2 cups
Cardamom pods - 1
Cinnamon - 1/8 stick
Cloves - 1
Bay leaf - 1
Fennel seeds powder - 1/8 tsp
Star Ansie - 1
Salt - as needed
Oil/ Ghee - 1/2 tbsp
Curry leaves, Coriander leaves and mint - few
Method:
Add oil to pan and when the oil is hot add clove, bay leaf, Star Ansie, cardamom pod, cinnamon and fennel seed powder; cook for 30 secs
Add onion, green chilli and ginger-garlic paste and sauté them till the onions are translucent. Add tomato and cook till they became mushy
Add carrot, beans, corn and peas; sauté till vegetables are half cooked. Add garam masala ,turmeric powder, cumin powder, coriander powder and cook for a minute

Add the pasta and sauté for a minute. Add water, salt and ghee; close the lid, stirring occasionally. When the pasta is 3/4 th cooked continue cooking without the lid. Cook till water is absorbed, check the pasta once to make sure it is cooked and add coriander and mint. Serve with any chutney or raita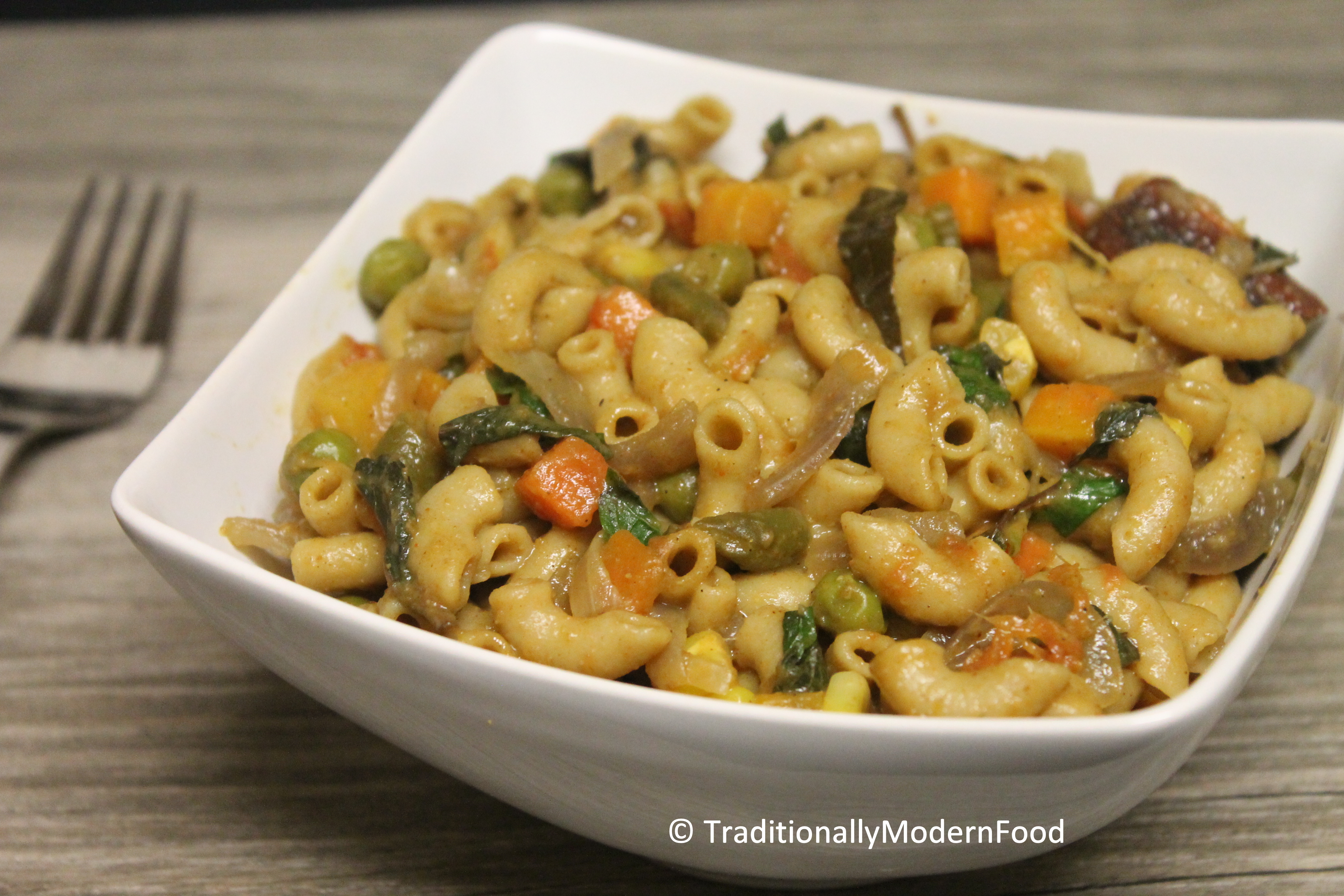 [cplw category="12" width="500" height="500" effects="scrollHorz" posts_to_show="6" time="3000" sort_by="rand" excerpt_length="10" thumb_width="150" thumb_height="150" date_format="F j, Y" display="title,thumb" order="desc"]