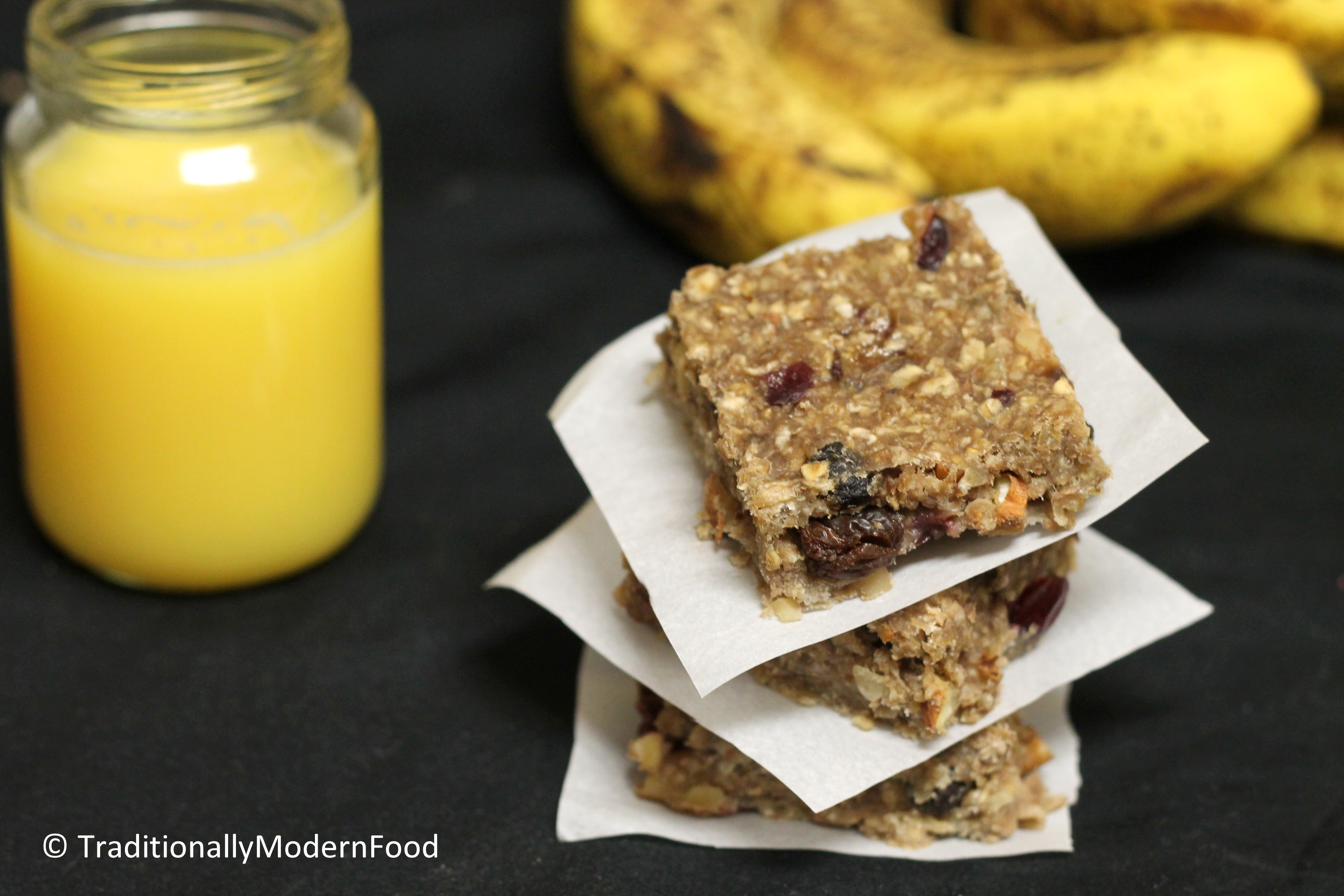 Banana Oat Bars is no sugar desssert. Banana and raisins give sweetness to the healthy bar. Fiber rich oats with potassium rich banana makes this Banana Oat Bars a healthy snacks for mid-morning and evening snacks.
For the past few days I was in a big dilemma to choose my first post for the new year. It has been more than 2 months since we moved to new city, still I haven't taken my camera at least once. Managing to post the recipes which I clicked months back. No wonder a sweet dish was my pick. This Banana Oat Bars steals the show for a healthy start:-)
My Banana and oats madness continuous. With these two main ingredients these bars are magical. Almost every week fiber rich oats takes a special place in my kitchen, at least twice in some form. Inspired from my Oats Dates burfi, I wanted to prepare a similar baked snack for mid- morning/ mid- evening snacks. My sweet tooth also preferred a mild dessert. Banana Oat Bars is yet another recipe with oats and banana.
My son is very choosy with his food as I told before, giving fruits to him is my nightmare. Usually I have 2/3 option for his every course meal. These Banana Oat Bars even worked for his breakfast. My hubby loves to take few Banana Oat Bars to his office as a snack. It is healthy, chewy and great for people having sweet craving like me.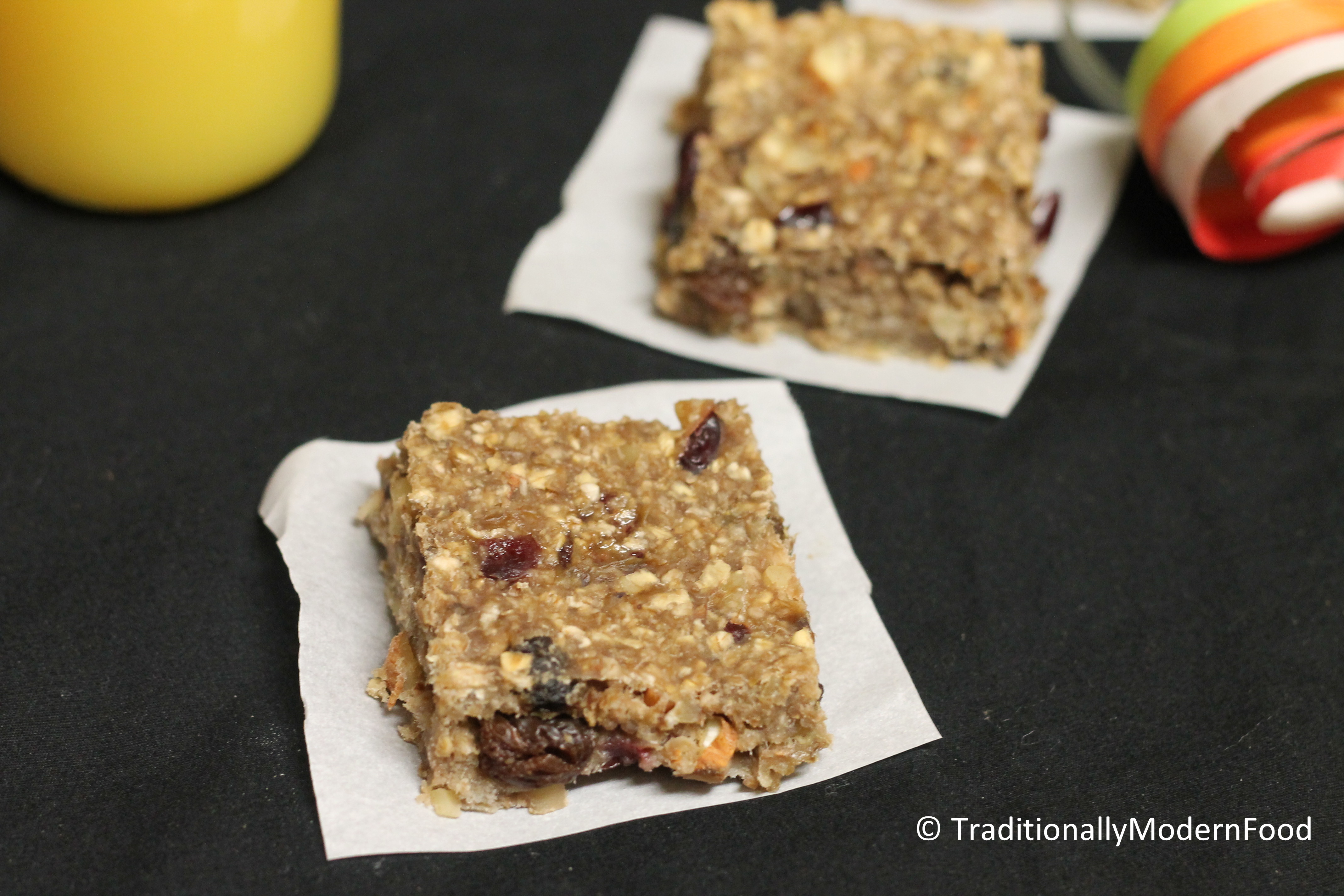 Ingredients:
Quick/Rolled Oats - 2 cups (I used quick oats)
Banana - 2, large - very ripe, peeled and mashed
Nuts - 1/4 cup, chopped (I used walnut, almonds and pecans)
Raisins - 1/4 cup
Cranberry - 2 tbsp
Cardamom powder - 1/8 tsp
Cinnamon powder - pinch
Vanilla extract - 1 tsp
Salt - 1/8 tsp
Method:
Preheat the oven to 350 degree Fahrenheit and place parchment paper on 9×9 square baking pan and grease it with butter/olive oil/cooking spray

In a wide mixing bowl mash the banana well without lumps. Add vanilla extract to it and mix well
Add the oats, cardamom powder, cinnamon powder and salt to the banana and mix well. Add nuts, raisins and cranberry and give a final mix


Transfer it the mixture into the baking pan and spread evenly. Bake for 28 - 33 minutes until the edges begin to crisp. Cool it and cut the bars. Store in room temperature and enjoy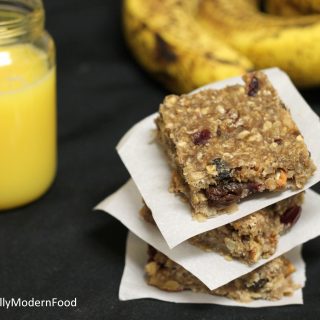 Oats Bars - Zero Sugar
Healthy chewy oats bar with nuts, banana and dry fruits
Print
Pin
Comment
Ingredients
Quick/Rolled Oats - 2 cups

I used quick oats

Banana - 2

large - very ripe, peeled and mashed

Nuts - 1/4 cup

chopped (I used walnut, almonds and pecans)

Raisins - 1/4 cup

Cranberry - 2 tbsp

Cardamom powder - 1/8 tsp

Cinnamon powder - pinch

Vanilla extract - 1 tsp

Salt - 1/8 tsp
Instructions
Preheat the oven to 350 degree Fahrenheit and place parchment paper on 9×9 square baking pan and grease it with butter/olive oil/cooking spray

In a wide mixing bowl mash the banana well without lumps. Add vanilla extract to it and mix well

Add the oats, cardamom powder, cinnamon powder and salt to the banana and mix well. Add nuts, raisins and cranberry and give a final mix

Transfer it the mixture into the baking pan and spread evenly. Bake for 28 - 33 minutes until the edges begin to crisp. Cool it and cut the bars. Store in room temperature and enjoy
Notes
Gluten free oats can be added for gluten- free version
Coconut, chopped dates, apricot, prunes etc. can be. Added for extra flavor
Extracts like rose, almond, pineapple can also used
Plain or flavored chocolate chips like mint, peppermint, coffee etc. can be added
Walnut, almonds, pecan, pine nuts, hazelnut cashew, pista can be added
Cardamom powder, vanilla extract and cinnamon powder are optional. Any other flavors of your choice can be added instead of them
Bars stays good for 2-3 in room temperature. I haven't tried refrigerating them
Golden raisins can also be used instead of dark ones
Nutrition
Calories:
414
kcal
|
Carbohydrates:
69
g
|
Protein:
8
g
|
Fat:
15
g
|
Saturated Fat:
2
g
|
Polyunsaturated Fat:
12
g
|
Sodium:
304
mg
|
Fiber:
9
g
|
Sugar:
38
g