Whole wheat brownies is addictive tasty dessert. Brownies can someone say no to this chocolate rich dessert. Here is a whole wheat brownies with the same texture and taste.
Happy new year to all!
Big thanks to all my visitors, readers, followers, friends and family for making my blogging journey special with your constant comments and encouragement:-)
For me 2016 is going to make a change in my routine. My little one is going to his next phase from coming Monday, he is going to pre-school. It is a mixed feeling for me. As a daughter I tell my mom not be sentimental aroud things around my sister and me, but now I can connect. Waiting for all the excitement the new year is going to give us:-)
Going back to 2015, we moved to a new city, my hubby changed his job and I got my own domain name 🙂
Two days back I received a mail with my top 5 popular posts in 2015,
Since childhood, for me and my sister, new year starts in front of TV. Movie at 12' o clock, wishing each other, Some sweets on Jan 1, wishing all friends and family and lot more TV. A very simple new year celebration.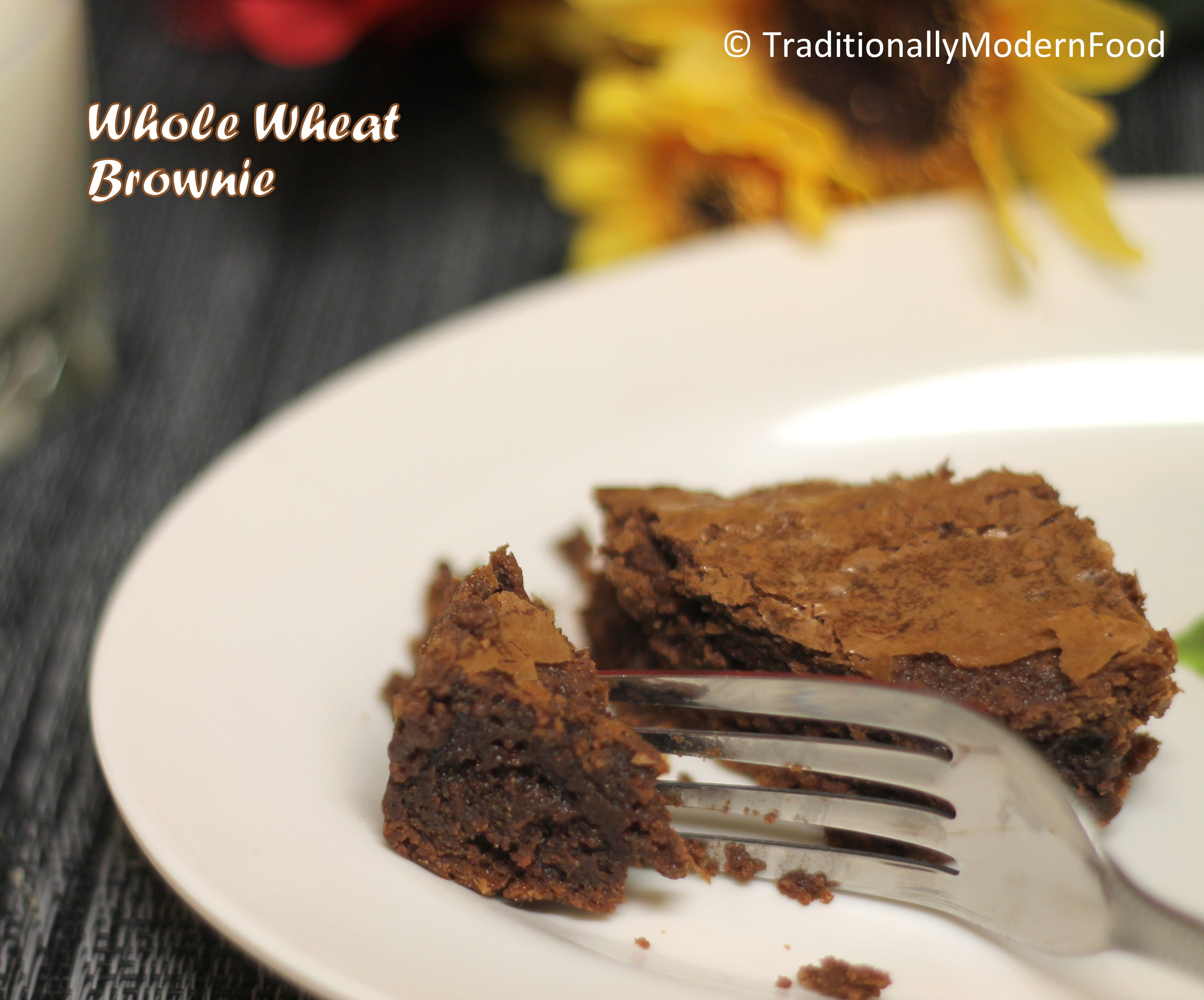 I wanted to start the year with a sweet, LO loves chocolate and double chocolate fudge brownie is here.
I haven't tasted brownie for years, as I am not a big fan of chocolate. Once when we where in a mall my son was hungry and hubby got him a brownie, he enjoyed eating it. I saw YouTube video and followed that recipe. After tasting that my hubby liked it and asked to prepare for his teammates.
His colleague asked whether it is store bought 🙂 I was super happy and started preparing regularly with a slight change. I use wheat flour for a healthy version. Whole wheat brownies tasted yum and Believe me there is no compromise in taste. Make this whole wheat brownies for this new year and enjoy the chocolatey, fudgy delight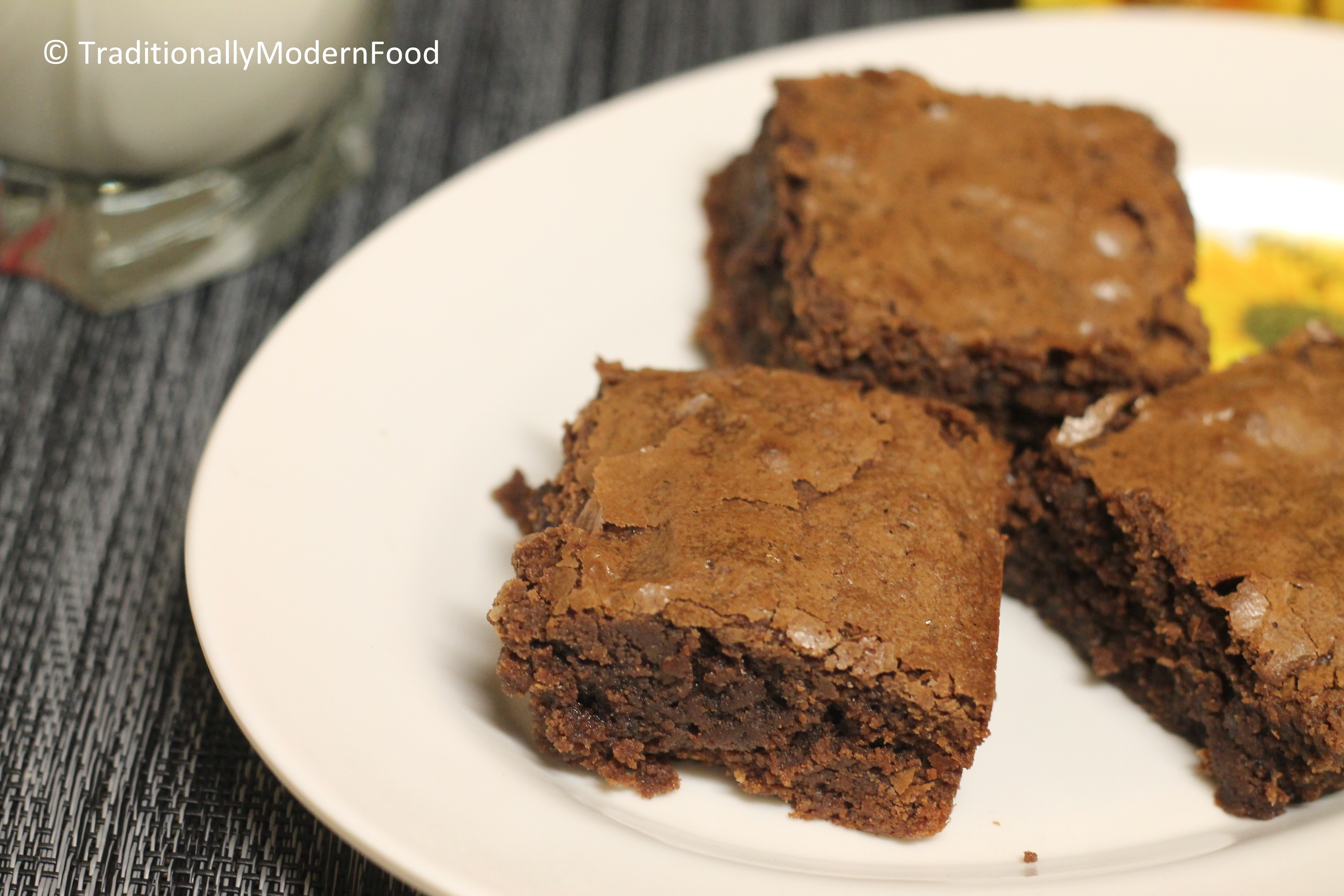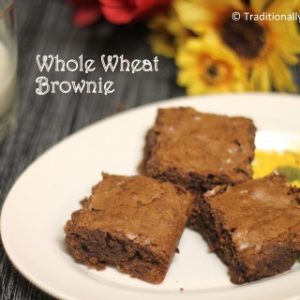 Ingredients
Semisweet chocolate - 5 oz

Butter - 1/2 cup

1 stick, unsalted

Cocoa powder - 2 tablespoon

White sugar - 1 cup

Vanilla extract - 1 teaspoon

Eggs - 3 large

Wheat flour/ All purpose flour - 3/4 cup

I used wheat

Salt - 1/4 teaspoon
Instructions
Preheat the oven to 350 degree F. Line an 8 inch square pan with parchment paper and grease it with butter/cooking spray

Boil water in a sauce pan. Add chocolate and butter in a separate wide bowl. When the water starts boiling, sim the stove and add the wide bowl over the sauce pan

Melt the chocolate and remove from the heat

Add coffee powder, cocoa powder, sugar, vanilla extract and mix well

Add eggs one by one and beat well after each addition. Eggs added to hot sauce may curdle so make sure chocolate is not very hot

Combine flour and salt in a separate bowl and add it to the wet mixture. Stir in the chocolate chip

Transfer the contents to the greased pan and bake for 25 - 30 minutes until a toothpick/fork inserted in the center comes out with a little sticky brownie (few moist clumps clinging to it). Cool it and enjoy the brownie warm/chilled with chocolate sauce/whipping cream
Ingredients:
Semisweet chocolate - 5 oz
Butter - 1/2 cup (1 stick), unsalted
Cocoa powder - 2 tablespoon
White sugar - 1 cup
Vanilla extract - 1 teaspoon
Eggs - 3 large
Wheat / All purpose flour - 3/4 cup (I used wheat flour)
Salt - 1/4 teaspoon
Method:
Preheat the oven to 350 degree F. Line an 8 inch square pan with parchment paper and grease it with butter/cooking spray
Boil water in a sauce pan. Add chocolate and butter in a separate wide bowl. When the water starts boiling, sim the stove and add the wide bowl over the sauce pan
Melt the chocolate and remove from the heat

Add coffee powder, cocoa powder, sugar, vanilla extract and mix well
Add eggs one by one and beat well after each addition. Eggs added to hot sauce may curdle so make sure chocolate is not very hot
Combine flour and salt in a separate bowl and add it to the wet mixture. Stir in the chocolate chip

Transfer the contents to the greased pan and bake for 25 - 30 minutes until a toothpick/fork inserted in the center comes out with a little sticky brownie (few moist clumps clinging to it). Cool it and enjoy the brownie warm/chilled with chocolate sauce/whipping cream