Eggless black forest cake recipe | eggless cherry cake | best chocolate cake with step-by-step pictures and video recipe. Check out the Eggless black forest cake video and If you like the video pls SUBSCRIBE to my channel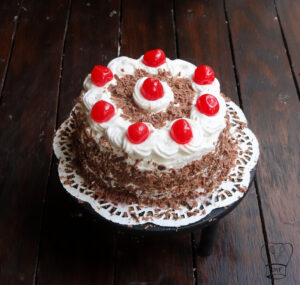 Eggless Black forest cake is a rich and tasty cake. Two small 6-inch cake is perfect for any special occasion.
CAN I USE WHEAT FLOUR INSTEAD OF ALL-PURPOSE/FLOUR?
For a light and soft cake, all-purpose flour is preferred. Using wheat flour might result in a dense cake. If you prefer to use wheat flour choose fine ground flour and add an extra 2 or 3 tbsp of milk.
HOW CAN I ADOPT THE RECIPE FOR OTHER CAKE PANS?
I have used two 6-inch cake pans. You can use the same proportion and split it into two 7-inch pans or bake the entire batch in one big pan. The baking time might vary accordingly
Is trimming the edges and the top layer mandatory for Eggless forest cake?
Trimming the cake is totally optional. I felt my top layer was not flat and I prefer trimming the outer layer as my son loves to snack on it separately. you can skip trimming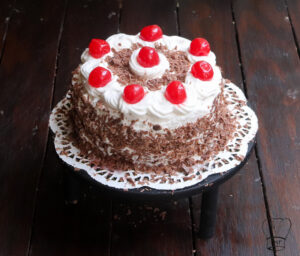 What can I use instead of hung curd?
An equal amount of sour cream can be used instead of thick homemade curd. vanilla flavored or plain yogurt can also be used instead of sour cream.
sour cream-based recipes in TMF
Curd rice Shrikhand Dahi kebab Aloo tikka Paneer tikka Mixed bean soup strawberry frozen yogurt
Can I use fresh cherries for black forest cake?
Yes if fresh cherries are in season use them. In that case, we need to prepare the sugar syrup. Boil an equal portion of water and sugar. No need to look for any sugar string. Just cook till the sugar is completely melted and cool and use. I have used maraschino cherries. Used the cherries for the cake and liquid in place of sugar syrup.
How much sugar syrup do we need for the cake?
I have used around 1/2 cup of maraschino cherries liquid. If you prefer less cherry flavor adjust according to your taste.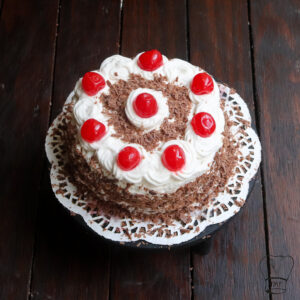 Can I use butter for black forest cake?
Since we are going to refrigerate the cake it is better to use oil. Butter might make the cake dry.
CAN I BAKE IN THE PAN?
Yes place a stand and preheat both pans for 10 minutes on medium flame. Place the cake pans on top, cover them with a lid and cook for 15-20 minutes on low flame. If you are baking in one pan then cook for 30-40 mins
SHOULD I REFRIGERATE THE CAKE?
Yes always refrigerate the chocolate cherry cake. Especially after adding the frosting.
Other cake recipes in TMF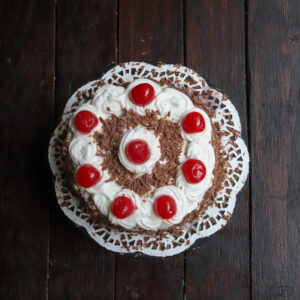 Ingredients:
Curd-sugar mixture
1/2 cup hung curd
1 cup powdered sugar
Dry ingredients
1 cup All-purpose flour
1/4 cup cocoa powder
1/2 teaspoon Baking Soda
1 teaspoon Baking Powder
Salt - pinch
Wet ingredients
25 grams of chocolate chips
1/4 cup oil
1/2 cup hot water
1/4 teaspoon coffee decoction
1 teaspoon vanilla extract
Cherry syrup
1/3 cup - 1/2 cup Syrup adjust according to your taste
Frosting
1/2 cup powdered sugar
1 cup + 1/2 cup Unsweetened Whipping Cream
1/2 tablespoon vanilla extract
Topping
Grated chocolate - according to your taste
5 maraschino Cherries
Filling
Marchino Cherries - a few, chopped
How to make Eggless black forest cake with step-by-step pictures
Preheat the oven to 350 degrees Fahrenheit
Line the baking tray with parchment paper and grease it with cooking spray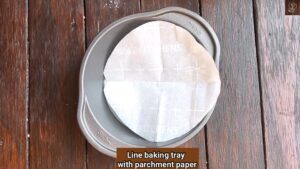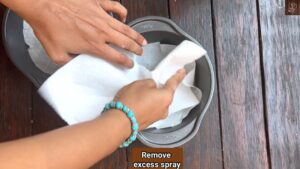 In a microwave-safe container add chocolate chips, hot water, oil, and coffee decoction; mix well

Or Microwave until the chocolate melts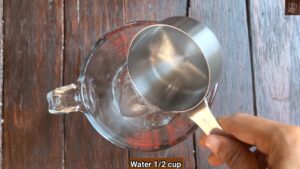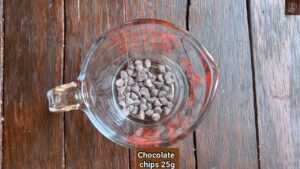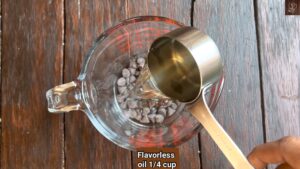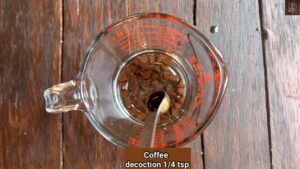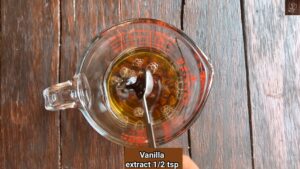 Sieve and add all-purpose flour, baking soda, baking powder, and cocoa powder in batches; mix gently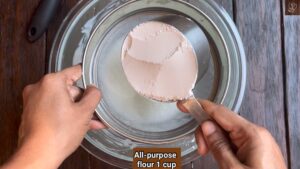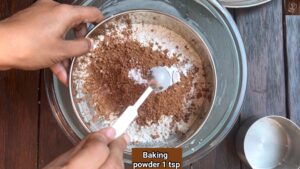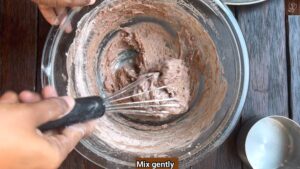 add the chocolate mixtures and mix gently to make a lump-free smooth batter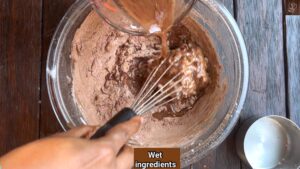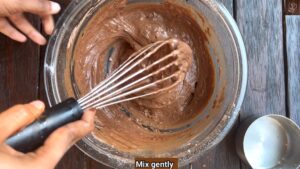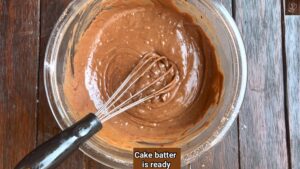 Divide the batter between two cake tins, level, and tap the batter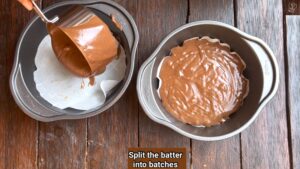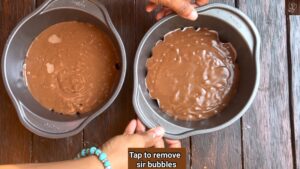 Bake for 25 – 30 minutes or until a toothpick inserted comes out clean
Cool the cake for 10 mins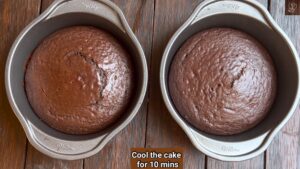 Invert and unmold the cake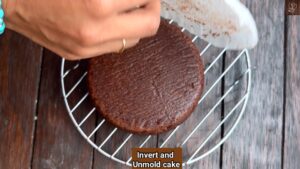 Allow the cake to cool completely
frosting
Whisk the cream cold heavy cream till you get soft white peaks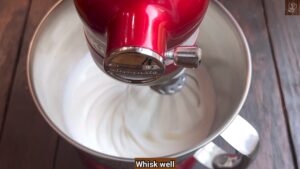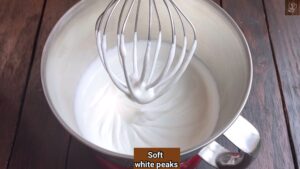 Add vanilla extract, and powdered sugar; whisk gently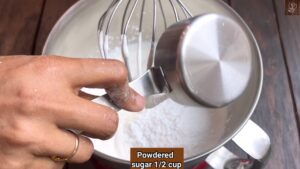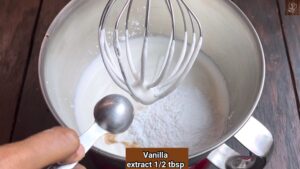 Assembling the cake
Crumb coat
In a cake pan place parchment paper or cake board

I have added little frosting over the parchment paper and placed a cake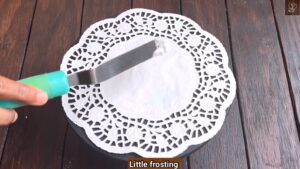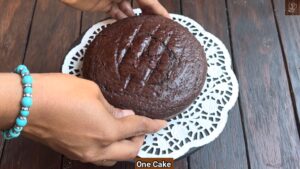 adds syrup all over the cake. Make sure you add enough syrup to prevent the cake from getting dry
Add a generous amount of frosting over the cake and spread it evenly with a spatula
Spread and add some cherries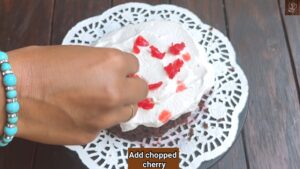 Place the second cake on the top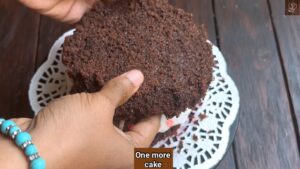 Add syrup all over the cake. Make sure you add enough syrup to prevent the cake from getting dry
Add a generous amount of frosting over the cake and spread it evenly with a spatula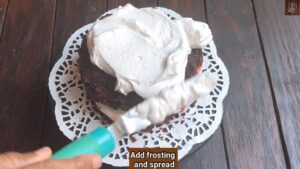 Cover the gap between the layer and add a crumb coat for the whole cake
Second coat
Take a generous amount of frosting and using a spatula frost the cake evenly
Final frosting
Grate the chocolate and add them around the cake

Decorate the cake according to your preference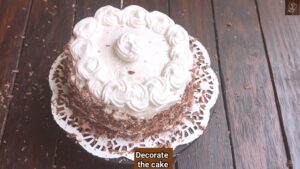 Since it's a small cake I have placed half of the cherry on top of the cake
Sprinkle grated chocolate and Chill the cake until you serve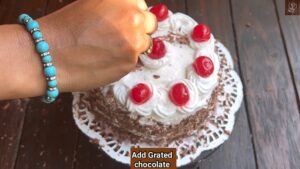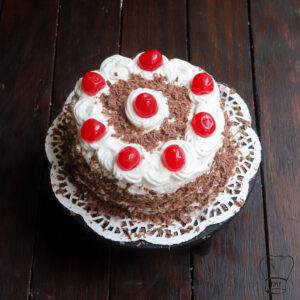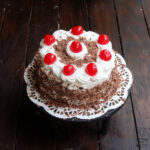 Print Recipe
Eggless Black forest cake
Ingredients
Curd-sugar mixture
1/2

cup

hung curd

1

cup

powdered sugar
Dry ingredients
1

cup

All-purpose flour

1/4

cup

cocoa powder

1/2

teaspoon

Baking Soda

1

teaspoon

Baking Powder

Salt - pinch
Wet ingredients
25

grams

of chocolate chips

1/4

cup

oil

1/2

cup

hot water

1/4

teaspoon

coffee decoction

1

teaspoon

vanilla extract
Cherry syrup
1/3

cup

- 1/2 cup Syrup adjust according to your taste
Frosting
1/2

cup

powdered sugar

1

cup

+ 1/2 cup Unsweetened Whipping Cream

1/2

tablespoon

vanilla extract
Topping
Grated chocolate - according to your taste

5

maraschino Cherries
Filling
Marchino Cherries - a few

chopped
Instructions
Preheat the oven to 350 degrees Fahrenheit

Line the baking tray with parchment paper and grease it with cooking spray

In a microwave-safe container add chocolate chips, hot water, oil, and coffee decoction; mix well Or Microwave until the chocolate melts

Sieve and add all-purpose flour, baking soda, baking powder, and cocoa powder in batches; mix gently

add the chocolate mixtures and mix gently to make a lump-free smooth batter

Divide the batter between two cake tins, level, and tap the batter

Bake for 25 – 30 minutes or until a toothpick inserted comes out clean

Cool the cake for 10 mins

Invert and unmold the cake

Allow the cake to cool completely
frosting
Whisk the cream cold heavy cream till you get soft white peaks

Add vanilla extract, and powdered sugar; whisk gently

Assembling the cake
Crumb coat
In a cake pan place parchment paper or cake board

I have added little frosting over the parchment paper and placed a cake

Trim the top of the cake

adds syrup all over the cake. Make sure you add enough syrup to prevent the cake from getting dry

Add a generous amount of frosting over the cake and spread it evenly with a spatula

Spread and add some cherries

Place the second cake on the top

Add syrup all over the cake. Make sure you add enough syrup to prevent the cake from getting dry

Add a generous amount of frosting over the cake and spread it evenly with a spatula

Cover the gap between the layer and add a crumb coat for the whole cake
Second coat
Take a generous amount of frosting and using a spatula frost the cake evenly
Final frosting
Grate the chocolate and add them around the cake

Decorate the cake according to your preference

Since it's a small cake I have placed half of the cherry on top of the cake

Sprinkle grated chocolate and Chill the cake until you serve
Video