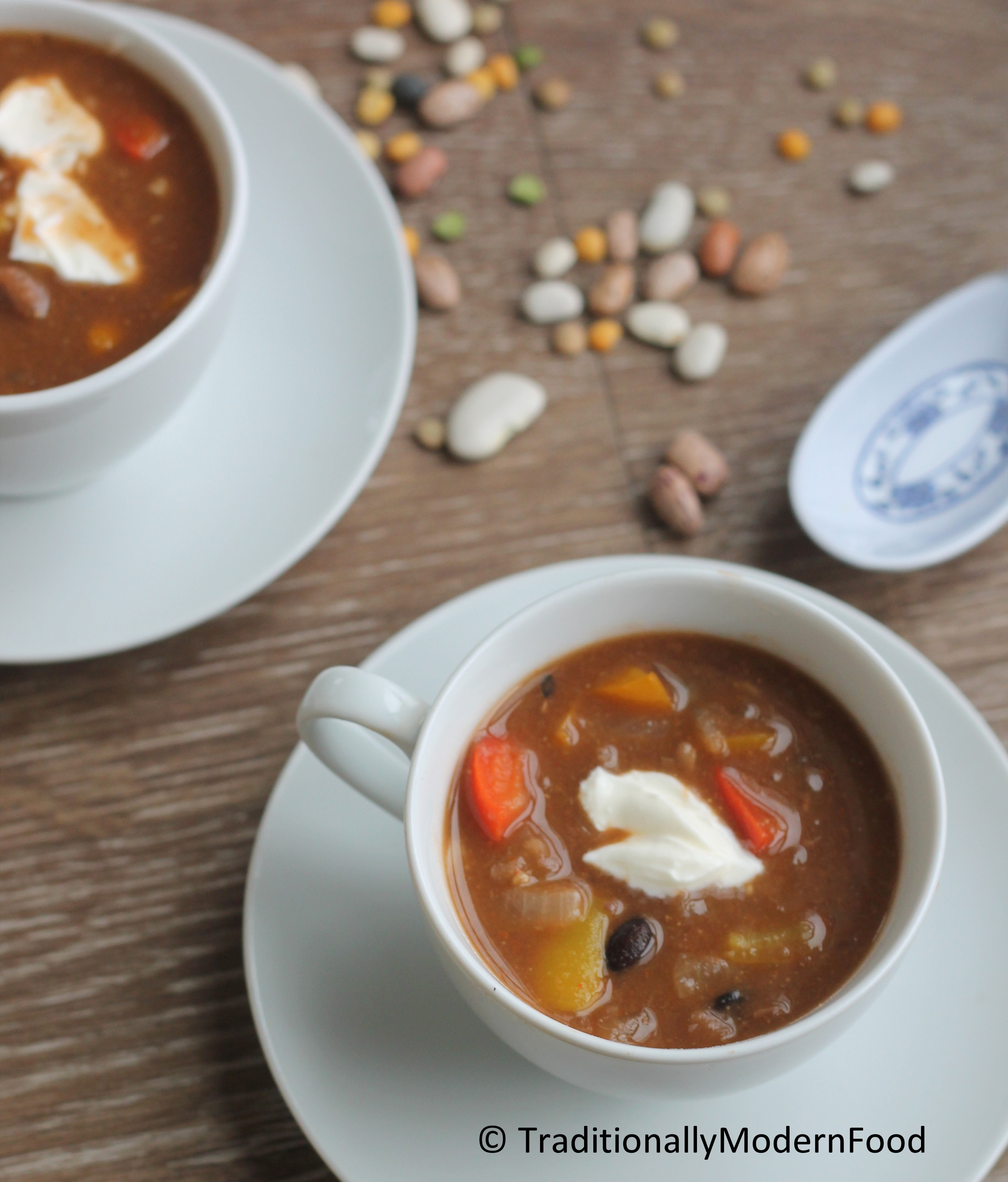 Filling protein rich mixed bean soup not only makes a great appetizer but a filling meal. Sour cream gives a amazing taste to the soup.
Hot bowl of soup is always welcome in our home, that too on winter days it is so comforting. My hubby loves soup and salad, he can skip meals and have it all day. On the contrary I can only consider soup for appetizer,but this soup broke my rules. After tasting this filling protein rich Mixed Bean Soup, I skipped my dinner and had twice or thrice or how many?? shhhh that's a secret:-)
Hubby's cousin is in Portland, couple of weeks ago we visited them for long weekend. Vacation are always fun, running behind the kids, random talks, midnight ice cream, phase 10 game, "Everybody loves Raymond" episodes, omg so much sweet memories. My co -sis prepared tasty meal and I gained few pounds after returning from the trip.
Among all the yummy dishes she prepared her black bean soup and Sweet potato fry stole the show. Remember my black bean soup, she was the one who gave that idea. Last time I tried her recipe, with slight modification in my way, it is popular in home but this time after our vacation first thing I wanted to do is try her way.
She learnt this recipe from her relative. I pinged her in WhatsApp for the recipe, immediately got it. It was around 4 pm. I was in dilemma whether to cook it for dinner or make it next day as appetizer. I called my hubby and asked him. He said, " I can have it for dinner and lunch, make it in your big pan".
I thought he is crazy. I prepared the mixed Bean Soup and planned to make dosa after having it. When the soup was boiling he entered the home, and Aroma of the soup welcomed him. I planned to make some garlic bread to go with the Mixed Bean Soup, but believe me even before my pan was warm we finished our first serve.
Recipe she gave was with black bean as I didn't have black bean much. I usually have mixed bean in storage container and used it for Gravy, Dosa, Adai etc. I decided to go with it.
Their are lot of interesting specialty ingredients in this soup. I am not going to talk about my all time favorites onion, garlic and Tomato. Mixed bell Pepper is my first favorite. I am always a big fan of this. It not only gives a great color to the food, but also each color has one special taste which takes this soup to the next level. Next to bell pepper rice this is my favorite recipe with it.
Yet another interesting ingredients in this Mixed Bean Soup is sour cream topping, oh man an in love with the magic it does to to the soup. I have used sour cream in potato tikka, tofu tikka, frozen strawberry yogurt and quesadilla , but never in soup before.
Bean and sour cream are there can I call it mexcian soup. No cumin, bay leaves, coriander and chilli Powder are there can I call it Indian soup or may be other some other cuisine which I don't know. Whatever be the source this is such a delight. Great way to make kids eat beans.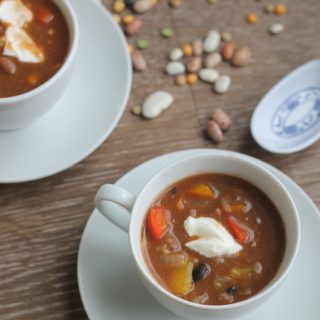 Mixed Bean Soup
Soup prepared with mixed bean, bell pepper and spice mix. Perfect protein rich soup
Print
Pin
Comment
Ingredients
Mixed Beans - 1 cup + 1/4 cup

Bell Pepper - 3

I used red, orange and yellow

Tomato - 3

big (I used big vine tomato)

Onion - 2

finely chopped

Garlic - 3

finely chopped

Ketchup / tomato paste - 1 tbsp

Cumin powder - 1 tsp

Coriander powder - 1 tbsp

Chili powder - 1 teaspoon _ 1/4 tsp

Salt - as needed

Pepper - for extra heat

Sour cream - for topping

Oil - 1/2 tbsp

Bay leaves - 1
Instructions
Soak the mixed bean in hot water for 2-3 hours. Pressure cook with 1:2 water for 2/3 whistles

Boil 1 cup of water and cook the tomatoes till the skin peels off. Keep the liquid for the soup. Peel the skin and grind it without adding water, after tomatoes are cooled down

Boil

Add oil to the pan and cook on medium heat, once when the oil becomes hot, add bay leaf and cook for 30 seconds. Add onion and garlic and cook till onions are translucent

Add mixed bell peppers and cook for 3-5 minutes. Add the tomato puree and cook for 5 minutes

Add salt, cumin powder. Coriander powder, red chilli and Tomato paste and cook for 2 minutes

Add the cooked bean, bean cooked water and Tomato water (if required, adjust the water according to the consistency you desire) and cook for 10 - 15 minutes or until the soup thickens. Discard the bay leaves and serve the hot soup with some sour cream. Add pepper if you need extra heat
Notes
I have used combination of black, pinto, lima, chickpea, yellow eye, green split pea, kidney, white, yellow split bean and navy bean. You can use any beans of your choice
Soup can also be prepared with any one variety of bean instead of mixed bean
Tin/can bean can also be used instead of dried beans
Tin/ can tomatoes can be used instead of fresh tomatoes
Amount of sour cream is your choice. I prefer adding it more around 2 teaspoon for a bowl
Two tablespoon of jalapeno salsa can be added for extra kick
If soup becomes watery grind some cooked beans or mash the beans for thickness
Ingredients:
Mixed Beans - 1 cup + 1/4 cup
Bell Pepper - 3, I used red, orange and yellow
Tomato - 3, big (I used big vine tomato)
Onion - 2, finely chopped
Garlic - 3, finely chopped
Ketchup / tomato paste - 1 tbsp
Cumin powder - 1 tsp
Coriander powder - 1 tbsp
Chili powder - 1 teaspoon _ 1/4 tsp
Salt - as needed
Pepper - for extra heat
Sour cream - for topping
Oil - 1/2 tbsp
Bay leaves - 1
Method:
Soak the mixed bean in hot water for 2-3 hours. Pressure cook with 1:2 water for 2/3 whistles
Boil 1 cup of water and cook the tomatoes till the skin peels off. Keep the liquid for the soup. Peel the skin and grind it without adding water, after tomatoes are cooled down
Add oil to the pan and cook on medium heat, once when the oil becomes hot, add bay leaf and cook for 30 seconds. Add onion and garlic and cook till onions are translucent
Add mixed bell peppers and cook for 3-5 minutes

Add the tomato puree and cook for 5 minutes. Add salt, cumin powder. Coriander powder, red chilli and Tomato paste and cook for 2 minutes
Add the cooked bean, bean cooked water, Tomato water and extra water (if required, adjust the water according to the consistency you desire) and cook for 10 - 15 minutes or until the soup thickens. Discard the bay leaves and serve the hot soup with some sour cream. Add pepper if you need extra heat