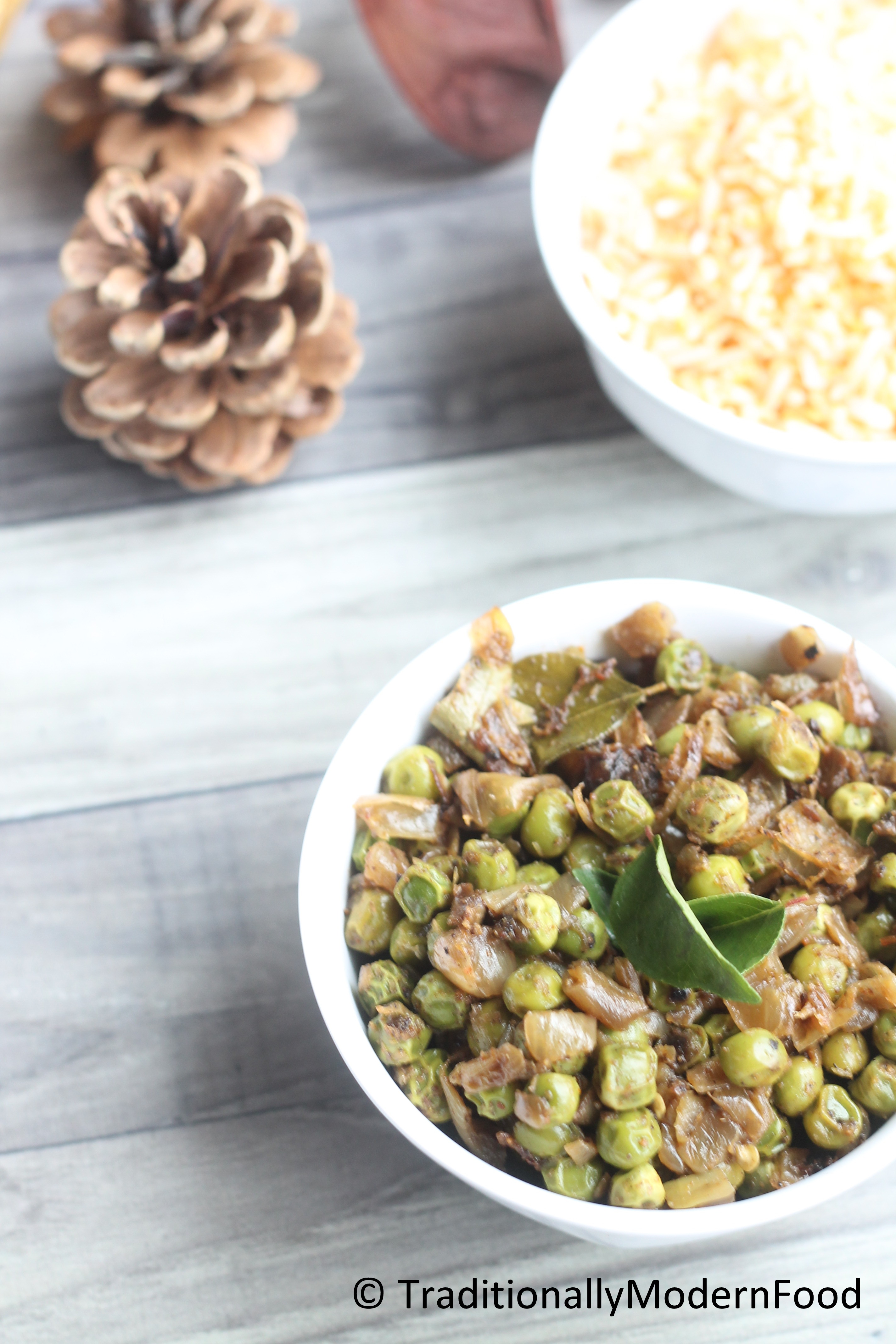 Pattani curry | Green Peas Curry is a quick dry side dish prepared within 10 minutes. Frozen peas comes handy for this quick side. This pattani curry tastes great with variety rice, roti, rasam, samhar etc. kids will love this Frozen peas dry curry.
Go Green!!! Yes it is green resolution in my kitchen. Greens are healthy, good to included them frequently in our meal. Out of all the greeens, I have special liking for green peas for one reason, it is easy cook . On days when you think you just have 10 minutes to prepare a side dish, this Pattani Curry will come handy. Great saver curry for your busy days.
Pattani curry goes well with variety rice /kuzhambu / rasam.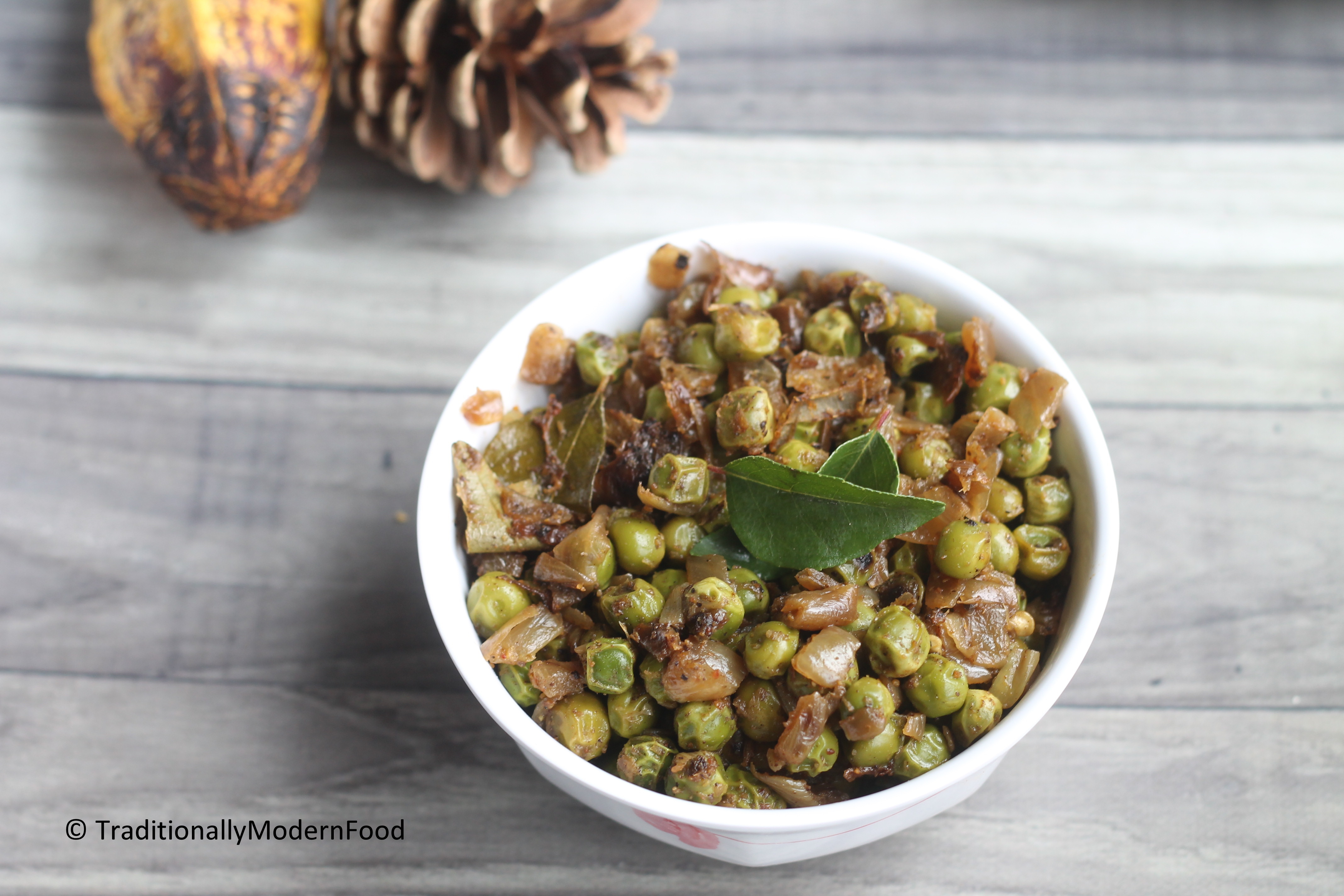 One day I would have forgot to add salt to the curry or added more spice other day. Many such kitchen disaster happens. Now a days I started cutting vegetable previous night. Soak tamarind and cook Dal; well I do most of the cooking previous night. It helps a lot for my relaxed (mind voice, sure about this word?) morning.
Still there are days when I couldn't make arrangements previous night. Recently one such day came, I opened the fridge and stood clueless seeing the veggies. Suddenly I heared a knock from my freezer. Frozen peas offered to help me.
I don't know how I forgot my frozen peas sundal. At times I prove, I am a big fan of Actor Surya, he is a famous Tamil actor. In one movie he will have short term memory loss, in my home almost many days I will have that:-)
Being a salad fan, if I just boil peas and give him with salt and pepper he will be happy to eat. My taste bud can't accept it. I decided to add onion and ginger garlic paste, this trio combo always works for me. With some spices the Green peas Curry was ready in no time.
Packed his lunch. I started cooking regularly and thought of taking pictures for blog. I got a call from hubby, I loved the green peas curry you gave today, pack it often:-) Protein and fibre rich healthy Green peas Curry started occupying a special places in my kitchen.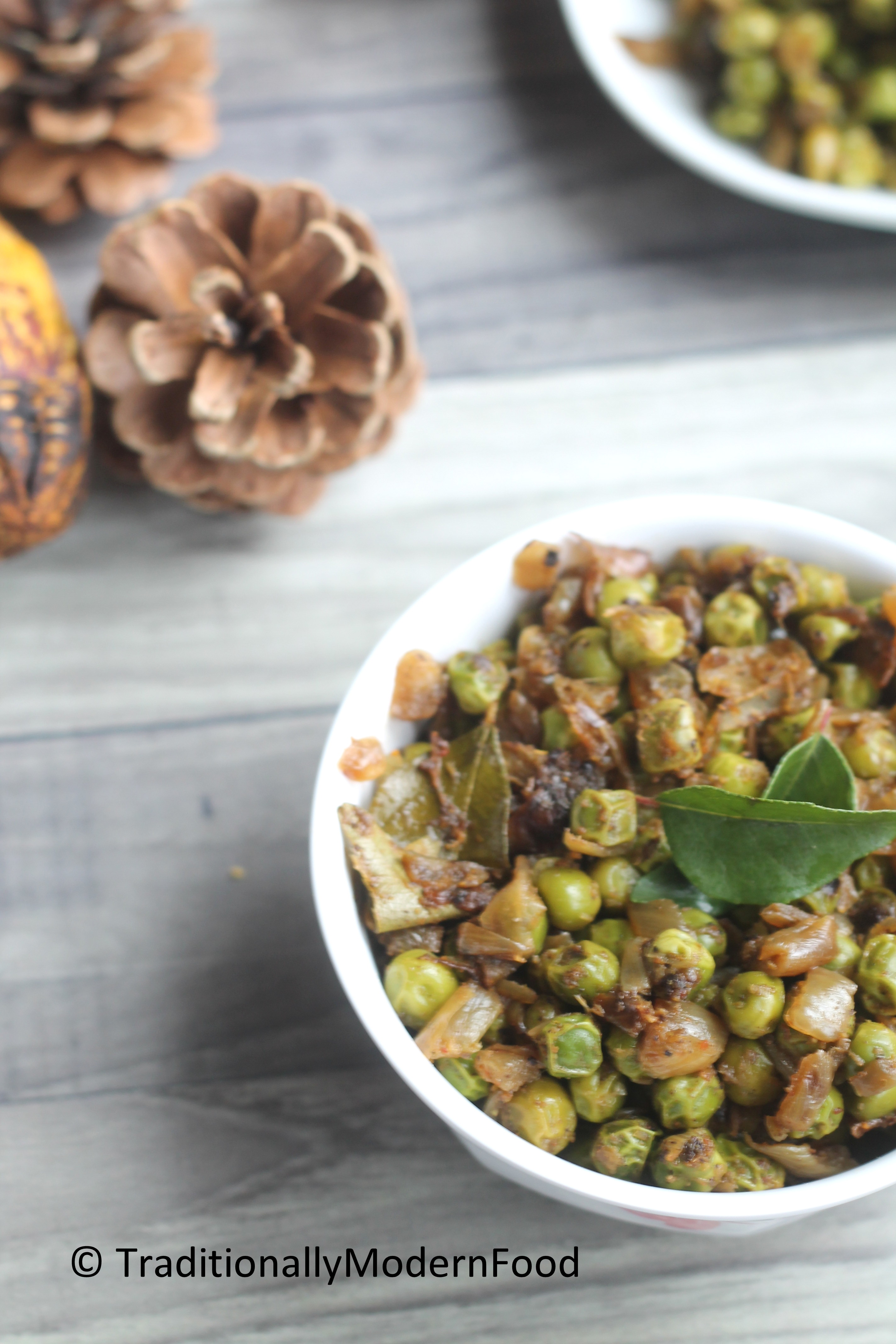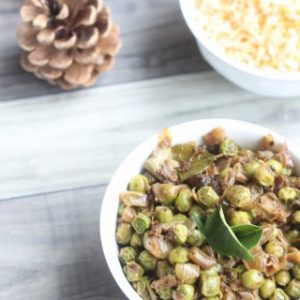 Green Peas Fry
Quick 10 minutes dry side dish prepared with frozen peas. Tastes great with rice/ roti
Print
Pin
Comment
Ingredients
Frozen Peas - 1 cup + 1/2 cup

Onion - 1

finely chopped

Green chilli - 1

-slit

Ginger garlic paste - 1/2 tsp

Coriander powder - 1/2 tsp

Garam Masala - 1/2 tsp

Pav bhaji Masala - 1 tsp

Salt - as neeeed

To Temper:

Oil - 1 teaspoon + 1/4 tsp

Cumin seeds - 1/2 tsp

Curry leaves - few

Asofetida - pinch
Instructions
Add oil to the pan, when is hot add cumin seeds, curry leaves and asofetida;let it splutter

Add green chilli, onion, little salt, and ginger garlic paste; cook till the onions are translucent

Add coriander powder, garam masala and pav bhaji Masala and cook for a minute

Add the frozen peas, remaining salt and water; close the lid and cook. Stirring occasionally. In 5 minutes the peas is cooked and curry is ready:-)
Notes
Fresh peas can be used instead of frozen. Cooking time may vary
If you are using dry peas, soak it in water for few hours and pressure cook for 2 whistle. Follow the same procedure
Watch out for salt as we add it in two interval
Chili powder, sambar powder, King Masala, channana Masala, rajma Masala can be used instead of pav bhaji
I used non-stick pan, amount of oil may vary if your using iron
Ingredients:
Frozen Peas - 1 cup + 1/2 cup
Onion - 1, finely chopped
Green chilli - 1, -slit
Ginger garlic paste - 1/2 tsp
Coriander powder - 1/2 tsp
Garam Masala - 1/2 tsp
Pav bhaji Masala - 1 tsp
Salt - as neeeed
To Temper:
Oil - 1 teaspoon + 1/4 tsp
Cumin seeds - 1/2 tsp
Curry leaves - few
Asofetida - pinch
Method:
Add oil to the pan, when is hot add cumin seeds, curry leaves and asofetida;let it splutter

Add green chilli, onion, little salt, and ginger garlic paste; cook till the onions are translucent

Add coriander powder, garam masala and pav bhaji Masala and cook for a minute

Add the frozen peas, remaining salt and water; close the lid and cook. Stirring occasionally. In 5 minutes the peas is cooked and curry is ready:-)