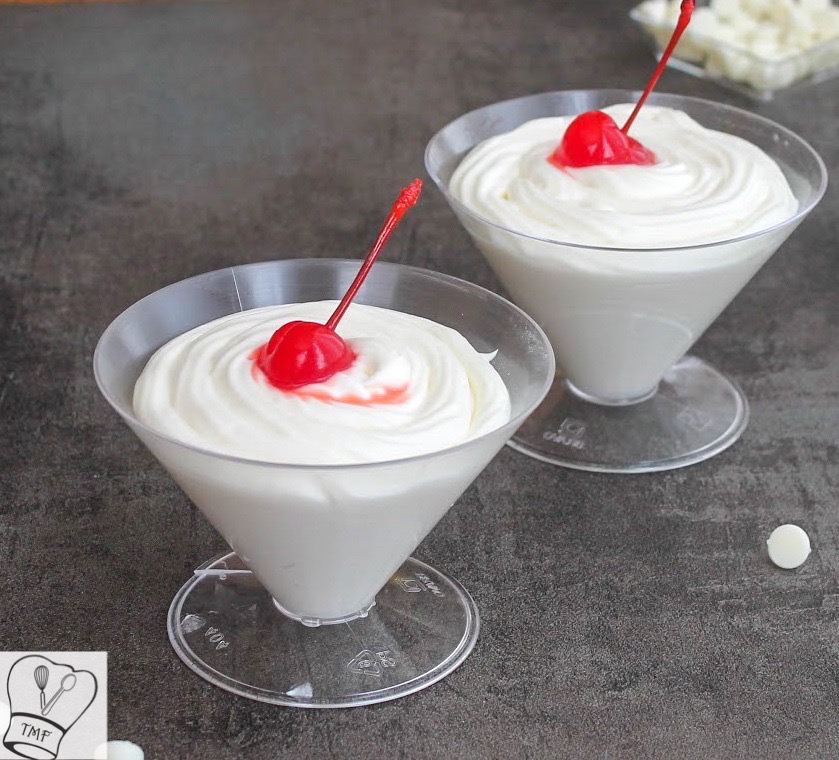 "White Chocolate mousse - eggless" is a rich and creamy 2- ingredients dessert. Preparation is super easy, it just takes 10 minutes to make this delicious mousse. It is a tasty make-ahead party dessert. Check out the white chocolate mousse video and If you like the video pls SUBSCRIBE to my channel
Last month my daughter turned one. With the lock down in progress I wasn't sure what supplies I will get and how I am going to make her a cake. One week before her birthday I ordered all essential baking supplies and also ordered heavy whipping cream for frosting.
I ended up making buttercream frosting so heavy cream was left in the fridge. Usually if I see a big carton of heavy whipping cream, ice creams like Pista / chocolate /vanilla come to my mind.
Though it is officially spring still we had some rainy days last month so instead of frozen dessert I decided to make a light chill dessert for my son's evening snacks.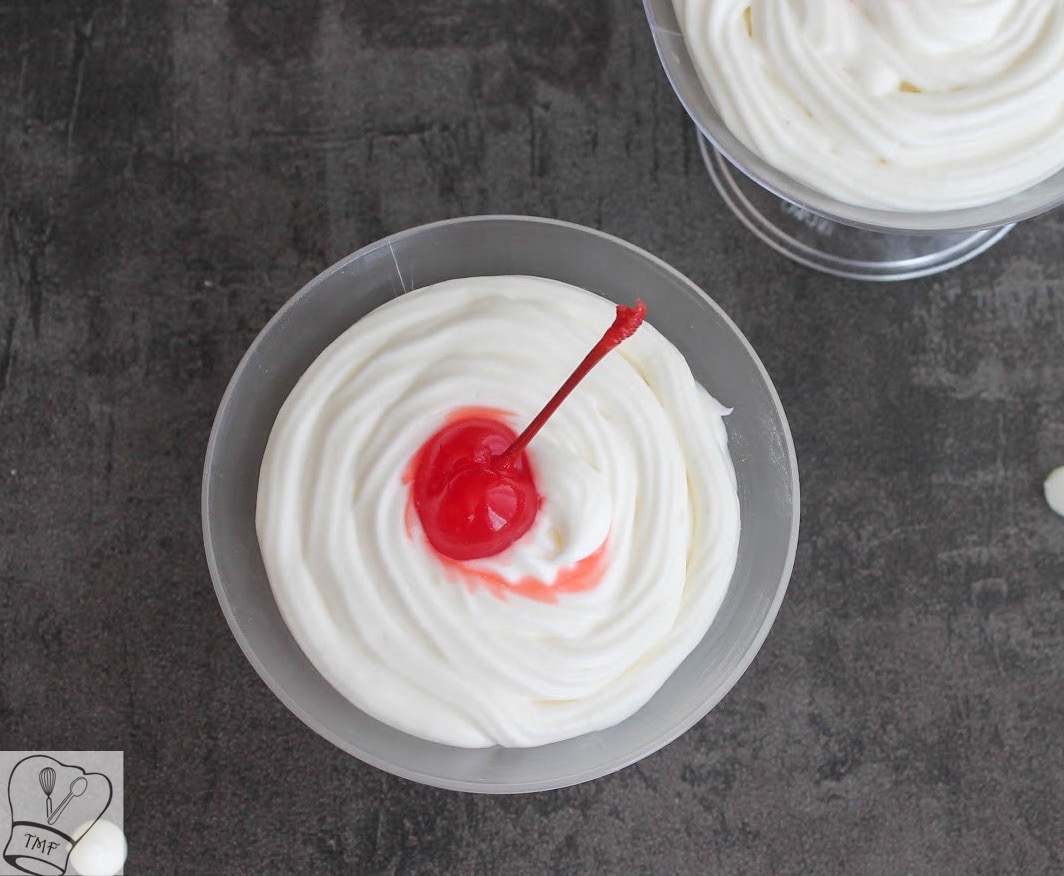 My son reminded my Eggless chocolate mousse that I made using semi-sweet chocolate chips. Thought of making it again but this time we thought with try white chocolate mousse.
I wanted to follow the same recipe as semi-sweet milk chocolate chips, but since white chocolate chips is already sweet, I used less sugar. I experimented few times just changing the sugar levels, and finally settled with the amount of sugar mentioned in this recipe. If you are planning to use semi sweet chocolate, refer Eggless chocolate mousse
Checkout other pudding varieties in TMF,
If you are looking for a creamy Eggless white Chocolate mousse this recipe is perfect. Heavy cream and white chocolate combo makes white chocolate mousse dessert rich and delicious. I love make-ahead desserts like this. White chocolate mousse can be prepared within 10 mins. Keep it in room temperature for at least 1 hour and refrigerate for at least 3 hours. Prepare the mousse, and consume it immediately or, refrigerate and enjoy.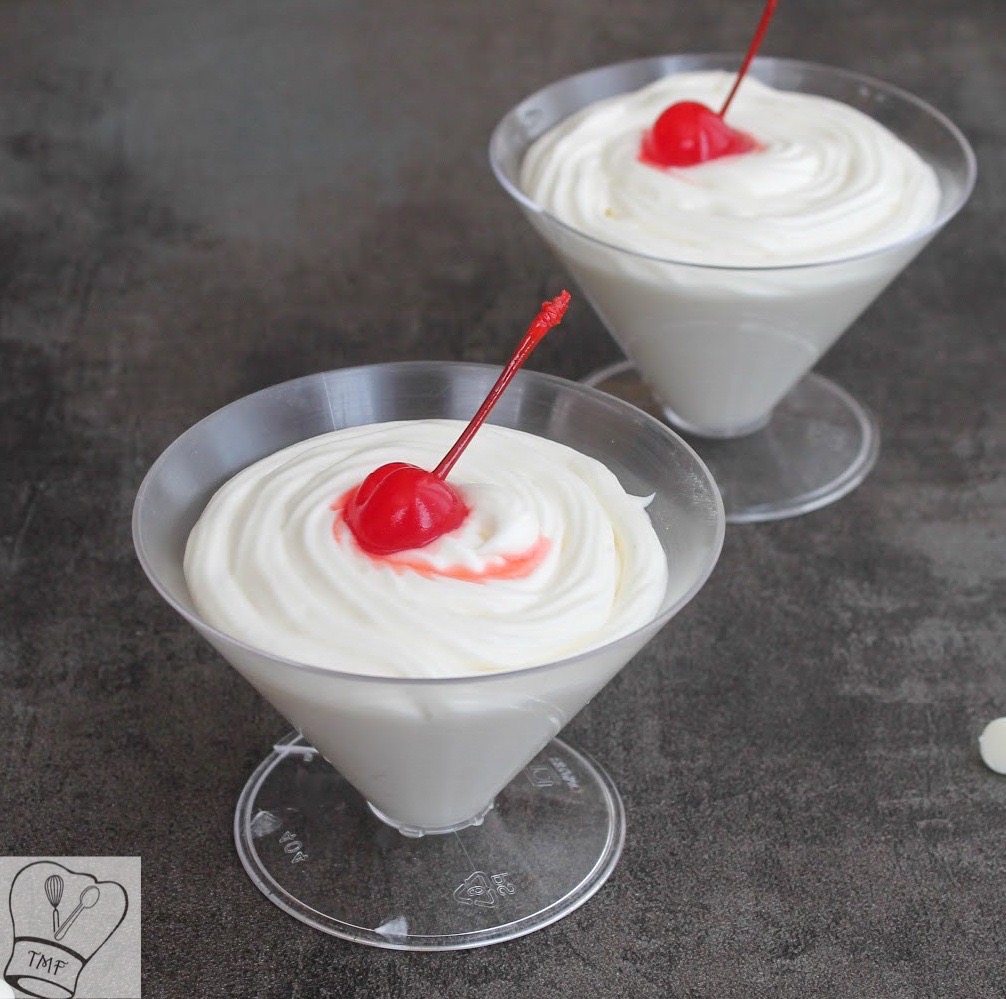 Fudge and Cake with white chocolate
Chocolate lovers checkout other chocolate based recipes in TMF,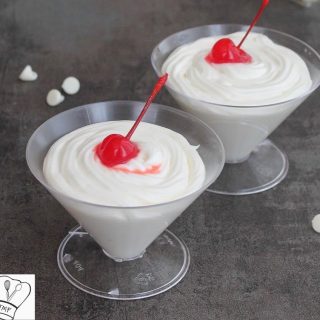 White Chocolate Mousse - Eggless | 3 ingredients
White Chocolate mousse - eggless is a rich and creamy 3 ingredients dessert.  Preparation   is super easy, it just take 10  minutes to make this delicious mousse. Tasty make-ahead party dessert.
Print
Pin
Comment
Ingredients
Heavy whipping cream | Fresh cream- 1 cup

Chocolate chips - 1/3 cup

Sugar - 1 tbsp

adjust according to your taste

Vanilla extract - 1/4 tsp
Instructions
In a cooking pan add all the ingredients

Turn on the stove in medium flame and cook the mixture; stir/whisk the mixture once in a while

Turn off the stove when the mixture starts boiling with bubbles around

Strain it in colander and let it sit in room  temperature for at least 2 hours

Refrigerate for at least 2 hours (I kept for 3 hours). In a electric mixer beat the chocolate mixture for 3-5 minutes till you get soft peaks. Mousse is ready😊
Video
Notes
Adjust sugar according to your desired taste
Make sure the chocolate and heavy cream are stirred well else chocolate will settle at the bottom might get burnt
Butterscotch chips can be used instead of white chocolate chips
I used vanilla extract but any other preferred flavor can be added
Equal amount of White chocolate bar can be used instead of chips/morsel
Chocolate can be cooked in double boiler method too
Pinch of salt can be used to enhance the flavors
How to make White Chocolate Mousse with step by step pictures:
In a cooking pan add 1 cup of heavy cream, 1/3 cup of white chocolate chips, 1/2 teaspoon of vanilla extract and 1 tablespoon of sugar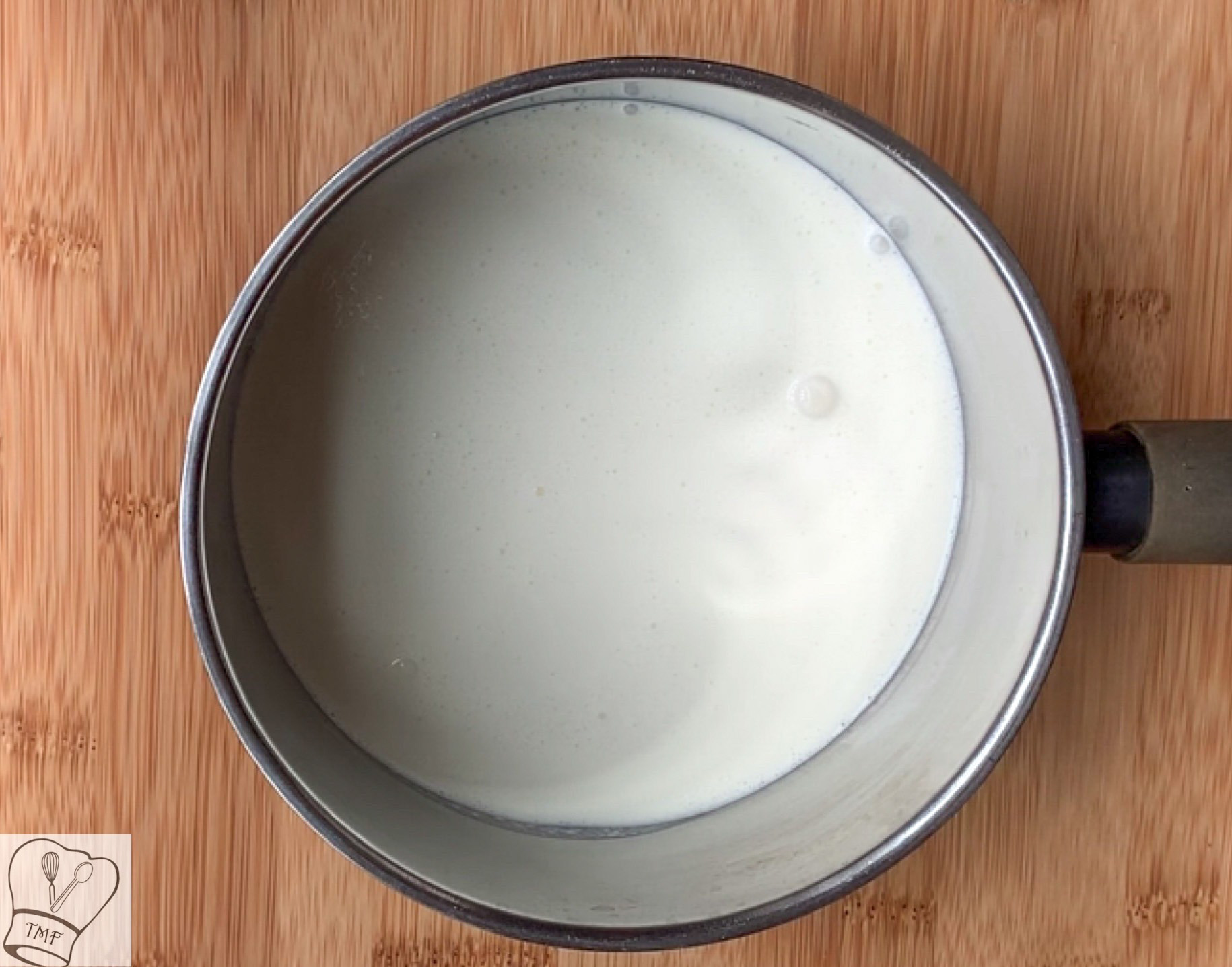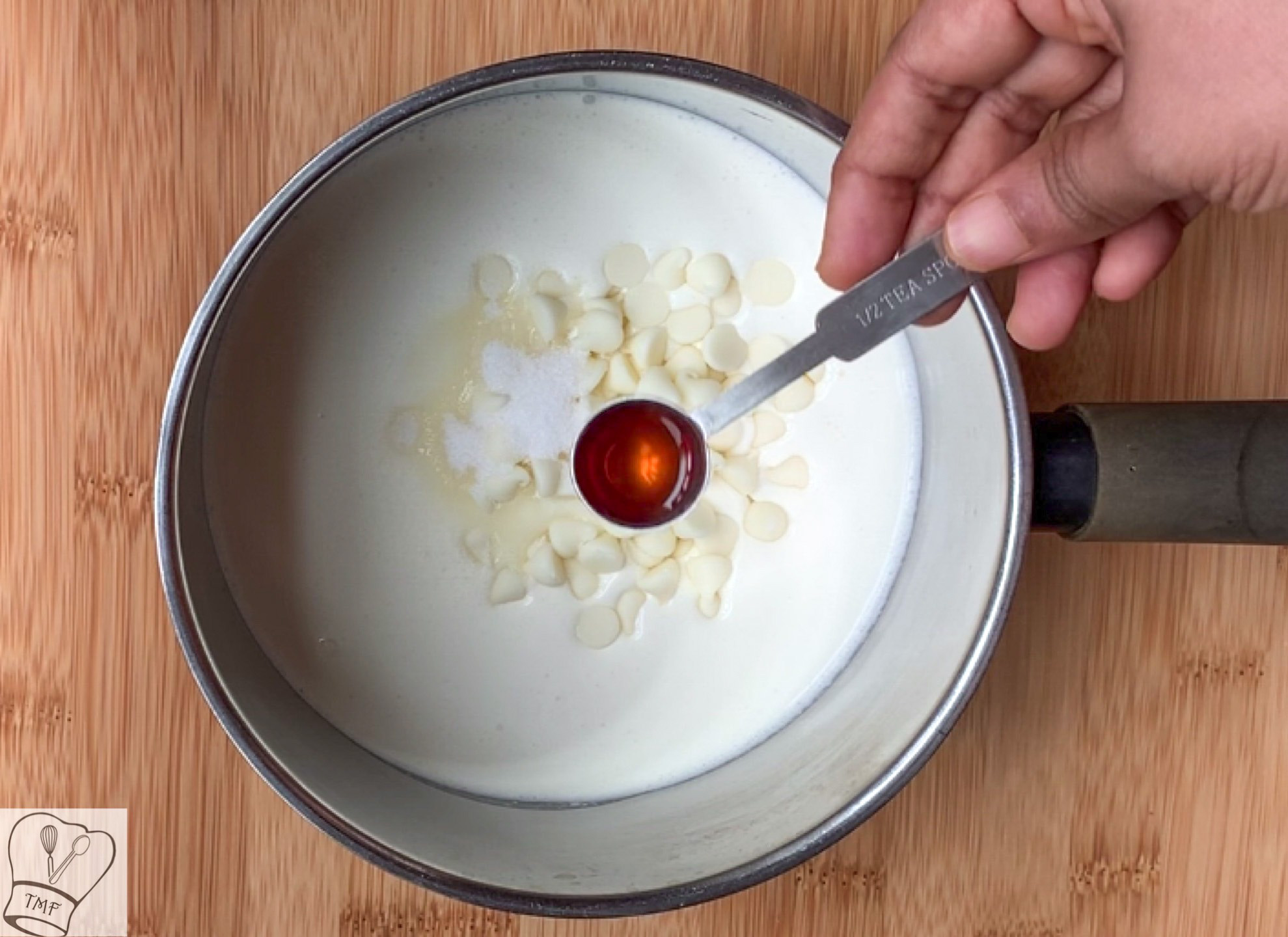 Turn on the stove in medium flame and cook the mixture; stir/whisk the mixture once in a while
Turn off the stove when the mixture starts boiling with bubbles all around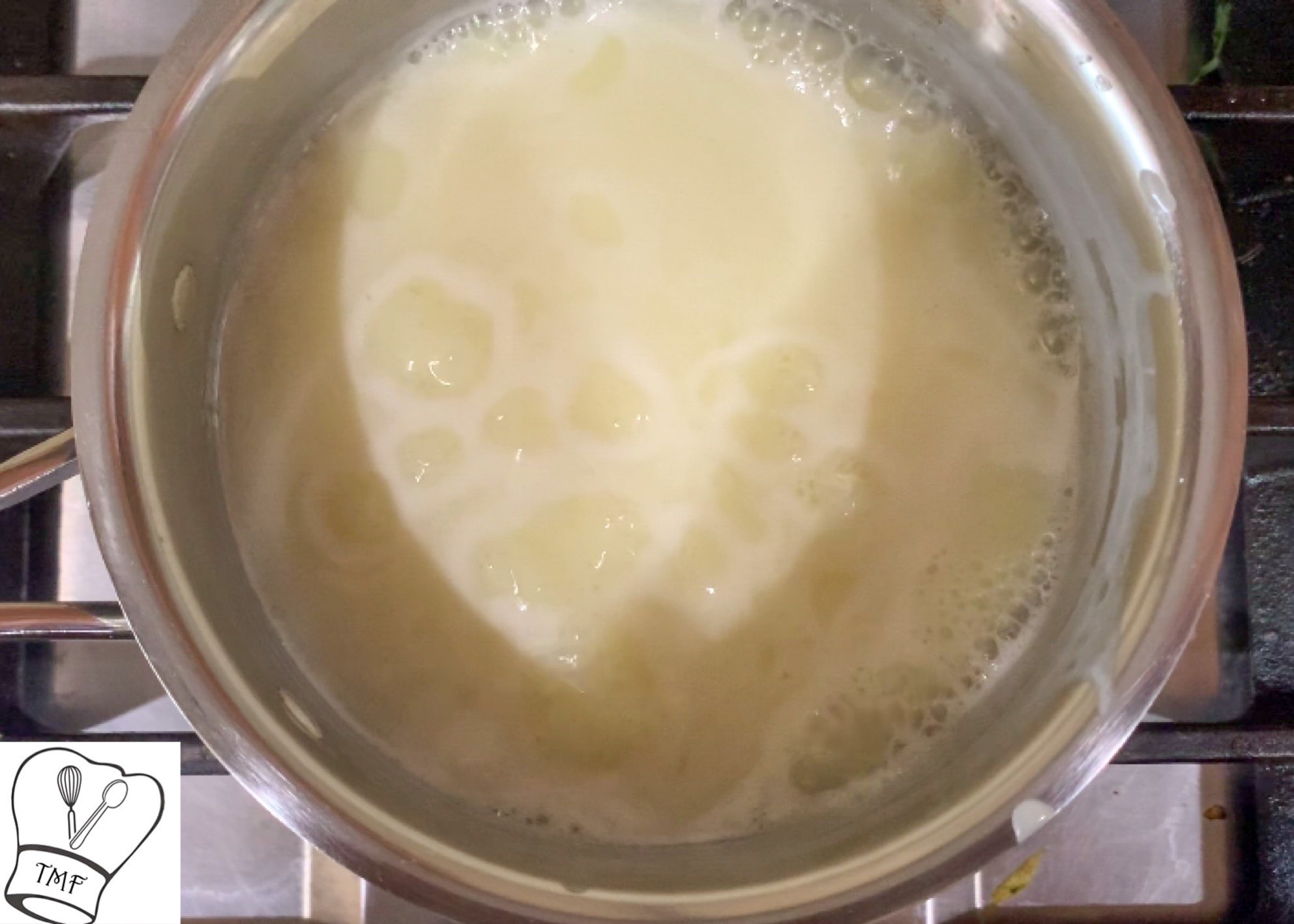 Strain it in colander and let it sit in room temperature for at least 2 hours
Refrigerate for at least 2 hours (I kept for 3 hours). In a electric mixer beat the chocolate mixture for 3-5 minutes till you get soft peaks. Mousse is ready😊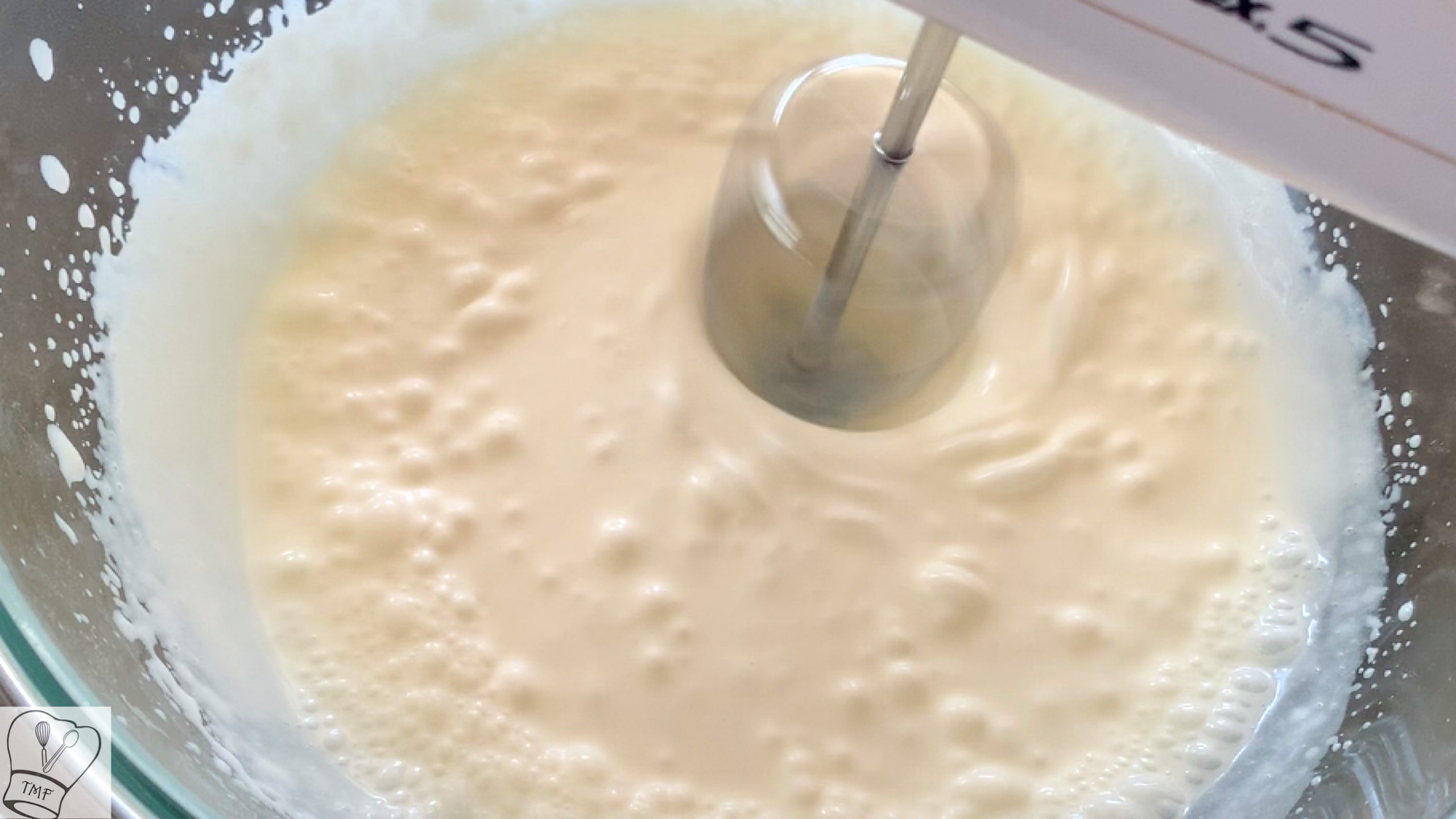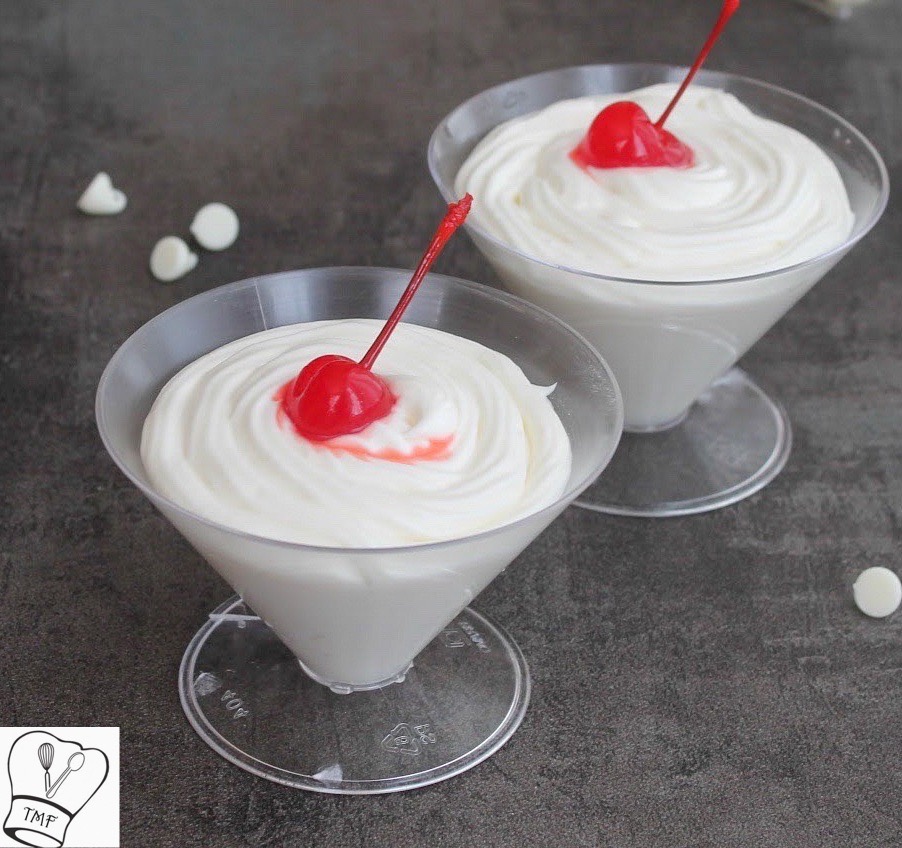 For regular recipe updates pls follow TMF social media,