Eggless White forest cake | White forest cake recipe | chocolate cake | best chocolate cake | white chocolate cake with step-by-step pictures and video recipe. Check out the Eggless White forest cake video and If you like the video pls SUBSCRIBE to my channel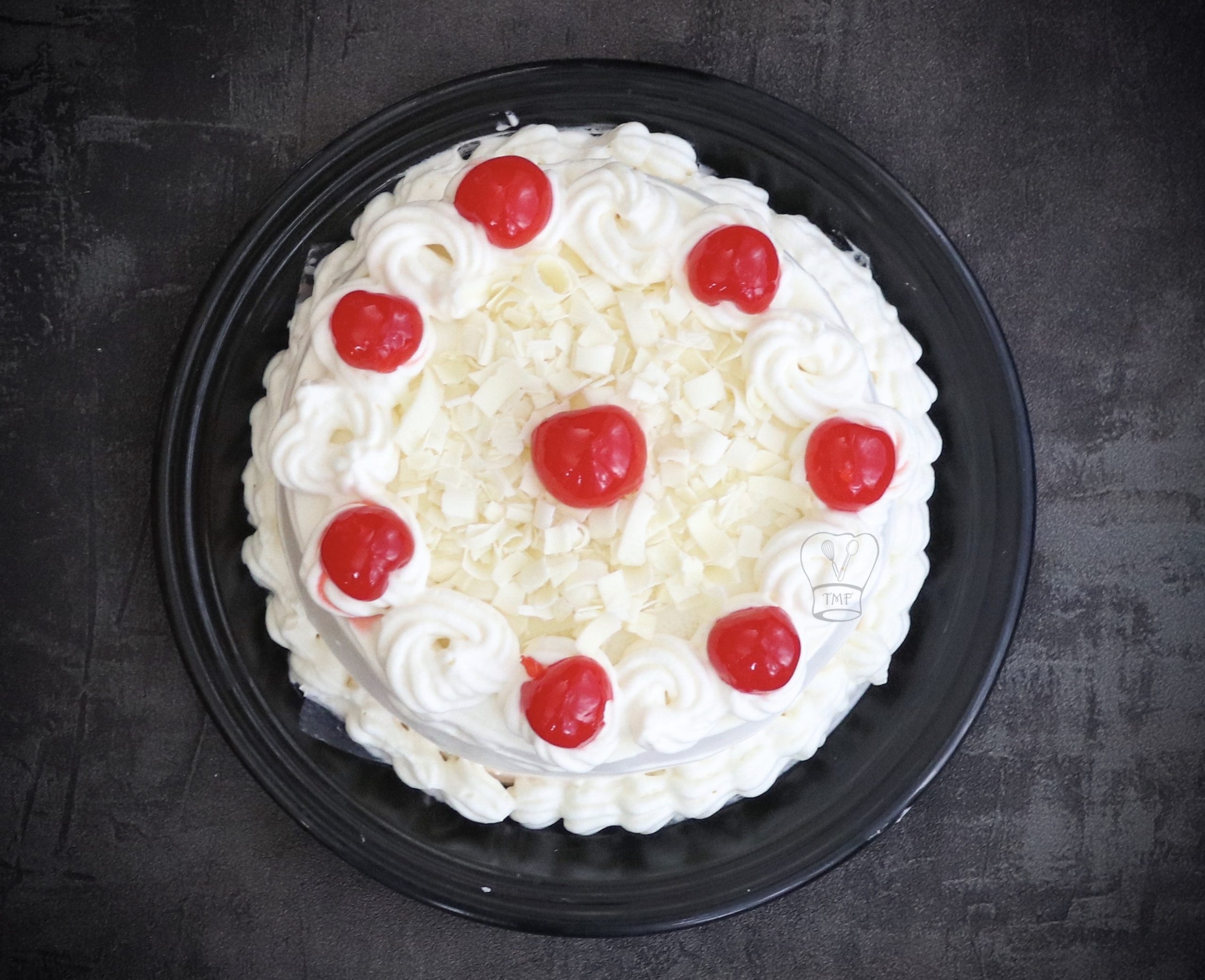 Eggless White forest cake is a rich and tasty cake. A small 2 tier 6 inch cake is perfect for any special occasion.
I am among the few who love white chocolate. My son is just like me. With white chocolate, I usually make Mousse or cookies or fudge
A few months back my friend baked Black forest cake for my husband's birthday and ever since I was super tempted to try eggless White forest cake.
Is trimming the edges and the top layer mandatory for Eggless White forest cake?
Trimming the cake is totally optional. I felt my top layer was not flat and I prefer trimming the outer layer as a son loves to snack it separately. I think the cake is evenly baked then skip trimming
What can I use instead of sour cream?
An equal amount of thick homemade curd can be used instead of sour cream. vanilla flavored or plain yogurt can also be used instead of our cream.
Other sour cream-based recipes in TMF
Curd rice Shrikhand Dahi kebab Aloo tikka Paneer tikka Mixed bean soup strawberry frozen yogurt
Why YouTube video Cake measurement is half compared to the blog Eggless White Forest Cake?
I have one 6 inch cake pan so I prepared the cake batter twice. If you have two cake pan use the quantity of this below-mentioned ingredient and make a cake batter, split into two pans and bake. If you have one 6 inch pan like me make two better separately or bake in batches.
Can I use fresh cherries for White forest cake?
Yes if fresh cherries are in season use it. In that case, we need to prepare the sugar syrup. Boil equal portion of water and sugar. No need to look for any sugar string. Just cook till the sugar is completely melted cool and use. I have used maraschino cherries. Used the cherries for the cake and liquid in the place of sugar syrup.
How much sugar syrup do we need for the cake?
I have used around 1/2 cup of maraschino cherries liquid. The cake tends to become dry so add a lot of liquid to the moist cake.
Can I use butter for White forest cake?
Since we are going to refrigerate the cake multiple times it is better to use oil. Butter might make the cake dry.
Can I skip instant pudding powder in frosting?
Frosting can be done with whipping cream and sugar but white chocolate pudding mix gives nice flavor and texture to the cake
https://www.youtube.com/playlist?list=PL3zYDDQHDMSsFV10oIrdhTpXHnlhcC8Kg
Other cake recipes in TMF
Ingredients
Dry ingredients:
All-purpose flour – 1 + 2/3 cup

Baking Soda – 1/2 tsp

Baking Powder- 3/4 tsp

Salt - pinch
Wet ingredients:
White Chocolate – 2/3 cups or 100 grams

Oil- 125 ml

Sugar – 1/3 cup

Water-1/2 cup

Vanilla Essence – 1 tsp

Curd / Yogurt – 2 tbsp

Syrup - 1/2 cup
Frosting:
Unsweetened Whipping Cream – 1 cup

cold

Instant white chocolate pudding mix – 1 tbsp

Powdered Sugar – 4 tbsp
Topping
Grated white chocolate - according to your taste

maraschino Cherries - 4
Filling:
Marchino Cherries - few

chopped
Instructions
In a microwave-safe container add white chocolate, water, oil, and sugar; mix well

Microwave until the chocolate melts

Add vanilla extract and mix well. Let the mixture cool down

Preheat the oven to 350 degrees Fahrenheit

Line the baking tray with parchment paper and grease it with cooking spray

In a wide bowl add all-purpose flour, baking soda, baking powder, and salt; mix well

After the chocolate mixtures turn warm add it to the dry ingredients

Add sour cream and mix everything well to make a lump free smooth batter

Divide the batter between to two cake tins, level and tap the batter

Bake for 25 – 30 minutes or until a toothpick inserted comes out clean

Flip the cake on the cooling tray and remove the pan and parchment paper

Allow the cake to cool completely

After the cake is cool, trim the top layer of the cake with a sharp knife

Cover the cake with cling wrap and refrigerate for at least 3 hours or until used
Frosting the chill cake:
In a wide bowl whip the cold heavy cream till you get a soft white peaks

Add vanilla extract, pudding powder, and powdered sugar and beat till everything is combined and you see a stiff peaks

Cover the bowl with a cling wrap and refrigerate for at least 1 hour or until use
Crumb coat
In a cake pan place a parchment paper or cake board

I have added little frosting over the parchment paper and placed a cake

Use a fork and make holes all over the cake using a brush that adds syrup all over the cake. Make sure you add enough syrup to prevent the cake from getting dry

Add a generous amount of frosting over the cake and spread it evenly with a spatula

Spread and add some cherries

Place the second cake on the top

Use a fork and make holes all over the cake using a brush that adds syrup all over the cake. Make sure you add enough syrup to prevent the cake from getting dry

Add a generous amount of frosting over the cake and spread it evenly with a spatula

Cover the gap between the layer and add a crumb coat for the whole cake

Refrigerate the cake for at least one hour
Second coat:
Take a generous amount of frosting and using a spatula frost the cake evenly

Refrigerate again for at least 1 hour
Final frosting:
Grate the white chocolate and add them at the top of the cake

Decorate the cake according to your preference

Since it's a small cake I have placed half of the cherry on top of the cake

Chill the cake until you serve
Video
Notes
Chocolate can also be melted in-store top
If you are microwaving the chocolate make sure it not microwaved for a long time else the mixture might spill
You can melt the white chocolate and make patterns of your preference and add it around or top of the cake
Instead of using cherry syrup, you can make homemade sugar syrup. Boil 1/2 cup of water and sugar until the sugar is dissolved completely. Cool and use
Based on the amount of frosting you use the frosting quantity may vary adjust accordingly
Instead of using pudding mix, a White chocolate mousse recipe can be followed to prepare frosting
I have used a peeler to grate the white chocolate
Ingredients:
Dry ingredients:
All-purpose flour – 1 + 2/3 cup
Baking Soda – 1/2 tsp
Baking Powder- 3/4 tsp
Salt - pinch
Wet ingredients:
White Chocolate – 2/3 cups or 100 grams
Oil- 125 ml
Sugar – 1/3 cup
Water-1/2 cup
Vanilla Essence – 1 tsp
Curd / Yogurt – 2 tbsp
Syrup - 1/2 cup
Frosting:
Unsweetened Whipping Cream – 1 cup, cold
Instant white chocolate pudding mix – 1 tbsp
Powdered Sugar – 4 tbsp
Topping
Grated white chocolate - according to your taste
maraschino Cherries - 4
Filling:
Marchino Cherries - few, chopped
How to make Eggless White forest cake with step by step pictures
In a microwave-safe container add white chocolate, water, oil, and sugar; mix well
Microwave until the chocolate melts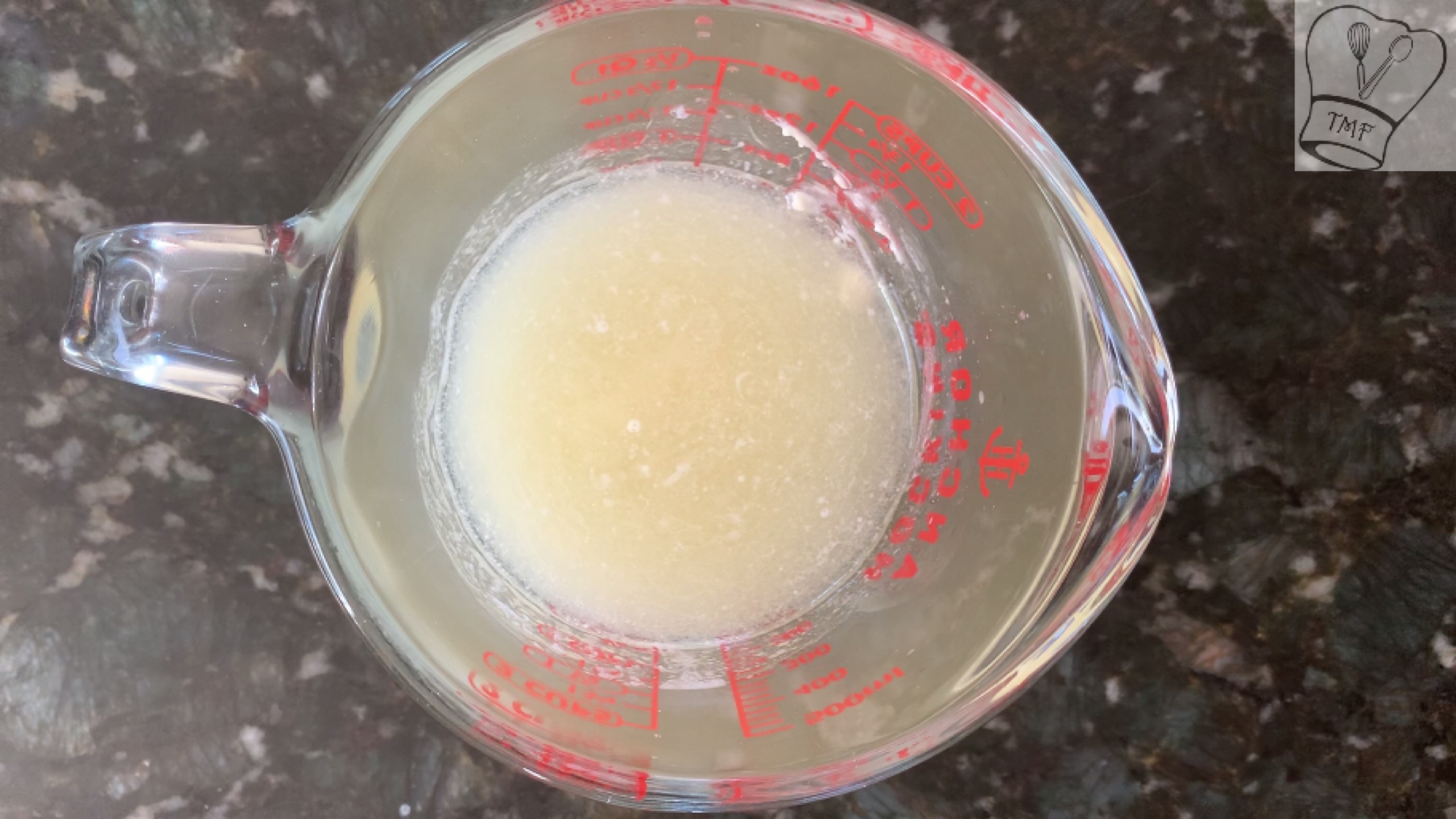 Add vanilla extract and mix well. Let the mixture cool down
Preheat the oven to 350 degrees Fahrenheit
Line the baking tray with parchment paper and grease it with cooking spray
In a wide bowl add all-purpose flour, baking soda, baking powder, and salt; mix well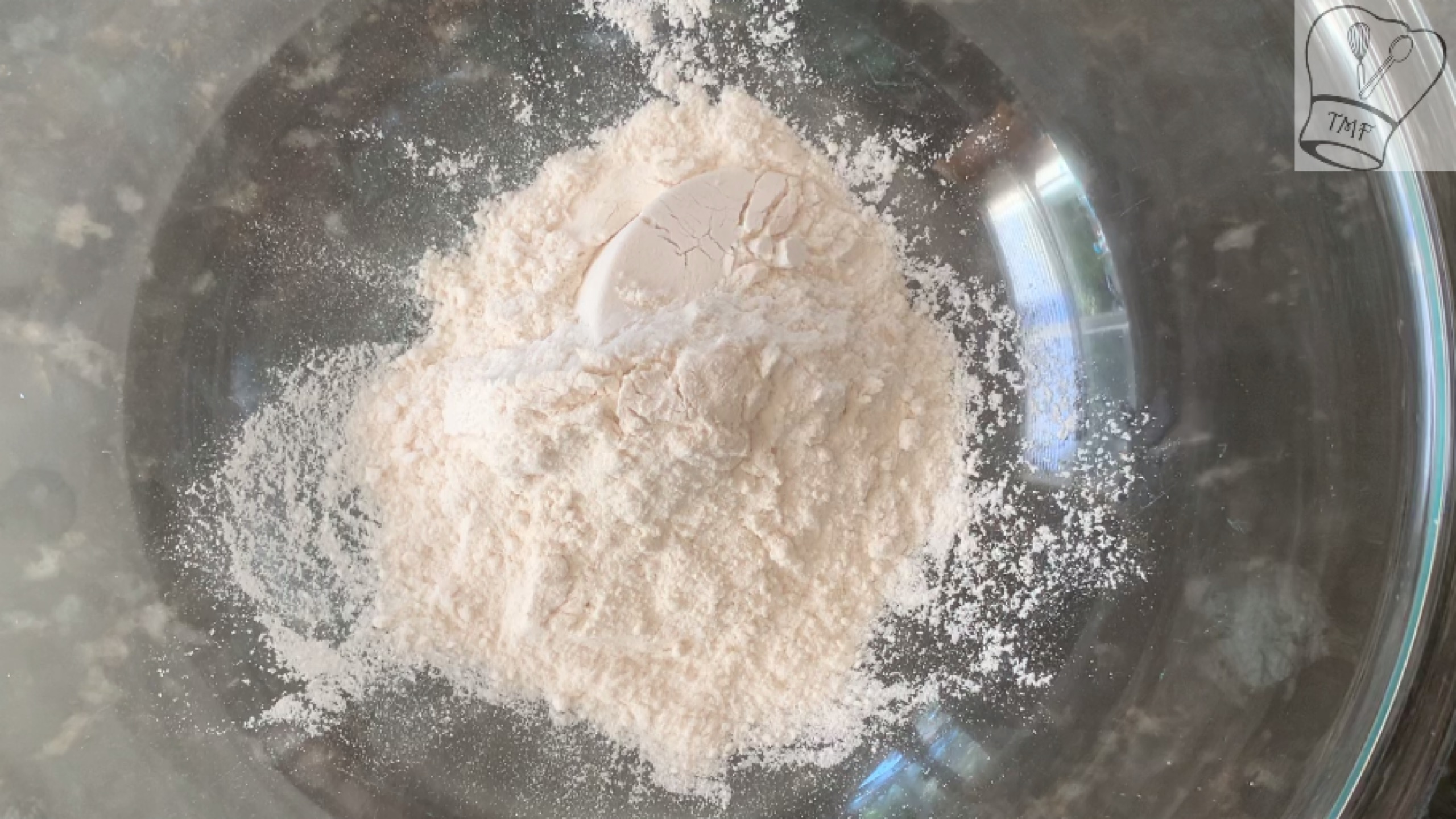 After the chocolate mixtures turn warm add it to the dry ingredients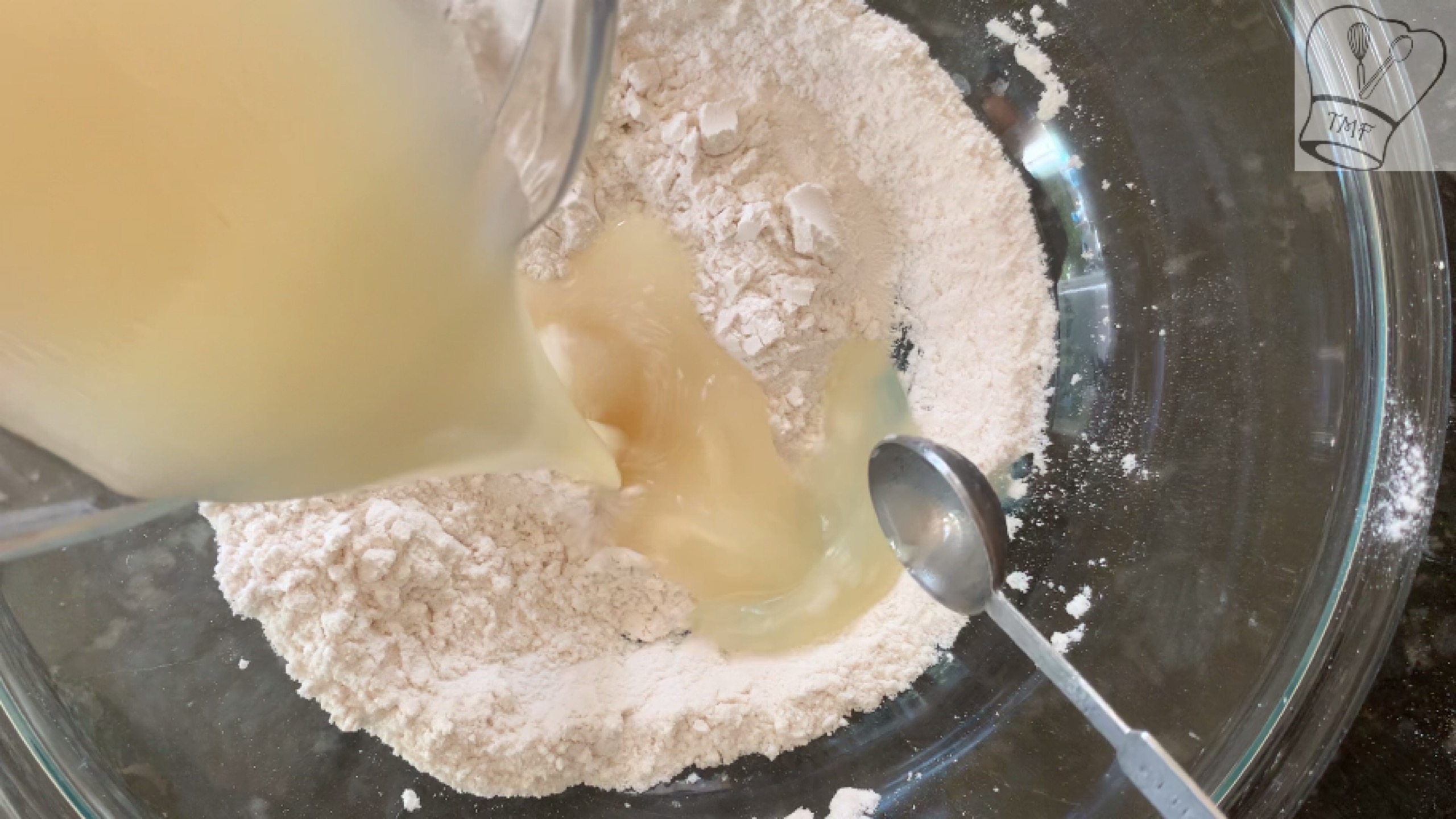 Add sour cream and mix everything well to make a lump free smooth batter
Divide the batter between to two cake tins, level and tap the batter
Bake for 25 – 30 minutes or until a toothpick inserted comes out clean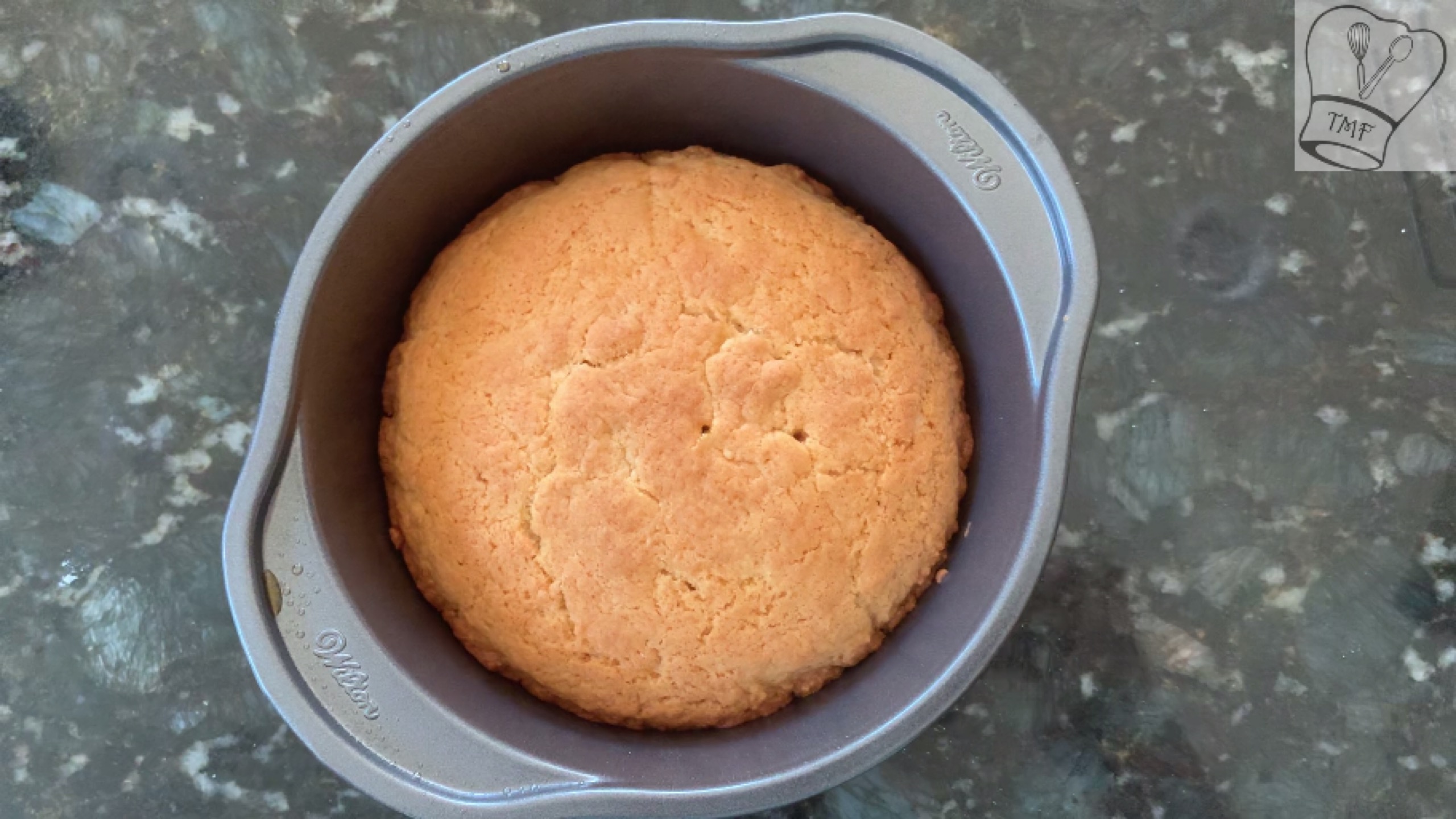 Flip the cake on the cooling tray and remove the pan and parchment paper
Allow the cake to cool completely
After the cake is cool, trim the top layer of the cake with a sharp knife
Cover the cake with cling wrap and refrigerate for at least 3 hours or until used
Frosting the chill cake:
In a wide bowl whip the cold heavy cream till you get a soft white peaks
Add vanilla extract, pudding powder, and powdered sugar and beat till everything is combined and you see a stiff peaks
Cover the bowl with a cling wrap and refrigerate for at least 1 hour or until use
Assembling the cake
Crumb coat
In a cake pan place a parchment paper or cake board

I have added little frosting over the parchment paper and placed a cake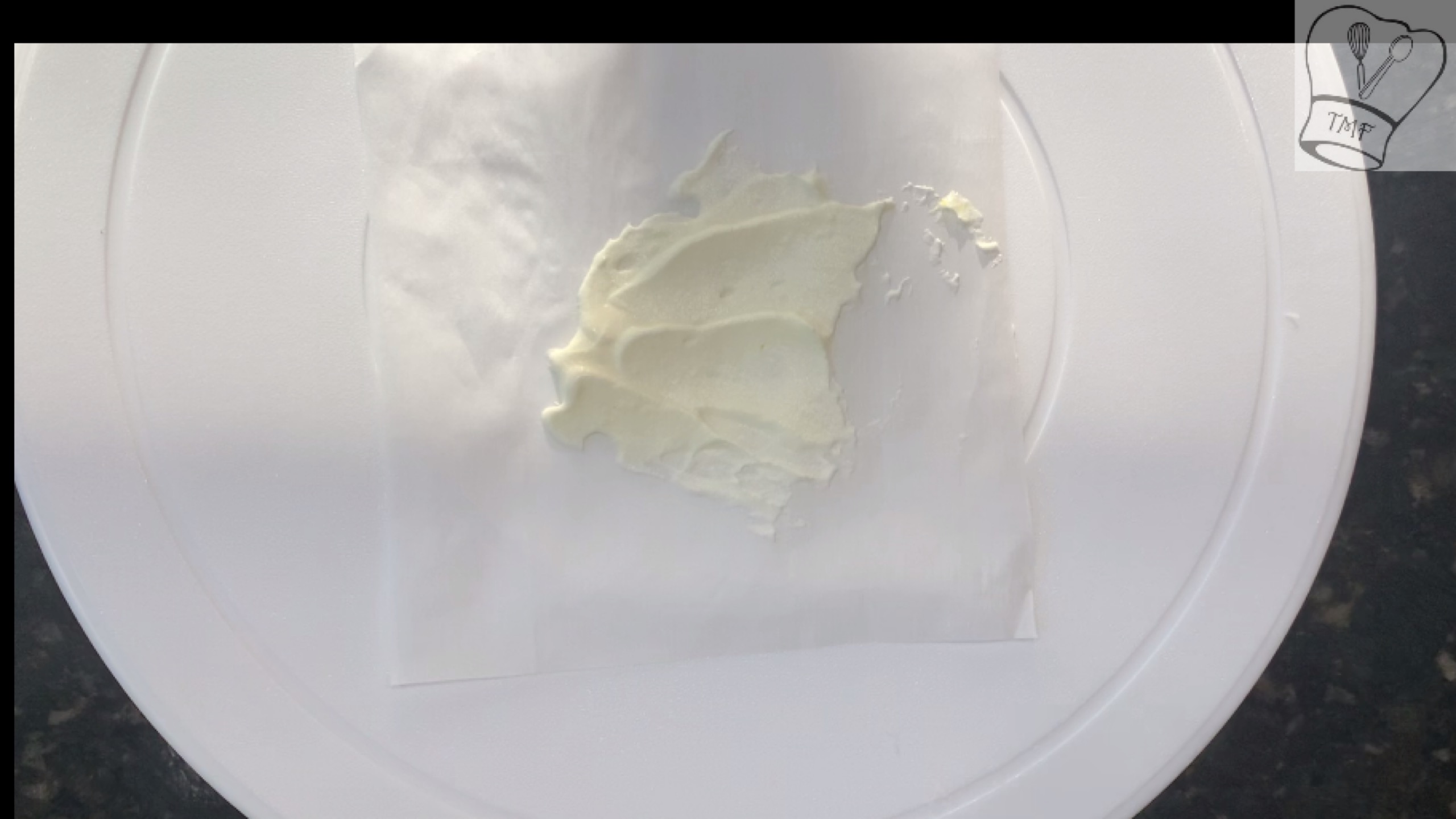 Use a fork and make holes all over the cake using a brush that adds syrup all over the cake. Make sure you add enough syrup to prevent the cake from getting dry
Add a generous amount of frosting over the cake and spread it evenly with a spatula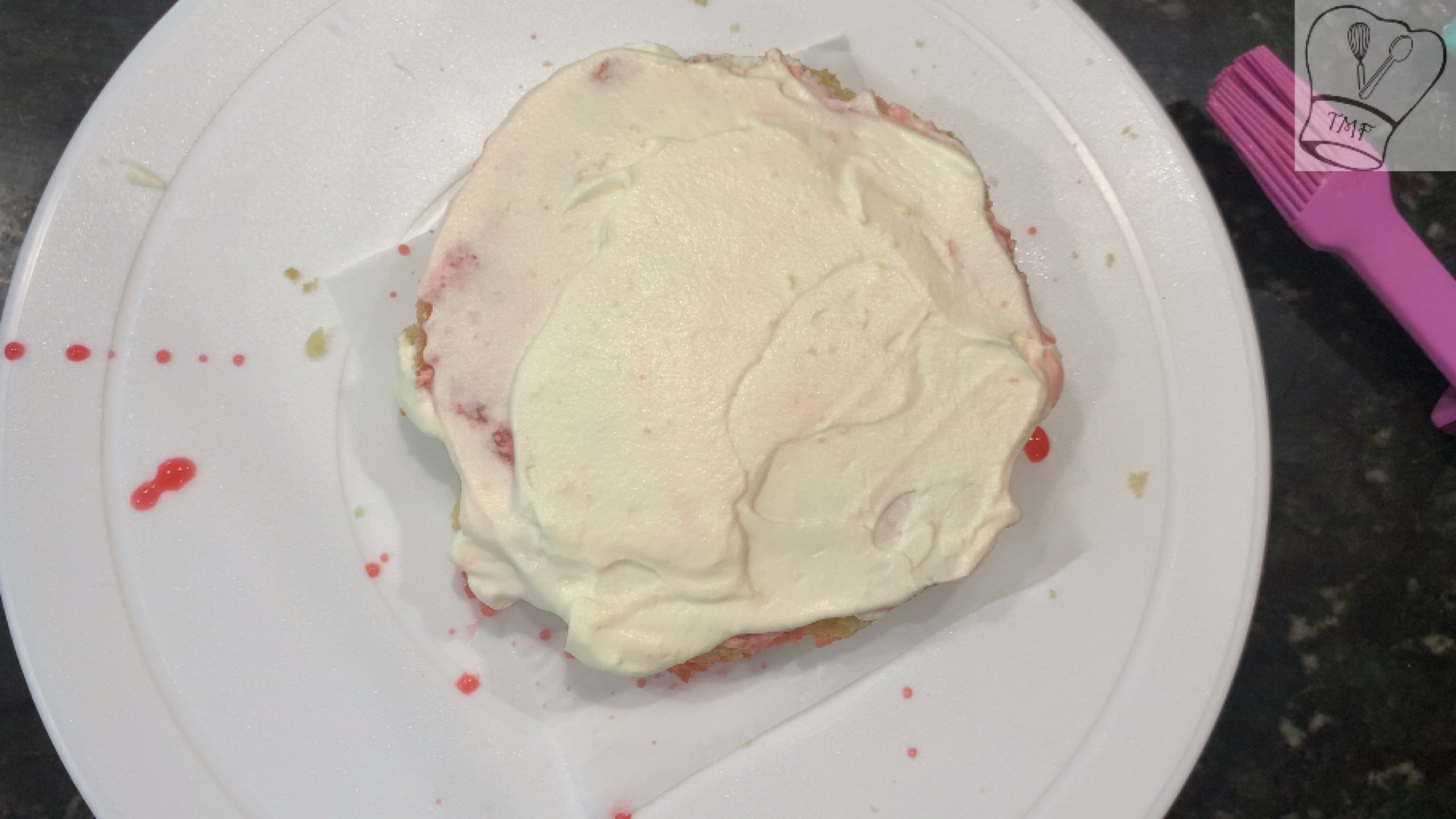 Spread and add some cherries
Place the second cake on the top
Use a fork and make holes all over the cake using a brush that adds syrup all over the cake. Make sure you add enough syrup to prevent the cake from getting dry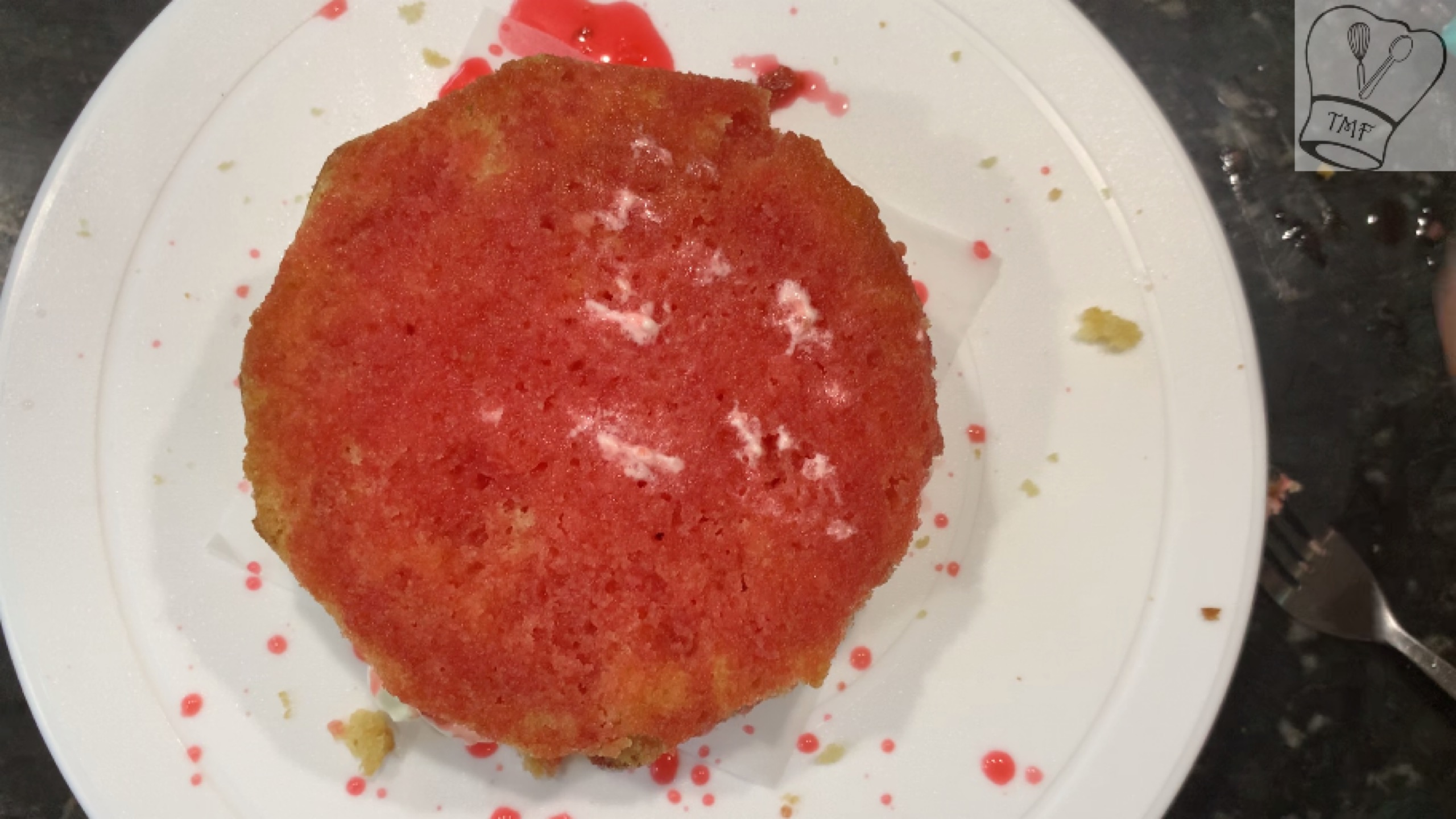 Add a generous amount of frosting over the cake and spread it evenly with a spatula
Cover the gap between the layer and add a crumb coat for the whole cake
Refrigerate the cake for at least one hour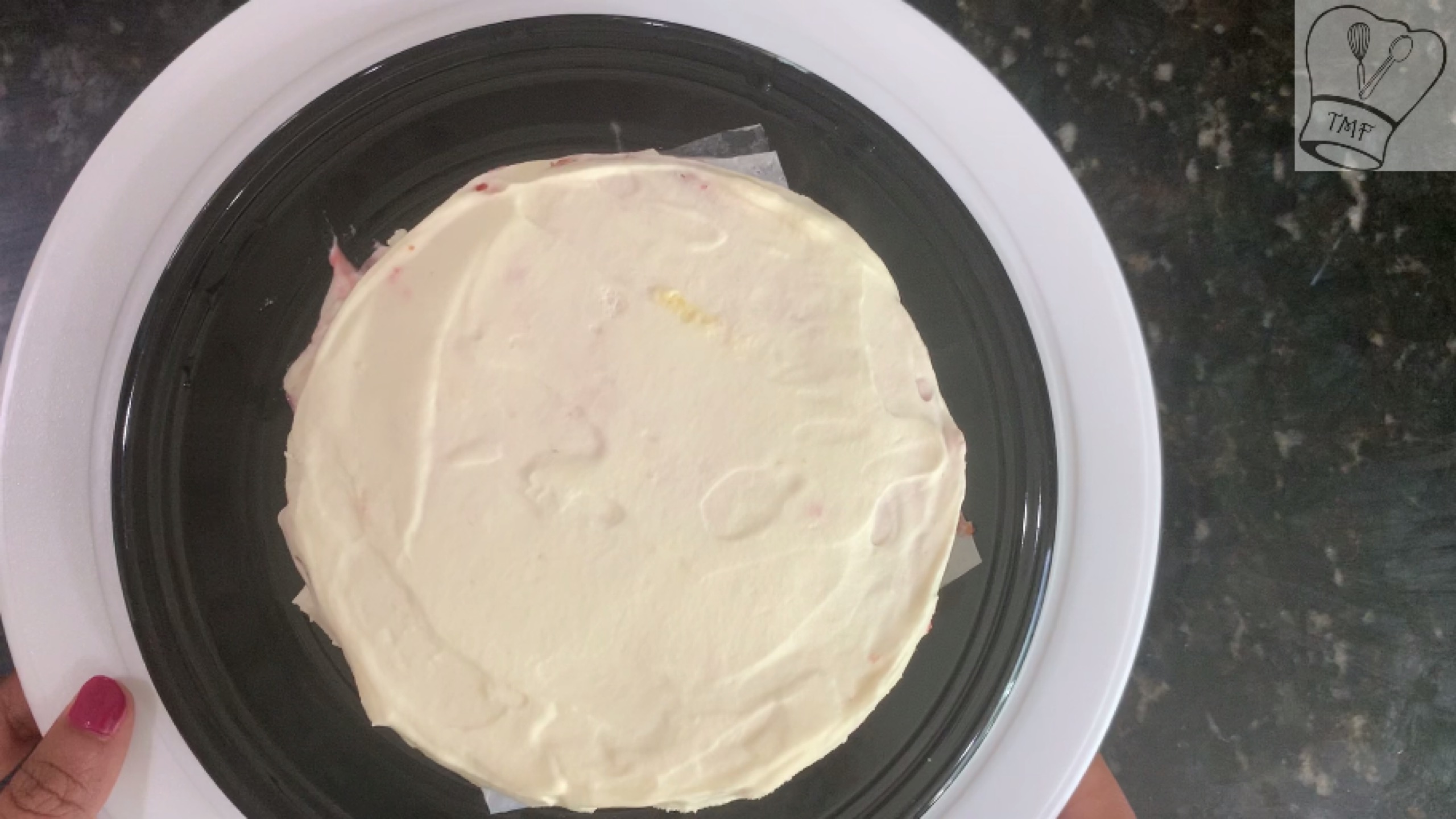 Second coat:
Take a generous amount of frosting and using a spatula frost the cake evenly
Refrigerate again for at least 1 hour
Final frosting:
Grate the white chocolate and add them at the top of the cake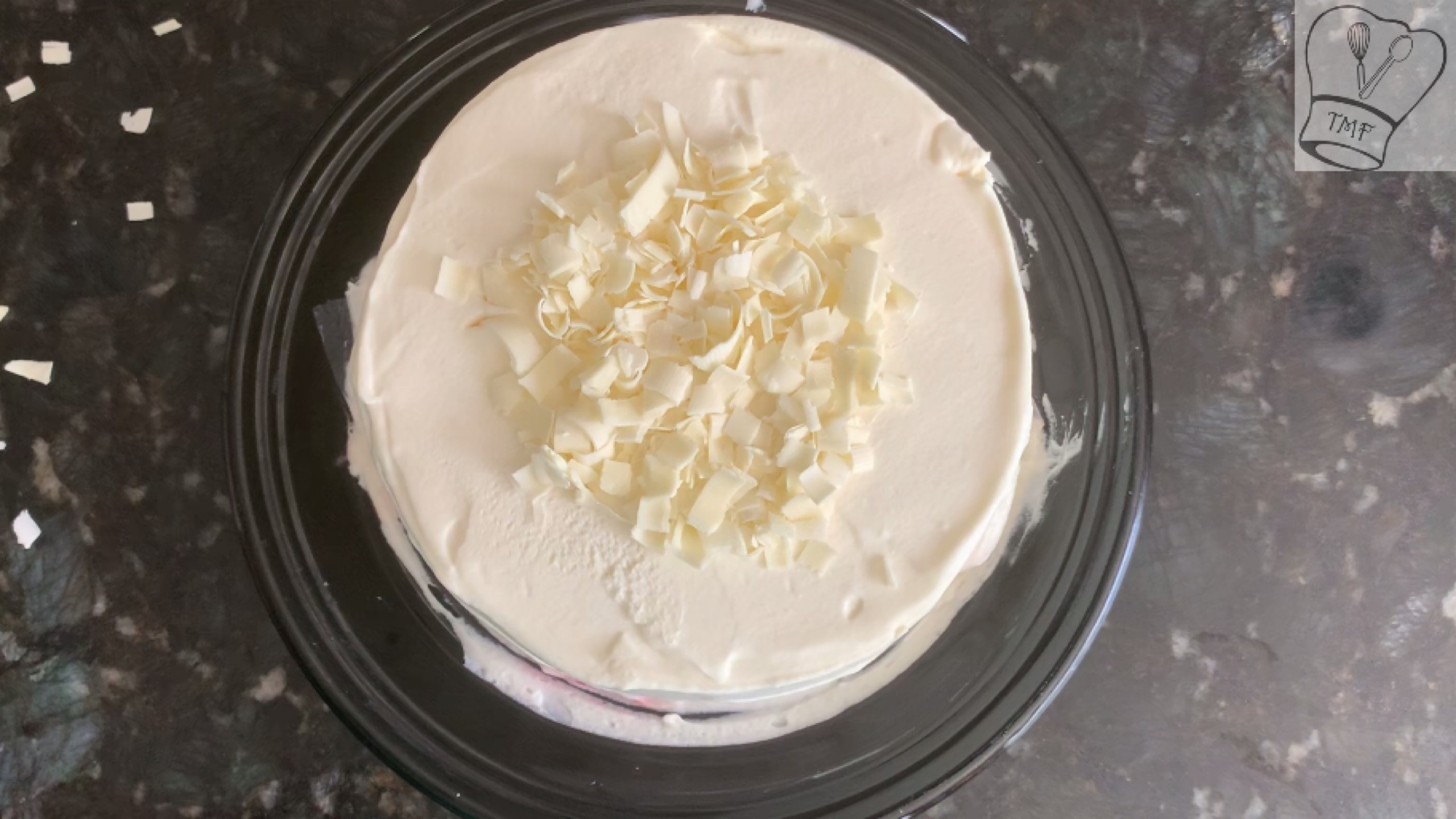 Decorate the cake according to your preference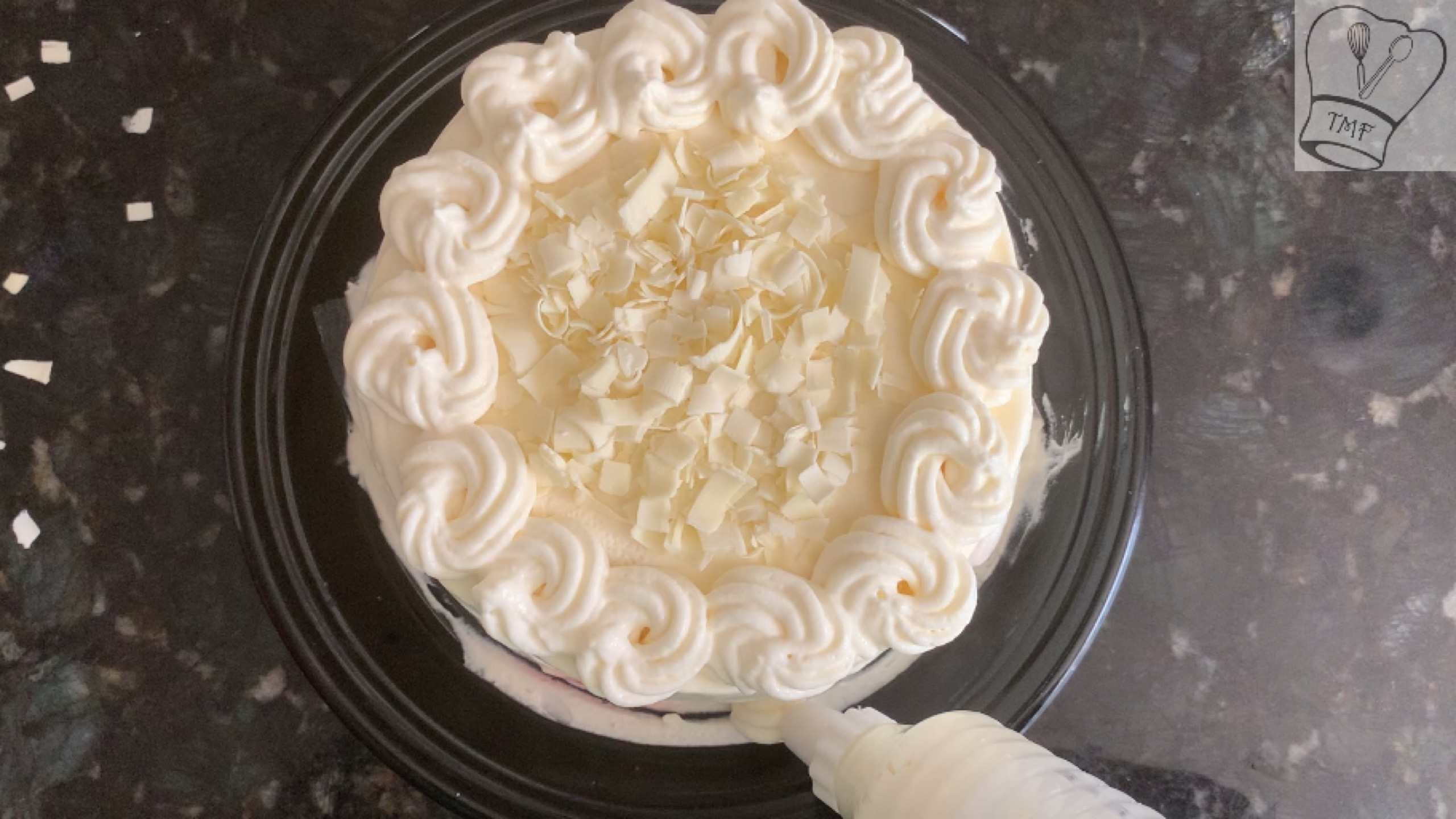 Since it's a small cake I have placed half of the cherry on top of the cake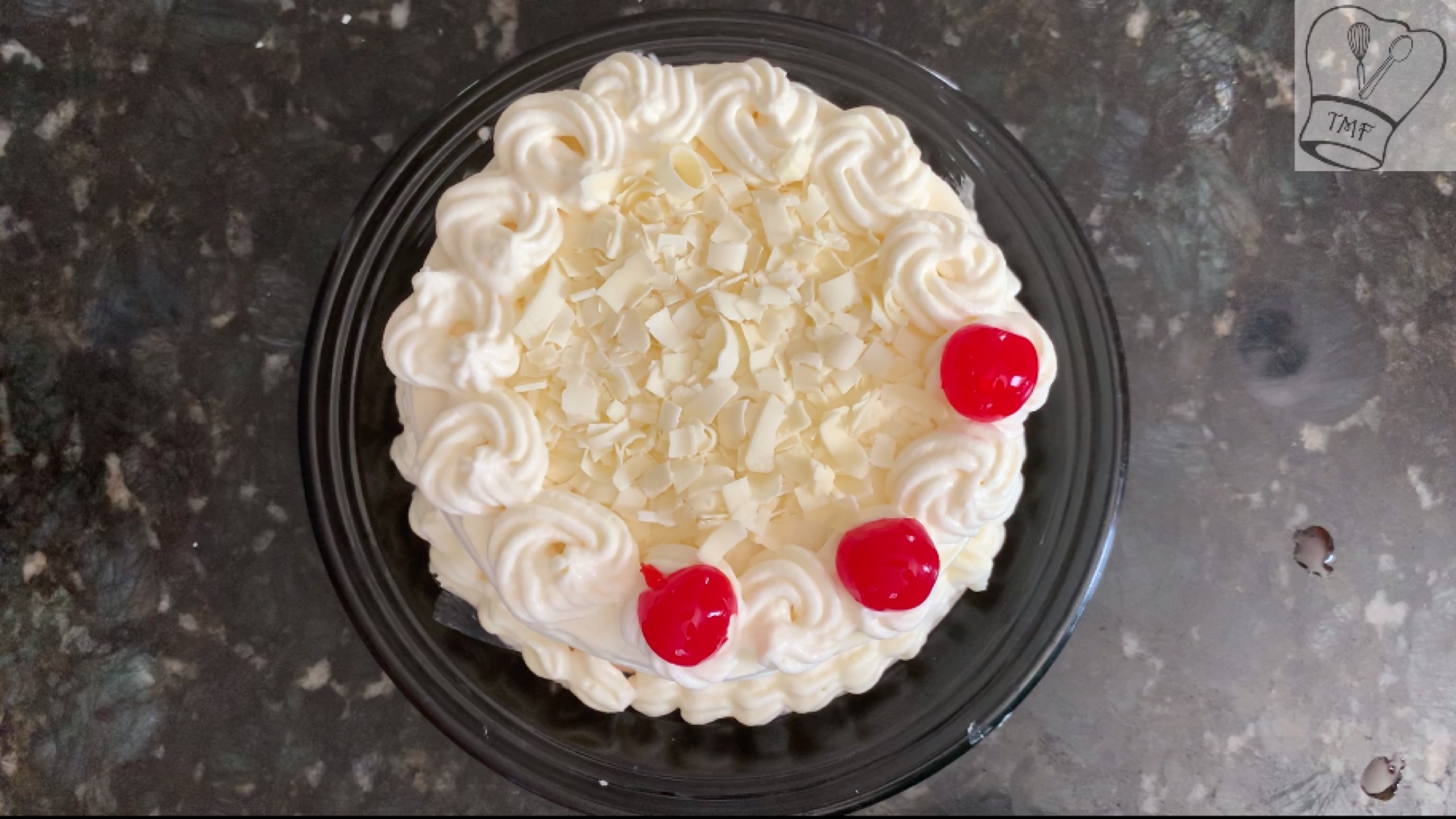 Chill the cake until you serve