Poosanikai mor kootu | White pumpkin kootu | Poosanikai pachadi with step by step pictures and video recipe. Check out the Poosanikai mor kootu video and If you like the video pls SUBSCRIBE to my channel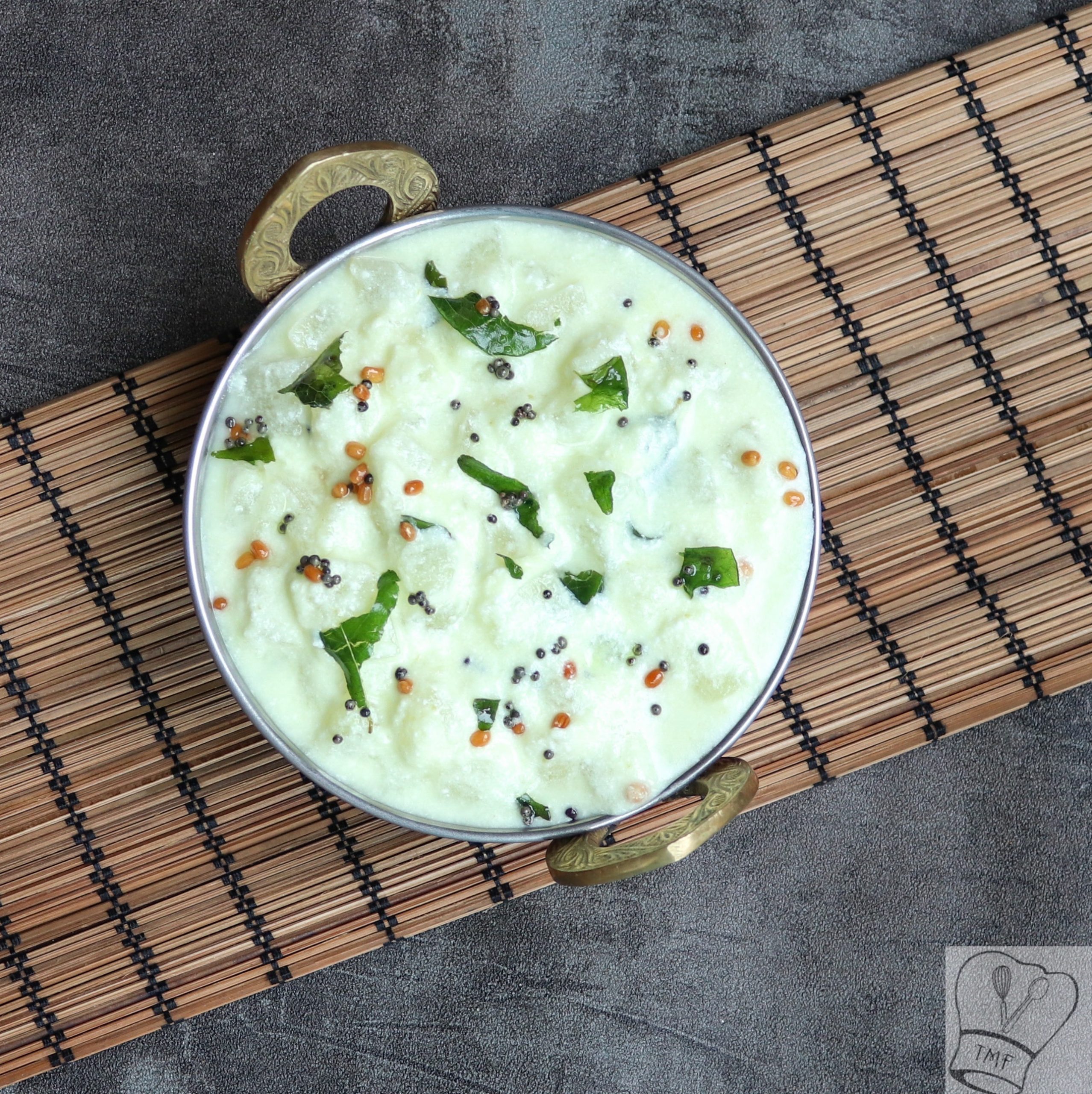 Poosanikai mor kootu | White pumpkin kootu | Poosanikai pachadi is a tasty South Indian style kootu recipe. Unlike other kootu recipes no dal required for this tasty poosanikai kootu. Kootu is a traditional South Indian rice accompaniment mostly made as a side dish for vathal kuzhambu varieties, rasam varieties, or podi Sadam or Adai.
What is special about Poosanikai kootu?
Poosanikai mor kootu is super easy to make. It can be done in less than 20 minutes. The best part of the recipe is it is prepared with minimal ingredients. If you use vegan yogurt it can be turned into a vegan dish.
Should I only use pumpkin for this mor kootu recipe?
Mor kootu is a type of south Indian kootu variety which is prepared by adding curd (buttermilk). Today I have used white pumpkin but any vegetables can be used instead. Vegetable cooking time and technique may vary according to the vegetable.
Other pumpkin-based dishes in TMF
What is the preferred curd texture for Poosanikai more kootu?
It is totally up to individual taste. Some prefer little sour curd for sure but I generally use fresh curd without any sourness.
Other curd based dishes TMF,
Can I use dal for Poosanikai mor kootu?
Like Aviyal we don't add any dal for poosanikai more kootu but for Vazhaithandu Mor kootu we generally add dal. Adding dal to Mor kootu is optional but if desired you can add. I would recommend Channa dal/toor Dal for poosanikai and moong dal for chayote, Vazhaithandu, etc.
Checkout other kootu recipes collection in TMF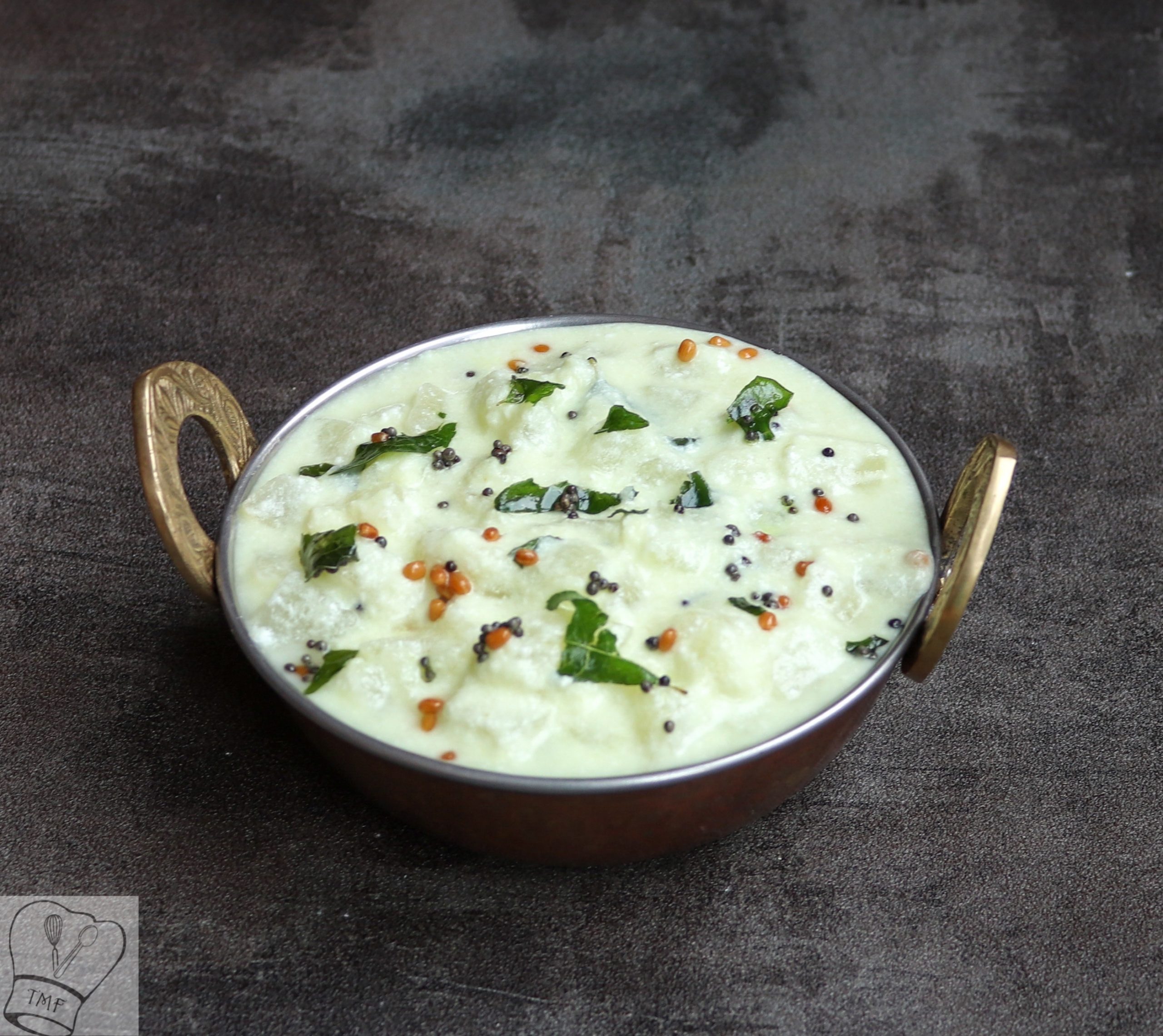 Other pachadi recipes in TMF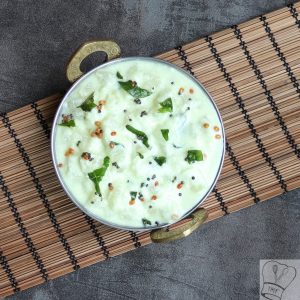 Ingredients
White pumpkin - 2 cups heaped

250 grams

Thick curd - 1/2 cup

Buttermilk | curd water - 2 tbsp

Coconut - 3 tablespoon or 40 grams

Green Chilli - 1 or 2 adjust according to your spice

Temper:

Coconut oil - 1 teaspoon heaped

Mustard seeds - 1/2 tsp

Urad Dal - 1/2 tbsp

curry leaves - few
Instructions
In a separator add pumpkin, salt and buttermilk; mix well

Close the separator with a lid and pressure cook for 2 whistle. Let the pressure releases naturally

In a mixie jar add coconut, green chili and little water and grind

After pressure realised naturally add  oil to a pan

When oil is hot add mustard seed and let them splutter

Add urad dal and cook the dal turns golden brown

Finally add curry leaves and saute. Transfer them to a small bowl and turn off the stove

Add cooked white pumpkin along with water, ground coconut and mix well

Turn on the stove and cook for 2-3 minutes

Check the salt and add if required

Mix the kootu once in a while

Cook till the kootu comes together and boils well

Lower the flame and add curd

Mix well and switch off

Add tempering and mix well. Poosanikai more kootu is ready
Video
Notes
Pumpkin can also be directly cooked in a pan
If desired 2 tablespoon of cooked change dal can be added to kootu
1/4 teaspoon of Cumin seed/ ajwain can be used or tempering
If you are cooking pumpkin in IP cook for 0 minutes and release pressure immediately
Avoid adding more water as pumpkin is watery vegetable excess water might turn the kootu watery
If the curd you are using is watery adjust the water accordingly
According to your desire kootu consistency reduce the pumpkin water
Ingredients
White pumpkin - 2 cups heaped (250 grams )
Thick curd - 1/2 cup
Buttermilk | curd water - 2 tbsp
Coconut - 3 tablespoon or 40 grams
Green Chilli - 1 or 2 adjust according to your spice
Temper:
Coconut oil - 1 teaspoon heaped
Mustard seeds - 1/2 tsp
Urad Dal - 1/2 tbsp
curry leaves - few
How to make Poosanikai mor kootu
In a separator add pumpkin, salt, and buttermilk; mix well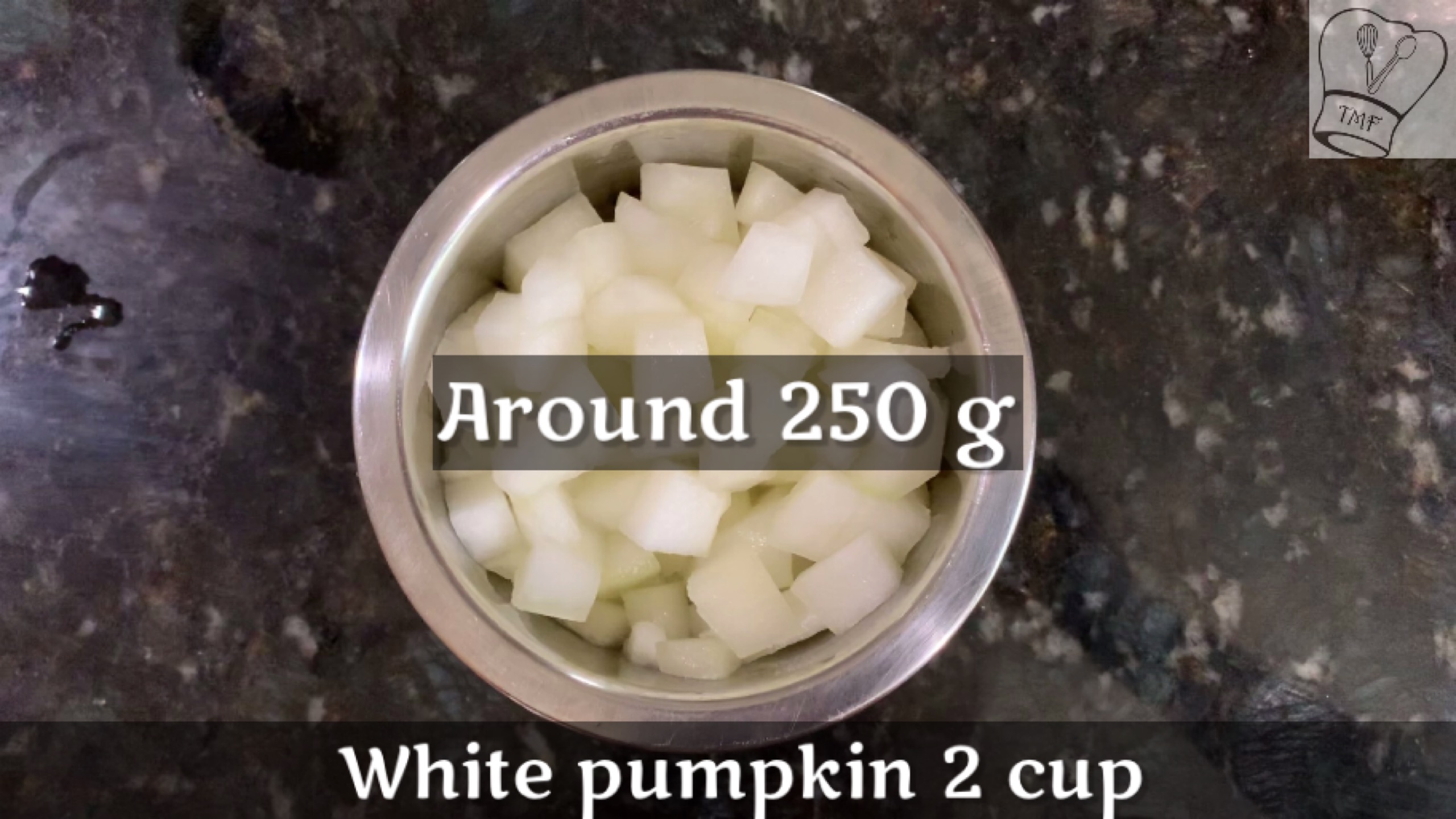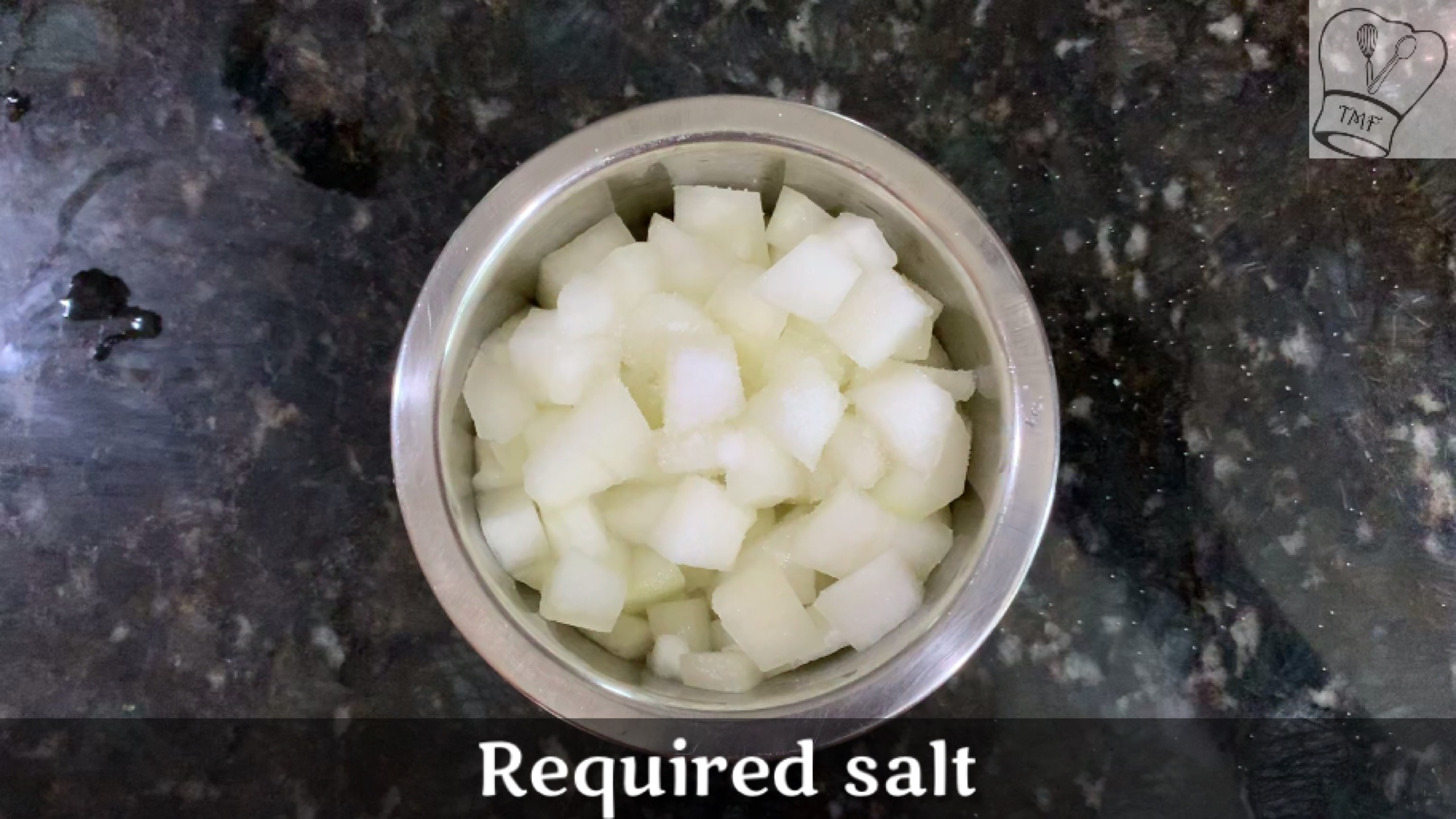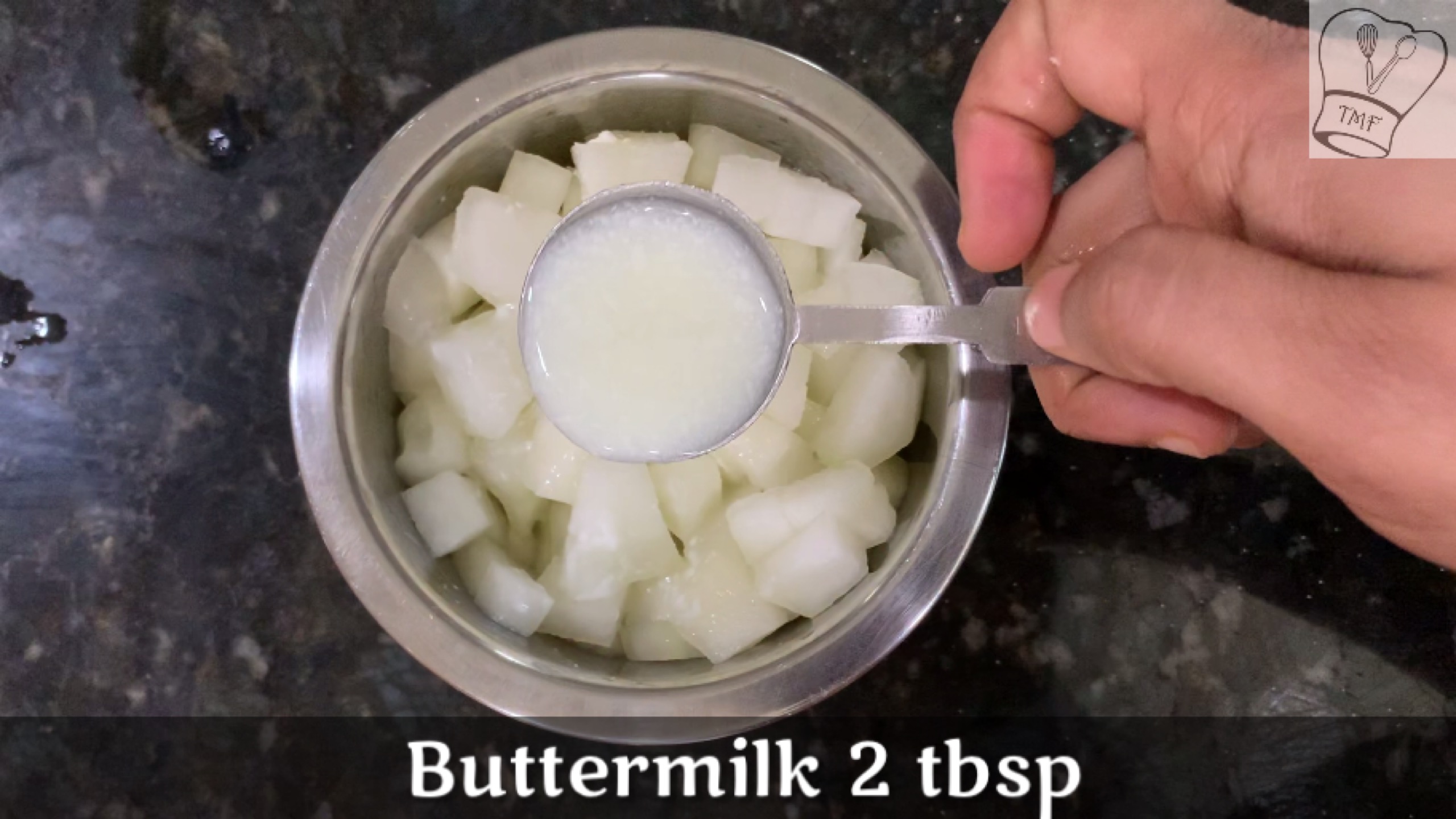 Close the separator with a lid and pressure cook for 2 whistles. Let the pressure releases naturally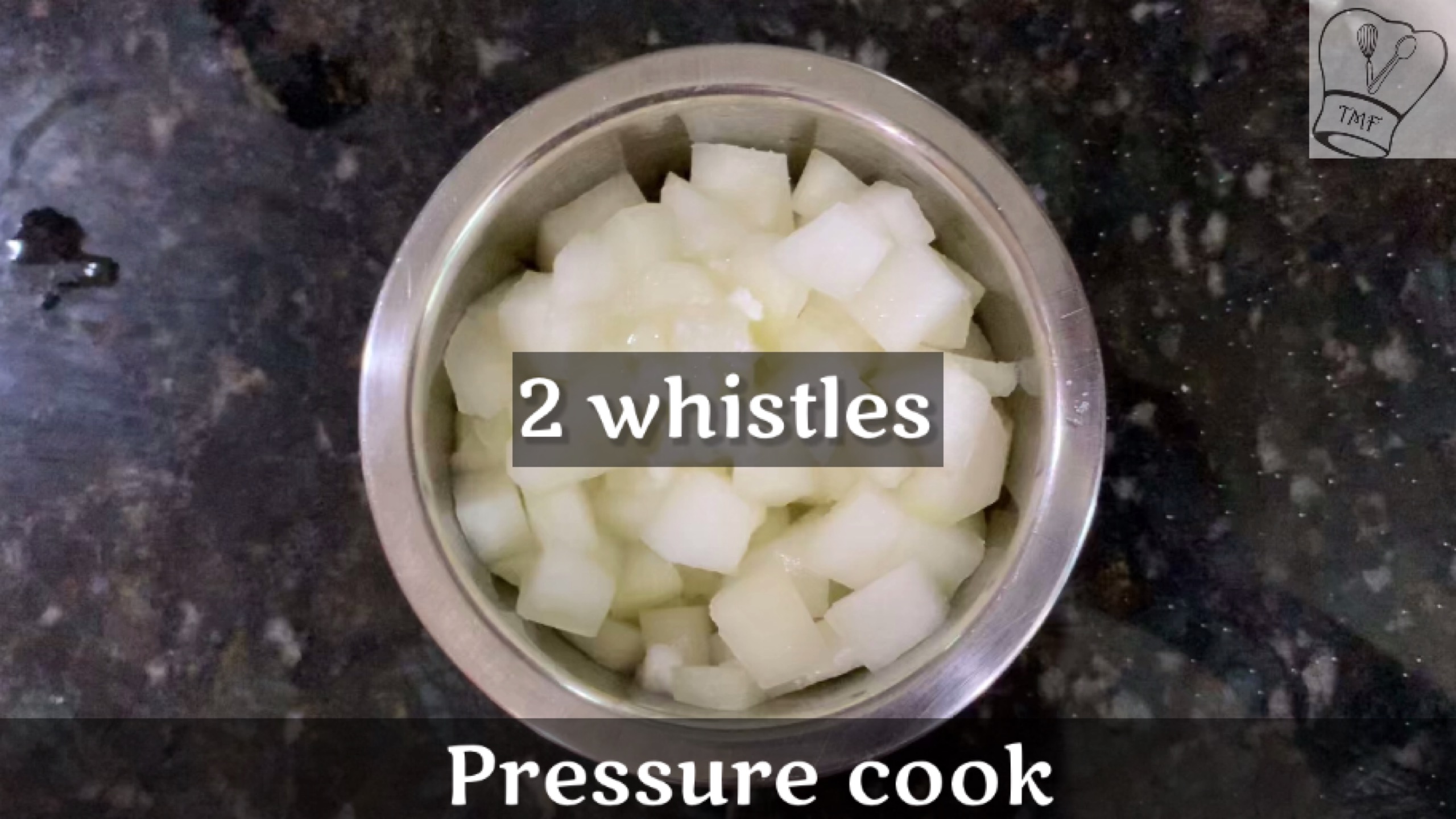 In a mixie jar add coconut, green chili, and little water and grind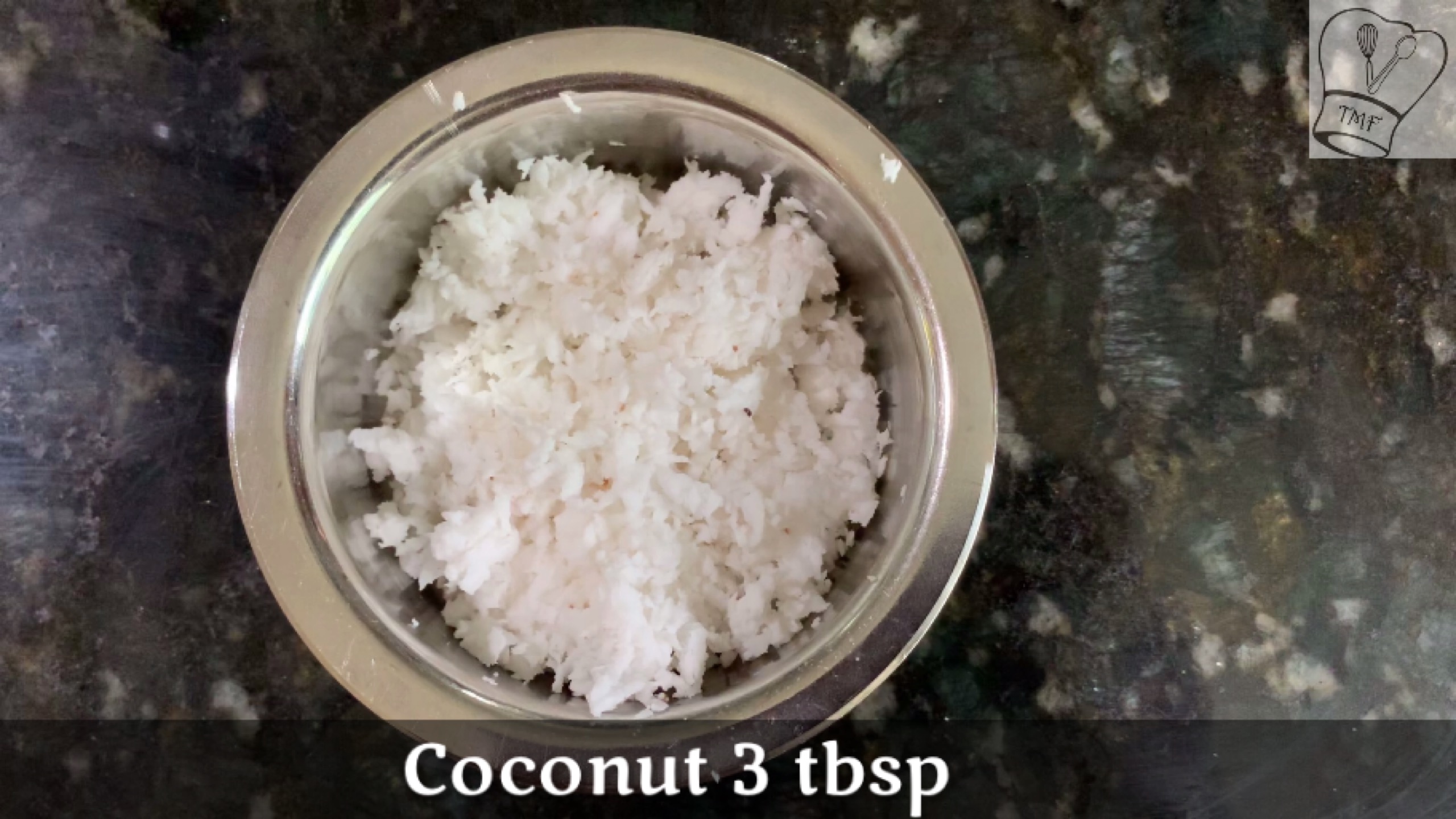 After pressure realized naturally add

oil to a pan
When the oil is hot add mustard seed and lets them splutter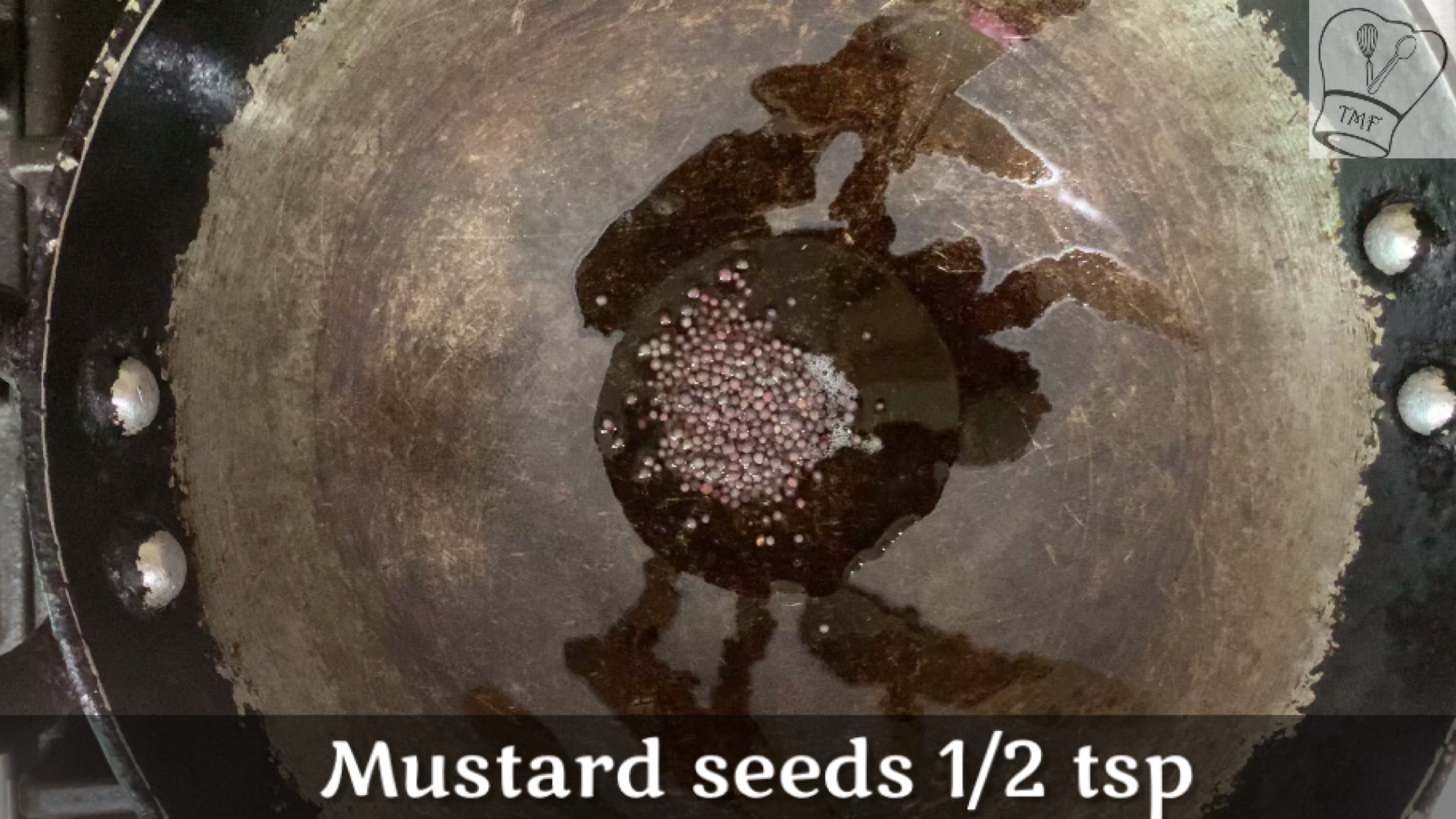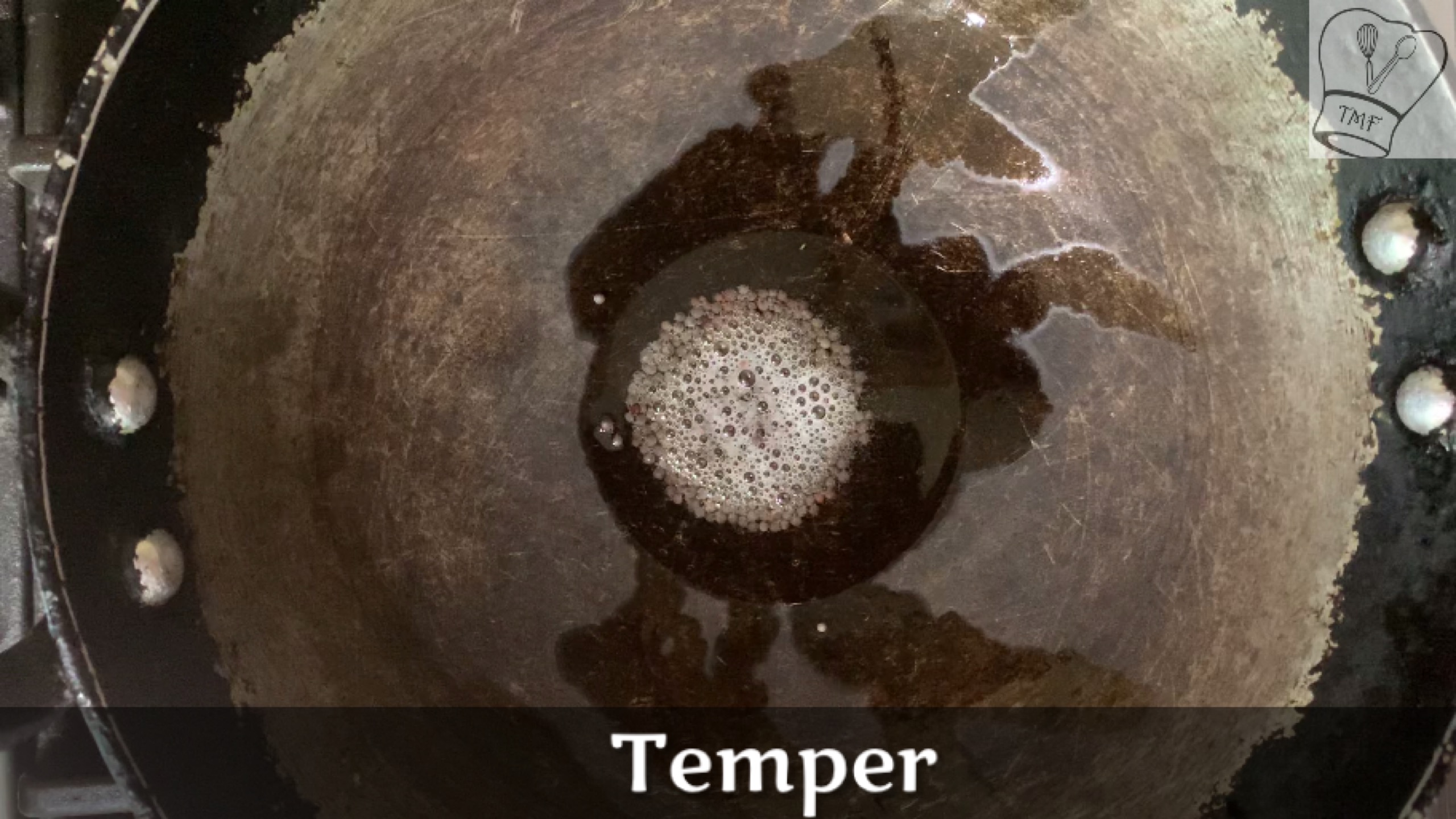 Add urad dal and cook the dal turns golden brown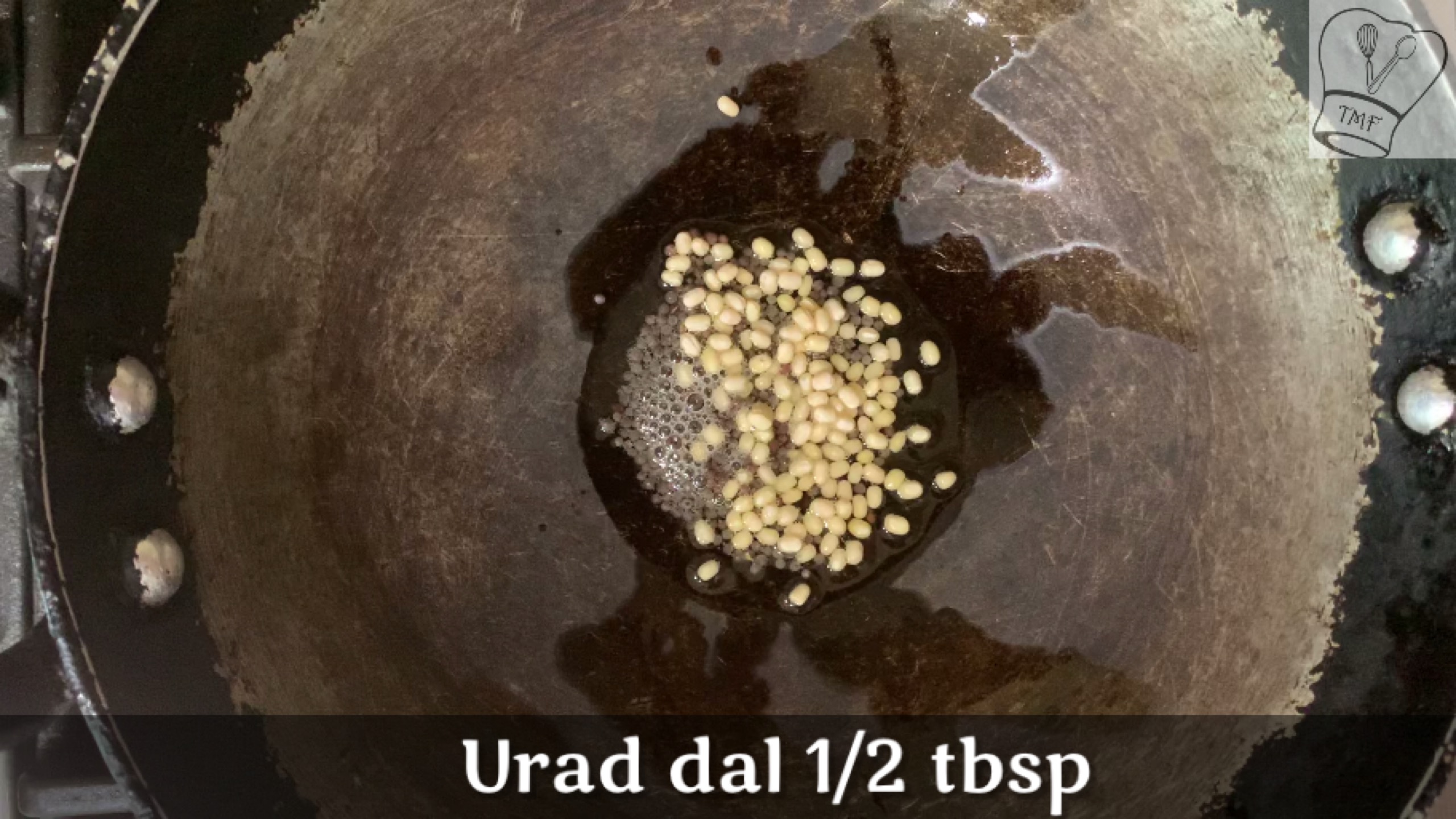 Finally, add curry leaves and saute. Transfer them to a small bowl and turn off the stove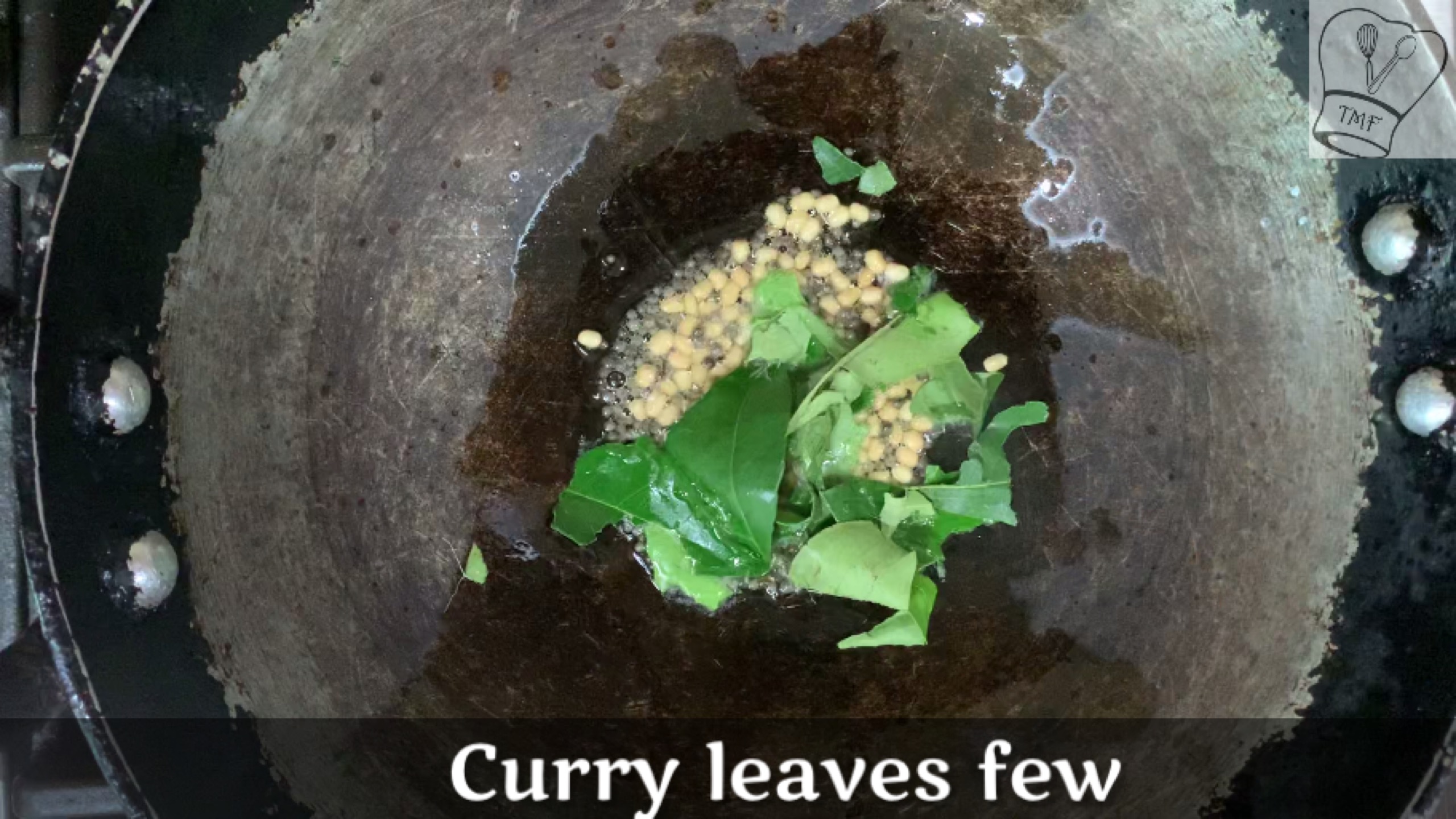 Add cooked white pumpkin along with water, ground coconut and mix well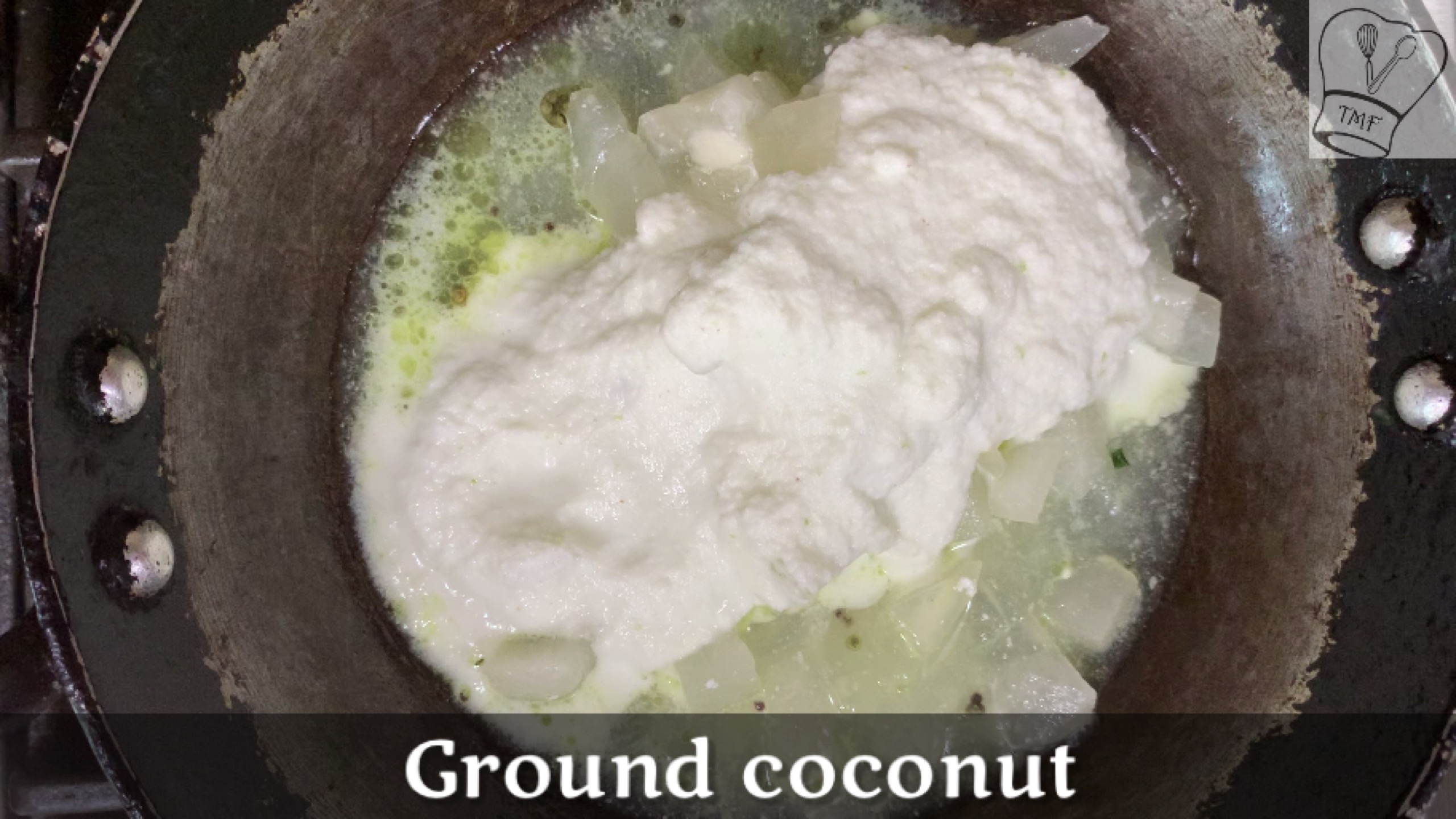 Turn on the stove and cook for 2-3 minutes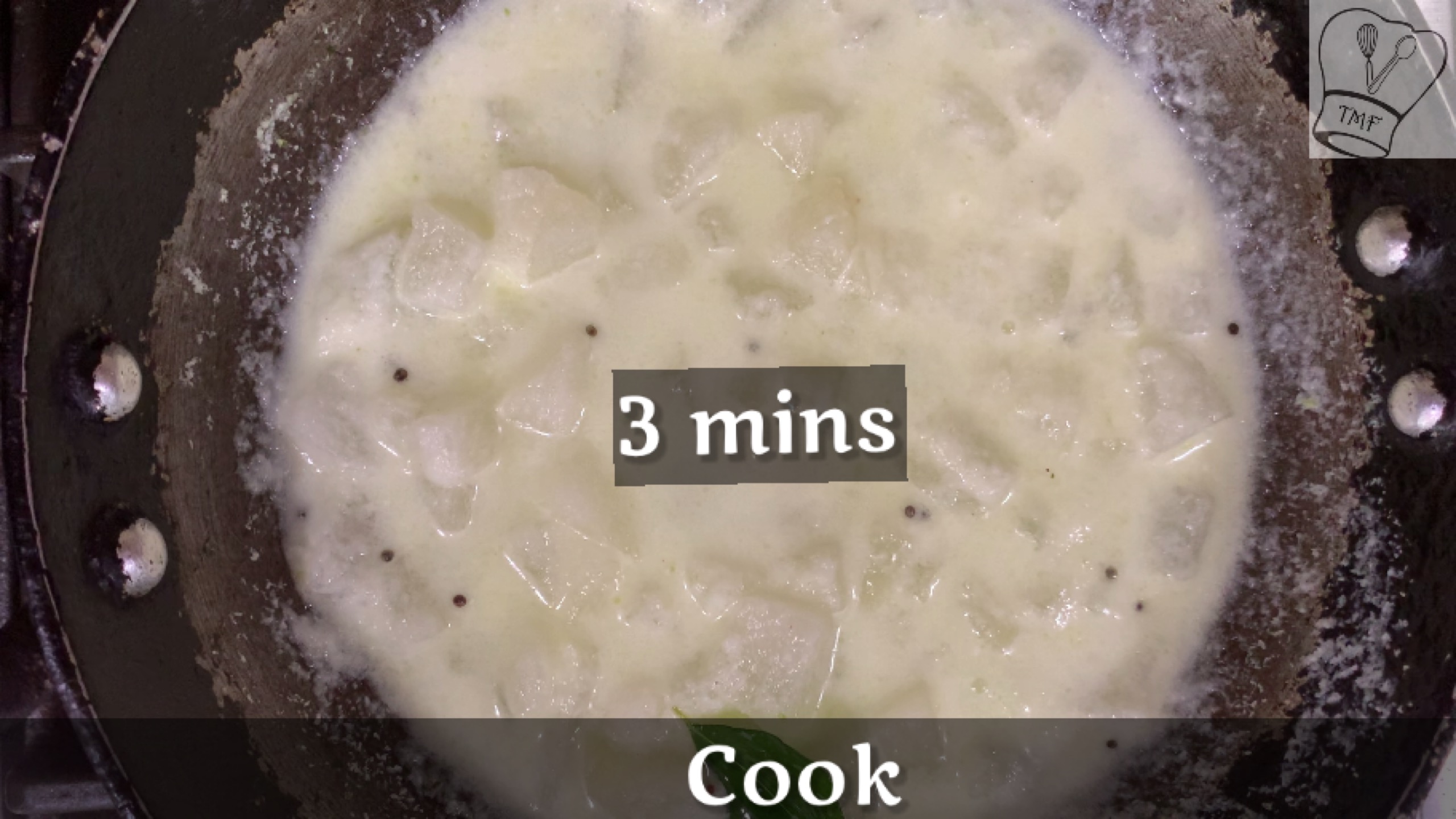 Check the salt and add if required

Mix the kootu once in a while
Cook till the kootu comes together and boils well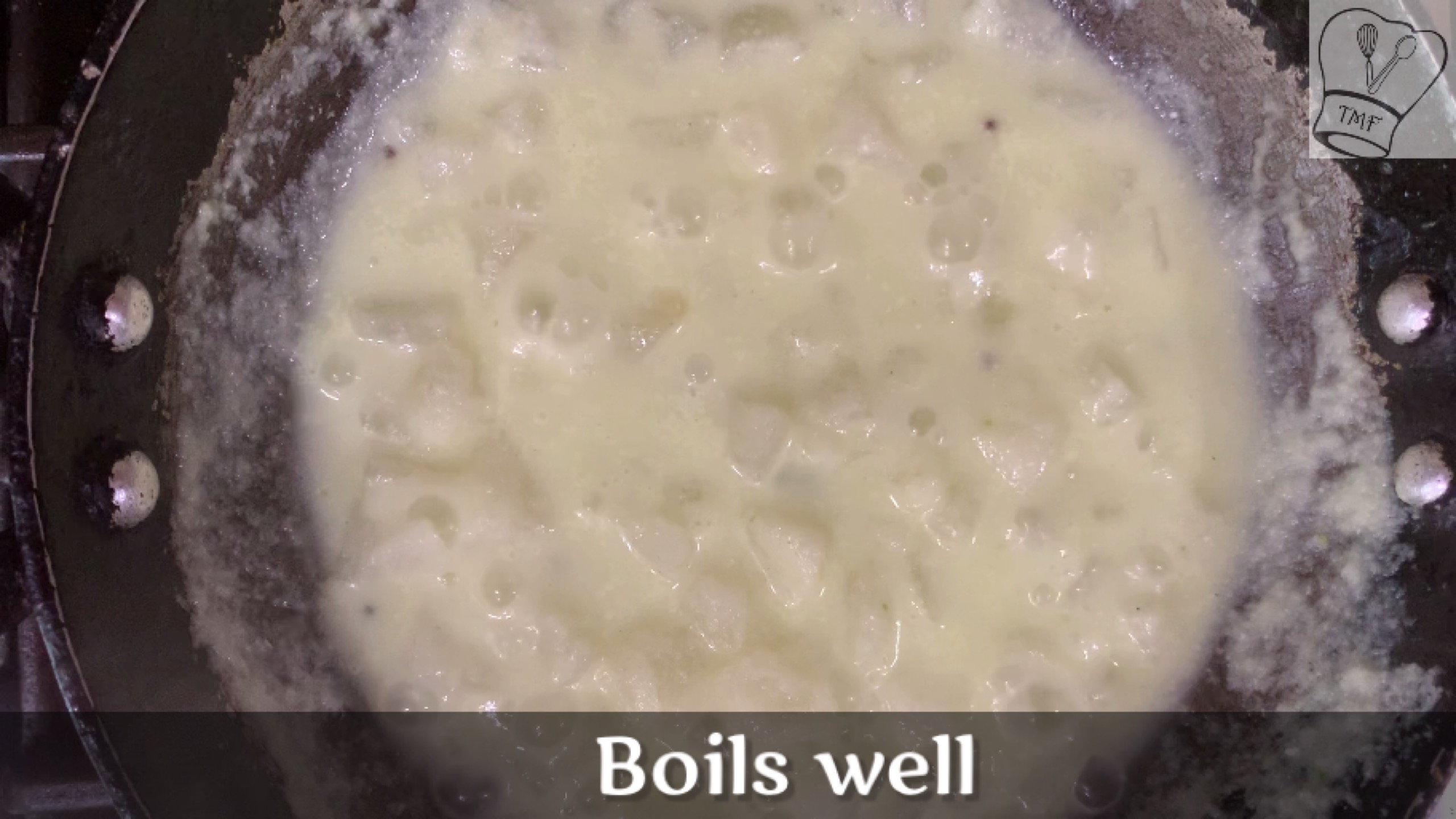 Lower the flame and add curd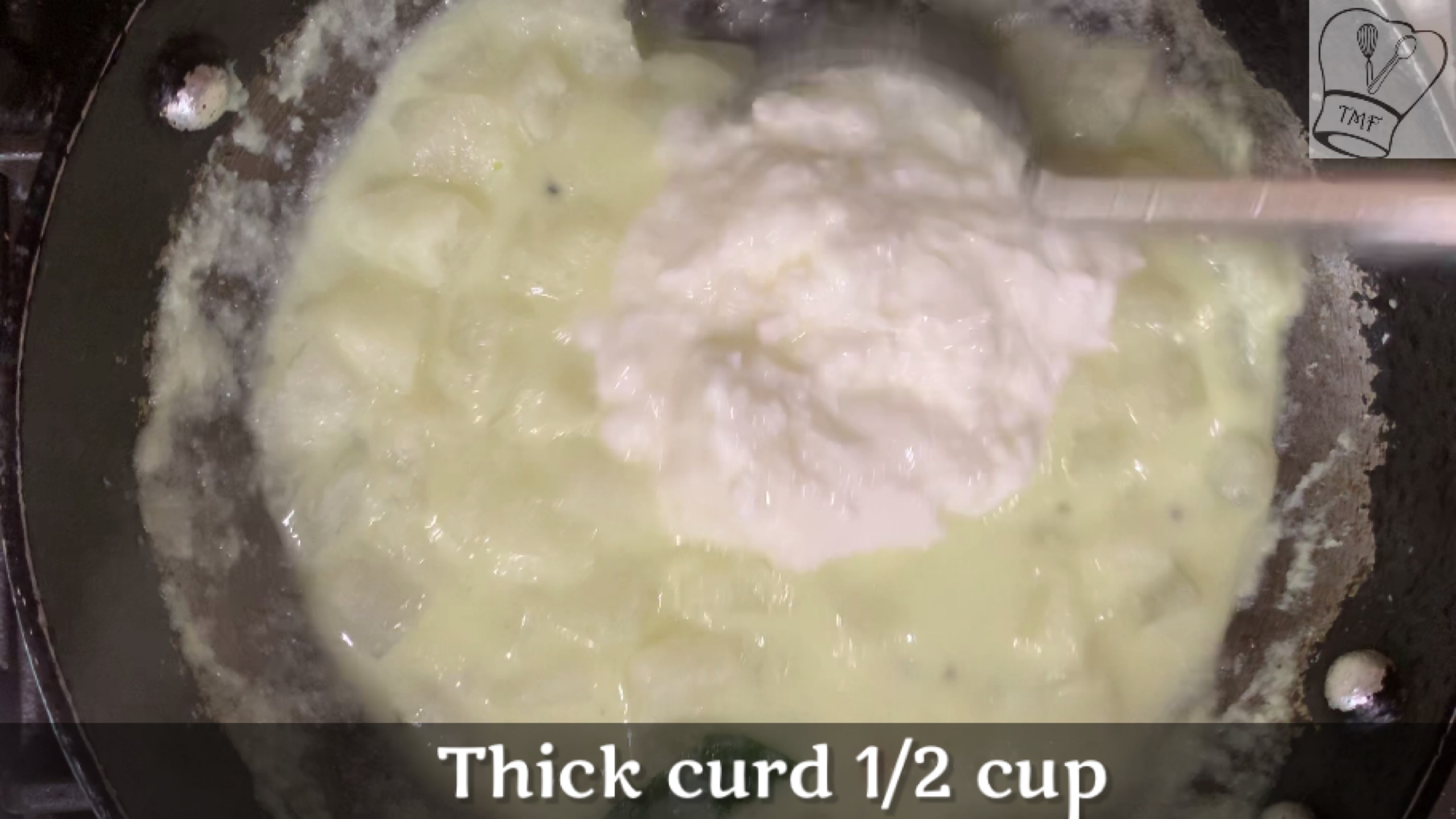 Mix well and switch off

Add the tempering and mix well. Poosanikai more kootu is ready