Sutta Kathirikai Thogayal recipe and Sutta kathirikai pachadi recipe are traditional tasty South Indian dishes prepared with smoky roasted brinjal /eggplant /aubergine . Oven roasted Smoky Brinjal gives nice flavour to the thogayal/thuvaiyal and pachadi. Check out the video and If you like the video pls SUBSCRIBE to my channel.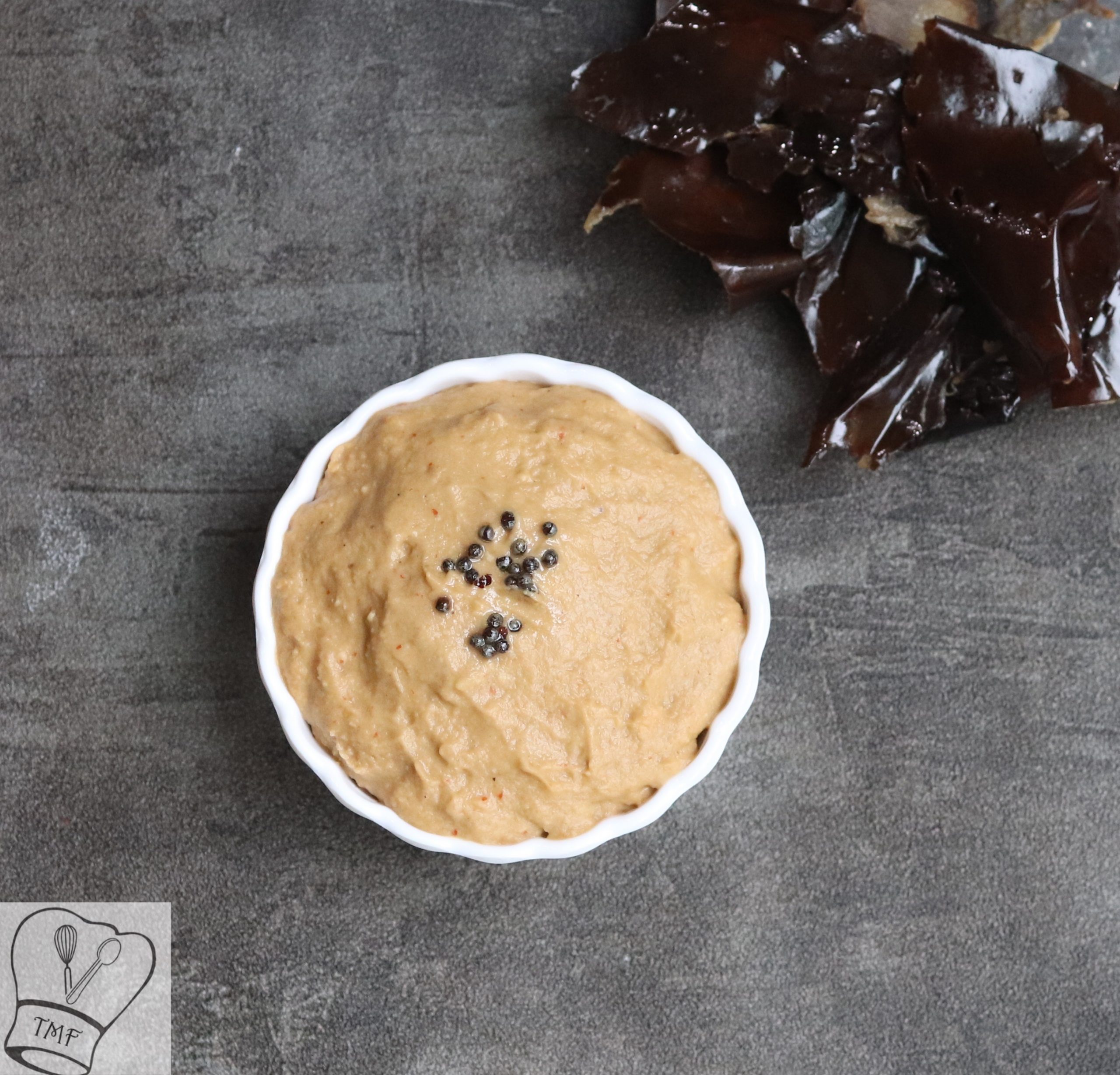 Sutta Kathirikai Thogayal and Sutta kathirikai pachadi Are prepared with oven broiled roasted brinjal /eggplant /aubergine. It is a great way to finish a few leftover brinjals.
What kind of Brinjal to use?
Traditionally the big aubergine is used for the Thogayal but if you have few leftover small brinjals that can also used. Broiling time may vary depending on the size and quantity. Spread and coat oil well and flip Brinjal every now and then for even roasting. Even half cut aubergine is perfect for the thogayal.
Ever since Amma visited us more and more Thogayal happening in our home. Now a days even my son has become a fav for Amma's tasty South Indian Thogayal varieties.
FEW THOGAYAL VARIETIES POSTED IN TMF,
I posted this Brinjal thuvaiyal few years ago. Those days I didn't have gas stove so I started making oven/ microwave oven roasting . Now I have gas stove but somehow I got so use to the oven roasted Brinjal and still continuing the same. Back in India Amma use to make Sutta Kathirikai Thogayal by directly roasting the eggplant in flame.
I am among the few who love brinjal. I have posted lot of Brinjal based recipes in TMF,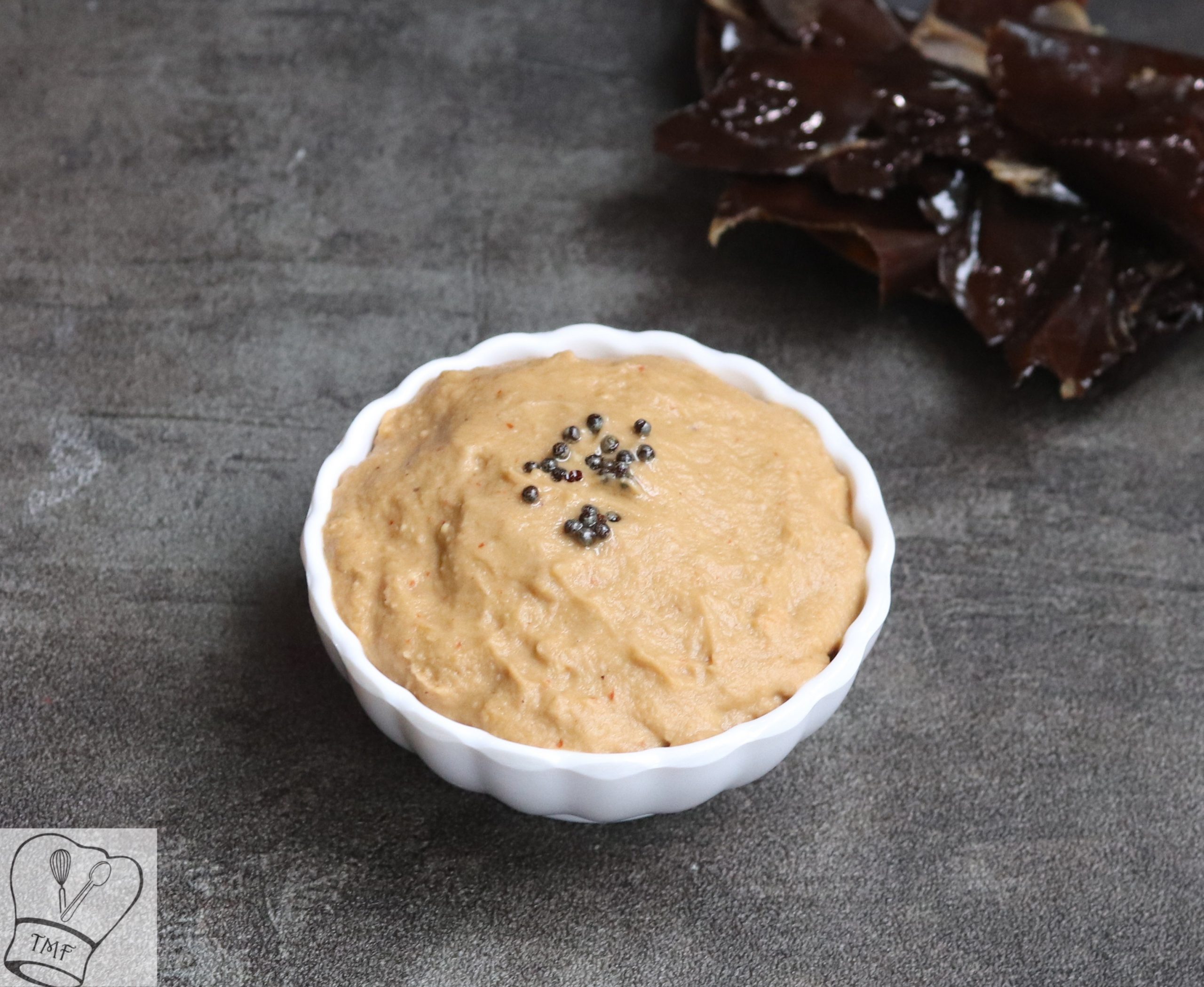 Sutta kathirikai Thogayal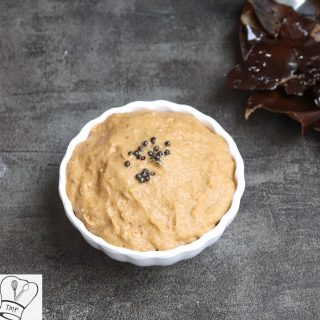 Sutta Kathirikai Thogayal is a traditional  tasty rice accompaniment prepared with smoky roasted  brinjal /eggplant /aubergine . Oven roasted Smoky Brinjal gives nice flavour to the thogayal/thuvaiyal
Print
Pin
Comment
Ingredients
Brinjal/Eggplant/Aubergine- 1

Big size

Sesame Oil - 1 tablespoon + 2 drops

Red chilly - 2

Adjust according to your taste

Urad dal - 3 tablespoon

Mustard seeds - few

Tamarind – 2 grams

Asofetida/Hing – generous pinch

Salt - as needed
Instructions
Place a aluminum foil in a baking tray

Keep a big eggplant and make holes all over the eggplant with fork

Apply sesame oil all over the eggplant and Broil (500F) for 5 mins

Take out from the oven and turn the eggplant and broil again for 5 mins

Repeat the process. Make sure the eggplant is turned every time for even roasting

Continue broiling till the eggplant skin starts shrinking. Mine got done around 20 minutes

After that Broil for 2 minutes in 500 F and repeat

Broil till the eggplant skin is all shrinked and skin peels off easilh (broil time may vary depending on the eggplant size)

Gently peel off the skin. Use fork if needed, Discard the skin and save the pulp

In a tadka pan add urad dal, red Chilli and mustard seeds with few drops of oil

Cook till dal turns golden brown. Let the dal cools down

Without adding water ground  the dal mixture into fine powder

Add tamarind, salt and hing to the ground powder

Add cool Brinjal pulp and grind the thogayal
Video
Notes
I didn't add water to my thogayal. Moisture in brinjal was enough for the thogayal
For microwave method: cut the brinjals into big chunks and transfer them to a bowl. add oil and mix well. Microwave the brinjals for 4 - 10 minutes till the skin shrinks (Depends on the microwave oven temperature, mine is 700 watt and it took 7 minutes. Keep an eye after 5 minutes)

Ingredients:
Brinjal/Eggplant/Aubergine- 1 (Big size)
Sesame Oil - 1 tablespoon + 2 drops
Red chilly - 2 ( Adjust according to your taste)
Urad dal - 3 tablespoon
Mustard seeds - few
Tamarind – 2 grams
Asofetida/Hing – generous pinch
Salt - as needed
How to sutta kathirikai thogayal with step by step pictures:
Place a aluminum foil in a baking tray
Keep a big eggplant and make holes all over the eggplant with fork
Apply sesame oil all over the eggplant and Broil (500F) for 5 mins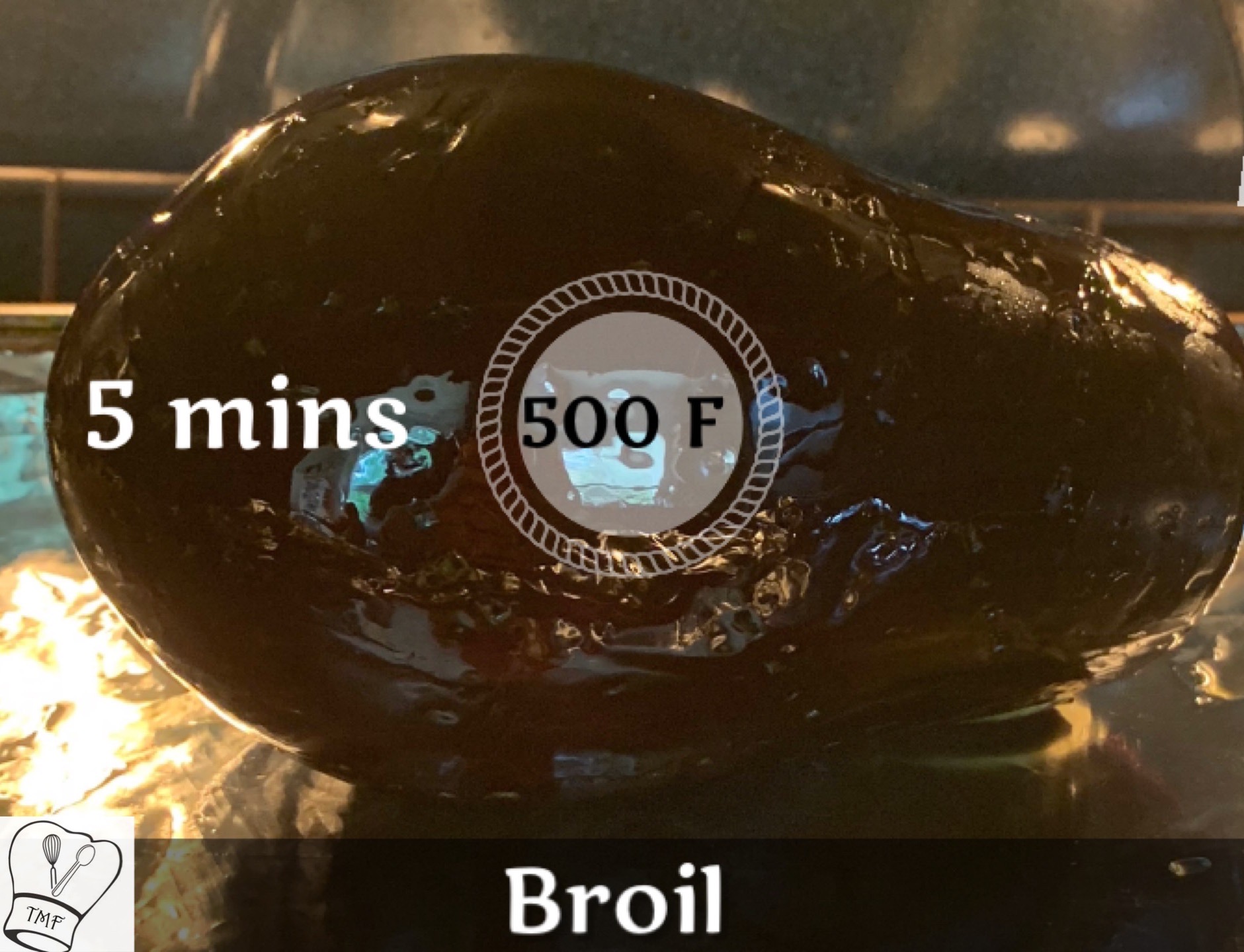 Take out from the oven and turn the eggplant and broil again for 5 mins
Repeat the process. Make sure the eggplant is turned every time for even roasting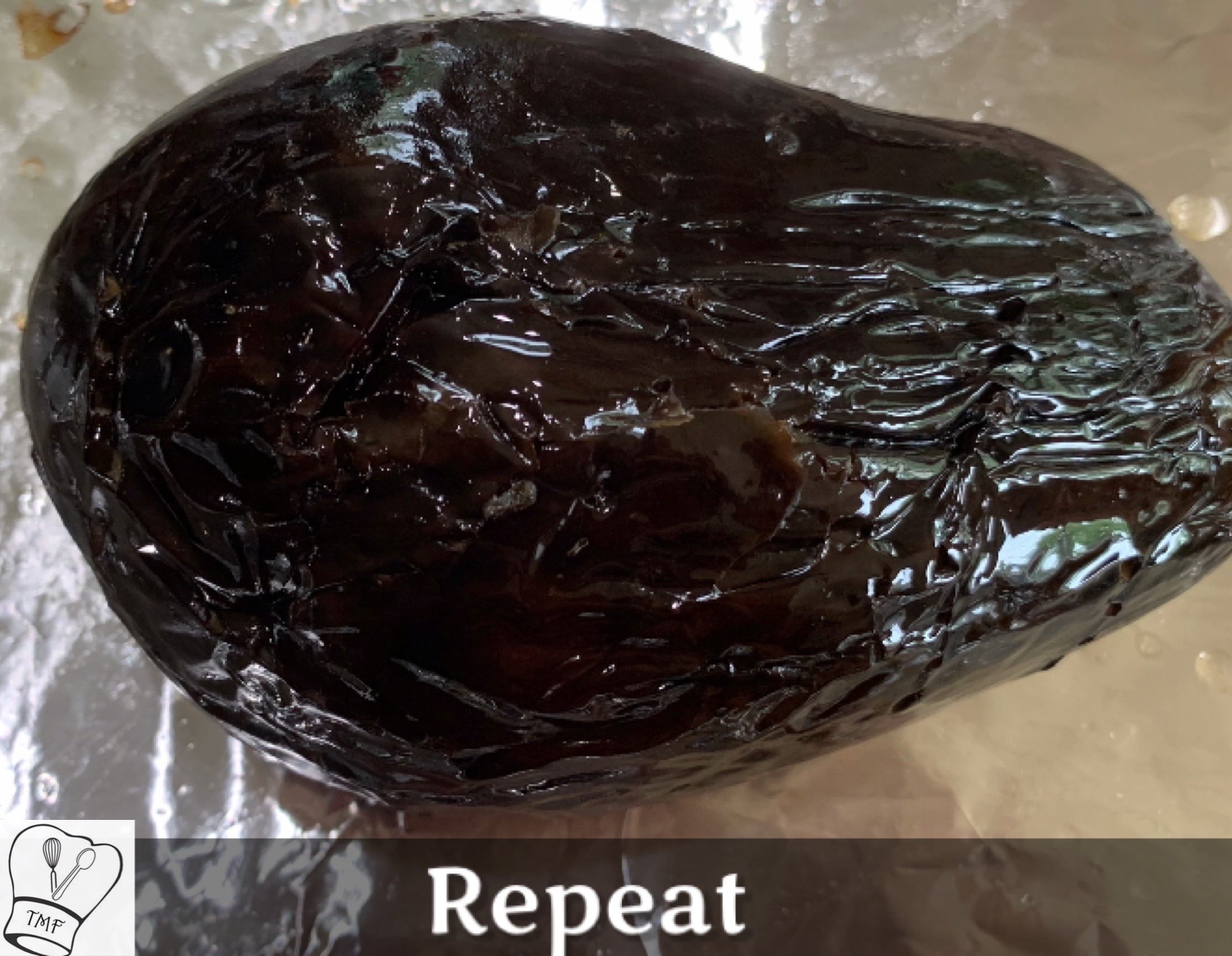 Continue broiling till the eggplant skin starts shrinking. Mine got done around 25 minutes
After that Broil for 2 minutes in 500 F and repeat
Broil till the eggplant skin shrunks and skin peels off easily (broil time may vary depending on the eggplant size)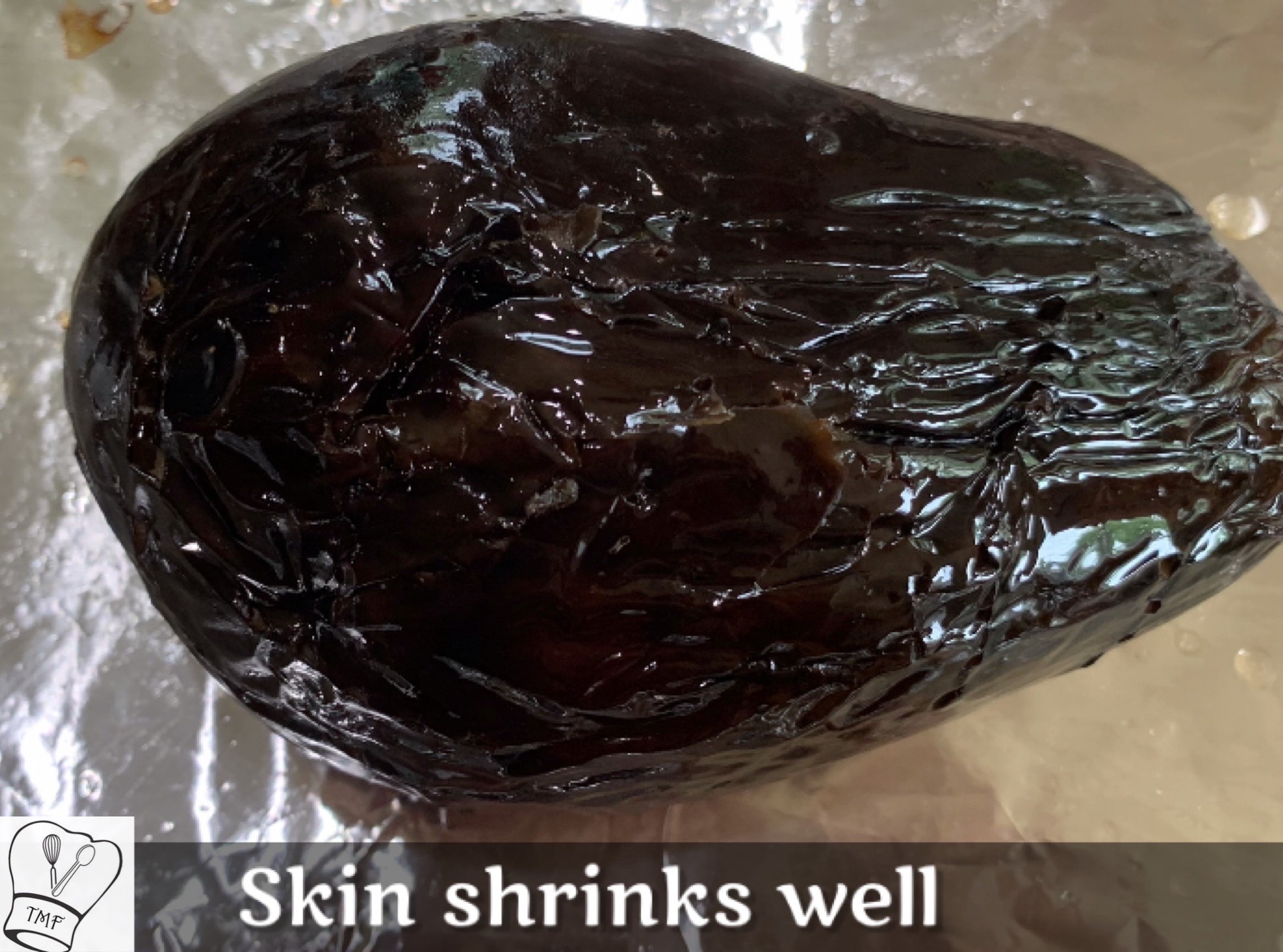 Gently peel off the skin. Use fork if needed, Discard the skin and save the pulp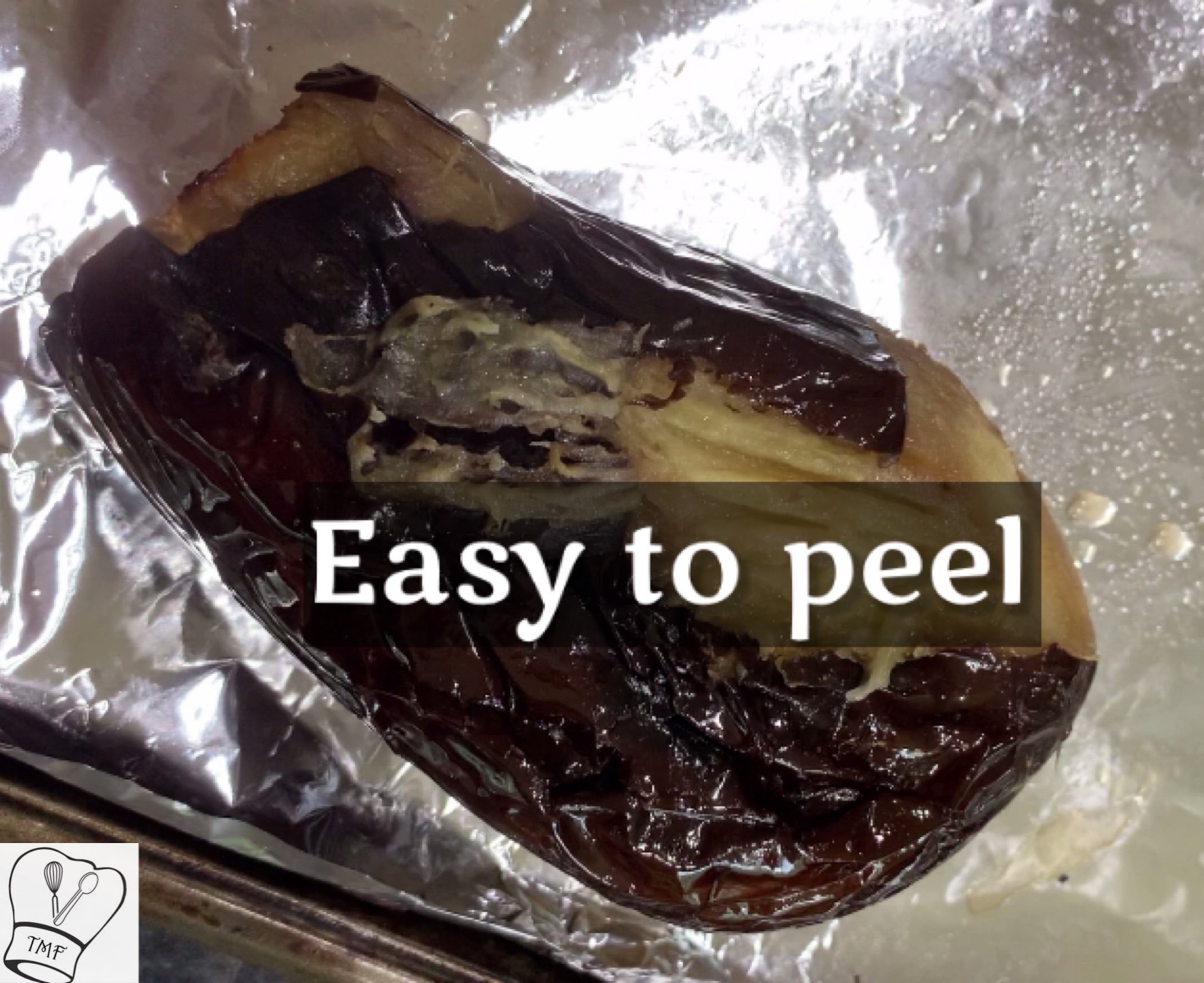 In a tadka pan add urad dal, red Chilli and mustard seeds with few drops of oil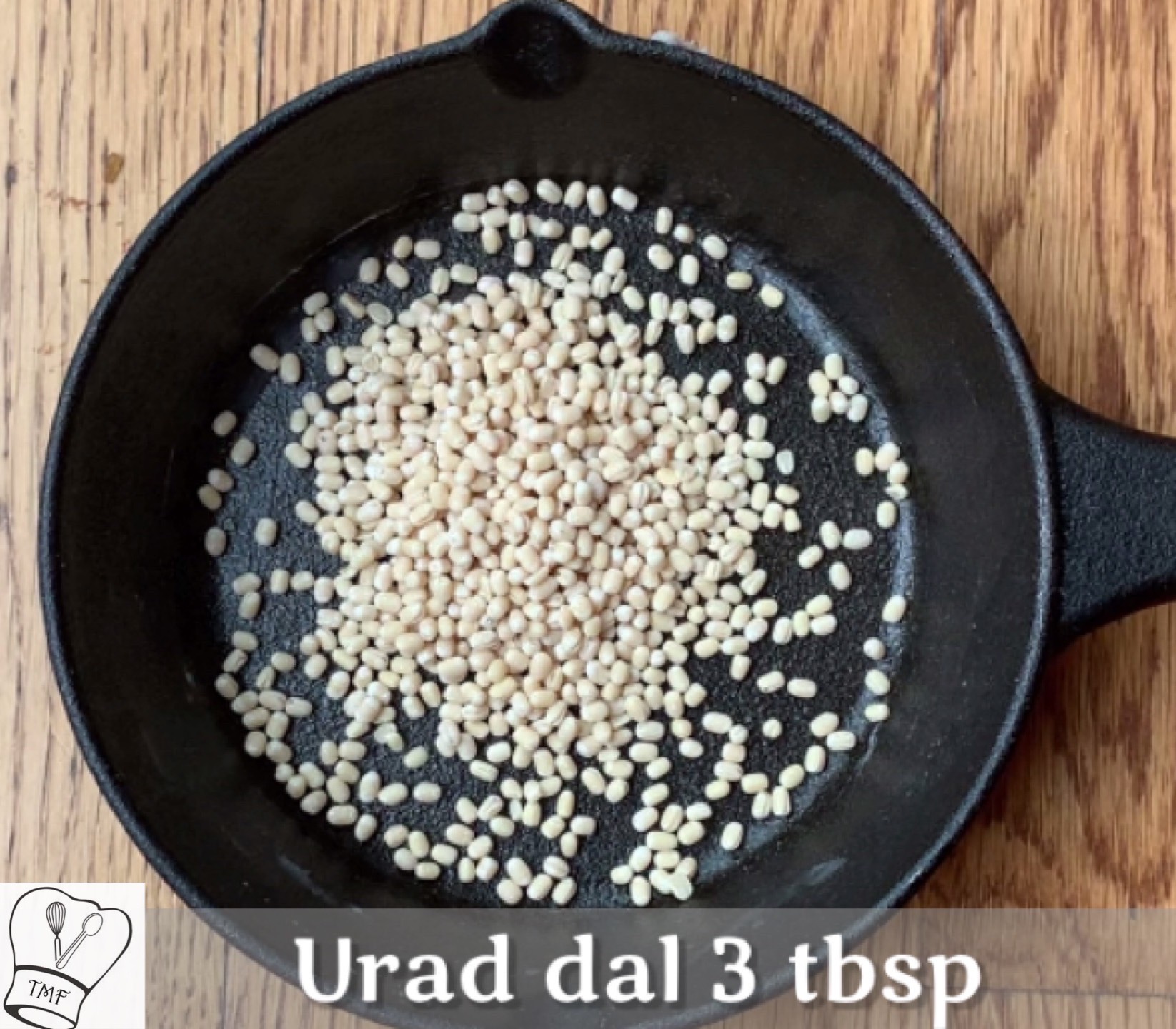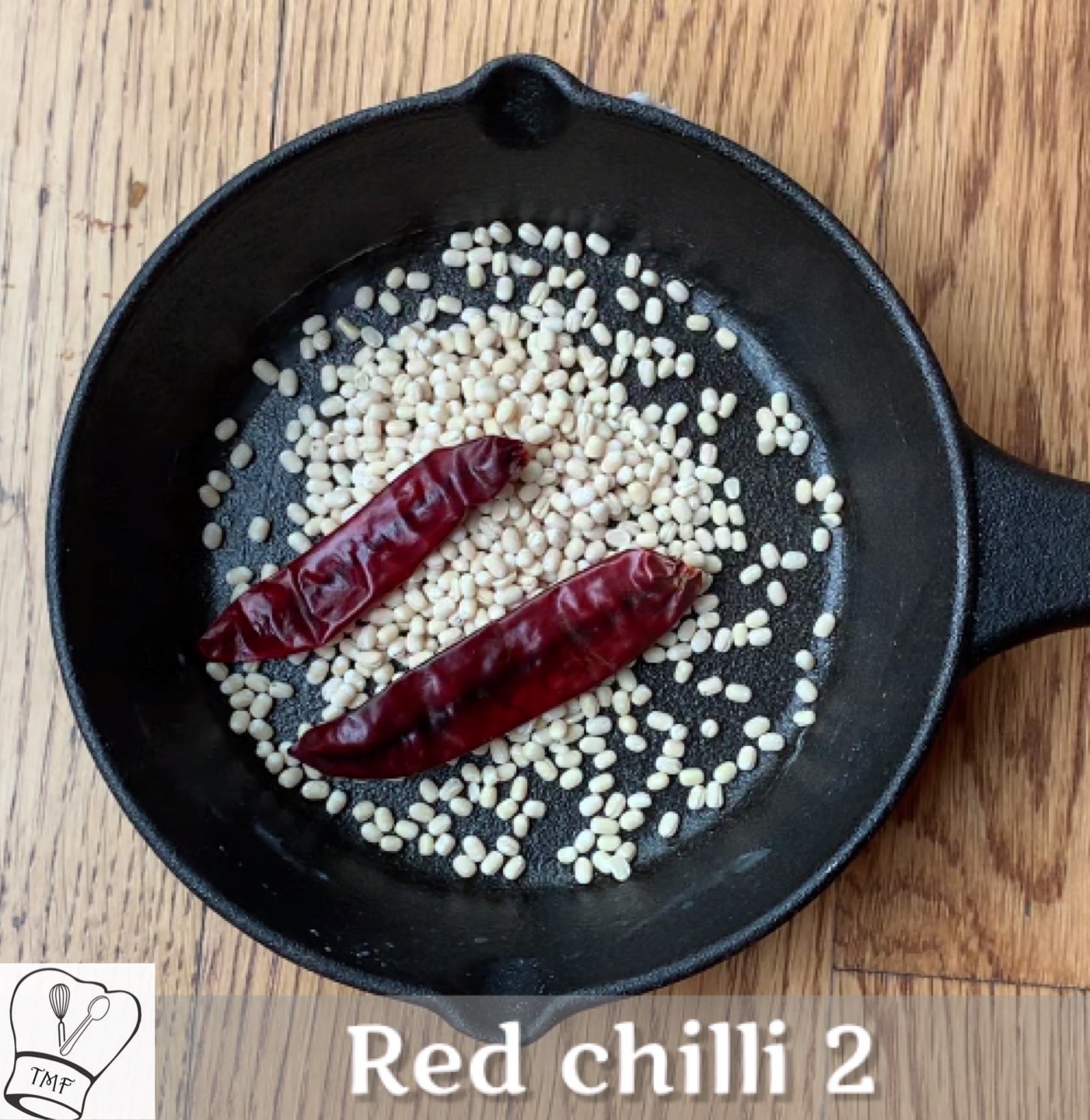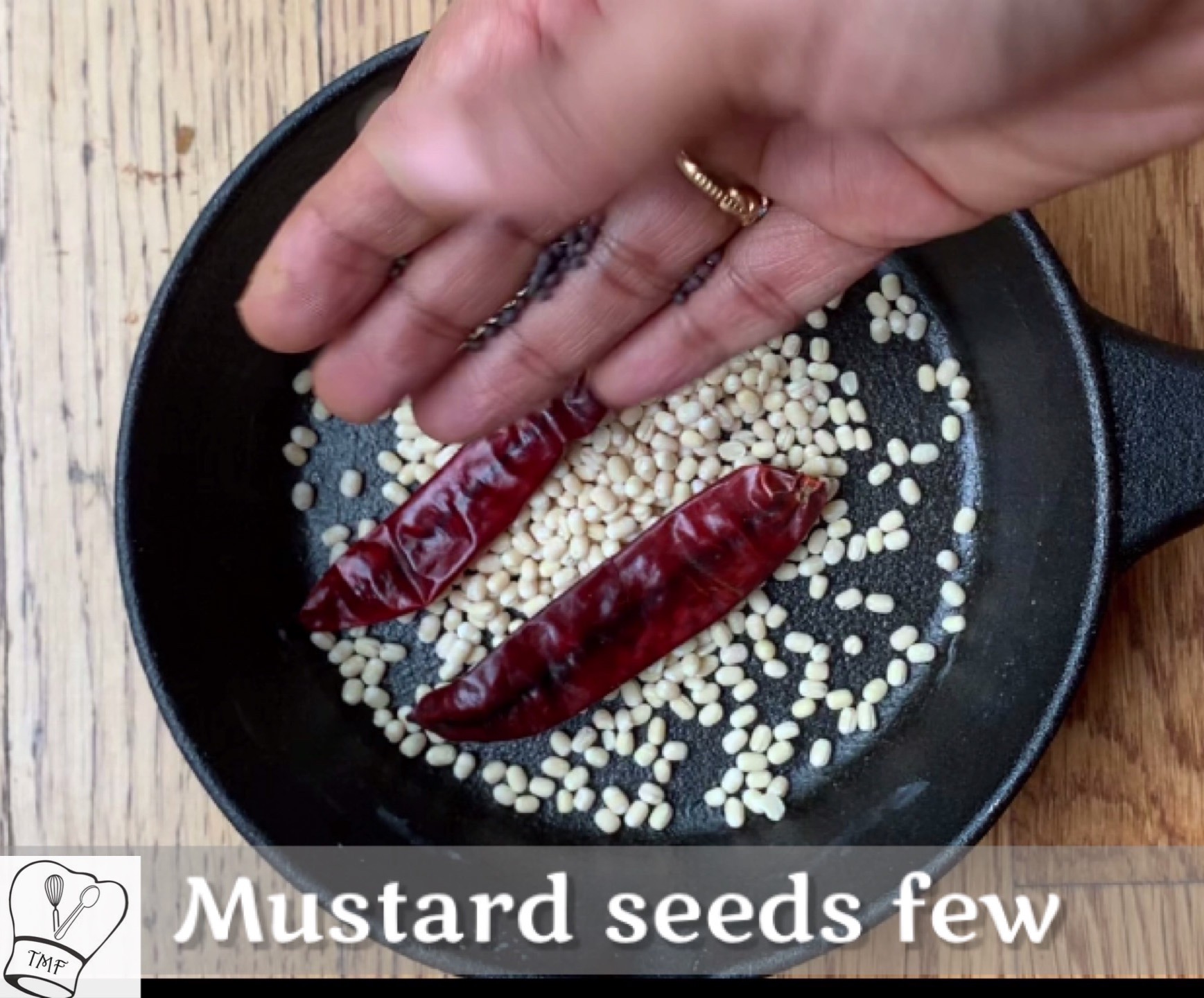 Cook till dal turns golden brown. Let the dal cools down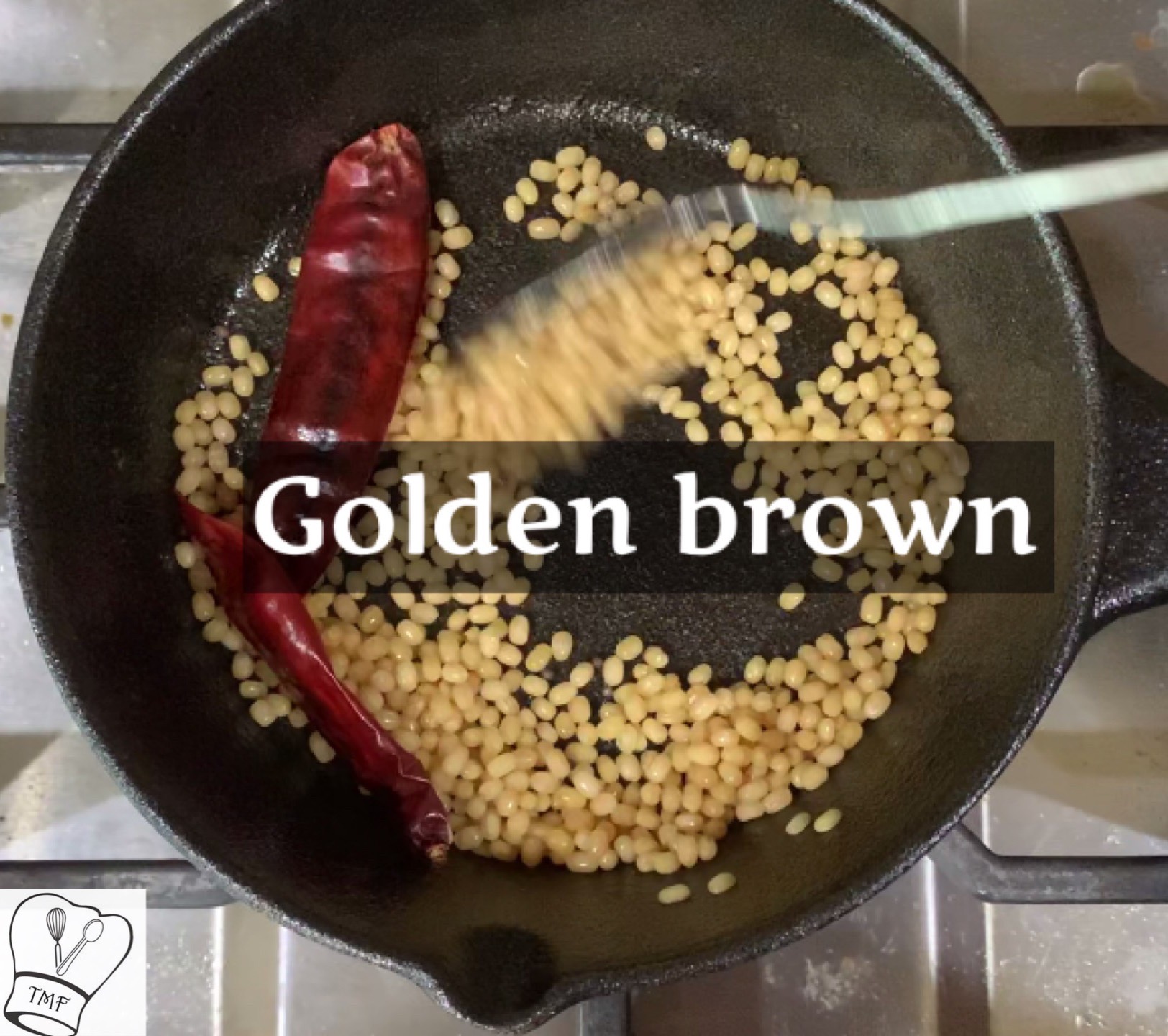 Without adding water ground the dal mixture into fine powder
Add tamarind, salt and hing to the ground powder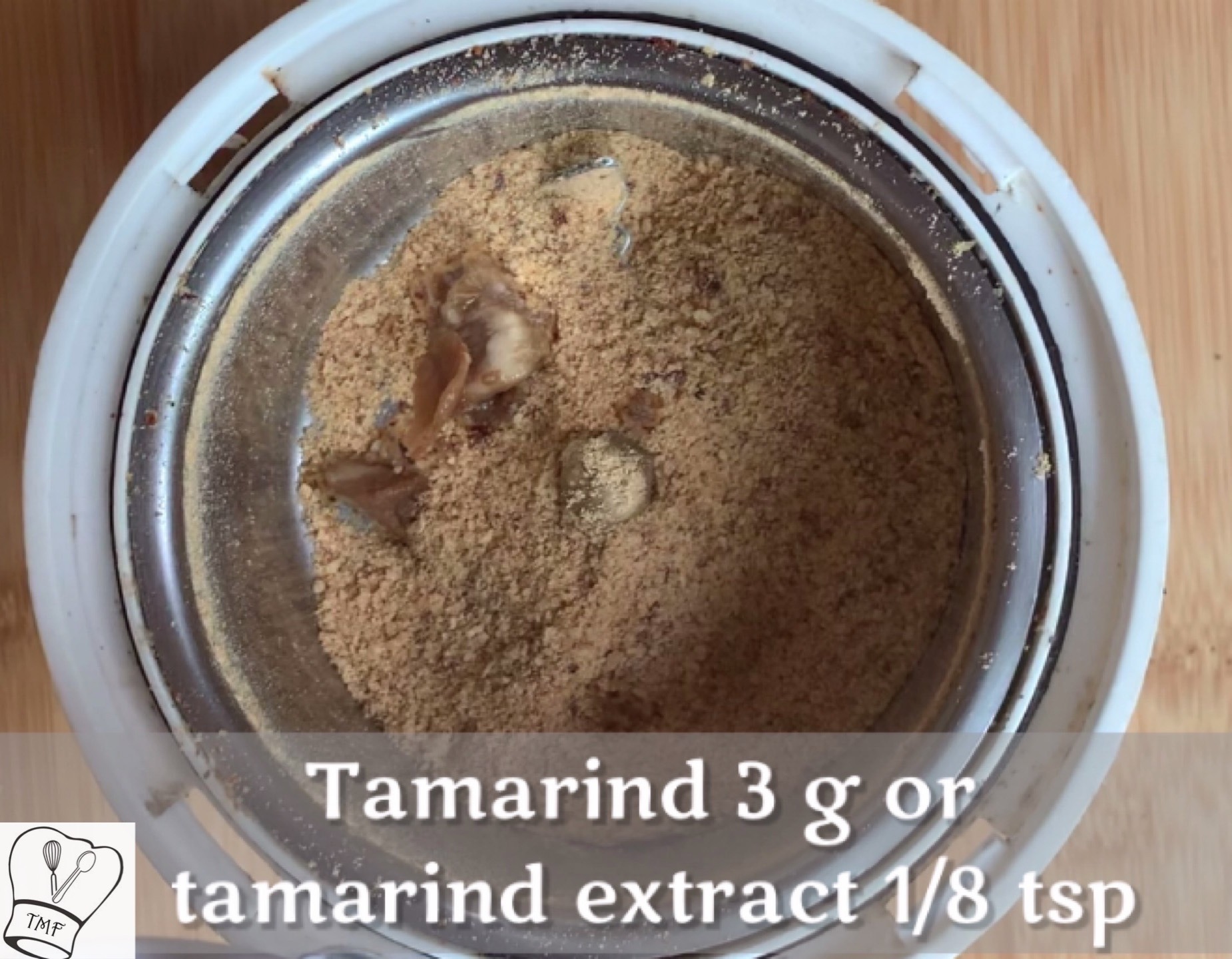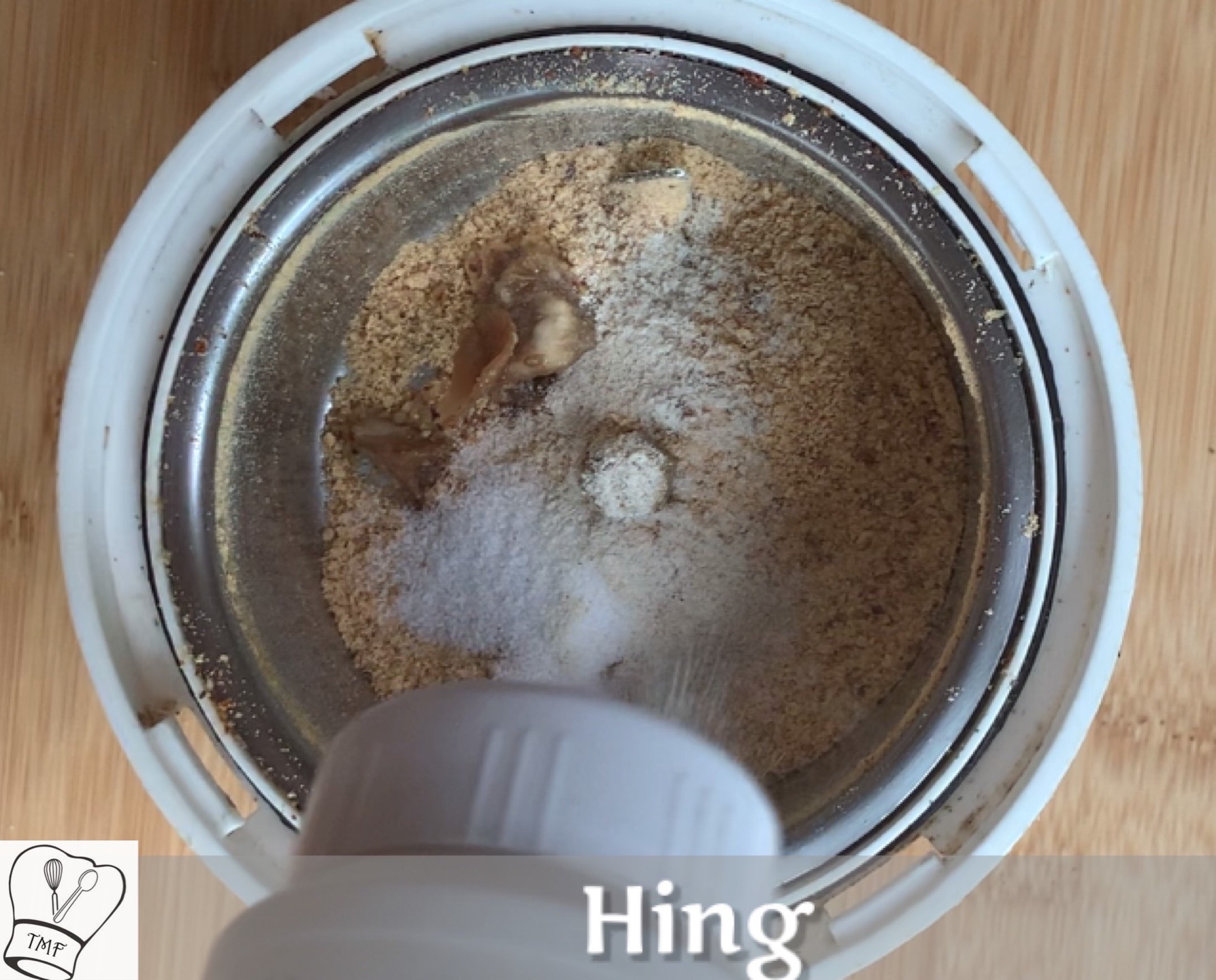 Add cool Brinjal pulp and grind the thogayal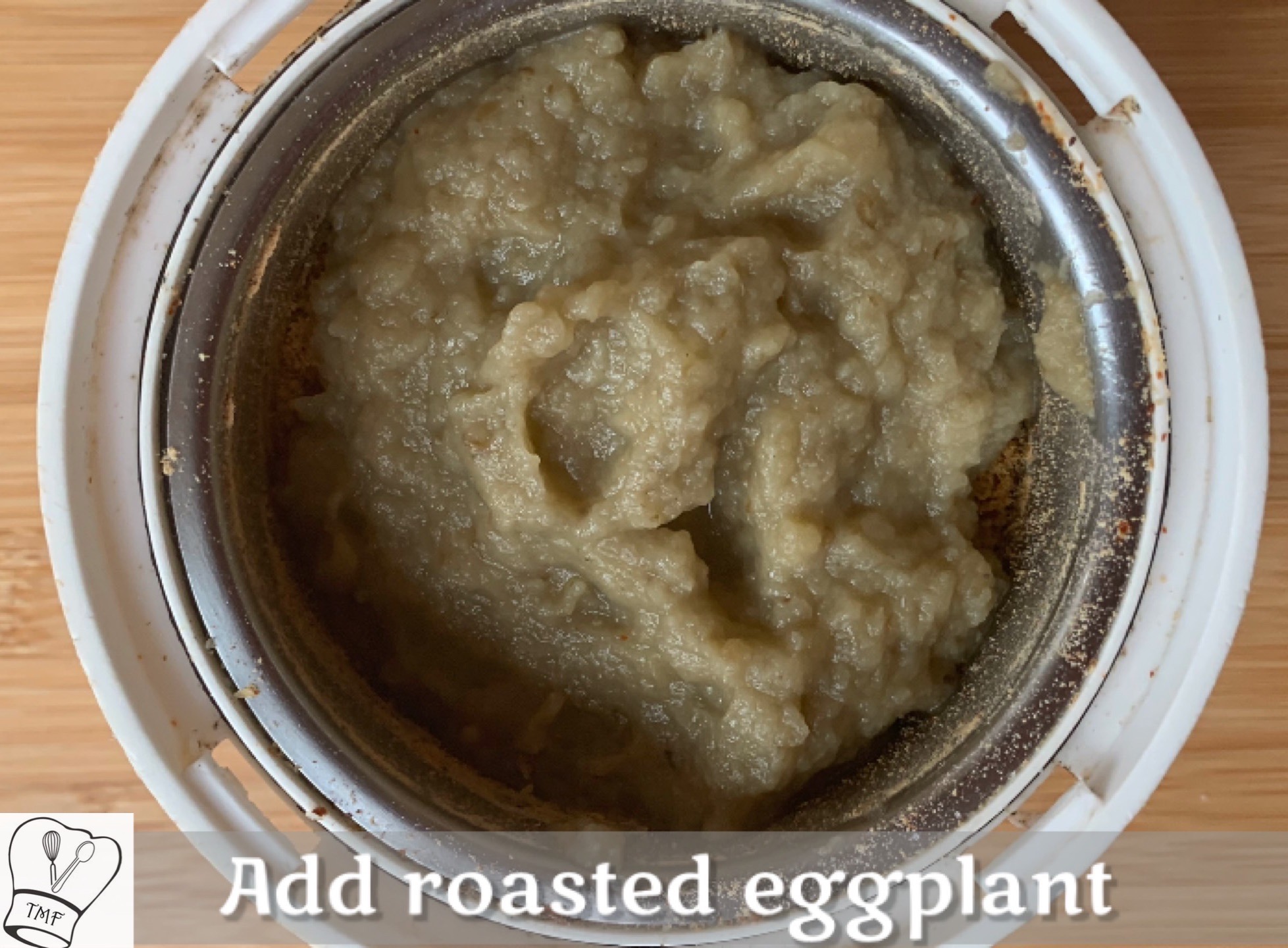 Tempering is optional for thogayal. Add oil to the pan and when the oil is hot add mustard, urad dal and curry leaves and let it splutter. Add the temper to the thogayal
Sutta kathrikai pachadi
Sutta Kathirikai pachadi is a traditional  tasty rice accompaniment prepared with smoky roasted brinjal /eggplant /aubergine . Oven roasted Smoky Brinjal gives nice flavour to the pachadi
Print
Pin
Comment
Ingredients
Roasted eggplant - 1/4 cup

Thick curd - 1/2 cup

Salt - as needed

To temper:

Coconut oil -1/2 teaspoon

Mustard seeds - 1/2 tap

Green chilli - 1

Corainder leaves - few
Instructions
After the broiled eggplant is cool ground it without adding water 

 

Add it to bowl, sprinkle some salt and salt curd; mix everything well

In a tadka pan add coconut oil and when oil is hot add mustard seeds and let it splutter. Add green chilli and let it temper 

Transfer  the tempering to the pachadi. Sprinkle some coriander  leaves  and pacahdi is ready
Video
Notes
Adjust the curd according to your preference
Avoid adding rasam powfer, sambar powder or other powders as it might not go well with the pachadi taste
Avoid tempering with cumin seeds
Turmeric powder can be used for extra color
If required dal can be used for tadka
Ingredients:
Roasted eggplant - 1/4 cup
Thick curd - 1/2 cup
Salt - as needed
To temer:
Coconut oil -1/2 teaspoon
Mustard seeds - 1/2 tap
Green chilli - 1
Corainder leaves - few
How to sutta kathirikkai pachadi with step by step pictures:
After the broiled eggplant is cool ground it without adding water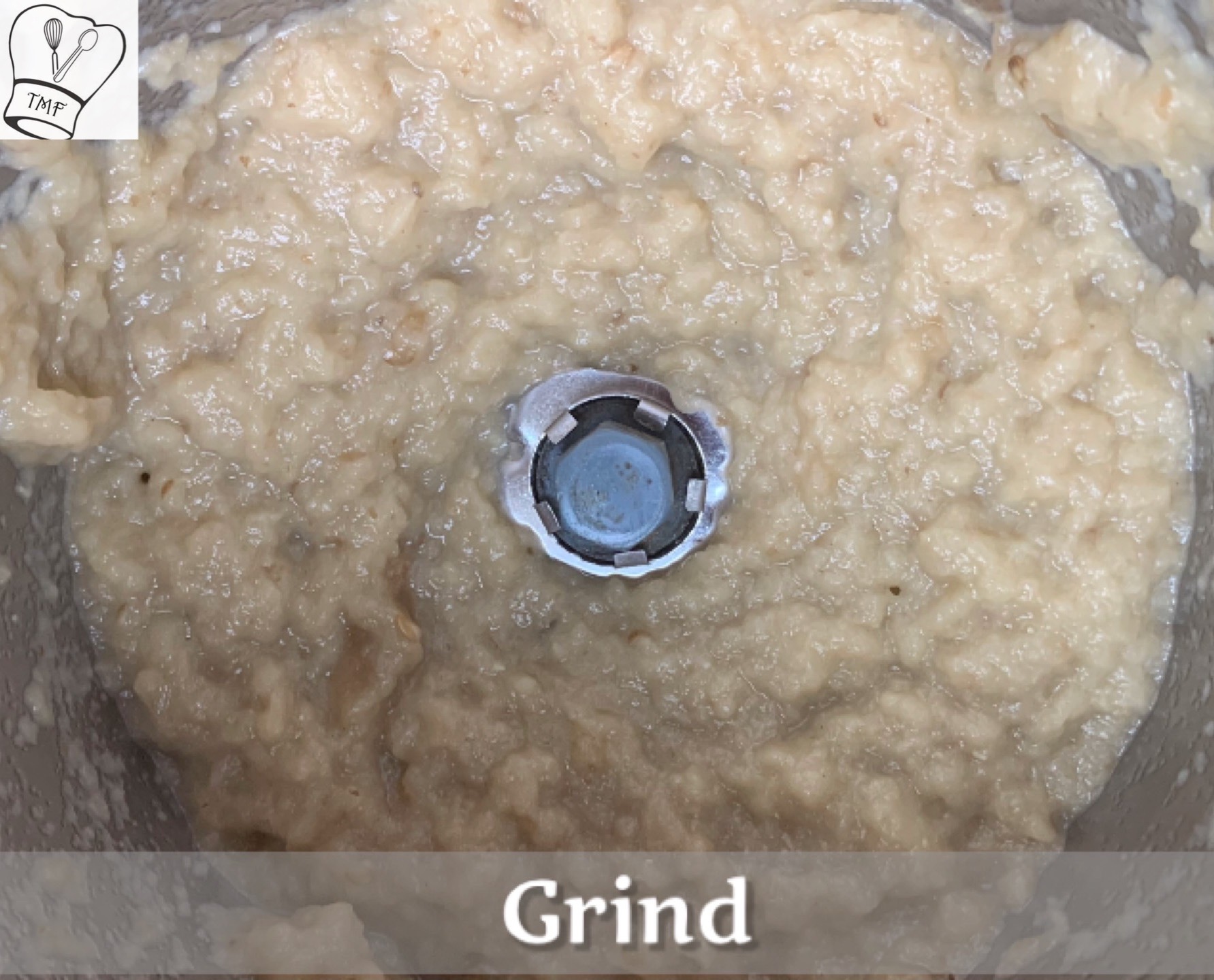 Add it to bowl, sprinkle some salt and salt curd; mix everything well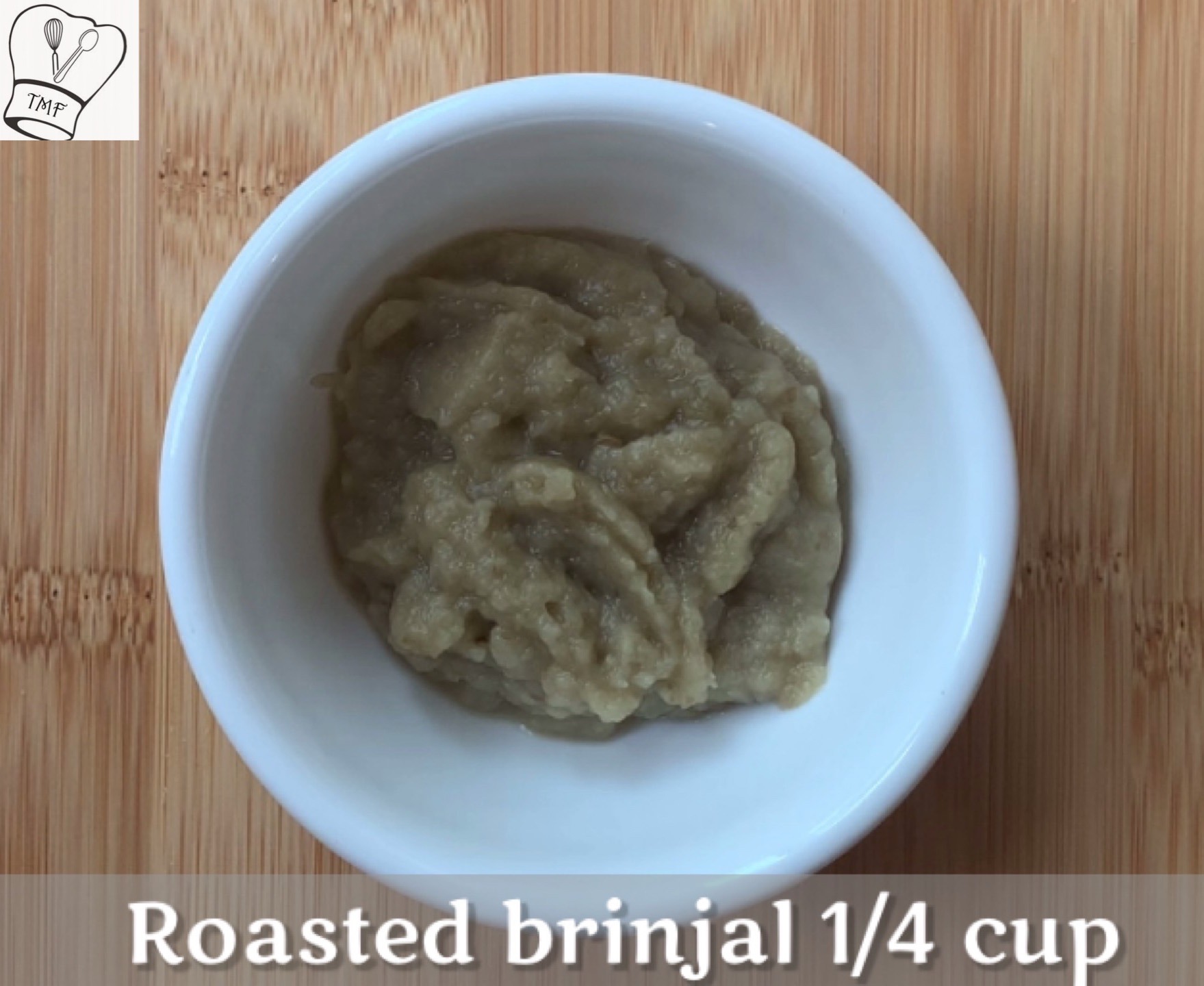 In a tadka pan add coconut oil and when oil is hot add mustard seeds and let it splutter. Add green chilli and let it temper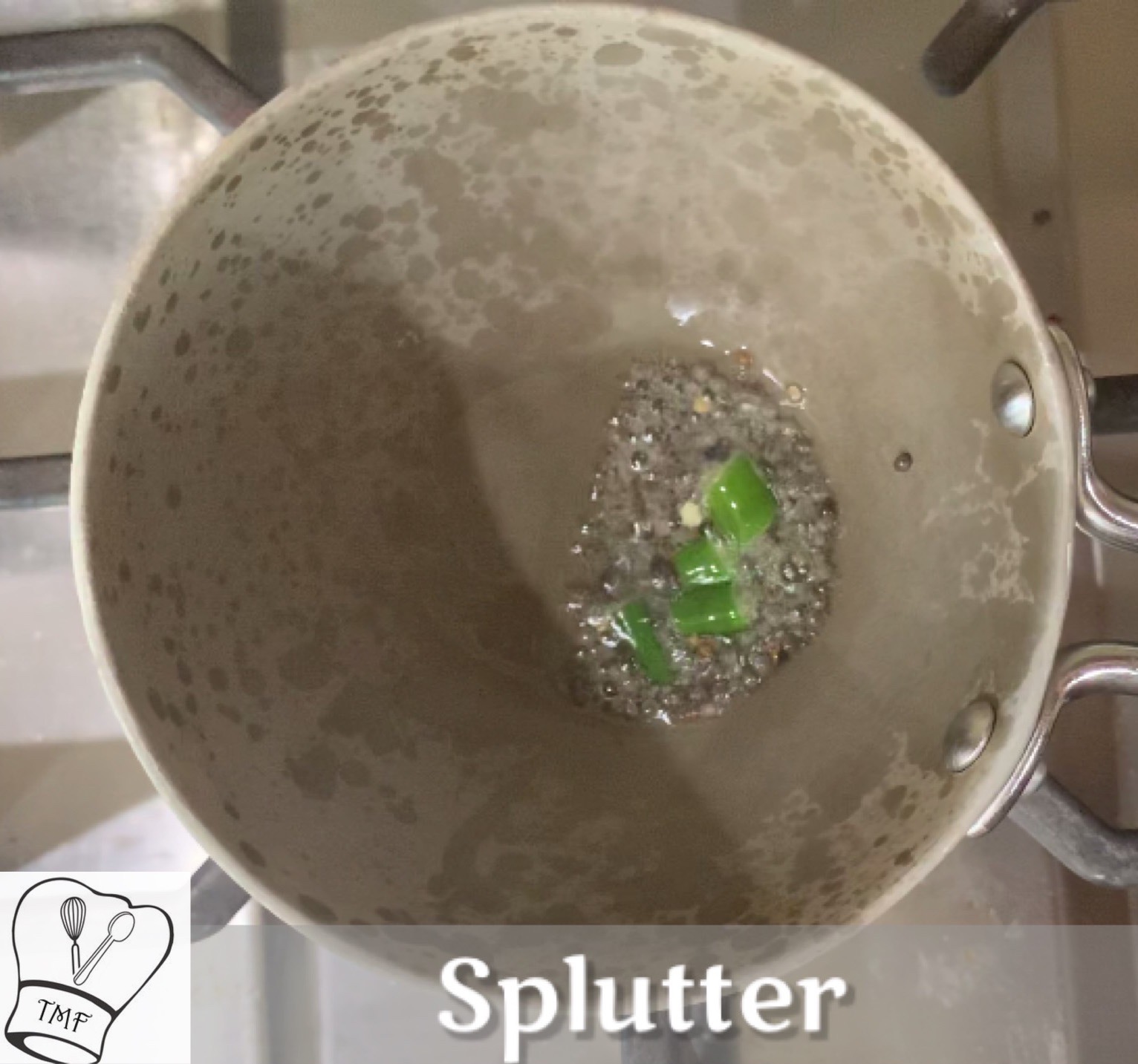 Transfer the tempering to the pachadi. Sprinkle some coriander leaves and pacahdi is ready