Thenga Aracha Kuzhambu | Iru puli Kuzhambu | thengai araitha kuzhambu ~ thengai aracha kuzhambu | Thenga Araicha Kuzhambu | thenga Kuzhambu | Iru puli kulambu | coconut kuzhambu thengai aracha Kuzhambu | coconut palakkad kuzhambu | thenga Kerala dish with step-by-step pictures and video recipe. Check out the thenga aracha Kuzhambu recipe and if you like the video pls SUBSCRIBE to my channel.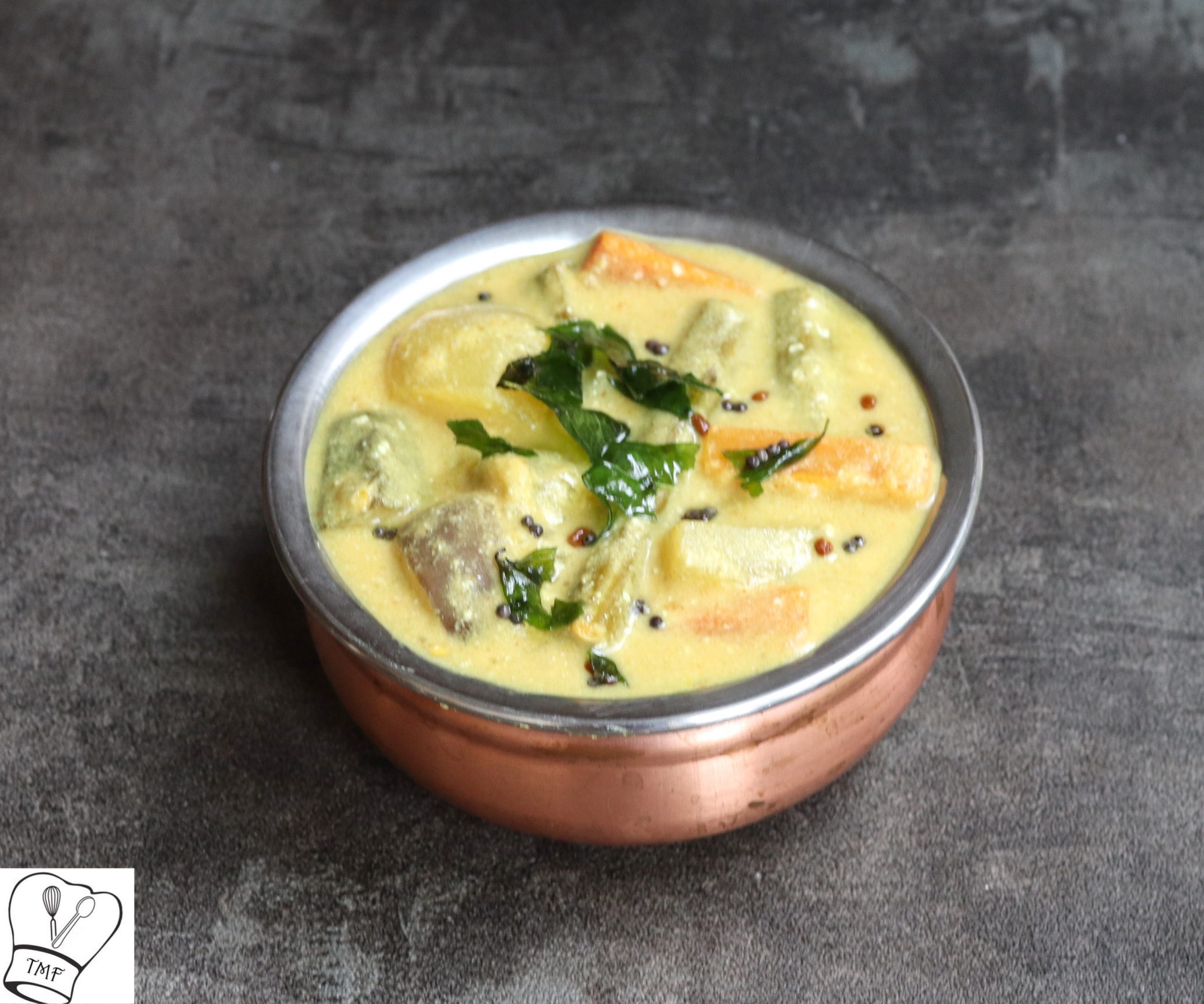 Thenga Araicha Kuzhambu | thenga Kuzhambu | Iru puli kuzhambu | iru puli kulambu | thengai aracha Kuzhambu | coconut Palakkad kuzhambu | thenga Kerala dish is a tasty South Indian rice accompaniment prepared with freshly ground coconut-based spice mixture with tamarind and curd. Kerala special Kuzhambu makes any meal extra delicious.
I love coconut, it just creates magic in any recipe.Thenga Araicha Kuzhambu is a must-try recipe for all coconut lovers. When we are busy and wanted to cook a quick rice accompaniment without dal this kulambu is the answer.
The blend of tamarind, coconut with freshly ground spices do magic in the dish, mild sourness from curd, and slight sweetness from jaggery complement the taste.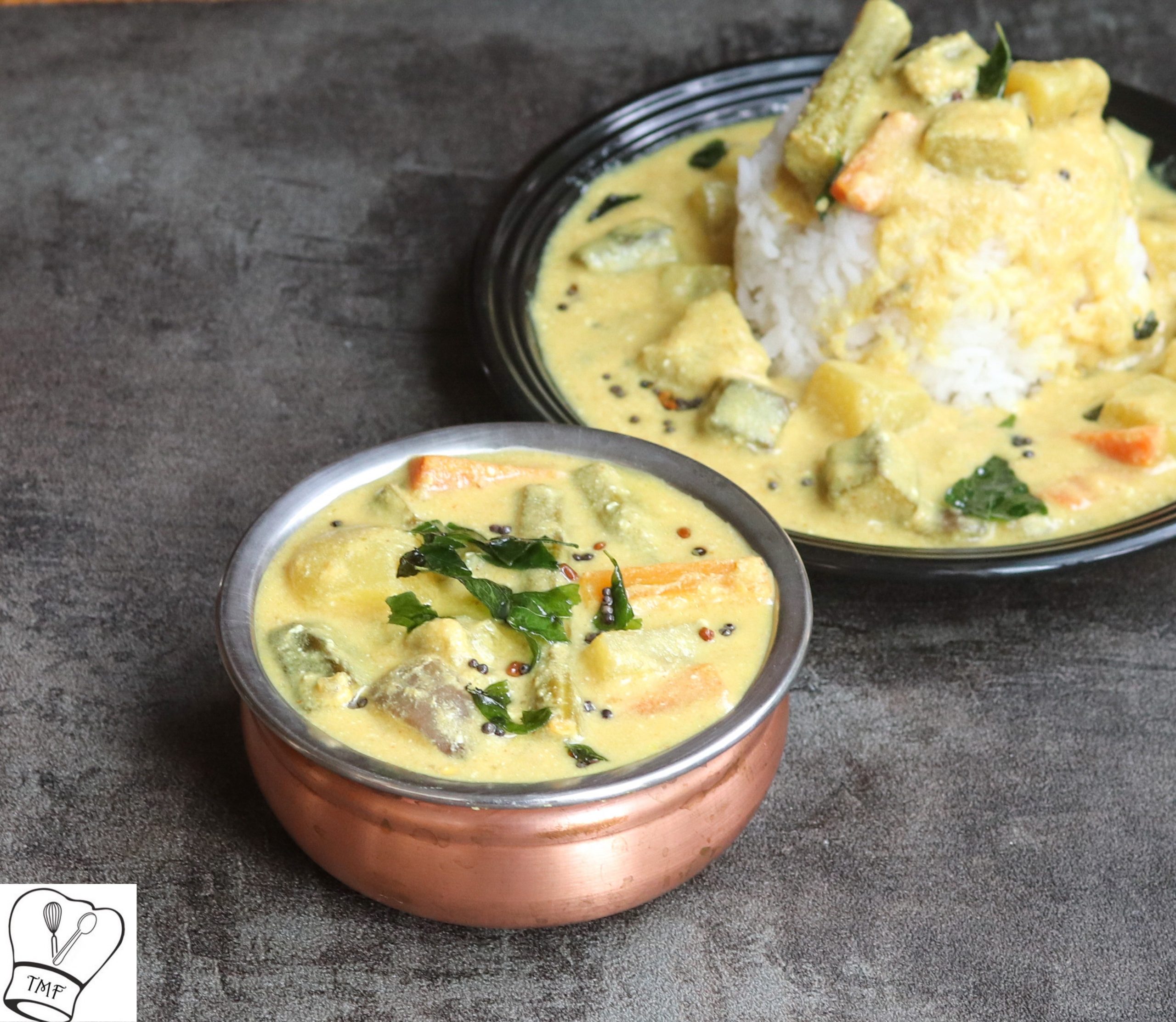 It is iru puli(sourness )kulambu because we use both curd and tamarind for sourness.
Thenga Araicha Kuzhambu (Ground Coconut Gravy) is a recipe originally from my Aunt's mom, which was passed on to me through my aunt and my mom.
Urad dal and coconut reminded Poricha kuzhambu and poricha kootu with dal but with coconut, curd, and tamarind taste so different.
This is a great accompaniment with rice, and also tastes good with any tiffin item. Being a South Indian, rice is our main food, so preparing accompaniment for rice is such a big deal.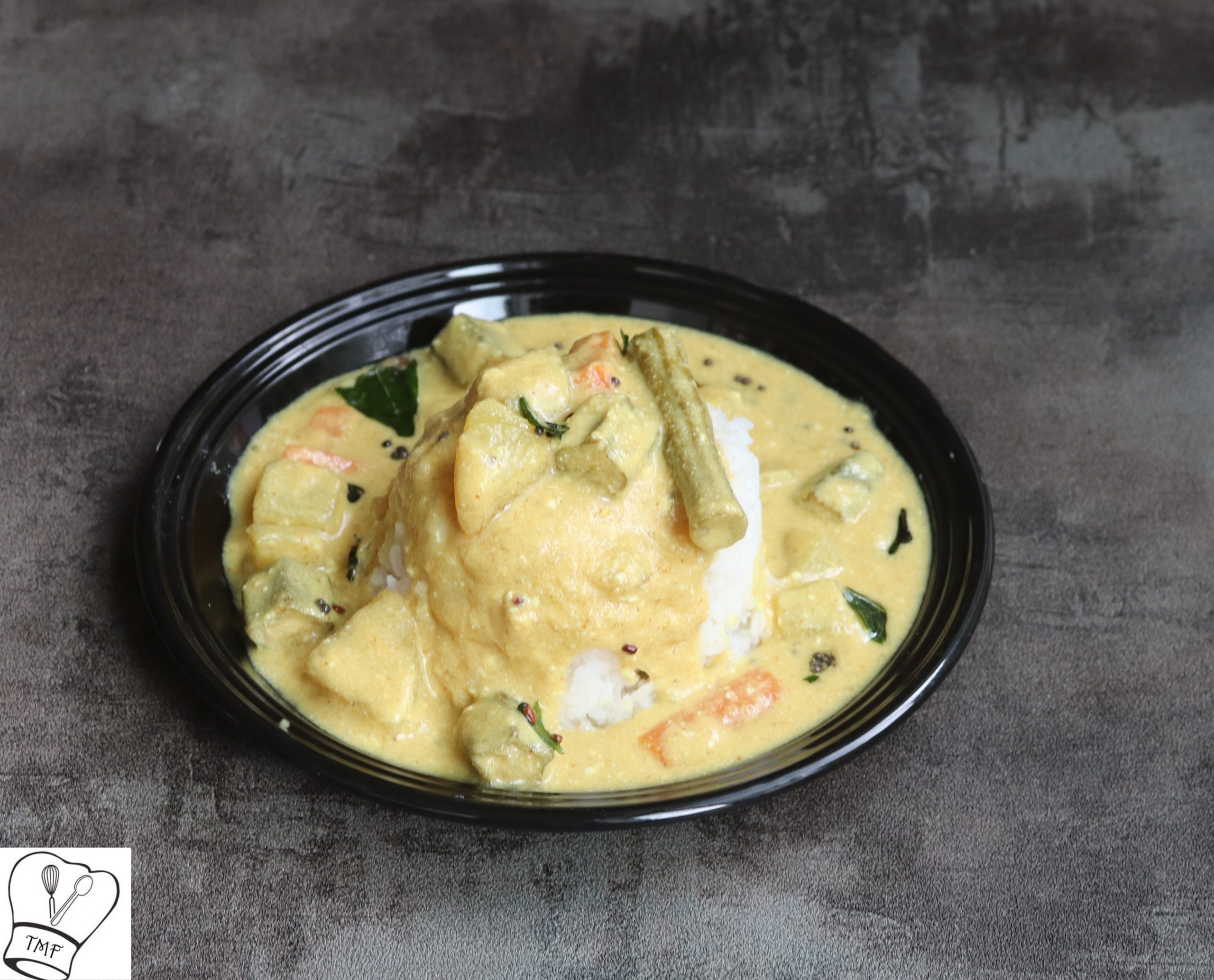 More than cooking, thinking about what to cook is a big task. Whenever I ask Hubby to give a one-word answer always - "anything", and that is something I hate to hear. Last week the same thing happened and I was thinking about what to cook, and I flipped some pages from my Amma's book so that I can get some idea. Found this Thenga Aracha Kuzhambu recipe and quickly checked my fridge to see if I had the veggies to cook this.
Do you like curd-based dishes? Try out other tasty yogurt dishes
My aunt is from Kerala she tells me this Thenga Aracha Kuzhambu is a popular dish there. I am not sure whether this is an authentic recipe but it widely appreciated in our home and I started doing it my Aunt's way.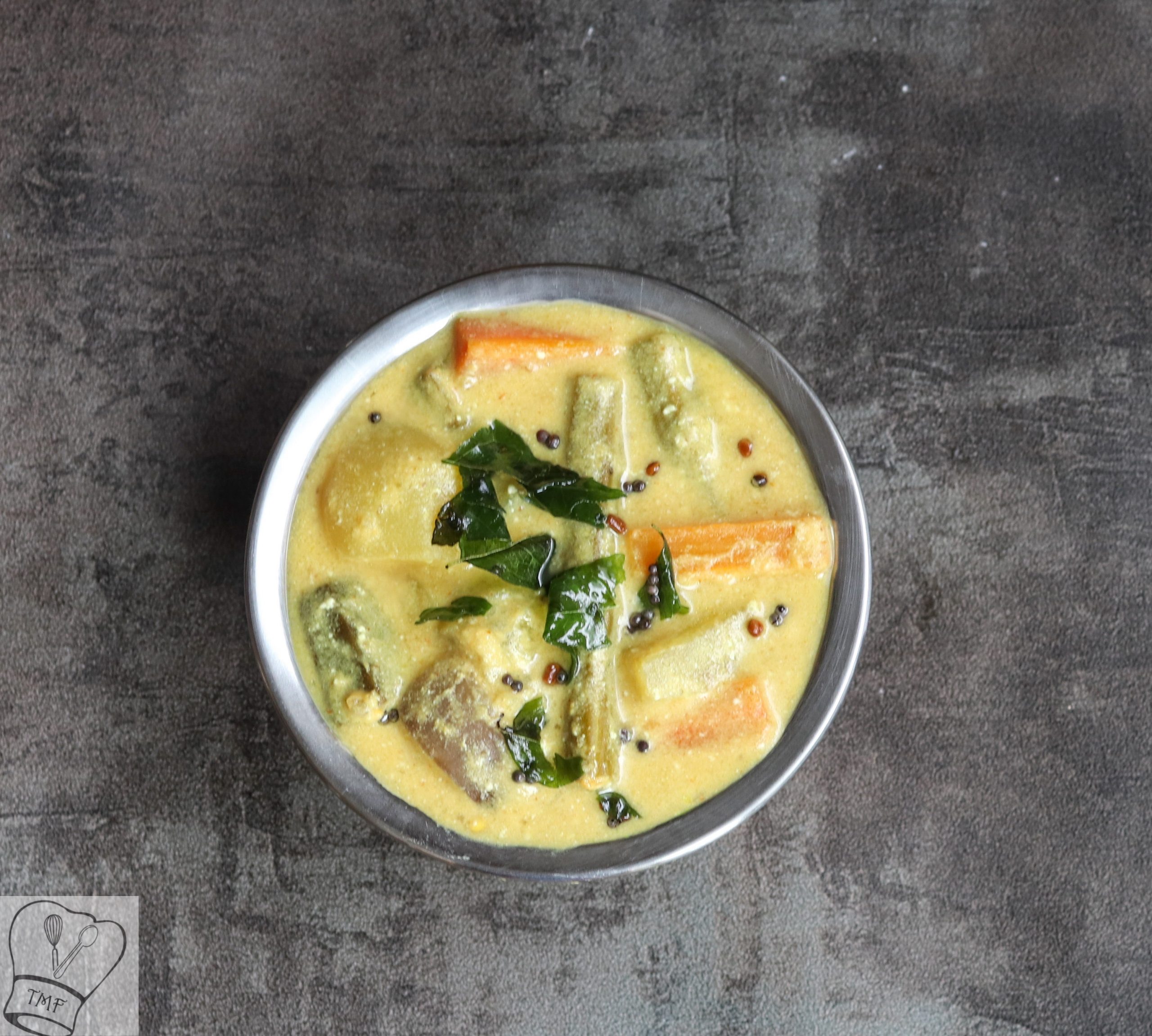 If you are interested in some tasty South Indian kuzhambu varieties in TMF,
Kuzhambu varieties with tamarind
Kuzhambu varieties without tamarind
Ingredients
Drumstick - 1

cut into finger-sized pieces

Mixed Vegetable - 2 cups

I took 1 brinjal, 1 carrot, 3 ladies finer, 1/2 chayote, and 1 potato

Tamarind - A gooseberry size ball

Turmeric Powder - ¼ tsp

Thick Curd - 1/2 cup

Salt - as needed

Jaggery – 1 tsp
For Kuzhambu masala
Urad Dal - 1 tbsp

Fenugreek seeds - 1/4 tsp

Rice - 1/4 tsp

Dried Red Chilli - 3

According to your spice level

Shredded Coconut - 3/4 cup
For Tempering
Coconut oil - 1 tablespoon + 1/4 tsp

Mustard Seeds - 1/2 tsp

Fenugreek - 1/4 tsp

Curry Leaves - few
Instructions
Soak the tamarind in warm water for 10 - 15 minutes and extract the juice from it, by adding 2 cups of water

Dry roast the urad dal,  fenugreek seeds, rice, and red chilies till it becomes golden brown. Once it comes to room temperature, add coconut and little water to make the kuzhambu masala

Add oil to the pan. When the oil is hot, add mustard seeds and fenugreek. Once it splutters, add curry leaves

After waiting for curry leaves 2-3 times add the chopped vegetables, turmeric powder and saute for 3-4 mins

Pour a cup of water, cover and cook till the veggies are 3/4th cooked

Add tamarind extract and salt. Cook till raw tamarind smell goes and vegetables are cooked

Add the ground paste and water; cook for 4-5 minutes

Add jaggery and mix well

Take the curd in a small bowl and mix well. Add the curd and simmer

Cook for a minute in low flame

Add coconut oil and mix well. finally, add the tempering and switch off
Video
Notes
Any veggies of choice can be used for kuzhambu
For quick kuzhambu add Vegetables in a separator and pressure cook for 1 whistle
Adjust the tamarind according to the sourness
After adding curd do not cook the kuzhambu for longer time

Ingredients:
Drumstick - 1, cut into finger-sized pieces
Mixed Vegetable - 2 cups (I took 1 brinjal, 1 carrot, 3 ladies finer, 1/2 chayote, and 1 potato)
Tamarind - A gooseberry size ball
Turmeric Powder - ¼ tsp
Thick Curd - 1/2 cup
Salt - as needed
Jaggery – 1 tsp
For Kuzhambu masala
Urad Dal - 1 tbsp
Fenugreek seeds - 1/4 tsp
Rice - 1/4 tsp
Dried Red Chilli - 3(According to your spice level)
Shredded Coconut - 3/4 cup
For Tempering
Coconut oil - 1 tablespoon + 1/4 tsp
Mustard Seeds - 1/2 tsp
Fenugreek - 1/4 tsp
Curry Leaves - few
how to make thenga aracha kuzhambu with step by step pictures
Soak the tamarind in warm water for 10 - 15 minutes and extract the juice from it, by adding 2 cups of water
Dry roast the urad dal, fenugreek seeds, rice, and red chilies till it becomes golden brown. Once it comes to room temperature, add coconut and little water to make the kuzhambu masala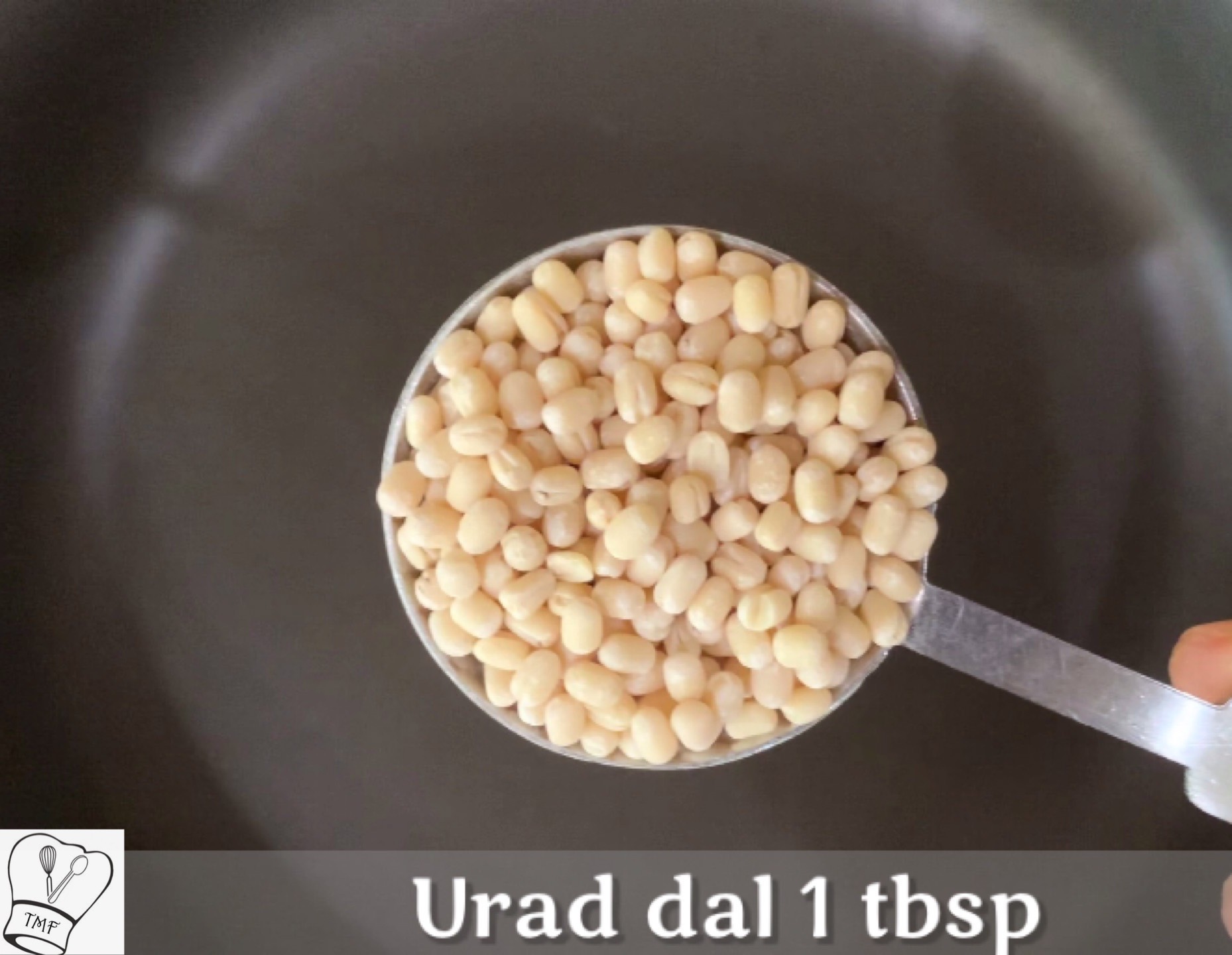 Add oil to the pan. When the oil is hot, add mustard seeds and fenugreek. Once it splutters, add curry leaves
After waiting for curry leaves 2-3 times add the chopped vegetables, turmeric powder and saute for 3-4 mins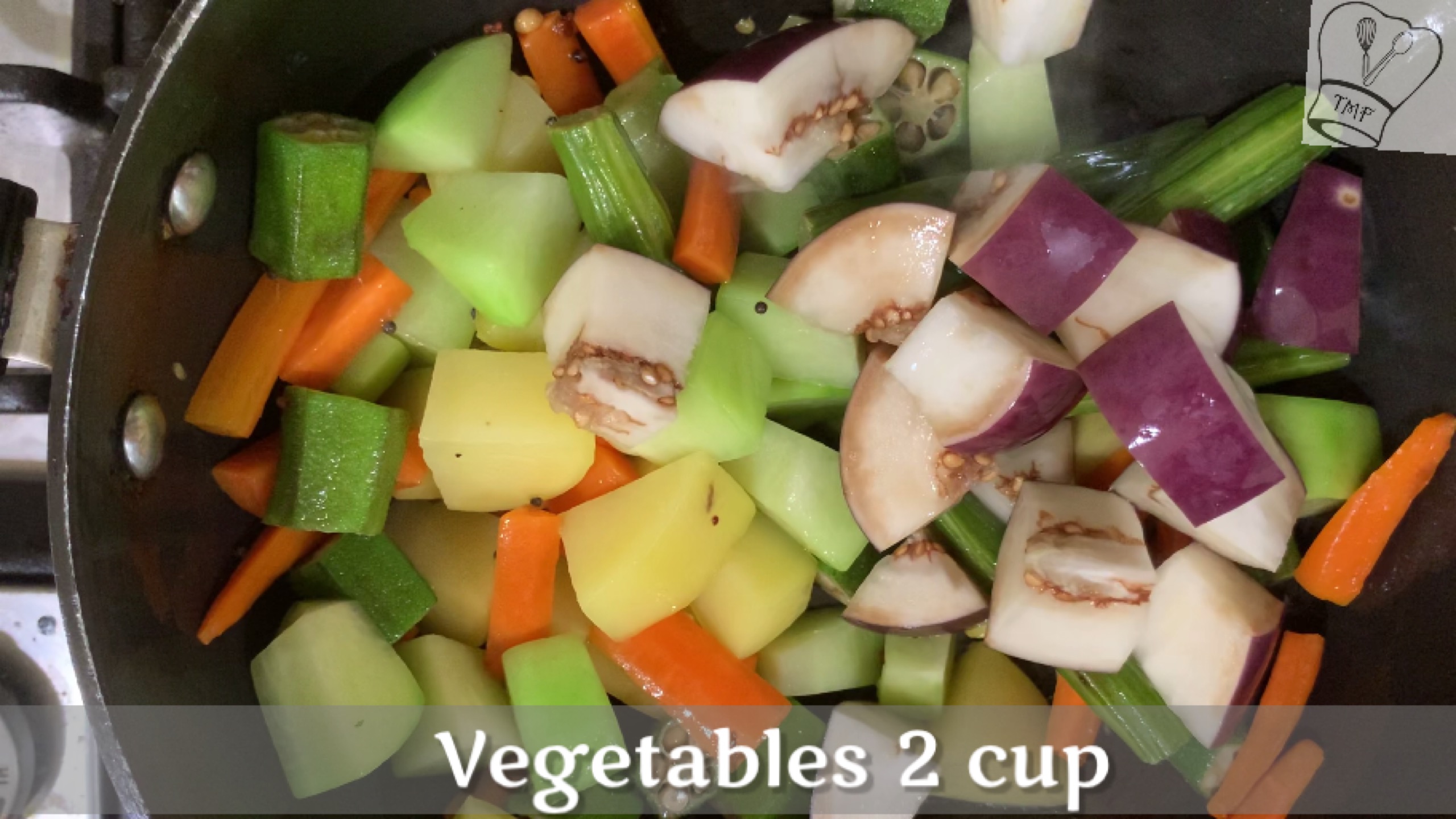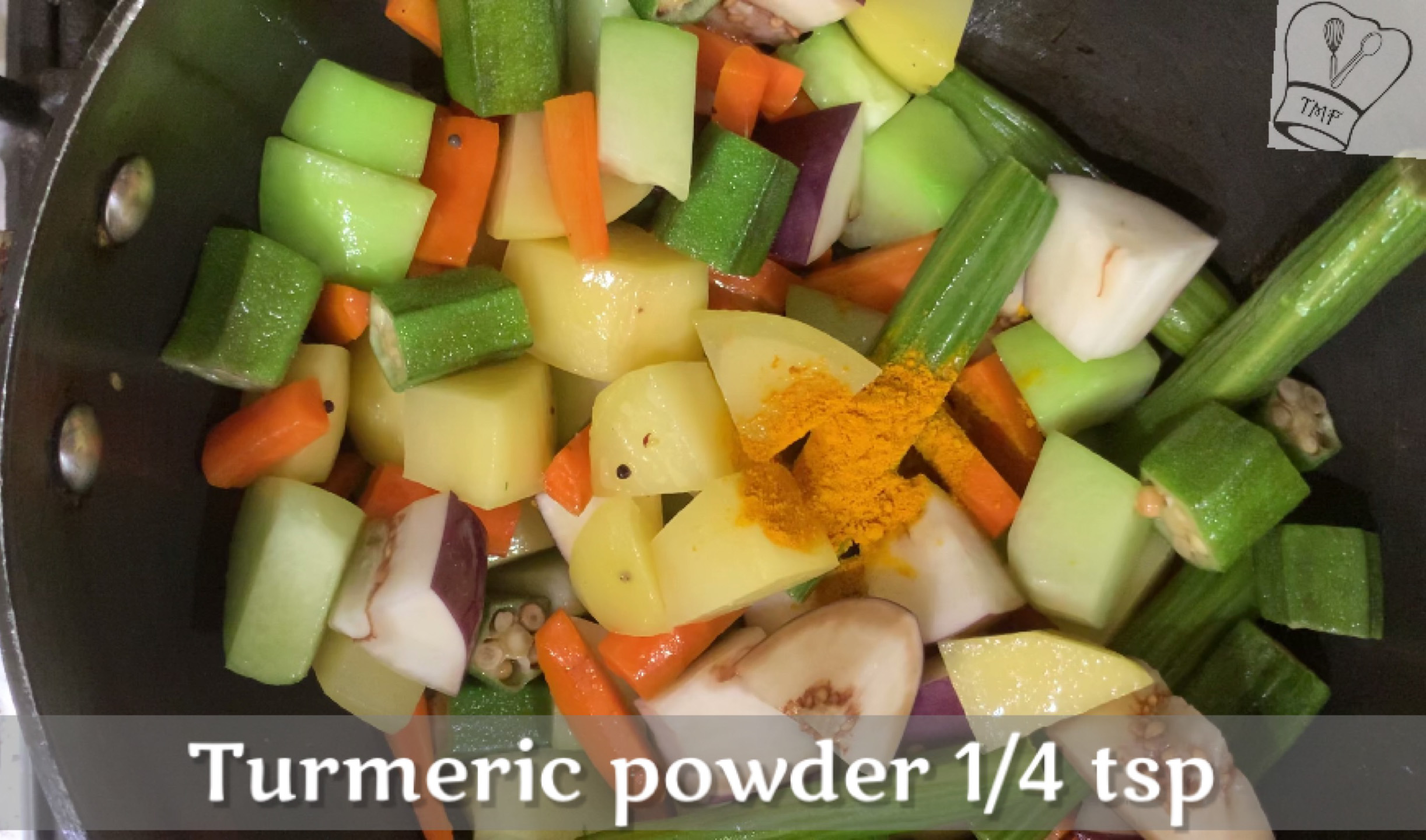 Pour a cup of water, cover and cook till the veggies are 3/4th cooked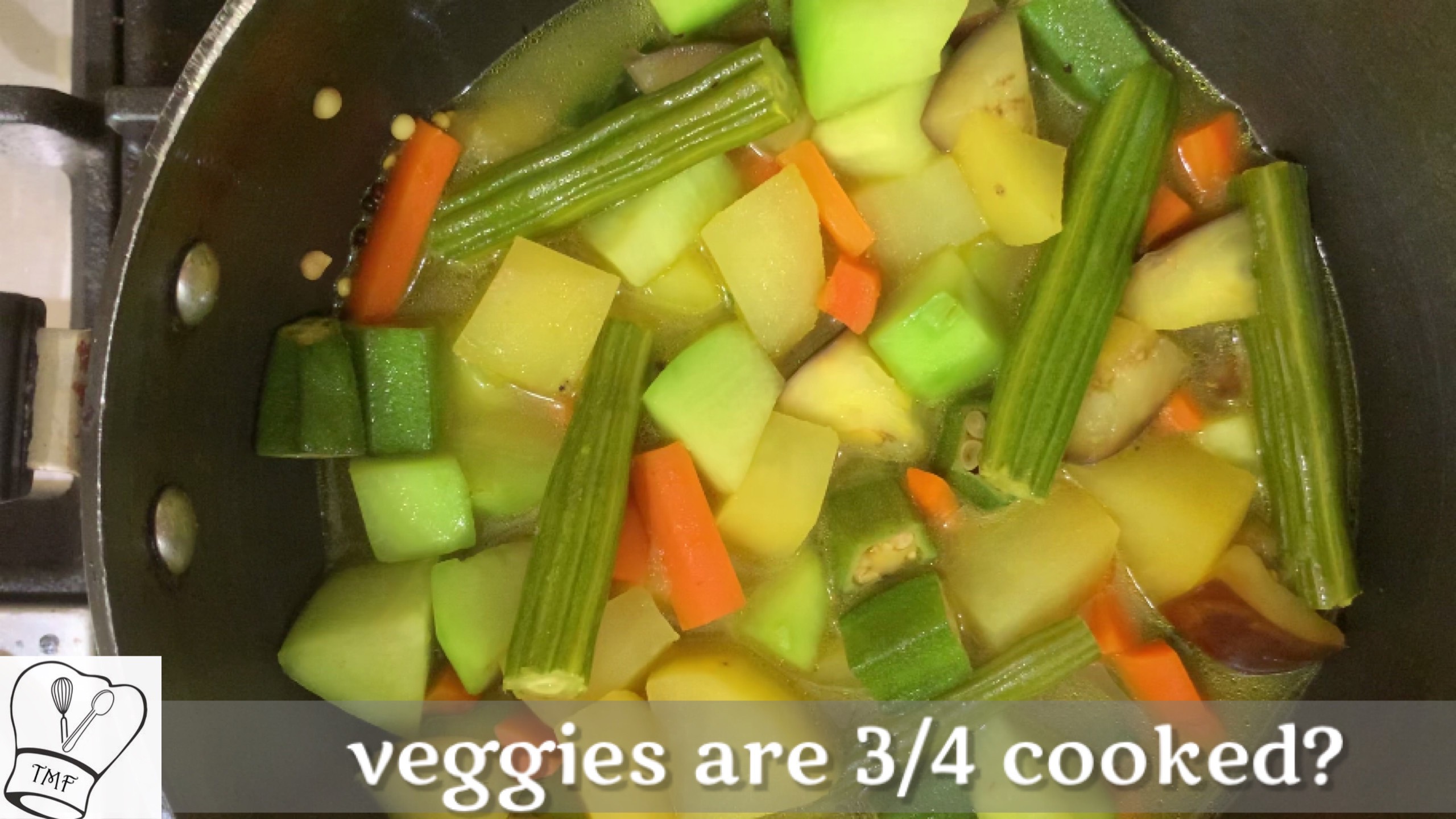 Add tamarind extract and salt. Cook till raw tamarind smell goes and vegetables are cooked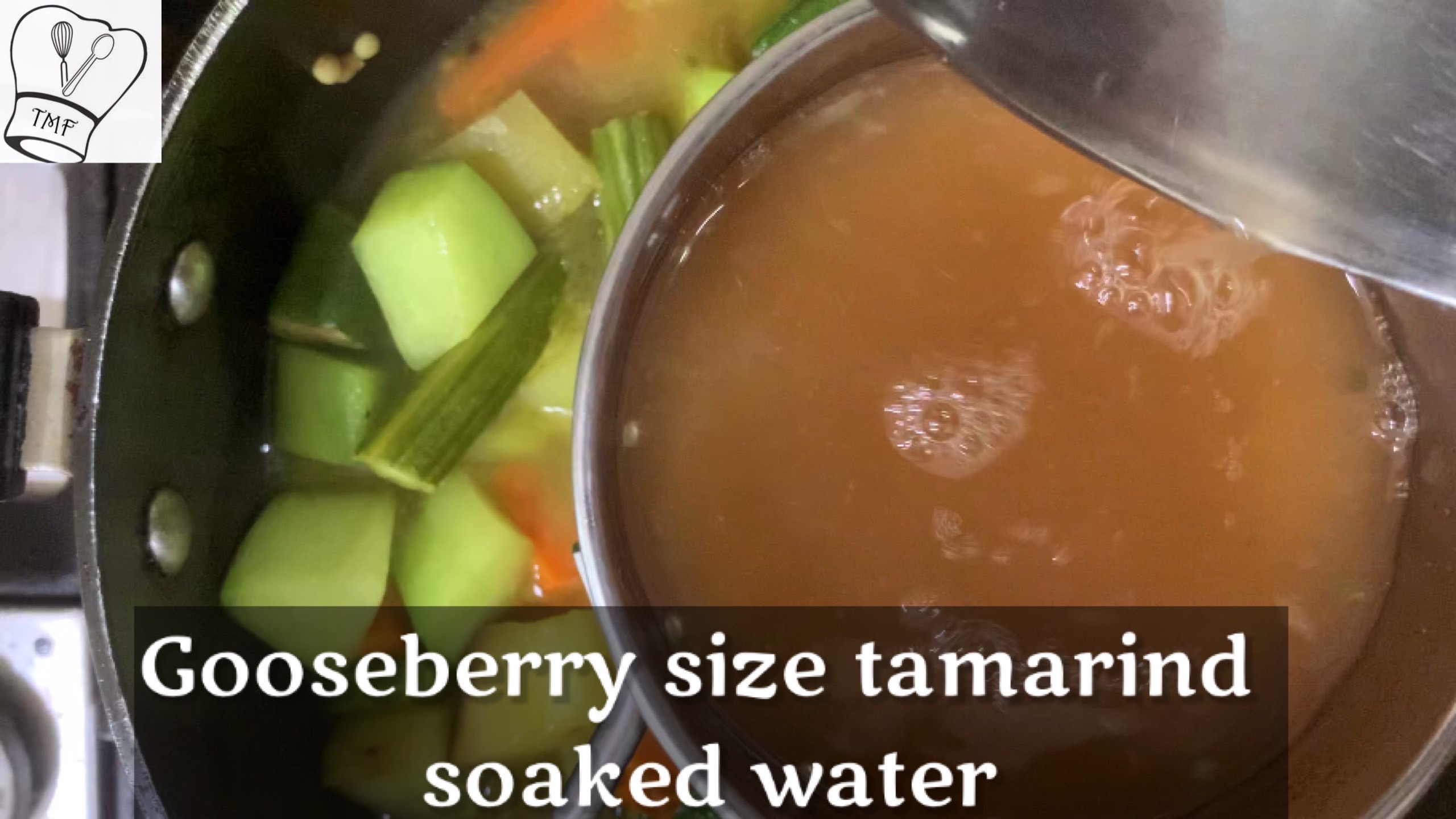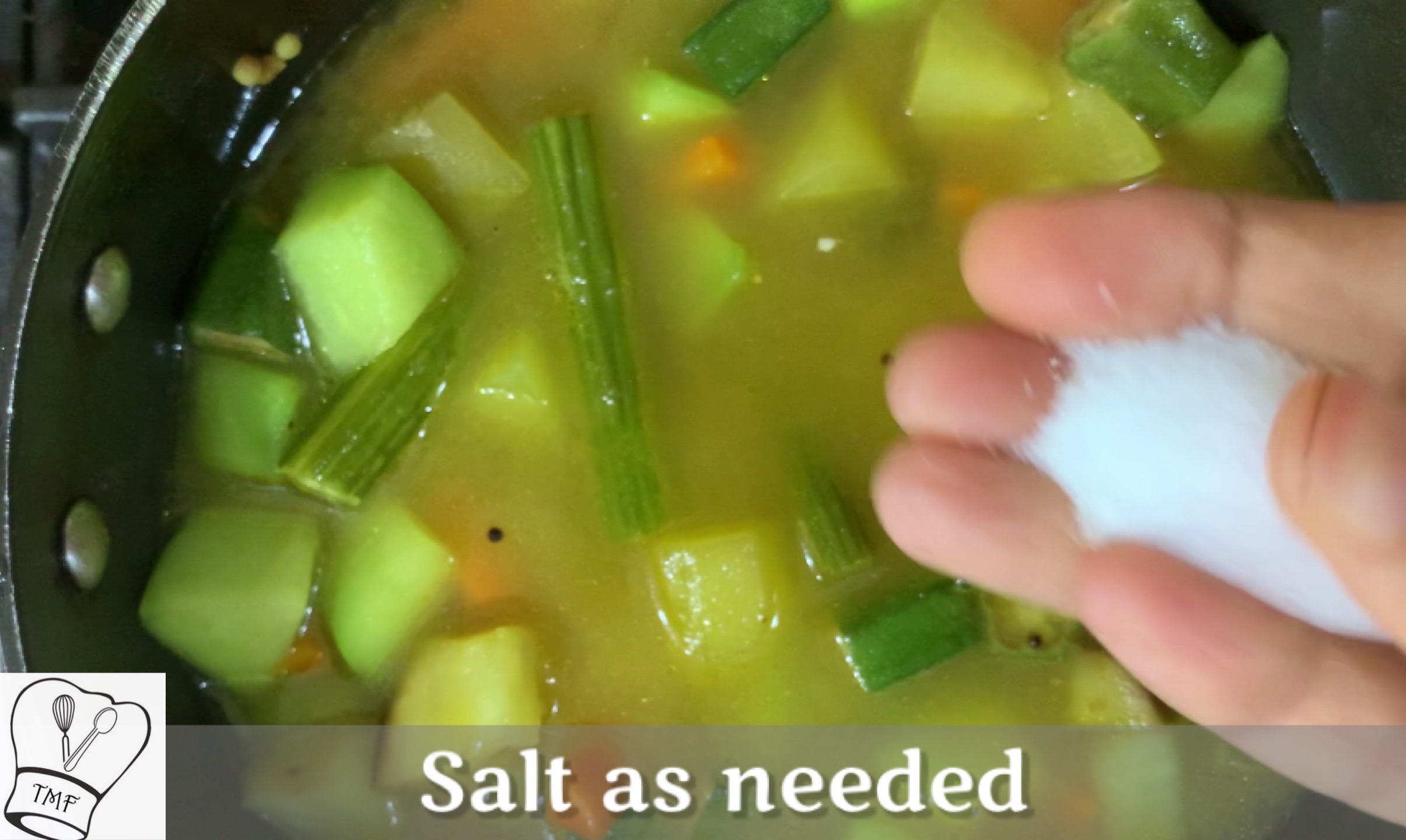 Add the ground paste and water; cook for 4-5 minutes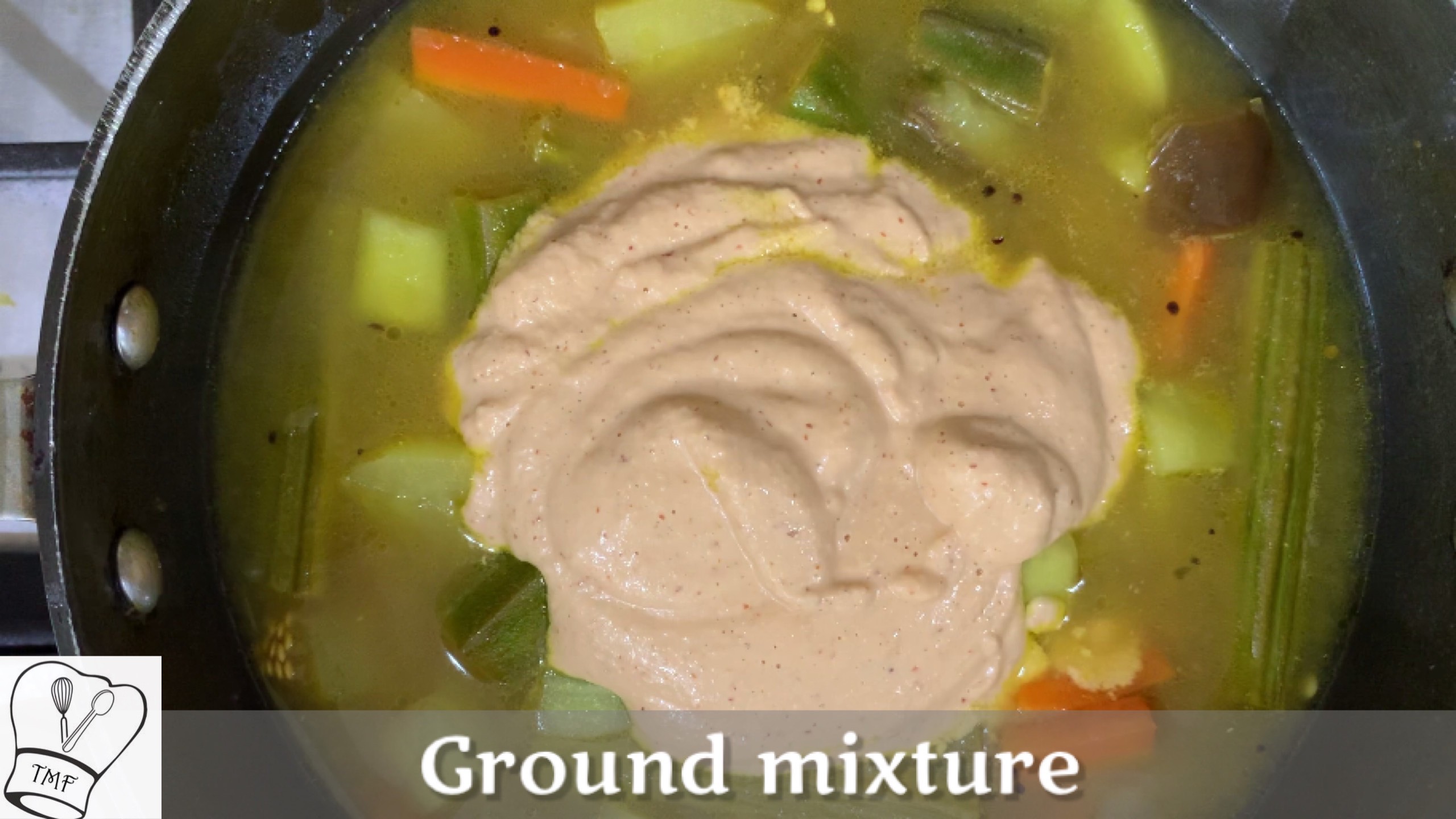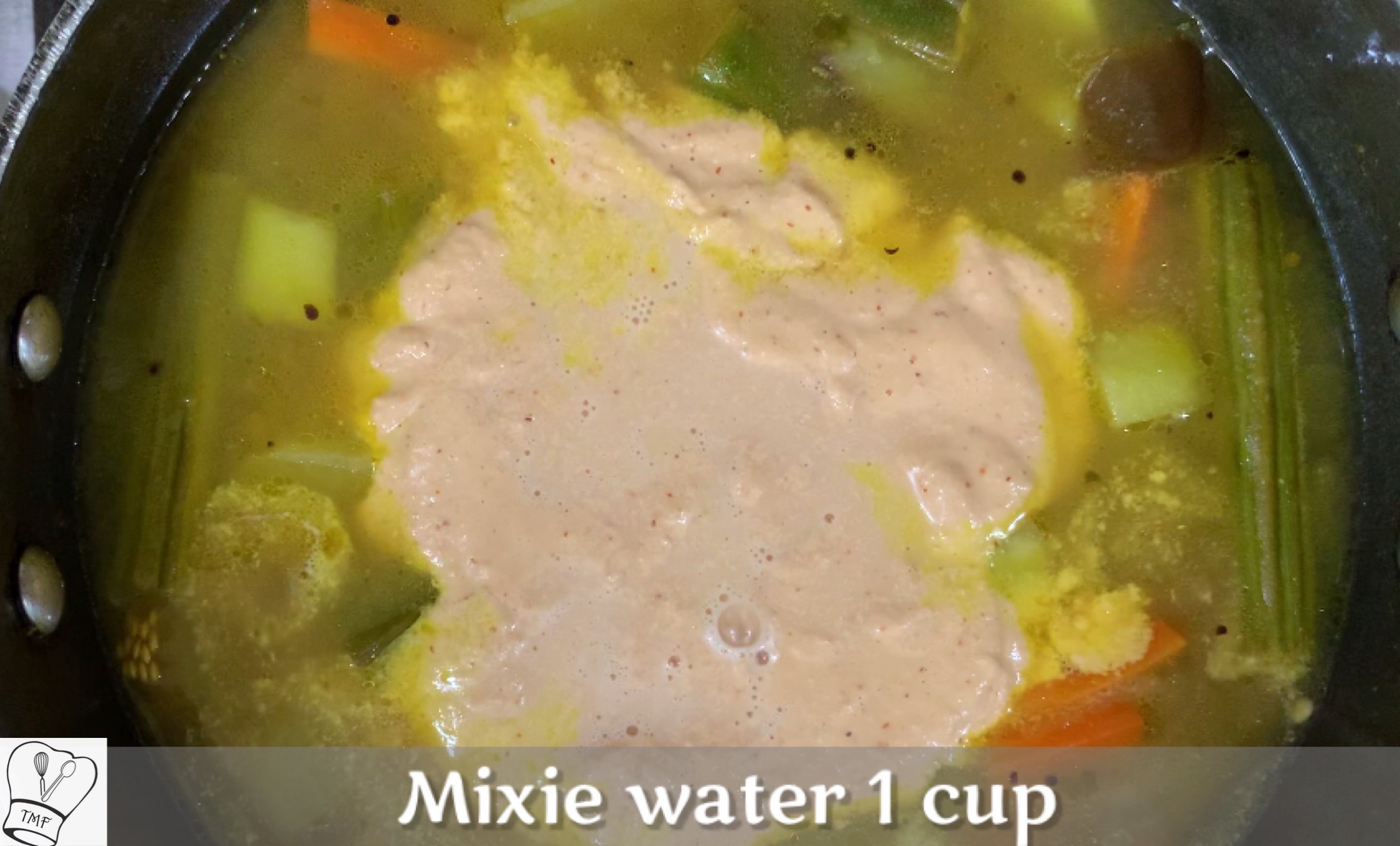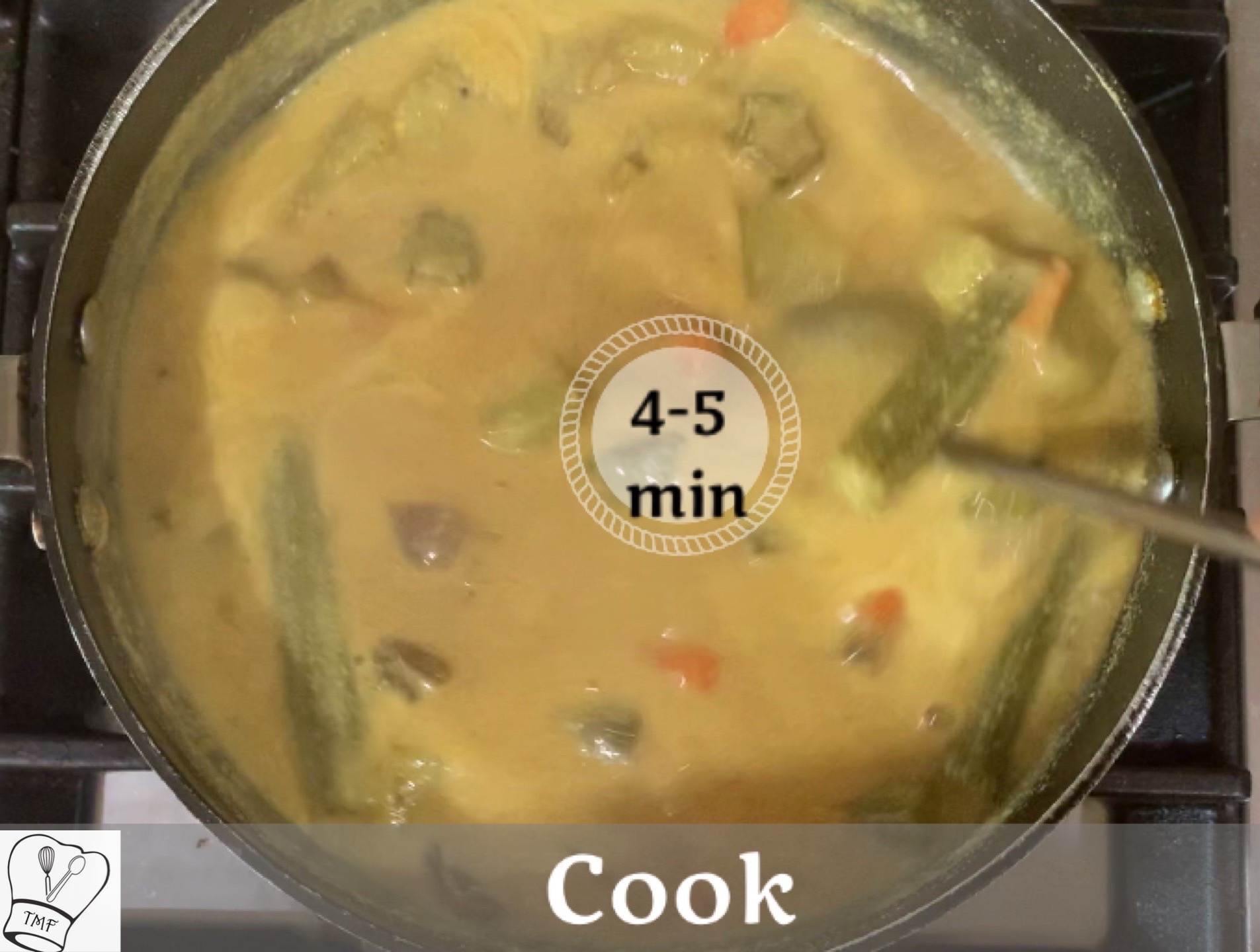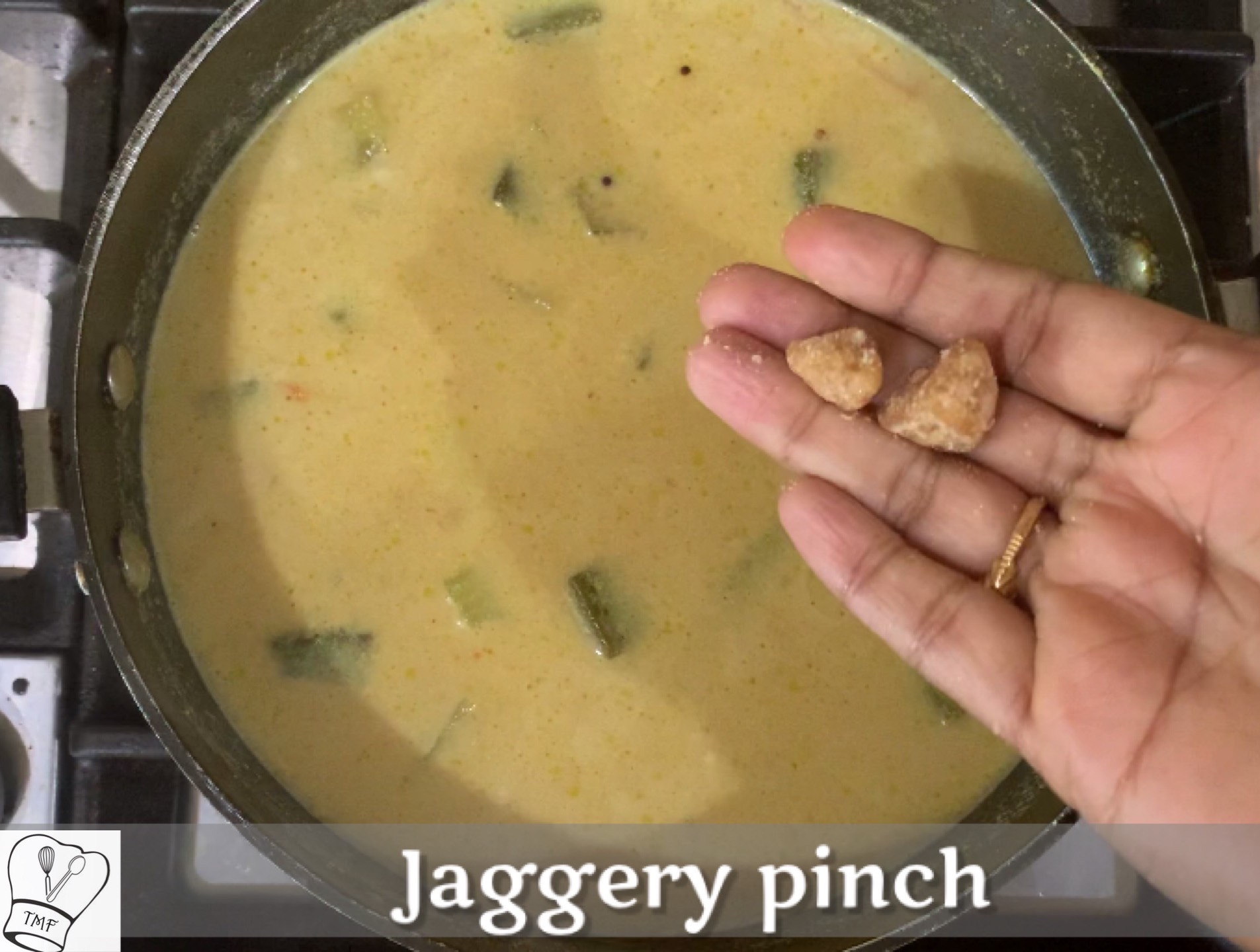 Take the curd in a small bowl and mix well. Add the curd and simmer
Cook for a minute in low flame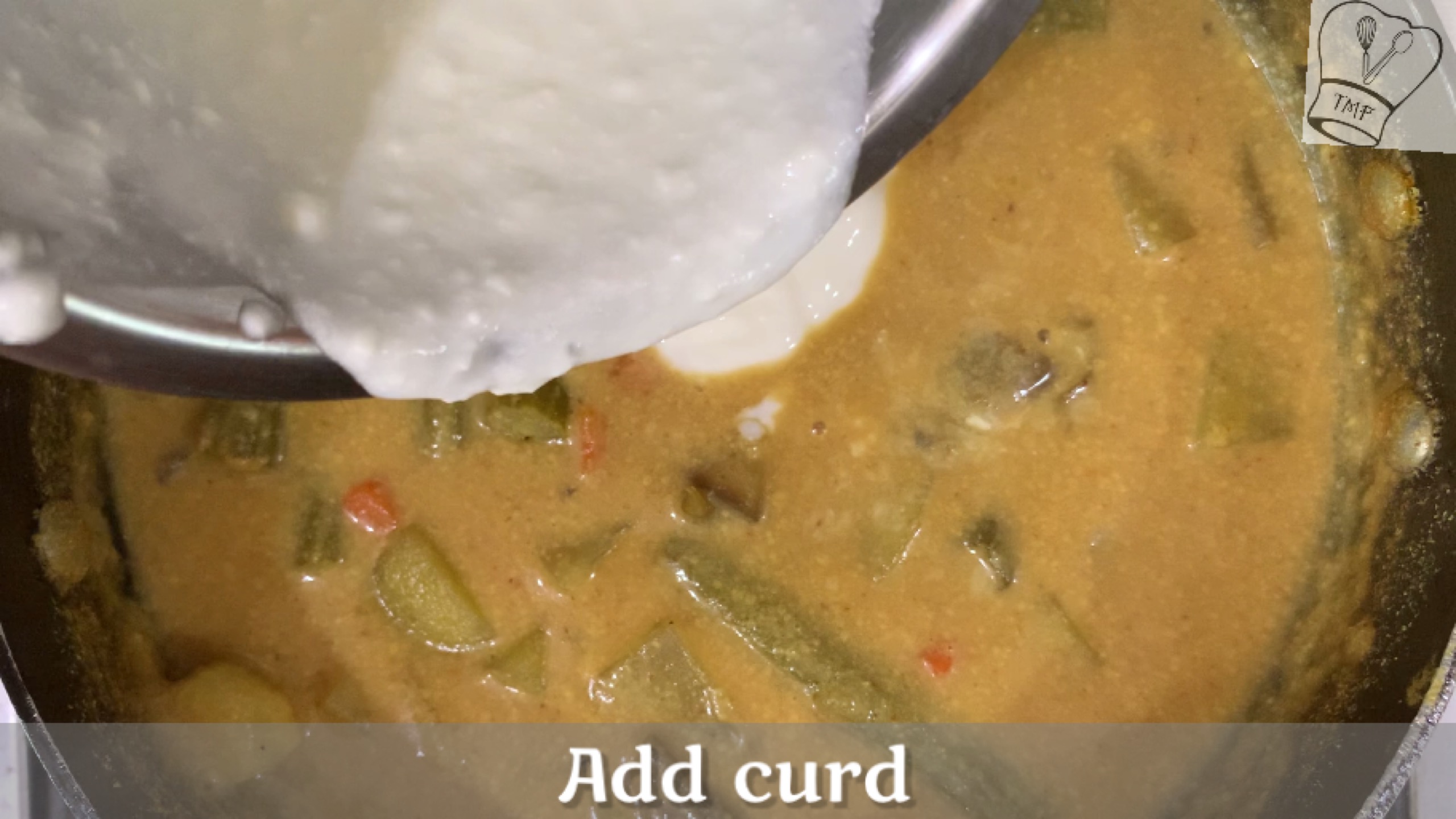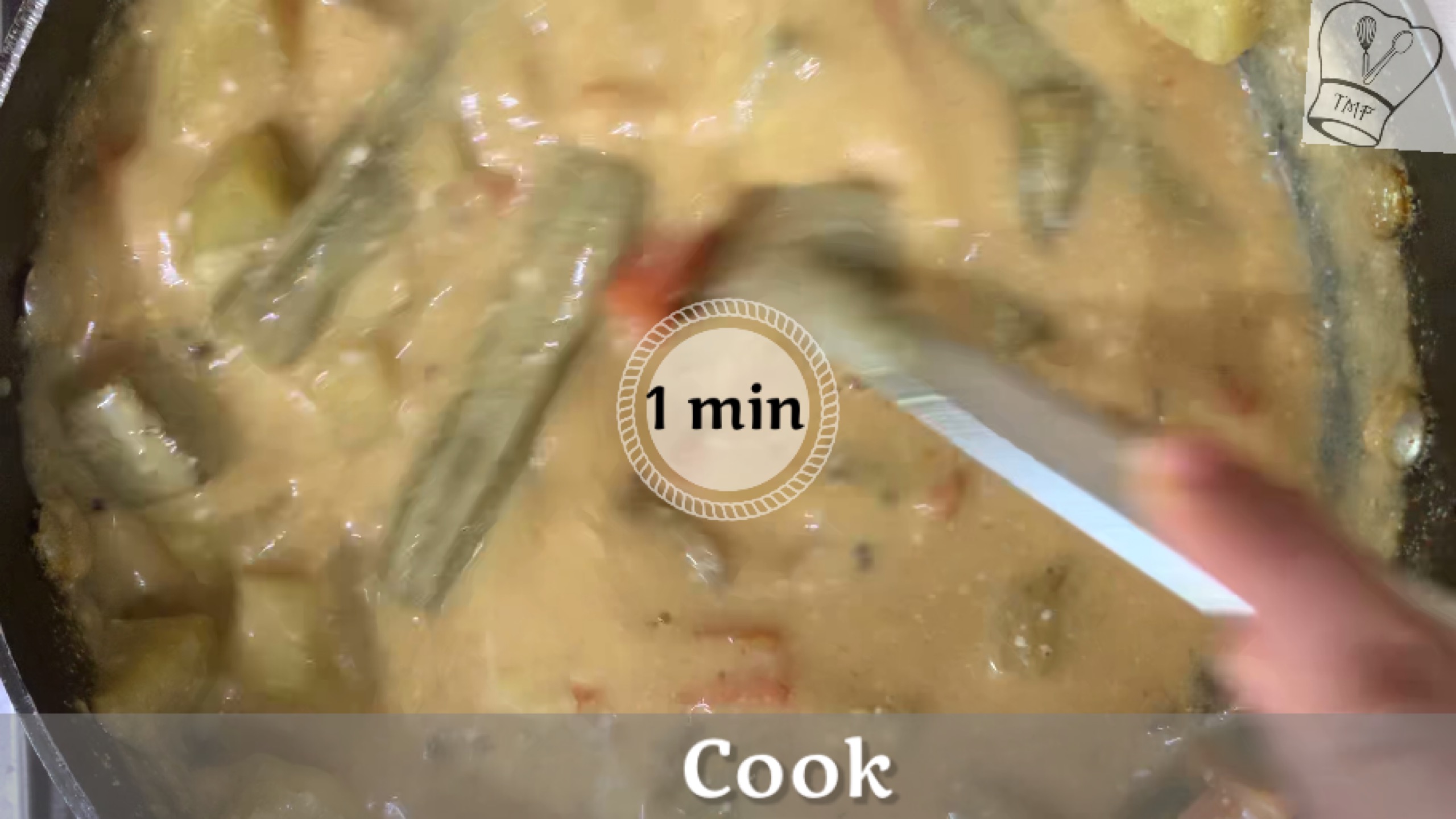 Add coconut oil and mix well. finally, add the tempering and switch off