Paruppu Urundai Mor Kuzhambu | Urundai kuzhambu | Urundai mor kulambu | mor kuzhambu recipe with step by step pictures and video recipe. Check out the urundai Mor Kuzhambu recipe. If you like the video pls SUBSCRIBE to my channel.
is a traditional South Indian Kuzhambu variety. Kulambu is prepared with lentil balls soaked in buttermilk.
When you resume blogging around Diwali time the feed is full of Diwali special preparation - for a sweet tooth person like me it is all sweets. I still have lot of special Diwali special preparation pending to post. Instead of posting all sweets, I thought of giving a break for sweets and start posting some everyday cooking recipes.
Growing up Amma frequently makes Paruppu Urundai Mor Kuzhambu without onion/garlic. As I mentioned in my Paruppu Urundai Kara Kuzhambu post somehow my neighbor Aunty's tamarind-based Kuzhambu became our favorite and I had almost forgotten how to make this Mor Kuzhambu.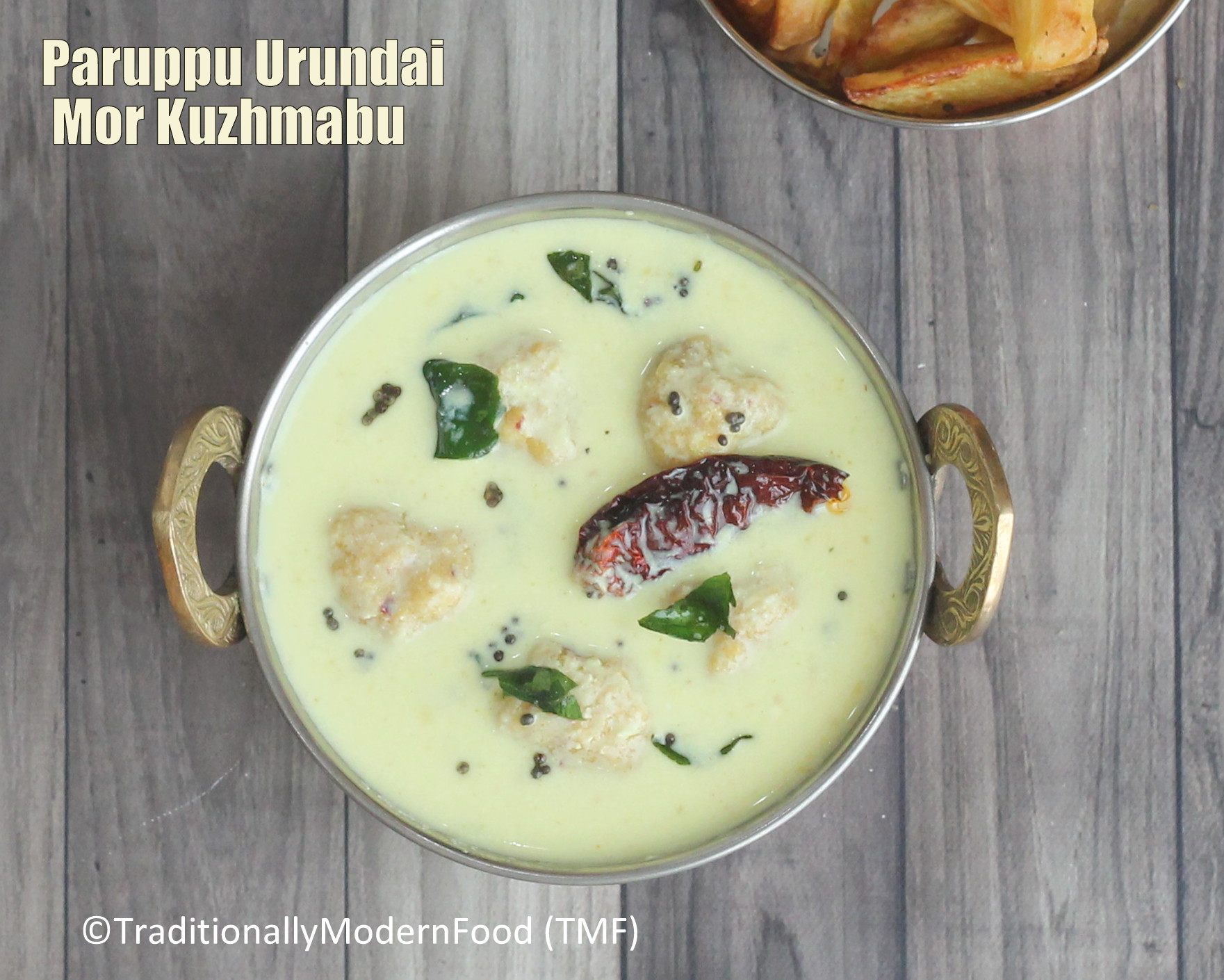 My sister got married recently and during our India trip Amma was writing recipes for her. Me and my sister where discussing about all childhood favorite dishes and this Kuzhambu came in the topic. Here it is in TMF😊
I usually do Urundai Kuzhambu on weekends because I assume it is time consuming and also can have a leisure food on weekends. Recently I realized if planned well Paruppu Urundai Mor Kuzhambu can be prepared with in 30 minutes. Yes you heard me right. For soaking you might need extra time but for cooking and putting everything together, this buttermilk based lentil ball kulambu can be prepared in Half an hour.
Kuzhambu varieties with tamarind
Kuzhambu varieties without tamarind
When it comes to lentil balls there are many versions- toor Dal/ Channa Dal. I generally prefer adding more toor Dal and less Channa Dal.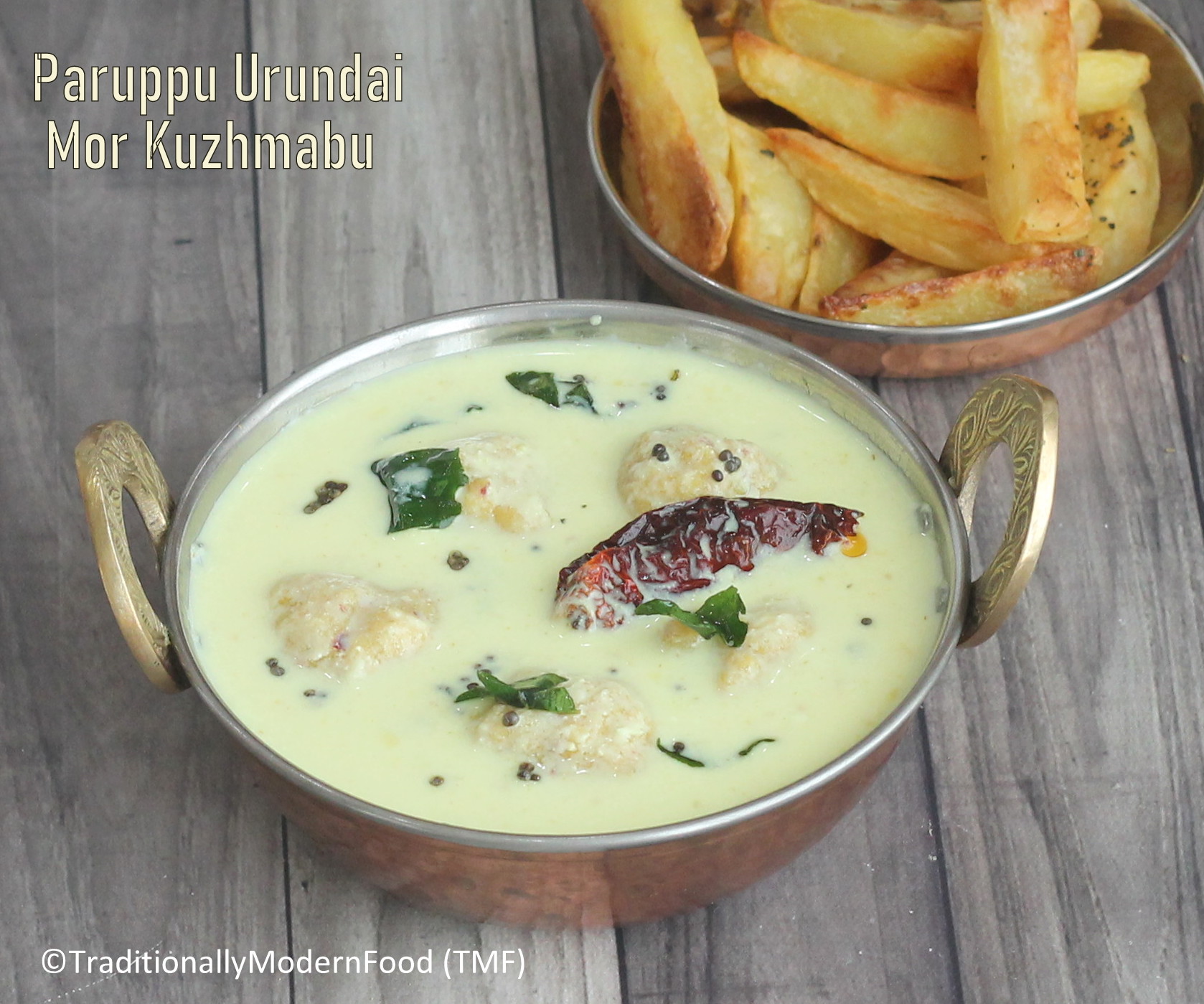 Sauting the lentil mixture gives a nice soft Urundai Kuzhambu. Kuzhambu tasted yummy with Vazhakkai podi curry, Arbi curry, potato.
Checkout other mor Kuzhambu varieties in TMF.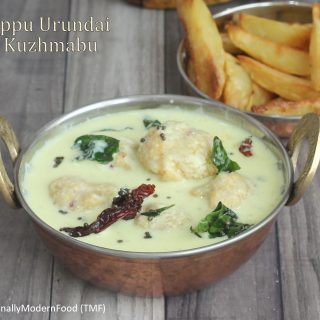 Ingredients
Urundai:
Toor Dal -1/3 cup

Channa Dal - 2 tbsp

Turmeric powder - 1/8 tsp

Red Chillies - 1

hing - generous pinch

Salt - as needed

Water - little

Coconut oil - 1/2 tbsp
Kuzhambu:
Thick curd - 1 cup + 1/2 cup

Water - 1 cup

Turmeric powder - 1/4 tsp

Coconut - 1/3 cup

Ginger - 1 tsp

Cumin seeds - 1 tsp

Green Chilli - 2

Rice flour - 1/2 tsp
To temper:
Coconut oil - 1/2 tbsp

Mustard seeds - 1 tsp

Red Chilli - 2

Curry leaves - few
Instructions
In a bowl add toor Dal, channa dal and red Chilli. Soak atleast for 2 hour

Strain the water. Add salt and hing to dal mixture and grind it into coarse mixture. If required sprinkle very little water

In a pan add coconut oil and the oil is hot add mustard seeds, curry leaves, red Chilli and do the tempering. Add hing and switch off. Transfer it to the small bowl

The same pan add coconut oil, ground mixture and turmeric powder. Cook in low flame for a minute or until it become to the right consistency to make balls. Switch off and let it cool down

In the mean time add coconut, green chili, cumin seeds, ginger and little water to a mix me jar and grind it

Add thick curd, water, salt, rice flour and turmeric powder to the mixie jar and grind it once

Make small Urundai with the lentil mixture. Grease the idli thattu with little oil and place the Urundai

Steam the Urundai for 5-6 minutes and let it cool down

Add the buttermilk mixture, cooked Urundai into the pan and boil in low flame for 3-4 minutes or let's it bubbles up and starts boiling

Switch off and add the tempering
Video
Notes
Instead of Channa Dal Toor dal combo can make Urundai with all Channa Dal/ toor Dal combo
Adjust the water according to the consistency you prefer the Kuzhambu
sauting Dal mixture is optional but that gives a nice texture to the Kuzhambu
Cook Kuzhambu in a wide pan so that while boiling the Urundai is well immersed in Kuzhambu
Make the ball without giving much pressure else the Kuzhambu won't get absorbed in the balls
Ingredients:
Urundai:
Toor Dal -1/3 cup
Channa Dal - 2 tbsp
Turmeric powder - 1/8 tsp
Red Chillies - 1
hing - generous pinch
Salt - as needed
Water - little
Coconut oil - 1/2 tbsp
Kuzhambu:
Thick curd - 1 cup + 1/2 cup
Water - 1 cup
Turmeric powder - 1/4 tsp
Coconut - 1/3 cup
Ginger - 1 tsp
Cumin seeds - 1 tsp
Green Chilli - 2
Rice flour - 1/2 tsp
To temper:
Coconut oil - 1/2 tbsp
Mustard seeds - 1 tsp
Red Chilli - 2
Curry leaves - few
Method:
In a bowl add toor Dal, channa dal and red Chilli. Soak atleast for 2 hours
Strain the water. Add salt and hing to dal mixture and grind it into coarse mixture. If required sprinkle very little water

In a pan add coconut oil and when the oil is hot add mustard seeds, curry leaves, red Chilli and do the tempering. Add hing and switch off. Transfer it to the small bowl
The same pan add coconut oil, ground mixture and turmeric powder. Cook in low flame for a minute or until it become to the right consistency to make balls. Switch off and let it cool down
In the mean time add coconut, green chili, cumin seeds, ginger and little water to a mix me jar and grind it
Add thick curd, water, salt, rice flour and turmeric powder to the mixie jar and grind it once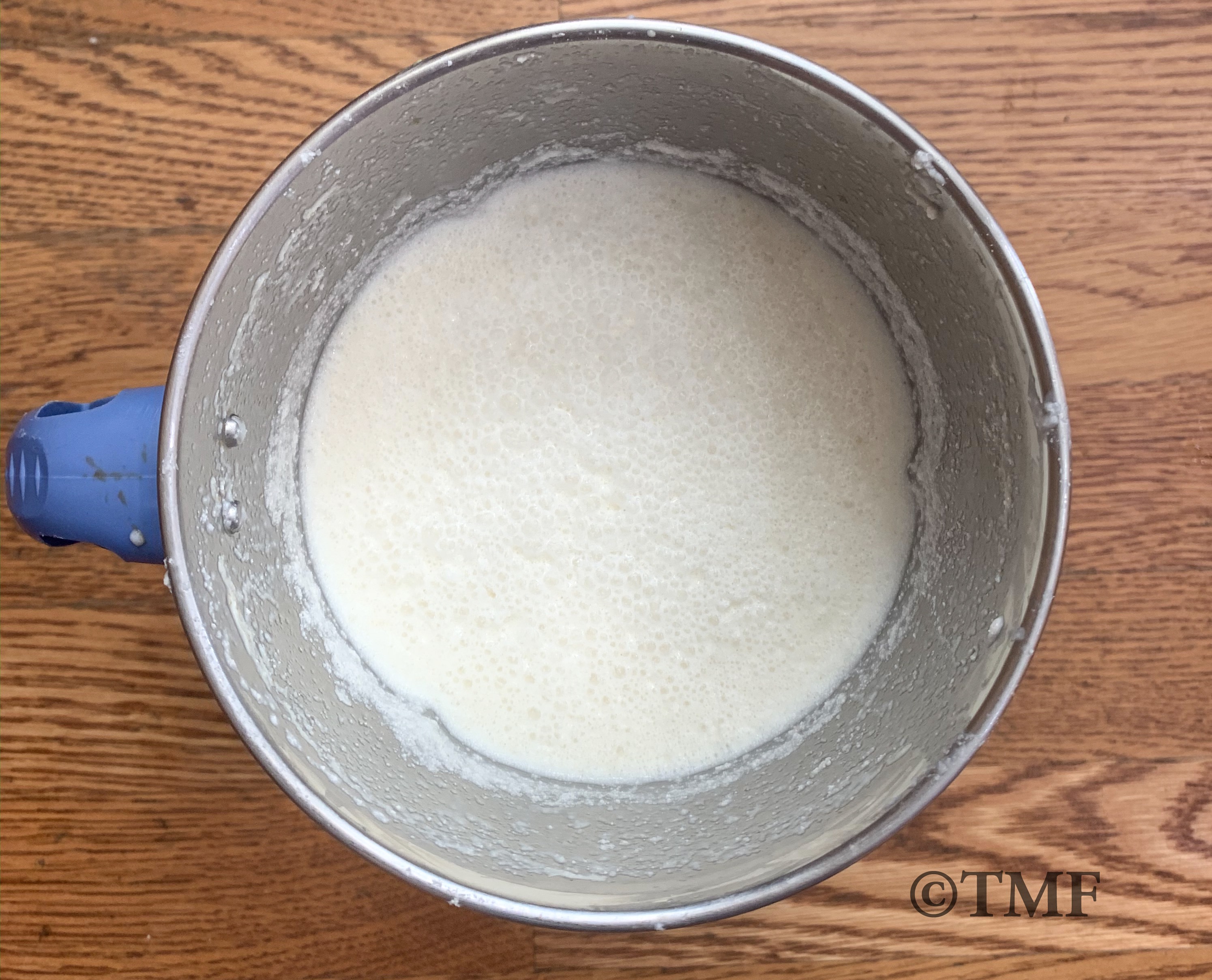 Make small Urundai with the lentil mixture. Grease the idli thattu with little oil and place the Urundai
Steam the Urundai for 5-6 minutes and let it cool down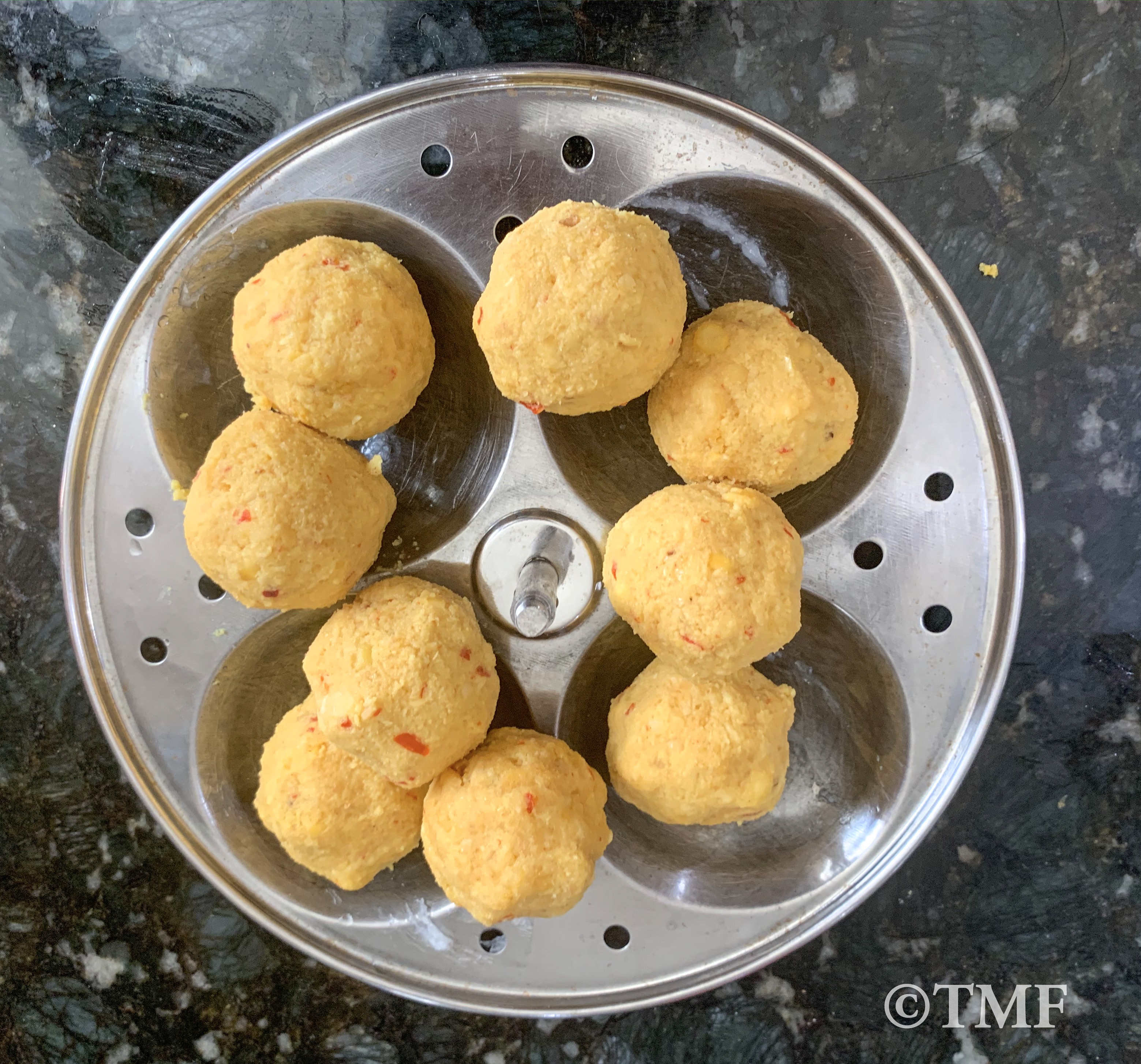 Add the buttermilk mixture, cooked Urundai into the pan and boil in low flame for 3-4 minutes or

let's it bubbles up and starts boiling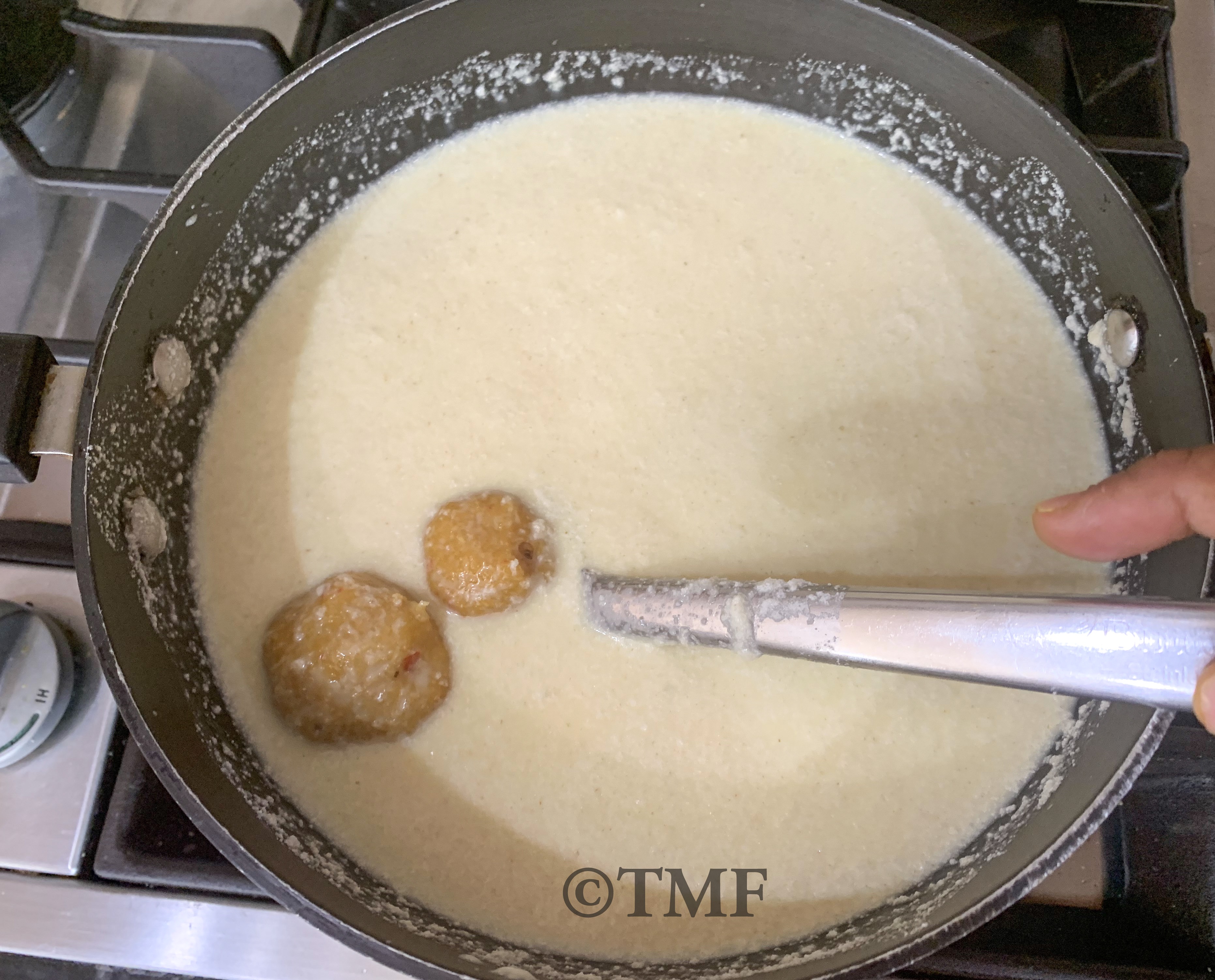 Switch off and add the tempering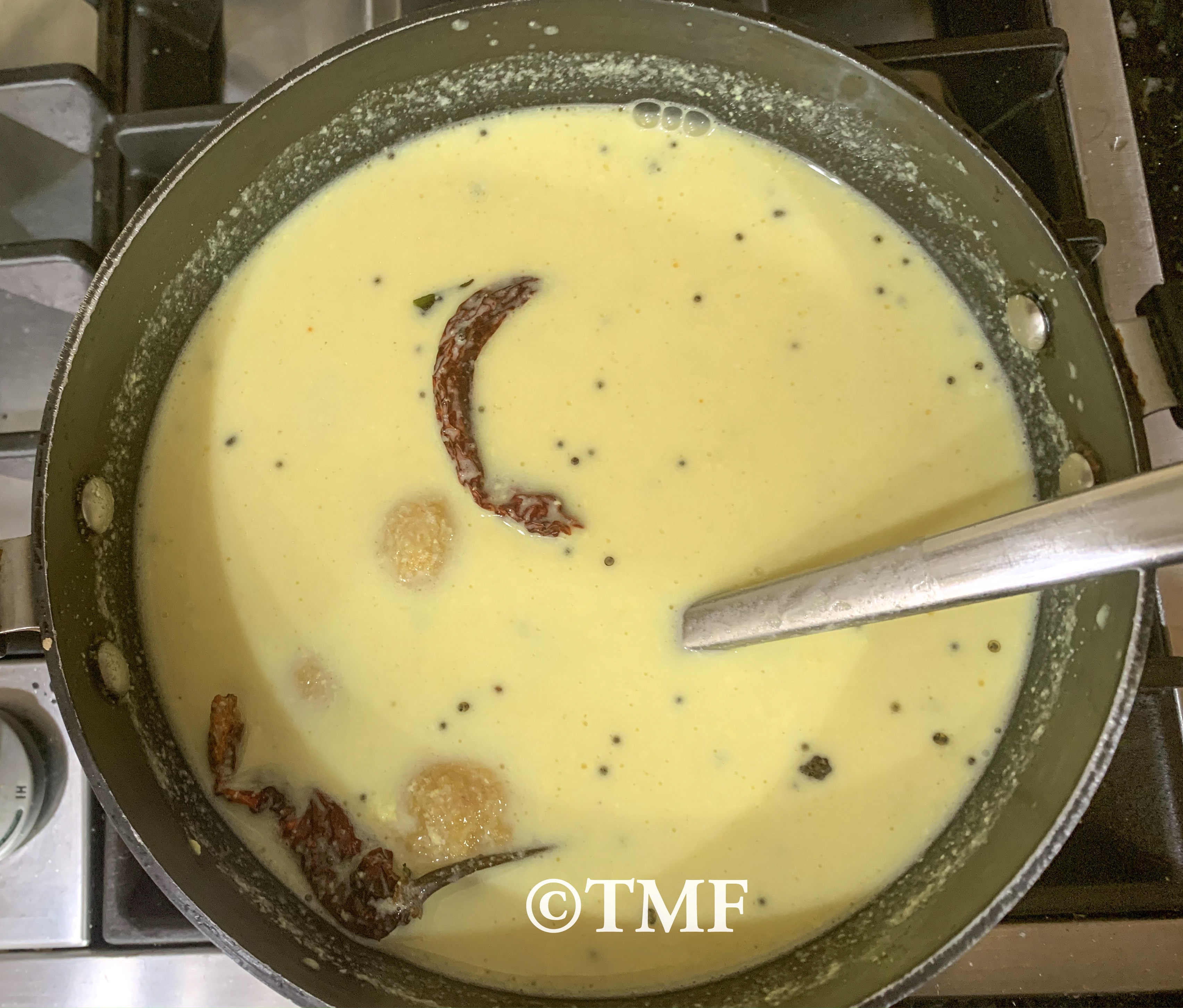 For regular recipe updates pls follow TMF social media links