Millet Burfi | Mixed Millet burfi | Indian sweet recipes | burfi varieties | festive sweets | dessert dishes Indian | Indian sweet | Indian sweet treats | instant Indian sweets | Indian dessert recipes | Indian dessert recipes easy | festival sweets | Diwali sweet recipe | Deepavali sweets | almond flour desserts | almond flour Indian recipes | almond flour Indian sweet recipes | millet recipes with step by step pictures and video recipe. Check out the millet burfi and If you like the video pls SUBSCRIBE to my channel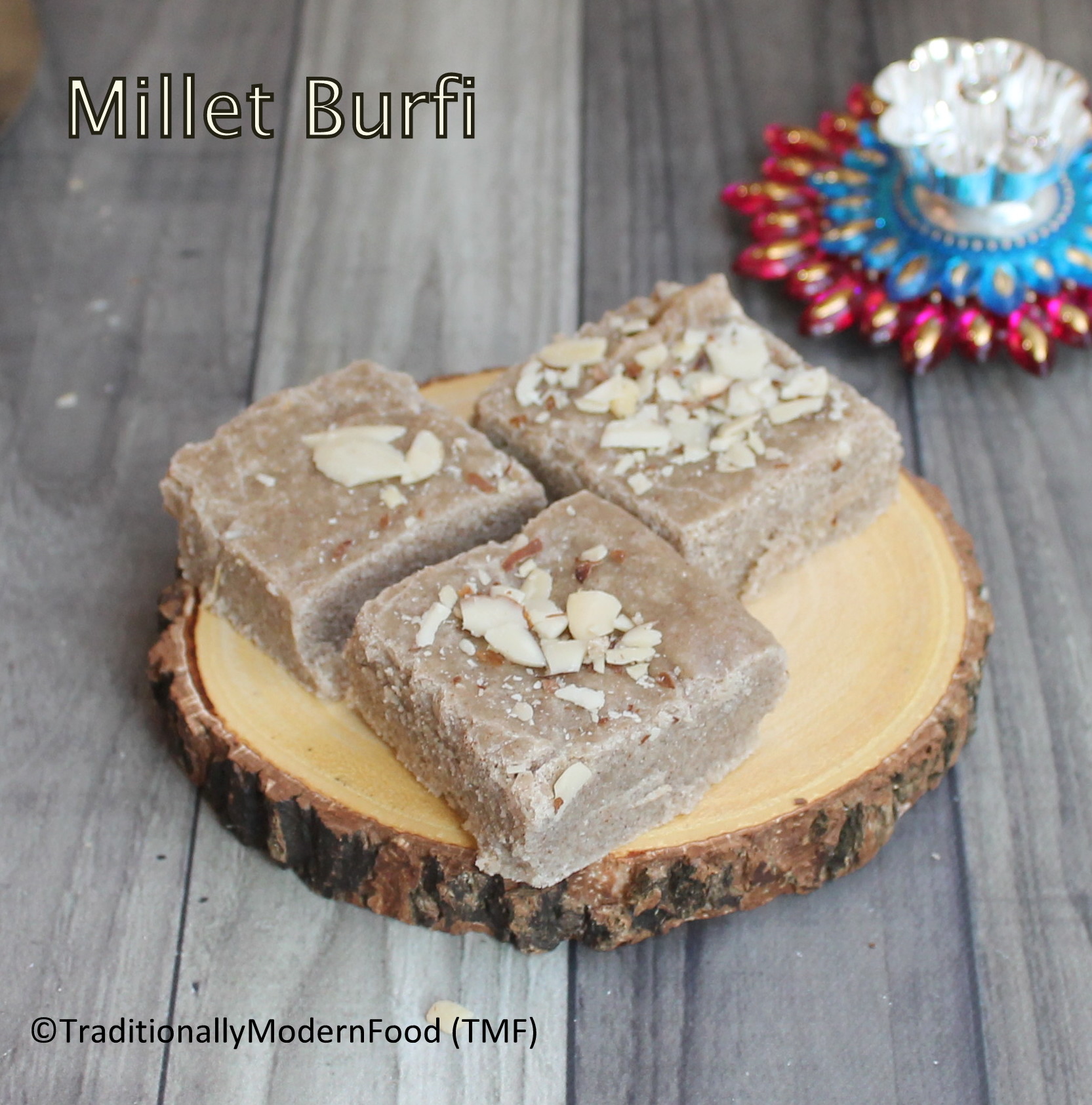 Millet Burfi | Mixed Millet burfi | Indian sweet recipes | burfi varieties | festive sweets is a healthy and tasty sweet with millet flour. Burfi tastes good for a week. It is also a nice after-school snack for kids.
I know I am super late in posting a sweet recipe. I prepared this Millet Burfi for Diwali. My sister was here for Diwali, and we both had a lot of fun while taking pictures and videos. Today I was in a big dilemma - Diwali is already over. Is it ok to post a sweet recipe now? But then I thought if I didn't document the recipe in my blog, I might forget the proportion for the sweet. So I decided to go ahead with the post.
I have been using Millet for a long time and you would have seen a lot of Millet-based recipes in TMF. Some of the Millet recipes that I already posted,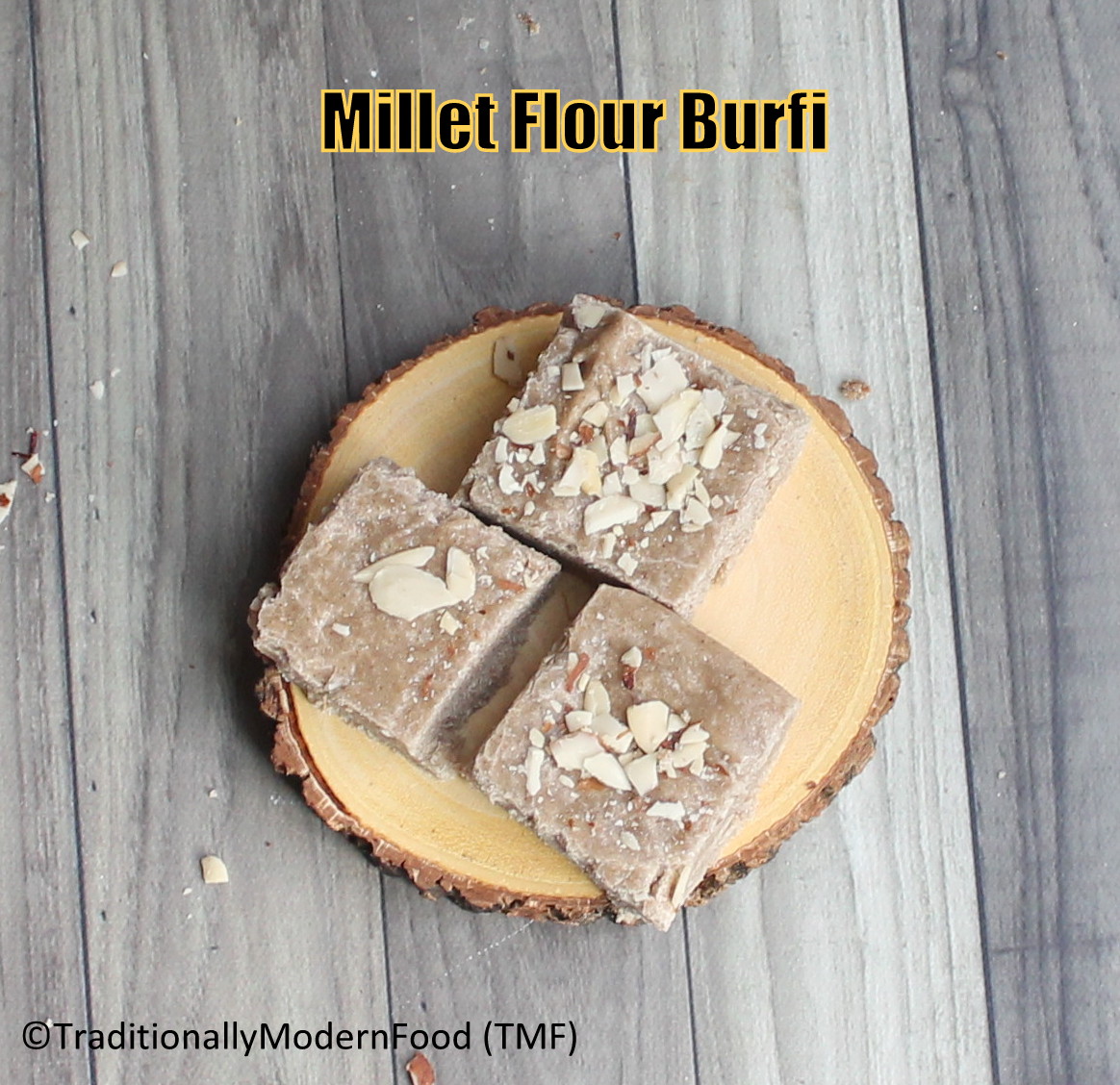 During my recent India visit "Vayam superfoods" offered me a pack of multi Millet flour, jaggery powder, and salt for review. This is not a sponsored post. They sent me samples but all opinions are mine.
Multi Millet kanji flour was a great replacement for regular sathu maavu kanji. I like the way they made the Millet flour with mixed Millet, cardamom powder and nuts. It makes a great filling breakfast kanji.
For Diwali when I was thinking of sweet options I thought why not a sweet with multi millet mix.
This was my first attempt at Burfi with Millet flour and I was so happy with the way it turned out. Even my picky-eater son enjoyed this burfi.
Burfi recipe collections in TMF
Millet recipe collection in TMF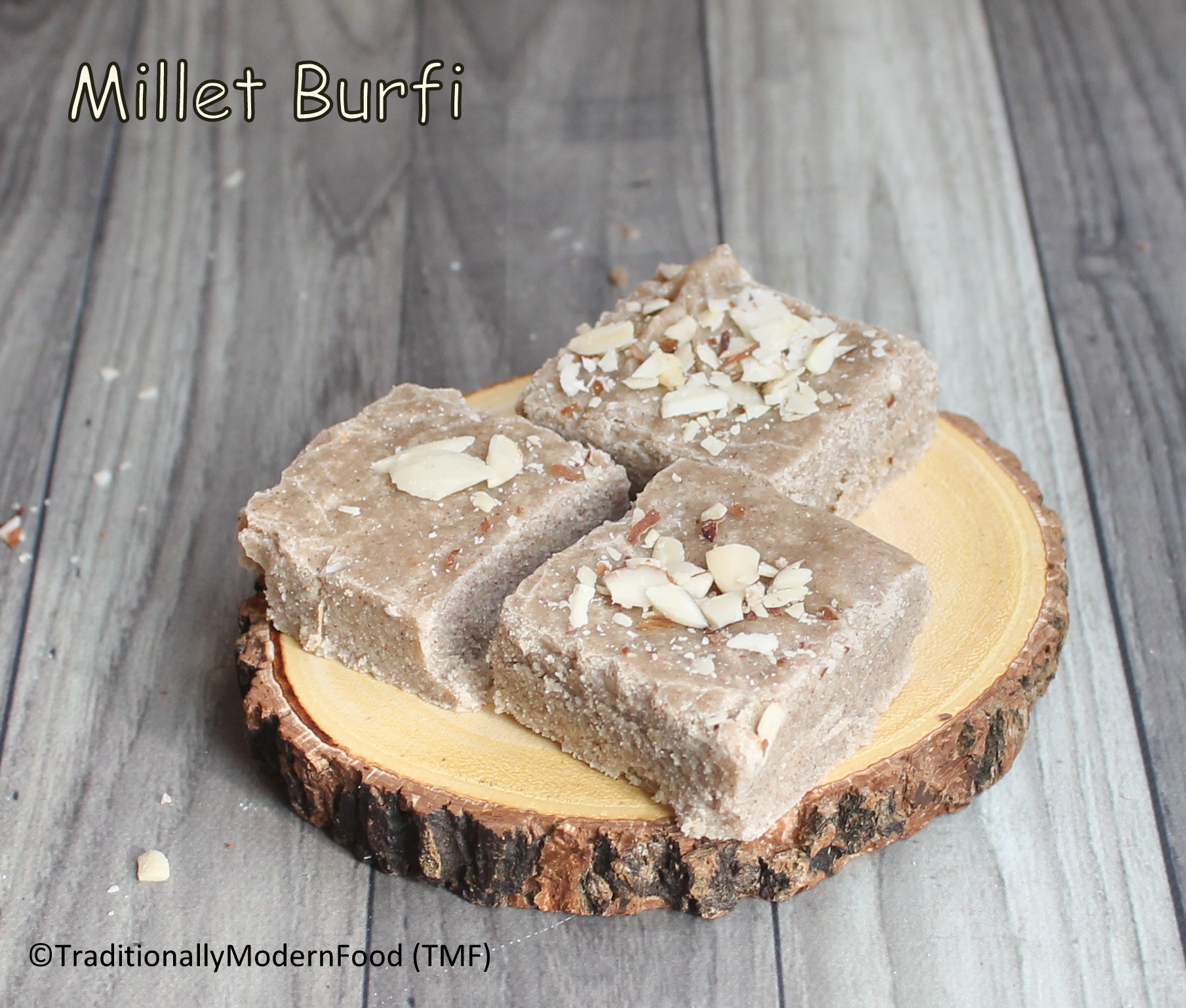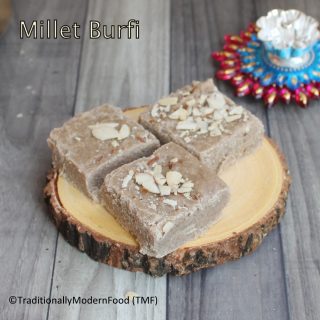 Ingredients
Multi Millet mix - 1/2 cup

Almond flour - 1/4 cup

Sugar - 1 cup + 1/2 tbsp

Water - 1/4 cup

Saffron - few strands

Almond flakes - 2 tbsp

Butter/ Ghee - 1/3 cup
Instructions
Add 2 tablespoon of ghee in a pan and let it melt

Add Millet flour; mix well in a low flame. Cook for a minute. Transfer the mixture into a bowl

Add water, sugar and saffron; let it boil. Let sugar melt completely

Once when the sugar syrup starts dropping from the ladle add Millet flour, almond flour; mix well

Add remaining ghee in small portions and mix well

Cook till it becomes like a mass and leaves the pan. To get the right consistency, take a small portion and make a ball - if you are able to form a small laddu, then the consistency is right. Switch off the stove

Transfer into a greased plate and sprinkle almond flakes

Let it cool down. Cut into desired shape and serve
Video
Notes
Oats flour can be used instead of almond flour
Millet flour I used contain cardamom powder so I skipped it. You can added it for extra flavour
sathumavu kanji powder (health mix can be used instead of Millet)
Ingredients:
Multi Millet mix - 1/2 cup
Almond flour - 1/4 cup
Sugar - 1 cup
Water - 1/4 cup
Saffron - few strands
Almond flakes - 2 tbsp
Butter/Ghee - 5 tbsp
How to make Millet Burfi with step by step pictures:
Add 2 tablespoon of ghee in a pan and let it melt

Add Millet flour; mix well in a low flame. Cook for a minute. Transfer the mixture into a bowl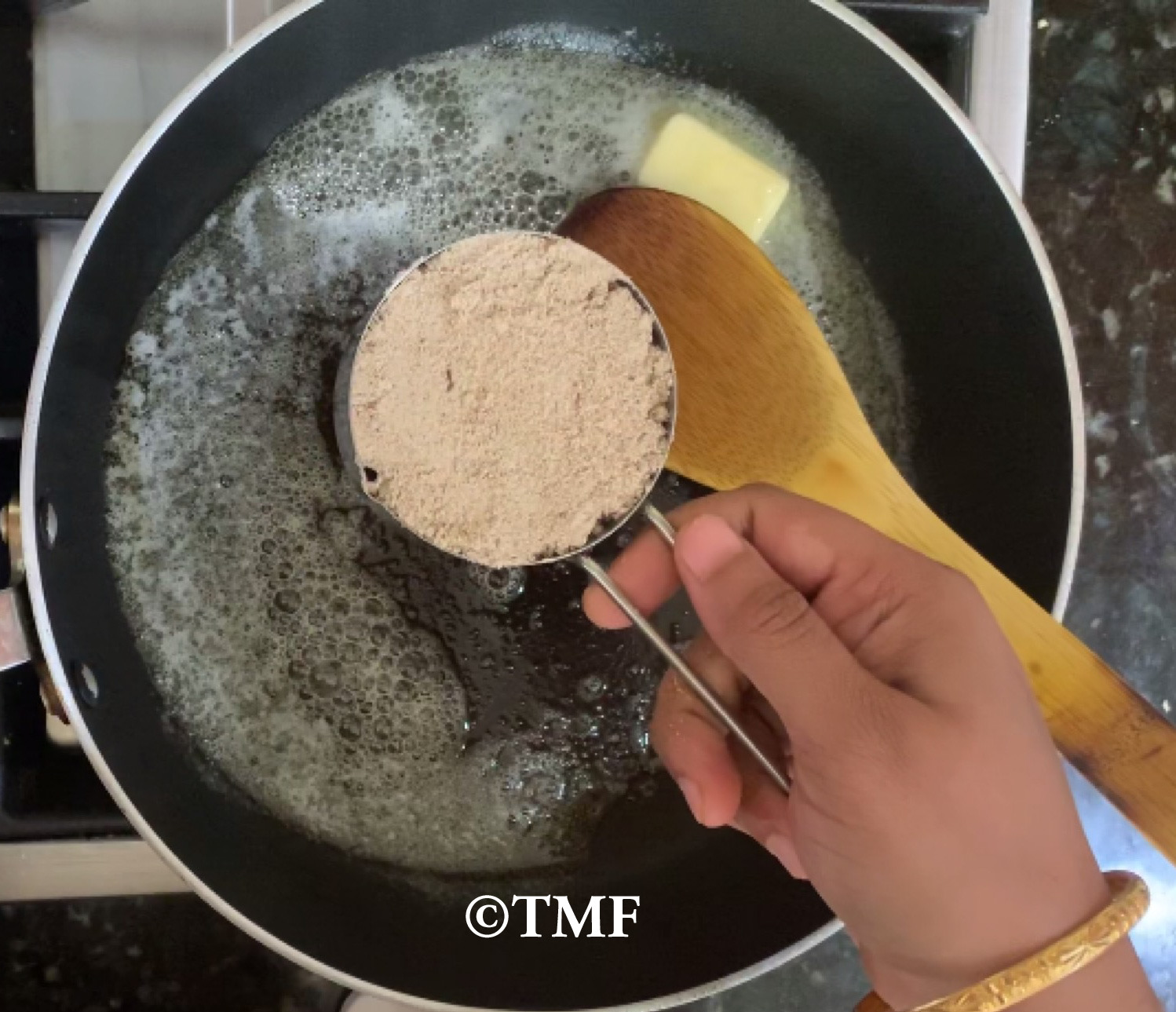 Add water, sugar, and saffron; let it boil. Let sugar melt completely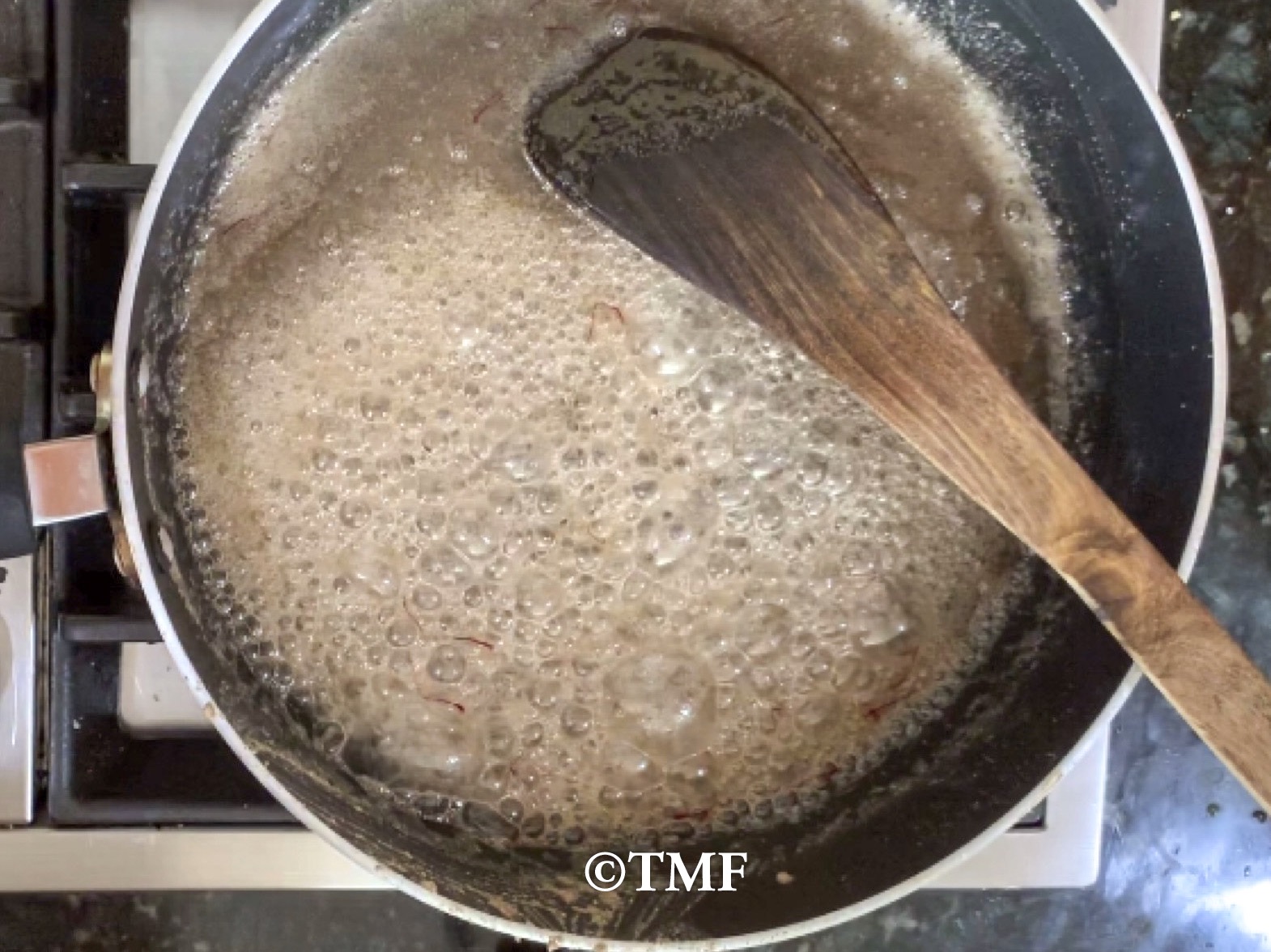 Once when the sugar syrup starts dropping from the ladle add Millet flour, almond flour; mix well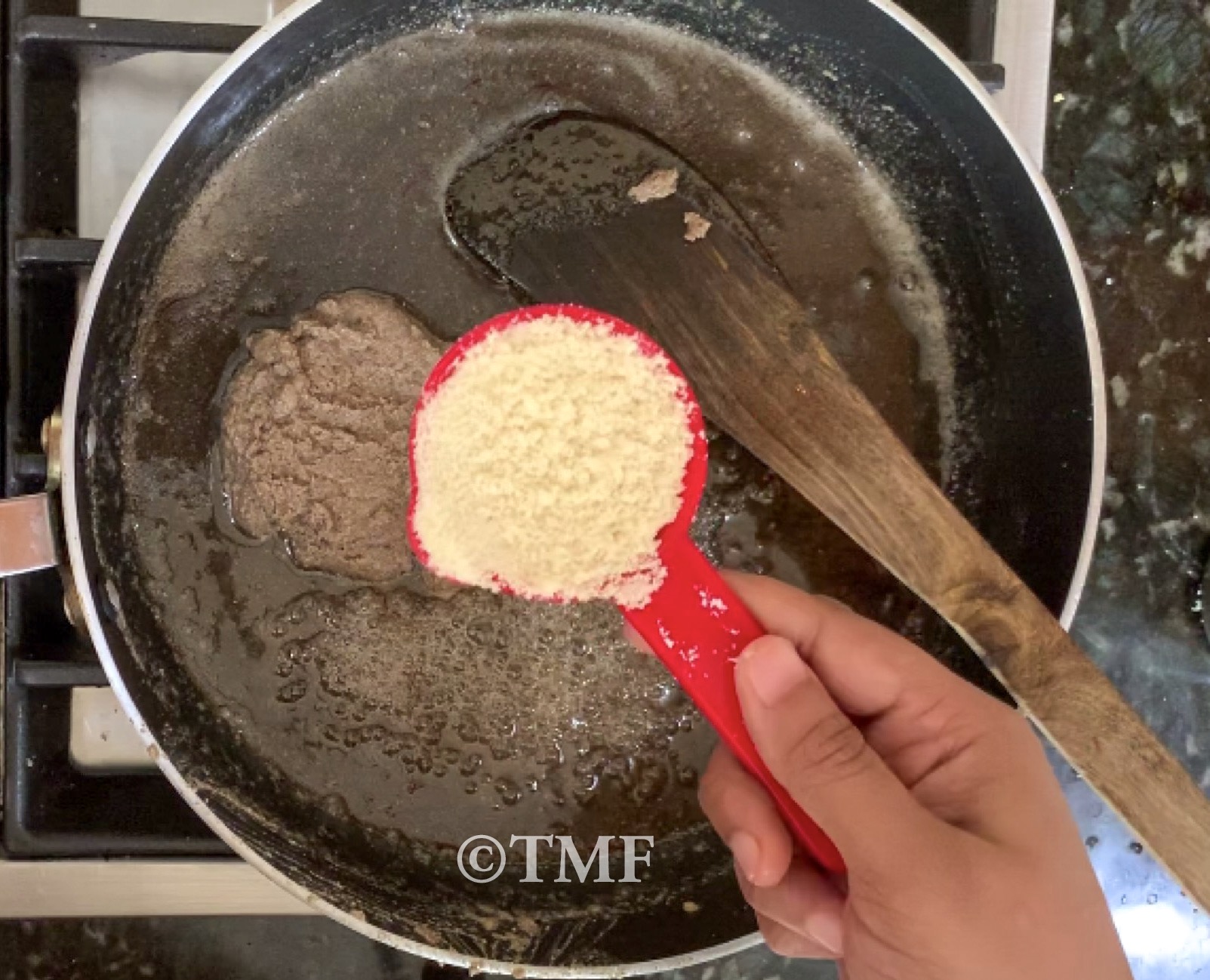 Add remaining ghee in small portions and mix well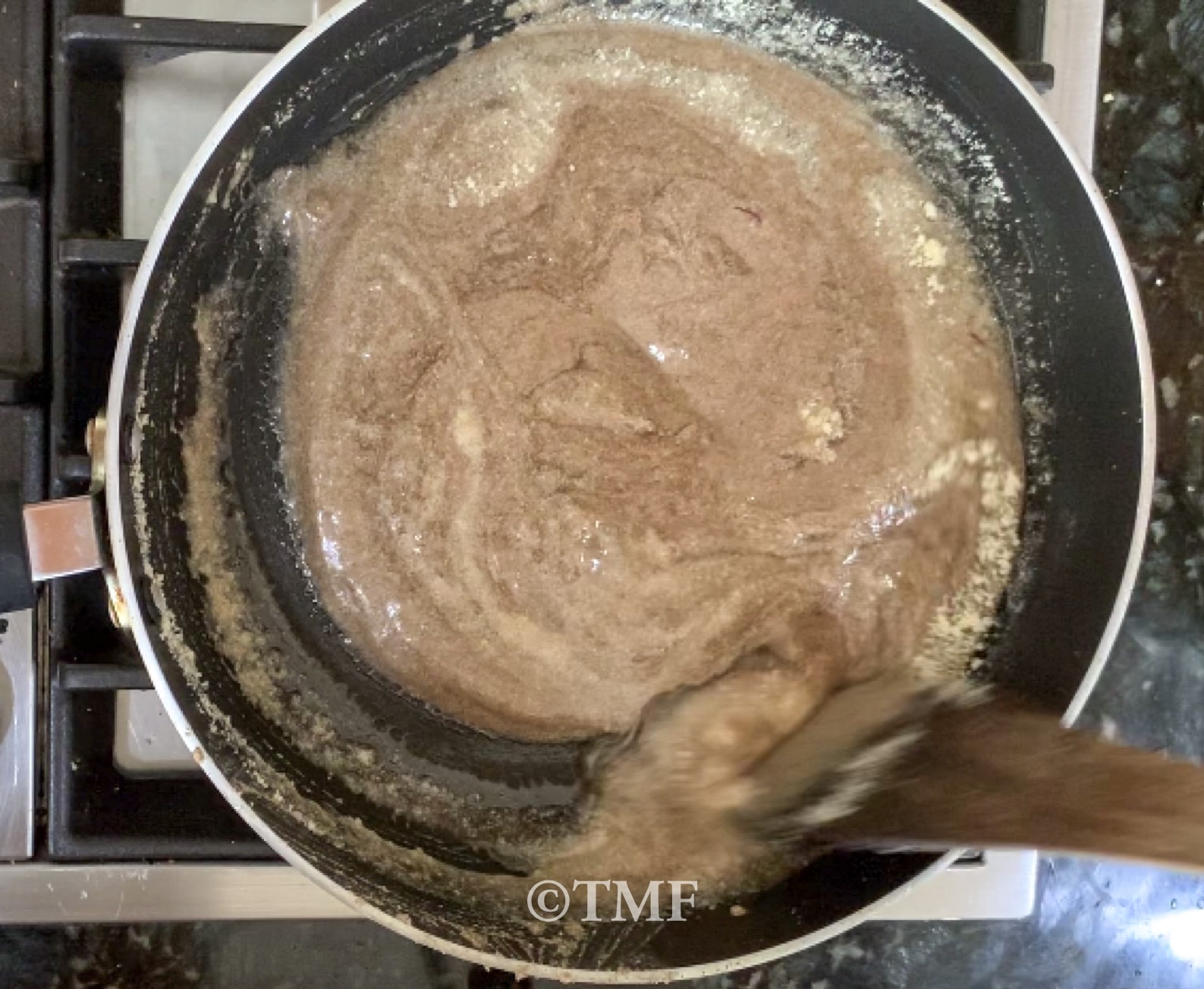 Cook till it becomes like a mass and leaves the pan. To get the right consistency, take a small portion and make a ball - if you are able to form a small laddu, then the consistency is right. Switch off the stove
Transfer into a greased plate and sprinkle almond flakes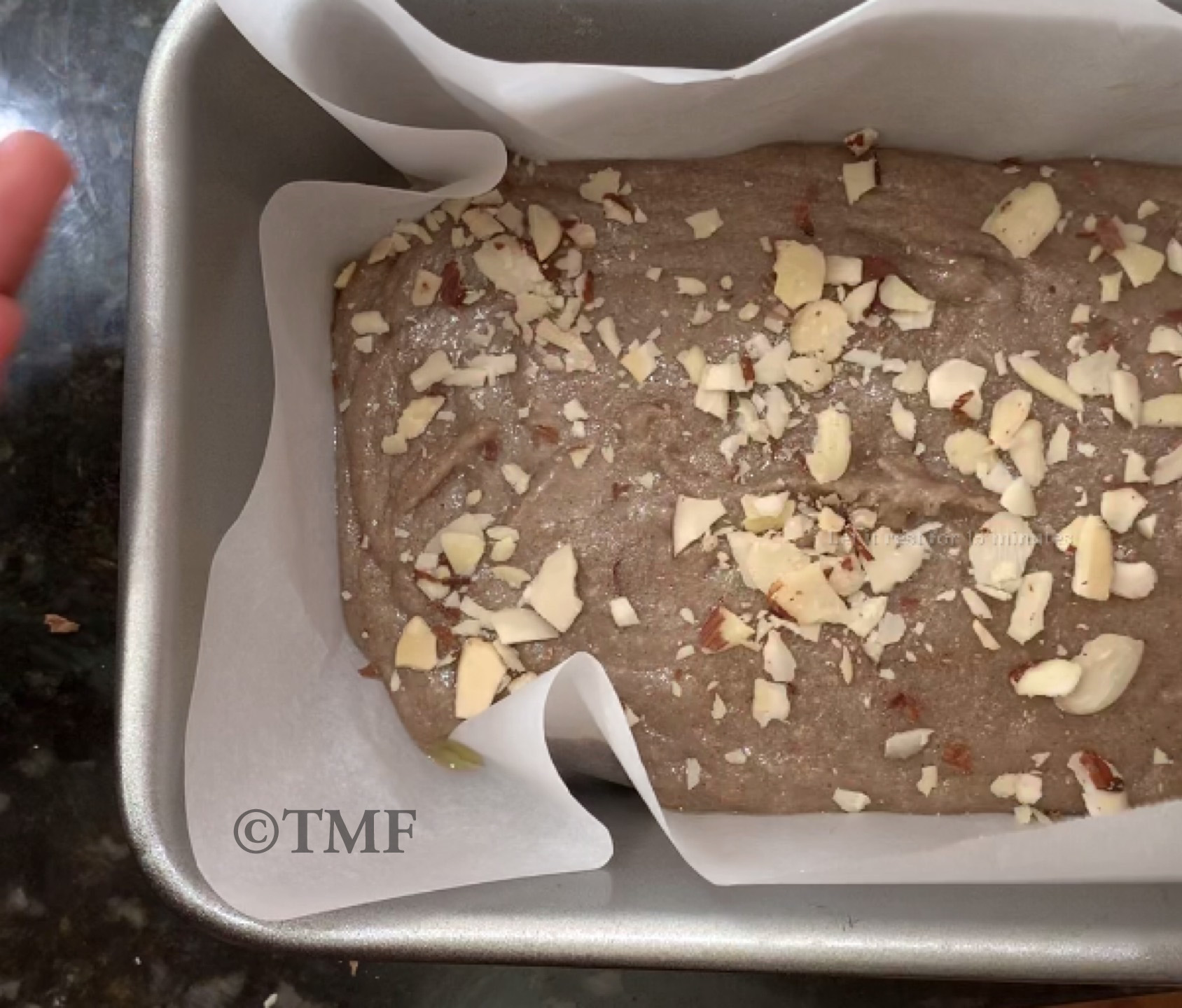 Let it cool down. Cut into the desired shape and serve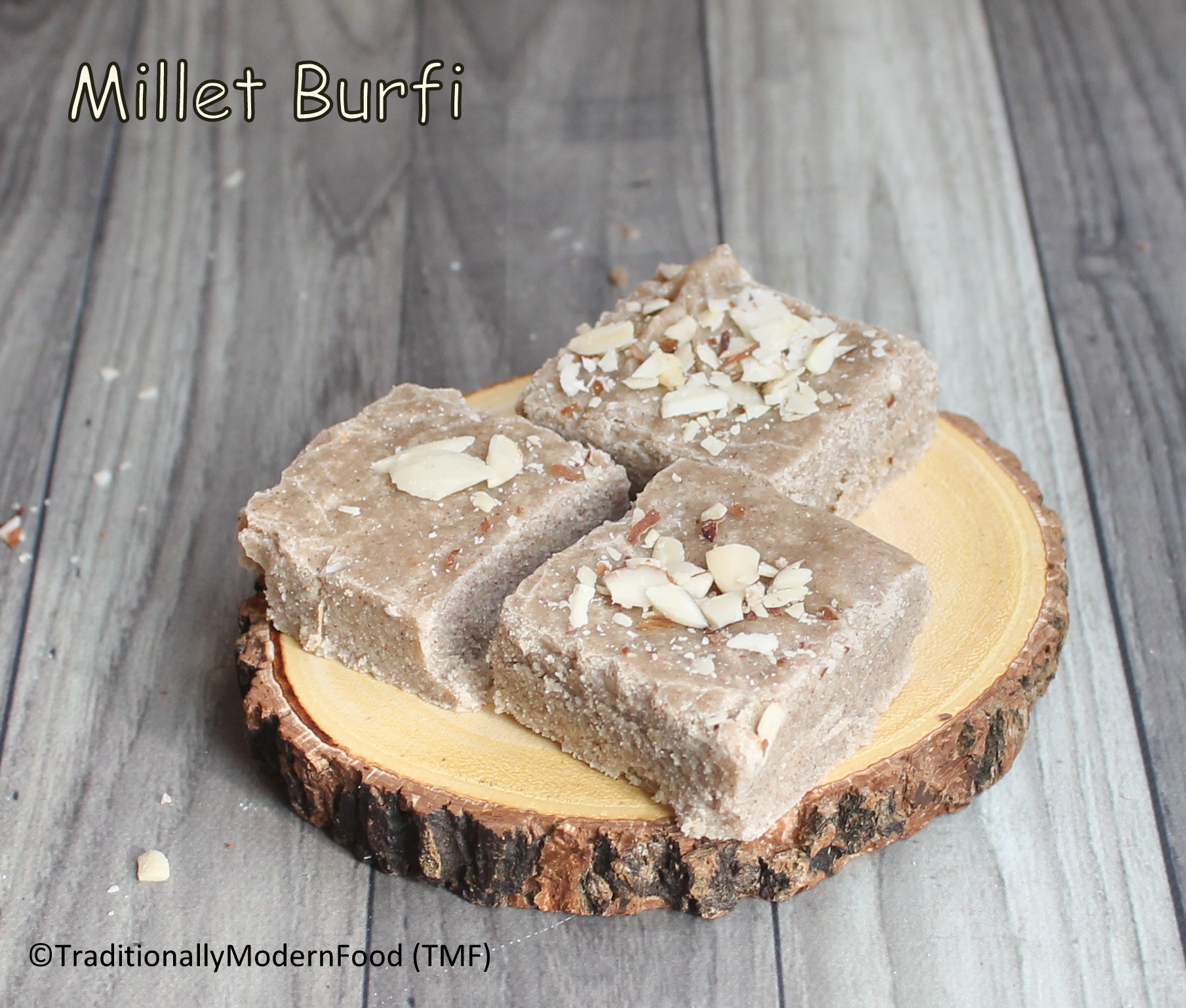 For regular recipe updates pls follow TMF social media links
Facebook | Instagram | Youtube | Pinterest | Twitter