Dangar pachadi , daangar pachadi, ulundhu maavu pachadi, Urad dal powder raita , easy raita recipe, healthy recipes, south Indian pachadi recipe, yogurt dip with step-by-step pictures and video recipe. Check out the Dangar pachadi video and if you like the video pls SUBSCRIBE to my channel.

heriloom recipe - tanjore style daangar pachadi
Ulundhu maavu thayir pachadi is a traditional grandma recipe. After preparing savory snacks if you have leftover urad dal flour, this pachadi is traditionally made. You can also roast urad dal; grind it and make ulundhu maavu pachadi.

why the store bought urad dal flour?
to save time I have used store-bought urad dal powder which makes it quick but with no compromise in taste.
should I roast homemade urad dal flour?
if you are making urad dal flour at home, roast urad dal till it turns golden brown. Cool then grind. No need to roast the flour again but if you are using store-bought flour; roast it at low flame for 30 seconds. Avoid keeping a high flame as you might burn the flour.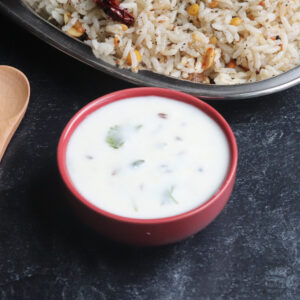 WHAT KIND OF CURD SHOULD I USE FOR THE daangar RAITA RECIPE?
Always use fresh thick creamy curd. I have used homemade curd, but you can also use sour cream or non-flavored Greek yogurt for raita. Use thick, well-set curd or yogurt. If you have a watery curd, set aside the whey for buttermilk and separate the thick curd and use it for raita
CAN I USE SOUR CURD?
If the curd is slightly sour, skip it. Mild sour curd is fine, but if the curd is sour use milk instead of water. Avoid extremely sour curd.
SHOULD I WHISK THE CURD?
Yes, it is very important to whisk the curd well, and make sure the curd is lump-free. If whey separates or curd is lumpy, it will affect the raita texture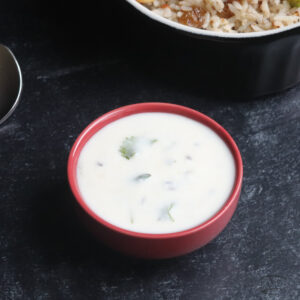 CAN I USE ROOM-TEMPERATURE CURD?
For the best flavor, I would recommend using chill curd for pachadi. If you are planning to mix the spice ahead for raita, refrigerate till you serve.
Consistency of raita
I prefer thick raita. Adjust the water according to your desired consistency.
WILL RAITA TASTES SPICY?
I have used green chilli. you can adjust the spice according to your taste.
What tastes best with raita?
it tastes good with milagu sadam, poondu milagu sadam, tamarind based kuzhambu, puli sadam and puli pongal.
ingredients
whisk curd
1 + 1/2 cup thick curd
1/2 cup water refer to notes
to temper
1/2 teaspoon ghee
1/4 teaspoon mustard seeds
1 teaspoon cumin seeds
2 green chilli
curry leaves few
Urad dal powder raita
1 tablespoon urad dal flour
1/4 teaspoon asafoetida
required salt
Coriander leaves few
how to make daangar pachadi with step-by-step pictures
first, whisk curd and water well to make a lump-free smooth mixture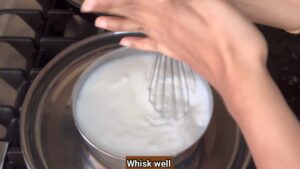 add ghee to a wide pan and heat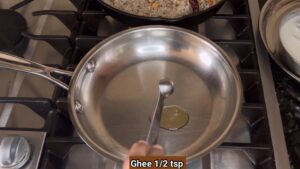 when ghee turns hot add mustard seeds, cumin seeds, curry leaves, and green chilli; let them splutter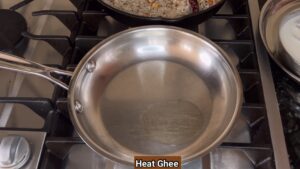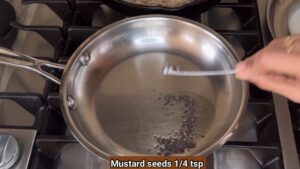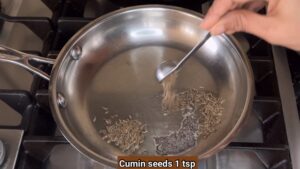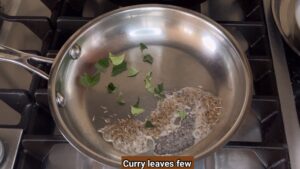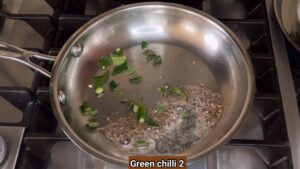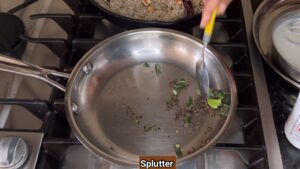 turn down to the lowest flame
furthermore add urad dal flour and asafoetida; mix well and cook for 30 seconds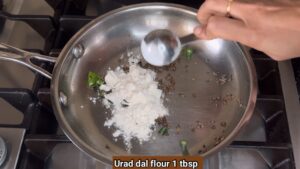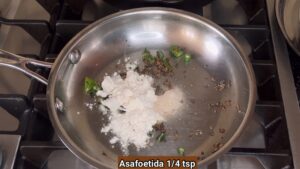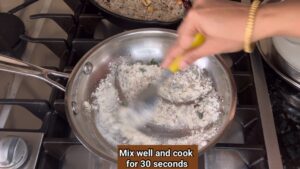 add salt and give a quick mix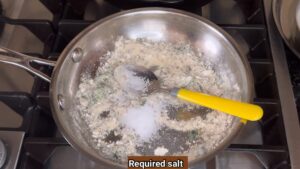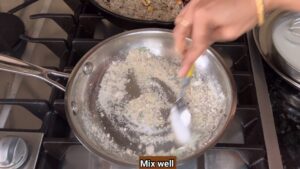 whisk and add curd; mix well and sure the dal flour is well blended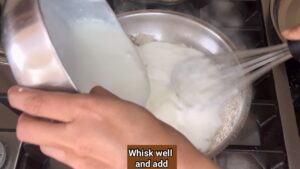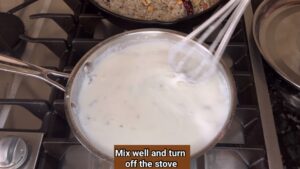 sprinkle coriander leaves and serve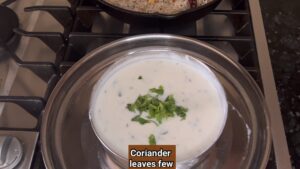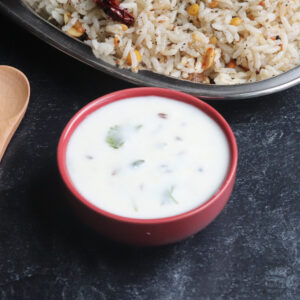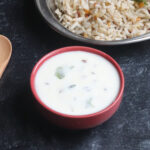 Print Recipe
Daangar pachadi
quick pachadi with urad dal flour
Ingredients
whisk curd

1

+ 1/2 cup thick curd

1/2

cup

water refer notes
to temper
1/2

teaspoon

ghee

1/4

teaspoon

mustard seeds

1

teaspoon

cumin seeds

2

green chilli

curry leaves few
Urad dal powder raita
1

tablespoon

urad dal flour

1/4

teaspoon

asafoetida

required salt

Coriander leaves few
Instructions
first whisk curd and water well to make a lump free smooth mixture

add ghee to a wide pan and heat

when ghee turns hot add mustard seeds, cumin seeds, curry leaves and green chilli; let them splutter

turn down to lowest flame

furthermore add urad dal flour and asafoetida; mix well and cook for 30 seconds

add salt and give a quick mix

whisk and add curd; mix well and sure dal flour is well blended

turn off the stove

sprinkle coriander leaves and serve
Video
Notes
Green chilli goes well with urad dal flavor. Adjust according to your taste
Alter the spices and seasonings as per your taste
Always store the leftover pachadi in the fridge
Avoid sour curd for this raita
adjust water according to your preference
always roast urad dal flour at low flame