Aloo tikka | tandoori aloo - baked and stove top with step by step pictures and video. Check out the aloo tikka video and If you like the video pls SUBSCRIBE to my channel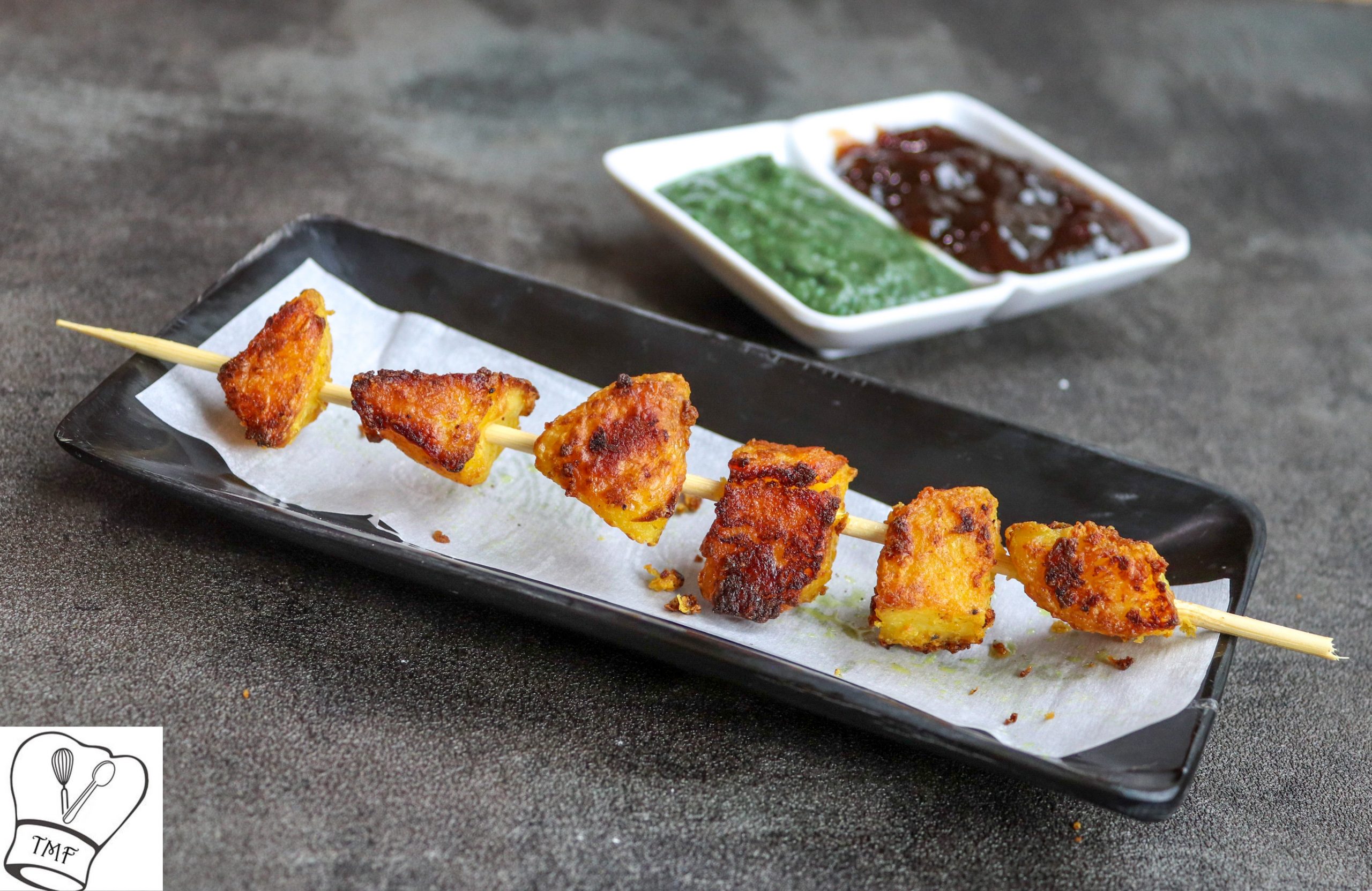 Aloo tikka | tandoori aloo is a flavorful tasty appetizer with potatoes . Tasty Potato tikka can be made in a stovetop/oven.
Aloo tikka recipe - Grilled potatoes in Indian style. Aloo tikka is one of my favorite North Indian appetizers/starters I often order when I visit Indian restaurants. The aroma of the tandoori aloo is so addictive. It is prepared with a special cooking method. Though I can't replicate the cooking process the flavors of the Tandoori spice make this potato tikka delicious and mouth melting. They can be served as a starter, evening snacks even goes well as a party snack.
When we were in London, invited us for lunch, and prepared aloo tikka. Loved the flavors and got this recipe from her. Ever since this aloo tikka has become regular in our home.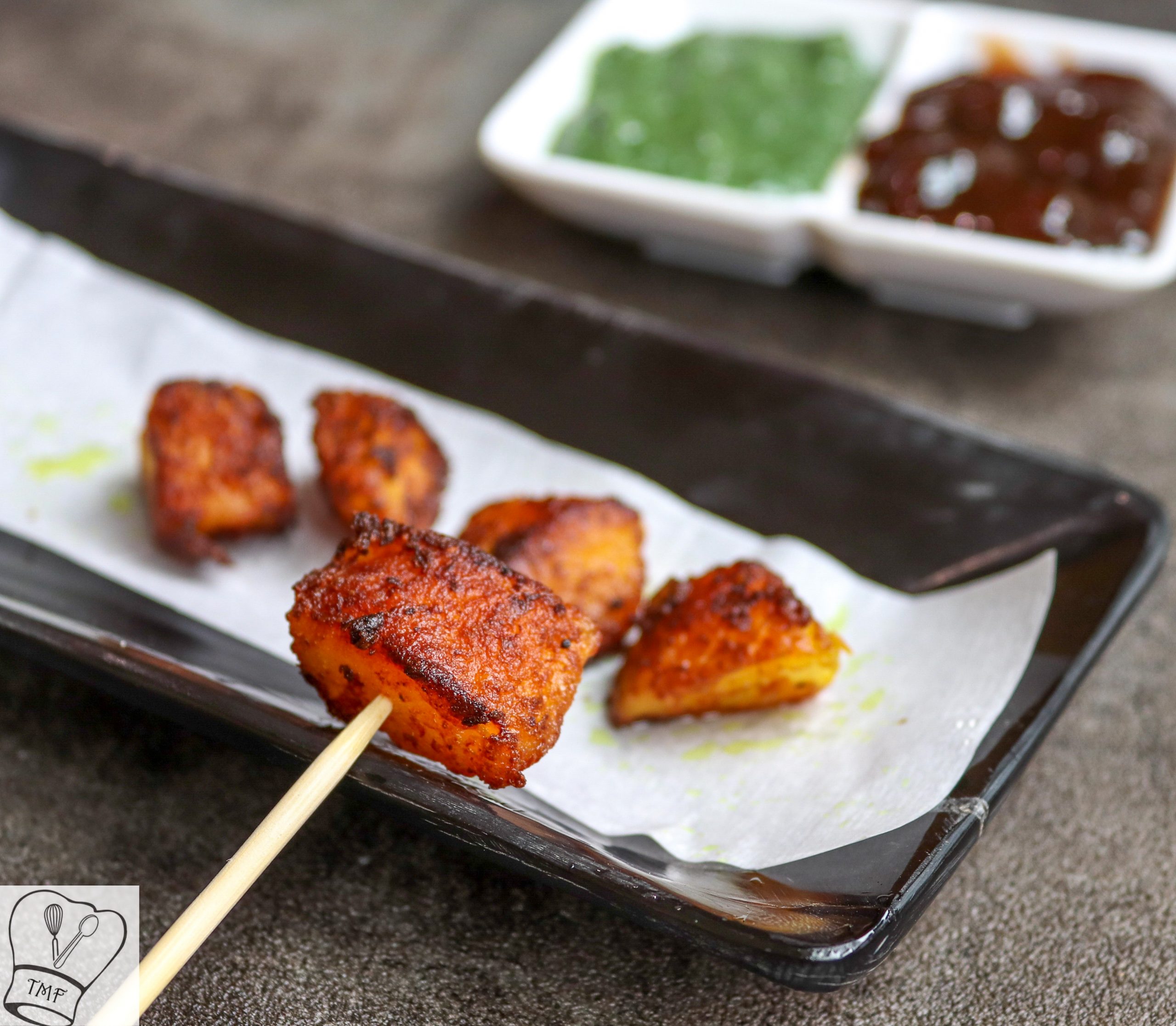 checkout other tasty potato-based recipes in TMF,
A few years back I posted a baked potato tikka version. Recently I have updated the post with the stovetop version as well.
Other baked Indian snacks in TMF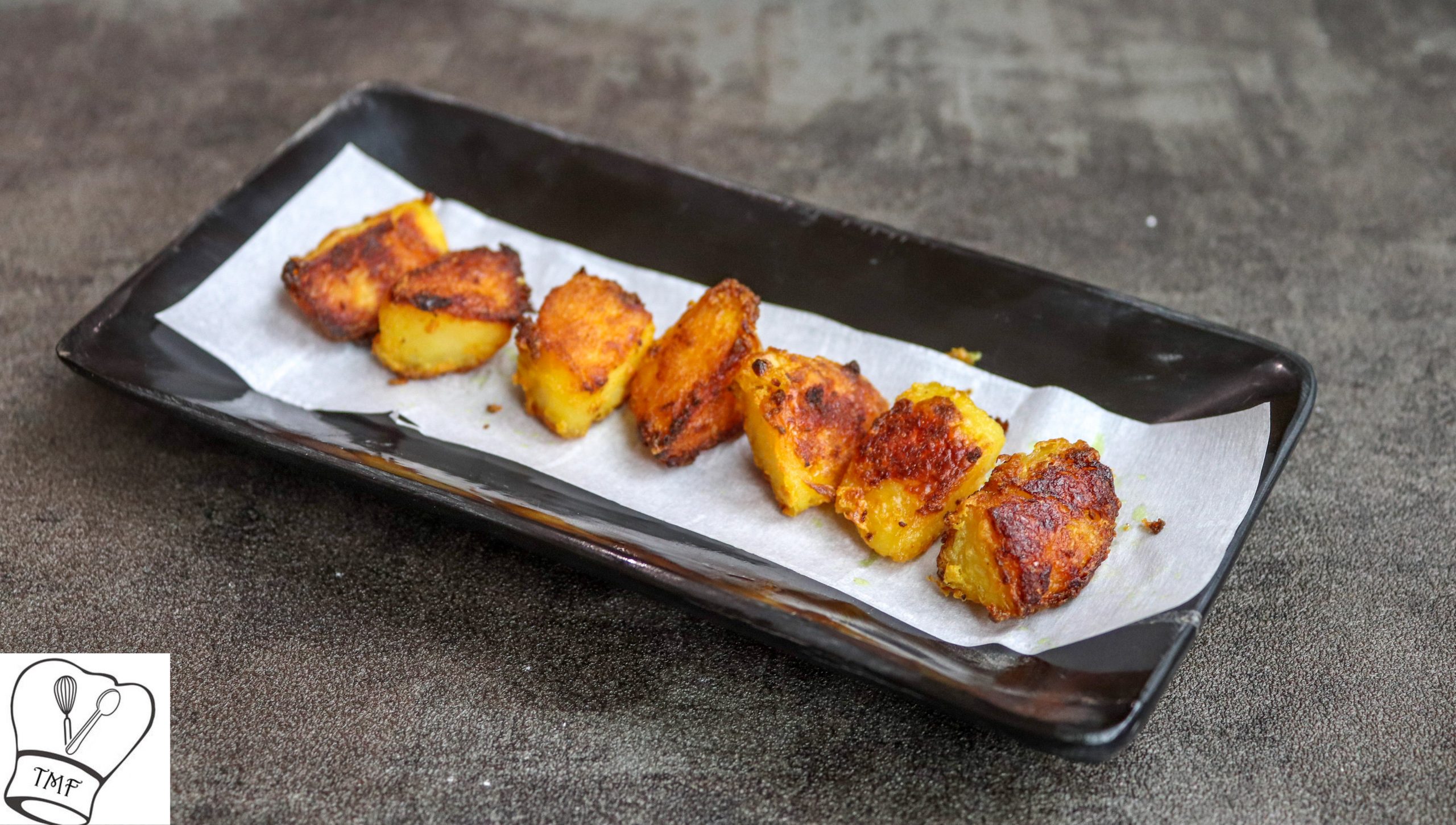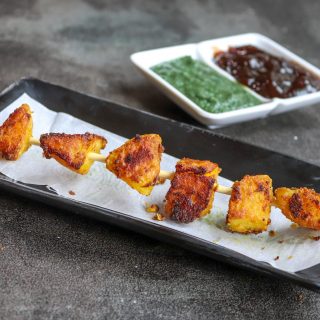 Ingredients
Boiled Potato - 1 cup + 1/2 cup

peeled

potato)

Hung Curd/Sour Cream– 3 tbsp

I used Sour cream

Turmeric powder – 1/8 tsp

Tandoori Masala - 1 tsp

Chat Masala – 1/4 tsp

Lemon juice - 1/2 tsp

Ginger garlic paste – 1/4 tsp

Oil – 1 tbsp
Instructions
In a wide mixing bowl add diced potatoes

Add sour cream, chat masala, turmeric powder, tandoori masala, garlic powder, ginger powder, salt, oil, and lemon juice and mix everything well

Close the vessel with a lid and refrigerate; let the marination sit for at least 1 hour

For baked version

Preheat the oven at 400 deg F

Place aluminum foil/ parchment paper on a baking tray and grease little oil

Arrange the marinated potatoes in the baking tray without touching one another and brush little oil over the potatoes

Baked for 10 minutes and pull out from the oven; mix well

Repeat the process. After baking for 30 minutes. I baked for 5 minutes and tandoori aloo was ready

For stovetop:

Add little oil to the pan and let the oil gets hot

When the oil is hot carefully add marinated potatoes without touching one another

After one side is cooked and turns crispy, carefully flip cook all other sides. Serve hot
Video
Notes
Amchur powder can be used instead of lemon juice
Make sure potatoes are not mushy
If you are making hung curd in home, take 1/4 cup of thick curd in muslin cloth and keep it for few minutes to separate them from whey
Capsicum, onion can be added to the marination
If you are using wooden skewers soak them in water for at least 20 minutes to avoid them from getting burnt
Aloo tikka can also be cooked directly in the gas stove. Place few aloo in skewers and roast them in all side
If you have baby potatoes cut into half and use it but since I didn't have small potatoes I diced the big potatoes
Baking time varies depending on the size of potatoes
If you are using hung curd make sure it without any curd whey
if you don't have tandoori masala handy use garam masala, chili powder, kitchen king masala or any other masala of your choice
potatoes can be inserted in skewers and baked but I generally bake it without that as it is easy for my son to eat
Spice powder can be mixed with curd separately added to the potatoes. To avoid an extra vessel I do everything together and still, everything is well coated
Ingredients:
Boiled Potato - 1 cup + 1/2 cup, peeled
potato)
Hung Curd/Sour Cream– 3 tablespoon (I used Sour cream)
Turmeric powder – 1/8 tsp
Tandoori Masala - 1 tsp
Chat Masala – 1/4 tsp
Lemon juice - 1/2 tsp
Ginger garlic paste – 1/4 tsp
Oil – 1 tbsp
Method:
In a wide mixing bowl add diced potatoes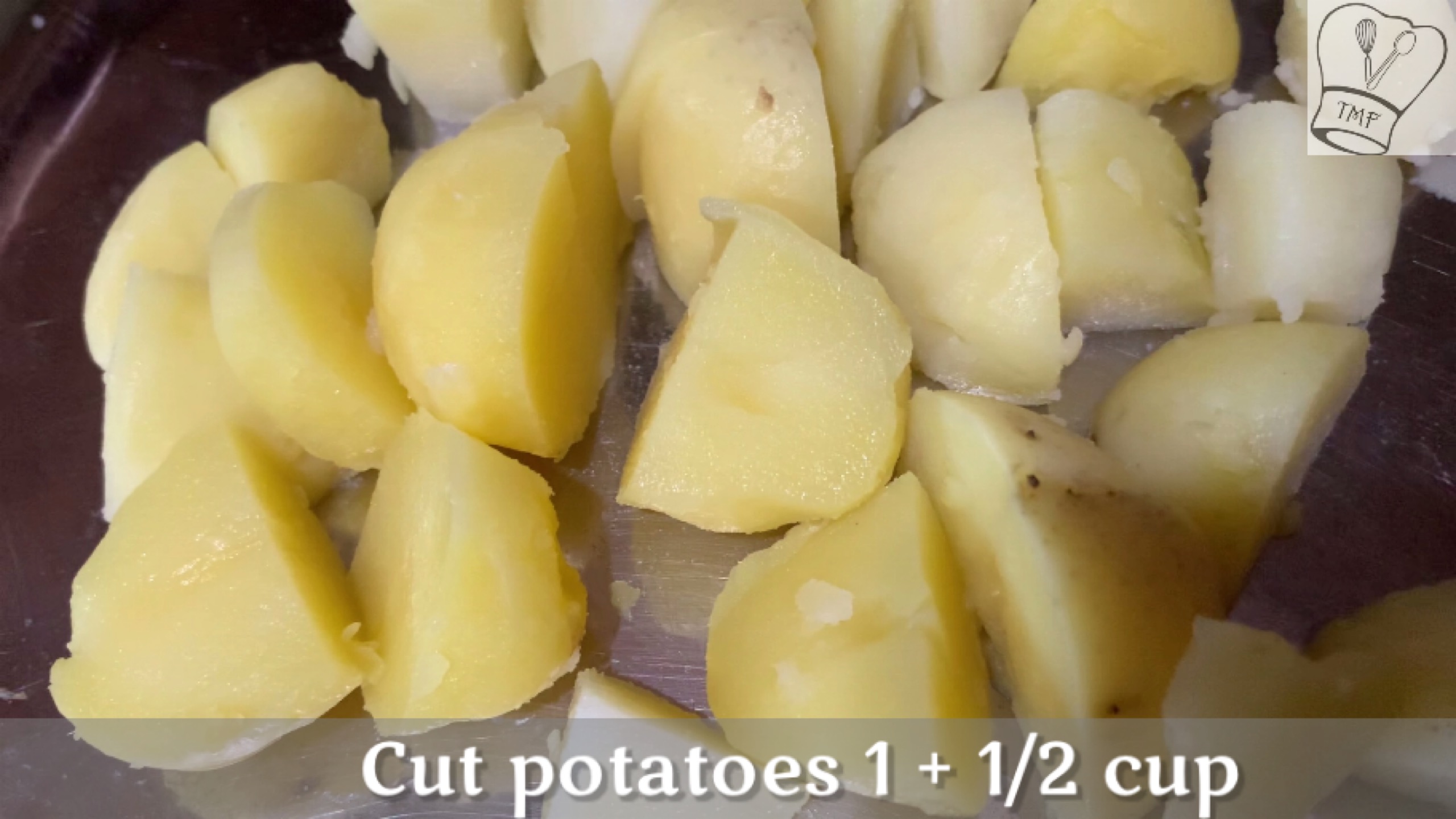 Add sour cream, chat masala, turmeric powder, tandoori masala, garlic powder, ginger powder, salt, oil, and lemon juice and mix everything well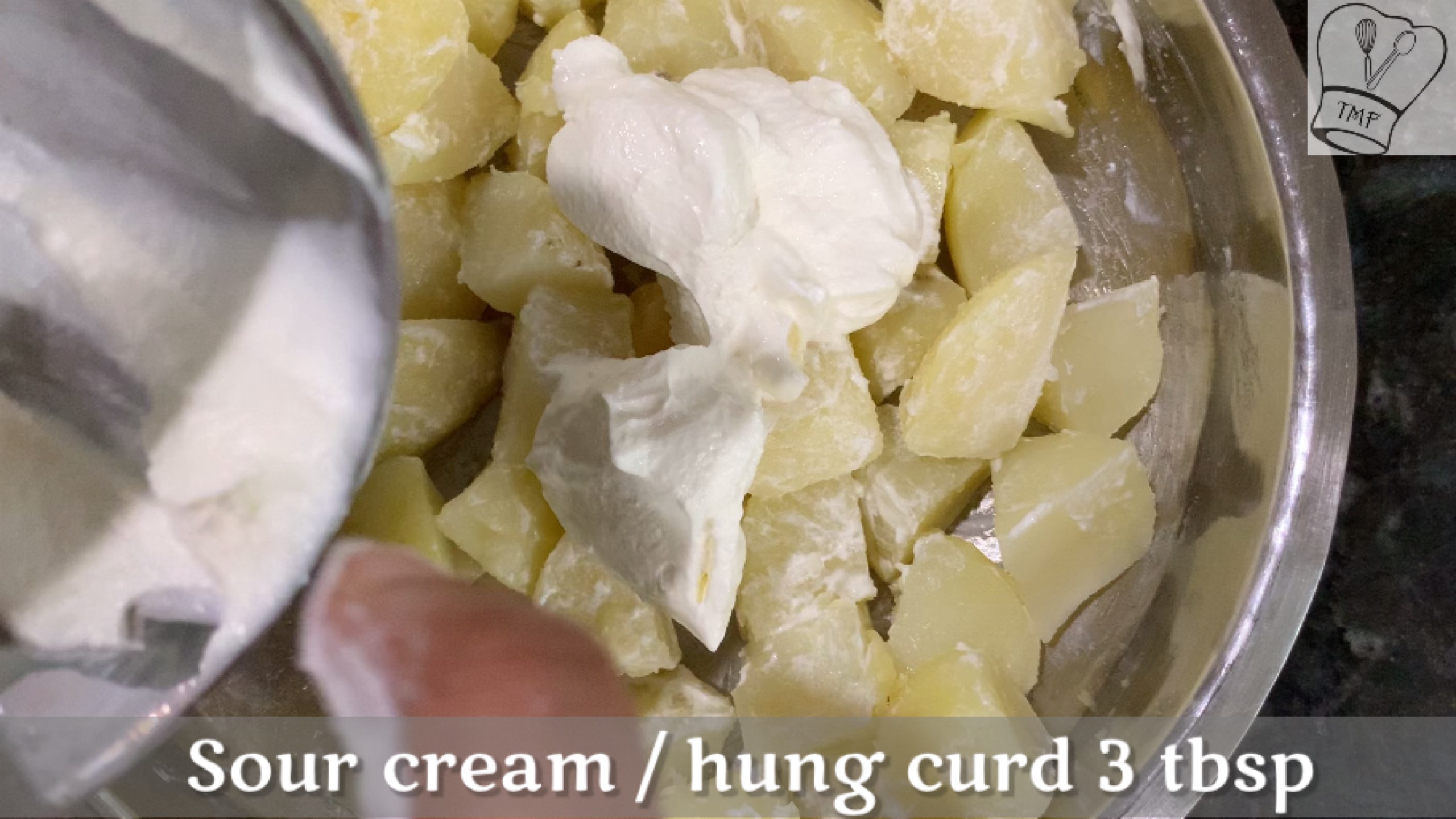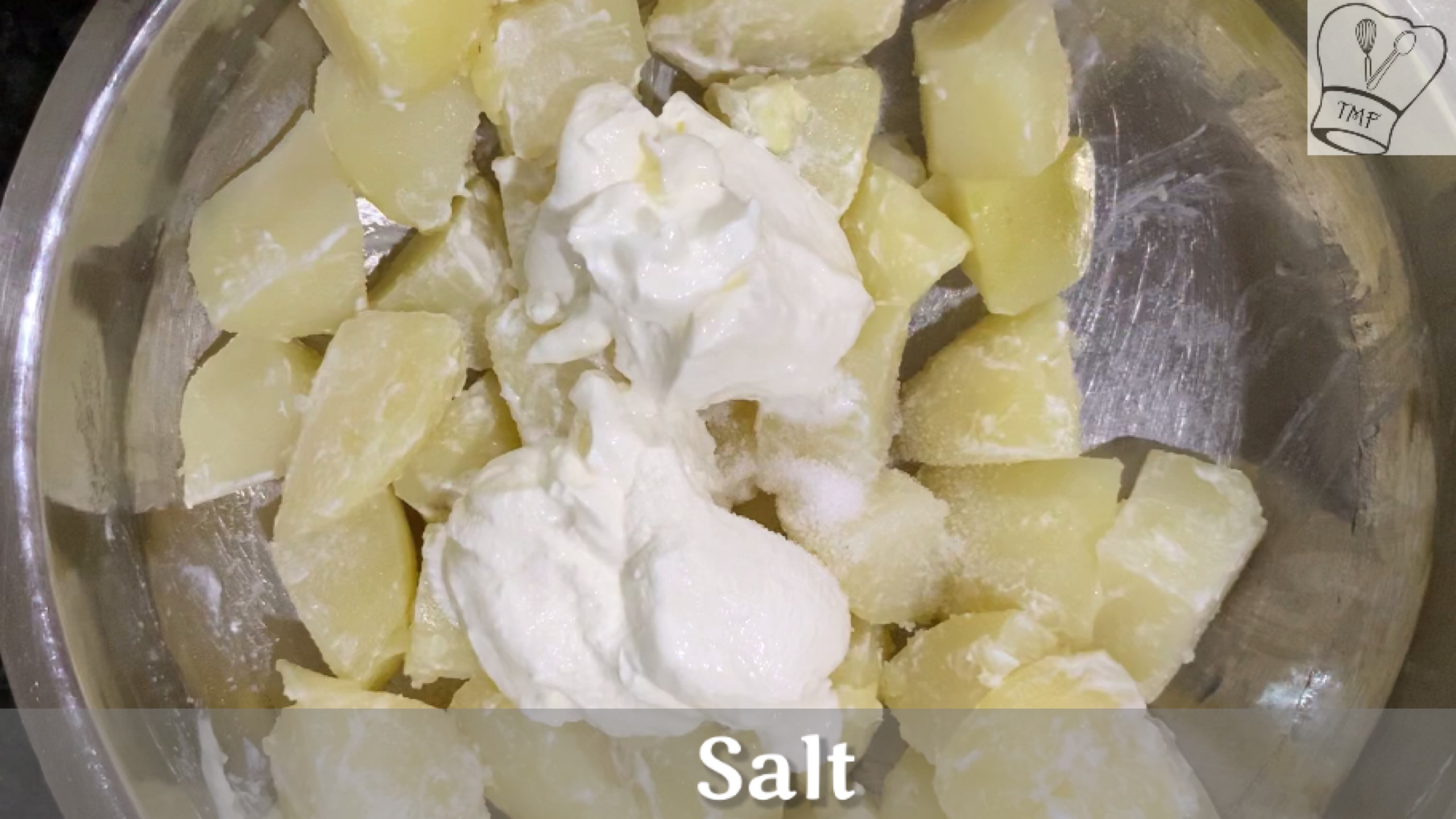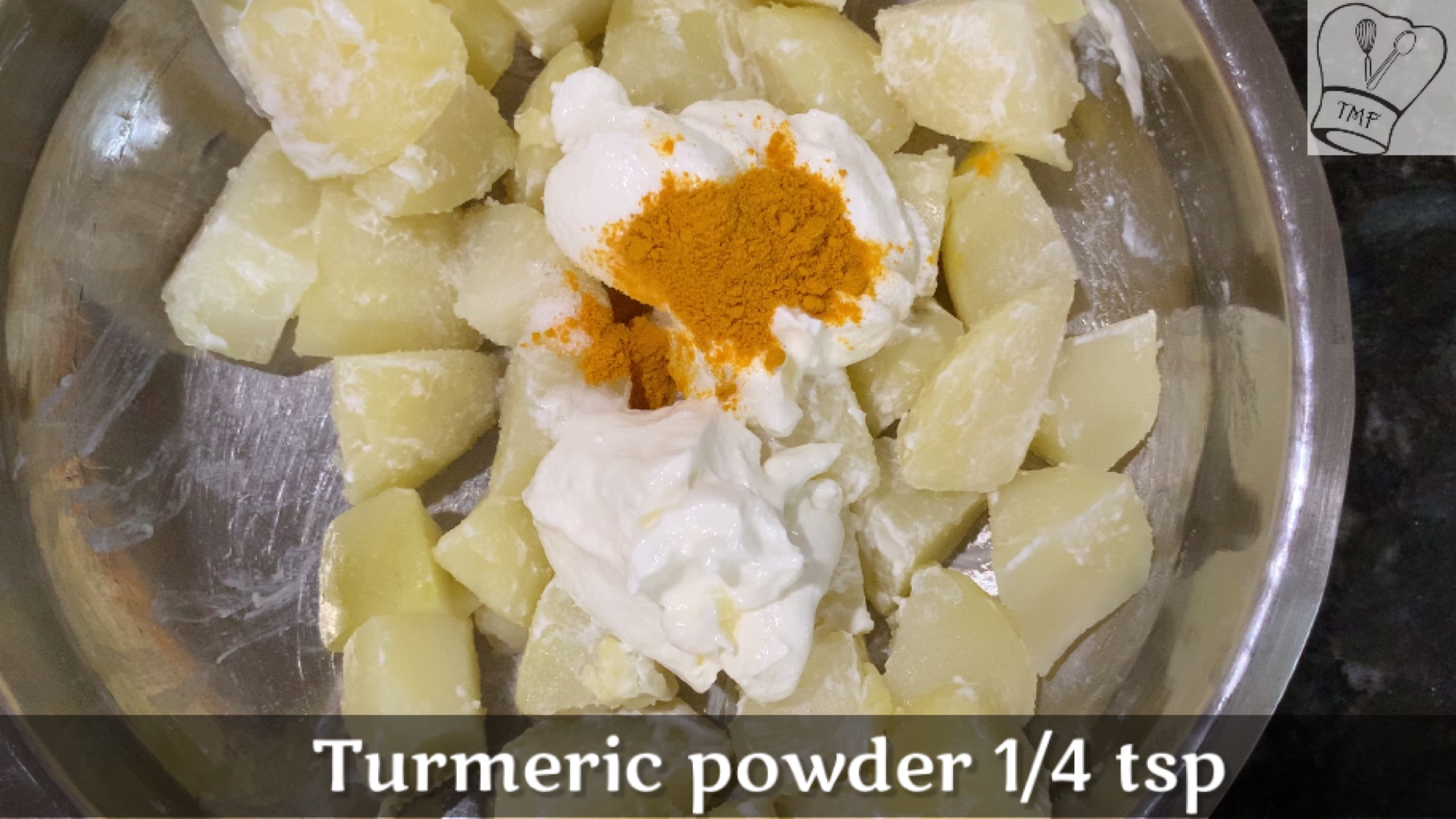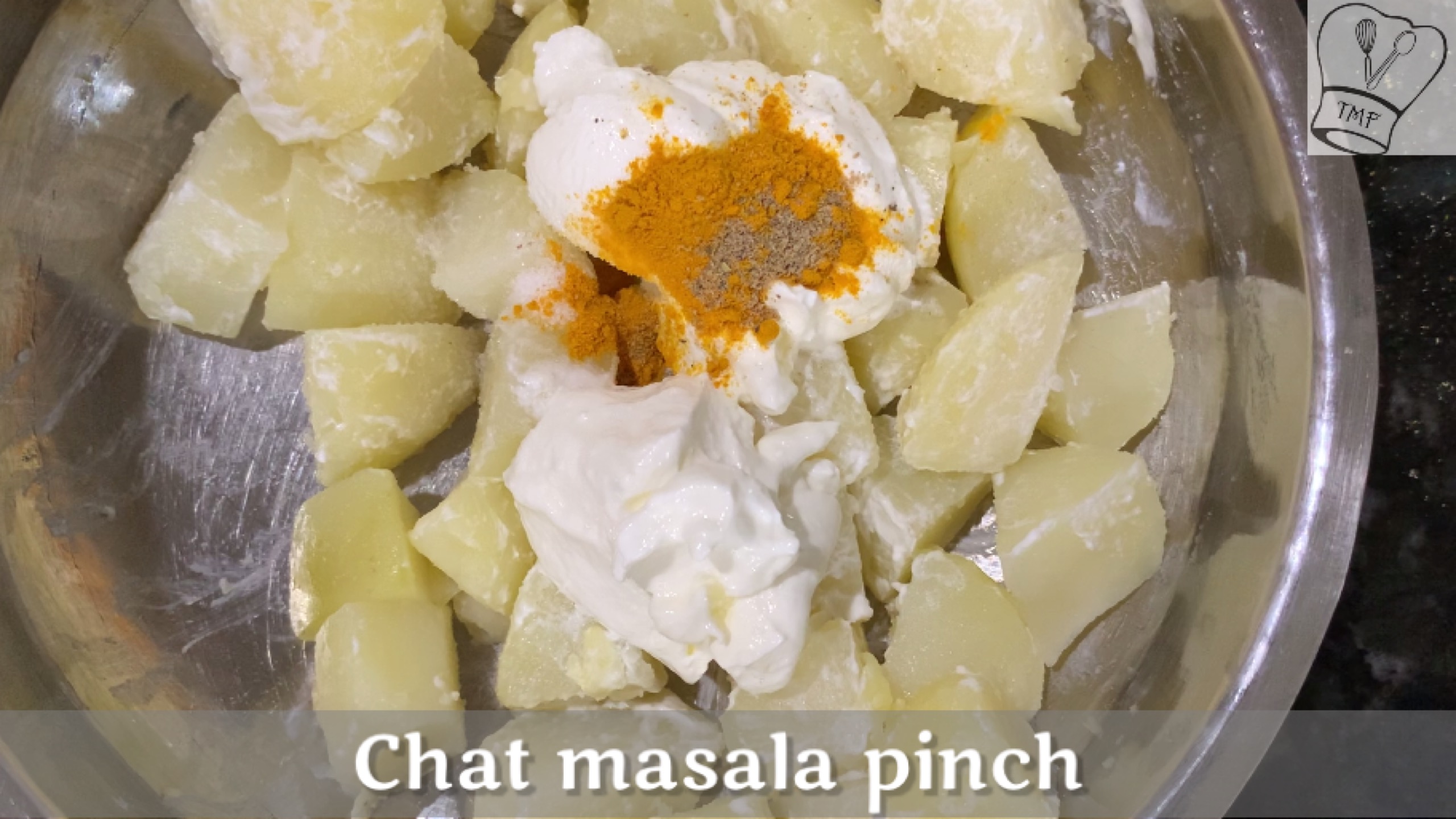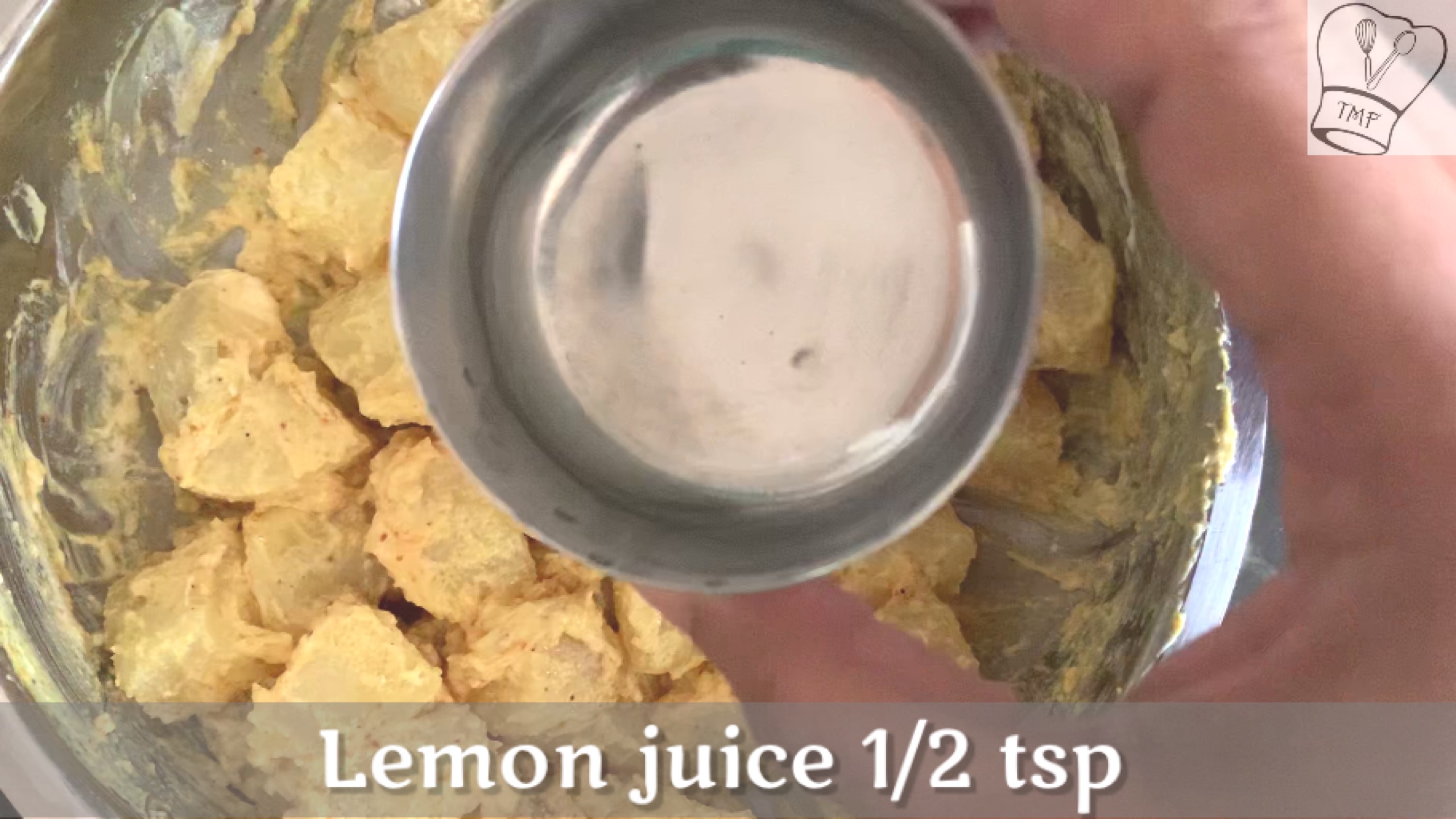 Close the vessel with a lid and refrigerate; let the marination sit for at least 1 hour
For baked version
Preheat the oven at 400 deg F
Place aluminum foil/ parchment paper on a baking tray and grease little oil
Arrange the marinated potatoes in the baking tray without touching one another and brush little oil over the potatoes
Baked for 10 minutes and pull out from the oven; mix well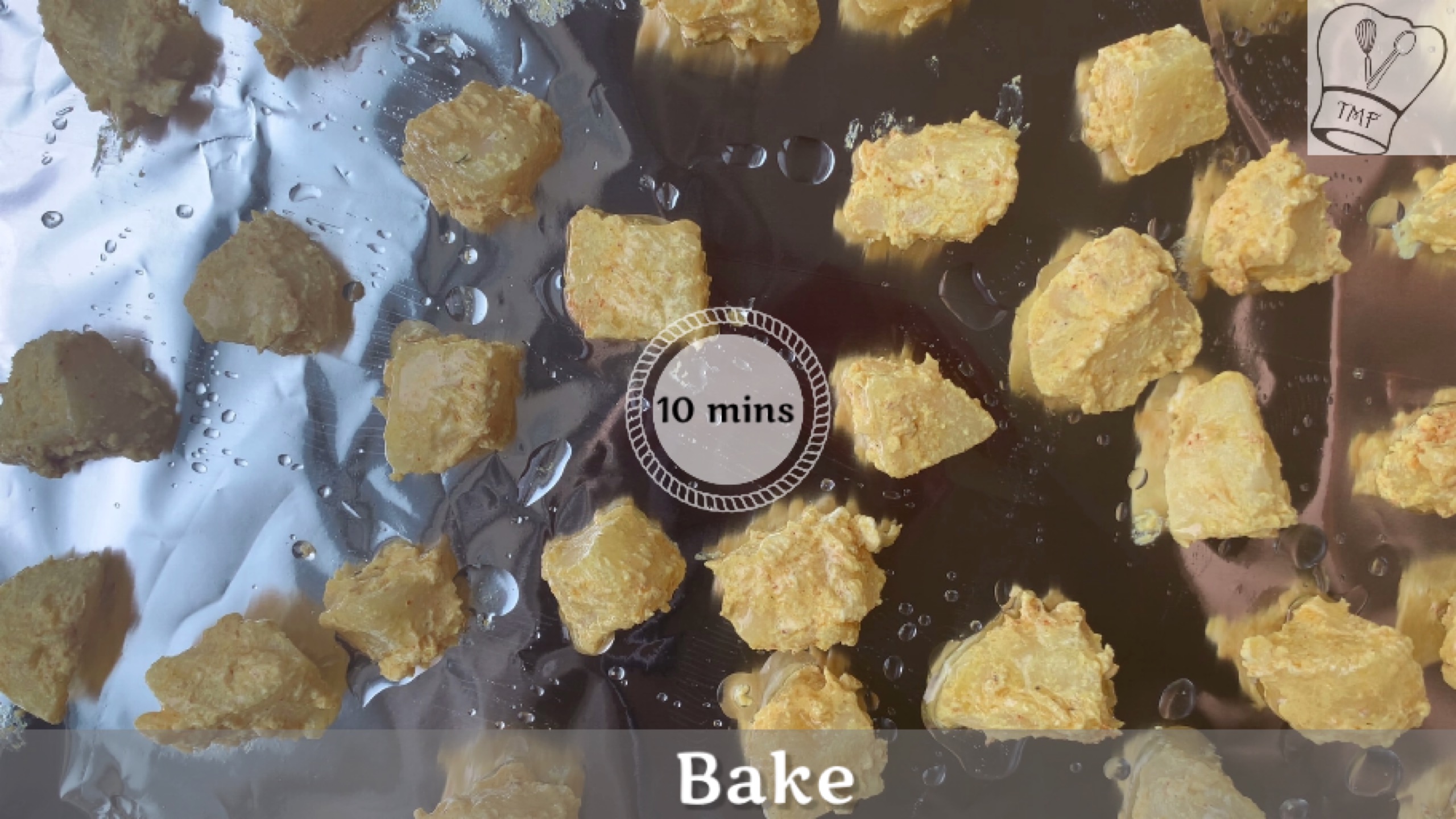 Repeat the process. After baking for 30 minutes. I baked for 5 minutes and tandoori aloo was ready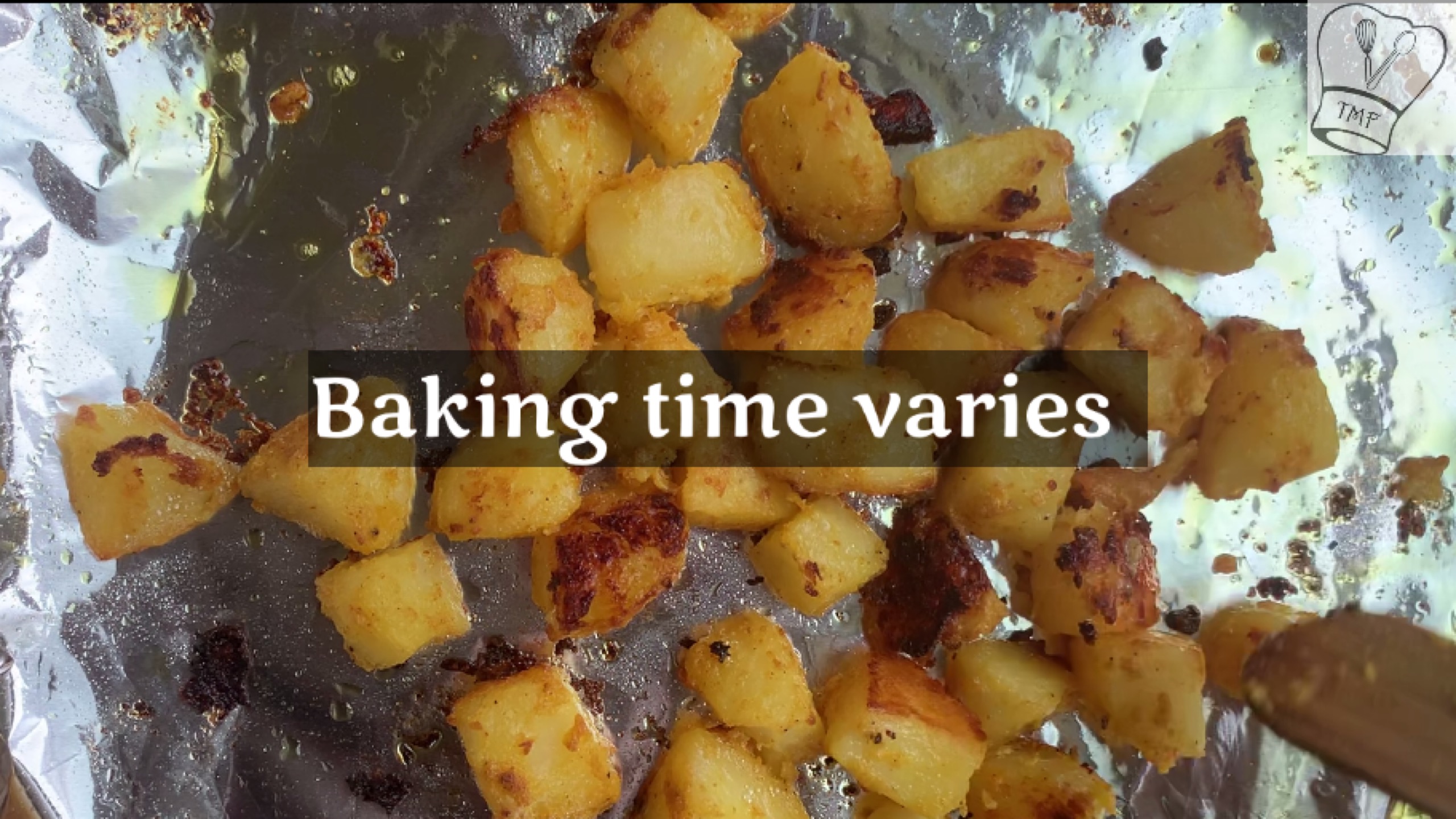 For stovetop:
Add little oil to the pan and let the oil gets hot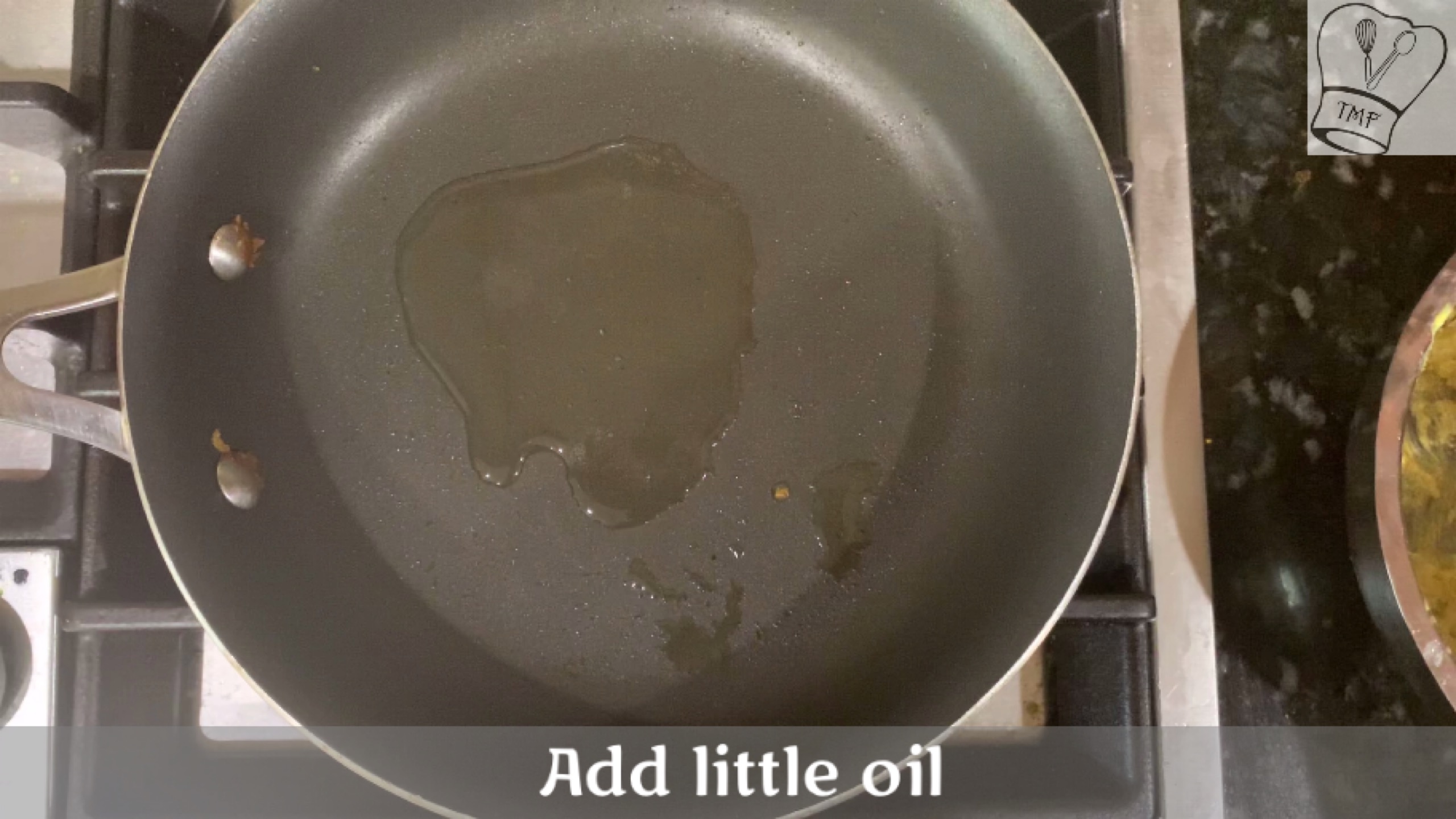 When the oil is hot carefully add marinated potatoes without touching one another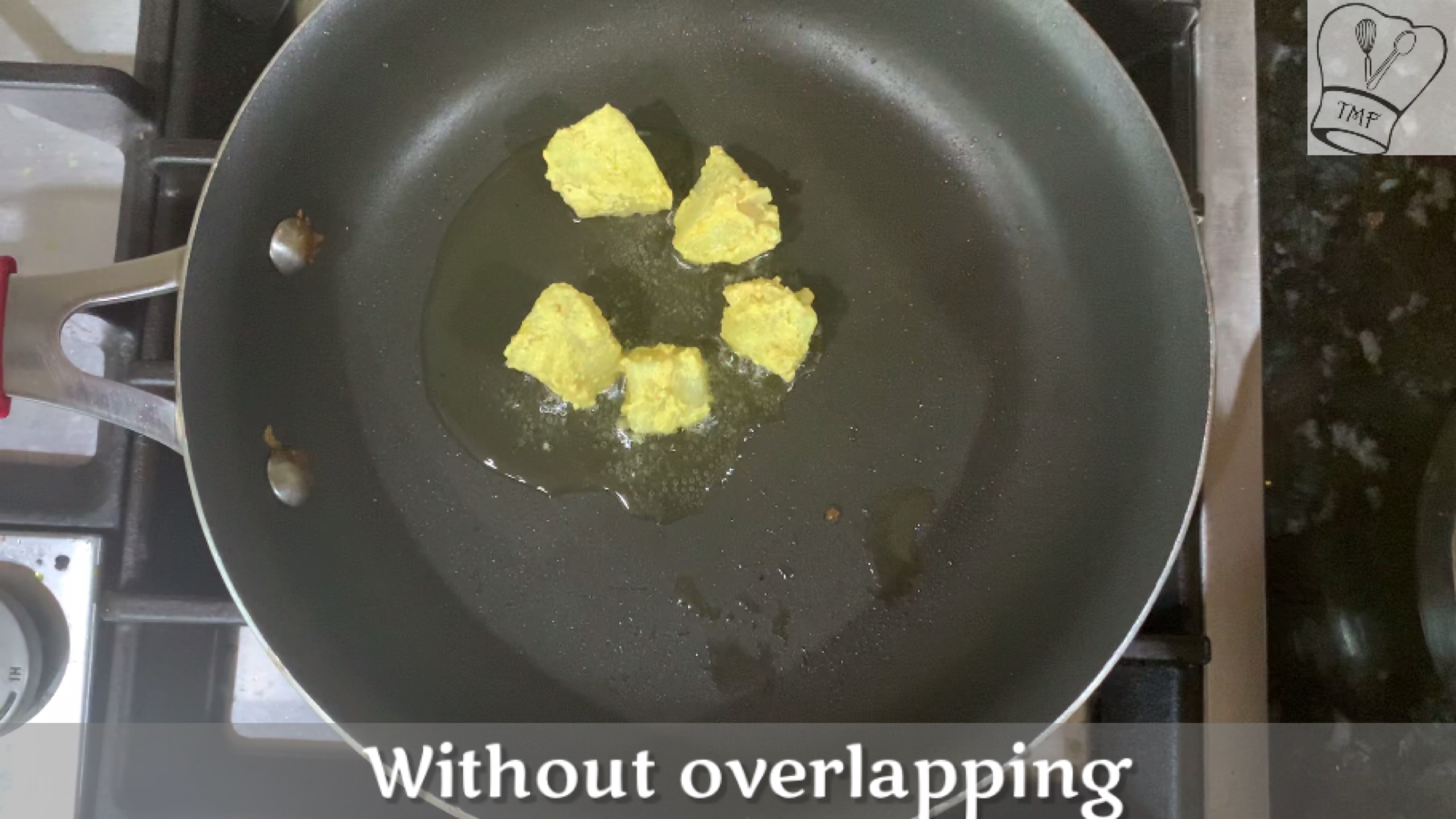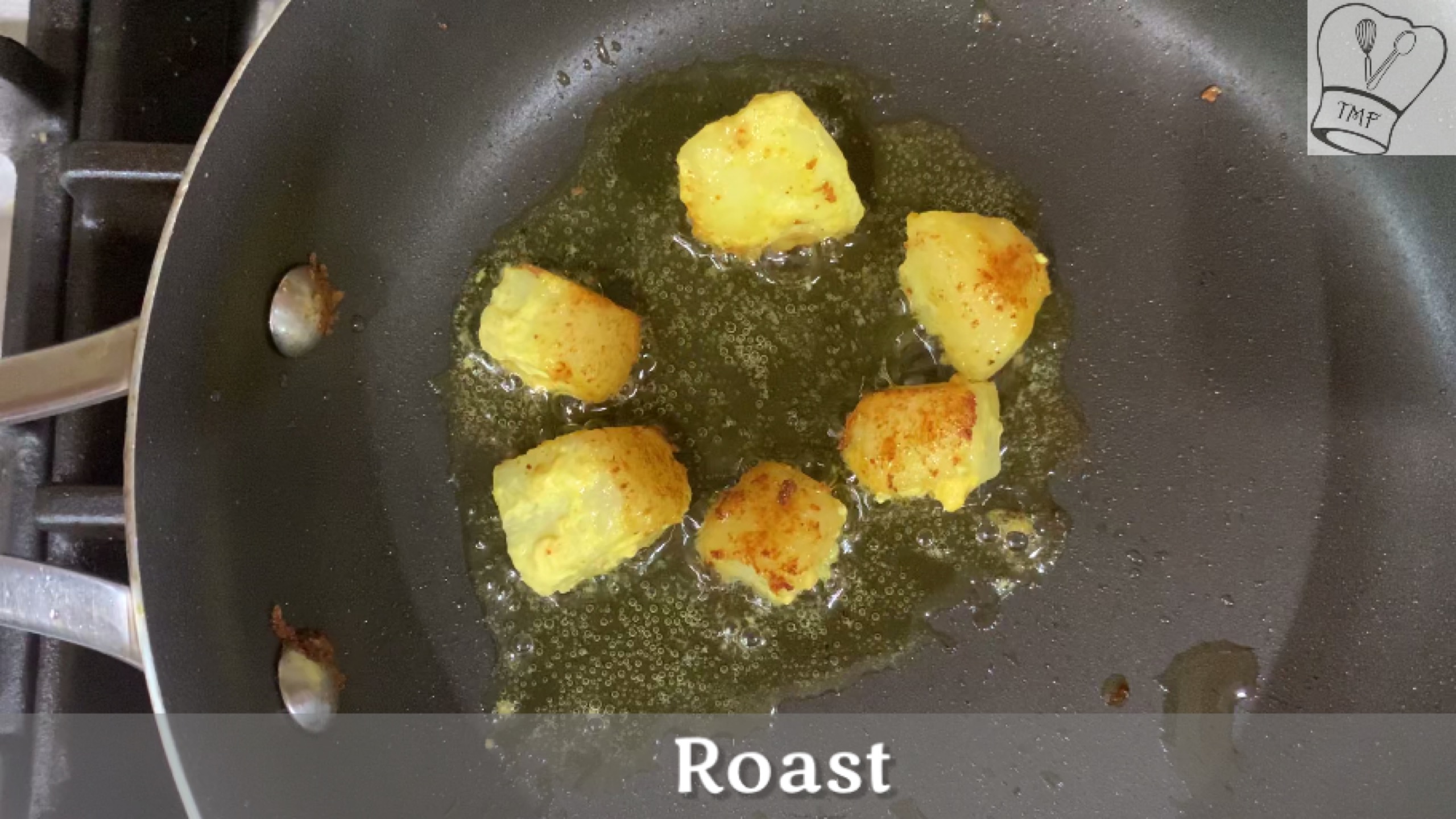 After one side is cooked and turns crispy, carefully flip cook all other sides. Serve hot