Eggless Chocolate Mug cake recipe | moist chocolate cake | no egg chocolate mug cake | instant microwave cake recipe | eggless chocolate cake under 2 minutes | double chocolate mug cake | the best chocolate mug cake | one-minute dessert | moist mug cake Check out the Best microwave chocolate cake. If you like the video pls SUBSCRIBE to my channel. Other Cake recipes
No eggs mug cake with chocolate
Super moist eggless double chocolate mug cake in 2 minutes is perfect for sudden sweet cravings. https://www.youtube.com/playlist?list=PL3zYDDQHDMStJrB29dBaCrjmzE3ebdKQq
CAN I USE WHEAT FLOUR INSTEAD OF ALL-PURPOSE/FLOUR?
For a light and soft cake, all-purpose flour is preferred. Using wheat flour might result in a dense cake. If you prefer to use wheat flour choose fine ground flour and add an extra 2 or 3 tbsp of milk.
WHY SHOULD I SIEVE DRY INGREDIENTS?
Cocoa powder might turn the cake batter lumpy. Overmixed batter results in a dense cake so always sieve the dry ingredients well before mixing.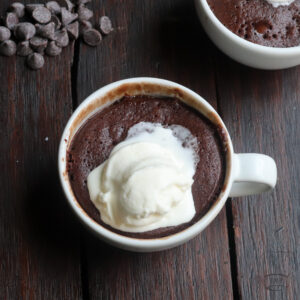 CAN I USE BUTTER INSTEAD OF OIL?
Yes, oil can be substituted with melted unsalted butter but oil makes the cake light and moist.
Can I add coffee powder?
Little coffee enhances the chocolate cake taste. If you are serving this cake for kids skip it.
CAN I BAKE a double chocolate CAKE IN THE PAN?
Yes place a stand and preheat the pan for 10 minutes on medium flame. Place the cake pan on top, cover with a lid and cook for 10-15 minutes on low flame until the toothpick inserted comes out clean
Other cake recipes in TMF
Ingredients
Chocolate milk
1/3 cup + 1 tablespoon milk
3 tablespoon flavorless oil
1/4 teaspoon vanilla extract
1 tablespoon chocolate chips
3 tablespoon sugar
Dry ingredients
1/4 teaspoon baking powder
2 tablespoon cocoa powder
1/4 cup all-purpose flour
Cake
Semi-chocolate chips few
Topping
Cream or nuts or chocolate chips or sprinkles
How to make no egg chocolate mug cake with step-by-step pictures
First add milk, oil, and vanilla extract; microwave for 1 minute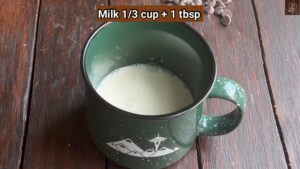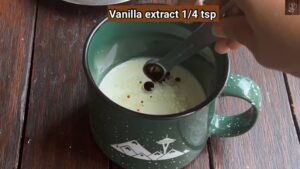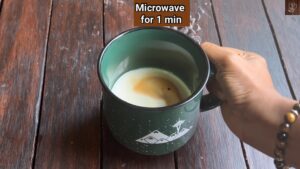 Furthermore, add chocolate chips and sugar; mix well and prepare a smooth liquid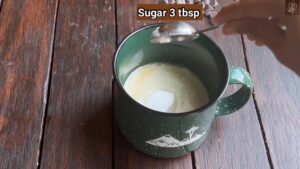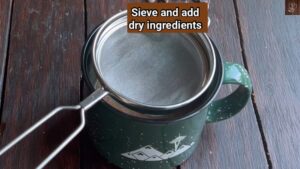 Furthermore add baking powder, all-purpose flour, and cocoa powder; add in batches. Mix gently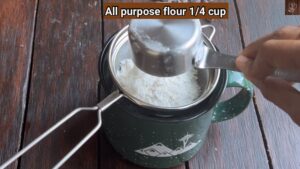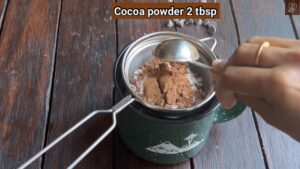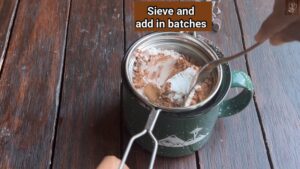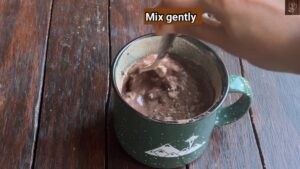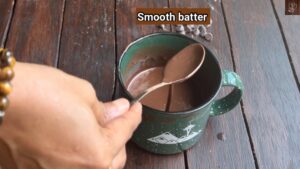 Microwave for 90-120 seconds
If you are splitting the batter microwave for 90 seconds. Insert a toothpick and check. Microwave for additional time accordingly
Microwave for 1 minute
Split the batter into two microwave safe cup
top chocolate chips and Microwave each cup for 1 minute. Insert a toothpick and check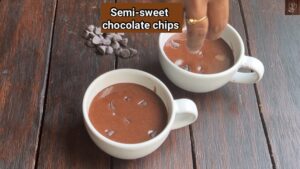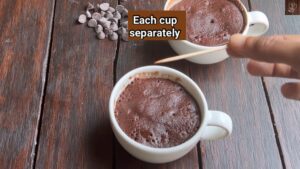 Topping
Add whipped cream, chocolate chips, sprinkles, or nuts of your choice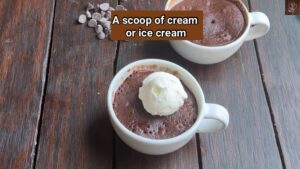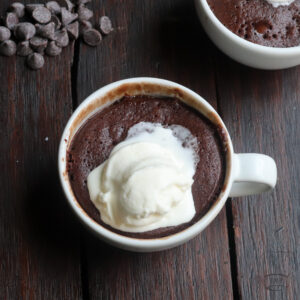 Ingredients
Chocolate milk
1/3

cup

+ 1 tablespoon milk

3

tablespoon

flavorless oil

1/4

teaspoon

vanilla extract

1

tablespoon

chocolate chips

3

tablespoon

sugar
Dry ingredients
1/4

teaspoon

baking powder

2

tablespoon

cocoa powder

1/4

cup

all-purpose flour
Topping
Cream or nuts or chocolate chips or sprinkles
Instructions
First add milk, oil, and vanilla extract; microwave for 1 minute

Furthermore, add chocolate chips and sugar; mix well and prepare a smooth liquid

Place a strainer on top

Furthermore add baking powder, all-purpose flour, and cocoa powder; add in batches. Mix gently
Microwave for 90-120 seconds
If you are splitting the batter microwave for 90 seconds. Insert a toothpick and check. Microwave for additional time accordingly
Microwave for 1 minute
Split the batter into two microwave safe cup

top chocolate chips and  Microwave each cup for 1 minute. Insert a toothpick and check

Topping

Add whipped cream, chocolate chips, sprinkles, or nuts of your choice
Video