Eggless Rasmalai cake recipe | mouth-watering Rasmalai cake (Eggless) | Rasmalai tres leches cake | eggless ras malai | fusion cake | eggless recipe | Eggless Tres Leches cake recipe | Best Milk cake | Holi special | eid special dessert | bakery style cake with step-by-step pictures and video recipe. Check out the ras malai cake recipe and if you like the video plsSUBSCRIBE to my channel.
Ras malai cake
Rich and tasty rasmalai tres Leches Cake is made with spongy cake soaked in 3 types of milk (evaporated milk, condensed milk, and heavy cream) and frosted with whipped cream frosting. Bakery-style Indian cake is one of the quickest and can be made even by a beginner without any hassle. The 6-inch cake is perfect for any small event/ birthday party/ special occasion
CAN I USE WHEAT FLOUR INSTEAD OF ALL-PURPOSE/FLOUR?
For a light and soft cake, all-purpose flour is preferred. Using wheat flour might result in a dense cake and soaking might be perfect. If you prefer to use wheat flour choose fine ground flour and add an extra 2 or 3 tbsp of water. Use a generous amount of milk mixture to make it moist.
CAN I USE BUTTER INSTEAD OF OIL?
Yes, oil can be substituted with melted unsalted butter but oil makes the moist cake. We have to refrigerate the cake for at least 1 day for milk to soak well and keep it refrigerated till you finish the cake so use flavorless oil for the best ras malai tres leches cake.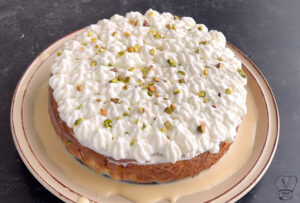 CAN I DOUBLE THE RECIPE AND MAKE TWO LAYERS OF TRES LECHES CAKE?
Yes, You can double the recipe and prepare cakes in two 6 or 7-inch springform pans but soak both layers separately in a milk mixture and refrigerate. After both layers are well soaked assemble the cake.
HOW CAN I ADOPT THE RECIPE FOR OTHER CAKE PANS?
I have used a 6-inch cake pan. You can also bake the cake in a 7-inch cake pan. Double the recipe for the 9-inch best-ever eggless rasmalai cake.
DO I NEED A CHEESECAKE PAN/SPRINGFORM PAN FOR TRES LECHES CAKE?
A Cheesecake pan is optional for malai cake but after soaking the cake in milk mixture it is easy to unmold the cake from springform. If you are using the regular cake pan use a cling wrap before soaking the milk mixture for easy unmolding.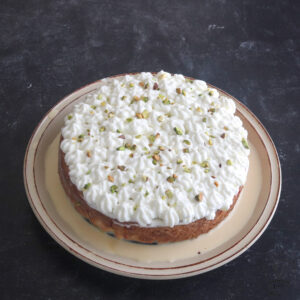 Ingredients
Wet ingredients
1/2 cup curd plain yogurt
1/4 teaspoon baking soda
1/2 cup sugar
1/4 cup oil
Yellow food color
1/4 teaspoon kewra extract
Dry ingredients
3/4 cup all-purpose flour
1/2 teaspoon baking powder
1/2 teaspoon cardamom powder
Malai
4 tablespoon cream
Pinch of Saffron
3/4 cup evaporated Milk
1/4 condensed milk
Heavy cream frosting
3/4 cup heavy cream
1/4 cup powdered sugar
topping
pistachio
how to make eggless rasmalai cake with step-by-step pictures
Preheat oven to 355°F or 180°C

Take a 6-inch round springform pan and line it with parchment paper and grease it with butter spray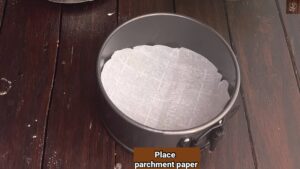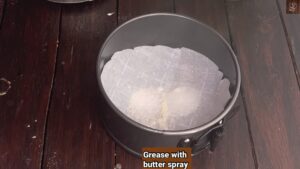 In a wide mixing bowl add yogurt and baking soda; mix well
furthermore add sugar, oil, kewra water, and yellow food color; mix well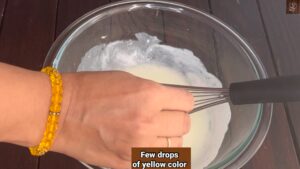 Sieve and add flour, baking powder, and cardamom powder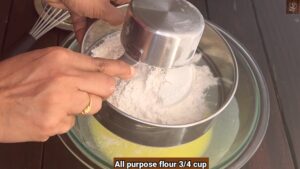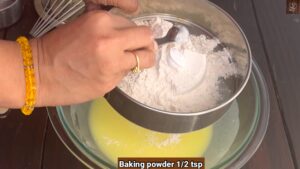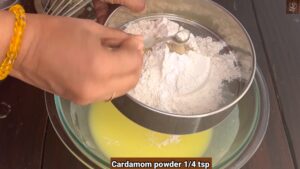 mix just until all the ingredients are incorporated; avoid over mixing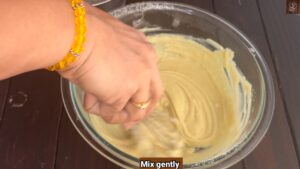 Over-mixed batter yields a dense cake

Add the batter to the prepared cake pan and tap the pan twice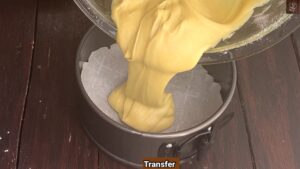 Bake for 16-19 minutes or until a toothpick/skewer inserted comes out clean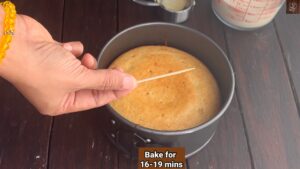 Cooldown the cake for 10 minutes and carefully flip the cake on the rack, remove the parchment paper, and allow the cake to cool completely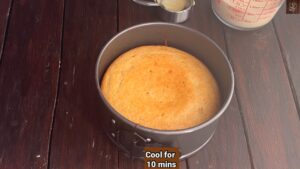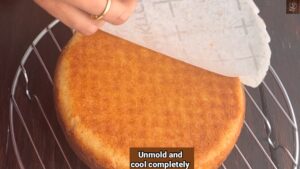 How to make Three milk glaze
In a deep glass mug add evaporated milk, condensed milk, saffron, and heavy cream; mix well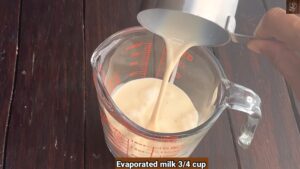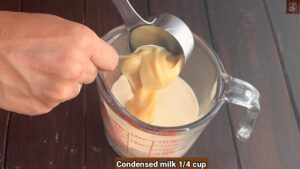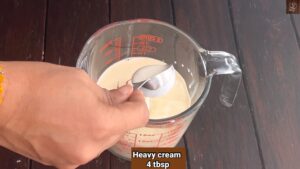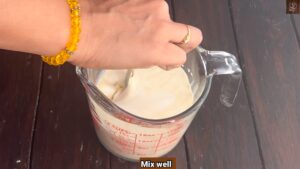 Microwave for two minutes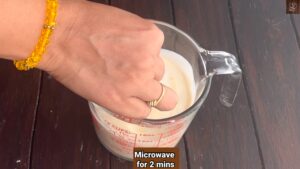 Add two drops of kewra water; mix well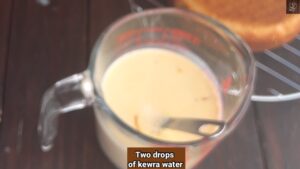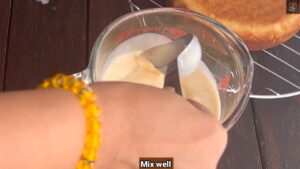 Add Milk glaze
Keep the cake back on the springform pan

Place the springform pan on a wide plate or 9-inch or big cake pan

Use a skewer and make holes all around the cake

While making holes make sure the skewer goes all the down so that the cake gets well soaked in the milk and pour a generous portion of warm milk glaze on the entire cake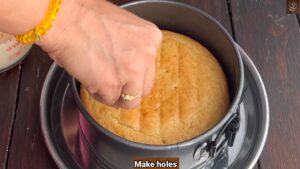 Make sure you add the glaze around the curves and rest it for a few minutes till the milk mixture is well absorbed on the cake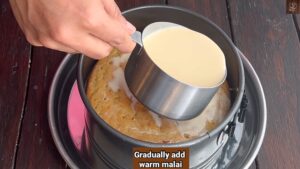 Repeat adding the milk glaze in batches

rest at room temperature for 10 minutes. Refrigerator for 2 hours or until the milk absorbs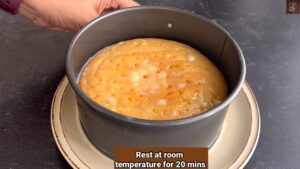 How to make stiff Whipped cream frosting
In a wide vessel add chill heavy cream and beat it well on medium speed until you get white peaks

Add confectioners' sugar, and mix gently until everything is combined well. Our Whipped cream frosting is ready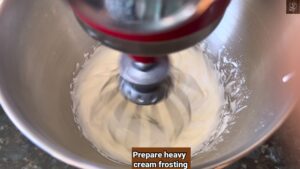 Assemble the ras malai cake
Take a cake stand and place the springform pan and unmold the pan

Transfer the frosting into a piping bag and frost according to your preference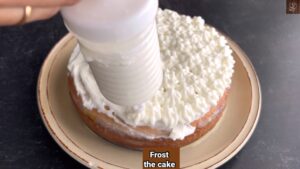 Finally, sprinkle crushed pistachios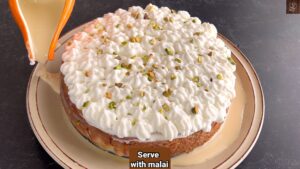 If you prefer extra rasmalai flavor, make one more batch of malai and serve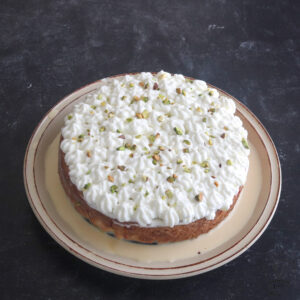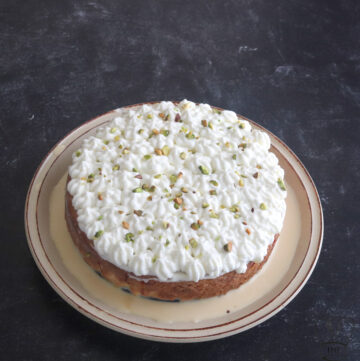 Ingredients
Wet ingredients
1/2

cup

curd plain yogurt

1/4

teaspoon

baking soda

1/2

cup

sugar

1/4

cup

oil

Yellow food color

1/4

teaspoon

kewra extract
Dry ingredients
3/4

cup

all-purpose flour

1/2

teaspoon

baking powder

1/2

teaspoon

cardamom powder

Malai

4

tablespoon

cream

Pinch

of Saffron

3/4

cup

Evaporated Milk

1/4

condensed milk
Heavy cream frosting
3/4

cup

heavy cream

1/4

cup

powdered sugar
Instructions
Preheat oven to 355°F or 180°C

Take a 6-inch round springform pan and line it with parchment paper and grease it with butter spray

In a wide mixing bowl add yogurt and baking soda; mix well

furthermore add sugar, oil, kewra water, and yellow food color; mix well

Sieve and add flour, baking powder, and cardamom powder

mix just until all the ingredients are incorporated; avoid over mixing

Over-mixed batter yields a dense cake

Add the batter to the prepared cake pan and tap the pan twice

Bake for 16-19 minutes or until a toothpick/skewer inserted comes out clean

Cooldown the cake for 10 minutes and carefully flip the cake on the rack, remove the parchment paper, and allow the cake to cool completely
How to make Three milk glaze
In a deep glass mug add evaporated milk, condensed milk, saffron, and heavy cream; mix well

Microwave for two minutes

Add two drops of kewra water; mix well
Add Milk glaze
Keep the cake back on the springform pan

Place the springform pan on a wide plate or 9-inch or big cake pan

Use a skewer and make holes all around the cake

While making holes make sure the skewer goes all the down so that the cake gets well soaked in the milk and pour a generous portion of warm milk glaze on the entire cake

Make sure you add the glaze around the curves and rest it for a few minutes till the milk mixture is well absorbed on the cake

Repeat adding the milk glaze in batches

rest at room temperature for 10 minutes. Refrigerator for 2 hours or until the milk absorbs

How to make stiff Whipped cream frosting

In a wide vessel add chill heavy cream and beat it well on medium speed until you get white peaks

Add confectioners' sugar, and mix gently until everything is combined well. Our Whipped cream frosting is ready
Assemble the ras malai cake
Take a cake stand and place the springform pan and unmold the pan

Transfer the frosting into a piping bag and frost according to your preference

Finally, sprinkle crushed pistachios

If you prefer extra rasmalai flavor, make one more batch of malai and serve
Video