Kaju Apple sweet | how to make cashew apple sweet | sweet stall style shaped kaju katli Apple | best indian sweets | kaju katli apples at home | apple shaped kaju katli | apple shaped cashew nut burfi | delicious shape cashew sweet | Diwali sweet | apple sweet | kaaju apple | fruit shape sweet | apple peda | rakhi special sweet | kaju apple mithai | mithaai | dry fruits sweet | kaju pasand sweetstep by step pictures and video recipe. You can also check out the Kaju Apple sweet recipe If you like this recipe pls SUBSCRIBE to my channel. Check out other Peda recipes in TMF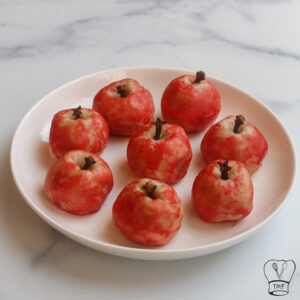 HOW LONG SHOULD I GRIND CASHEWS?
Grounding cashews help with the dough texture. however, avoid over-grinding as it oozes out oil and makes katli oily. Always pulse a few times and grind once; mix well in between the grinding
Should I SIEVe cashew flour?
over grinding, cashews might affect apple katli texture so you can sieve. If you are ok with biting a few cashew pieces skip sieving.
CAN I USE brown SUGAR?
White sugar gives the best taste. if you are using other variety sugar taste might differ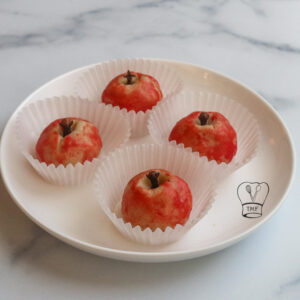 CAN I use KEWRA WATER?
Yes, instead of cardamom powder you can use kewra water, rose essence, or any other flavor according to your choice.
SHOULD I REFRIGERATE THE CASHEW FUDGE?
It stays good at room temperature for up to one week. You can refrigerate for longer shelf life.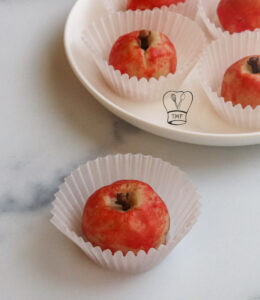 Ingredients
1 cup cashews
1/2 cup sugar
1/4 cup water
1/8 teaspoon cardamom powder
1 teaspoon ghee
Food color syrup
1 tablespoon sugar
Red food color
1 tablespoon water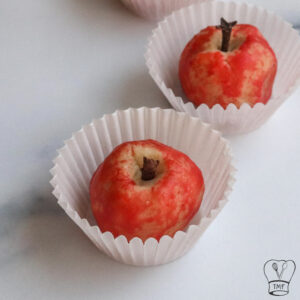 How to make kaju Apple with step-by-step pictures
First, grind cashew into powder. Mix well in between and grind
Mix sugar, water, and food color. Microwave for 1 minute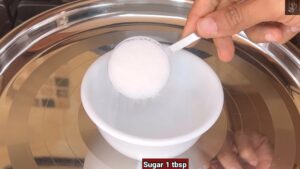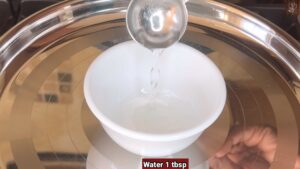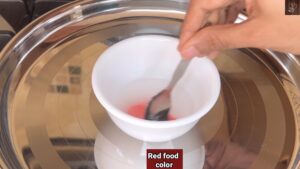 Keep parchment paper ready and add little ghee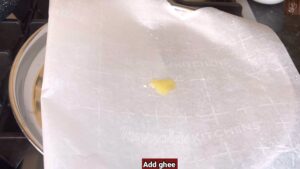 Add sugar and water to a wide heavy bottomed pan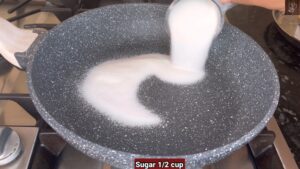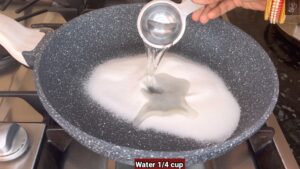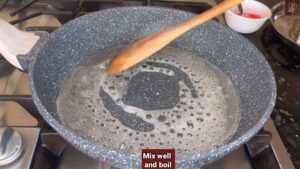 Bring to a boil and start checking for one-string consistency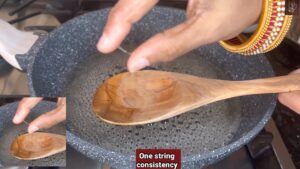 Immediately turn down to low flame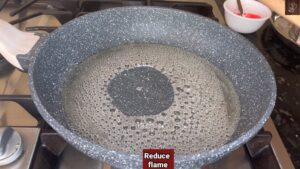 Ads cashew flour; mix well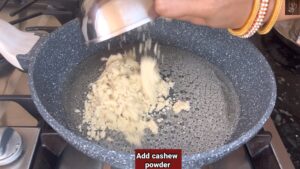 Cook on low - medium flame
Add cardamom powder and ghee; mix well and cook till the mixture comes together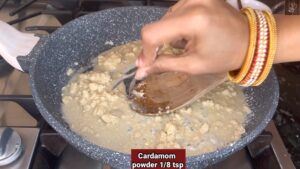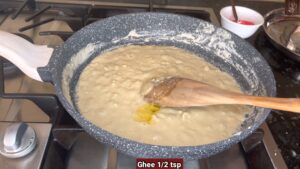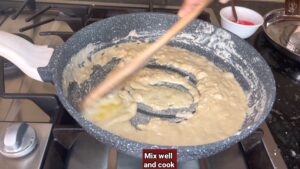 Grease your hands and pinch a small portion and roll; nonstick soft dough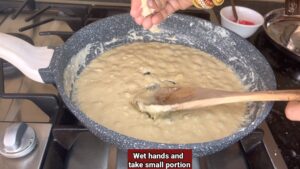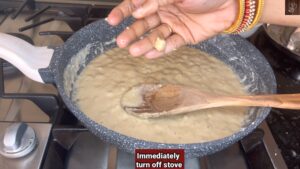 Turn off the stove and transfer to the greased parchment paper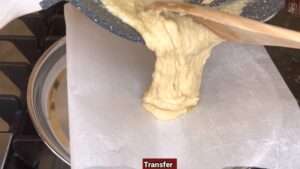 Fold the parchment paper and level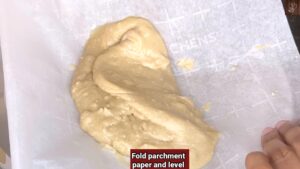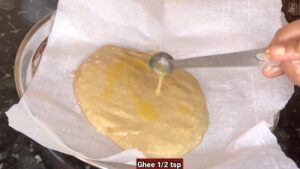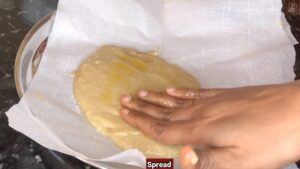 When it is cool enough to handle, pinch small portions and keep them aside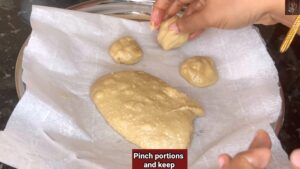 As it could down, it firms and will turn easy to roll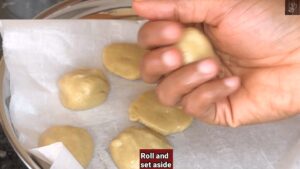 Press top and bottom; shape into apples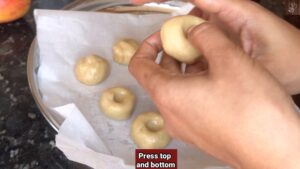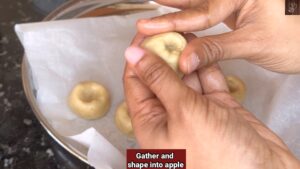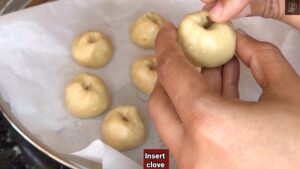 Use a paintbrush and apply food color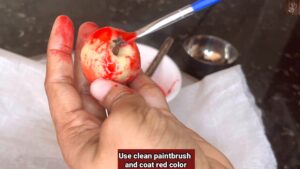 Cool till food color dries and enjoy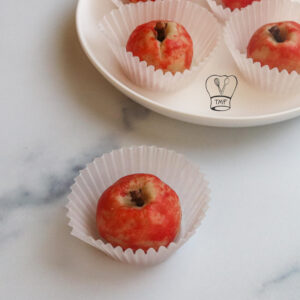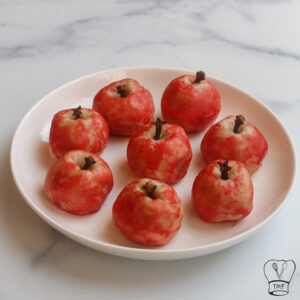 Ingredients
1

cup

cashews

1/2

cup

sugar

1/4

cup

water

1/8

teaspoon

cardamom powder

1

teaspoon

ghee
Food color syrup
1

tablespoon

sugar

Red food color

1

tablespoon

water
Instructions
First, grind cashew into powder. Mix well in between and grind

Mix sugar, water, and food color. Microwave for 1 minute

Keep parchment paper ready and add little ghee

Add sugar and water to a wide heavy bottomed pan

Bring to a boil and start checking for one-string consistency

Immediately turn down to low flame

Ads cashew flour; mix well

Cook on low - medium flame

Add cardamom powder and ghee; mix well and cook till the mixture comes together

Grease your hands and pinch a small portion and roll; nonstick soft dough

Turn off the stove and transfer to the greased parchment paper

Fold the parchment paper and level

Add ghee and cool

When it is cool enough to handle, pinch small portions and keep them aside

As it could down, it firms and will turn easy to roll

Press top and bottom; shape into apples

Insert clove on top

Use a paintbrush and apply food color

Cool till food color dries and enjoy
Video