Mor Kali | Mor koozh | traditional South Indian tiffin recipe| more kali | more koozh | Moore kali |Moore koozh | amarthapalam with step-by-step pictures. Check out the Mor Kali video and If you like the video pls SUBSCRIBE to my channel.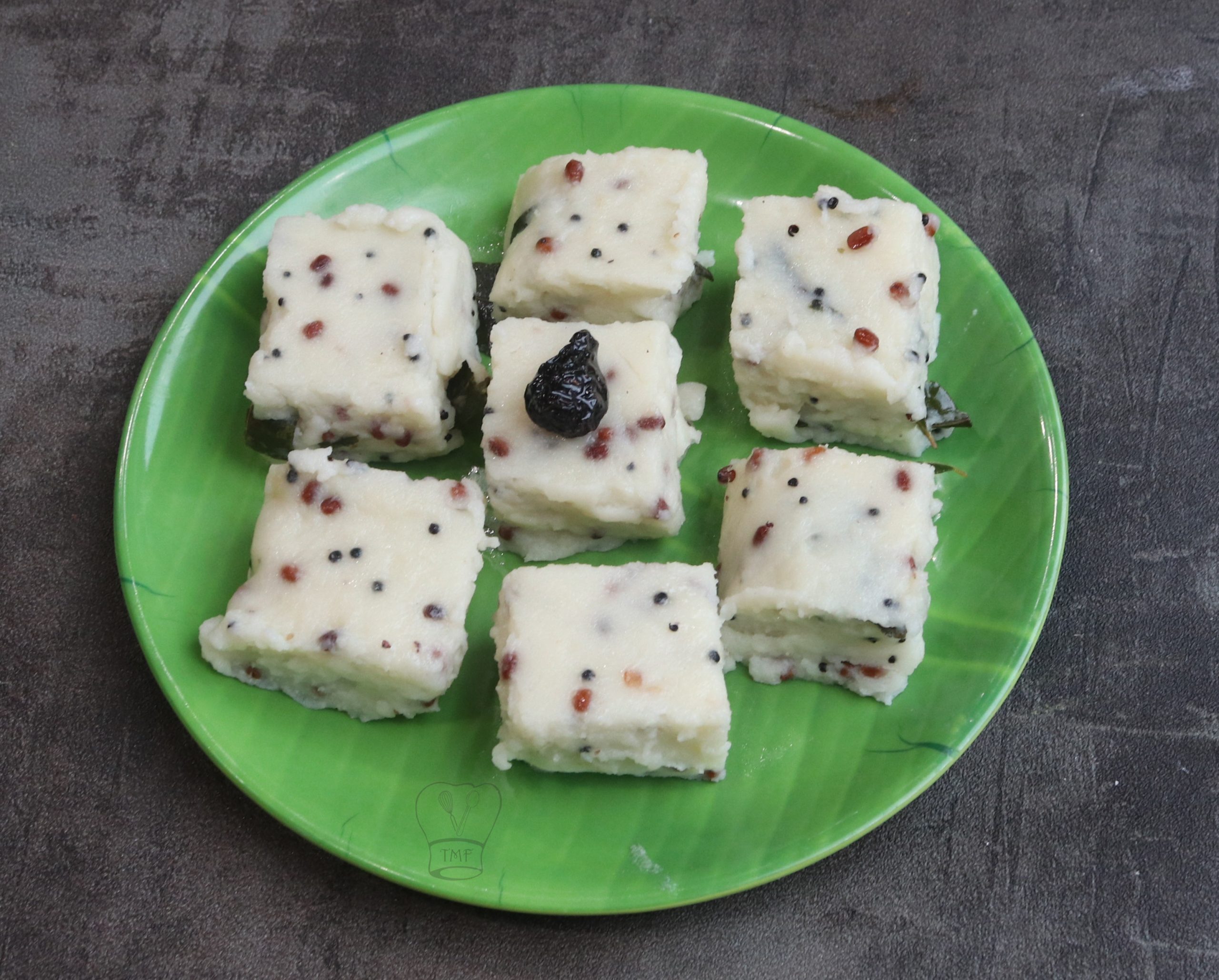 Mor Kali | Mor Koozh | more kali is Thanjavur | Tanjore special traditional south Indian tiffin recipe. It can be prepared very quickly and typically served as a breakfast or evening tiffin. Traditionally, mor kali is served as a mass, but to make it easy to eat and looks presentable I have cut them into pieces.
Mor kali
More kali is grandma's recipe. During my school days, Amma prepares this for evening coffee. It is prepared with buttermilk and rice flour slurry. The key to tasty more kali is slow cooking and a generous amount of oil. Traditionally it is served as a mass in a cup but I prefer to cut them into a square as it is convenient.
Should I use only mor milagai
Mor Milagai enhances the taste and flavor of more koozh so if you have more milage in stock I would recommend using it but if you don't have you used red chilli / green chilli and prepare.
Can I skip curd for mor kali?
No, the taste of the dish is mainly from the buttermilk so don't skip the curd. Always use thick curd so that when mixed with twice the amount of water we will get perfect buttermilk for Mor kali.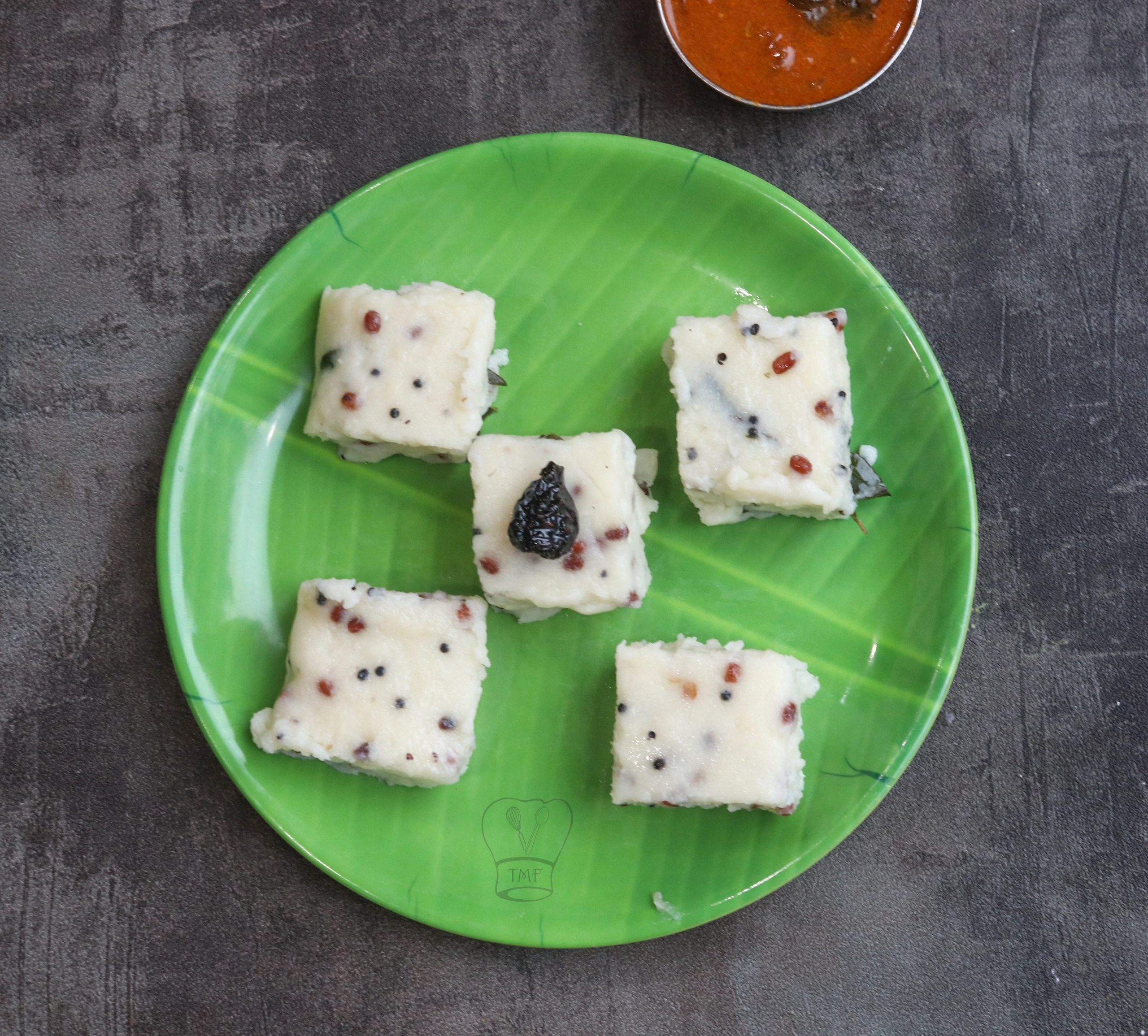 Can I use store-bought Buttermilk?
Yes but make sure the buttermilk is watery so that Mor koozh won't curdle while preparing
Should I cut and serve mor koozh
No, you can just serve them as such in a bowl, that's the traditional way of serving mor koozh. I prepare to cut them into squares.
Do we need this much oil?
Yes, we need oil as it helps for the mor koozh texture and gives the best Mor kali. In our home, we generally use coconut oil. You can also use sesame oil which will give good flavor.
Can I cut Mor koozh immediately and serve?
Preferably leave it for at least 30 minutes so that it will get set and we can cut them easily. Grease the knife with little ghee for easy cutting then cut mor koozh. For the vegan version use vegan butter to grease.
Side dish for mor koozh
Spicy sides go well with this Mor kali. My favorite sides are mango thokku, green chili thokku, inji thogayal, puli inji, and tamarind-based kuzhambu varieties.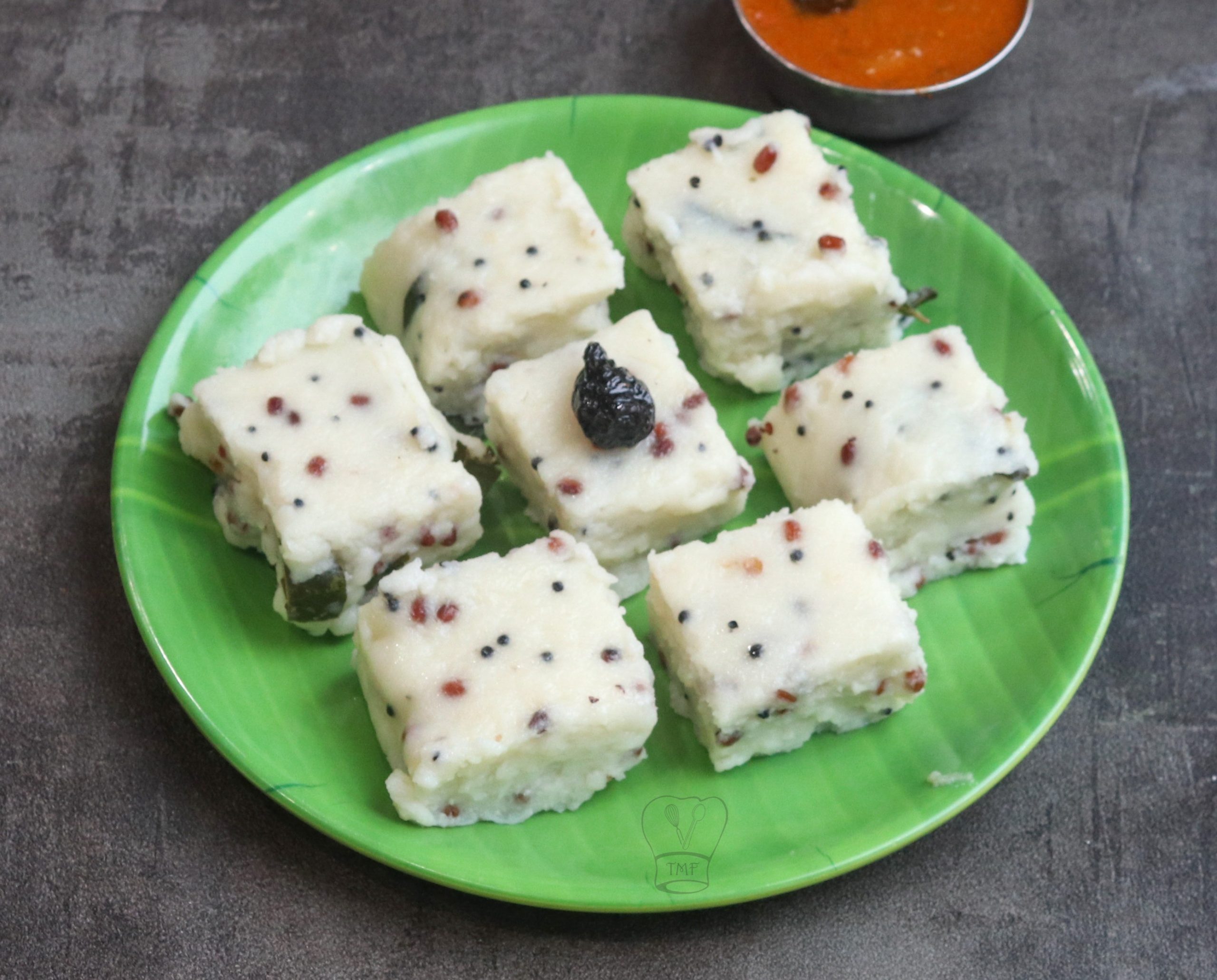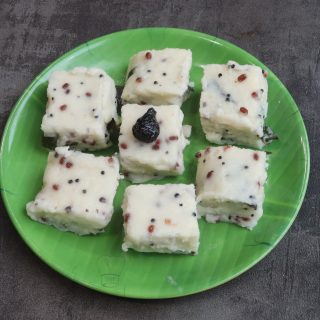 Ingredients
1

cup

thick curd

preferably sour curd

2

cups

Water

1/4

cup

water optional

refer notes

3

tablespoon

+ 1 teaspoon Coconut oil

Mustard seeds - 1/2 tsp

Urad dal - 2 tbsp

Mor milagai - 5

adjust according to your spice

Curry leaves - few

Hing - a generous portion

Salt - as needed

1

cup

Rice flour
Instructions
Take a square pan or plate, place parchment paper and  grease it with little ghee/ oil, and set it aside

In a wide mixing bowl take 1 cup of  curd  add 2 cups of water,  whisk the curd well to make a lump-free thin buttermilk

Add required salt and mix well

Furthermore, add 1  cup of rice flour to buttermilk. Mix well to make a lump free smooth mixture

Add oil and  heavy-bottomed pan and turn on the stove on medium flame

Once when oil is hot add mustard seeds, Urad dal, Mor milagai and mix well

Let the mustard seeds splutter, dal turns golden brown and Mor milagai gets roasted

Add curry leaves and give a quick mix

Turn down to low- medium flame and add rice flour buttermilk mixture, mix well

For the rice flour, I used the mixture turned slightly thick so I added extra 1/4 cup water if your mixture is watery go ahead and continue cooking

Add a generous portion of hing and mix well

Keep mixing  and continue cooking

Add 1 tablespoon of oil, mix well and continue cooking

At one stage the mixture becomes thick and  shiny add 1 teaspoon of oil, mix well and continue cooking

Cook till the mixture turns into a non-sticky mass without sticking to the sides of the pan

Grease your hands with cold water and touch the Mor kali, if it is not sticking to the finger turn off the stove and transfer. If it sticks continue cooking in low flame till you get non-sticky mass

Transfer  the mor kali mixture to a greased plate

Grease a bottom of a small bowl or spoon  with little oil

Press the mixture gently with the greased bowl and level it

Allow the mixture to cool for at least 30 minutes

After the mixture is cool grease the knife with little ghee and cut into squares. The easy and delicious Mor Kali is ready
Video
Notes
You can serve mor koozh as such(non-sticky final mixture) or cut into pieces and serve like mine
If you don't have Mor milagai use red chilli
In our home we like coconut oil flavor, you can use sesame oil or any other oil of your choice
You can add coconut-like arisi Upma and prepare
Stir the mixture well and make a lump free smooth koozh
Before turning off the stove make sure the mixture is non-sticky, pinch a small portion, and check. You can also grease your finger with cold water touch and confirm
If the kali is cooked properly, once it cools down, you will be able to cut it without any stickiness
After you spread in-tray, you can drizzle oil over to avoid a dry top while cooling down but if you have cooked the mor koozh with the specified oil you won't end up with a dry surface
Grease the knife with little ghee for easy cutting
Preferably use slightly sour curd for the best flavor
Ingredients:
1 cup Rice flour
1 cup thick curd, preferably sour curd
2 cups Water
1/4 cup water optional (refer notes)
3 tablespoon + 1 teaspoon Coconut oil
Mustard seeds - 1/2 tsp
Urad dal - 2 tbsp
Mor milagai - 5 ( adjust according to your spice)
Curry leaves - few
Hing - generous portion
Salt - as needed

How to prepare

Mor Kali / Mor Koozh with step by step pictures:
Take a square pan or plate, place parchment paper and

grease it with little ghee/ oil, and set it aside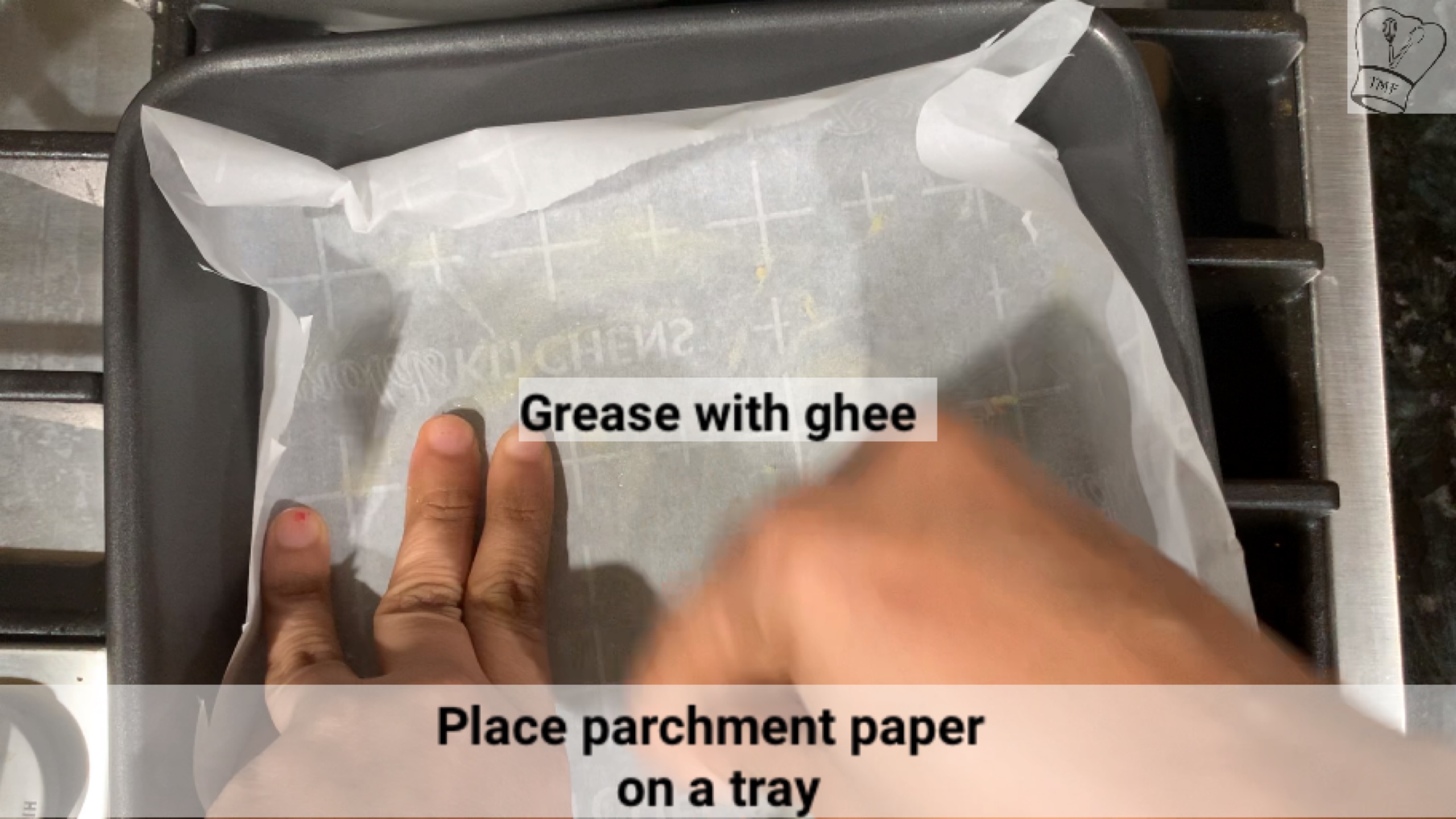 In a wide mixing bowl take 1 cup of curd add 2 cups of water, whisk the curd well to make a lump-free thin buttermilk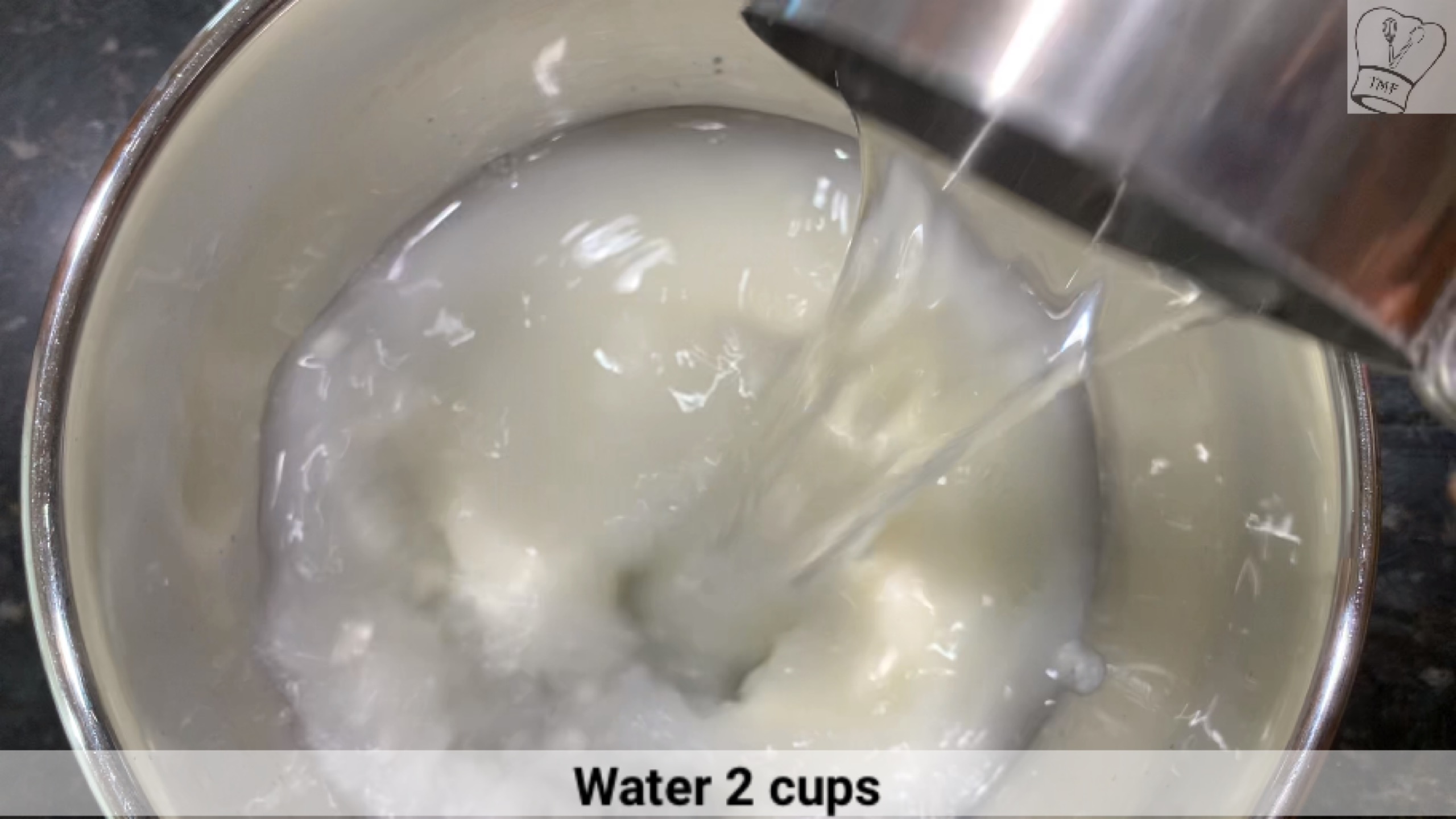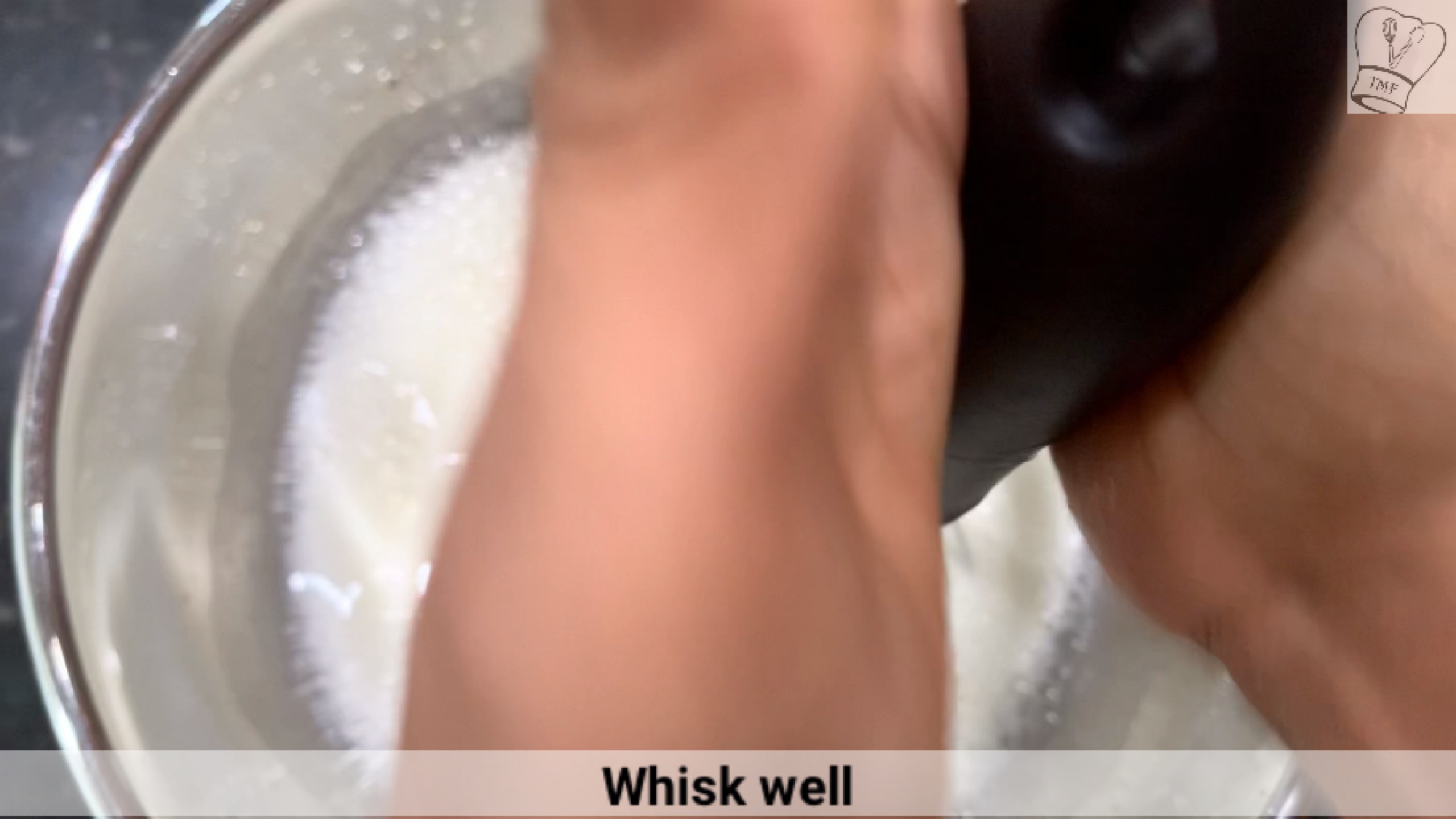 Add required salt and mix well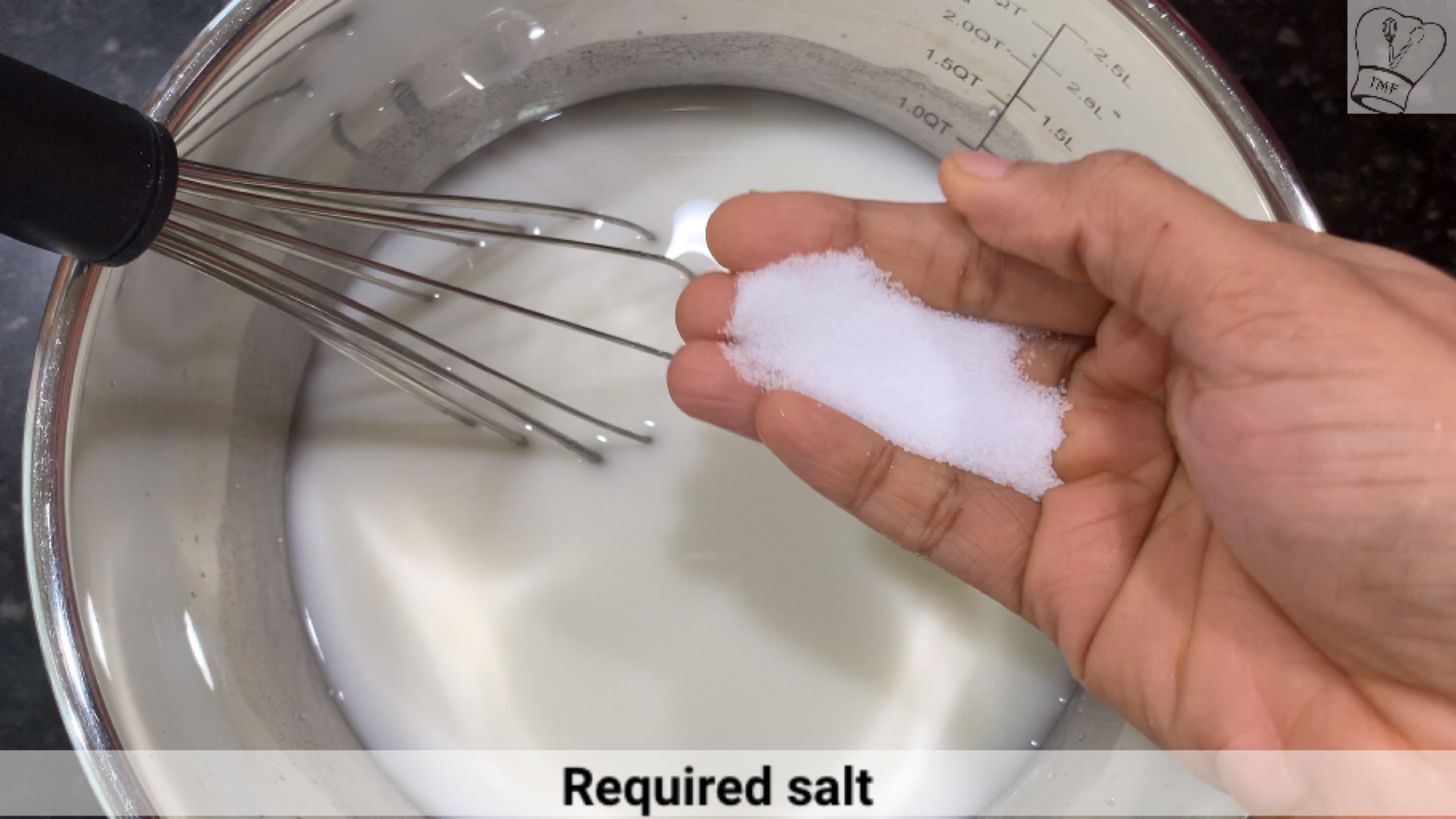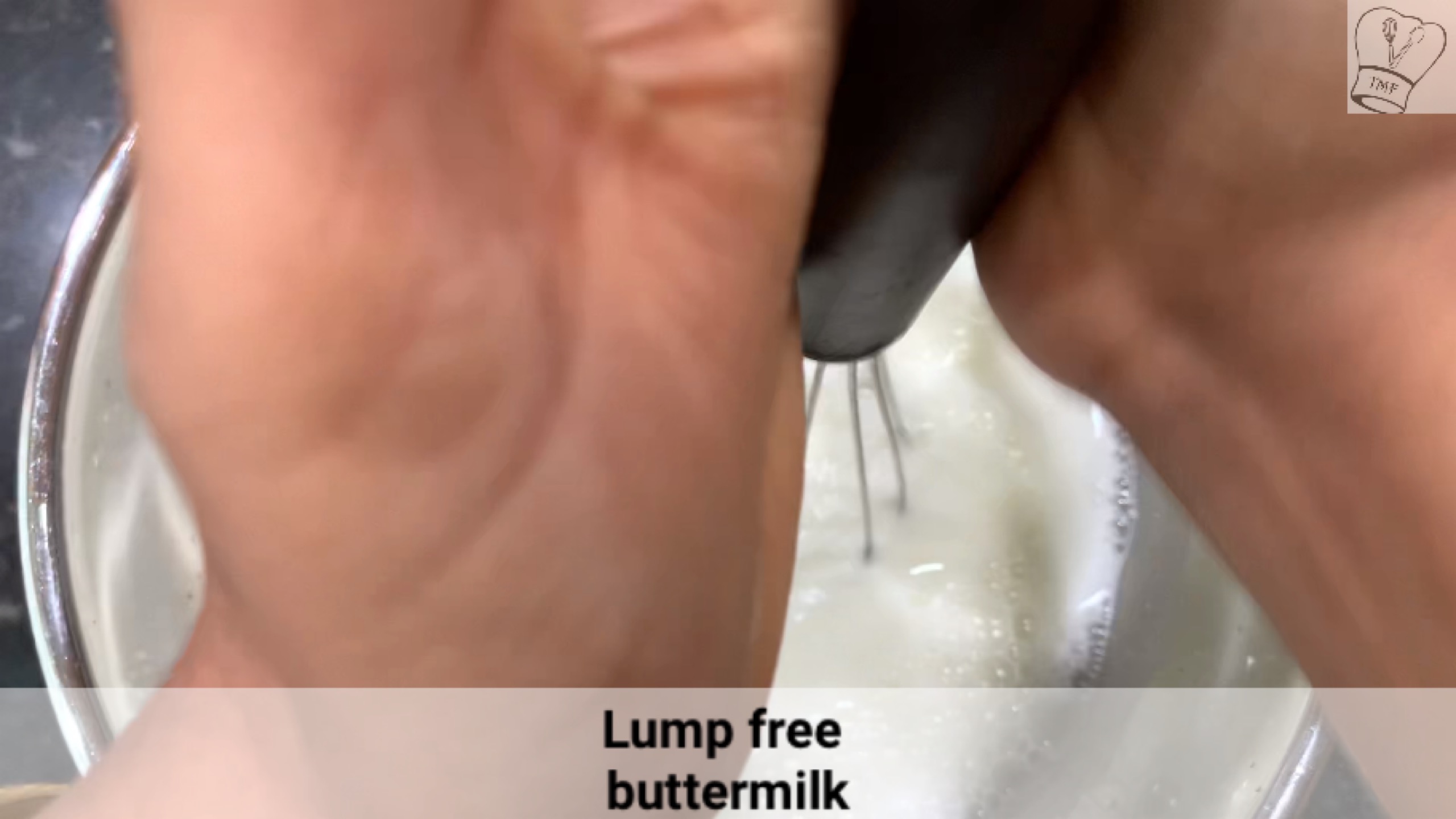 Furthermore, add 1 cup of rice flour to buttermilk. Mix well to make a lump free smooth mixture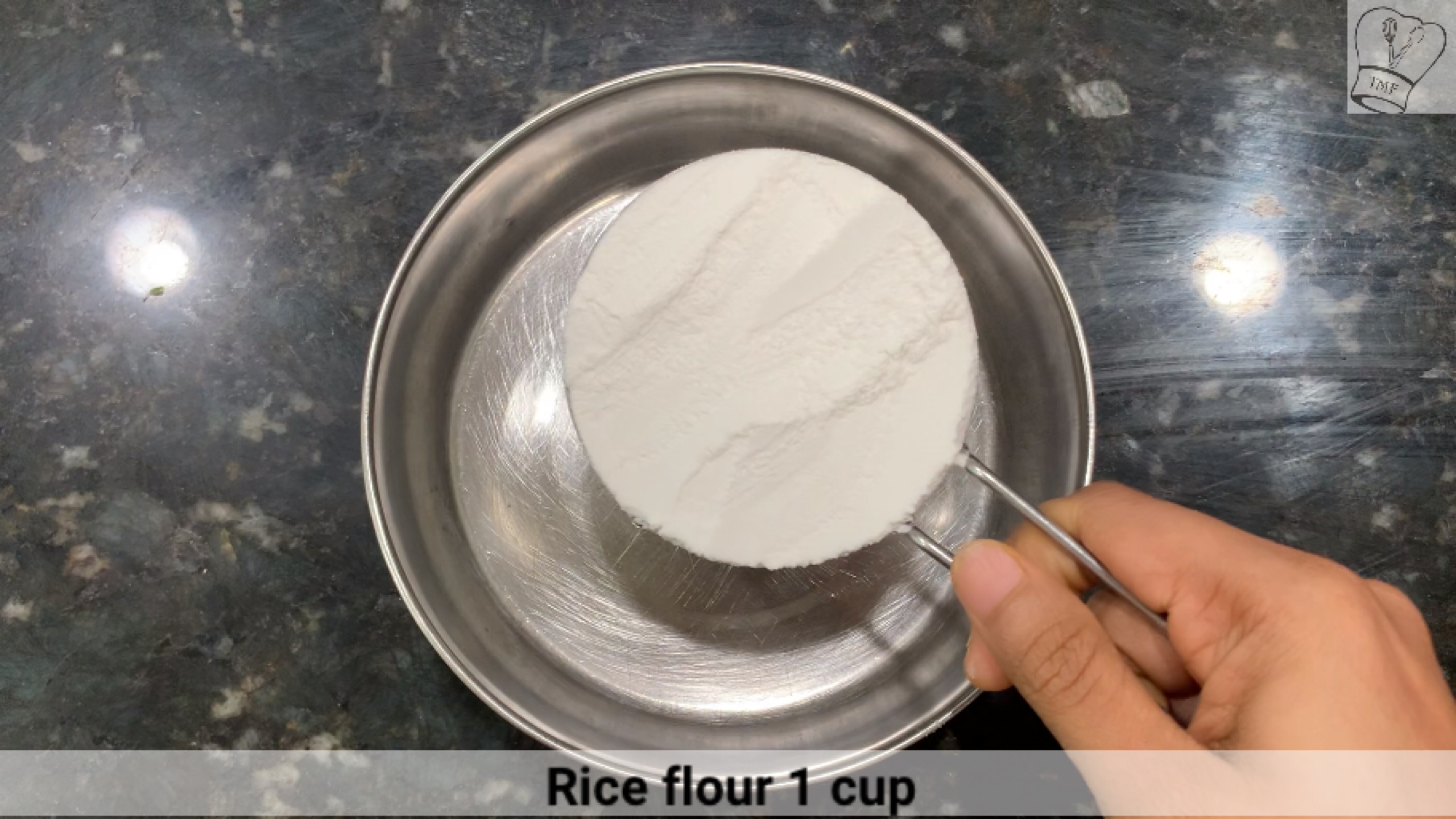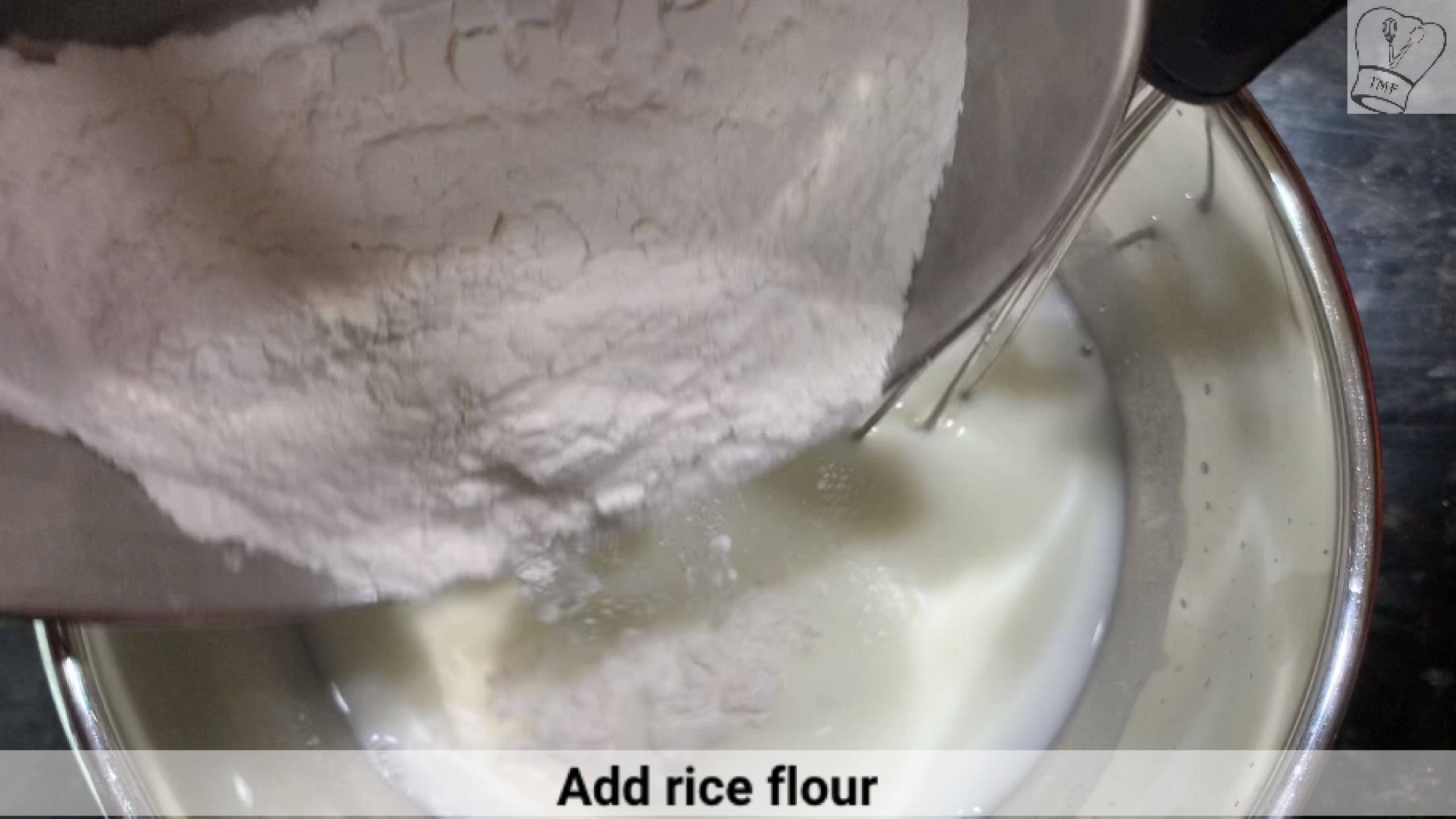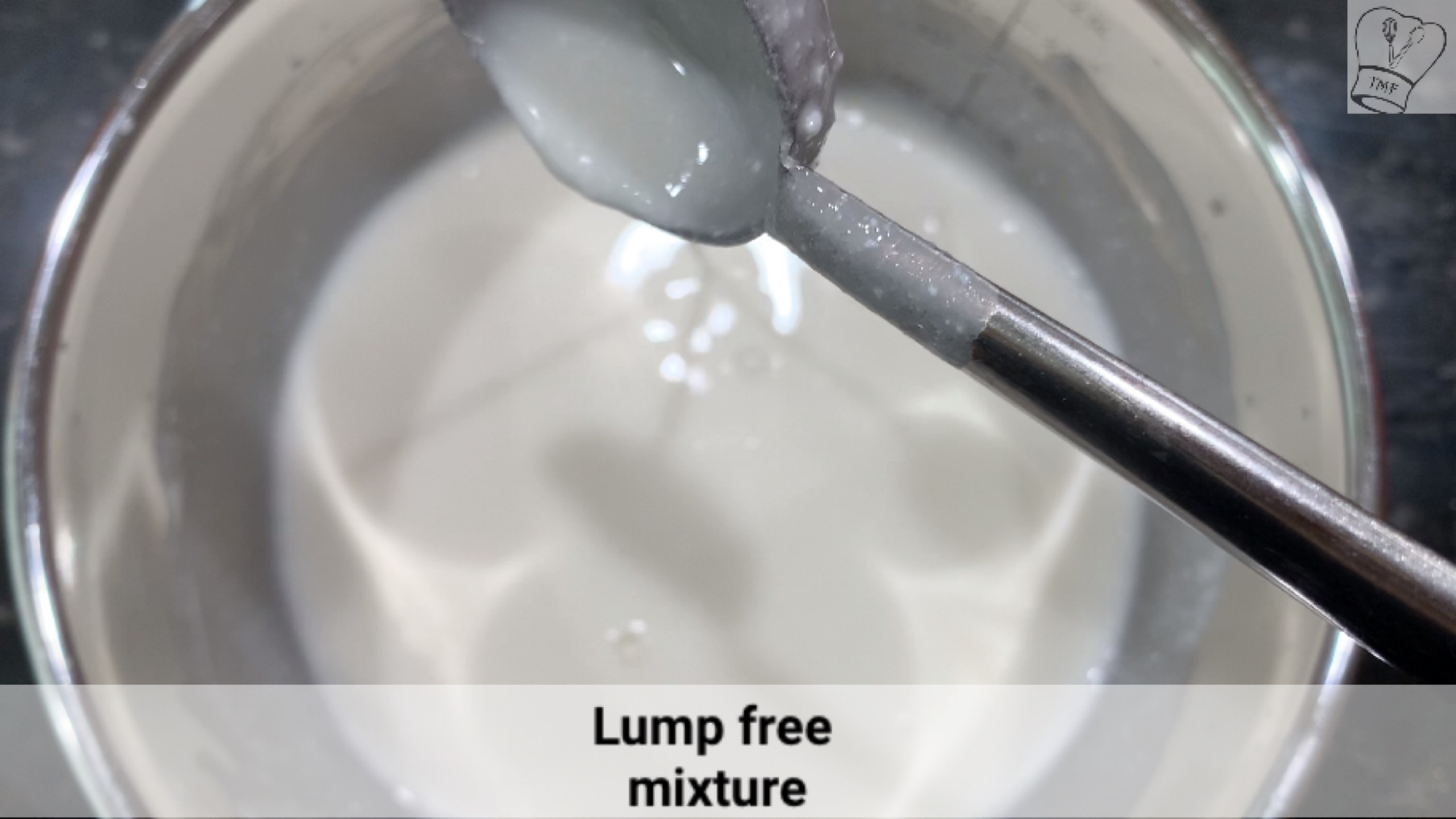 Add oil and heavy-bottomed pan and turn on the stove on medium flame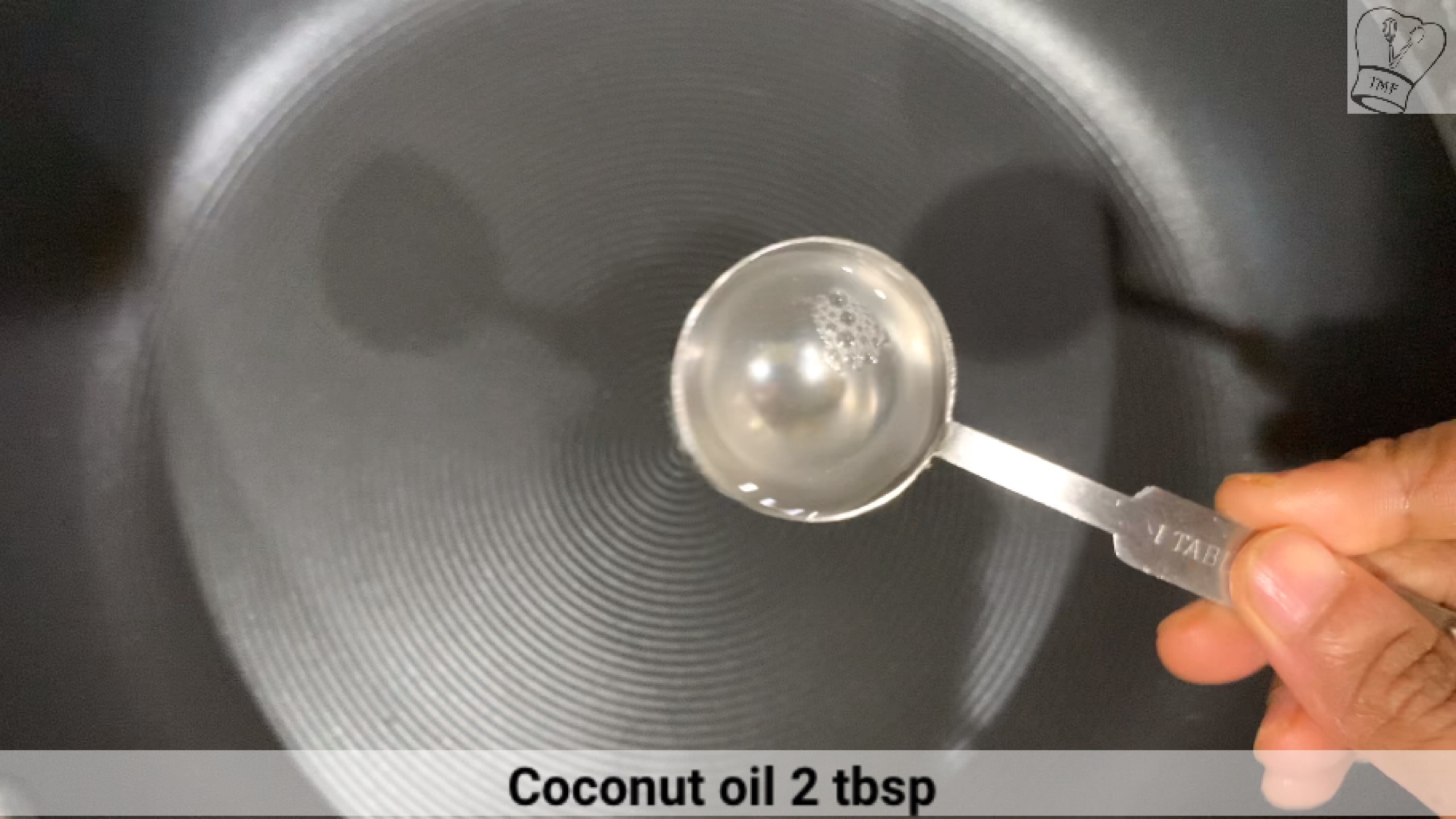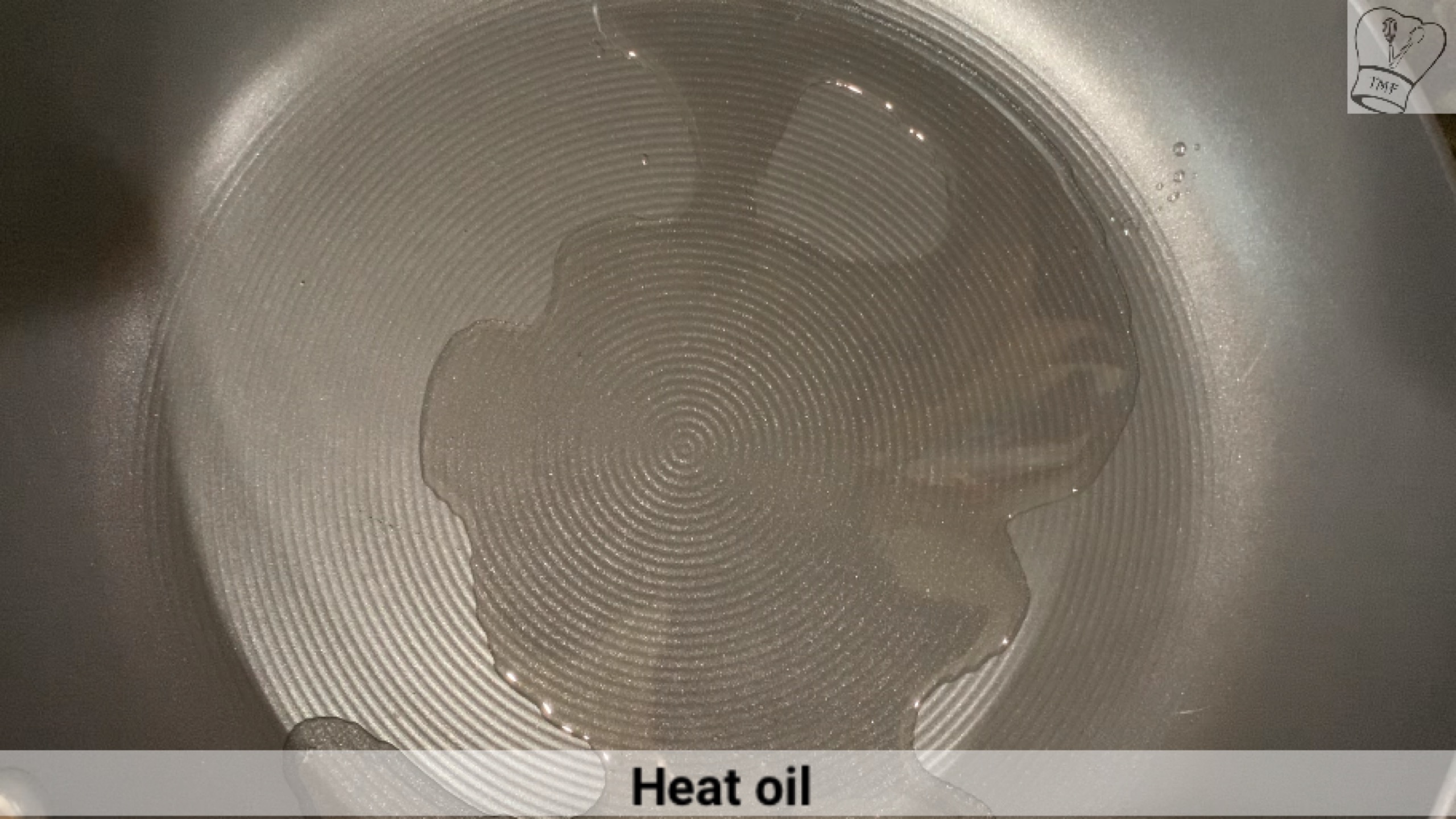 Once when oil is hot add mustard seeds, Urad dal, Mor milagai and mix well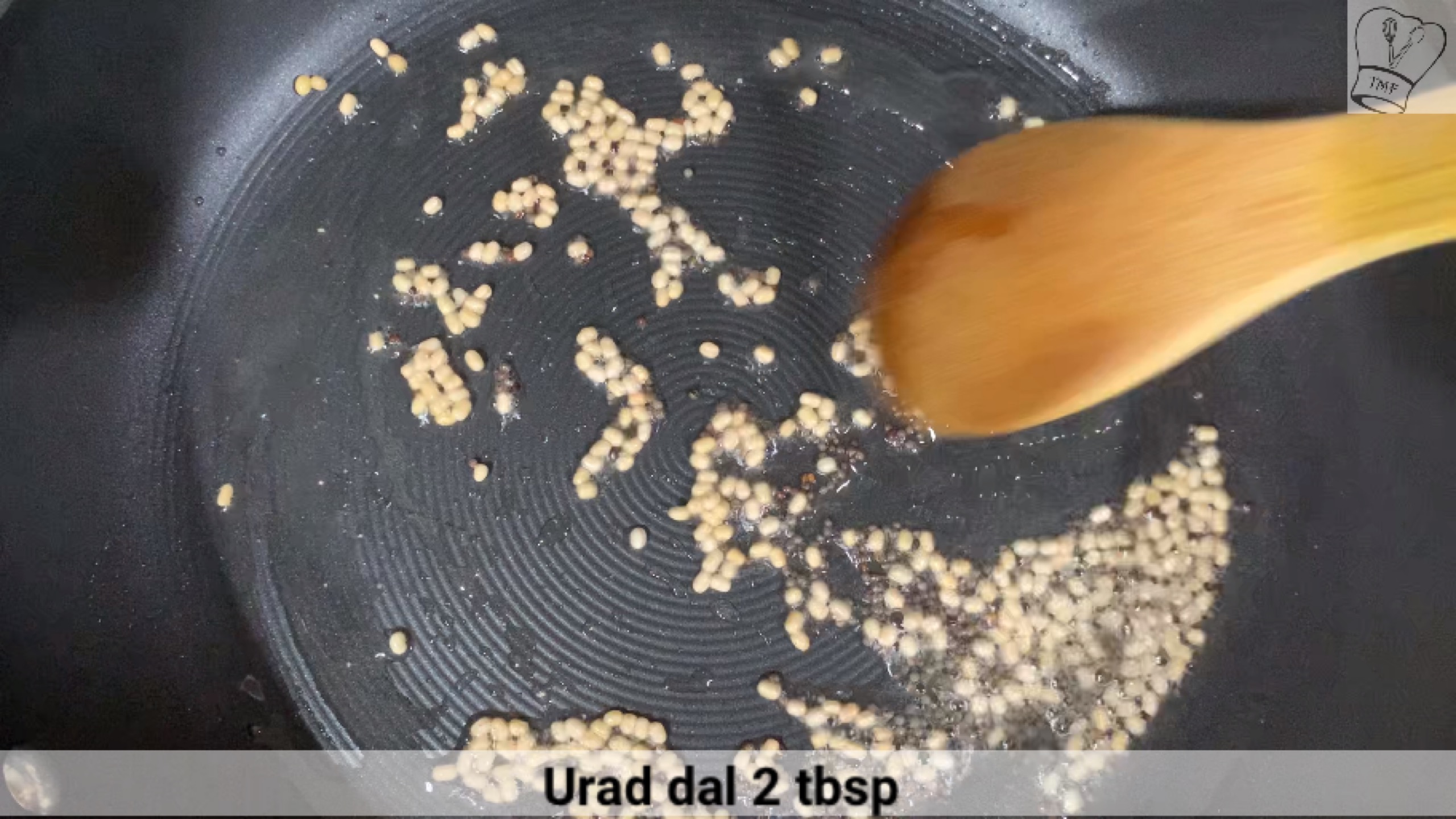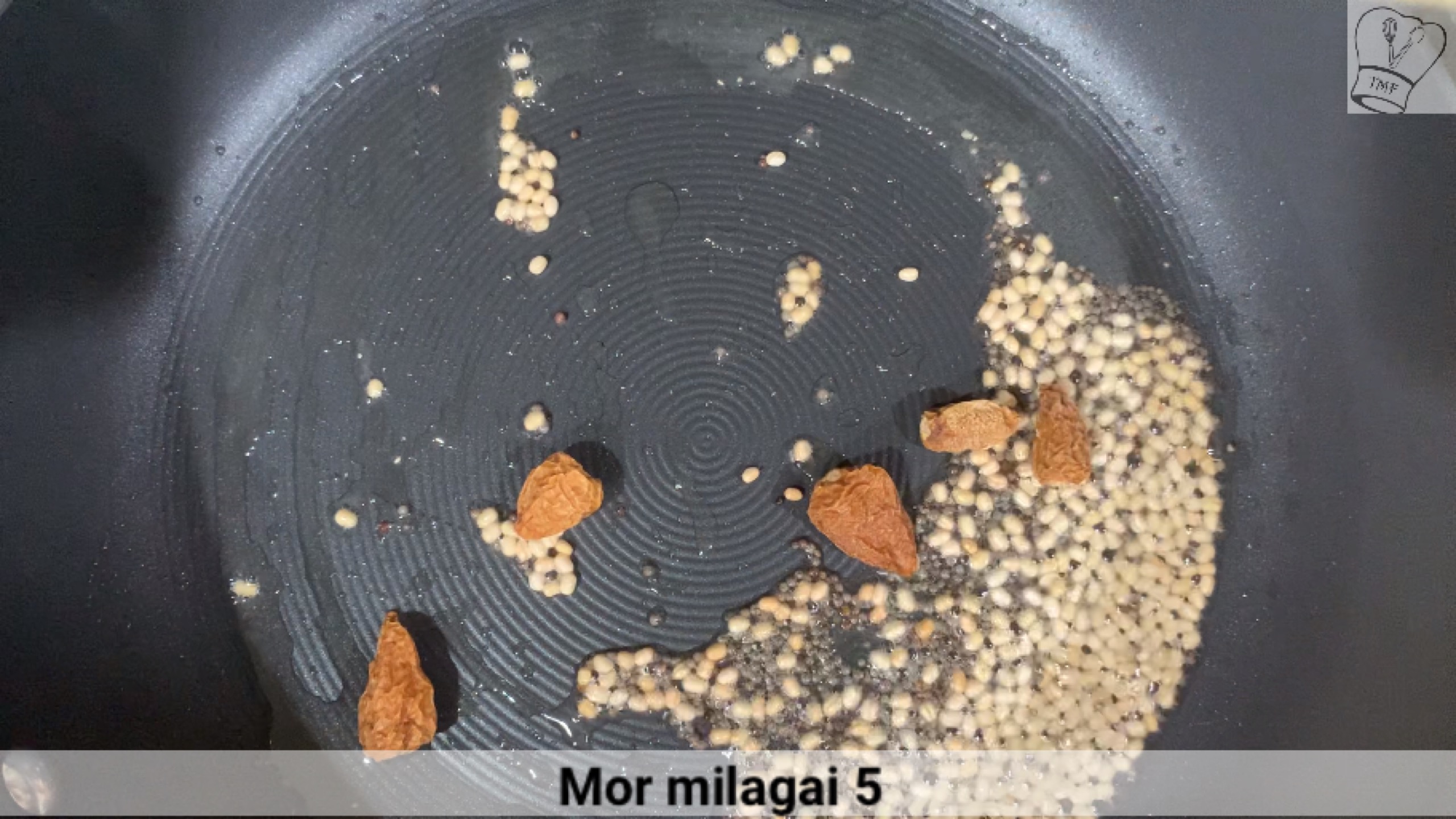 Let the mustard seeds splutter, dal turns golden brown and Mor milagai gets roasted
Add curry leaves and give a quick mix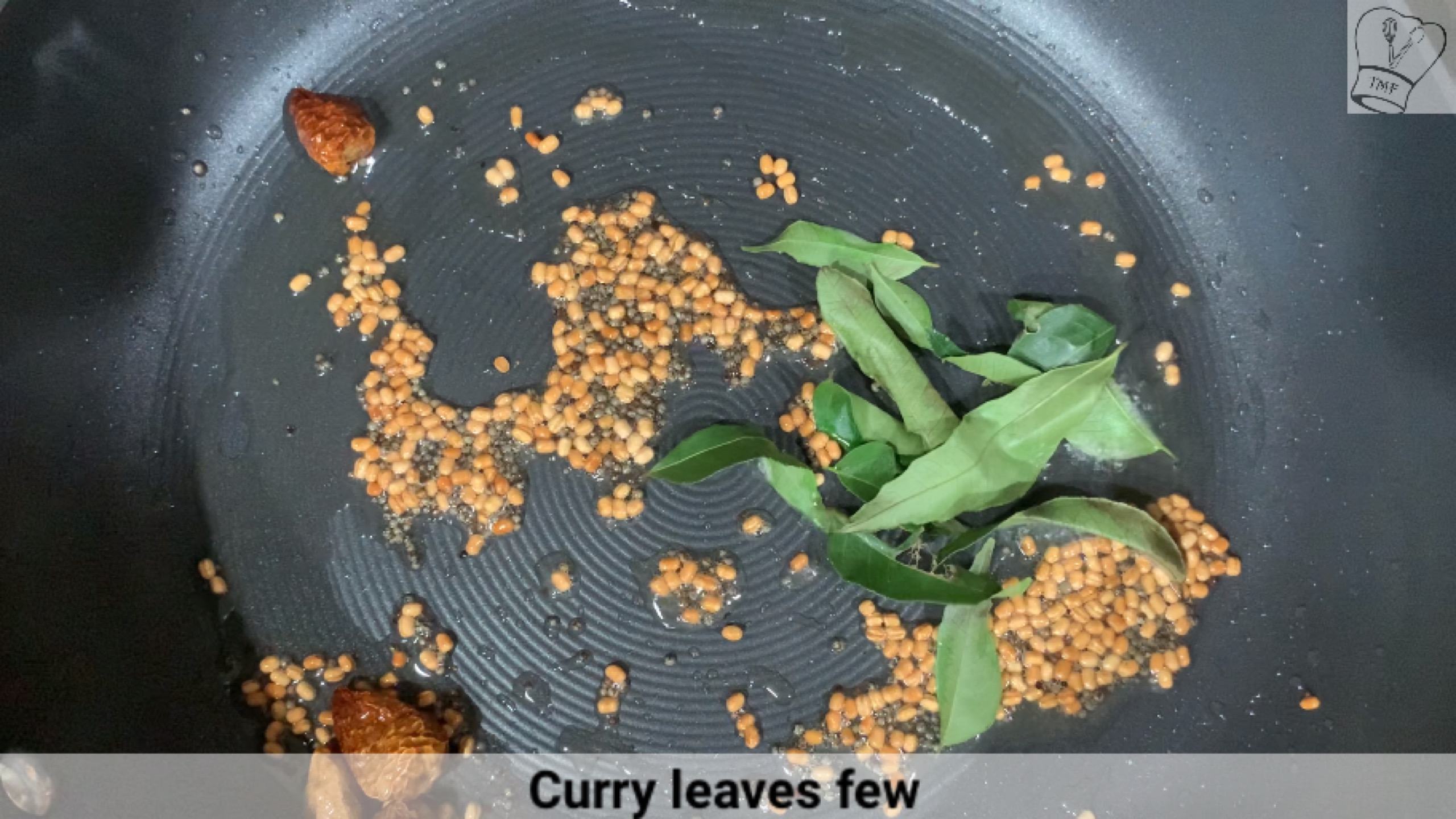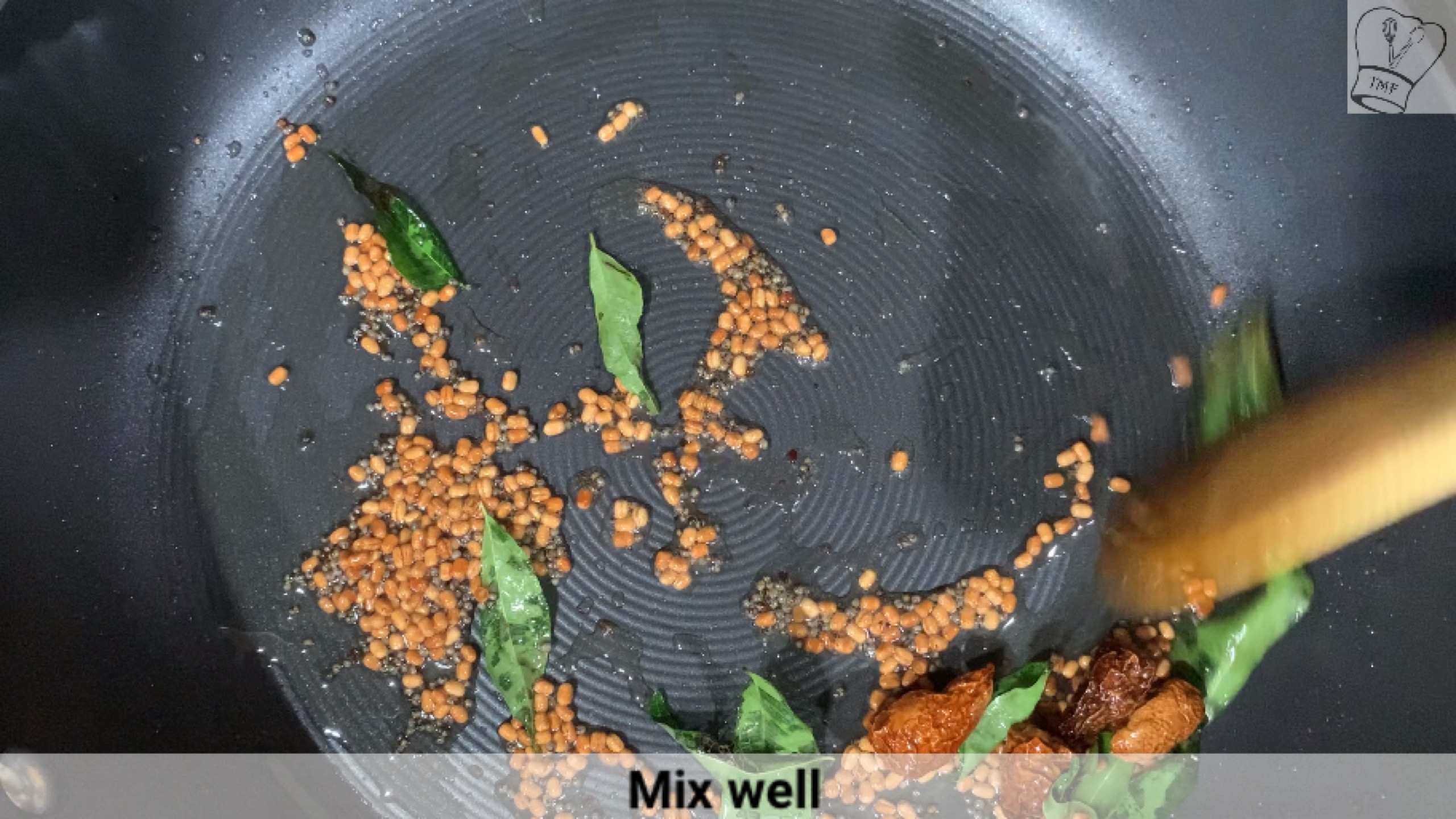 Turn down to low- medium flame and add rice flour buttermilk mixture, mix well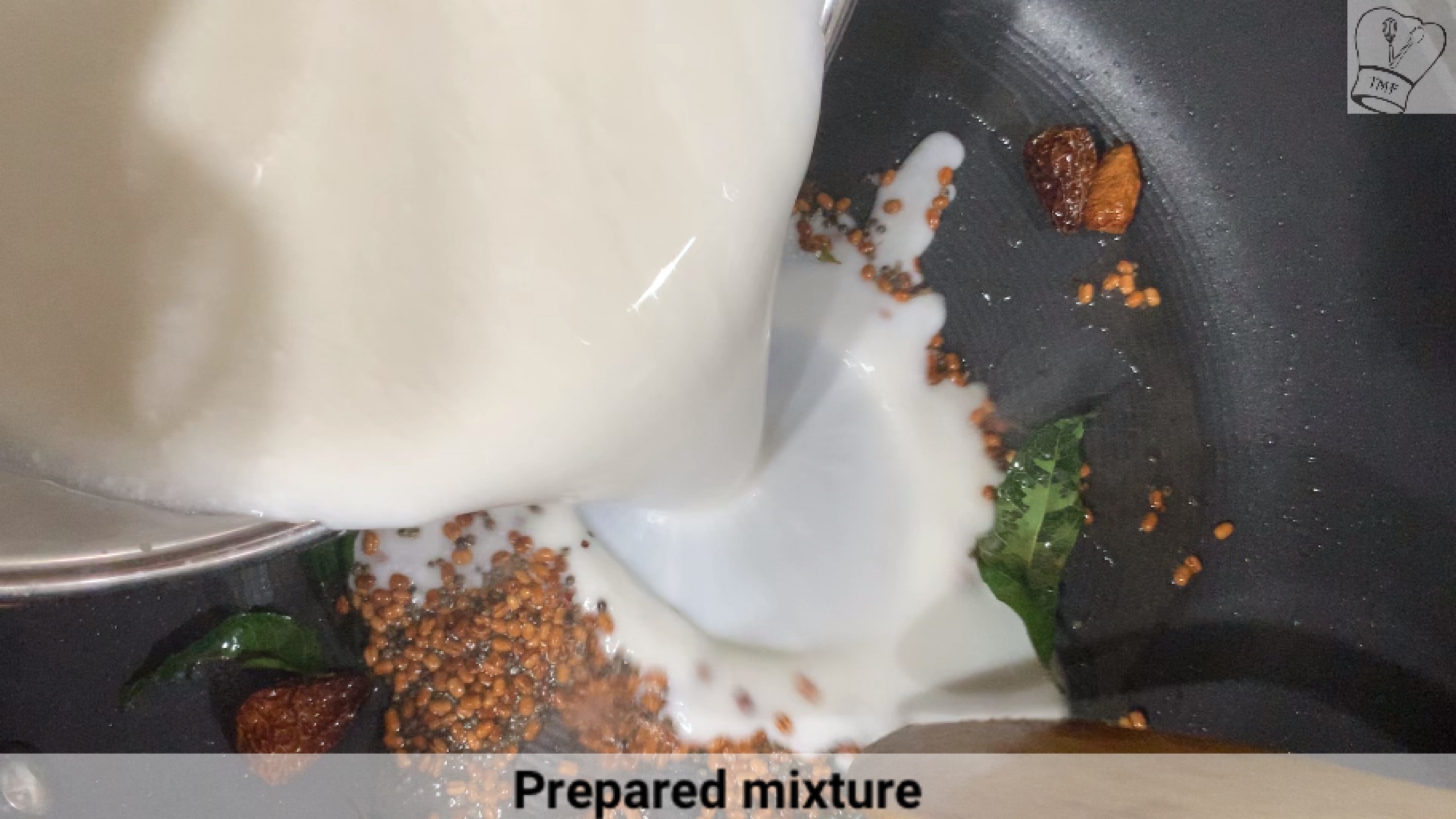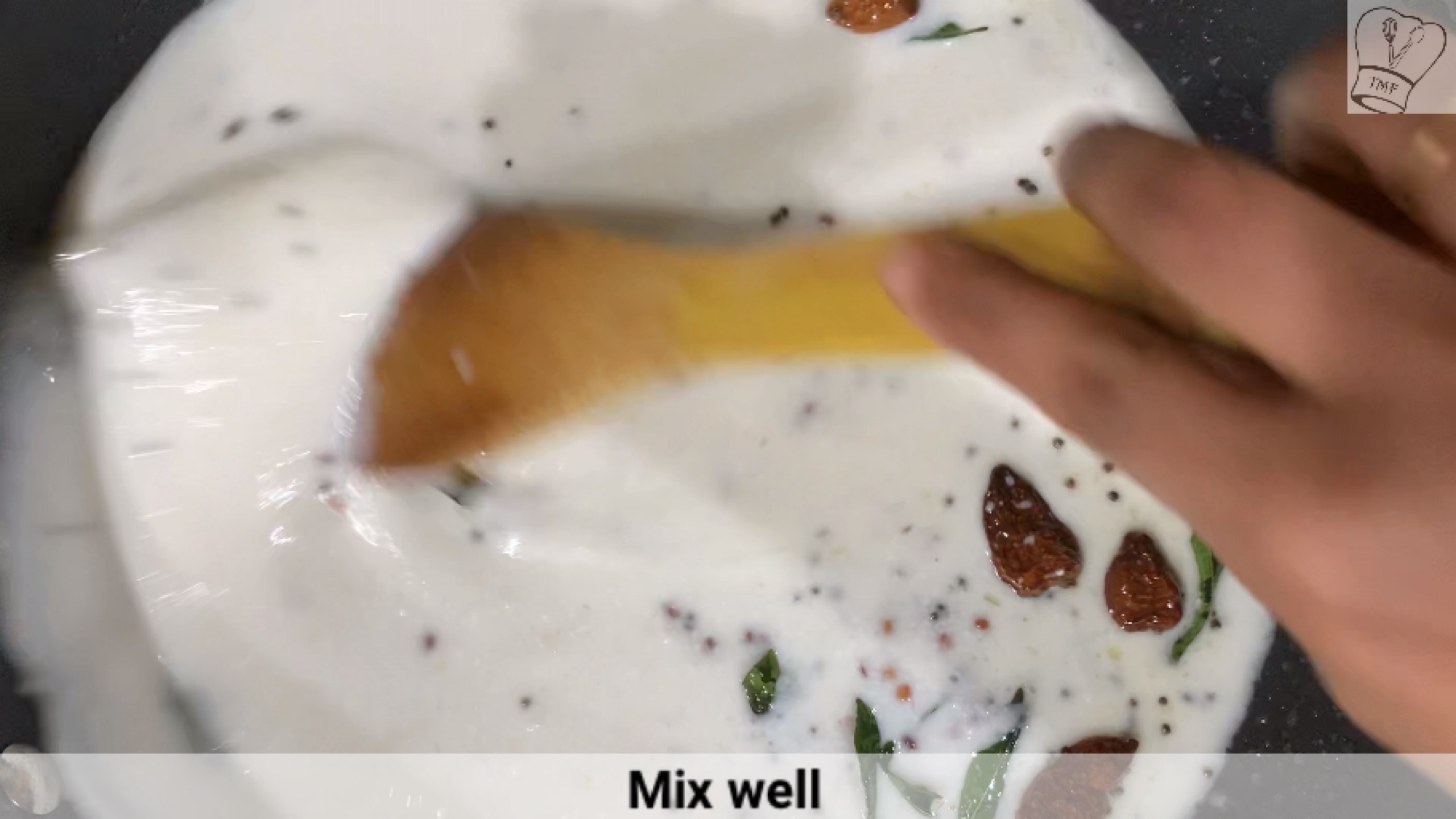 For the rice flour, I used the mixture turned slightly thick so I added extra 1/4 cup water if your mixture is watery go ahead and continue cooking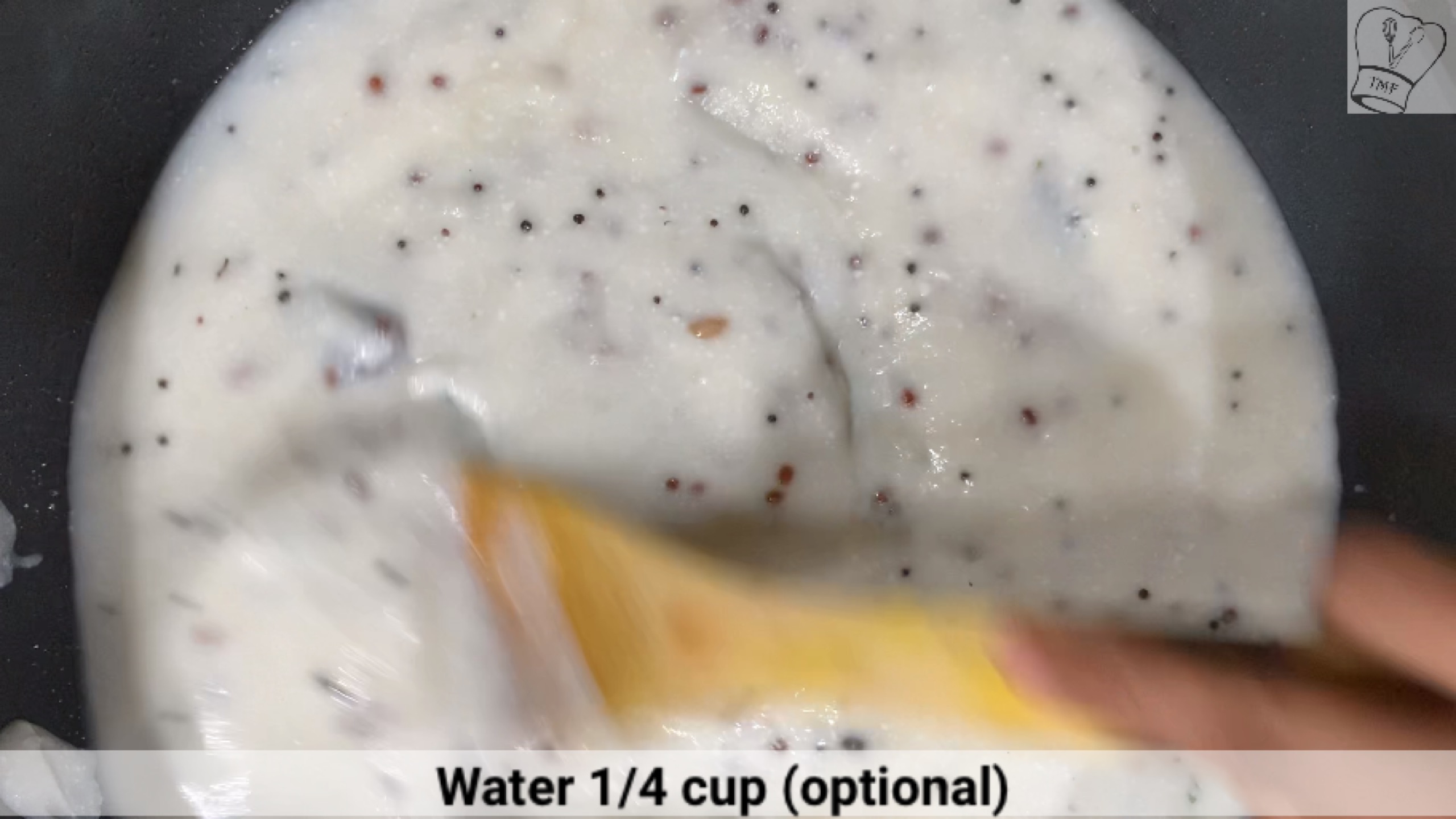 Add a generous portion of hing and mix well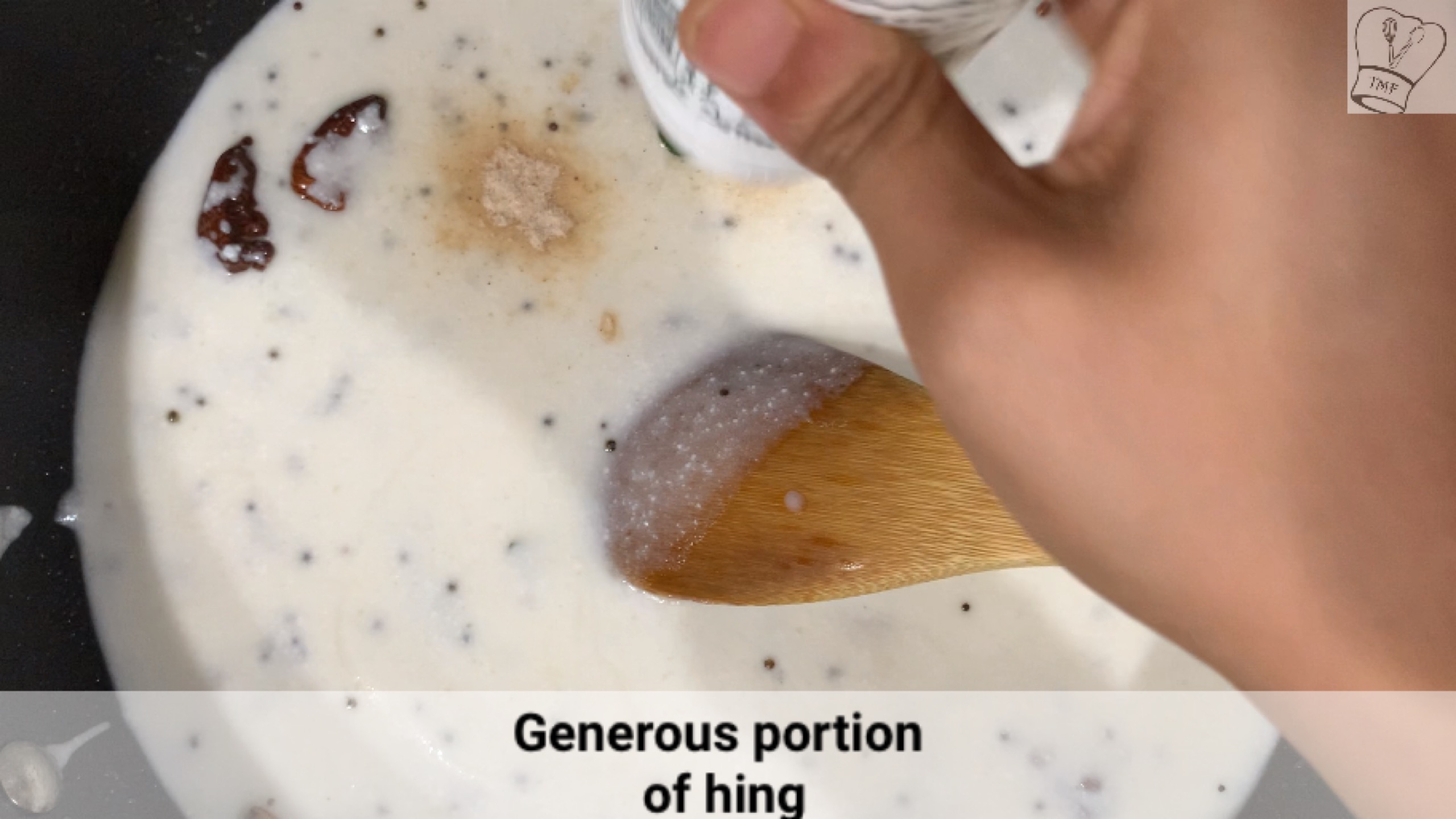 Keep mixing and continue cooking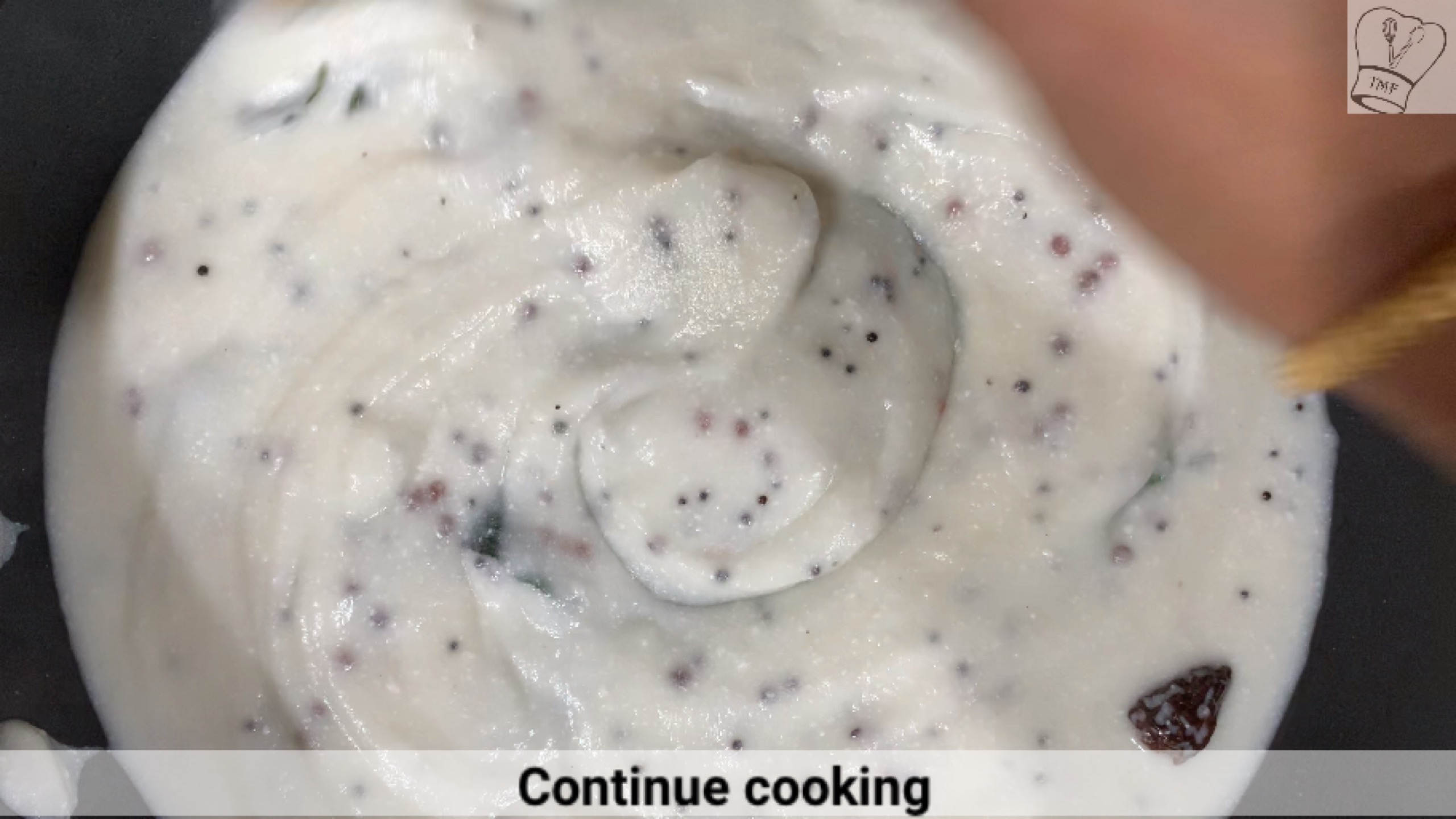 Add 1 tablespoon of oil, mix well and continue cooking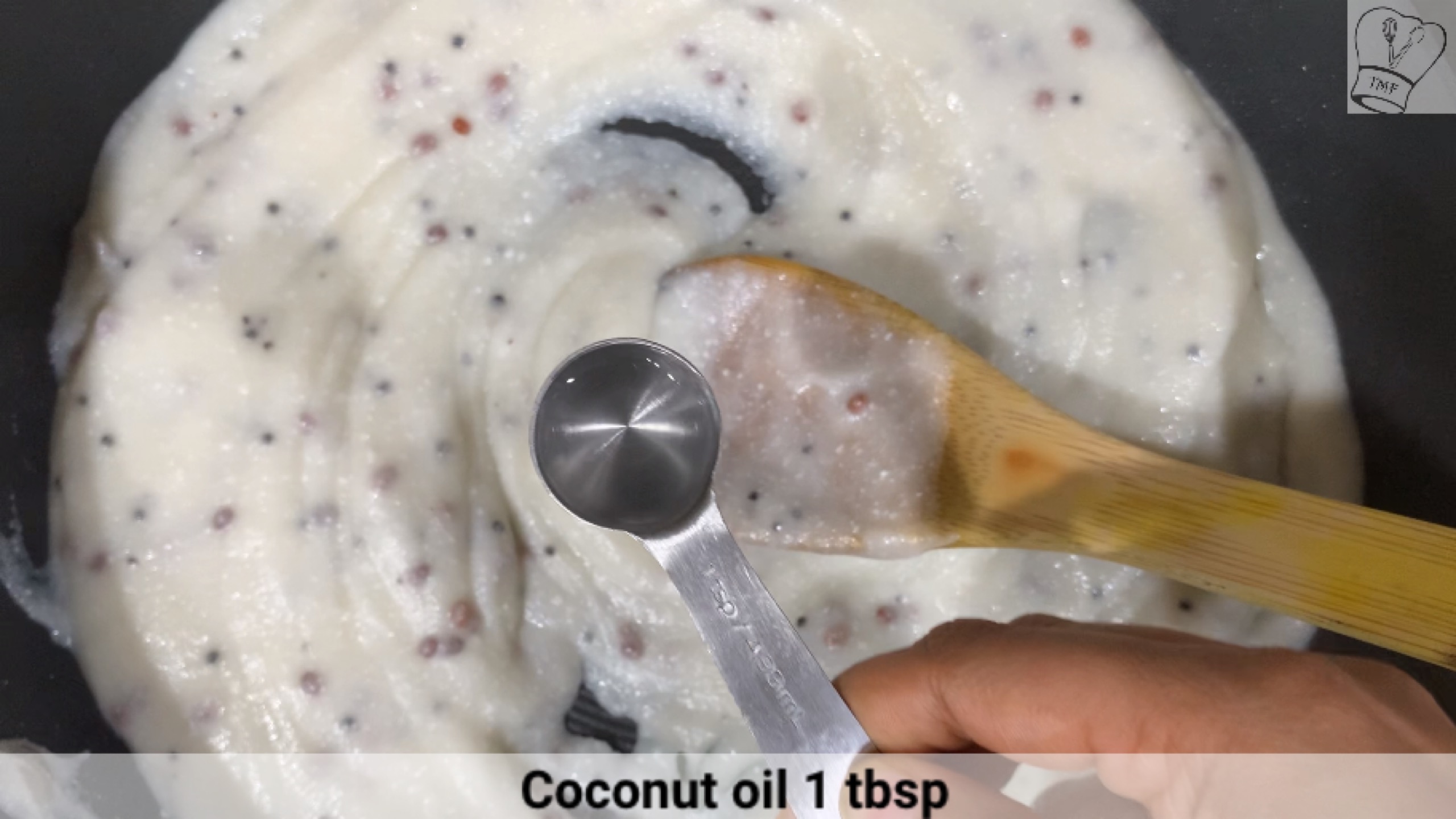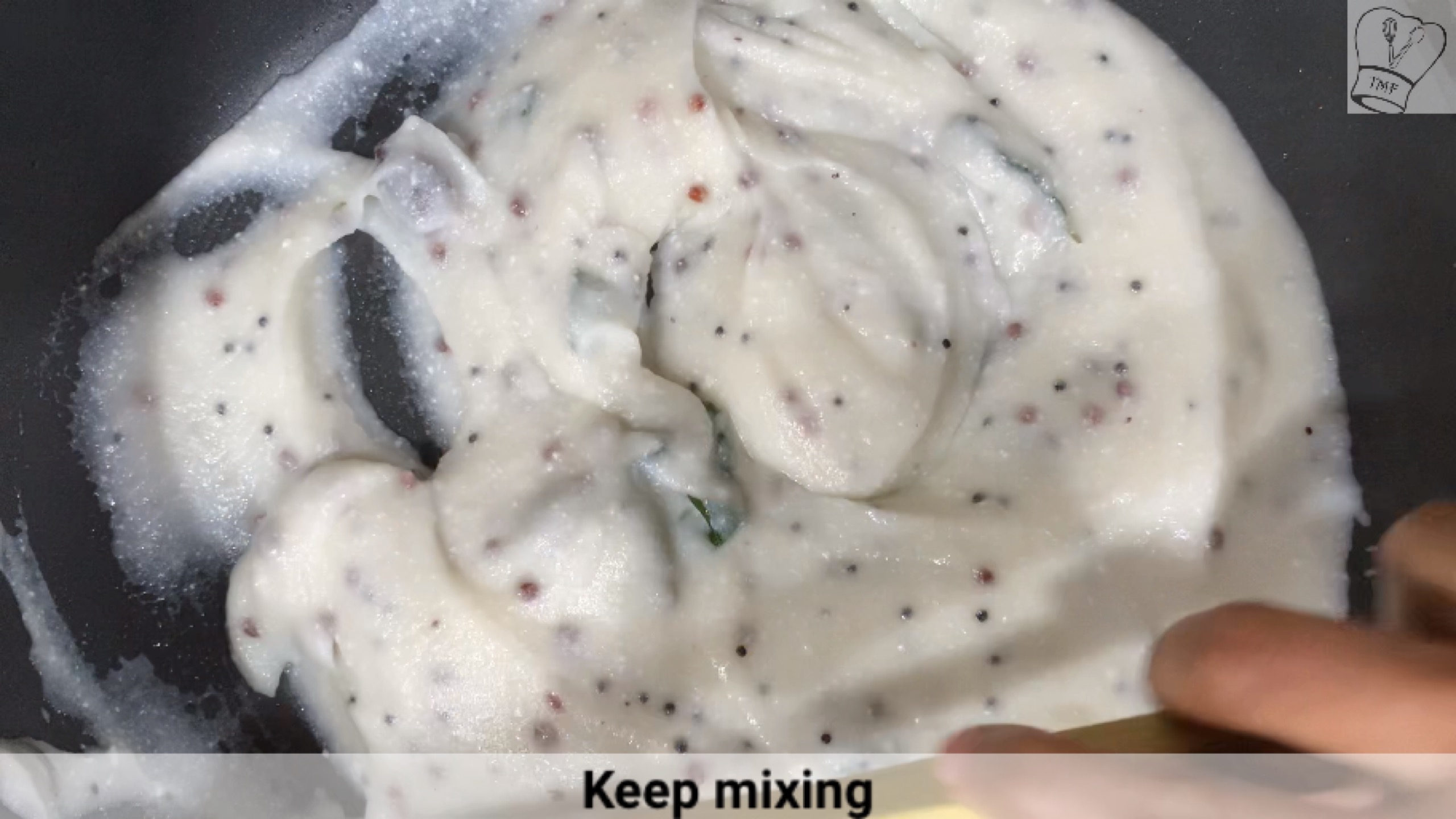 At one stage the mixture becomes thick and shiny add 1 teaspoon of oil, mix well and continue cooking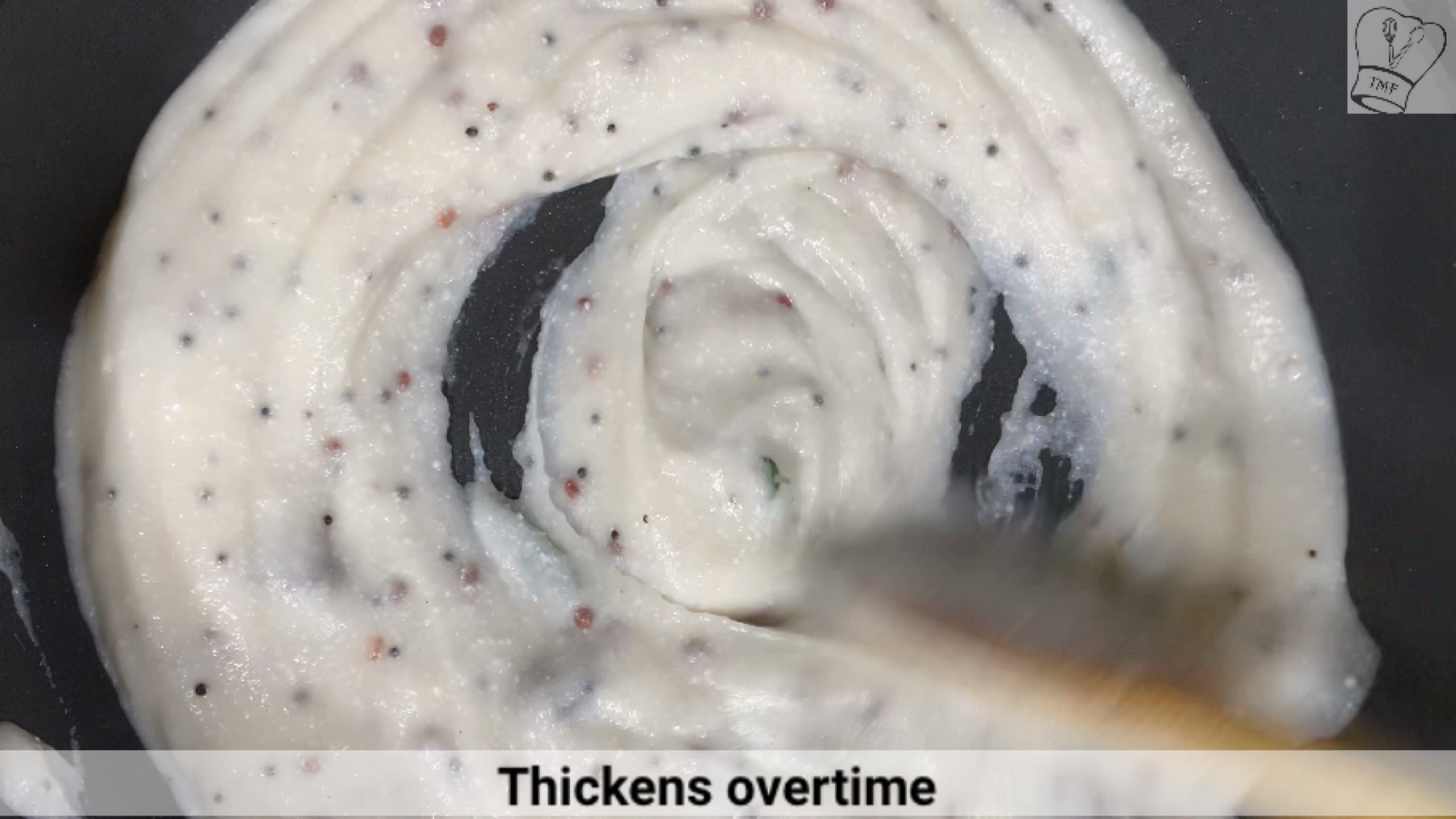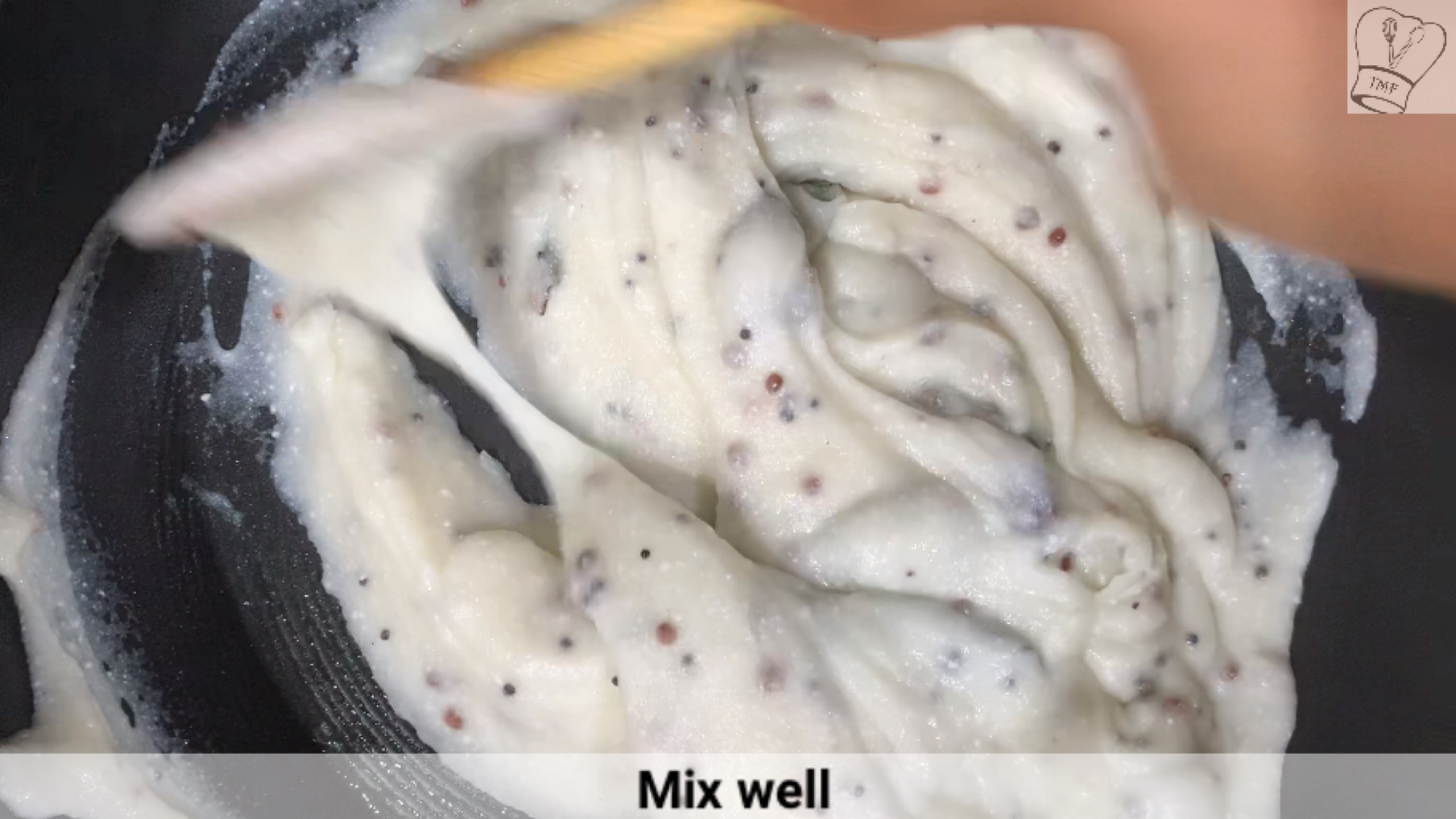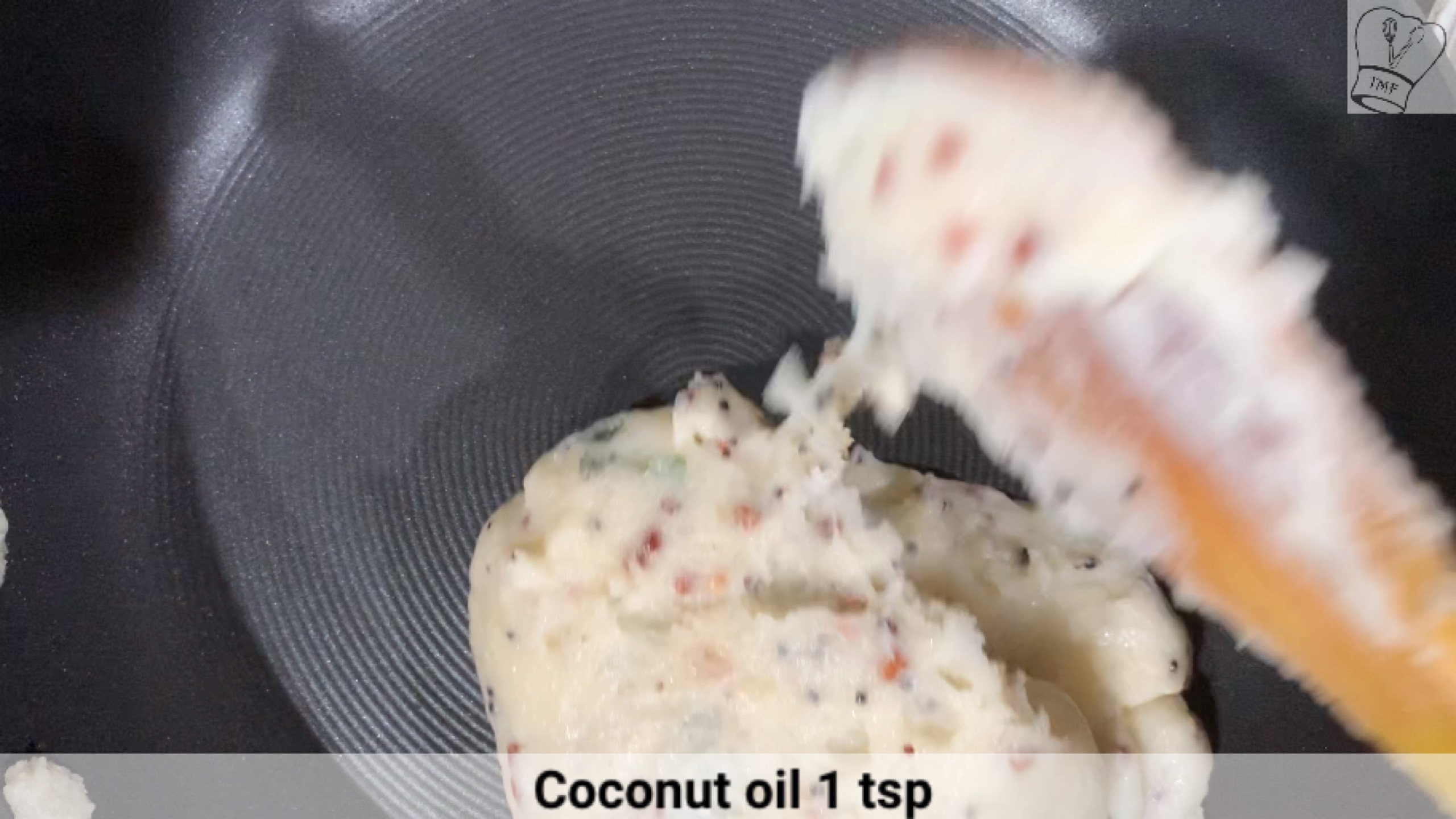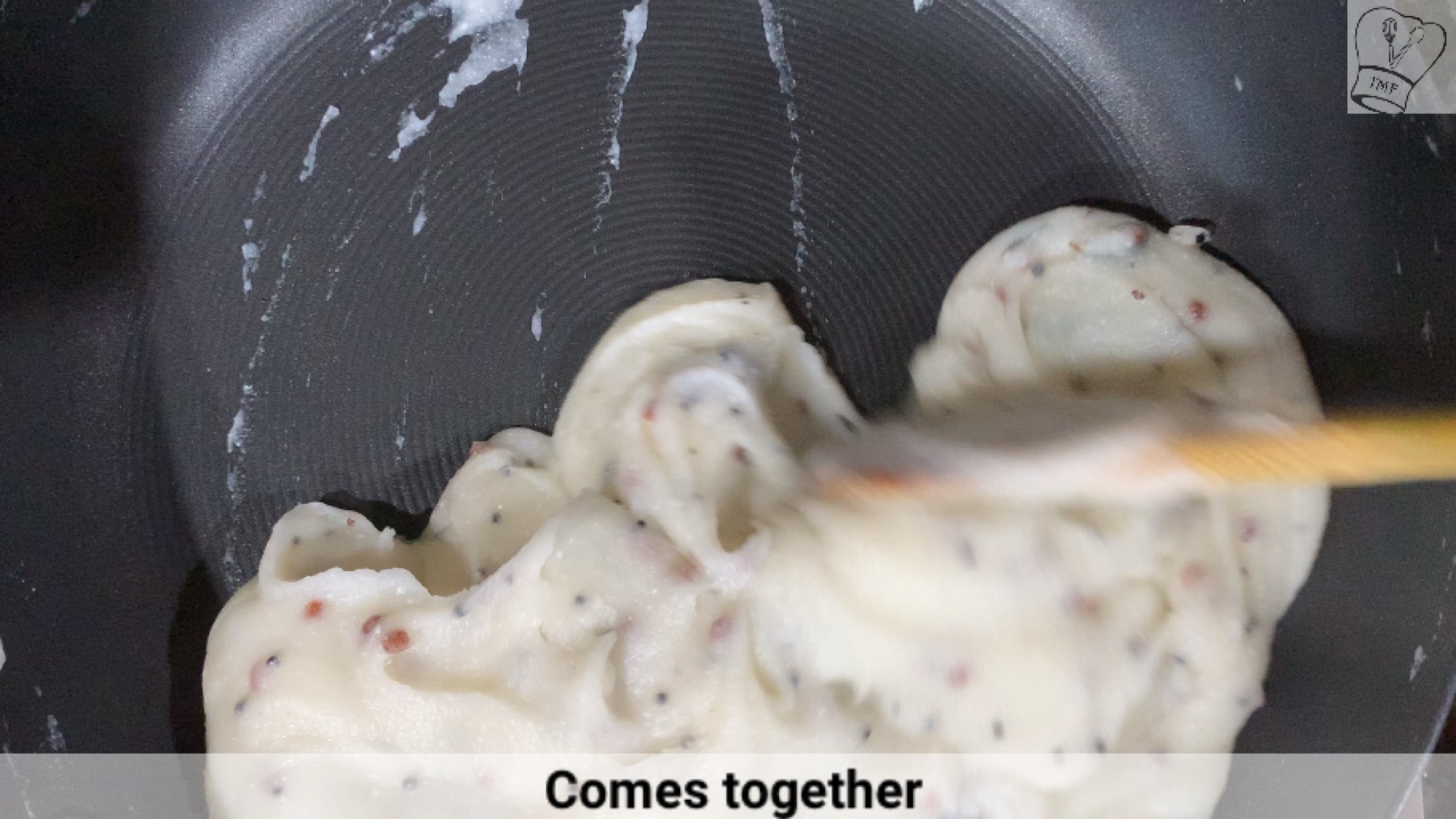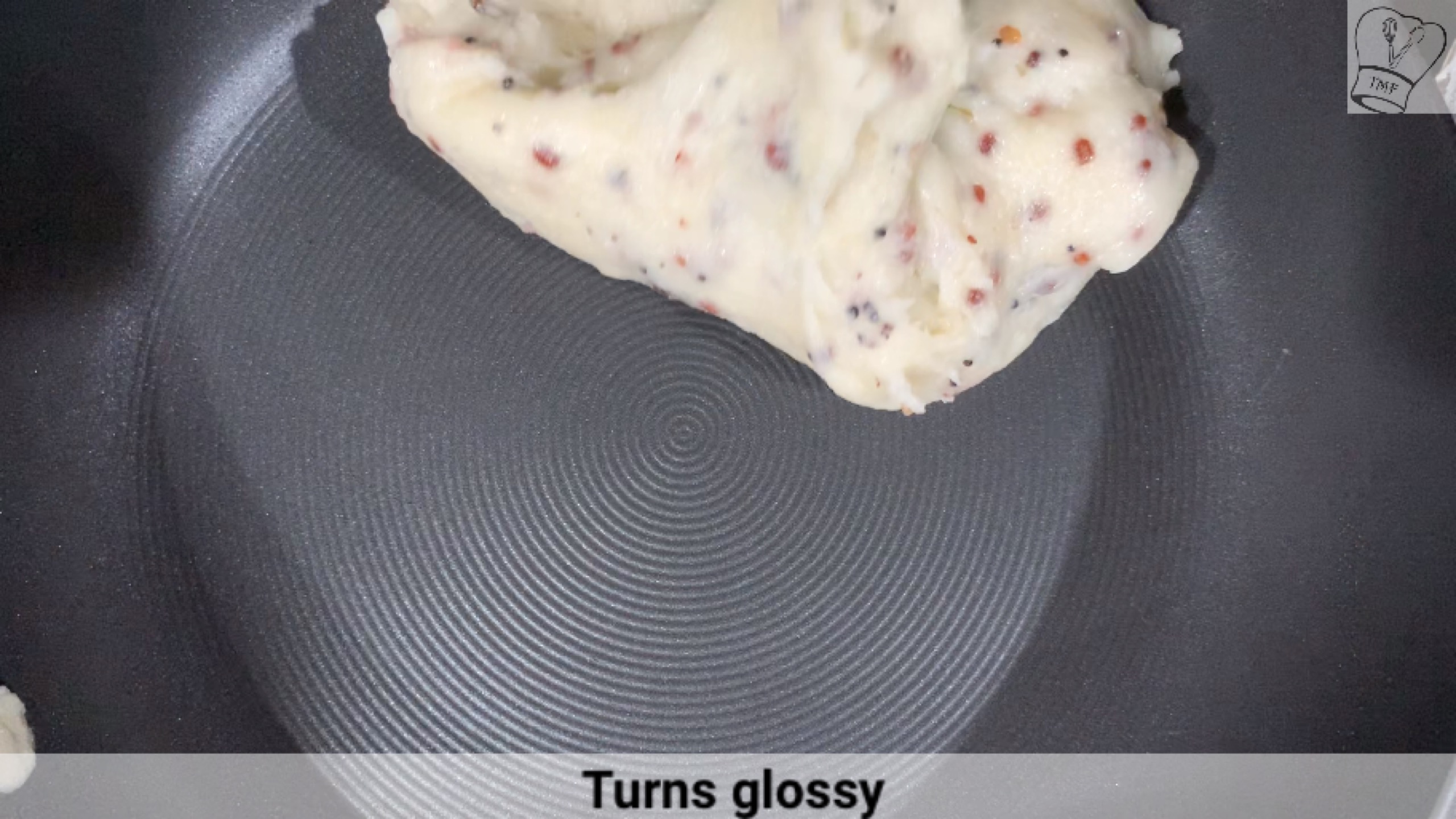 Cook till the mixture turns into a non-sticky mass without sticking to the sides of the pan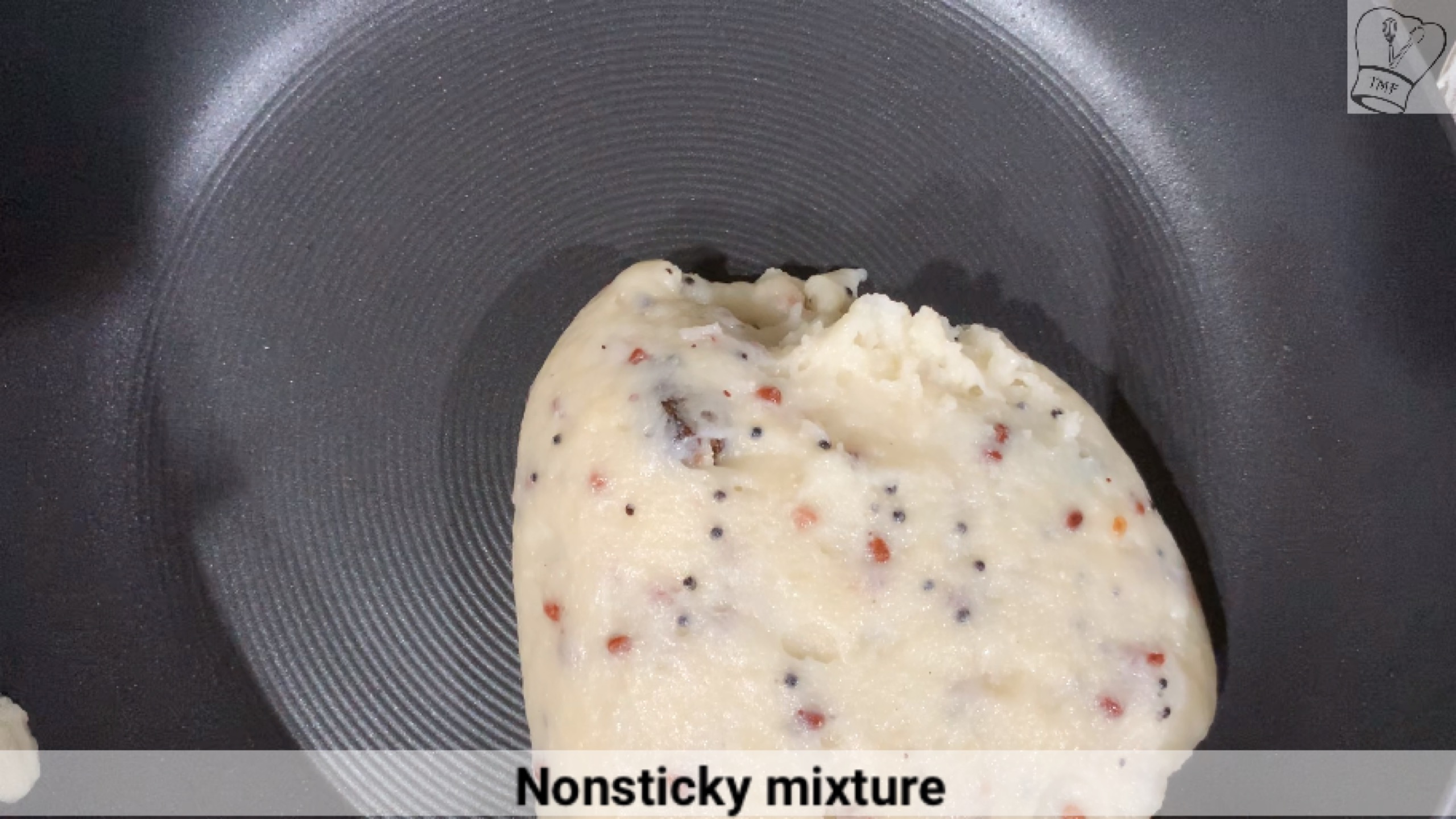 Grease your hands with cold water and touch the Mor kali, if it is not sticking to the finger turn off the stove and transfer. If it sticks continue cooking in low flame till you get non-sticky mass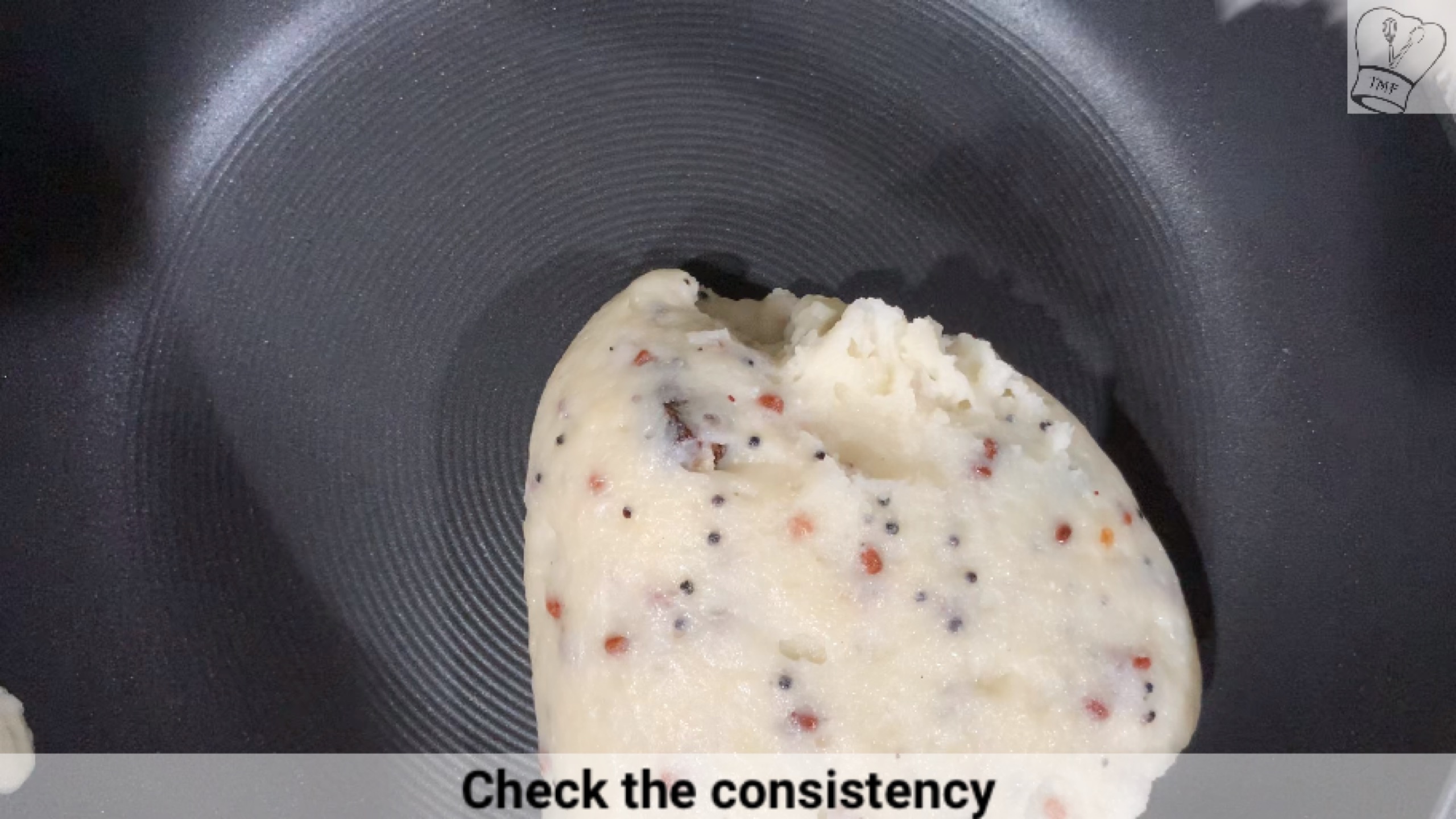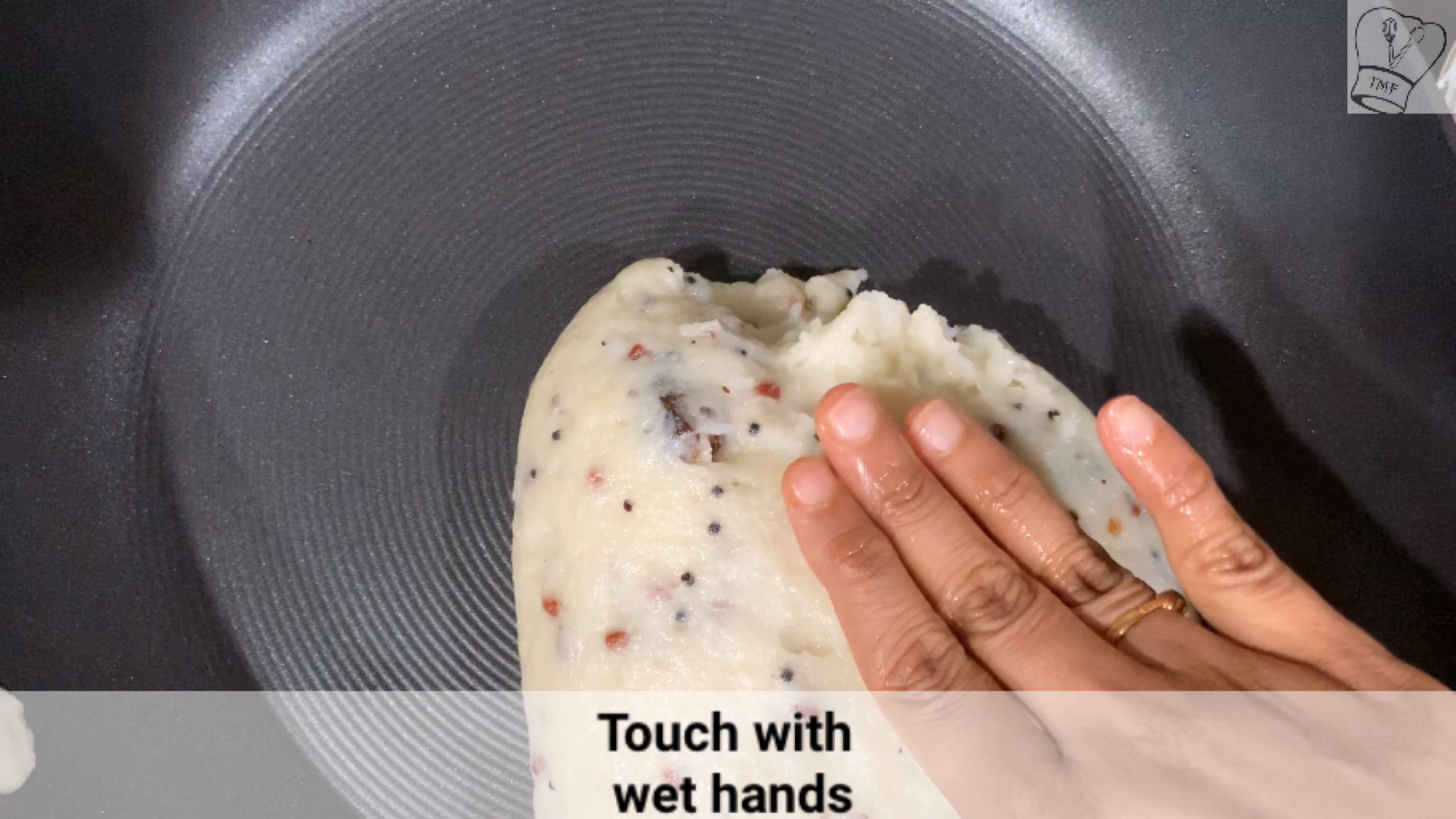 Transfer the mor kali mixture to a greased plate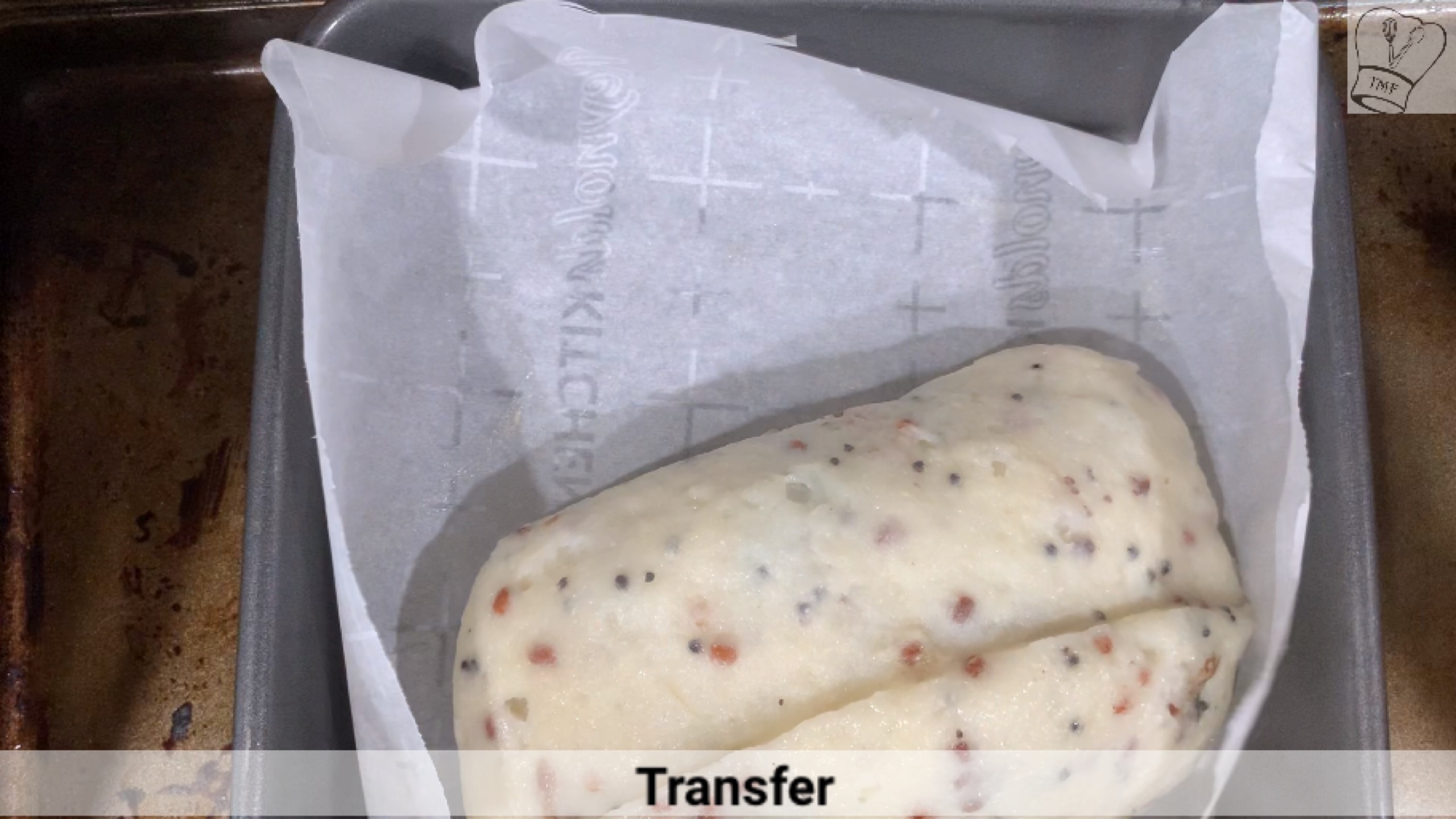 Grease a bottom of a small bowl or spoon with little oil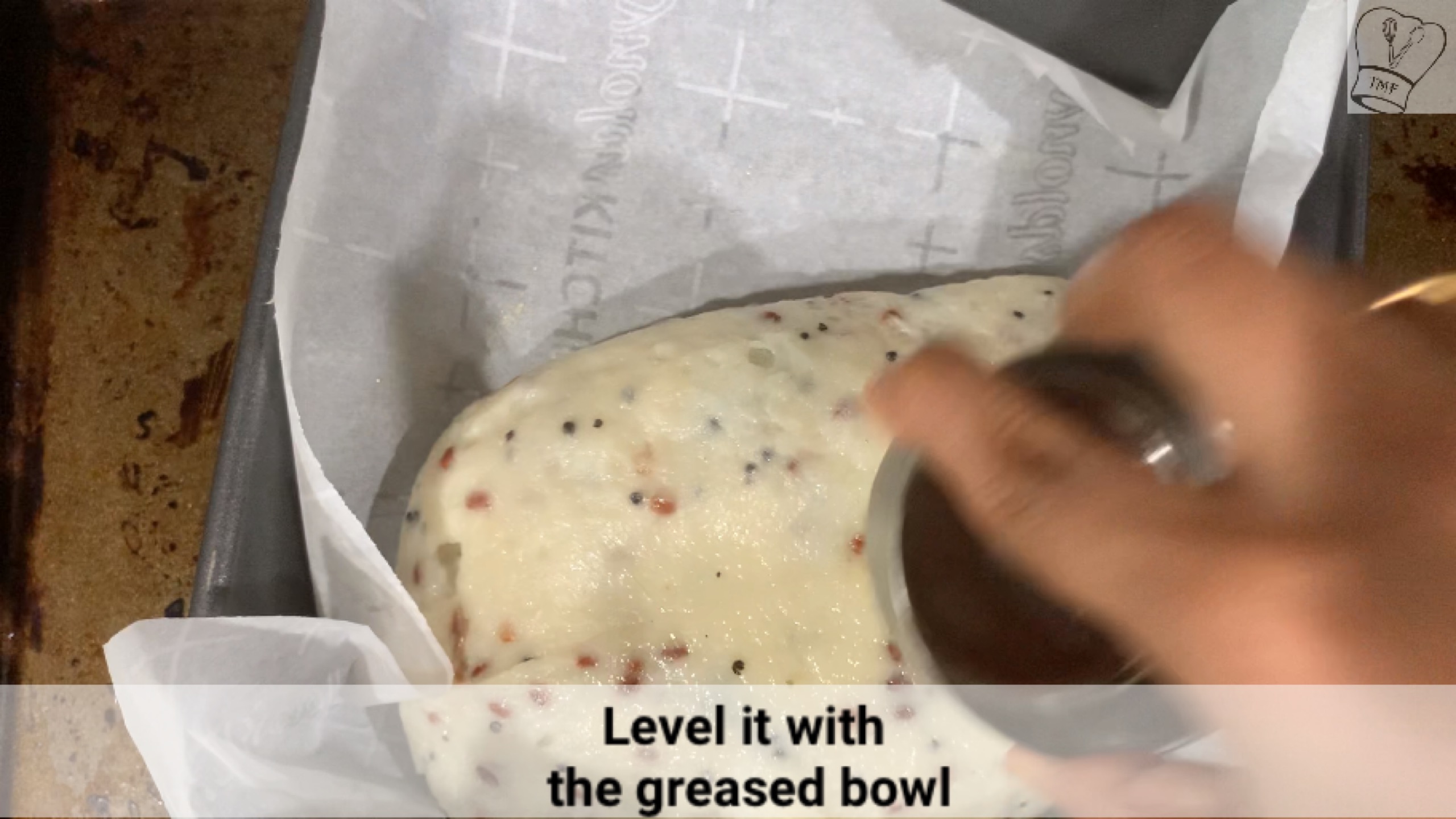 Press the mixture gently with the greased bowl and level it
Allow the mixture to cool for at least 30 minutes
After the mixture is cool grease the knife with little ghee and cut into squares. The easy and delicious Mor Kali is ready