Black bean sandwich | bean sandwich . pls SUBSCRIBE to my channel.
Why bean sandwich
I had prepared black bean gravy for roti, but there was leftover gravy after dinner. I had kept that in the fridge. Next day morning I tried to make a sandwich with it. Sandwich tasted yummy.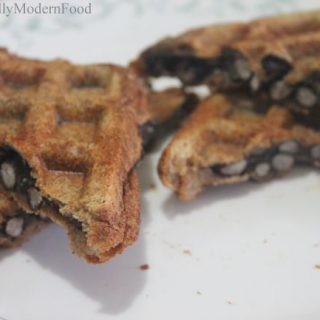 Ingredients
Bread - 4 slices

Black Bean Gravy - 2 tbsp

Cheese - 2 tsp

I used mozzarella and cheddar optional
Instructions
Spread black bean gravy and cheese on one slice and place other slice over it

Place it in a greased sandwich maker and cook for 2 minutes or as per the sandwich maker's instructions
Notes
1.I used cooking spray, instead you can use butter to grease
2. I made the sandwich in a waffle maker, as I like the waffle-shaped bread slices!
Bread - 4 slices
Black Bean Gravy - 2 tbsp
Cheese - 2 teaspoon ( I used mozzarella and cheddar ) optional
how to make black bean sandwich :
Spread black bean gravy and cheese on one slice and place other slice over it
Place it in a greased sandwich maker and cook for 2 minutes or as per the sandwich maker's instructions
Check out my other black bean recipes,