Bread halwa, bread ka halwa, no deep fry, how to make halwa, bread sheera recipe, Indian sweet, Muslim wedding style halwa, halwa with milk, hydrebadi halwa, bread sweet dish, wedding style halwa with step by step pictures and video recipe. Check out the Bread ka halwa. If you like the video pls SUBSCRIBE to my channel. Also, check out other Halwa varieties in TMF
Bread halwa is a popular Indian sweet prepared with bread, milk, and sugar. Best way to use leftover bread.
What kind of bread works best for halwa?
You can use wheat, oats, or any bread of your choice but maida bread as it gives the best taste and texture.
Should I deep fry bread?
Yes, you can deep fry bread in oil/ghee. To reduce the oil/ghee I prefer toasting the bread and then sauté in ghee.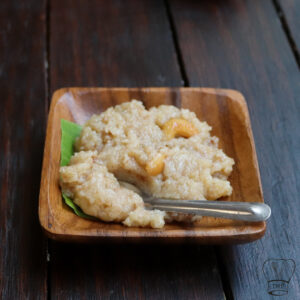 Sugar syrup consistency
The sticky syrup works best for bread halwa to avoid string consistency.
Can I skip milk?
Yes, you can add water but milk makes the halwa so flavorful.
Variation for halwa
add Raisins, almonds, or any dry fruits and nuts of choice

Deep fry in oil /ghee
Wheat bread or any other bread of choice
Skip milk and increase the water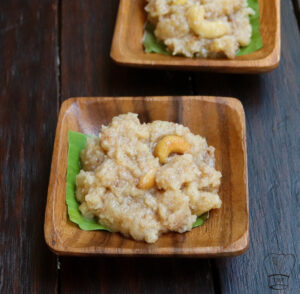 Ingredients
Roast
5 small bread
1/4 cup ghee
7 Cashews
Halwa
1/2 cup Sugar
1/2 cup hot water
Milk 3/4 cup
1/4 teaspoon Cardamom powder
How to make halwa with step-by-step pictures
Trim the edges of the bread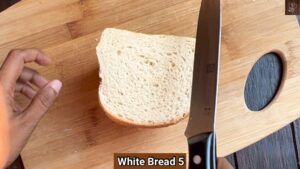 Toast the bread in a medium setting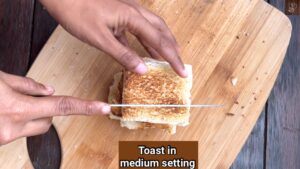 Cut the bread into small pieces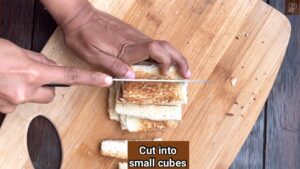 Add ghee to a wide pan and heat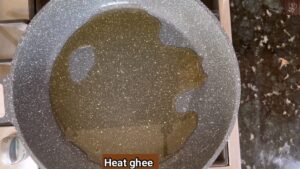 When ghee turns hot add bread and mixes well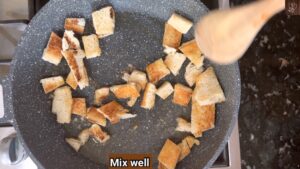 Furthermore, add cashews and roast till cashews and bread turns golden brown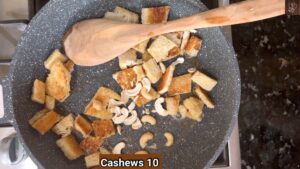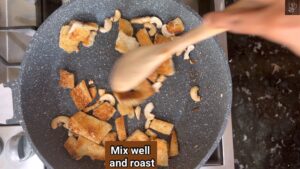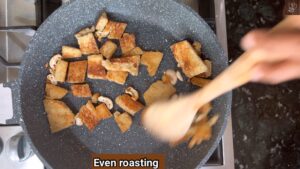 Add ghee; turn off the stove and transfer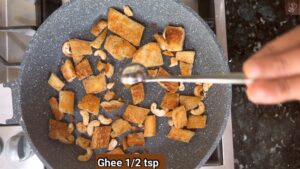 Add sugar and water; boil well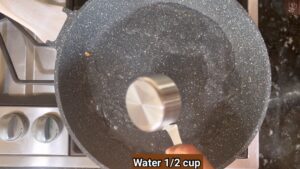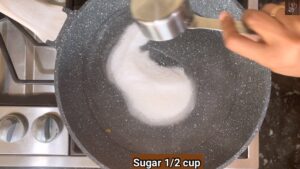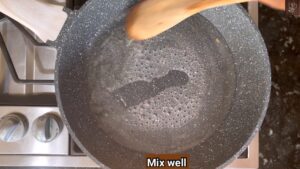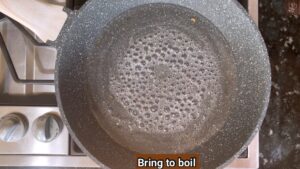 Cook till the sugar syrup come to a sticky consistency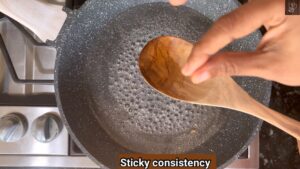 Turn and let the bread soak in the syrup
Add cardamom powder; mix well and mash the bread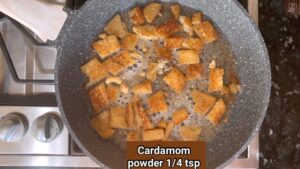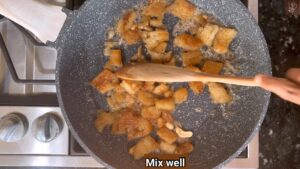 Cook till the sugar syrup is well absorbed
Add milk and mix well cook till the halwa comes together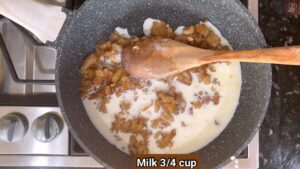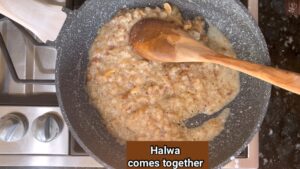 Furthermore, add ghee and mix well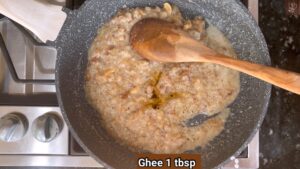 Finally, add cashews; mix well and turn off the stove
Ingredients
Roast
5

small bread

1/4

cup

+ 1/2 teaspoon ghee

7

Cashews
halwa
1/2

cup

Sugar

1/2

cup

hot water

Milk 3/4 cup

1/4

teaspoon

Cardamom powder
Instructions
Trim the edges of the bread

Toast the bread in a medium setting

Cut the bread into small pieces

Add ghee to a wide pan and heat

When ghee turns hot add bread and mixes well

Furthermore, add cashews and roast till cashews and bread turns golden brown

Add ghee;  turn off the stove and transfer

Add sugar and water; boil well

Cook till the sugar syrup come to a sticky consistency

Add bread and mix well

Turn and let the bread soak in the syrup

Add cardamom powder; mix well and mash the bread

Cook till the sugar syrup is well absorbed

Add milk and mix well cook till the halwa comes together

Furthermore, add ghee and mix well

Finally, add cashews; mix well and turn off the stove
Video
Notes
Halwa thickens overtime so avoid cooking for longtime
You can deep fry bread in oil but to avoid excess oil i have toasted the bread then shallow fried it in ghee
Adjust sugar according to your taste
Milk gives an amazing flavor to the halwa
Refrigerate the bread halwa, microwave before eating