Bread upma is a flavorful alternative to use leftover bread. If you are bored with regular upma recipes try this for a change😊
Bread Upma is my all time favorite dish. I still remember my childhood days, whenever Amma buys a loaf of bread, she prepares bread butter jam, bread sandwich and bread upma.
Amma's Bread upma is simple without much masala but tastes yummy. I just modified a bit to suit our tastebuds. To give a crispy texture to the bread upma, I have baked the bread.
Checkout my other recipes using bread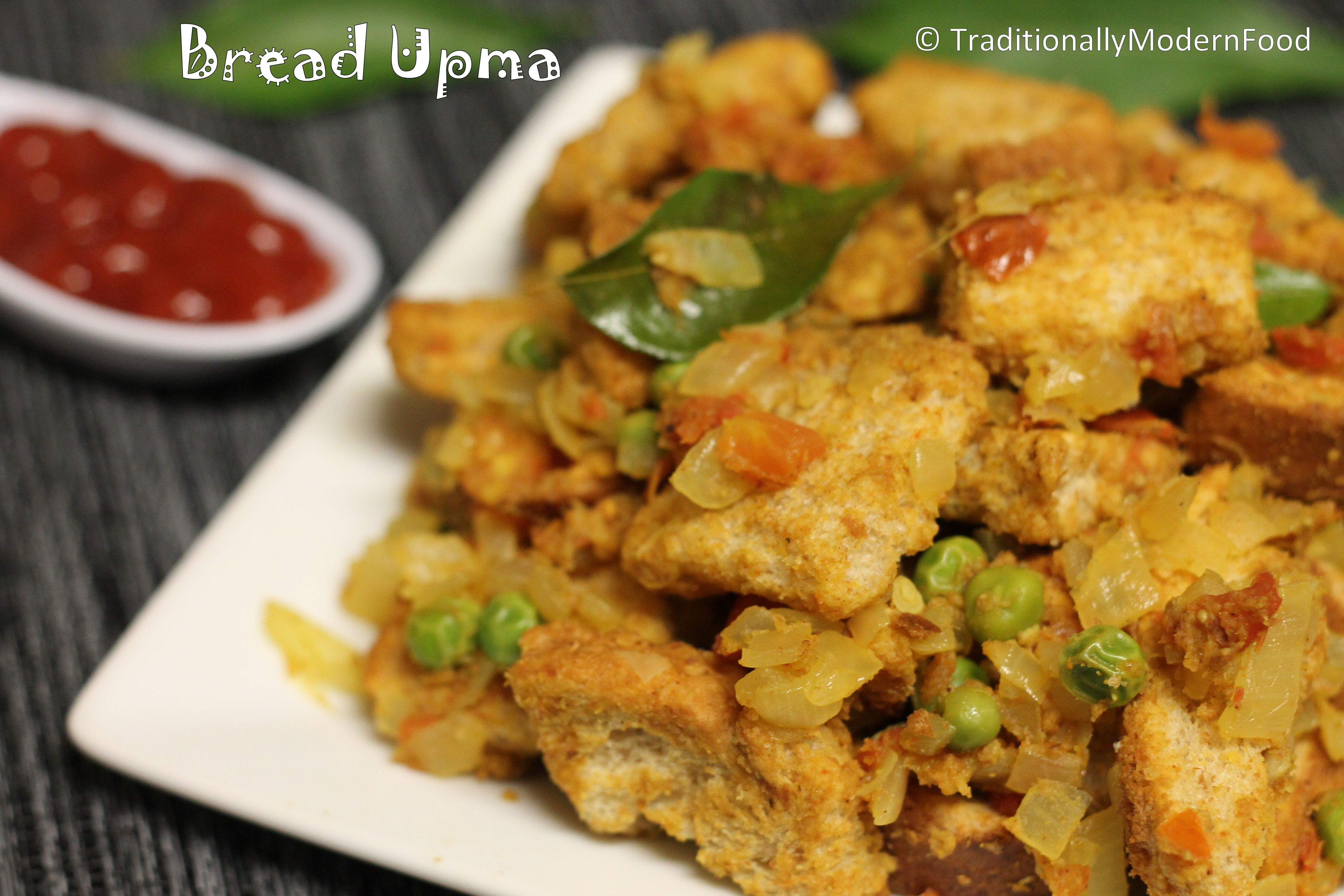 Ingredients:
Bread - 8 slices (I used wheat bread)
Onion - 1, finely chopped
Tomato - 1, finely chopped
Frozen/ Fresh Green Peas - 3 tablespoon
Turmeric powder - 1/8 teaspoon
Coriander Powder - 1 teaspoon
Cumin Powder - 1/2 teaspoon
Garam Masala - 1/2 teaspoon
kitchen king masala - 1/2 teaspoon
Chilli Powder – 1/2 teaspoon
Curry leaves -few
Salt -as needed
Cooking spray / oil - to grease the baking tray (I used cooking spray)
Oil - 1 teaspoon
Method:
Preheat the oven to 350 degree F, and place the bread in oven. Bake on both sides (around 7 minutes each and turning the bread in between) or until bread becomes crispy. Turn off the oven and let the bread stays in the oven
In a pan heat oil and when the oil becomes hot, add curry leaves and onion, saute till onion becomes translucent, then add tomato and cook
Once onion and tomato are cooked, add turmeric powder, cumin powder, coriander powder, salt, sambar powder and garam masala and cook for 2-3 minutes
Take the bread from the oven;cut into pieces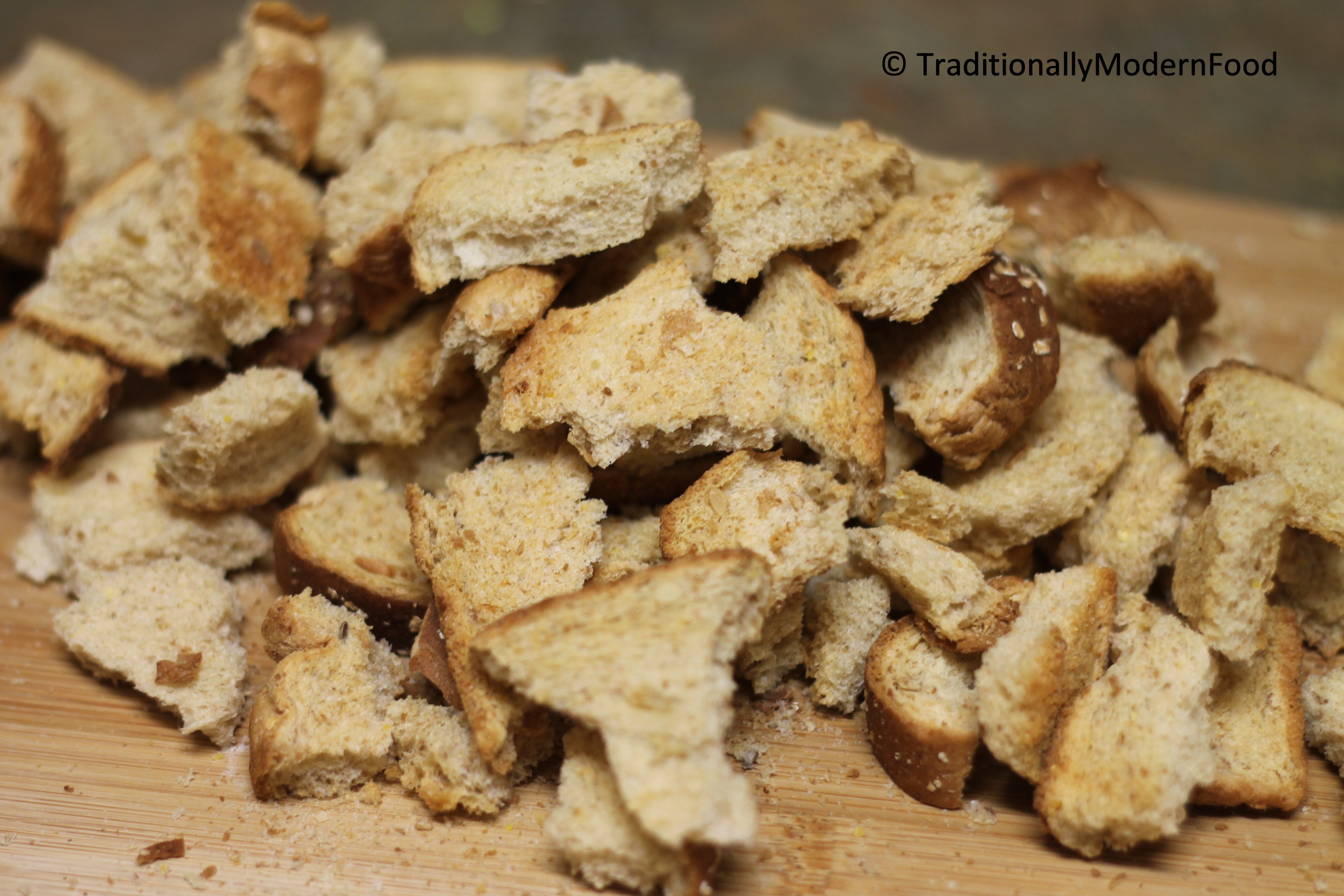 Add the bread pieces to the masala, gently mix until the masala coats well. Serve hot to enjoy the crispy bread upma
Ingredients
Bread - 8 slices

I used wheat bread

Onion - 1

finely chopped

Tomato - 1

finely chopped

Frozen/ Fresh Green Peas - 3 tablespoon

Turmeric powder - 1/8 teaspoon

Coriander Powder - 1 teaspoon

Cumin Powder - 1/2 teaspoon

Garam Masala - 1/2 teaspoon

kitchen king masala - 1/2 teaspoon

Chilli Powder – 1/2 teaspoon

Curry leaves -few

Salt -as needed

Cooking spray / oil - to grease the baking tray

I used cooking spray

Oil - 1 teaspoon
Instructions
Preheat the oven to 350 degree F, and place the bread in oven. Bake on both sides (around 7 minutes each and turning the bread in between) or until bread becomes crispy. Turn off the oven and let the bread stays in the oven

In a pan heat oil and when the oil becomes hot, add curry leaves and onion, saute till onion becomes translucent, then add tomato and cook

Once onion and tomato are cooked, add turmeric powder, cumin powder, coriander powder, salt, sambar powder and garam masala and cook for 2-3 minutes

Take the bread from the oven;cut into pieces

Add the bread pieces to the masala, gently mix until the masala coats well. Serve hot to enjoy the crispy bread upma
Notes
1. Baking bread is optional. You can even toast/ grill the bread
2. Baked Bread upma tastes great if served immediately
3. You can use plain bread and make upma avoiding baking
4. Ginger garlic paste can be added
5. Oatnut, mulitgrain, maida bread etc. can also be used
6. Usually i temper the upma with mustard seeds and channa dal, missed doing that, while taking the picture
7. You can bake the bread and keep it in the turned off oven for 45 minutes - 1 hour and quickly saute the bread with the masala before serving. By doing this way Bread upma will be crsipy instead of soggy texture