Butter crackers | Whole Wheat butter cracker are super healthy snacks for kids and adults. Butter gives amazing flavour to this cracker. Guilt free to munch on.

Giving healthy snacks for kids is every mom's biggest concern, well at times more than helathy, there is one big question, whether they will eat it. The one which worked yesterday may not work today.
Everyday its experimenting.Ever since Vishvak started solid food, the topic about kids food will always come whenever I talk to my friends. Whenever my friend suggest something I wanted to try.
3 course healthy meal for is one side but healthy mid- morning and evening snacks was another concern. Vishvak was initially big fan of corn puff then he started liking store brought multi grain crackers. I wanted to try something in home.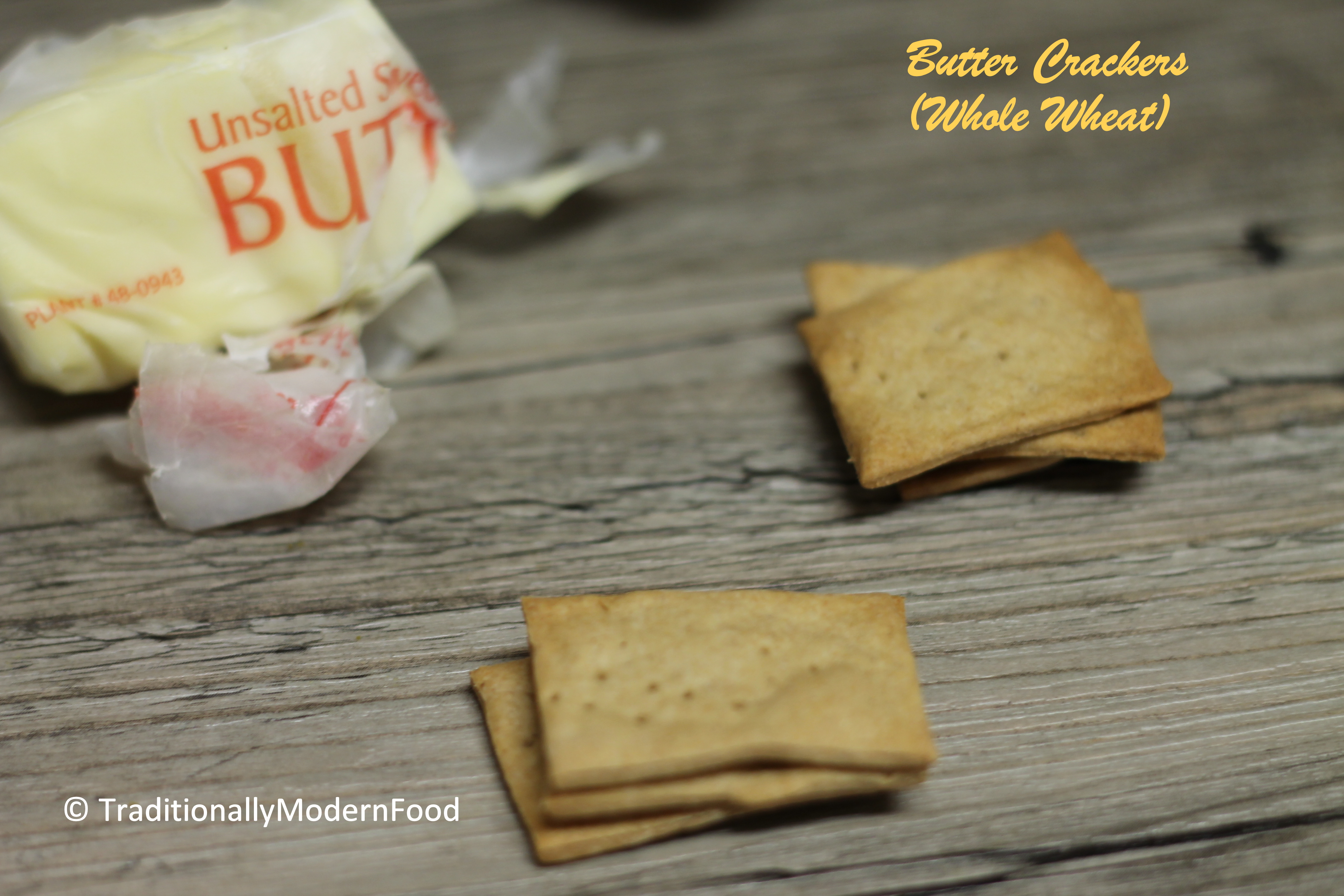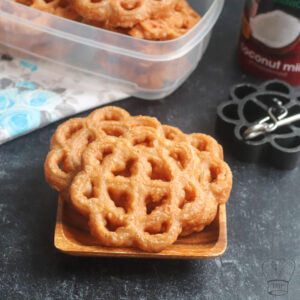 Ingredients
1

cup

rice flour

1/4

cup

Maida

1/3

cup

powdered sugar

1/4

teaspoon

vanilla essence

1

teaspoon

sesame seeds

1

cup

coconut milk

1/4

cup

water + as needed
Instructions
First Add oil to a wide heavy bottomed pan and heat

Add rice flour, maida, and powdered sugar to a wide bowl; whisk well

Furthermore add vanilla extract, sesame seed, 3/4 cup of coconut milk, and water; whisk well

Add 1/4 cup of coconut milk; whisk well and prepare the batter

Furthermore add water little by little and prepare the batter

Check if the oil is at right temperature, place a small portion of the batter and drop it into the hot oil, if it starts floating upward immediately without changing its color the oil is at the right temperature and ready for deep frying

place the cookie murukku mold inside the oil for seconds; drain the oil and immediately immerse ¾ of the mold in the batter. Avoid immersing the entire mold in the batter

Immediately carefully lift and dip into hot oil avoid touching the bottom of the pan

Gently swirl the murukku mold, batter by itself will come out of the mold but for the first 2 batches, it might be difficult. I generally use a fork to push it down

Subsequent batches, unmold on their own

Carefully flip and fry both sides golden brown till shhh sound reduces

drain in kitchen paper towel

It will look soft as soon as you remove it from hot oil but if you rest for a minute it turns crispy

Cool completely then store in an airtight container

For subsequent batches, always dip in hot oil then immerse 3/4th and dip the mold in hot oil. Unmold and fry
Video
Notes
Do I need rose achu?
Yes, it is a must for Kerala-style rose cookies. You cant use traditional murukku achu because of the batter consistency. I got mine rose achu from India amazon. Star achu and other varieties of achu can also be used
Should I pre-season the achu before frying rosette cookies?
If you are going to use iron/aluminum rose achu you need to prepare the achu else batter with the stick to the rose achu. Soak in rice starch overnight. Wipe then soak in hot oil for 25 minutes. I have used a nonstick press so I didn't do all these
Can I use white sugar?
Powdered sugar is recommended. I used confectioners and sugar. The corn starch in it gives a perfect texture. If you don't have it, grind and use regular sugar.
Why thai coconut milk?
Traditionally coconut milk is extracted to prepare Kerala-style murukku but to save time I have used store-bought coconut milk
Coconut milk + water
Coconut milk stored in the fridge tends to turn thick. Nowadays it is cold, and coconut milk stored in the garage also tends to turn thick. The amount of water might vary based on the consistency of coconut milk so adjust accordingly.
What should be the  consistency of the batter
The too-thick batter might make the Kerala achu rose murukku hard, and chewy. Too Thin batter might not coat the press. Add water gradually and prepare the batter
How to fix thin watery batter
Rest the batter for some time, the batter might turn slightly thick. If it is still watery, add flour and make sweet murukku
Gress the rose achu in hot oil for every batch
Whatever the achu before making murukku always immerse it in hot oil. Gently shake to drip excess oil then add it to the batter. The batter won't coat well around the mold if the mold is not hot. For every batch dip in hot oil then prepare
Immerse only 3/4 of the batter
Avoid immersing the entire press into the batter. If you dip the entire achu it might be difficult to unmold. Immerse and make sure it is well coated immediately carefully add to the hot it. Avoid keeping the mold in for a long time in the batter.
Unmold on its own
If the oil is at the right temperature. Rose murukku unmolds on its own after a few seconds. Gently swirl the achu. For the first 2 batches, you might have to use a fork
Why does batter disintegrate in oil?
The batter is too thin. Add extra flour and try the next batch. Mix well with the whisk regularly for the best Kerala sweet achappam murukku
Carefully flip in hot oil
The batter is too soft in hot oil so carefully flip. Flip only after the batter unmold on its own. flip and fry both sides.  fry till they turn golden brown.
Rest the murukku for a minute then enjoy
Murukku turns crispy after a minute so avoid tasting immediately. Cool completely then store in an airtight container. It stays good for weeks but it won't last long.😊
Drain the oil well
Place kitchen paper towel on a colander or oil filter; then place the fried rose murukku. Keep the side with holes down for proper oil drain.