Mor kuzhambu | how to make more kulambu recipe | vendakkai mor kuzhambu | okra yogurt gravy | buttermilk kuzhambu | south indian kuzhambu variety with step by step pictures and video recipe. Check out the Mor Kuzhambu recipe. If you like the video pls SUBSCRIBE to my channel.
Vendakkai mor kuzhambu is an ideal rice-based kulambu recipe that is served as a rice combination for lunch and dinner. Mor kulumbu recipes are generally made with/without vegetable addition. Instead of vendakkai, Mor Kuzhambu recipe can be made with watery vegetables like pumpkin, chow chow, cucumber etc. An easy and tasty south Indian kuzhambu varieties made with crispy cut behind / ladies finger/okra / vendakkai in a creamy and flavored sour curd sauce.
Mor Kuzhambu is a rice accompaniment prepared with buttermilk, spice mix, and some vegetable. In this recipe, I have added Vendakai (Okra: Ladies finger) for the more kuzhambu. Unlike sambar, kuzhambu etc. vendakkai Mor kulambu shouldn't be cooked for a longtime, so this can be prepared quickly. It can also be taken as a side for idiyappam.
After coming to US, initially I faced a problem frequently in my kitchen, dal was not cooked properly. Jagadish uses to come for lunch, I would have kept dal for sambar but it wouldn't have cooked. Immediately I either opt for variety rice or mor kuzhambu if I have extra curd.
If I forgot to soak dal/Tamarind, I see if I have extra curd in the fridge, and my saver Mor Kuzhambu flashes in my mind. Vendakkai Mor Kuzhambu gets a special place in our custom Iyer Tamil brahmin wedding meals.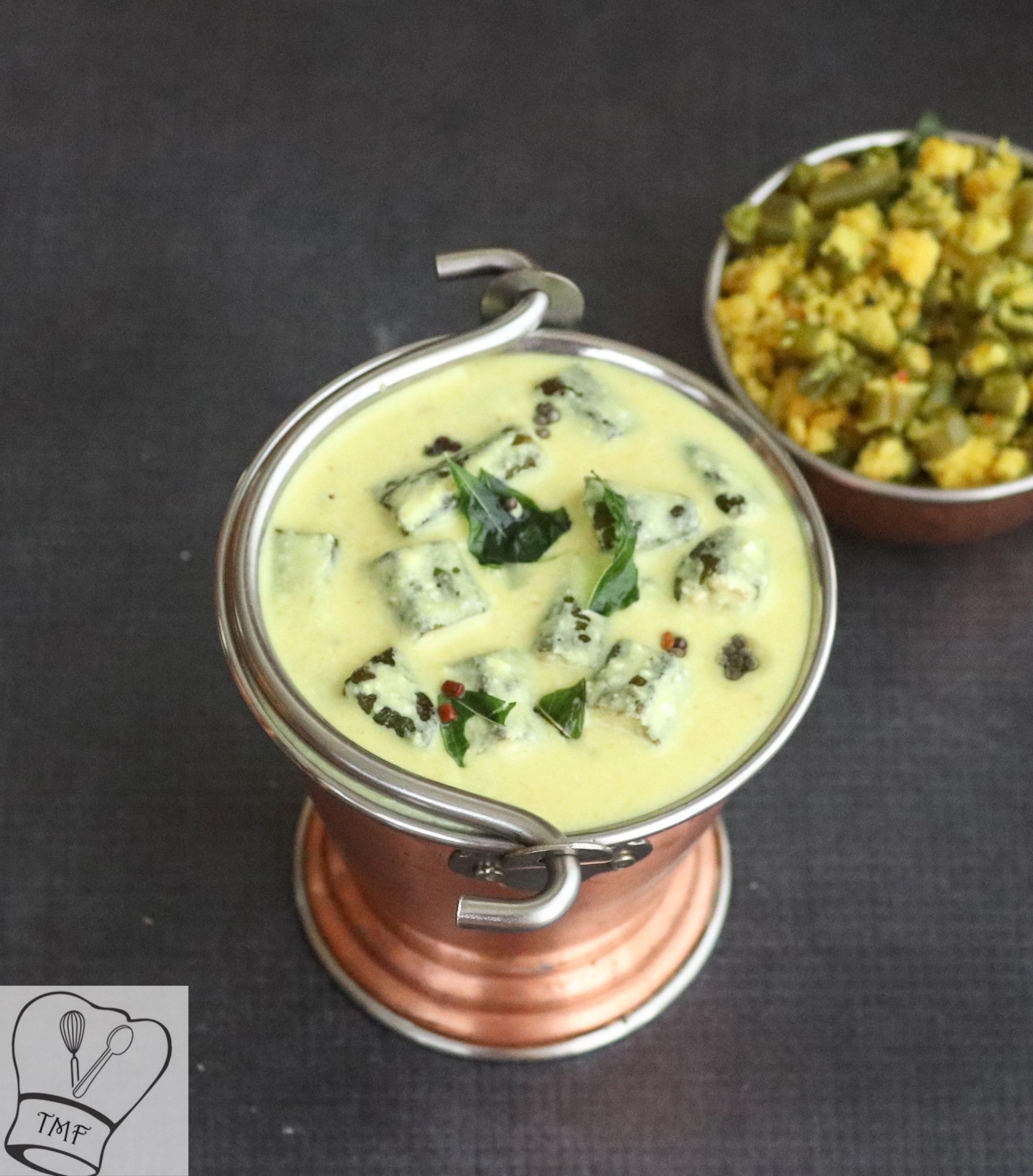 I have added sautéd okra for the kuzhambu, but mor kuzhambu tastes great even without any veggies. Remember my paruppu urundai kuzhambu, same urundai can also added to paruppu Urundai moor kuzhambu. I have tasted a version of buttermilk kuzhambu with ulundhu vadai also.
Speciality of Indian cooking is the way the dishes are mapped. Since mor kuzhambu contains buttermilk and coconut we prefer having non coconut dry curry as a side. Couple of our family favorite with mor kuzhambu are Potato fry/Arbi Fry/Vazhakkai Varuval/paruppu usili.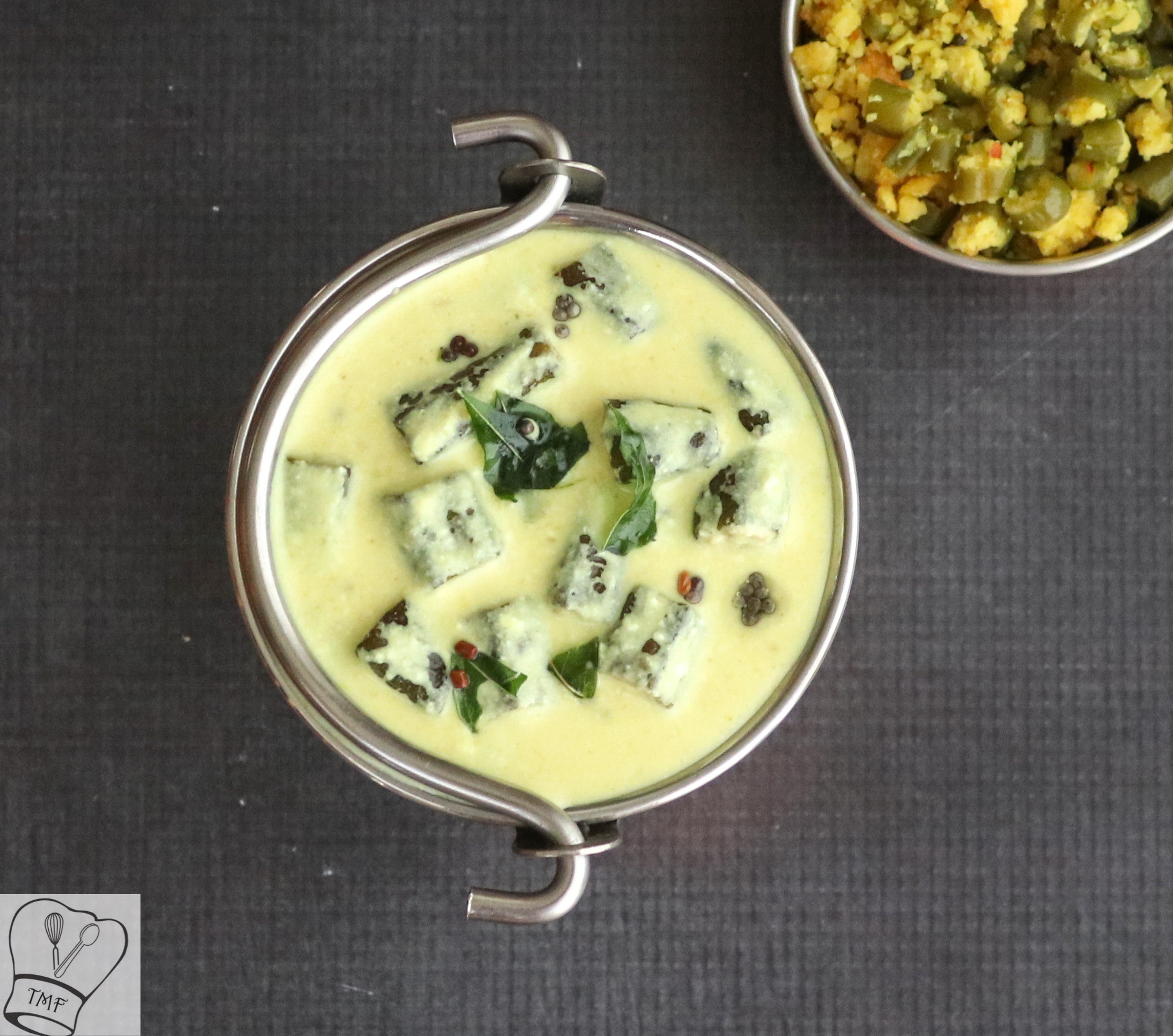 Checkout other Kuzhambu varieties in TMF,
Kuzhambu varieties with tamarind
Kuzhambu varieties without tamarind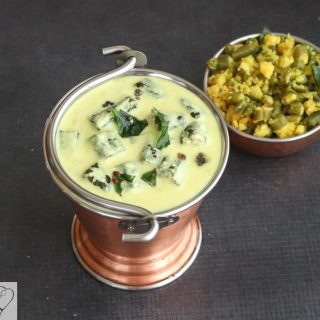 Vendakkai Mor Kuzhambu | Ladies Finger ( Butter Milk/ Yogurt) Kulambu
yogurt based rice accompaniment
Print
Pin
Comment
Ingredients
Ladies Finger - 8 or 9

depends on the size, bit size pieces

Coconut oil - 1 tbsp

Thick Curd / plain yogurt - 2 cups

Turmeric Powder -1/4 tsp

Water - 2 cups

Salt - as needed
For Grinding
Grated Coconut - 1/2 cup

Green chillies- 2

depends on the size of green Chilli and also your spice level

Ginger - 1/2-inch thick slice

peeled and cut

for grinding:

Channa dal - 1 tbsp

Coriander seeds- 1 tbsp

Cumin seeds -1/2 tsp

Raw rice -1/4 tsp
To temper:
Coconut oil - 1 tsp

Mustard -1/4 tsp

Fenugreek - few

Asofetida - generous pinch

Curry leaves- few
Instructions
Soak the ingredients under "for grinding" with little water for 15 - 20 minutes. Grind them with coconut and little soaked water for fine grinding

In a utensil add curd, Turmeric powder, asafoetida, salt and whisk well

Heat 1 tablespoon oil in the pan when oil is hot add the ladies finger and sauté till okra change color slightly and shrinks a bit

Add the ground paste to the curd and mix well

Add Cooked ladies finger and mix well

Cook the kuzhambu for 5 minutes in low flame till the kuzhambu starts bubbling up; switch off

Add oil to the pan When the oil is hot, add mustard seeds, curry leaves and fenugreek. Once it splutters, add it to the kuzhambu
Video
Notes
Okra can also be sautés in little oil and cooked in Water alternatively
Chow chow, white pumpkin, arbi can be used instead of ladies finger. Boil the vegetables and add it to the Kuzhambu
My mother says 2 days old curd tastes great for Mor kuzhambu
Mor Kuzhambu can also be prepared without any veggies
Over cooking Moor kuzhambu may result in curdling
Adjust water according to the consistency you desire
Ingredients:
Ladies Finger - 8 or 9 (depends on the size), bit size pieces
Coconut oil - 1 tbsp
Thick Curd / plain yogurt - 2 cups
Turmeric Powder -1/4 tsp
Water - 2 cups
Salt - as needed
For Grinding
Grated Coconut - 1/2 cup
Green chillies- 2 (depends on the size of green Chilli and also your spice level)
Ginger - 1/2-inch thick slice, peeled and cut
To soak for grinding:
Channa dal - 1 tbsp
Coriander seeds- 1 tbsp
Cumin seeds -1/2 tsp
Raw rice -1/4 tsp
To temper:
Coconut oil - 1 tsp
Mustard -1/4 tsp
Fenugreek - few
Asofetida - generous pinch
Curry leaves- few
How to make mor kuzhambu with step by step pictures :
Soak the ingredients under "for grinding" with little water for 15 - 20 minutes. Grind them with coconut and little soaked water for fine grinding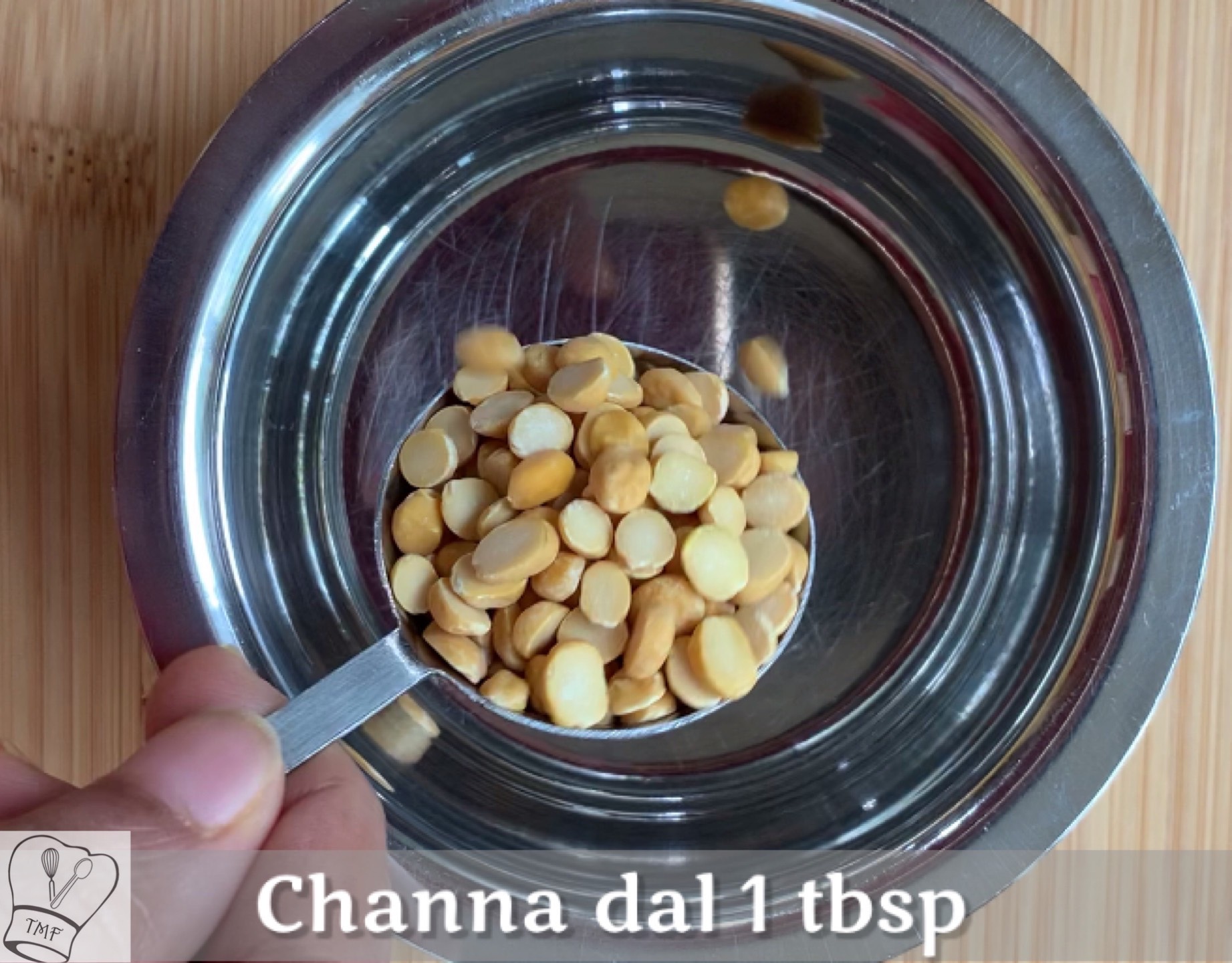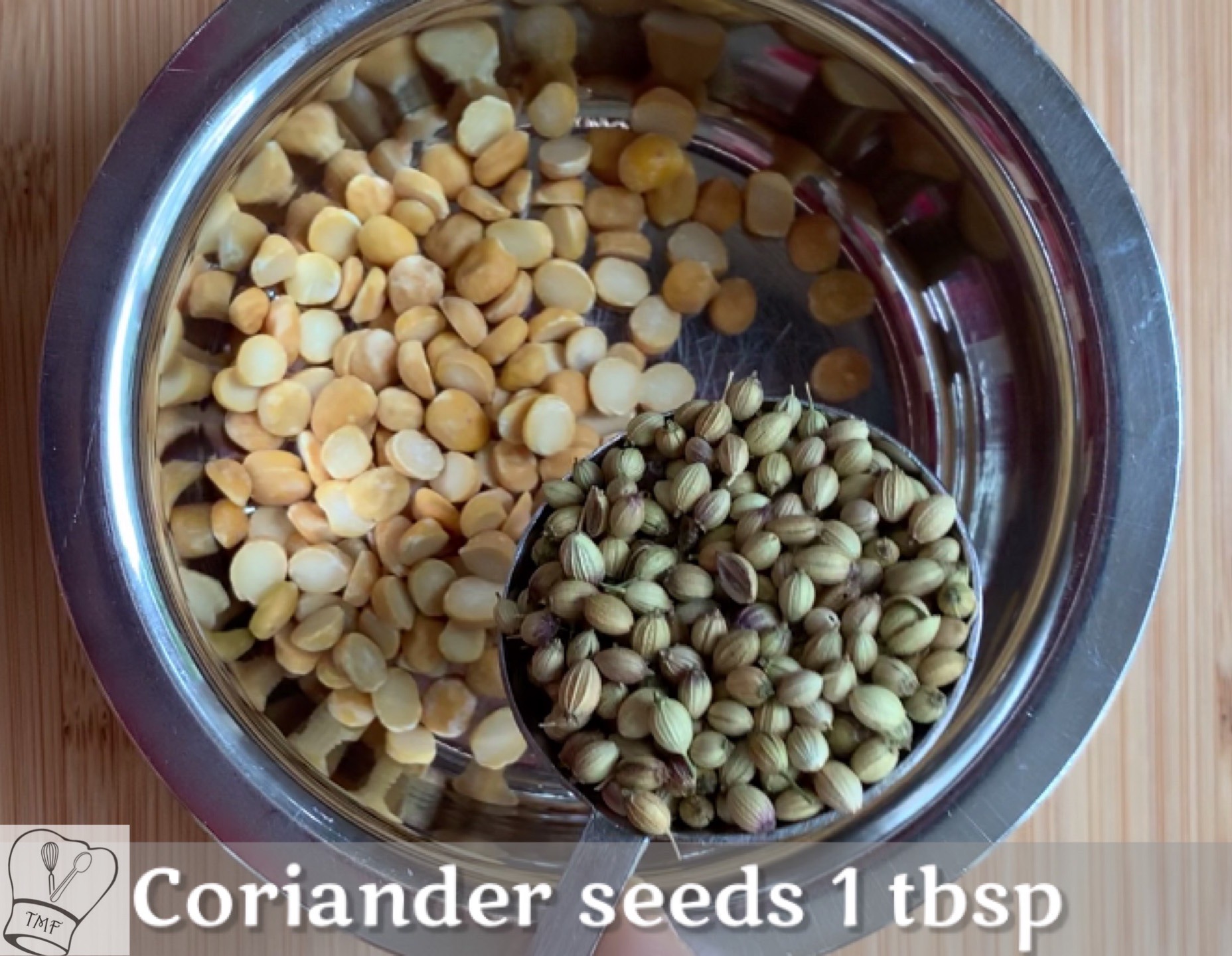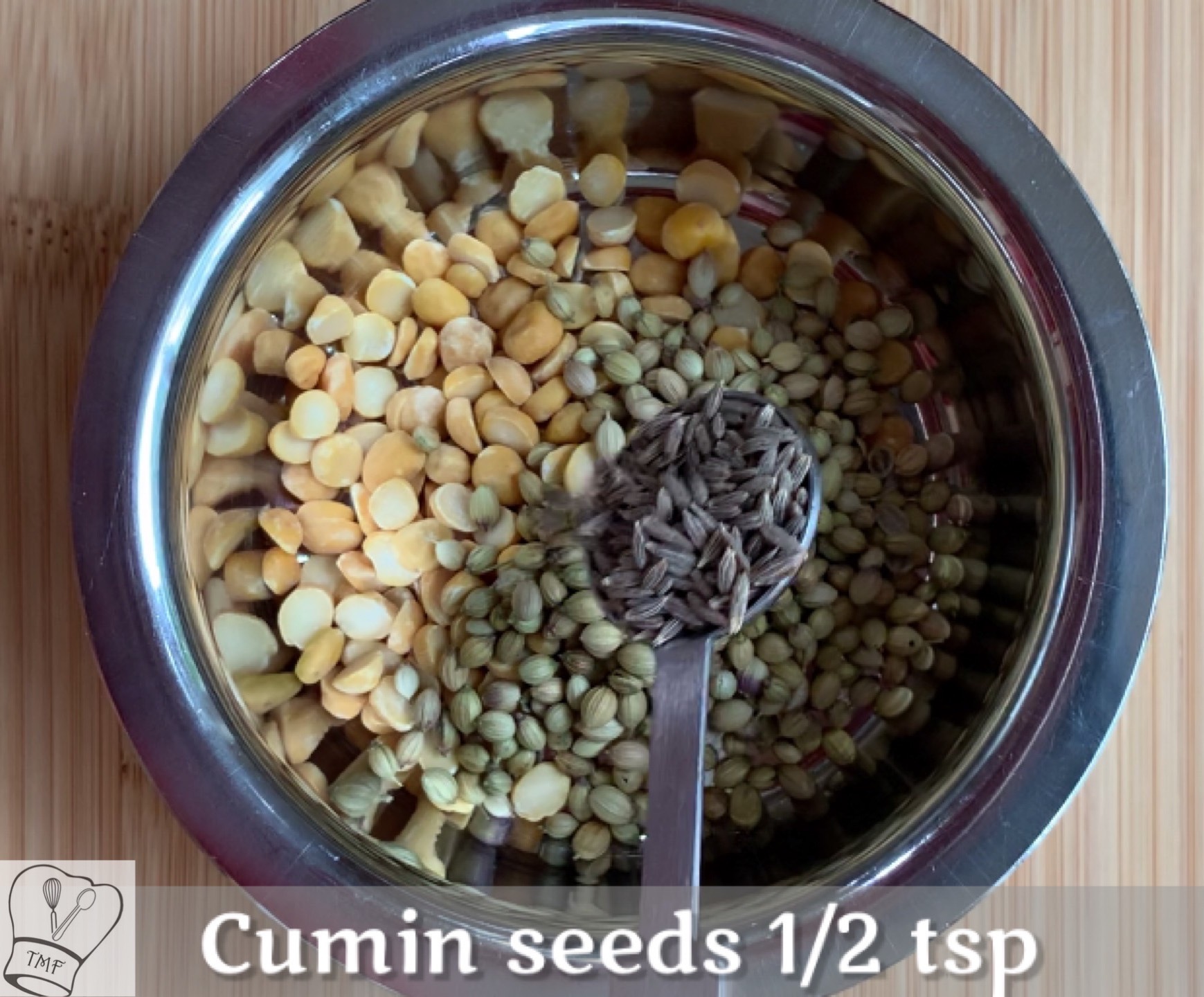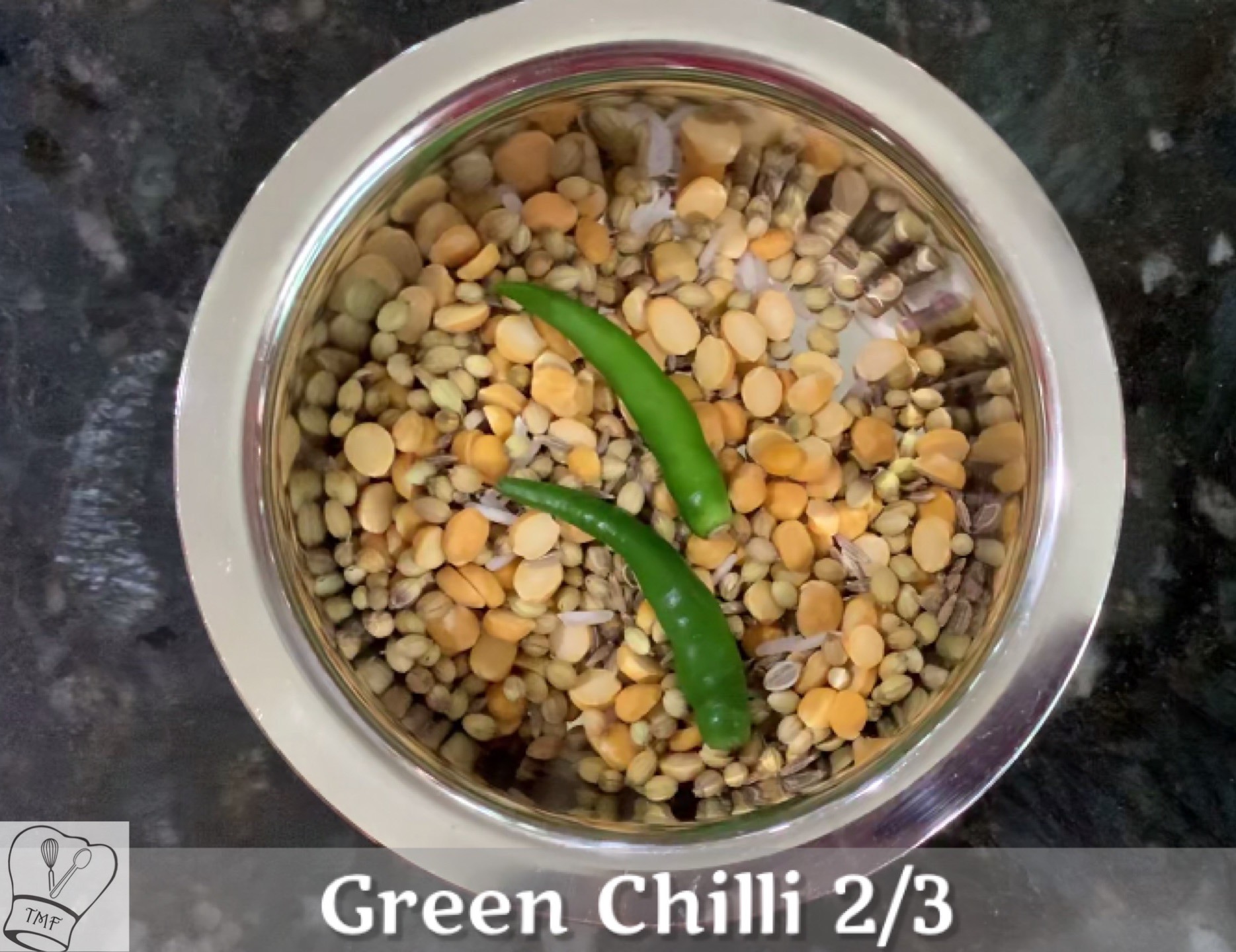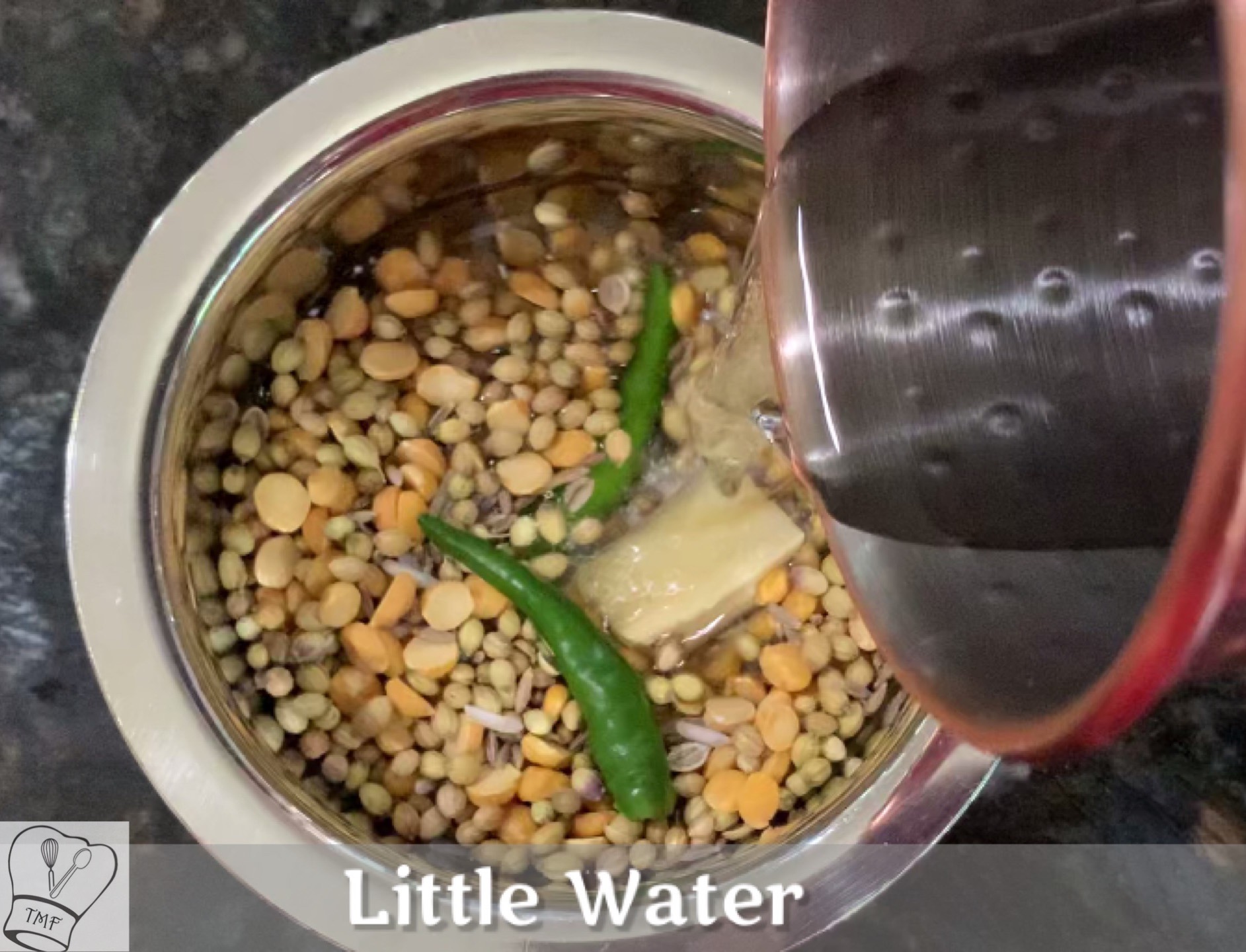 In a utensil add curd, Turmeric powder, asafoetida, salt and whisk well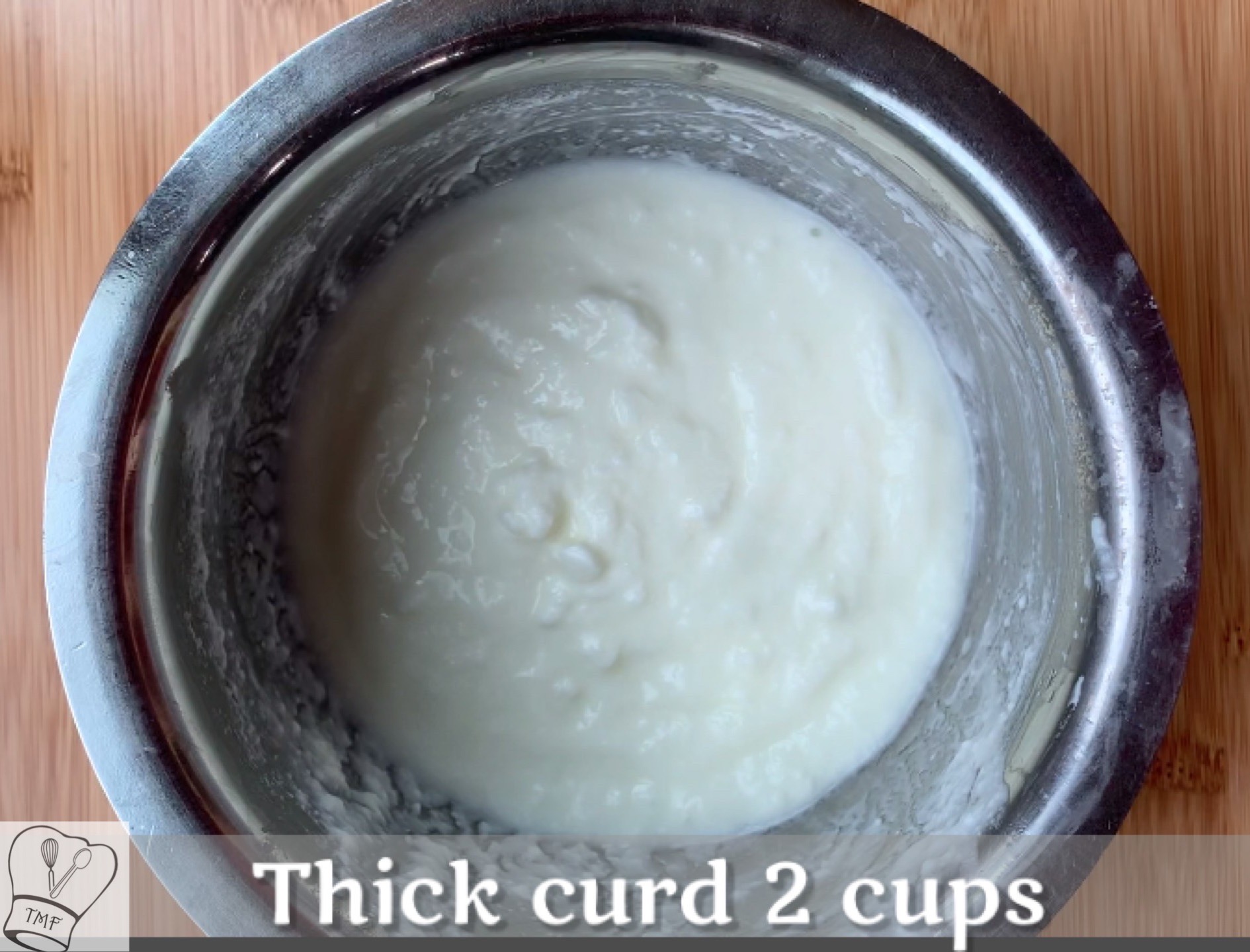 Heat 1 tablespoon oil in the pan when oil is hot add the ladies finger and sauté till okra change color slightly and shrinks a bit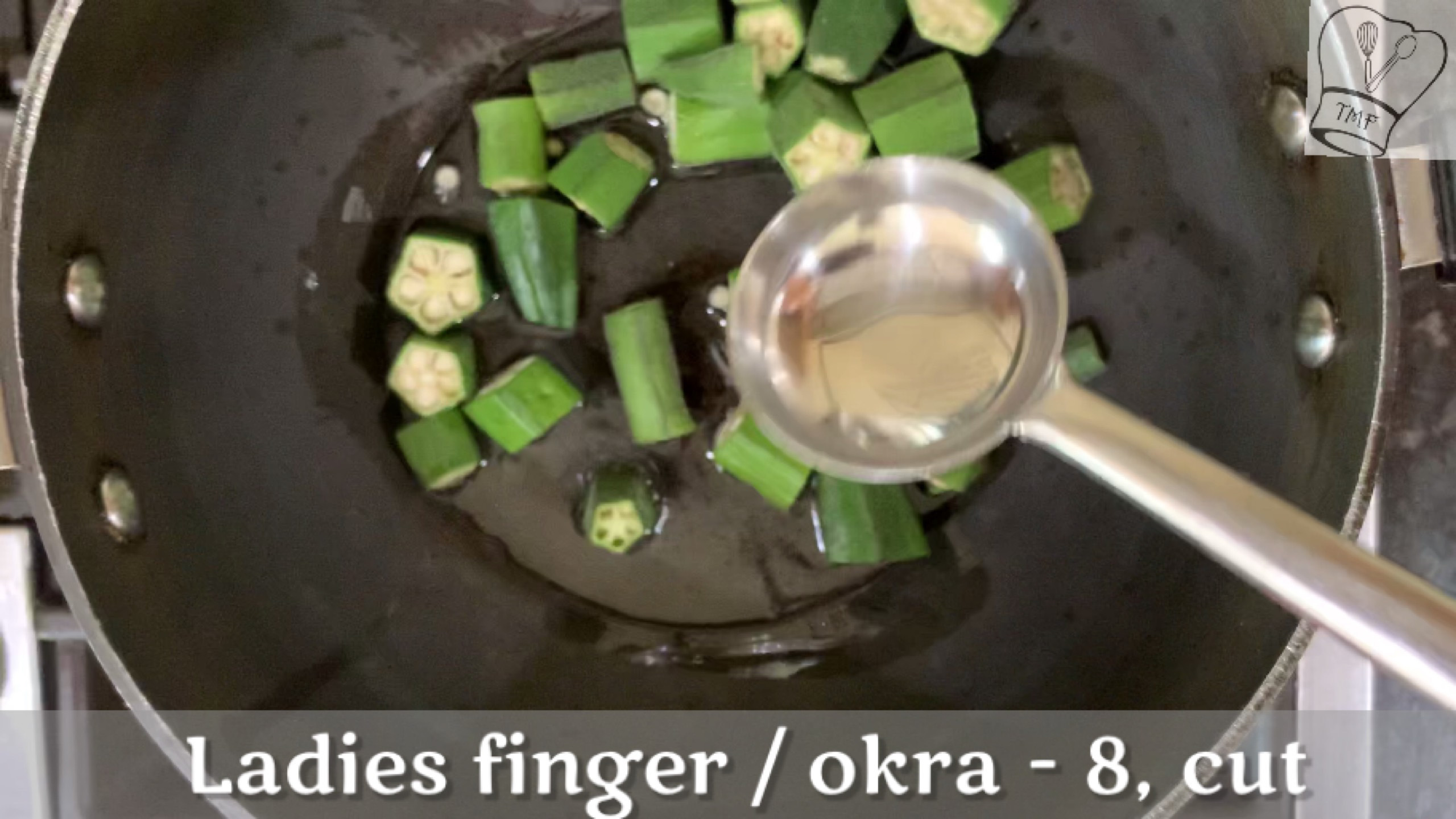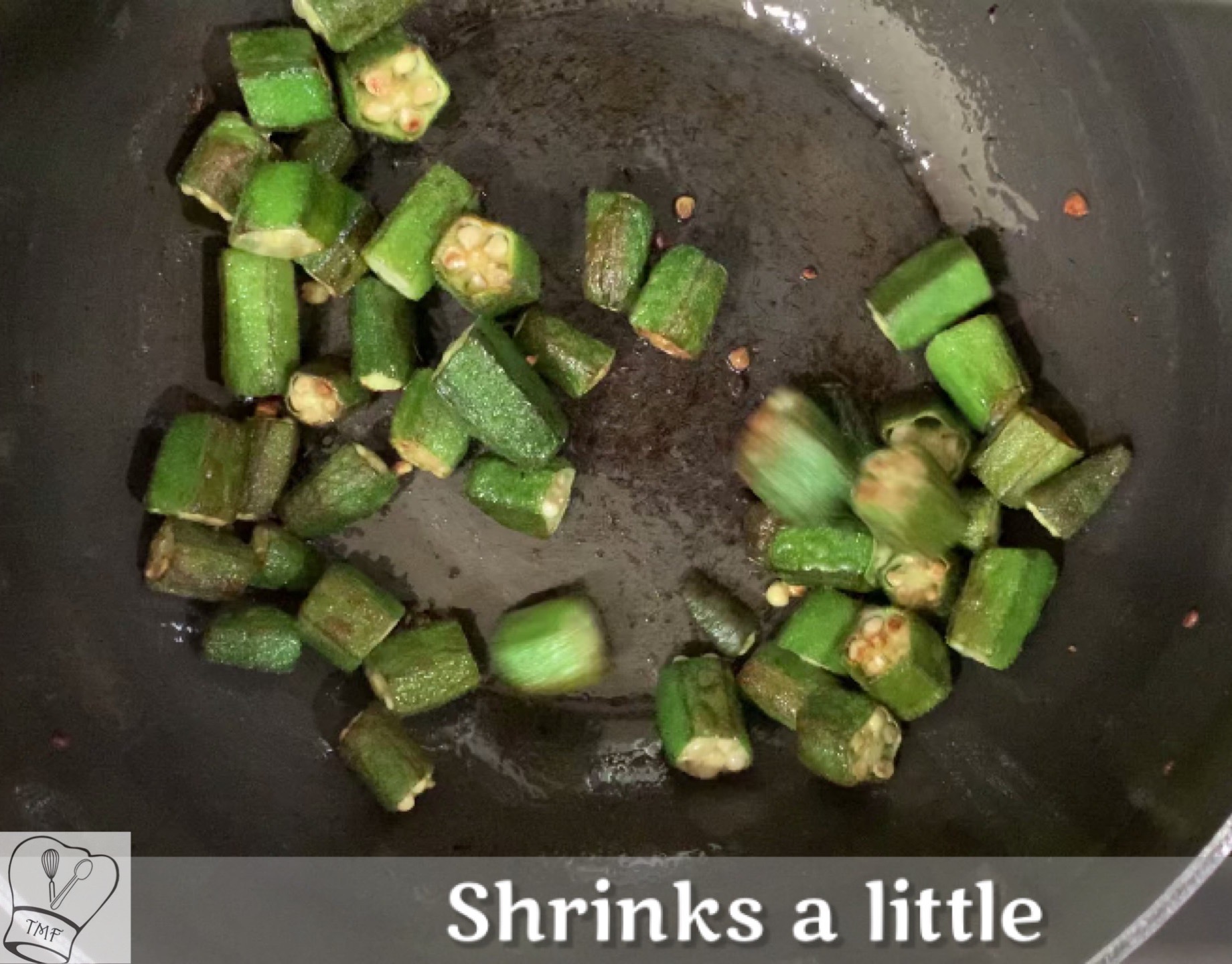 Add the ground paste to the curd and mix well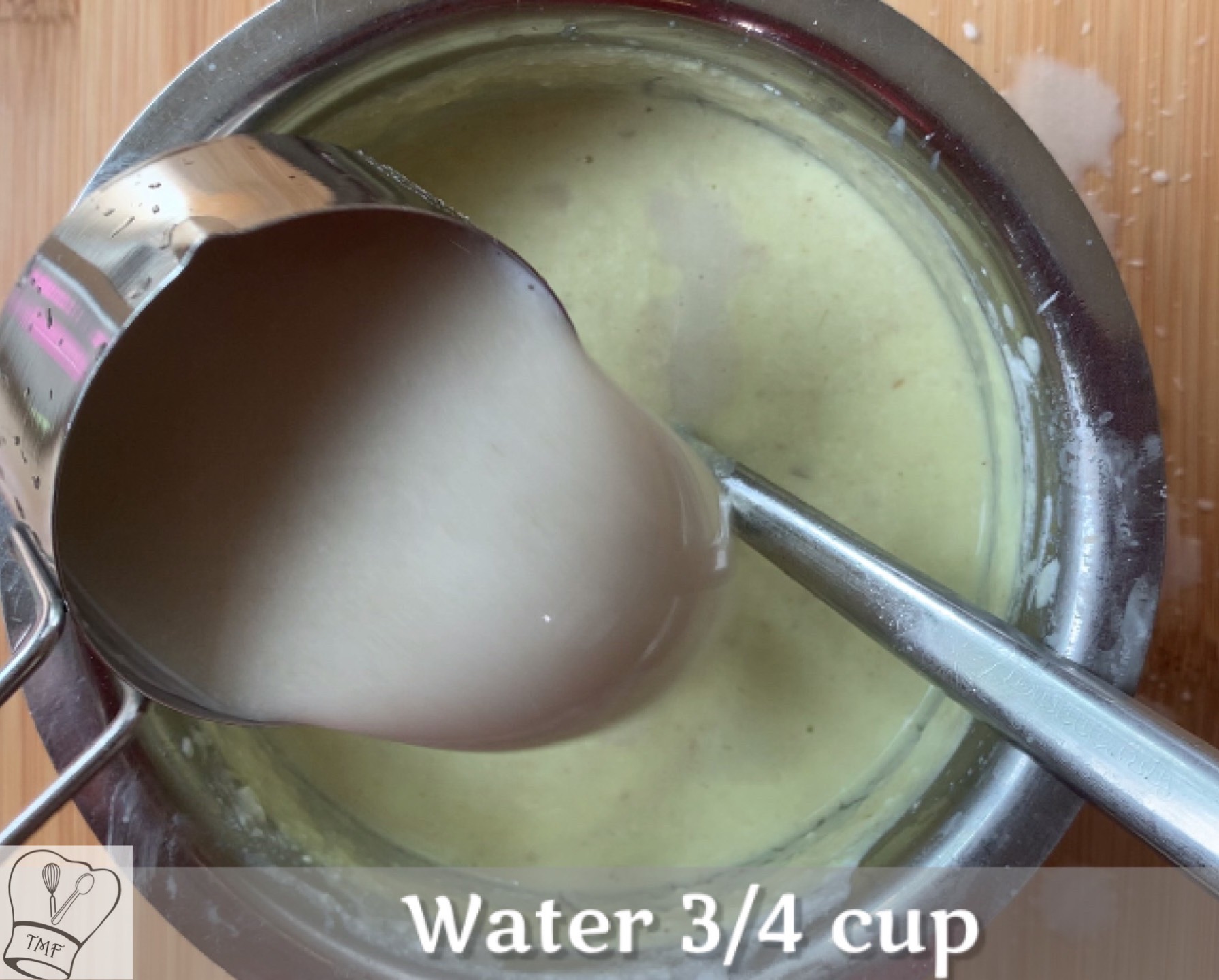 Add Cooked ladies finger and mix well
Cook the kuzhambu for 5 minutes in low flame till the kuzhambu starts bubbling up; switch off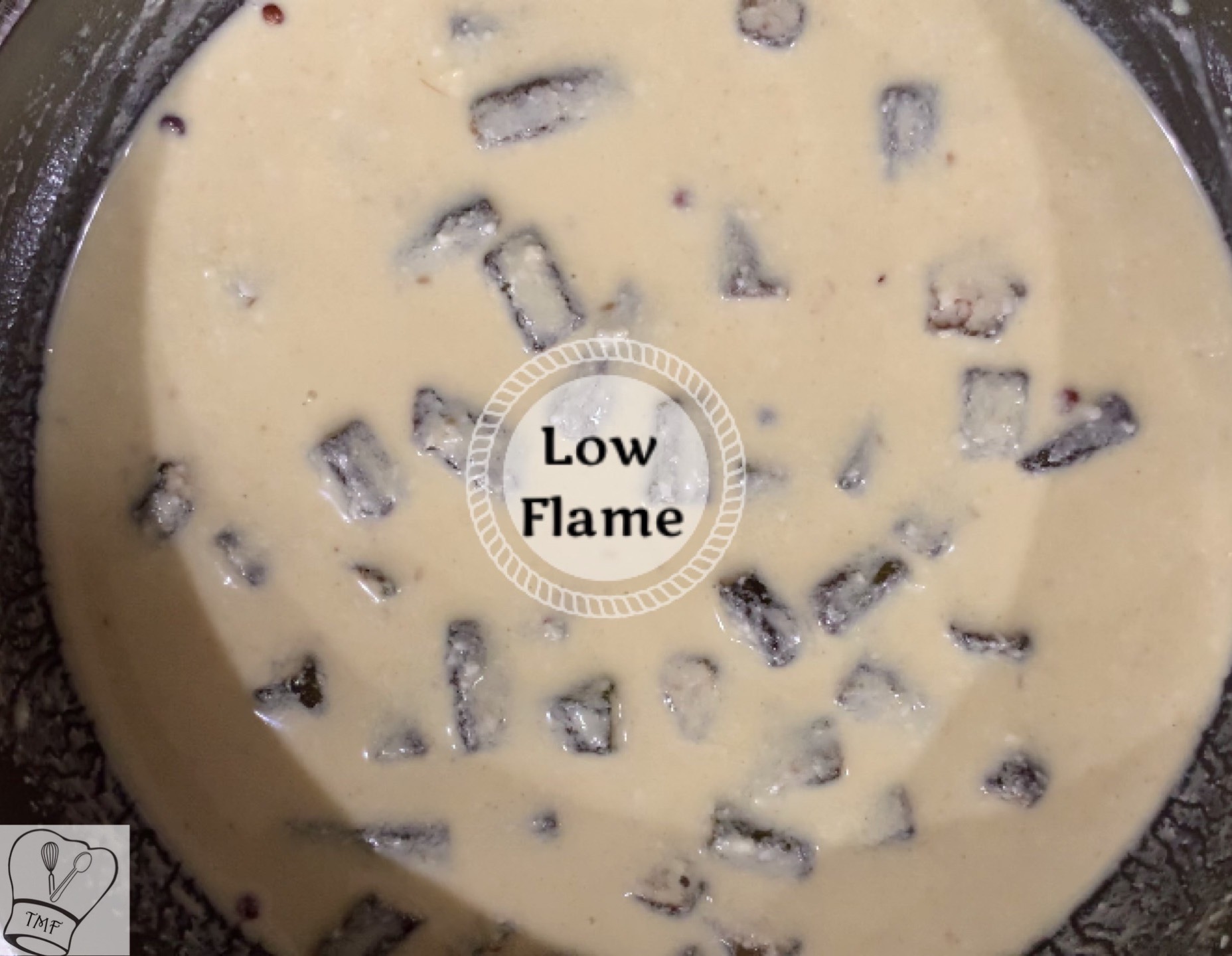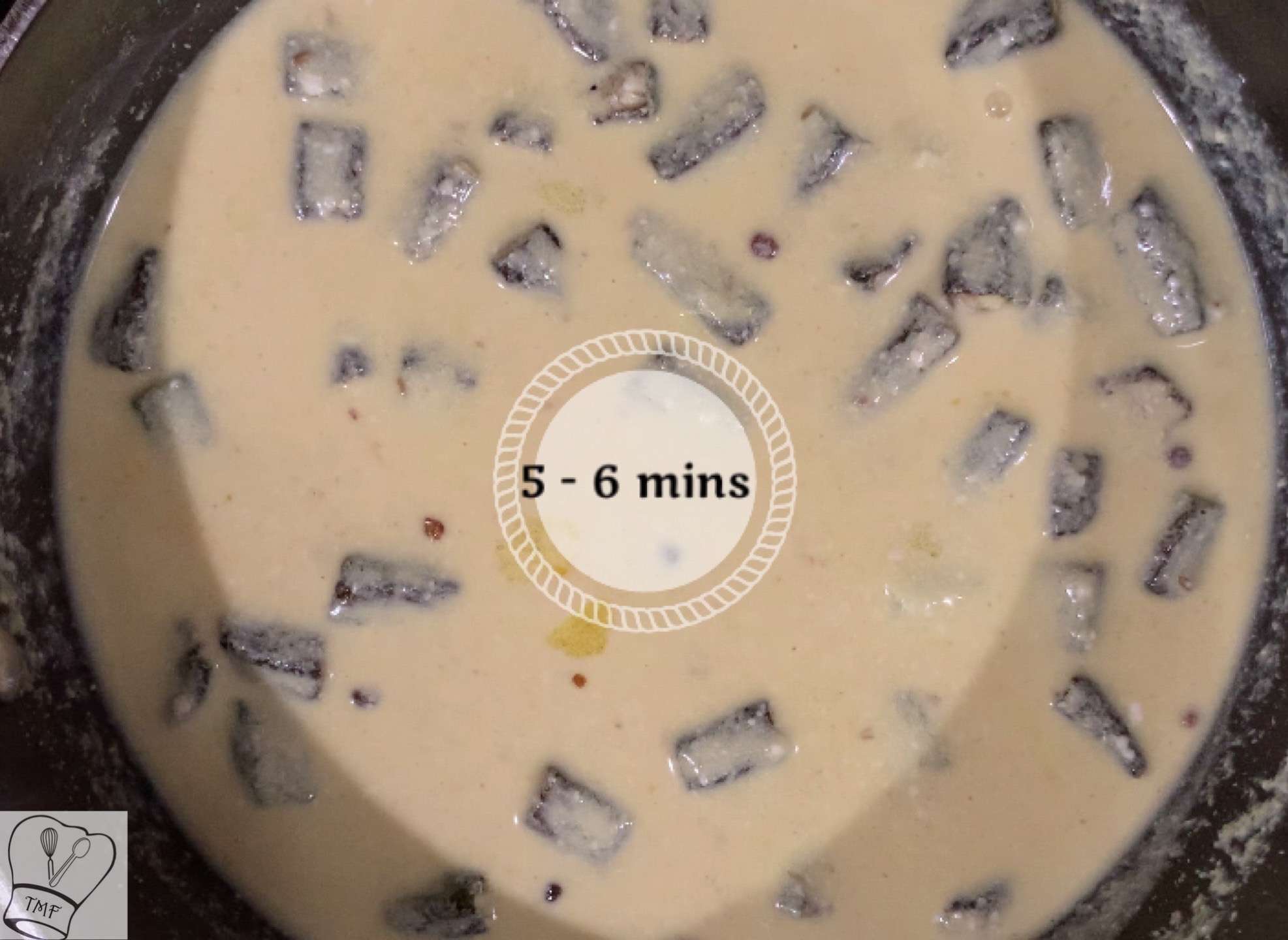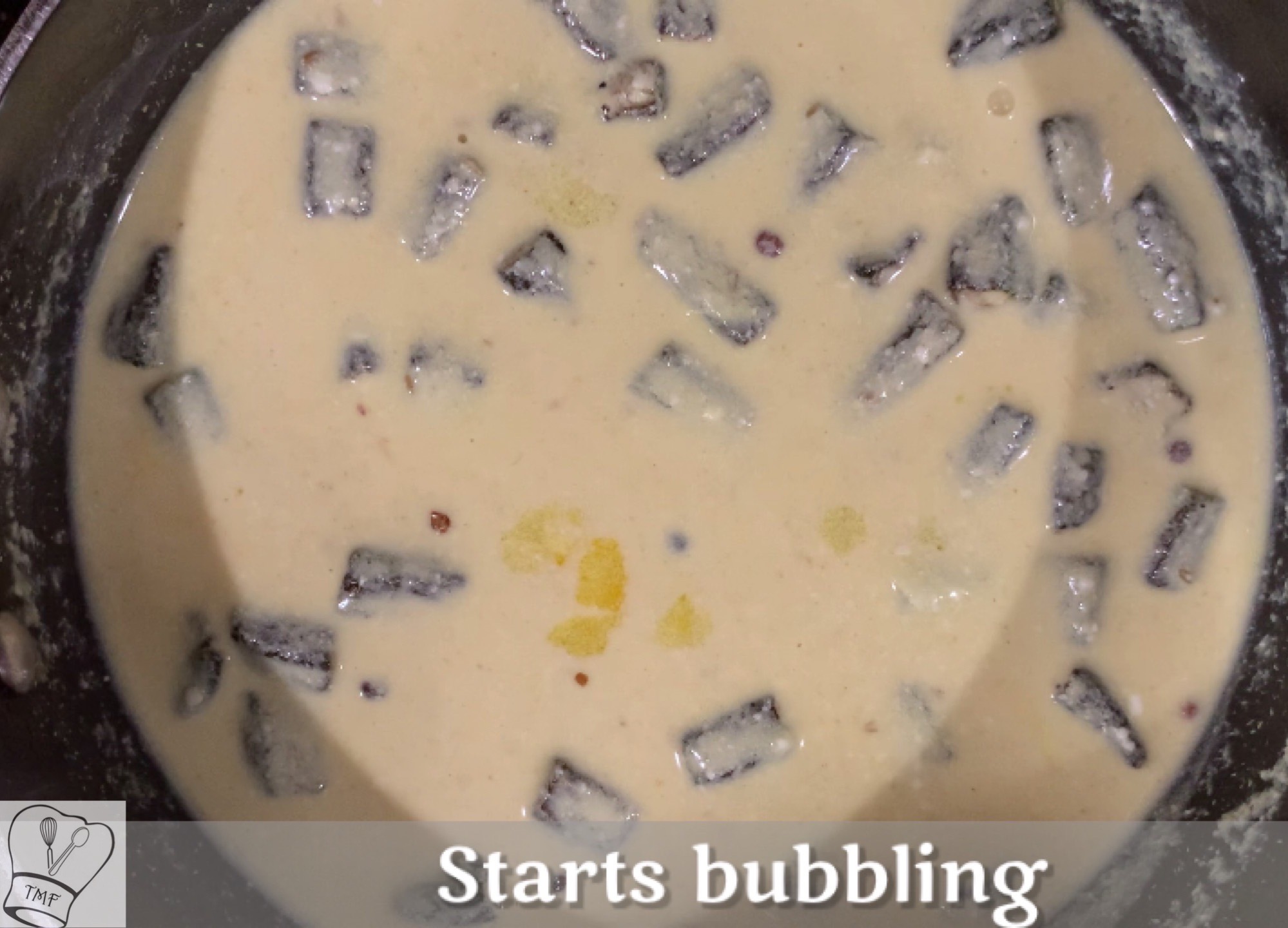 Add oil to the pan When the oil is hot, add mustard seeds, curry leaves and fenugreek. Once it splutters, add it to the kuzhambu