Egg-less Whole Wheat banana muffins with a crunch from pecans is one healthy and tasty treat for kids and adults. It can be taken for breakfast or mid-morning/evening snacks. Banana gives nice flavor to the muffin.
As I have mentioned before I always find it very difficult to give fruits to my son. Since he has a sweet tooth like me, I look for recipes with sugar. I wanted to try some baked goodies for him. To start with muffin was my pick. It's is soft and easy for him to eat.
Banana muffin is made form whole wheat flour. Banana adds some potassium and I gave him small small pieces. Muffins are very special to me as this is the first Muffin he tasted.
When he was 15 months old, I wanted to give him something different. He loves Banana Bread, and Banana bran bread
Two weeks back my friend asked me to help with making Banana Muffin. I tried this in her home, her 2 year old son loved it. Yesterday she called me and asked me for the recipe, here it is 🙂
mother muffins in TMF,
I recently updated video for this recipe and my son is 6 year old. Time flies so fast and now this is one of his favorite. We often bake this Banana muffin together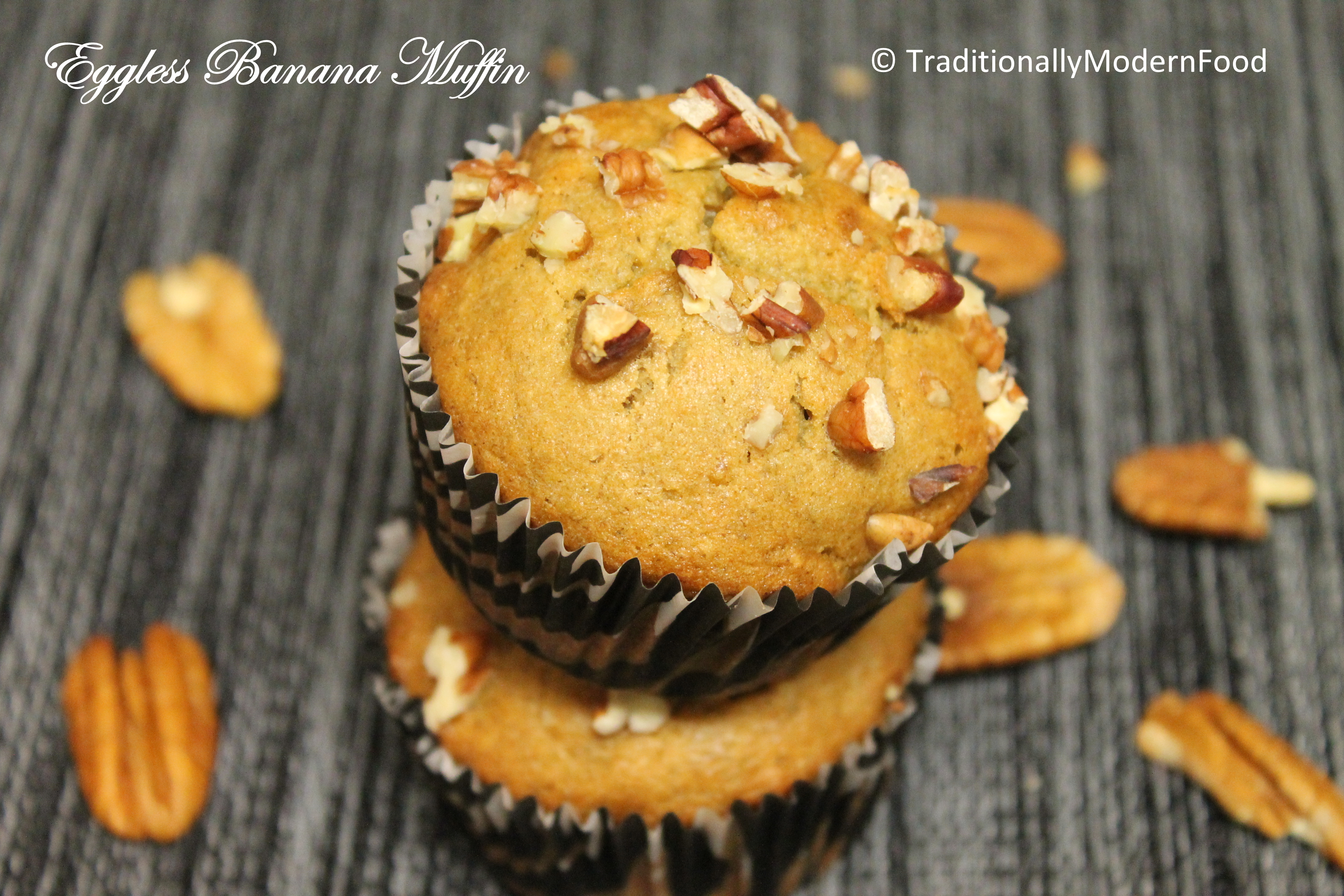 Other banana based recipes in TMF,
Ingredients:
Dry Ingredients:
Chappati Flour – 3/4 cup (whole wheat /multigrain)
Baking powder – 1/2 tsp
Baking soda – 1/2 tsp
Salt – pinch
Wet Ingredients:
Banana – 2 big sized ( 1 cup banana puree)
Butter – 1/4 cup, melted (I microwaved the butter for 45 secs)
Granulated Sugar – 1/3 cup (Adjust according to your Sweetness)
Vanilla extract – 1/4 tsp
Cinnamon powder – 1/4 tsp
Pecan – 12, finely chopped
Method:
Preheat oven to 375 degree Fahrenheit and line the muffin tray with paper cup
Sieve the dry ingredients well and keep aside

Mash banana well with hands

. Add butter, cinnamon powder, vanilla extract to the banana puree and mix well. Add sugar and whisk until the sugar dissolves

Add the dry ingredients to the wet mixture and gently combine. Add half portion of chopped pecans to the mixture and mix well

Spoon Muffin batter in each cup till 3/4 filled (around 2 Icecream scoop) and sprinkle the pecans at the top. Bake muffins 20- 25mins. Mine got done in 21 minutes