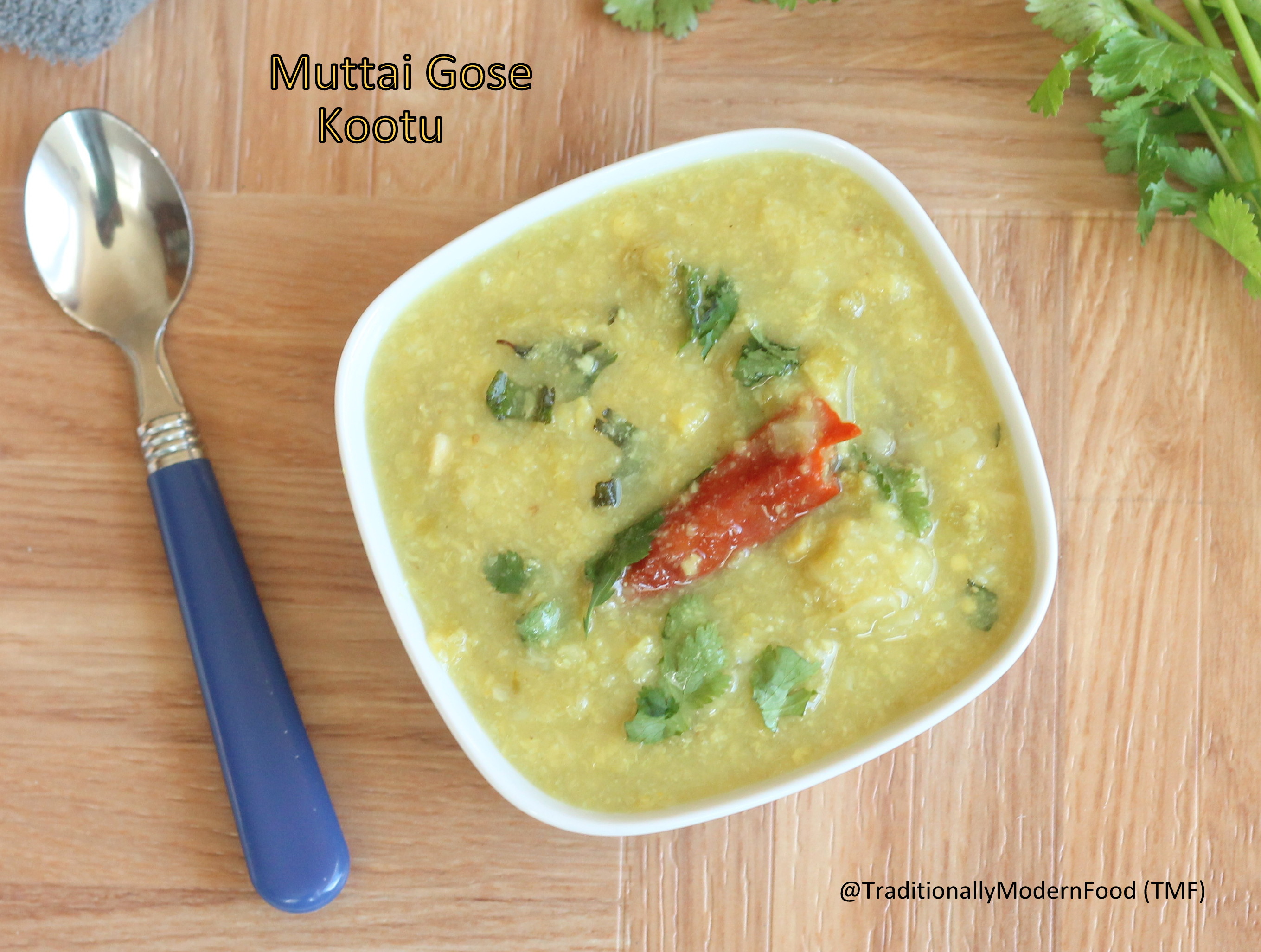 Cabbage kootu is a tasty rice accompaniment/ gravy prepared with moong dal and cabbage. With less oil delicious muttaikose kootu can be easily prepared within 20 minutes. This is no onion - no garlic tamil Brahmin style kootu.
Ever since childhood days I was not a big fan of cabbage. Once I heard cabbage is good for weight loss from that day onward I started accepting this vegetable 😂 Amma usually makes either curry (poriyal) or kootu with cabbage. Remember my brussel Sprouts thengai curry, it is based on Amma's cabbage curry.
Cabbage kootu is one versatile dish which goes well in many form. I don't remember when I was first time I tasted kootu but during school days we use to have half day for alternate Saturday. Most of the day I will be physically present but mind will be thinking of "Shaktimaan" serial.
Watching "Shaktimaan" serial and eating lunch is my usual routine. Most of the times I will be so much into the tv I won't realize what I eat. That is my Amma's favorite part, she manage to make me eat my least favorite healthy vegetables.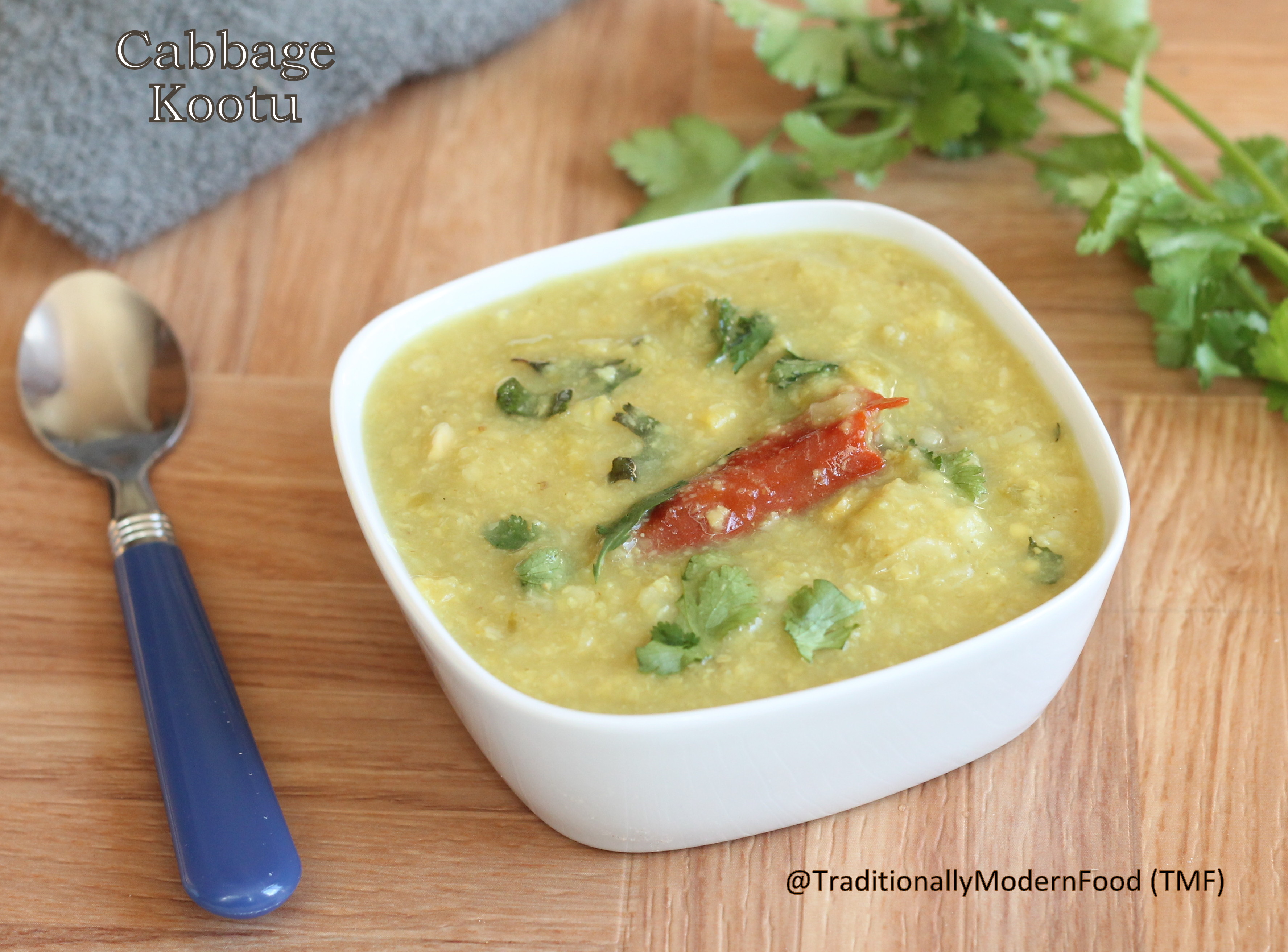 One such time she prepared Appala kuzhambu and cabbage kootu for lunch, despite of tv I enjoyed the combination of kootu and kuzhambu. That day onwards she started pairing kootu with kuzhambu frequently.
After I started cooking, cabbage kootu with thogayal and kootu - rasam are also frequent combo I prepare. Jagadish even likes kootu with chappati/roti and lemon rice.
Usually kootu is prepared in three steps, cooking dal and vegetable, tempering and boiling the kootu with grind paste. Here is a super quick version of cabbage kootu.
Cabbage is one vegetable often used in home now a days I have started using Brussel sprouts also. I have also posted few recipes with Brussel sprouts in TMF,
With pressure cooker or Instant pot (Electric pressure cooker) this kootu can be made within no time. Do the tempering and put everything together with water tada kootu is ready
Kootu recipe collection in TMF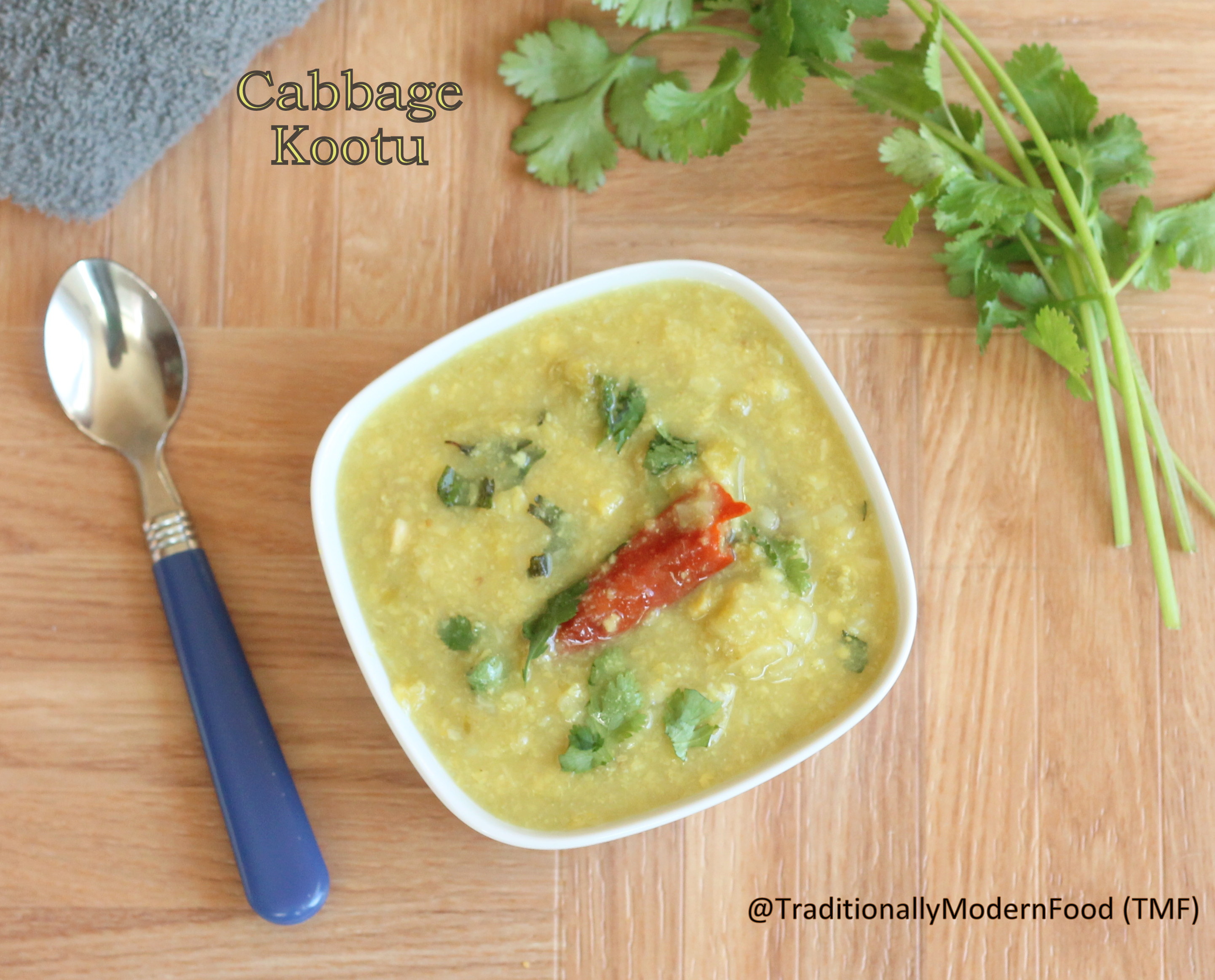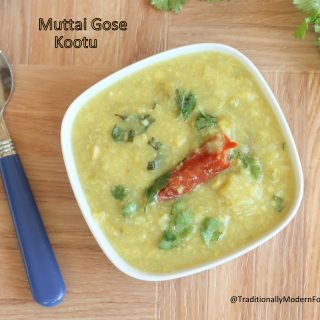 Ingredients
Cabbage - 2 cups chopped

Moong dal - 1/3 cup

Turmeric powder -1/4 tsp

Water - 1 cup

Sugar - pinch

Salt - as needed

To grind:

Grated coconut - 3 tbsp

Cumin seeds/ jeera seeds - 1/2 tsp

Green chilli - 1

To temper:

Coconut oil - 1 tsp

Mustard seeds - 1/2 tsp

Urad dal - 1/2 tsp

Hing/asafoetida - a pinch

Curry leaves - few

To garnish:

Coriander leaves - few
Instructions
Grind ingredients listed under "to grind" into a paste with little water and keep it aside

Pressure cooker method:

Add oil to the pressure cooker and when oil is hot add the ingredients under "to temper" and let it splutter

Add cabbage, turmeric powder, moong Dal, salt, sugar, water and ground paste; stir it well, put the lid and whistle

Cook for 3 whistles and switch off. After the pressure realized naturally garnish with coriander leaves

Instant Pot:

Turn on instant pot in sauté mode and Add oil to it and when it oil is hot add the ingredients under "to temper" and let it splutter

Add cabbage, turmeric powder, moong Dal, salt, sugar, water and ground paste; stir it well

Turn the instant pot to manual mode and cook for 18 minutes in high temperature

Switch off, after the pressure real sees naturally garnish with coriander leaves
Notes
Coconut oil gives nice flavor to the kootu, but you can use any oil
Adjust the consistency of the kootu according the way to desire. Add/ reduce water accordingly
kootu gets thicker overtime if you feel kootu is watery combine 1/4 teaspoon of rice flour with water and add to the kootu, let it boil for 2-3 minutes
Cumin - pepper powder can yve used instead of green chilli
Coconut can be avoided
Combination of moong dal + toor dal can be used instead of all moong dal
Ingredients:
Cabbage - 2 cups chopped
Moong dal - 1/3 cup
Turmeric powder -1/4 tsp
Water - 1 cup
Sugar - pinch
Salt - as needed
To grind:
Grated coconut - 3 tbsp
Cumin seeds/ jeera seeds - 1/2 tsp
Green chilli - 1
To temper:
Coconut oil - 1 tsp
Mustard seeds - 1/2 tsp
Urad dal - 1/2 tsp
Hing/asafoetida - a pinch
Curry leaves - few
To garnish:
Coriander leaves - few
Method:
Grind ingredients listed under "to grind" into a paste with little water and keep it aside
Pressure cooker method:
Add oil to the pressure cooker and when oil is hot add the ingredients under "to temper" and let it splutter
Add cabbage, turmeric powder, moong Dal, salt, sugar, water and ground paste; stir it well, put the lid and whistle
Cook for 3 whistles and switch off. After the pressure realized naturally garnish with coriander leaves
Instant Pot:
Turn on instant pot in sauté mode and Add oil to it and when it oil is hot add the ingredients under "to temper" and let it splutter
Add cabbage, turmeric powder, moong Dal, salt, sugar, water and ground paste; stir it well
Turn the instant pot to manual mode and cook for 18 minutes in high temperature
Switch off, after the pressure real sees naturally garnish with coriander leaves