Cabbage moong dal poriyal | Muttaikose pasi paruppu curry | kose paruppu curry ~ Cabbage Poriyal recipe | Muttaikose poriyal | Cabbage curry | Cabbage thoran | Cabbage palya | Cabbage stir fry with coconut | south Indian poriyal recipe | cabbage dry curry | Indian vegan side recipe, healthy poriyal with step-by-step pictures, and video recipe. Check out the Cabbage Poriyal recipe and if you like the video pls SUBSCRIBE to my channel.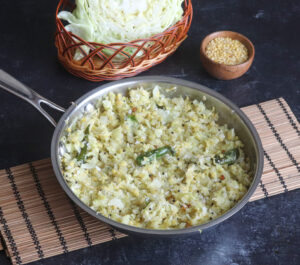 Cabbage Poriyal recipe | Muttaikose poriyal | Cabbage curry is a tasty South Indian style poriyal variety. it takes less than 10 minutes to prepare this healthy poriyal. Tips & tricks to make non-mushy cabbage curry.
CABBAGE CURRY - TAMIL BRAHMIN STYLE
Light spiced no onion no garlic protein-rich cabbage poriyal with lots of coconuts is a traditional Tamil brahmin curry (poriyal variety). Coconut-based poriyal prepared in coconut oil gives the best taste.
Soak dal
Always soak dal till it turns to soft press. It helps with perfect cooking. You can also soak in hot water
STEAM COOKING cabbage. - BEST HEALTHY CURRY
If you cook cabbage with excess water, might lose nutrients while discarding the muttaikose cooking water. You can cook cabbage in a pressure cooker with very less water. if you are not comfortable releasing the pressure this steaming is perfect.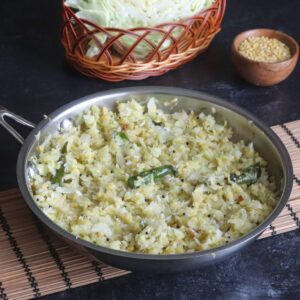 CAN I SKIP WASHING THE CABBAGE IN A COLANDER?
I would recommend washing the cabbage in a colander as it helps to drain all the water. Drain the water completely then prepare the no mushy cabbage curry. Press the cabbage to make sure is completely drained.
HOW LONG SHOULD I STEAM-COOK cabbage +dal?
to make it kids friendly texture I cook it for around 10 minutes. Adjust time according to your preferred texture. Cooking time might slightly vary based on the way you chop cabbage and also the way dal is soaked.
TIPS FOR STEAMING
Avoid thick cabbage stem
Always soak dal till they are soft press
idiyappam plate with pores works best
Always make sure you add enough water
spread and cook
if you are doubling the quantity cook in batches to avoid crowding
COOKING OIL FOR PORIYAL?
I would recommend coconut oil for coconut-based poriyal. You can add any oil of your choice.
FEW VARIATIONS FOR KOSE PORIYAL
You can use,
red chilli instead of green chilli
urad dal for tempering
Saute onion and garlic; prepare poriyal
Temper ginger instead of using ginger powder
Almond flour instead of coconut
Ingredients
To soak
1/4 cup moong dal
to steam
375 grams cabbage
Required salt
To temper
1/2 tablespoon coconut oil
1 teaspoon chana dal
1/2 teaspoon mustard seeds
Curry leaves
2 green chilli
Asafoetida
Poriyal
Required salt
1/3 cup + 1 tablespoon coconut
1/4 teaspoon ginger powder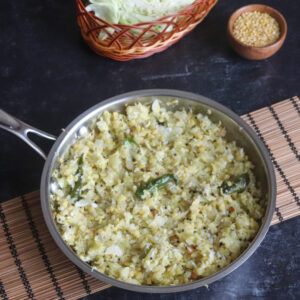 How to make cabbage moong dal curry with step-by-step pictures
First, soak moong dal with enough hot water for 30 minutes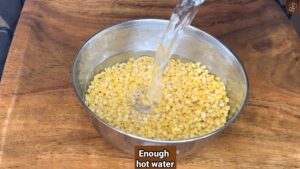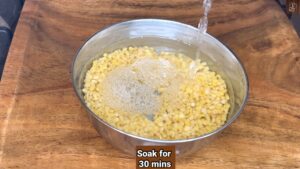 Add enough water to an idli pan

Turn on the stove to medium flame

Place idiyappam plate on top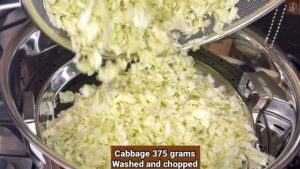 furthermore, add salt; mix well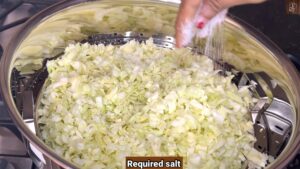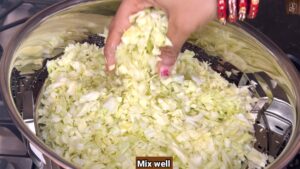 add moong dal on top and spread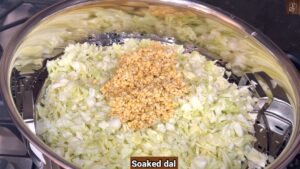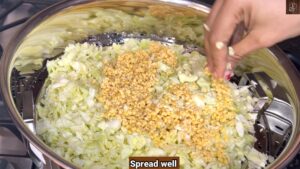 steam cook for 10 minutes until the cabbage and dal turn soft press; turn off the stove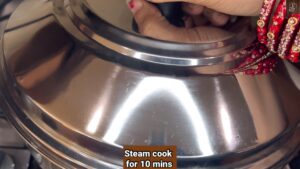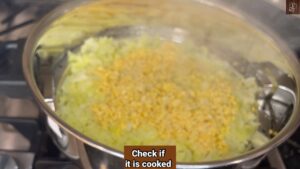 furthermore, add coconut and salt if required; mix well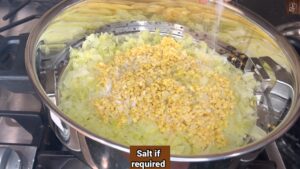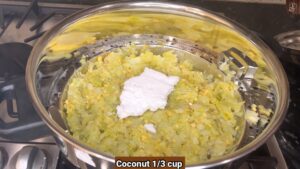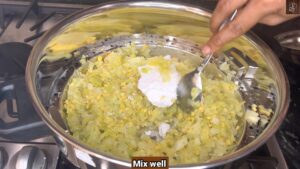 Transfer to a colander

add coconut oil to a wide heavy bottomed pan and turn on the stove on medium flame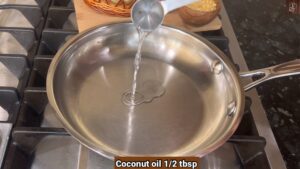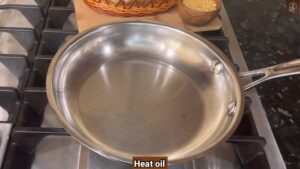 when the oil turns hot add mustard seeds, chana dal, green chilli, and curry leaves; splutter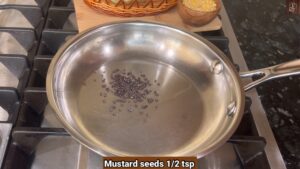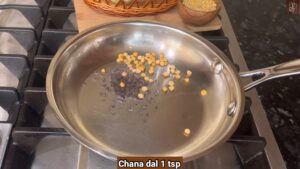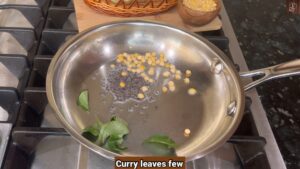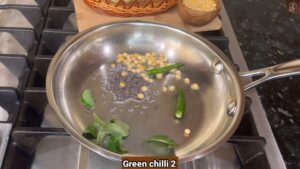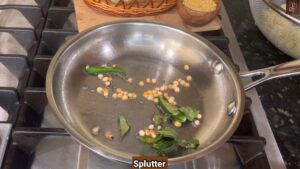 Furthermore, add asafoetida and mix well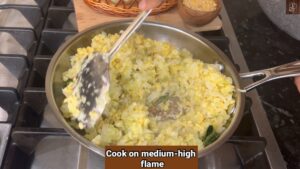 furthermore, add coconut and ginger powder; cook for 2 minutes; turn off the stove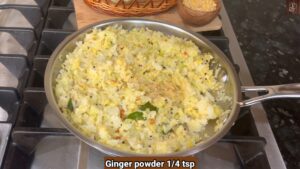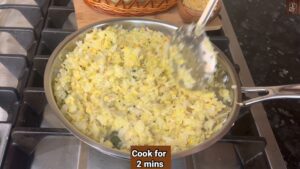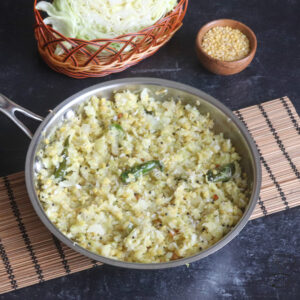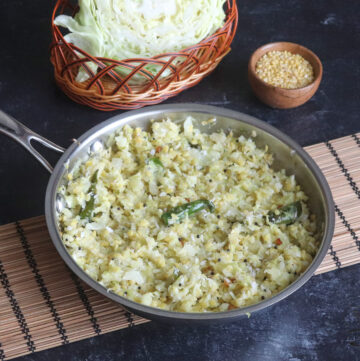 Ingredients
to steam
375

grams

cabbage

Required salt
To temper
1/2

tablespoon

coconut oil

1

teaspoon

chana dal

1/2

teaspoon

mustard seeds

Curry leaves

2

green chilli

Asafoetida
Poriyal
Required salt

1/3

cup

+ 1 tablespoon coconut

1/4

teaspoon

ginger powder
Instructions
First, soak moong dal with enough hot water for 30 minutes

Add enough water to an idli pan

Turn on the stove to medium flame

Place idiyappam plate on top

add cabbage; spread

furthermore, add salt; mix well

add moong dal on top and spread

steam cook for 10 minutes until the cabbage and dal turn soft press; turn off the stove

furthermore, add coconut and salt if required; mix well

Transfer to a colander

add coconut oil to a wide heavy bottomed pan and turn on the stove on medium flame

when the oil turns hot add mustard seeds, chana dal, green chilli, and curry leaves; splutter

Furthermore, add asafoetida and mix well

Add cooked cabbage+dal

furthermore, add coconut and ginger powder; cook for 2 minutes; turn off the stove
Notes
TIPS FOR STEAMING
Avoid thick cabbage stem
Always soak dal till they are soft press
idiyappam plate with pores works best
Always make sure you add enough water
spread and cook
if you are doubling the quantity cook in batches to avoid crowding
FEW VARIATIONS FOR KOSE PORIYAL 
You can use,
red chilli instead of green chilli
urad dal for tempering
Saute onion and garlic; prepare poriyal
Temper ginger instead of using ginger powder
Almond flour instead of coconut