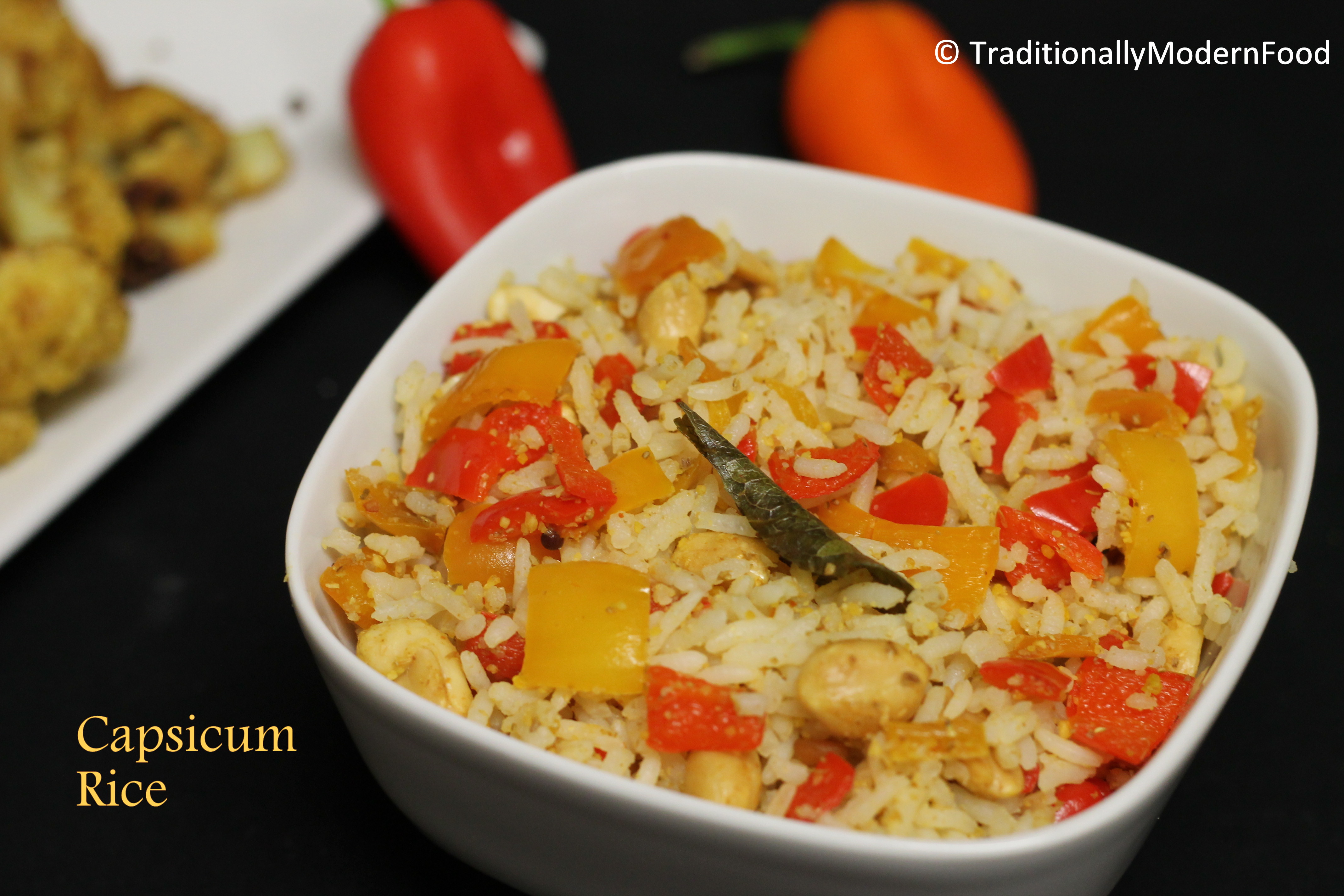 Capsicum rice is a quick lunch box recipe which can be easily prepared within 20 minutes with cooked rice. Kids will love this mild sweet rice.
I usually prepare Capsicum rice with onion , ginger garlic paste, whole garam masala etc. When my mom visited us she prepared Capsicum rice with curry powder, and I loved it. I frequently use green bell peppers for preparing this but one day was out of it, and mini peppers I buy for sandwich wa sin the fridge.
Tried capsicum rice with mini peppers and we loved it. This is one of hubby's favorite office lunch. I am sure kids will love this for school lunch.
I have prepared the fresh spice powder but curry powder we use for Kathirkai sadam/ Vazhakkai Podi curry can also be used.
Checkout the tasty side with capsicum and besan flour.
Capsicum Rice
Preparation Time : 10 mins | Cooking Time : 30 mins | Serves : 3
Category: Entree
Ingredients :
Cooked Rice - 2 cup (I used regular rice but bastmati rice can also be used)
Mini Sweet peppers - 10 (I used 4 red, 4 yellow and 2 orange, to make it colorful:-)) or use 2 capsicum (bell pepper)
Roasted peanuts - 1/4 cup
Asofoetida - a generous pinch
Turmeric powder - a pinch
Salt - as needed
Oil - 1 tsp
To temper:
Sesame Oil - 1/2 tsp
Mustard seeds -1/4 tsp
Channa dal - 1 tsp
Curry leaves - 1 sprig
Spice Powder:
Channa Dal – 1 tbsp
Coriander seed – 1 tbsp
Dry Red Chilli – 2 (According to your spice level)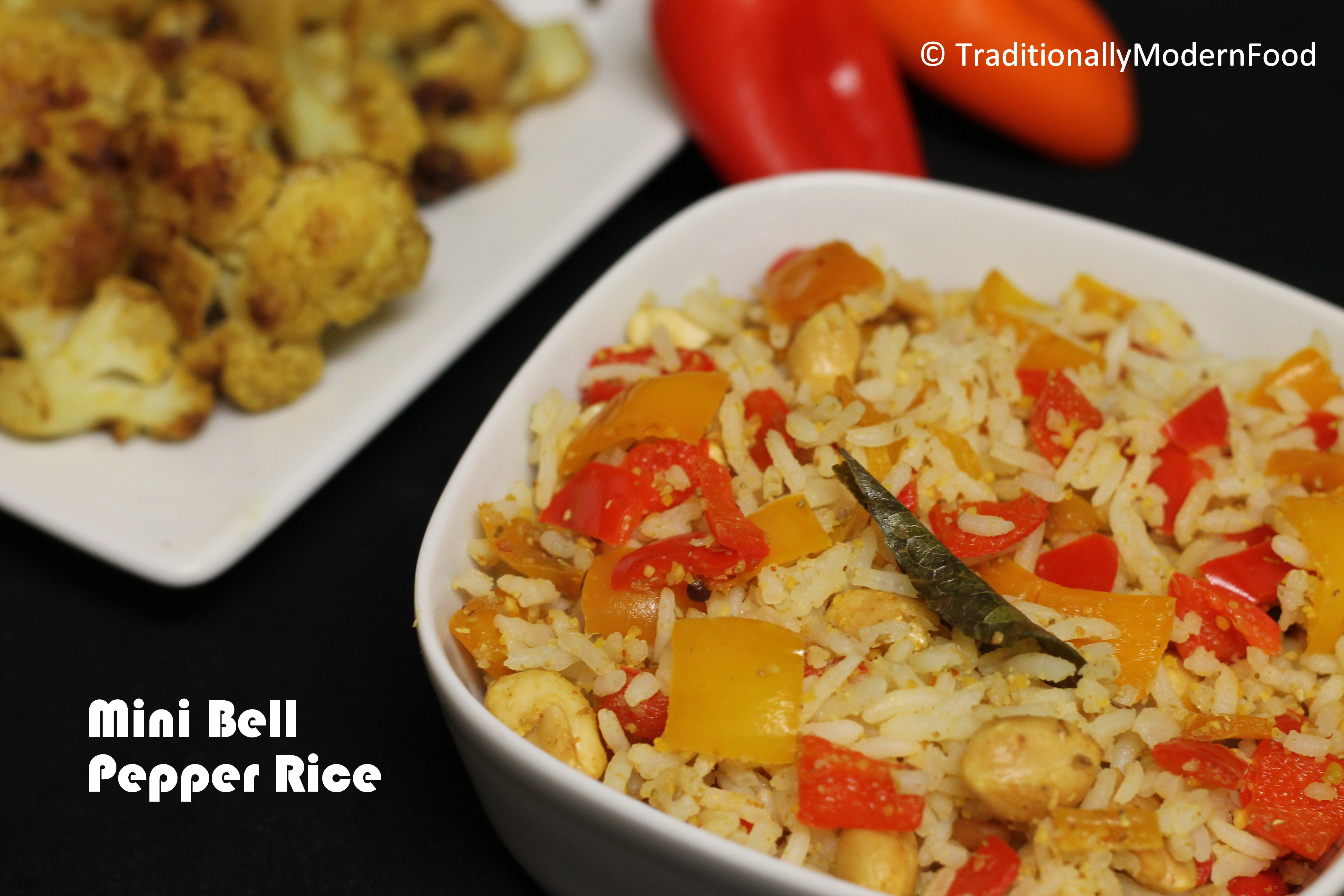 Method:
Cook rice with 1:2 water for 2 whistles, and after the steam is naturally released, spread the rice in a wide pan
Dry roast all the ingredients mentioned under "Spice Powder' till they are golden brown. Switch off and set aside. Once they come to room temperature grind it without adding water
Add 1 tsp of oil to the pan and saute the bell peppers with salt, until they are cooked
Add 1/2 teaspoon of oil and add the mustard seeds, urad dal, channa dal, asofetida, curry leaves and peanuts till they become golden brown, and add the tempering to the cooked bell peppers and keep aside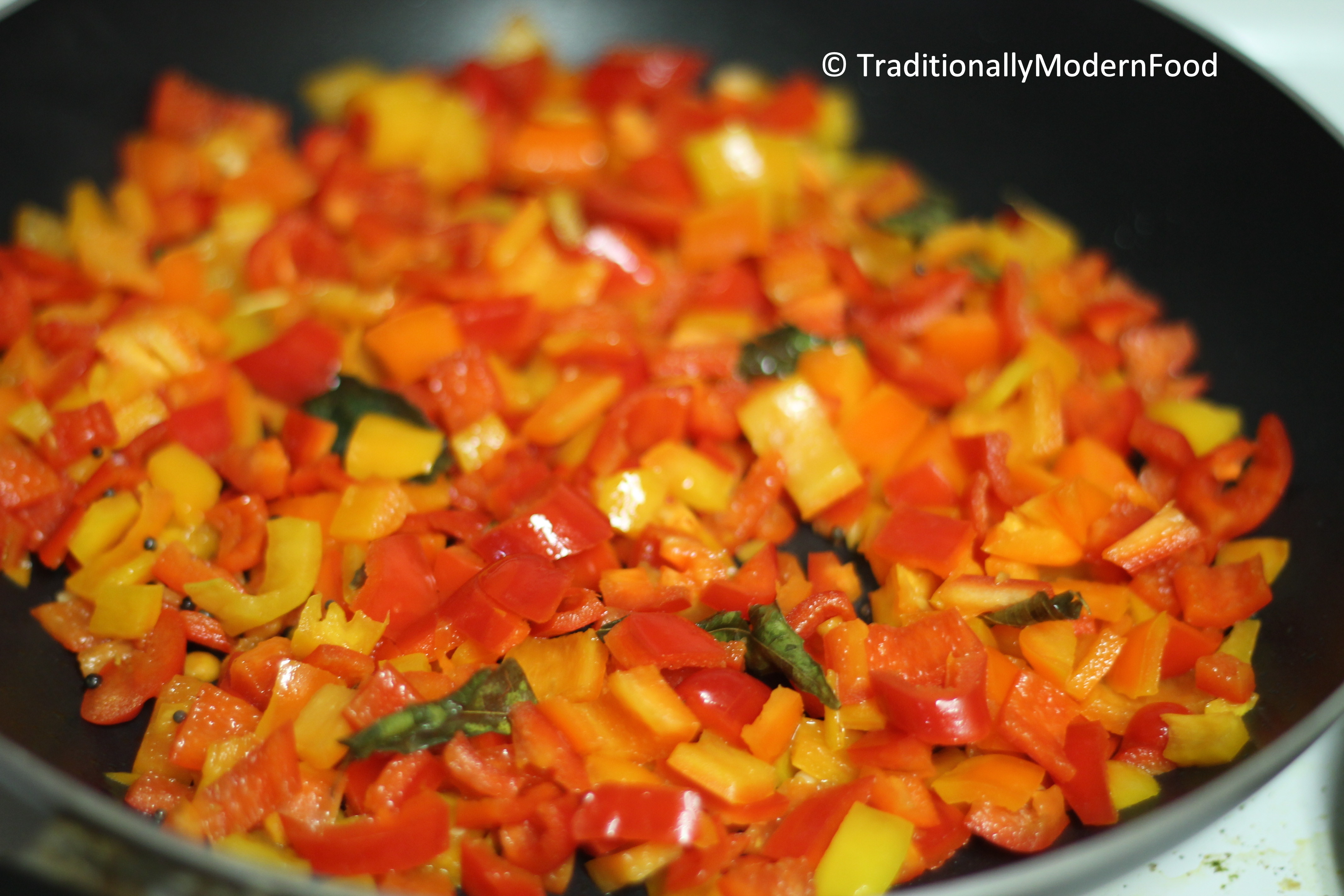 Add the cooked rice, spice powder, peanuts to the peppers and mix well. Check for the seasoning and add salt if required.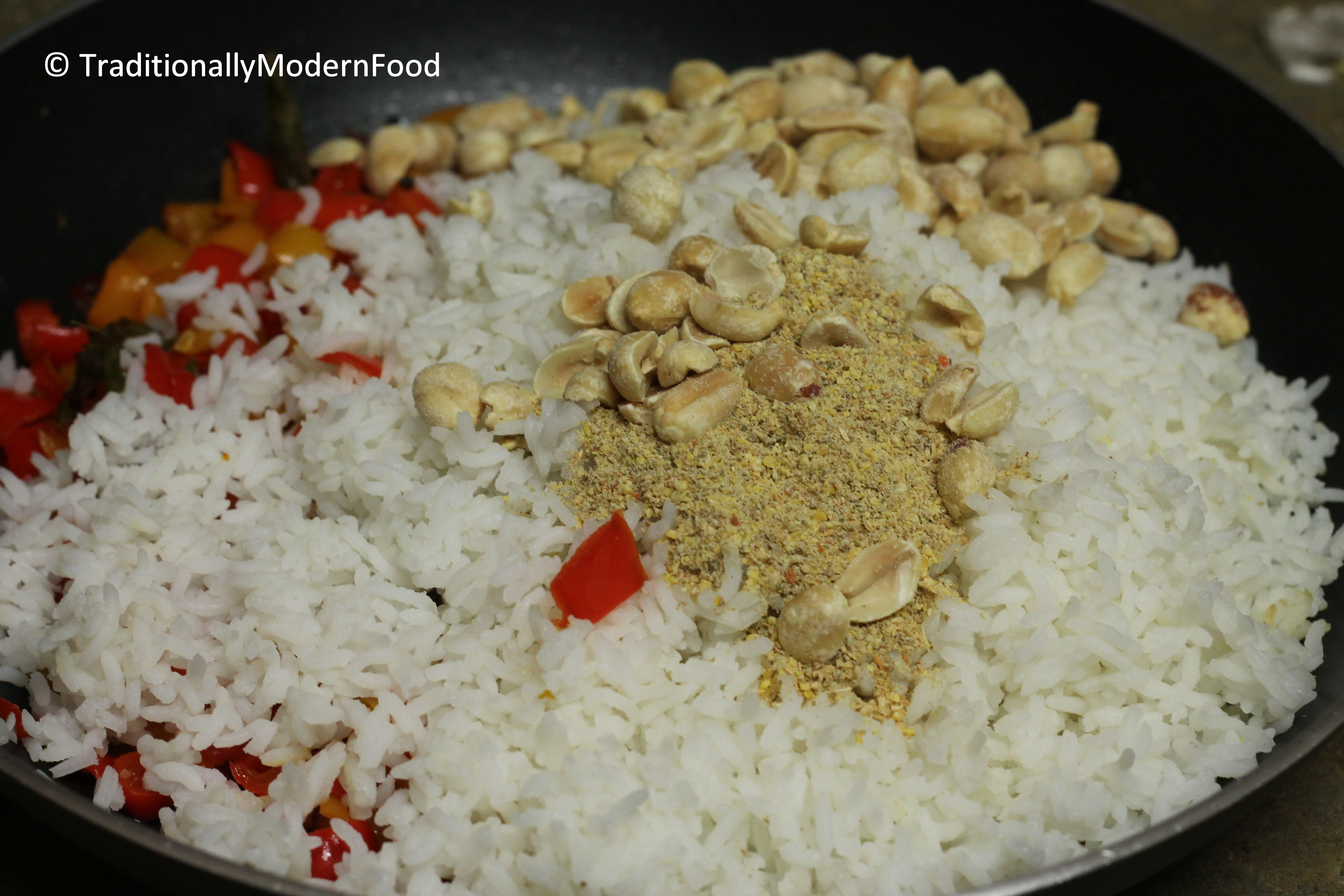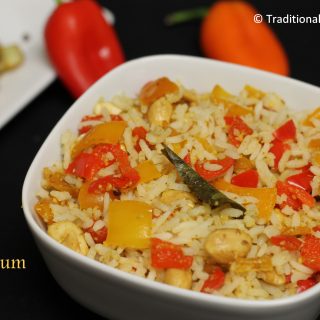 Ingredients
Cooked Rice - 2 cup

I used regular rice but bastmati rice can also be used

Mini Sweet peppers - 10

I used 4 red, 4 yellow and 2 orange, to make it colorful:-) or use 2 capsicum (bell pepper)

Roasted peanuts - 1/4 cup

Asofoetida - a generous pinch

Turmeric powder - a pinch

Salt - as needed

Oil - 1 tsp

To temper:

Sesame Oil - 1/2 tsp

Mustard seeds -1/4 tsp

Channa dal - 1 tsp

Curry leaves - 1 sprig

Spice Powder:

Channa Dal – 1 tbsp

Coriander seed – 1 tbsp

Dry Red Chilli – 2

According to your spice level
Instructions
Cook rice with 1:2 water for 2 whistles, and after the steam is naturally released, spread the rice in a wide pan

Dry roast all the ingredients mentioned under "Spice Powder' till they are golden brown. Switch off and set aside. Once they come to room temperature grind it without adding water

Add 1 teaspoon of oil to the pan and saute the bell peppers with salt, until they are cooked

Add 1/2 teaspoon of oil and add the mustard seeds, urad dal, channa dal, asofetida, curry leaves and peanuts till they become golden brown, and add the tempering to the cooked bell peppers and keep aside

Add the cooked rice, spice powder, peanuts to the peppers and mix well. Check for the seasoning and add salt if required.

Serve the rice with any dry vegetable curry/chips
Notes
You can use regular green capsicum instead of mini peppers