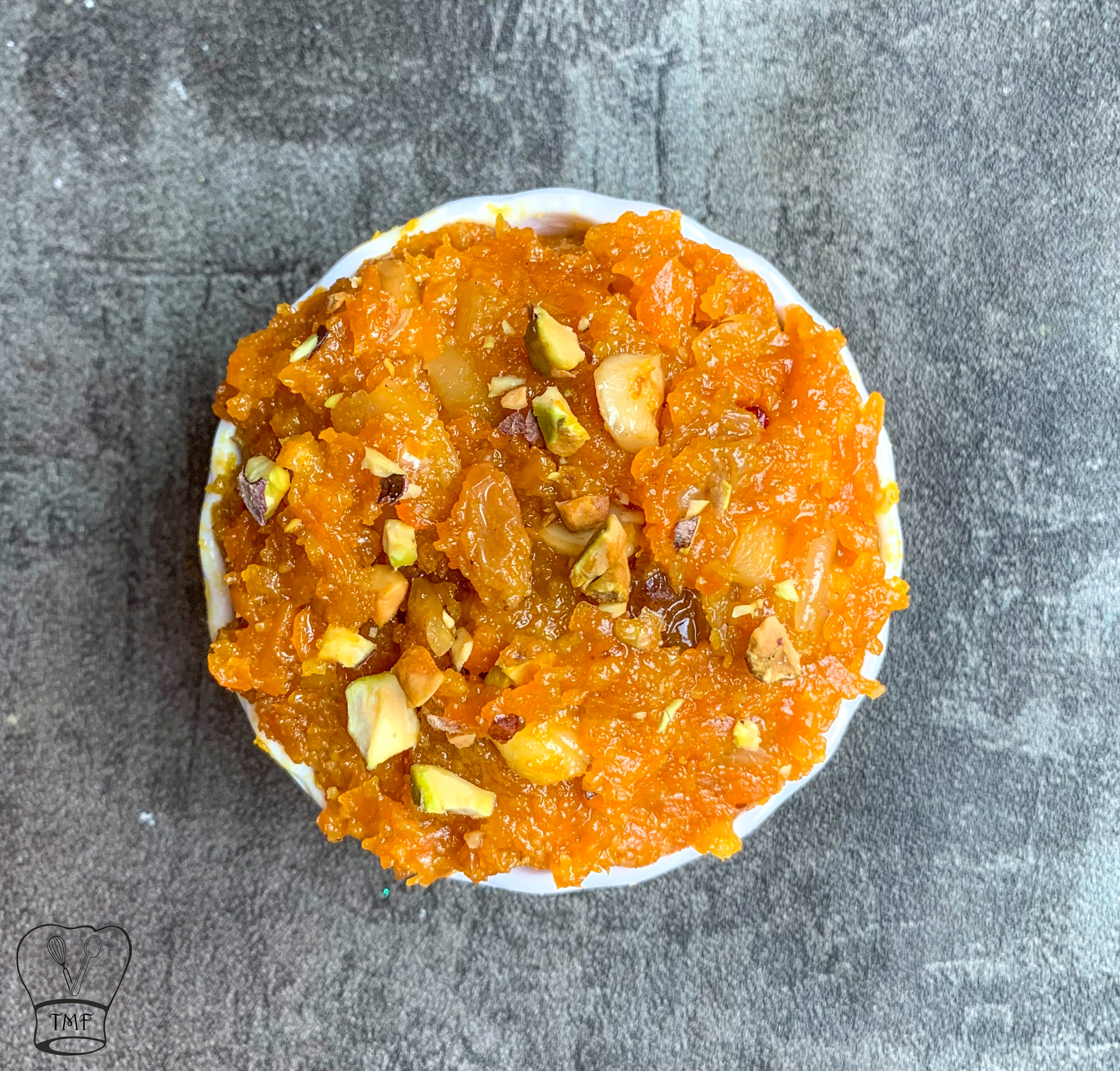 Carrot halwa | Gajar ke halwa | gajar halwa | pressure cooker carrot halwa | how to make carrot halwa | Indian carrot pudding | carrot halwa in cooker | instant pot carrot halwa | easy cooker halwa is an easy and tasty Indian recipe prepared in a pressure cooker and isntant pot. This tasty one-pot Gajar dessert is a great way to make kids eats carrots.
My sister is not a big fan of carrots. She would run hearing the word carrot. Only when carrot is served in sweet form she will happily eat. payasam and Carrot halwa is her favorite.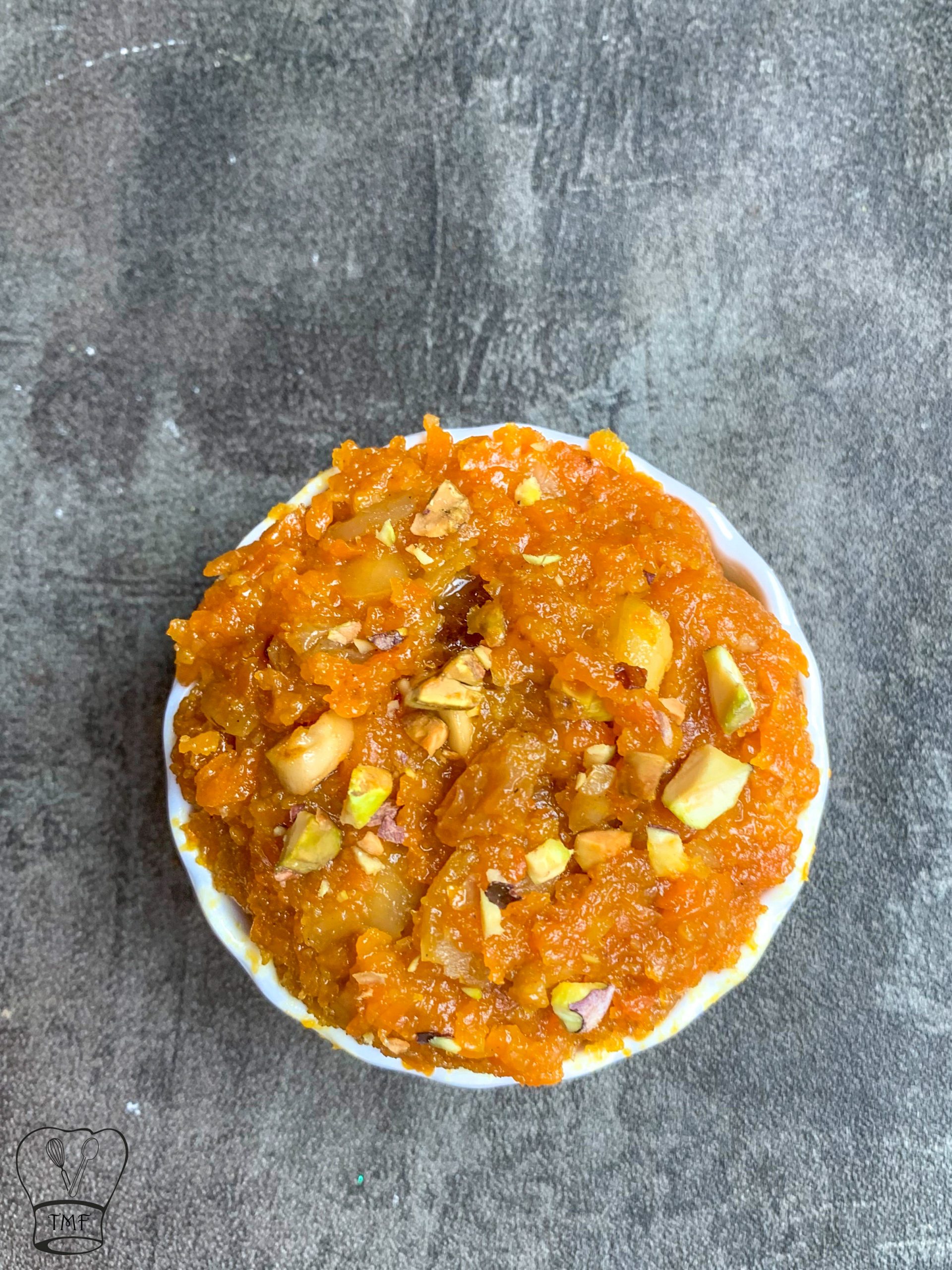 My mother usually prepares carrot halwa in a heavy-bottomed pan. I always follow the same procedure. When we were in the UK we visited our friend's place for dinner. I took carrot halwa to their home.
My friend Divya asked me how did I prepare halwa. I told the procedure, she suggested this pressure cooker method. Its a nice short cut from usual process. Instead of waiting near stove for minutes together. The pressure cooking method saves a lot of time and no compromise in taste.
As Diwali is nearing I was searching for some sweet recipes in my draft, this Carrot halwa which I prepared a couple of weeks ago pulled my attention. If you are looking for a quick sweet this is perfect 🙂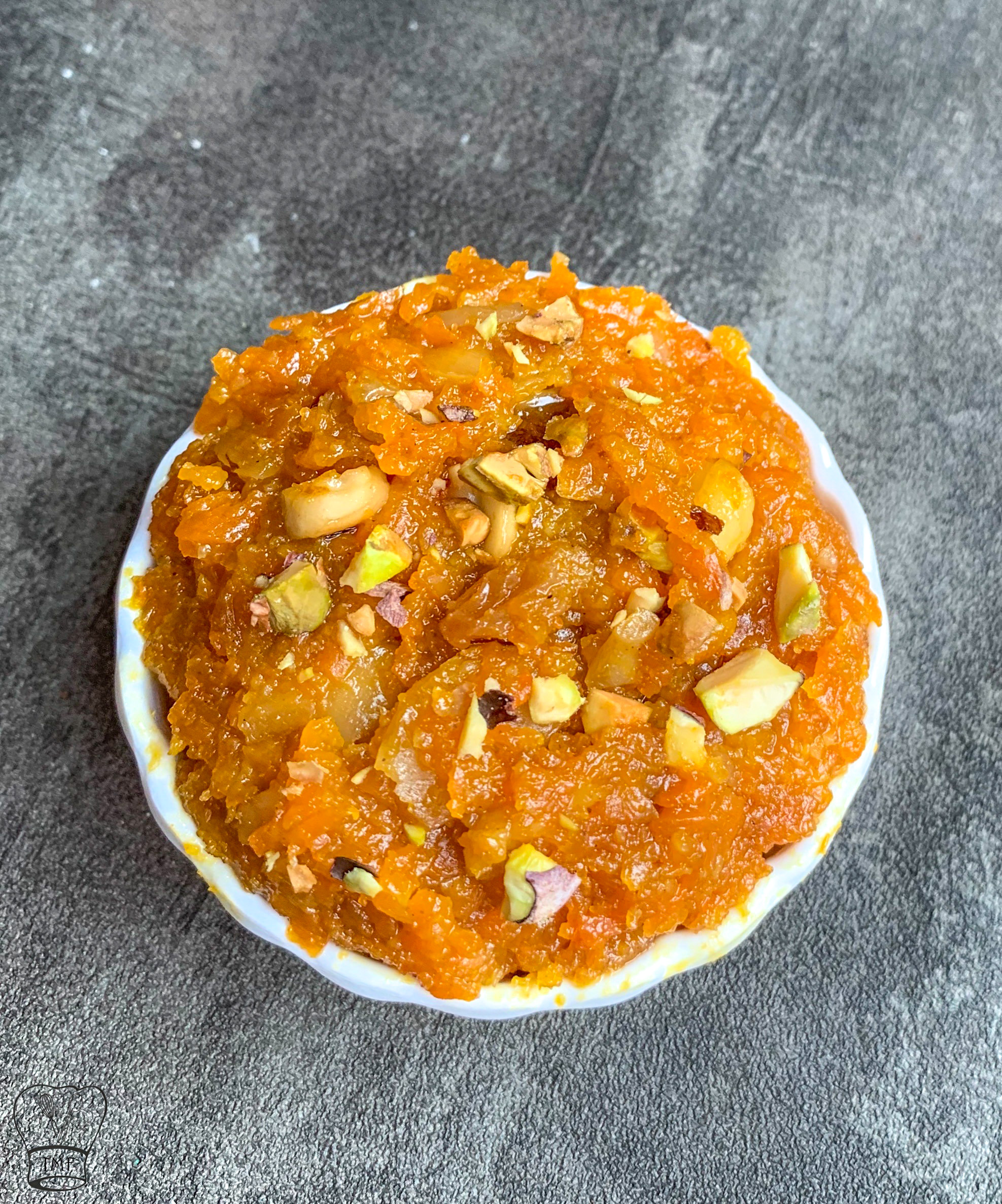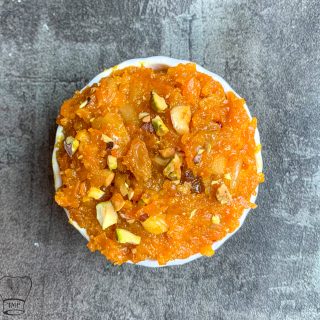 Carrot Halwa /Gajar Halwa
Addictive Carrot halwa prepared in no time using a pressure cooker. This tasty one pot Gajar dessert is great way to make kids eats carrot.
Print
Pin
Comment
Ingredients
300

grams

Carrot

3/4

cup

Milk

3

tablespoon

butter

1/4

teaspoon

Cardamom powder

5

Cashew sliced

5

Almonds sliced

1

tablespoon

Almond flakes

1/2

cup

Sugar

1/4

cup

Almond flour/ milk powder

1

tablespoon

golden raisins
Instructions
How to make gajar ke halwa in instant pot
Turn the Instant Pot to Sauté mode

When HOT add butter, almonds, golden raisins and cashews

Saute for 1 minute till they turn golden brown and keep aside

Add grated carrots and Cook for 5 minutes and keep stirring regularly

Furthermore add the milk and mix well

Close the lid with the pressure value set to sealing

Pressure Cook on high for 4 minutes and carefully do a Quick release

Press saute and add sugar, almond powder and cardamom powder; mix well

Keep Stirring and cook for 5 minutes till all the liquids is evaporated and halwa comes together as a mass

Garnish with roasted nuts and raisins, serve warm and cold
How to make carrot halwa in pressure cooker:
Firstly add butter to the pressure cooker and when butter is melted and turns warm

Add almonds, golden raisins and cashews

Saute for 1 minute till they turn golden brown and keep aside

Add grated carrots and Cook for 5 minutes and keep stirring regularly

Furthermore add the milk and mix well

Close the lid with the pressure value set to sealing

Pressure Cook For 2 whistles and carefully do a Quick release

Furthermore add sugar, almond powder and cardamom powder; mix well

Keep Stirring and cook for 5 minutes till all the liquids is evaporated and halwa comes together as a mass

Garnish with roasted nuts and raisins, serve warm and cold
Notes
Halwa can also be cooked directly in a pan. Add milk and cover a lid to cook carrot
You can use ghee instead of butter
Stir frequently, to prevent the halwa from sticking to the bottom of the pot
To prevent burn always keep roasted nuts and raisins aside before pressure cooking and add while garnishing
I have used almond flour but you can even use milk powder
Carrots can be sautéd in the pan and later cooked in the pressure cooker
Saffron can be added for extra richness
Unsweetened khoya can be added towards the end, after sugar
Adjust the milk according to the consistency you desire. If you are planning to add excess milk, use the same amount of milk for cooking carrot in the pressure cooker
Add condensed milk for extra richness, Adjust the sugar accordingly
Nuts like walnuts, almonds, etc. Can be used
I chopped the carrot in the chopper. Carrot can also be grated instead
Ingredients:
300 grams Carrot
3/4 cup Milk
3 tablespoon butter
1/4 teaspoon Cardamom powder
5 Cashew sliced
5 Almonds sliced
1 tablespoon Almond flakes
1/2 cup Sugar
1/4 cup Almond flour/ milk powder
1 tablespoon golden raisins
How to make gajar ke halwa in instant pot
Turn the Instant Pot to Sauté mode

When HOT add

butter, almonds, golden raisins, and cashews

Saute for 1 minute till they turn golden brown and keep aside

Add grated carrots and Cook for 5 minutes and keep stirring regularly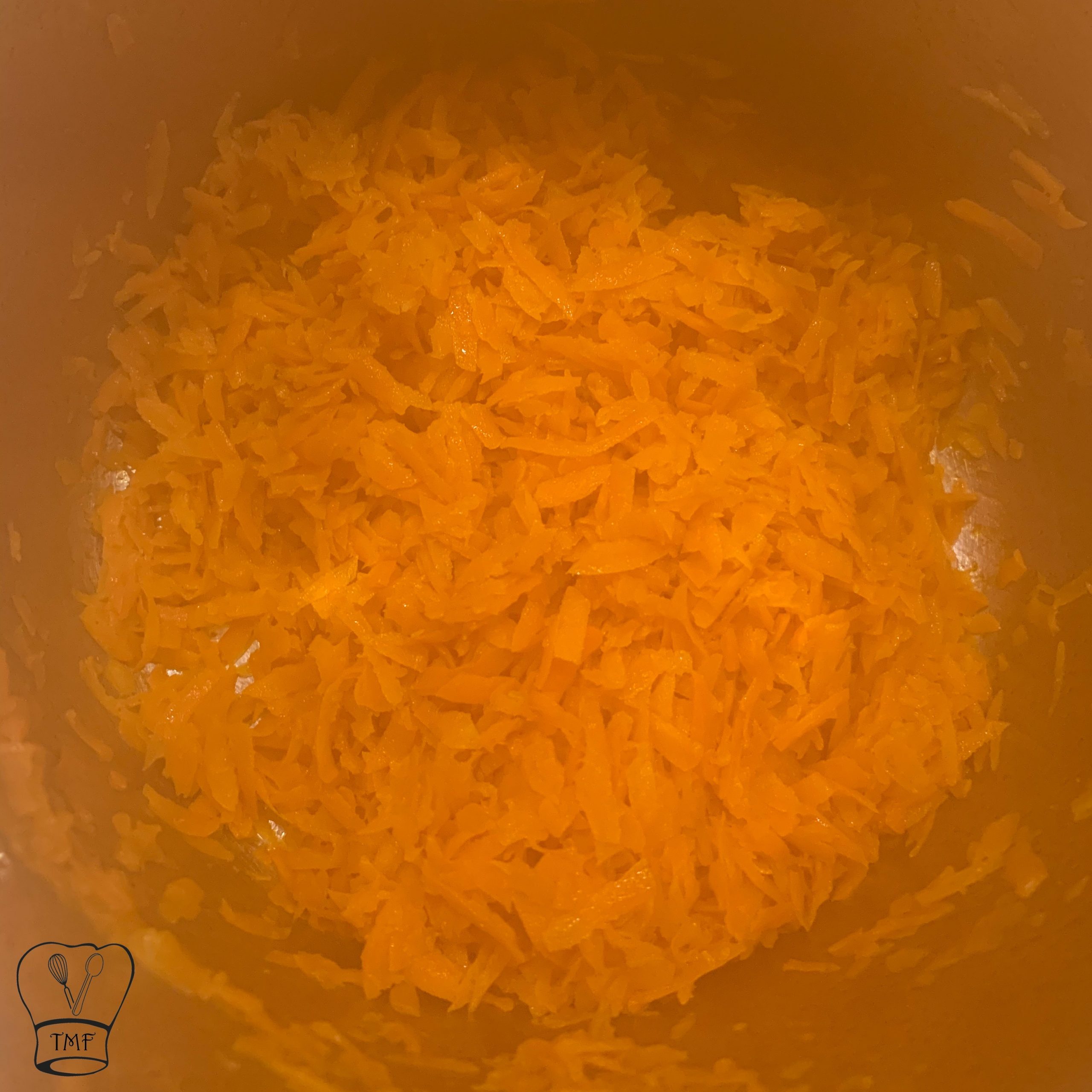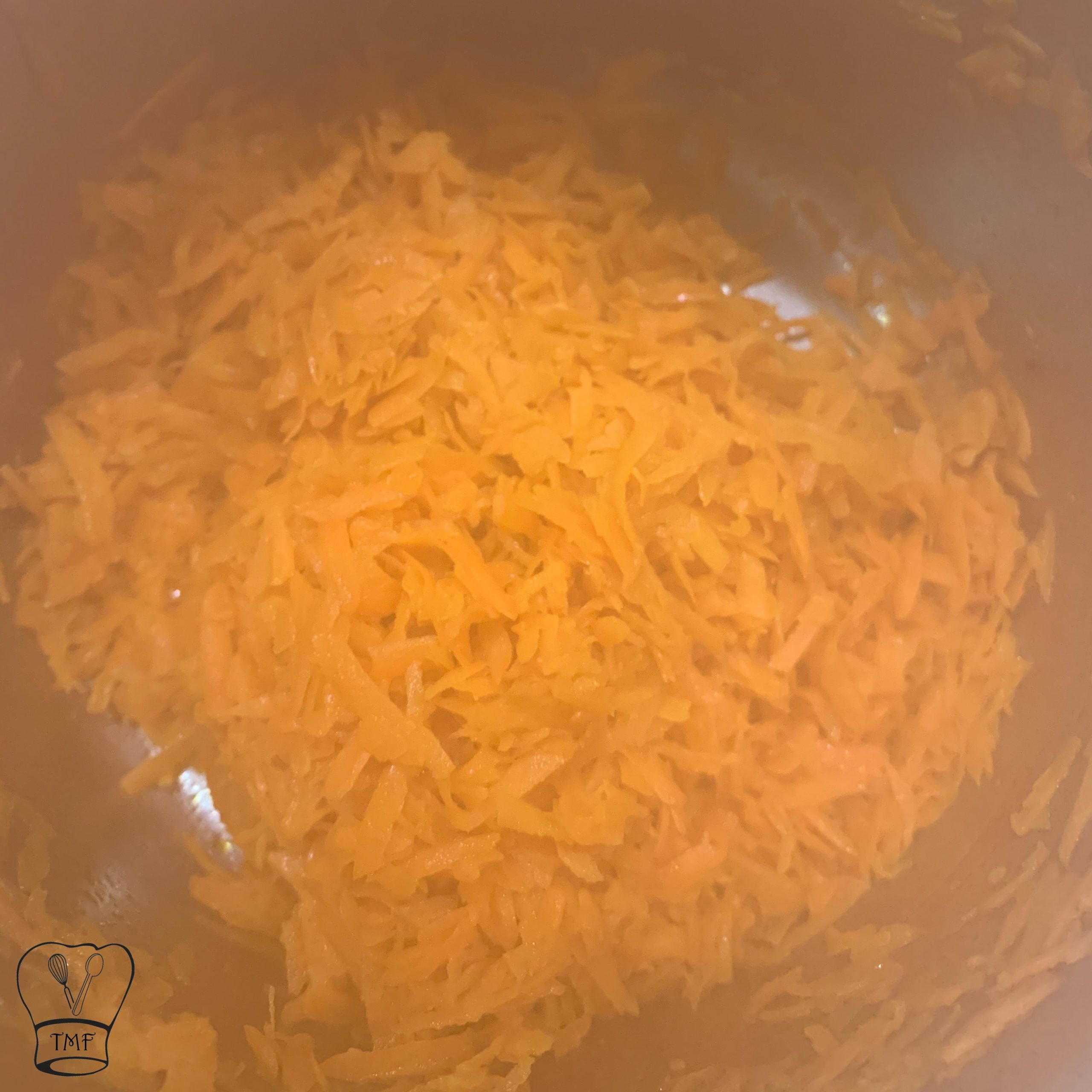 Furthermore, add the milk and mix well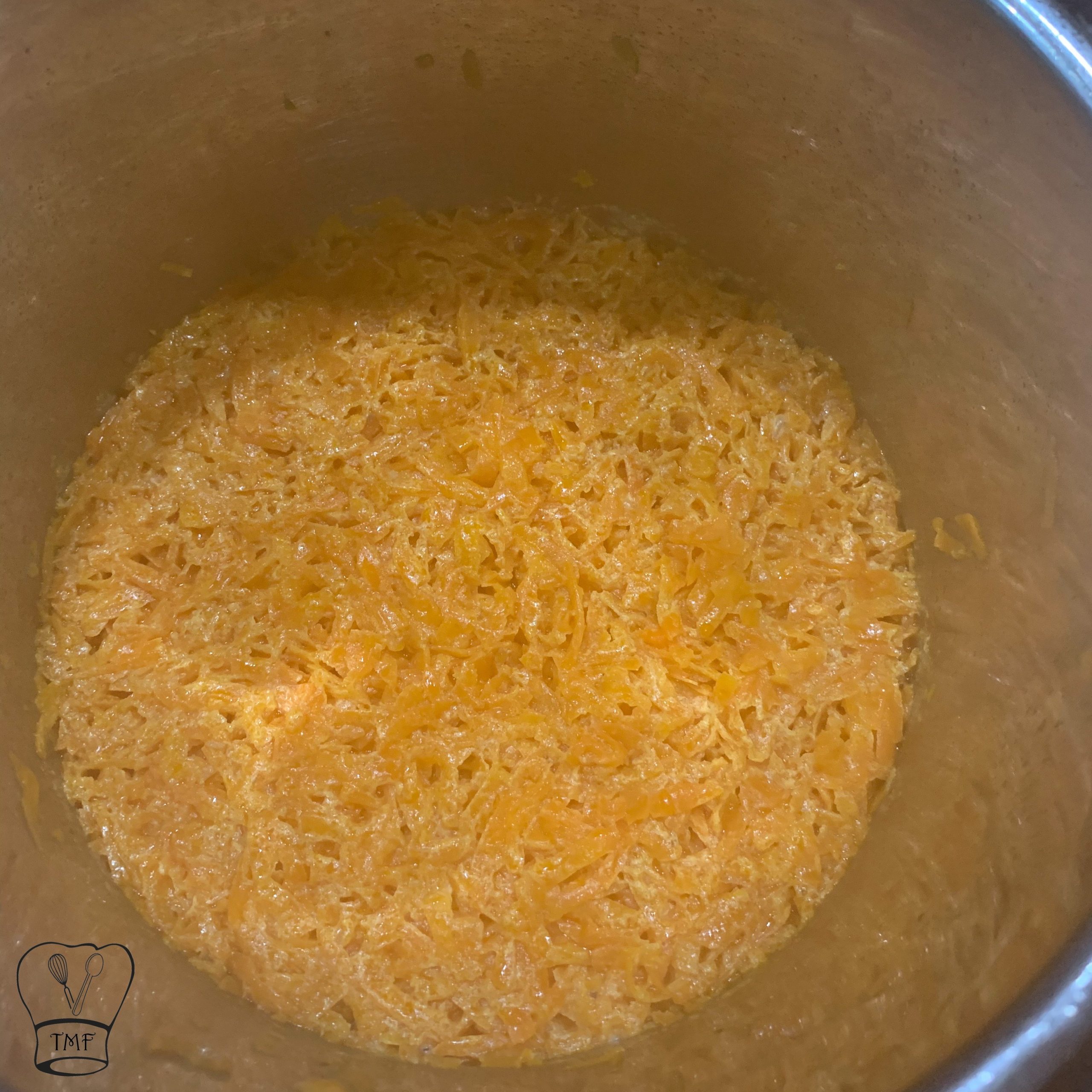 Close the lid with the pressure value set to sealing

Pressure Cook on high for 4 minutes and carefully do

a quick release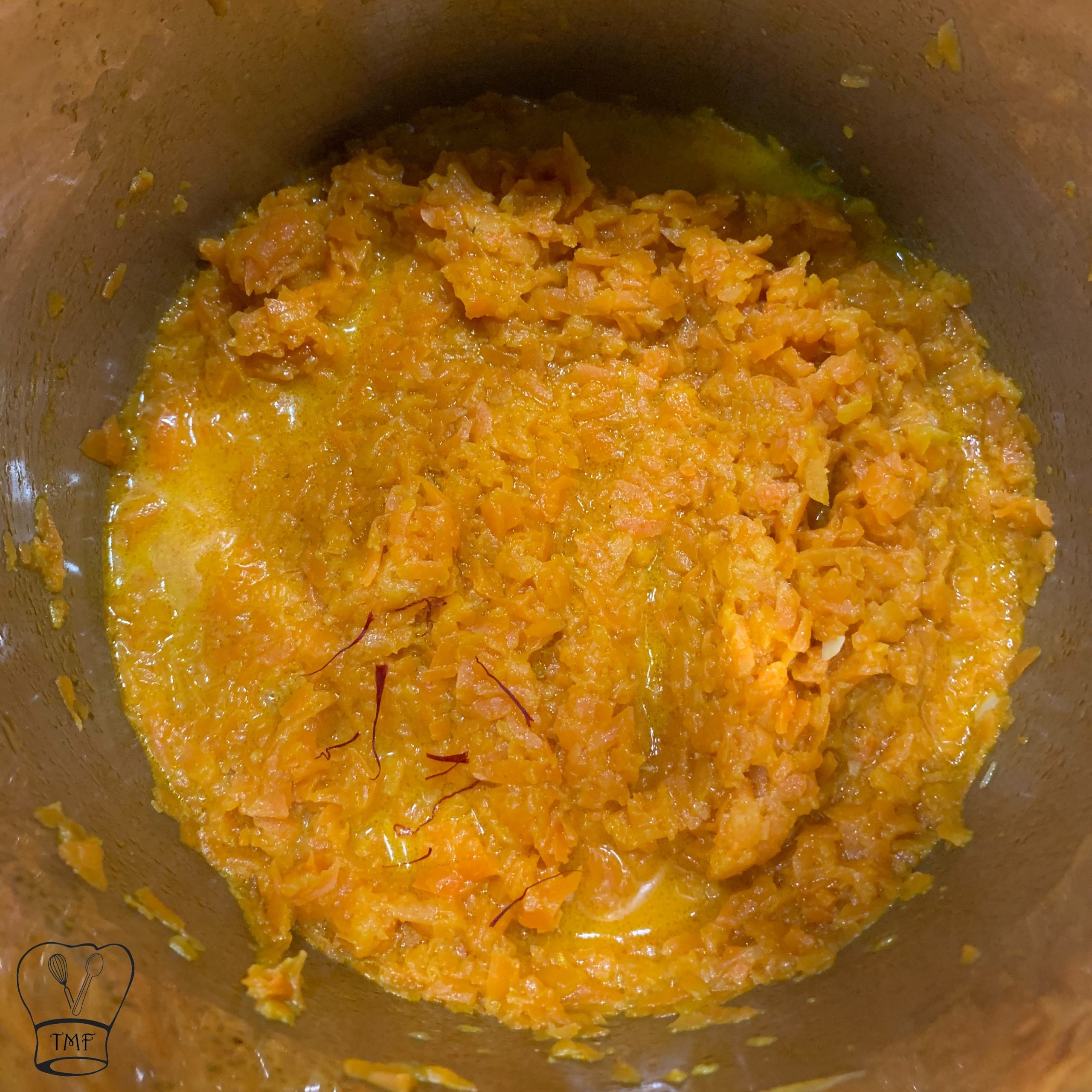 Press saute and add sugar, almond powder, and cardamom powder; mix well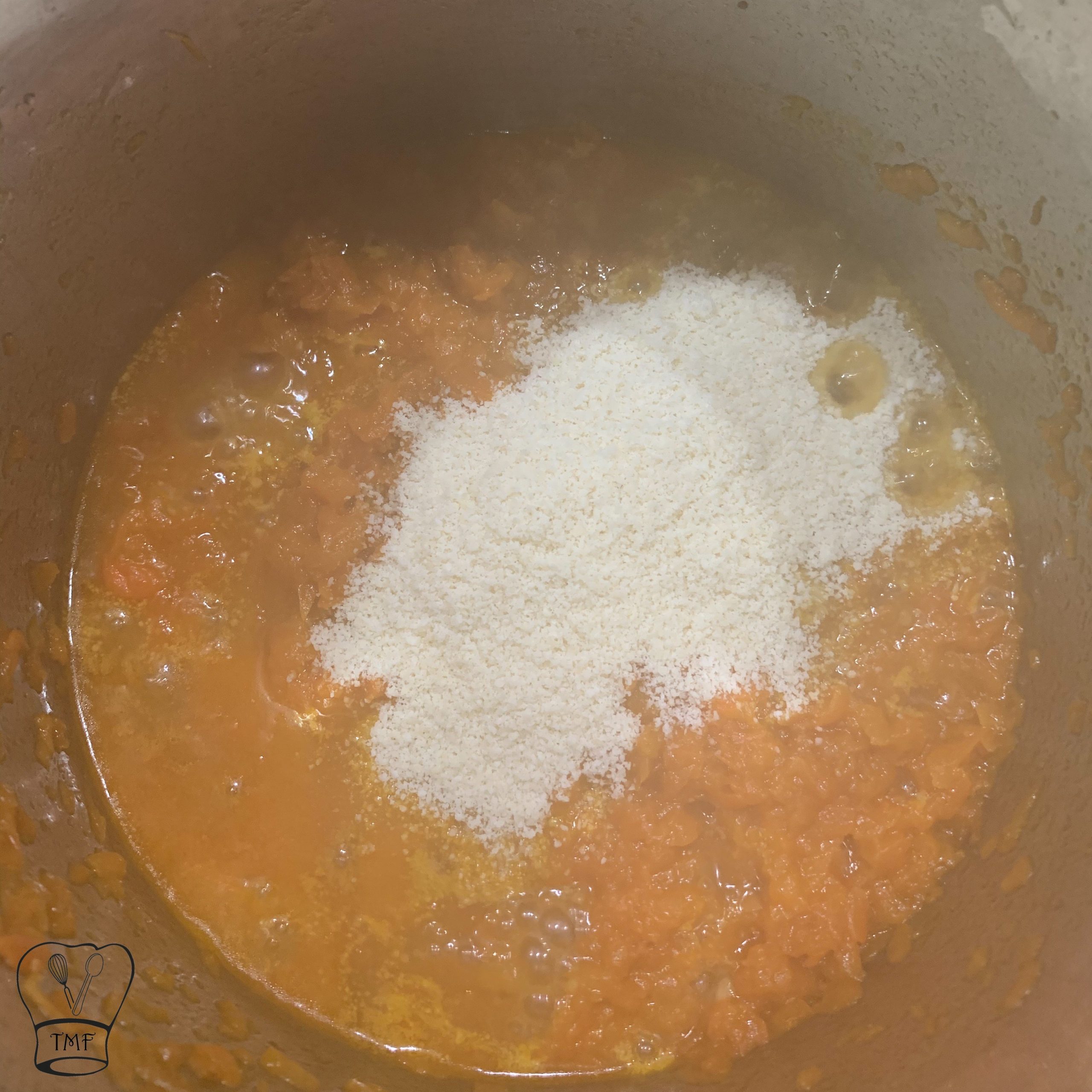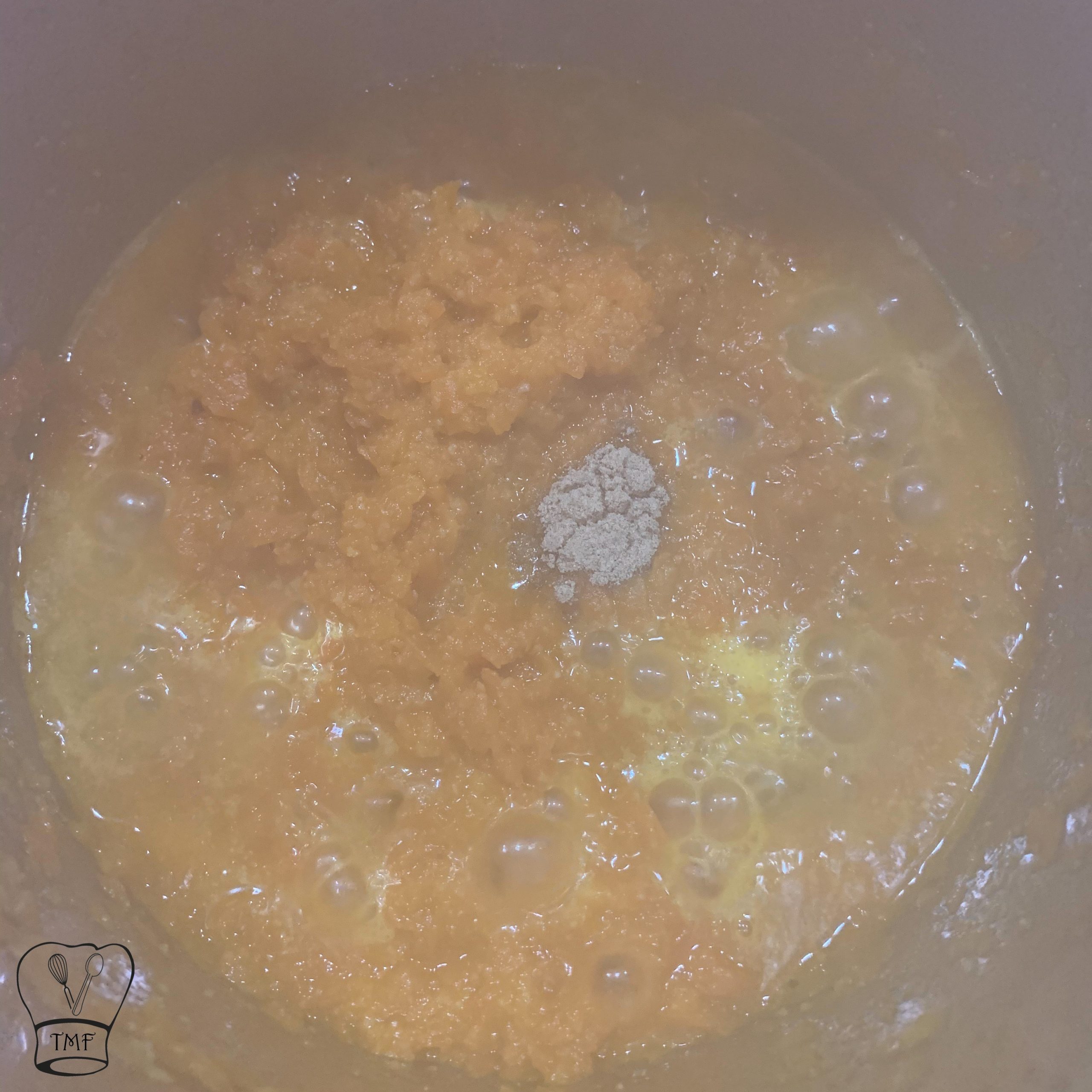 Keep Stirring and cook for 5 minutes till all the liquids are evaporated and halwa comes together as a mass

Garnish with roasted nuts and raisins, serve warm and cold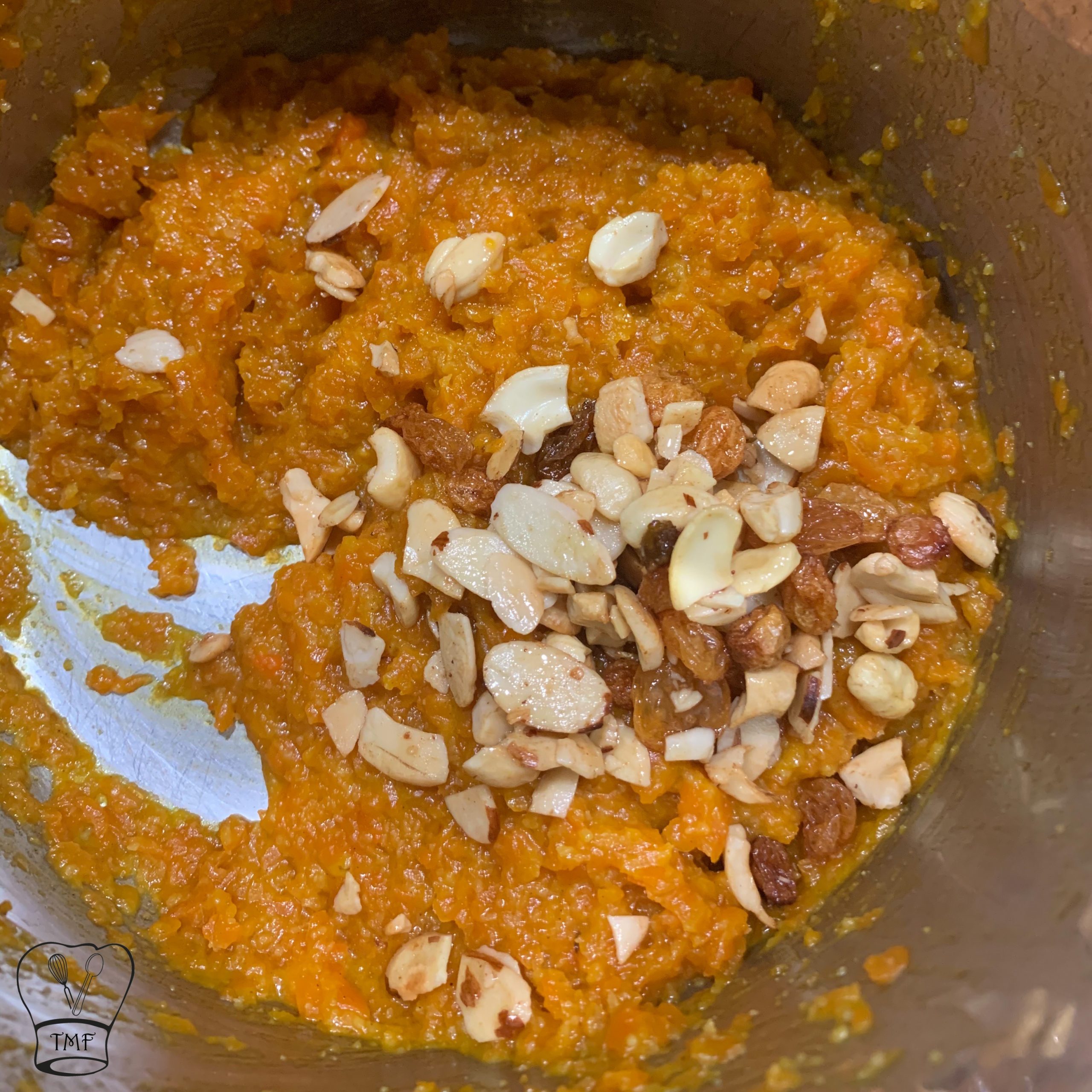 How to make carrot halwa in a pressure cooker:
Firstly add butter to the pressure cooker and when butter is melted and turns warm

Add almonds, golden raisins, and cashews

Saute for 1 minute till they turn golden brown and keep aside

Add grated carrots and Cook for 5 minutes and keep stirring regularly

Furthermore, add the milk and mix well

Close the lid with the pressure value set to sealing

Pressure Cook For 2 whistles and carefully do

a quick release

Furthermore add sugar, almond powder, and cardamom powder; mix well

Keep Stirring and cook for 5 minutes till all the liquids are evaporated and halwa comes together as a mass

Garnish with roasted nuts and raisins, serve warm and cold