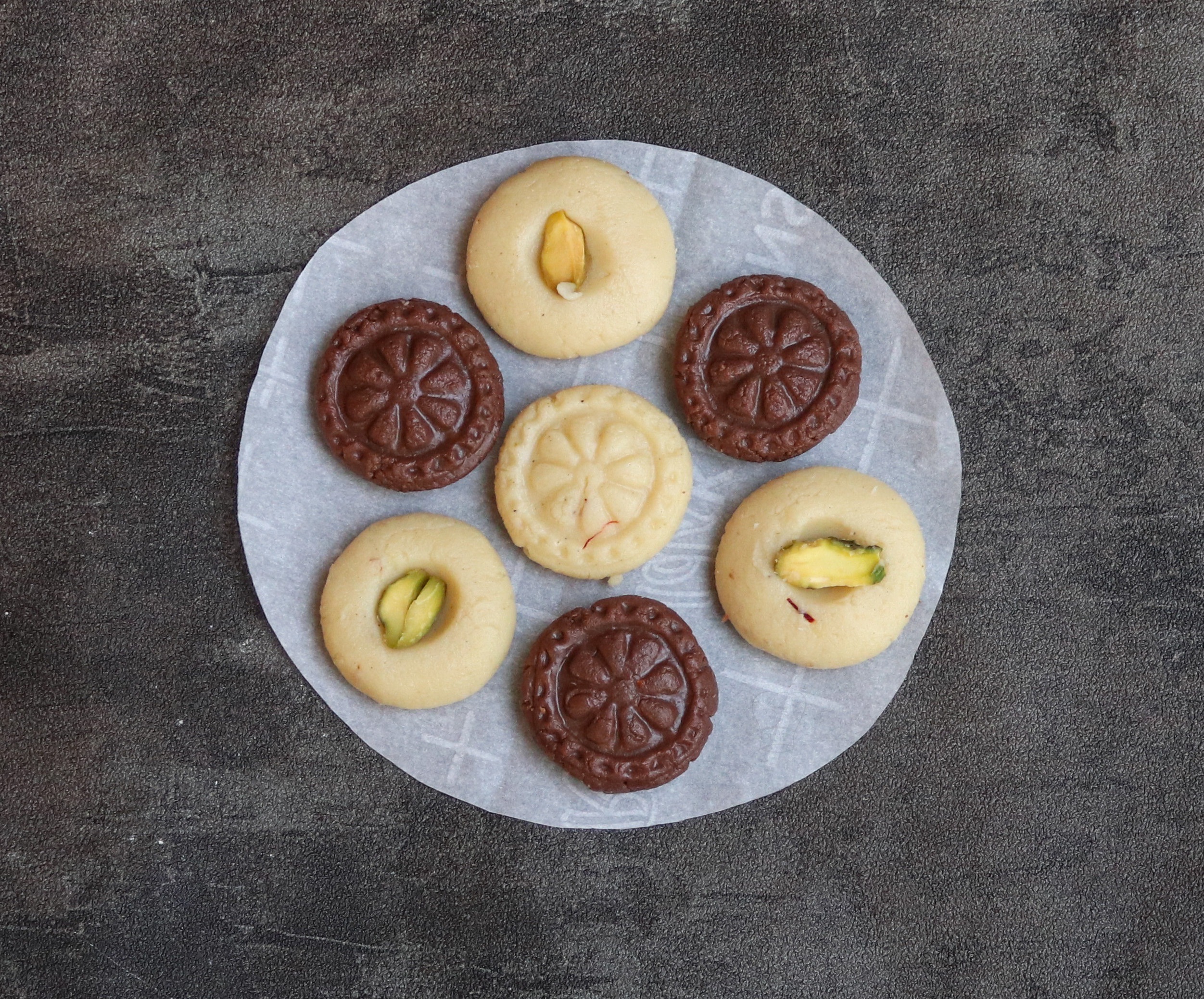 Doodh peda is one commmon Milk based sweets that is popular in almost all sweet stall. Usual milk sweet is a lengthy process to make. Here is a quick version with just 3 main ingredients.
Milk powder helps for this instant version of peda. Microwave palgova is yet another instant milk based delight with condensed milk.
Happy Deepavali!!!
I know I am late in wishing but my son just slept sometime back and he has banned me from doing blog activities when he is around:-p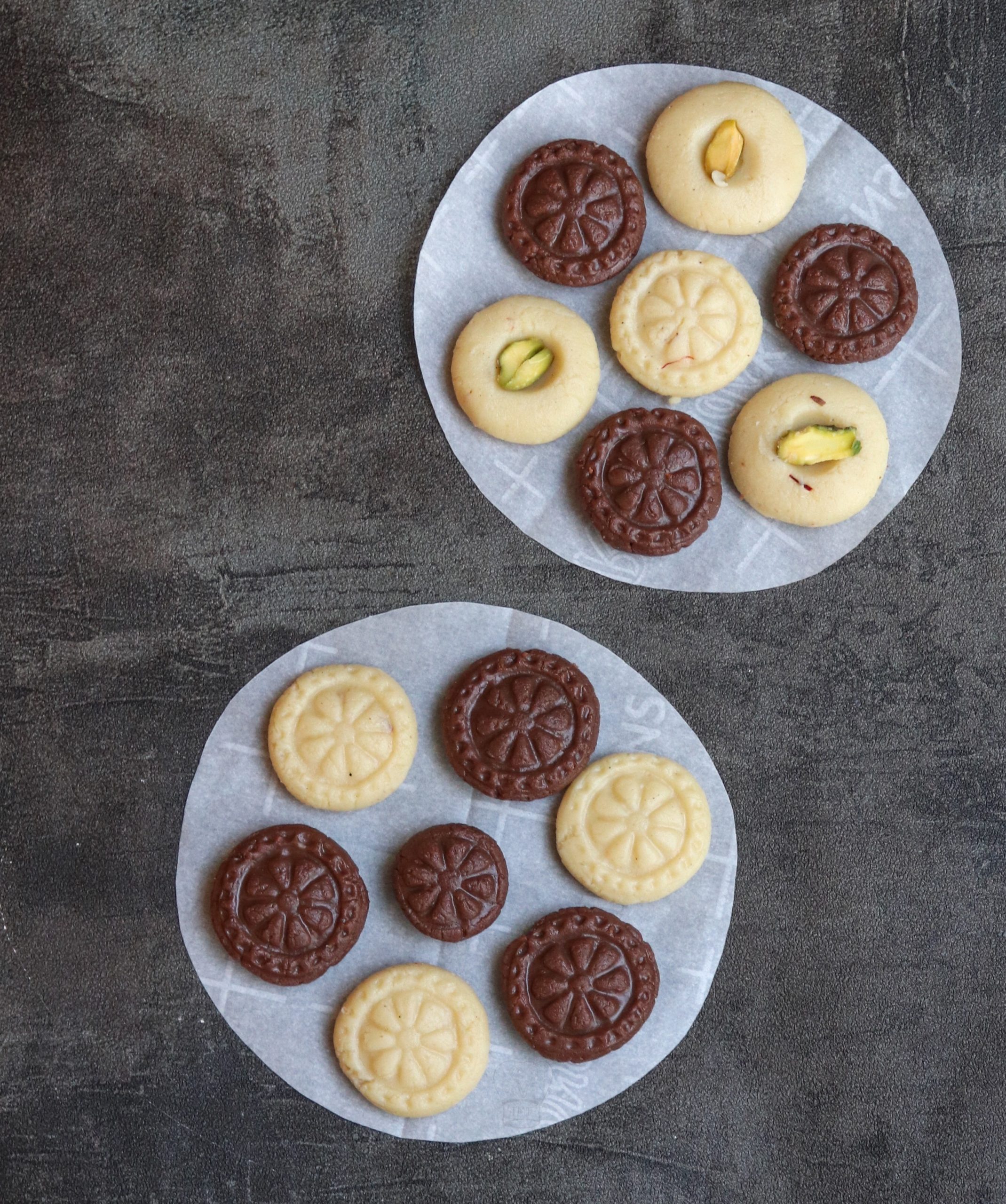 Thinking about Diwali I remember Crackers, new dresses and loads of sweets and snacks. Diwali here is totally different. As I mentioned in my Maladu post this year, I thought will enjoy the sweet and savory from India.
My husband asked me to prepare something for his office. We recently relocated and yet to get our things. As I didn't have mixie and we are yet to move from our temporary accommodation, I wanted to make something simple.
Festive sweets and savory generally demands a lot of cooking time and a big list of ingredients. I have seen my mom spending hours to together in kitchen during Diwali for preparing Diwali special.
If you are regular reader here in TMF you would have known my love for condensed milk. It's a magical ingredient which takes any sweet to next level. In doodh peda sweet – milk powder and condensed milk combines for a tasty delight.
Doodh peda can be prepared within 10 minutes.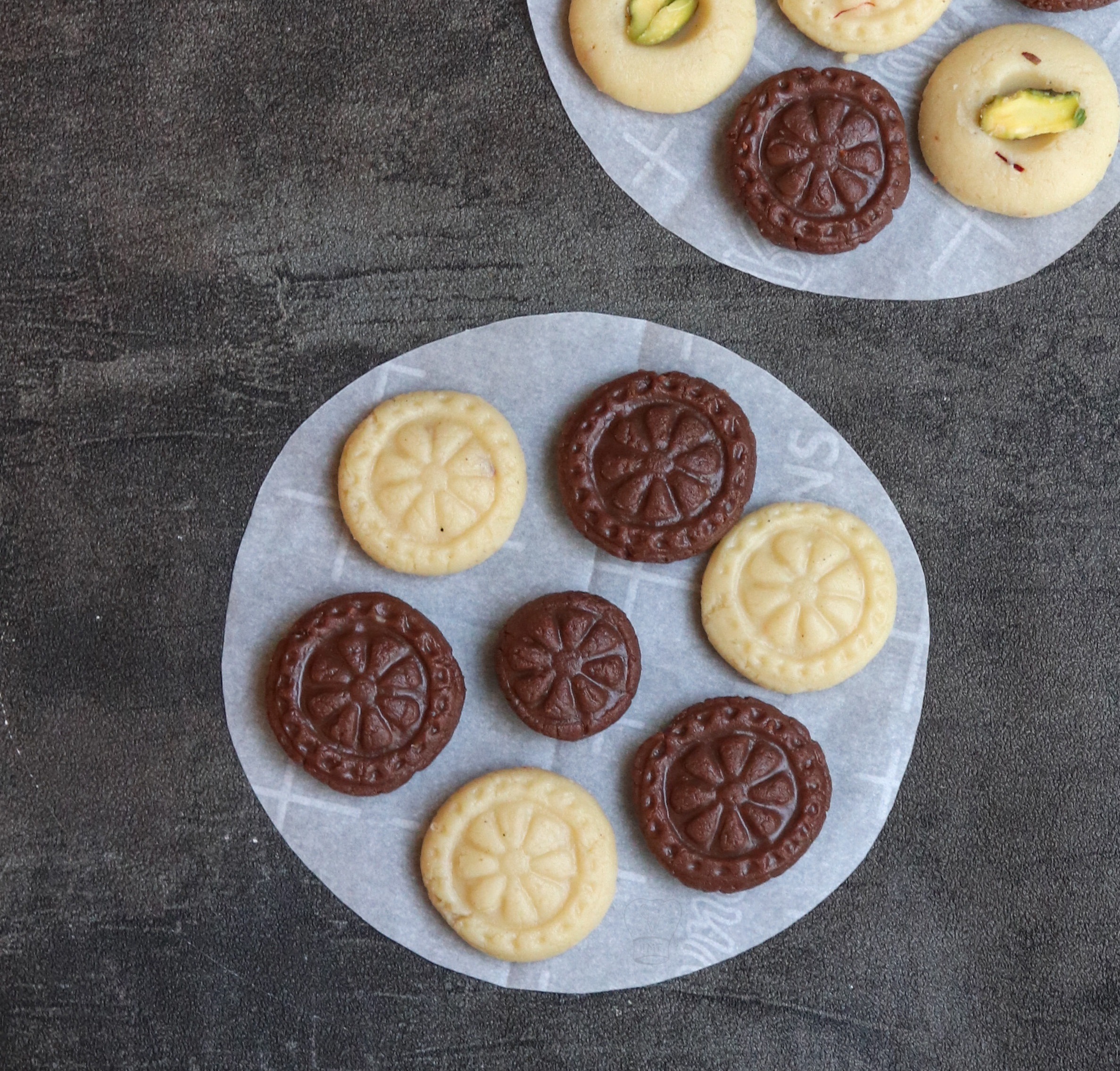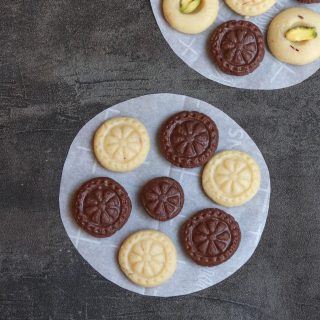 Milk Sweet / Milk Peda / Doodh Peda
Instant milk sweet prepared with condensed milk
Print
Pin
Comment
Ingredients
Milk powder - 2 cup

Condensed Milk - 1 tin

396 grams

Milk - 1/4 cup

Ghee/ Melted butter - 3 tbsp + to Grease hand while making

Saffron - 1/8 tsp

optional

Almonds - 2 tbsp + 1 tsp

finely chopped

Cardamom Powder - 1/8 tsp

Salt - pinch
Instructions
Soak saffron in warm milk and set aside

In a heavy bottomed pan (I used non stick pan) add all the ingredients except ghee and mix well to avoid lumps. It will be like thick idli batter

In medium flame cook the mixture, sauté continuously to avoid lumps and also from the dough sticking to the pan. Add ghee to the mixture

Cook till it becomes a non Sticky mass. Take a small portion of it and try making ball if it you are able to make it switch off. If its sticky cook for some more time. If it starts cracking add a tsp of milk and cook for some more time to add mositure. It took around 7 minutes for me

Switch off and let it cool for sometime. When it is warm enough to handle, take a small portion and make a ball. Flatten it to desired thickness, make a small dent in the center, add chopped almonds and arrange in a plate/ cookie tray. Repeat the same steps for the entire peda. Let it set for 2-3 hours in room temperature or in refrigerate it for a while. Peda is ready:-)
Notes
Milk sweet looks chewy after shaping but after 2-3 hours it will turn into the desired texture
My friend tried the peda in the microwave with the same ingredients and told it cooks faster in the microwave. It took 4 minutes for her
If you are planning to cut the peda with cookie-cutter grease rolling pin and cookie cutter with ghee and cut
Powdered sugar can be added for extra Sweetness. Add it along with other ingredients and cook
Mold can be used for forming impression in peda
If you are refrigerating peda keep at room temperature for while before serving
Almond extract, vanilla extract, Rose essence can be added for flavor
Food color can be added
Pistachio, Walnut, pecans, cashew, pumpkin seeds, etc. can be added
Cocoa powder can be added for chocolate peda. Take 1/4 cup of peda mixture and add 1/2 tbsp of cocoa powder, 1 + 1/2 to 2 tbsp confectionary sugar, and mix well. If required add drops of milk and shape chocolate peda
Coconut can be added for coconut milk peda
Ingredients:
Milk powder – 2 cup
Condensed Milk – 1 tin (396 grams)
Milk – 1/4 cup
Ghee/ Melted butter – 3 tbsp + to Grease hand while making
Saffron – 1/8 tsp (optional)
Almonds – 2 tbsp + 1 tsp, finely chopped
Cardamom Powder – 1/8 tsp
Salt – pinch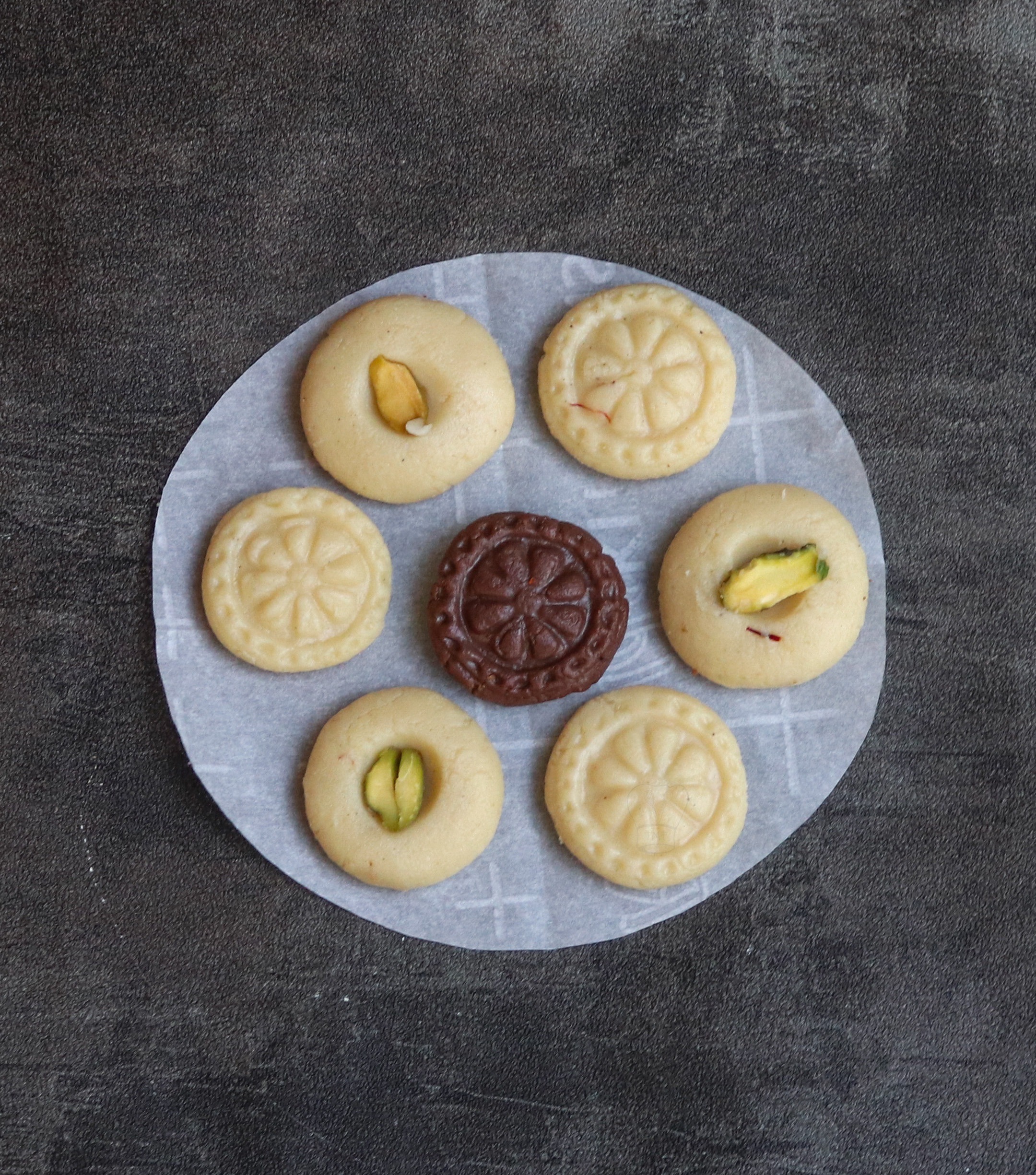 Method:
Soak saffron in warm milk and set aside
In a heavy bottomed pan (I used non stick pan) add all the ingredients except ghee and mix well to avoid lumps. It will be like thick idli batter
In medium flame cook the mixture, sauté continuously to avoid lumps and also from the dough sticking to the pan. Add ghee to the mixture
Cook till it becomes a non Sticky mass. Take a small portion of it and try making ball if it you are able to make it switch off. If its sticky cook for some more time. If it starts cracking add a tsp of milk and cook for some more time to add mositure. It took around 7 minutes for me

Switch off and let it cool for sometime. When it is warm enough to handle, take a small portion and make a ball. Flatten it to desired thickness, make a small dent in the center, add chopped almonds and arrange in a plate/ cookie tray. Repeat the same steps for the entire peda. Let it set for 2-3 hours in room temperature or in refrigerate it for a while. Peda is ready:-)