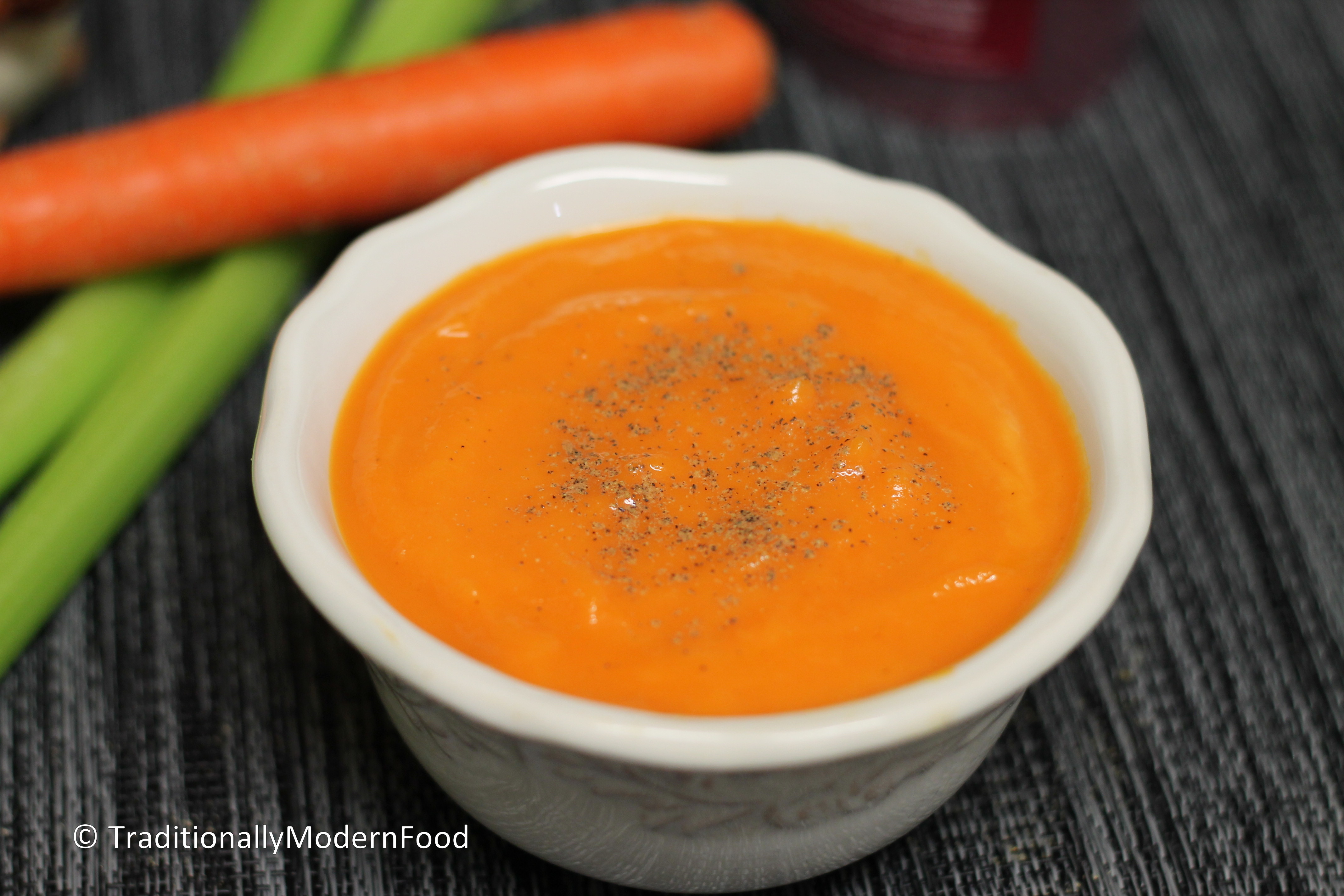 Carrot Soup is a healthy filling soup with carrot and celery. Soup can be quickly prepared and perfect for winter evening.
Varuna Baghvan (Rain God) is at his best in many places. As a child I loved rain, but as a mother I feel like humming my son's favorite rhymes "Rain Rain go away". It's gloomy all day and feel like enjoying something hot all day and eating some crispy baked snack.
I can't say no for snacks any day, but a warm soup with pepper pleases says hubby. This soup is almost a year old post. Last winter when it was snowing in Arkansas, hubby asked for a soup.
Those days my son loves soup for lunch, broccoli and spinach soup was his favorite. I saw my fridge, carrots smiled at me and asked why not me. Healthy and colorful main ingredient is checked. Usually I go for potatoes or avocado for thickness but this time celery joined the club. With mild sweetness from carrots this soup will become kids' favorite. It is healthy, tasty and quick, is there a reason to stop from trying it 🙂 color of the soup also use to attract him during those days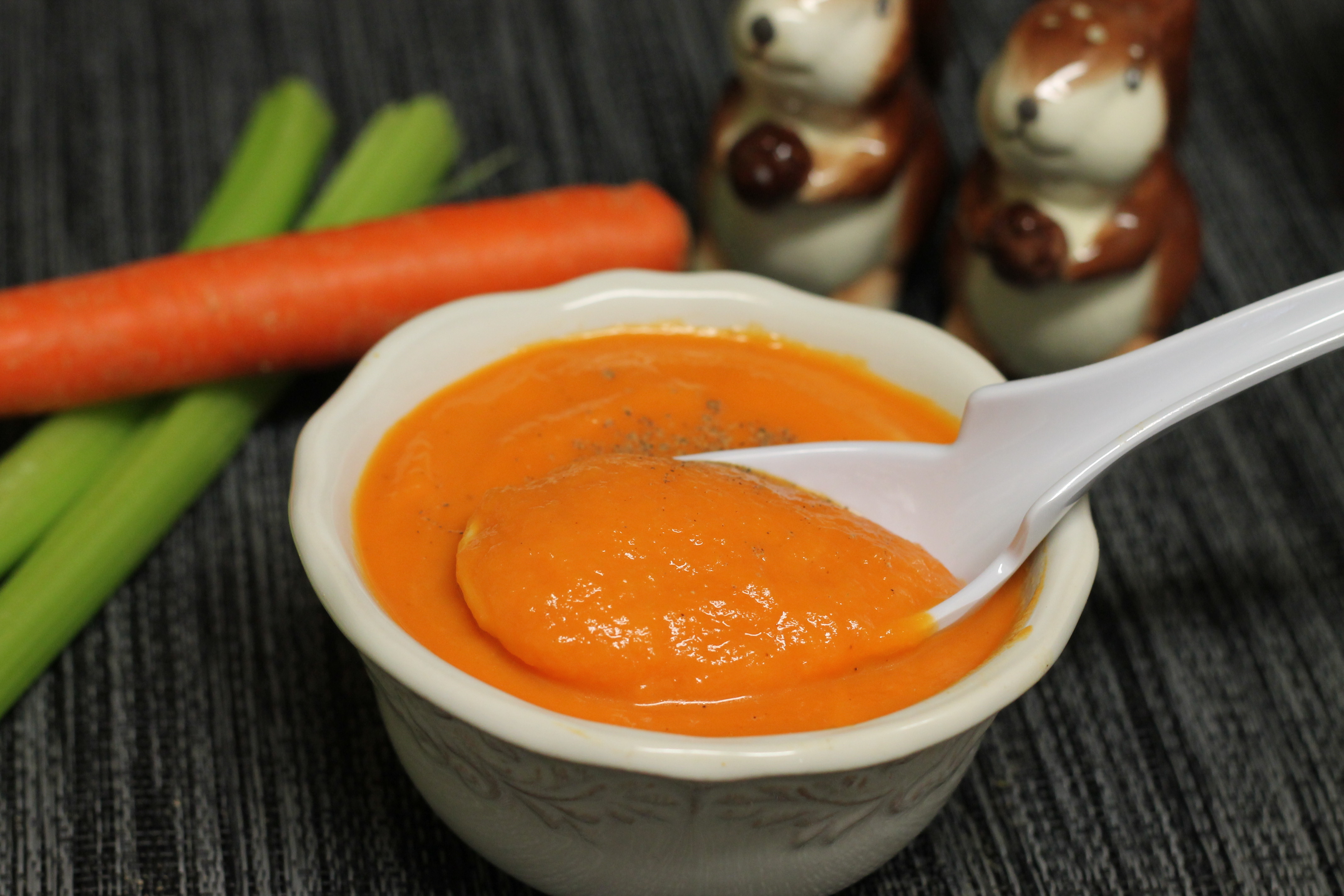 Ingredients:
Carrots - 3, big - peeled and cut into medium chunks
Onion - 1/2, medium, roughly chopped
Celary - 3 stalk
Garlic - 1, clove
Water - 2 cups
Butter - 1/2 tbsp
Black pepper - to taste
Kosher Salt - as needed
Heavy whipping cream - 3 tbsp

Method:
Add butter to the pan, and when its hot add garlic, sauté till it is golden brown
Add onion, carrots and celeary and sauté for 2 -3 minutes in low flame. Add 3/4 th cup water and cover with lid
Cook till the carrots are fork tender, sauteing the vegetables occasionally; switch off. Let it come to room temperature
Put the mixture in a mixie/ blender along with little vegetable stock ( I used the vegetable cooked water) and puree them to a smooth texture. Keep the remaining vegetable stock in the pan

Transfer the puree and add water according to the preferred consistency into the same pan containing vegetable stock; mix well and cook for 5 minutes. Add salt, pepper and cream. Cook in low heat for 2-3 minutes to avoid curdling. Switch off and enjoy warm soup for hot weather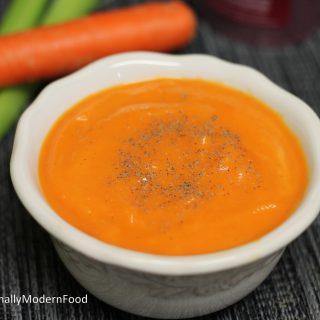 Ingredients
Carrots - 3

big - peeled and cut into medium chunks

Onion - 1/2

medium, roughly chopped

Celary - 3 stalk

Garlic - 1

clove

Water - 2 cups

Butter - 1/2 tbsp

Black pepper - to taste

Kosher Salt - as needed

Heavy whipping cream - 3 tbsp
Instructions
Add butter to the pan, and when its hot add garlic, sauté till it is golden brown

Add onion, carrots and celeary and sauté for 2 -3 minutes in low flame. Add 3/4 th cup water and cover with lid

Cook till the carrots are fork tender, sauteing the vegetables occasionally; switch off. Let it come to room temperature

Put the mixture in a mixie/ blender along with little vegetable stock ( I used the vegetable cooked water) and puree them to a smooth texture. Keep the remaining vegetable stock in the pan

Transfer the puree and add water according to the preferred consistency into the same pan containing vegetable stock; mix well and cook for 5 minutes. Add salt, pepper and cream. Cook in low heat for 2-3 minutes to avoid curdling. Switch off and enjoy warm soup for hot weather
Notes
1. Adjust the water according to the preferred soup consistency
2. Vegetable stock can also be used while boiling the carrot
3. Evaporated milk can be used for less fat version
4. Olive oil can be used instead of butter for vegan version
5.Soy/Almond milk can be used instead of heavy cream for vegan version
6. Carrots can also be cooked in pressure cooker for quick version spending less time in kitchen 🙂