Catering style Badam halwa | Almond pudding | Badam halwa in packets | best Badam halwa | Recipe for South Indian Tamilnadu style Badam Halwa | halwa recipe | almond halwa | almond flour recipes | almond fudge | almond candy | Almond flour pudding | Badam halwa with Almond flour | Almond flour halwa | Almond halwa | Almond flour recipe | dessert dishes Indian | Indian sweet | Indian sweet treats | instant Indian sweets | Indian dessert recipes | Indian dessert recipes easy | almond pudding with step by step pictures and video recipe. Check out the Badam halwa video and If you like the video pls SUBSCRIBE to my channel
Badam halwa | Indian Almond pudding
Badam halwa is a traditional Indian sweet recipe. In Tamil Nadu, it is often served during special occasions, weddings/reception. Rich and exotic Indian dessert is super addictive.
What is special about catering Badam halwa?
Homestyle badam halwa consistency is different from the catering style almond Indian dessert. Soft fudge wrapped in parchment/butter paper is super addictive.
Is it a time-consuming Indian dessert?
Traditional Almond halwa is prepared by soaking almonds then we peel the skin and prepare the sweet. I am using Almond flour which makes it super easy and no compromise in that taste. Best Badam halwa with a shortcut.
Can I increase sugar?
Yes, adjust the sugar according to your sweetness.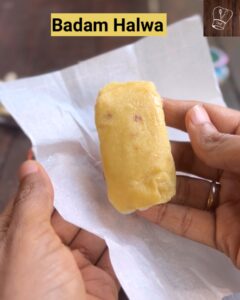 Should I grind Almond flour and prepare Almond milk?
Yes, I would recommend that as it will help for the best halwa texture.
Is ghee enough for halwa?
You can increase the ghee but if you prepare to wrap the halwa I would recommend less ghee
Can I skip food color?
Yes, to replicate wedding style halwa I added little food color. You can skip it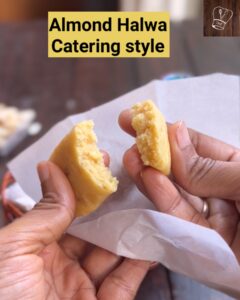 Keep mixing and cook
Always use a wide heavy-bottomed nonstick pan. Keep mixing to avoid halwa from turning brown.
How long should I cook halwa?
Cook till halwa thicken and leave the side of the pan. Halwa turns thick even after turning off the stove so avoid cooking for a long time. That will alter the halwa texture.
Should I transfer the halwa immediately?
Yes, if you keep halwa in the same pan it thickens and alters the texture so always transfer immediately
Always wrap when it is warm
I have used parchment paper but you can also use butter paper. Always wrap when it is warm. avoid wrapping the room temperature halwa.
Ingredients
1

+ 1/2 cup Almond flour

1

+ 1/2 cup Sugar

heaped

2

cups

milk

Pinch

of saffron

Little food color

1/4

teaspoon

of cardamom powder

4

tablespoon

of softened butter

1

+ 1/2 tablespoon roasted almond flakes

2

tablespoon

+ to grease ghee
Instructions
Firstly add almond flour, sugar, milk; grind well and prepare almond milk

Add butter to a wide pan and turn on the stove and heat

When butter melts add almond milk

Mix well regularly and add saffron

cook till the mixture boils and reduce the quantity

Add cardamom powder; mix well and cook for a minute

Furthermore add yellow food color, 2 tablespoon of ghee; mix well cook

Cook till the halwa thickens and leave the pan. If you touch it with wet hands it will turn nonsticky

Finally add almond flakes and mix well

Transfer the halwa to a different vessel and let it turn warm enough to touch

Grease a spoon with ghee and take a spoonful

Shape it and place it on parchment paper

Wrap the paper and out catering style badam halwa is ready
Video
Notes
Always grind and prepare almond milk; then prepare halwa. It helps for a smooth texture

Use a wide heavy-bottomed nonstick pan. Keep mixing to avoid halwa from turning brown

If you keep halwa in the same pan it thickens and alters the texture so always transfer immediately

I used parchment paper to wrap the halwa but you can also use butter paper. Avoid cling wrap
Always wrap when Halwa is warm else halwa texture might change
You can also soak almonds, remove the skin and prepare halwa
Halwa stays good for 3-4 days in room temperature, Refrigerate for longer shelf life
Food color is optional
overcooked halwa turns gooey or make burfi like texture so after halwa thickens cook in low flame and turn off at the right consistency
Ingredients
1 + 1/2 cup Almond flour
1 + 1/2 cup Sugar, heaped
2 cups milk
Pinch of saffron
Little Yellow food color
1/4 teaspoon of cardamom powder
4 tablespoon of softened butter
1 + 1/2 tablespoon roasted almond flakes
2 tablespoon + to grease ghee
How to make Badam halwa with step by step pictures
Firstly add almond flour, sugar, milk; grind well and prepare almond milk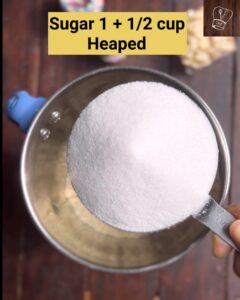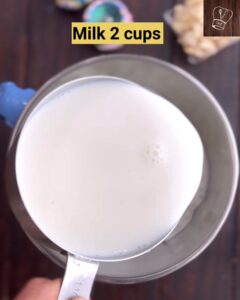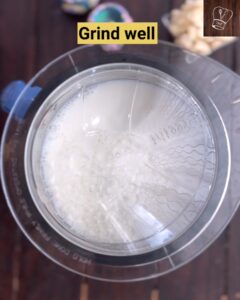 Add butter to a wide pan and turn on the stove and heat
When butter melts add almond milk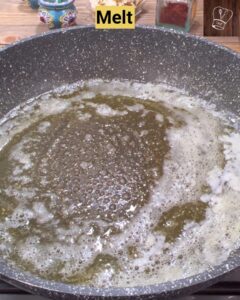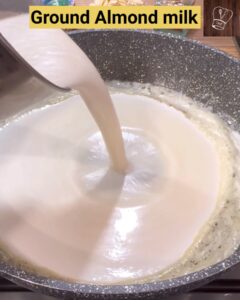 Mix well regularly and add saffron
cook till the mixture boils and reduce the quantity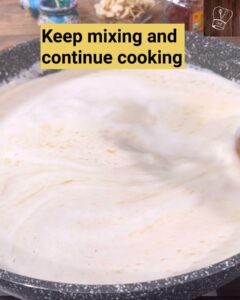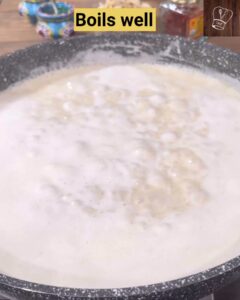 Add cardamom powder; mix well and cook for a minute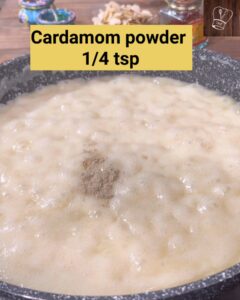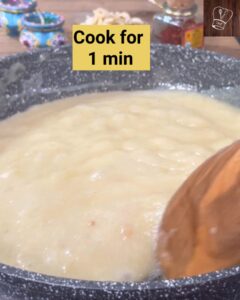 Furthermore add yellow food color, 2 tablespoon of ghee; mix well cook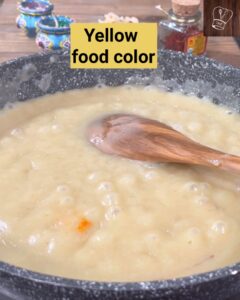 Cook till the halwa thickens and leave the pan. If you touch it with wet hands it will turn nonsticky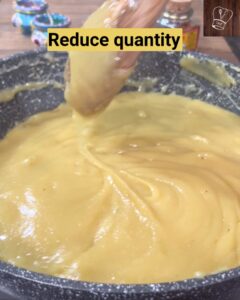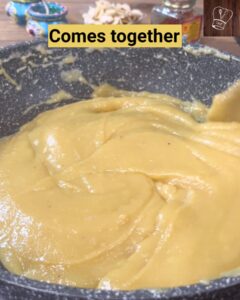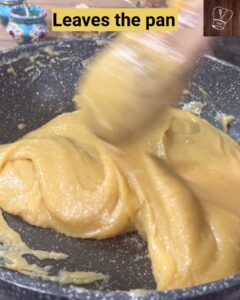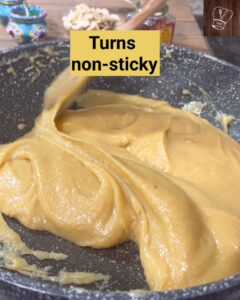 Finally add almond flakes and mix well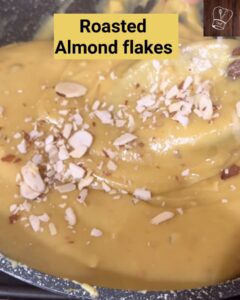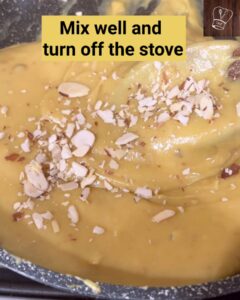 Transfer the halwa to a different vessel and let it turn warm enough to touch
Grease a spoon with ghee and take a spoonful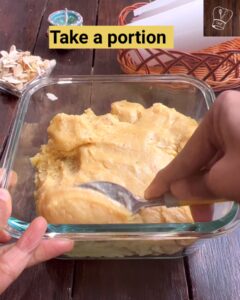 Shape it and place it on parchment paper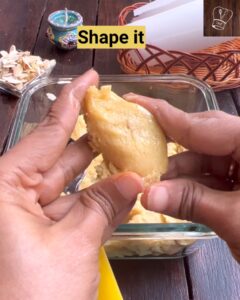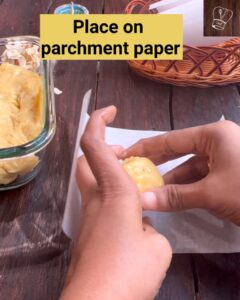 Wrap the paper and out catering style badam halwa is ready