Cheese paratha | Cheese burst paratha recipe | cheese parantha | cheese ka paratha | how to make cheese parathas recipe | street food | paratha recipes | parantha recipe Check out the cheese paratha recipe and If you like the video pls SUBSCRIBE to my channel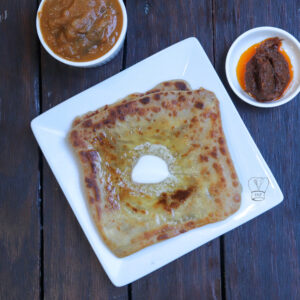 Cheese Paratha is a fusion Indian flatbread recipe. Kids-friendly cheese paratha is best for breakfast/ brunch/lunch/snacks /dinner.
Jump to:
WHY INDIAN cheese PARATHA
cheese is a great protein-packed option for vegetarians. Kids spice paratha is suitable for toddlers' taste buds too. Parathas are a great delicious filling healthy tiffin option
Why paratha dough in a mixie?
To make perfect dhabba style paratha we knead the dough well but mixie grinding helps for less kneading.
Tips for mixie dough
Make sure you use a powerful mixie or grinder
Preferably use warm water. Avoid boiling water
The size of the mixie jar should be 3 times compare the quantity of the dough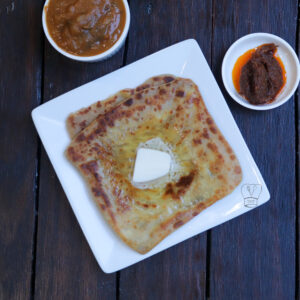 TIPS TO NOTE FOR PARATHA DOUGH
Always prepare a moist dough for paratha. Paratha dough should be a non-sticky, and soft dough, without any cracks. If you add less water dough might crack and it won't hold the stuffing. Pliable soft dough makes for the best paratha. Also, it is important to knead the dough well or grind the mixie dough. Adding ghee and oil to paratha dough gives a lot of difference in cheese-stuffed paratha texture so don't skip it.
can I use shredded cheese instead of cheese slices?
Yea you can also use shredded cheese. I prefer cheese slice as it gives perfect gooey cheese burst paratha.
Should I sprinkle garlic salt?
It is optional but it gives flavor to the cheese. Avoid adding more as it might turn paratha salty.
WHY SHOULD I ADD GHEE BEFORE PLACING THE STUFFING?
I prefer adding a layer of ghee before adding the stuffing. It helps for puffy tasty paratha.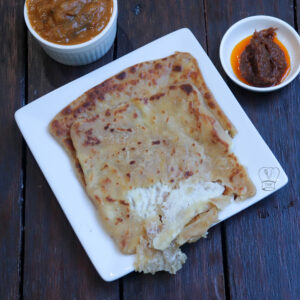 OPTIMAL HEAT FOR COOKING PARATHA?
When you are cooking paratha, maintaining the heat from low - the medium is the key. Add ghee and cook the paratha. Press it gently with a spatula often so that it is evenly cooked.
SHOULD I USE GHEE WHILE MAKING cheese-STUFFED PARATHA?
No, you can use any cooking oil but ghee gives a nice aroma and make the paratha super tasty.
Side dish for an Indian cheese quesadilla
Cheese parathas with butter, pickle varieties, and some spicy curry. You can also serve paratha with raita varieties, pickled onion tastes best.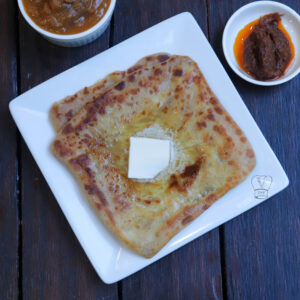 For the Cheese paratha video recipe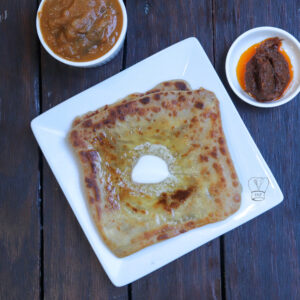 Ingredients
Dough
1/2

cup

warm water

1

cup

wheat flour

Required salt

1/2

tablespoon

ghee
Stuffing
5

mozzarella cheese slice

Garlic salt
Instructions
Knead dough
Firstly add wheat flour, warm water, salt, and melted ghee; grind well to knead the dough

Transfer to a wide bowl

Grease your hands with little ghee; knead the dough for 1 minute

Cover the dough with a damp cloth; rest for 1 hour
Roll paratha
After the resting time

Knead the dough again and split it into 5 equal balls

Sprinkle little wheat flour on the chappathi rolling board and gently roll the dough into a big chappathi

Add little ghee and spread

Place a cheese slice and sprinkle very little garlic salt on top

Cover and seal the paratha. Make sure the stuffing is not visible

Furthermore, sprinkle some flour and place the sealed part at the bottom

Gently roll the paratha giving even pressure
Cook paratha
Heat the chappathi tawa on medium flame

After the tawa is hot enough add ghee and place the rolled paratha

Drizzle some ghee on the top and cook until paratha starts to puff up

Flip and cook on another side. Drizzle ghee

Gently press and cook golden brown on both sides and serve hot cheese parantha
Video
Notes
If you are not grinding the dough in mixie, knead a smooth and soft dough
It's very important to let the dough rest
You can also stuff shredded cheese and prepare paratha
Use generous ghee while cooking paratha for the best flavor and texture
Wait till the chappathi pan turns hot, then cook paratha. if the pan is not hot enough paratha might turn flaky
I made the paratha kids friendly, but you can add the spice according to your preference
Ingredients
Dough
1/2 cup warm water
1 cup wheat flour
Required salt
1/2 tablespoon ghee
Stuffing
5 mozzarella cheese slices
Garlic salt
Prepare paratha
Oil or ghee to grease
How to make Cheese paratha with step-by-step pictures
Knead dough
Firstly add wheat flour, warm water, salt, and melted ghee; grind well to knead the dough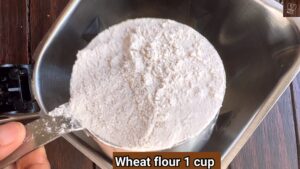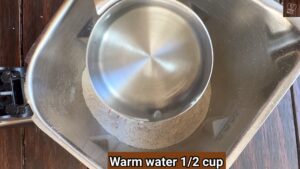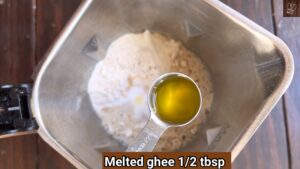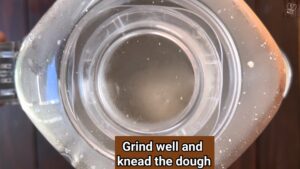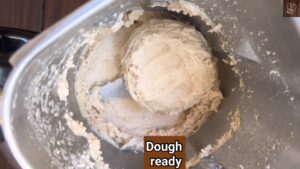 Transfer to a wide bowl
Grease your hands with little ghee; knead the dough for 1 minute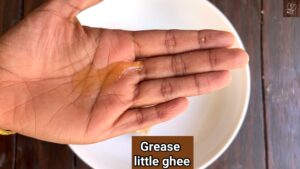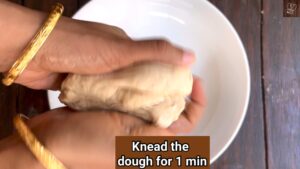 Cover the dough with a damp cloth; rest for 1 hour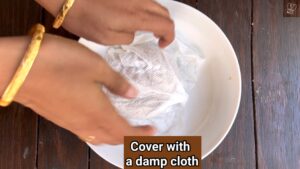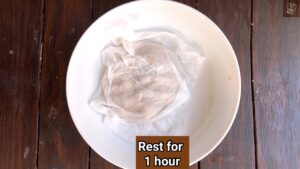 Roll paratha
After the resting time
Knead the dough again and split it into 5 equal balls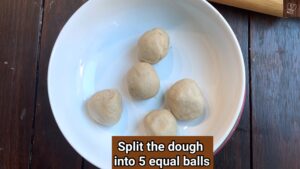 Sprinkle little wheat flour on

the chappathi rolling board and gently roll the dough into a big chappathi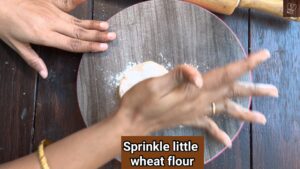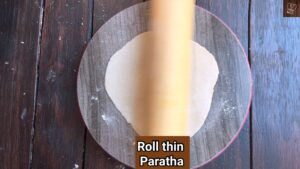 Add little ghee and spread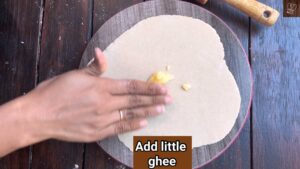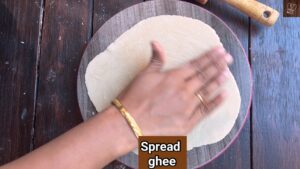 Place a cheese slice and sprinkle very little garlic salt on top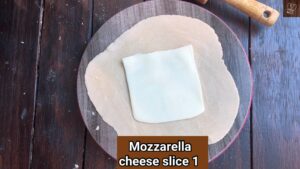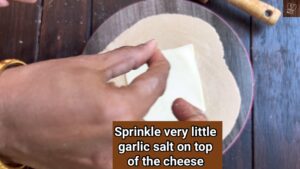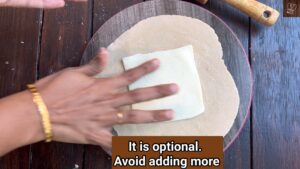 Cover and seal the paratha. Make sure the stuffing is not visible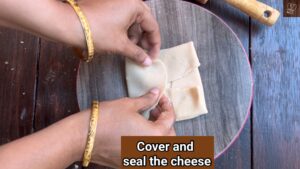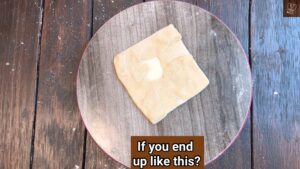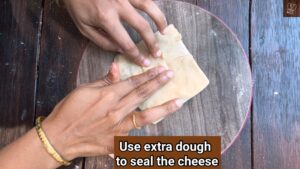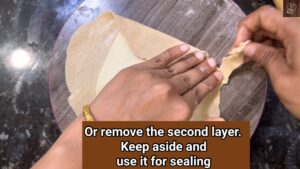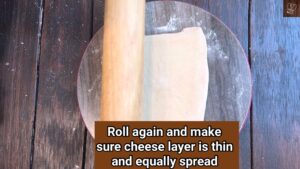 Furthermore, sprinkle some flour and place the sealed part at the bottom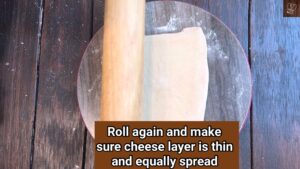 Gently roll the paratha giving even pressure
Cook paratha
Heat the chappathi tawa on a medium flame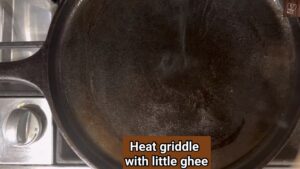 After the tawa is hot enough add ghee and place the rolled paratha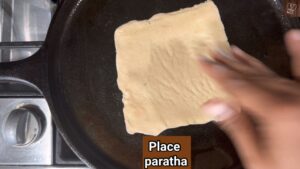 Drizzle some ghee on the top and cook until paratha starts to puff up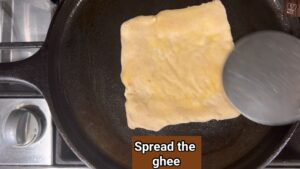 Flip and cook on another side. Drizzle ghee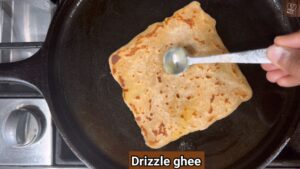 Gently press and cook golden brown on both sides and serve hot cheese parantha