Chocolate burfi | Chocolate burfi | burfi with milk powder | chocolate mawa burfi | Diwali sweet | Indian sweet mithai | Indian festival desserts | Indian dessert with step-by-step pictures and video recipe. Check out the Chocolate milk burfi for a detailed recipe with tips and tricks. If you like the video pls SUBSCRIBE to my channel. with step-by-step pictures and video recipes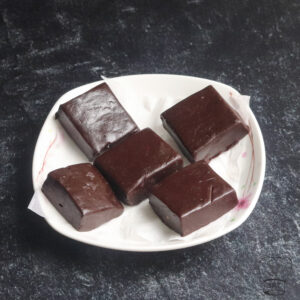 Chocolate milk powder burfi
delightful fusion of traditional Indian sweets and everyone's favorite treat, chocolate! Made with milk, sugar, and cocoa powder, this dessert is a delicious way to satisfy your sweet cravings
Shelf life of burfi
chocolate burfi can last for up to 1-2 weeks when stored in an airtight container in a cool, dry place, away from direct sunlight and moisture. You can even refrigerate the burfi.
Can I make vegan chocolate burfi?
Traditionally, burfi is made with ghee, which is clarified butter, but you can substitute it with vegetable oil or coconut oil if you prefer a non-dairy option. the texture and flavor may be slightly different compared to the traditional recipe. The burfi may be less rich and have a different mouthfeel, but it can still be delicious.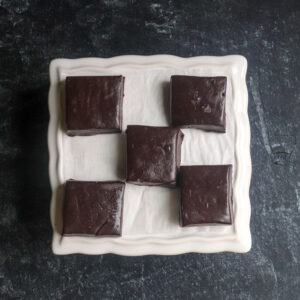 Can I reduce butter?
Yes, you can adjust the butter or ghee according to your preference. My kids prefer soft and chewy chocolatey burfi . If you reduce the butter the texture of the Indian chocolate cake with turning hard accordingly.
Should skip sieving
Sieving helps lump-free smooth burfi so don't skip this step.
Ingredients
1/2 cup milk powder
1/4 cup dark cocoa powder
1/3 cup water
1/2 cup + 2 tablespoon sugar
4 tablespoon softened butter
1/8 teaspoon ghee
How to make chocolate burfi with step-by-step pictures
First, Sieve milk powder and cocoa powder. Mix well and keep aside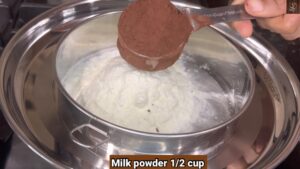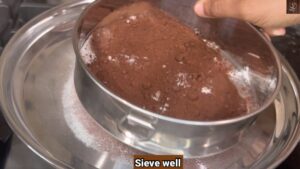 Place parchment paper on a tray and grease it with little ghee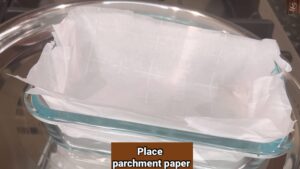 Add water and bring to boil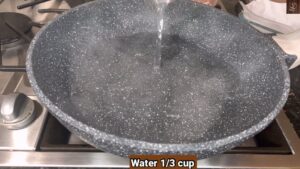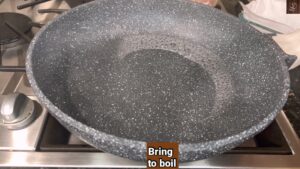 Furthermore, add sugar; mix well and cook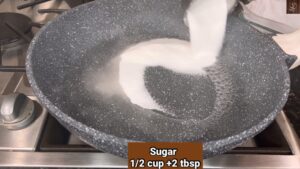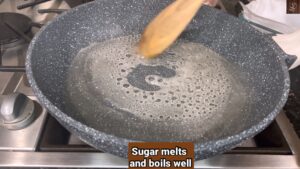 Cook till you get one-string consistency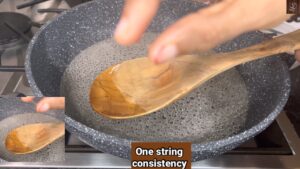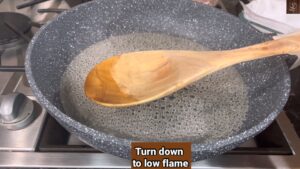 Add softened butter and milk -cocoa powder; mix well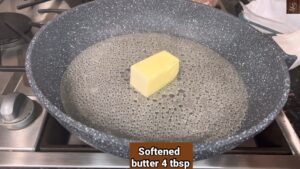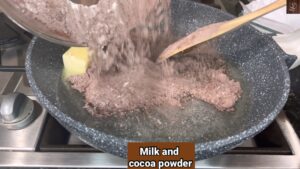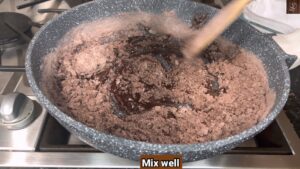 Turn to low- medium flame, and cook till the mixture comes together as a nonsticky mass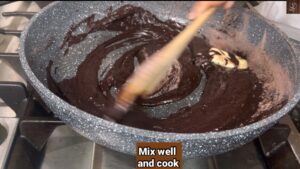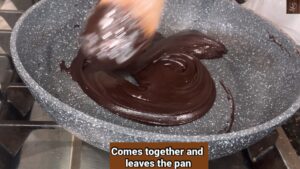 Grease your hands and try to roll.soft ball - soft burfi. Hard ball- bard burfi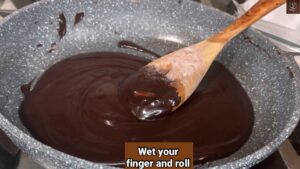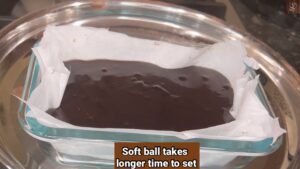 Grease the knife with ghee and cut to the desired size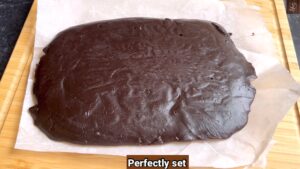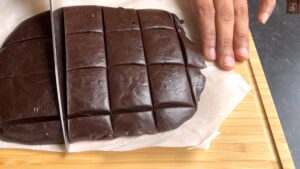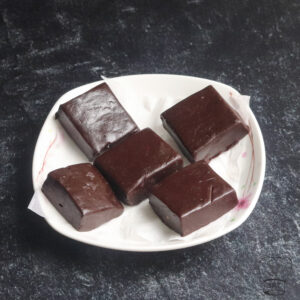 Ingredients
1/2

cup

milk powder

1/4

cup

dark cocoa powder

1/3

cup

water

1/2

cup

+ 2 tablespoon sugar

4

tablespoon

softened butter

1/8

teaspoon

ghee
Instructions
First, Sieve milk powder and cocoa powder. Mix well and keep aside

Place parchment paper on a tray and grease it with little ghee

Add water and bring to boil

Furthermore, add sugar; mix well and cook

Cook till you get one-string consistency

Turn down to low flame

Add softened butter and milk -cocoa powder; mix well

Turn to low- medium flame, and cook till the mixture comes together as a nonsticky mass

Grease your hands and try to roll.soft ball - soft burfi. Hard ball- bard burfi

Transfer and let it set

Grease the knife with ghee and cut to the desired size
Video