Homemade Chocolate ice cream, 3 ingredients Chocolate ice cream, no churn, 3 ingredients, eggless ice cream, how to make no churn Chocolate ice cream, ice cream without ice cream maker, no machine ice cream, easy ice cream without eggs, condensed milk ice cream step by step pictures and video recipe. You can also check out the Chocolate ice cream. If you like this recipe pls SUBSCRIBE to my channel
Chocolate ice cream - 3 ingredients is made with heavy cream, condensed milk and cocoa powder. This no-churn, egg-less ice cream is a perfect summer frozen treat for chocolate lovers. Delicious home made chocolate ice cream can be prepared within 10 minutes.
These days my son comes from school asking if we have ice cream in the freezer. Vishvak likes chocolate, how can I miss his favorite for this season. Can't resist ice cream during summer and this Chocolate ice cream is one of my kid's recent favorites.
Ever since I prepared Pista Ice cream in our home we are all addicted for homemade ice cream. Without any preservative within 10 minutes ice cream is ready. Also the freezing this Ice cream is super easy.
I can hear you saying I have added two more ingredients, which technically makes it 5 Ingredients ice cream but vanilla extract and instant coffee powder are just catalysts to enhance the chocolate flavor. Be it 5 or 3 ice cream is prepared with minimal ingredients and it can be whipped within 10 minutes. With electric or hand mixer it can be made in jiffy.
If you are doing a kids friendly chocolate ice cream skip the coffee powder part. I usually make two batches, one for Vishvak without instant coffee powder and other with coffee powder for us. Be it a instant coffee powder or filter coffee decoction, coffee does the magic. Believe me you won't taste coffee. It makes the ice cream extra special.
For a coffee addict like me who was looking for coffee flavor in ice cream this is bit disappointing but when it comes to chocolate taste, yes yes heavenly. Egg-less ice cream is perfect for all looking for egg-free ice cream.
Other frozen dessert in TMF,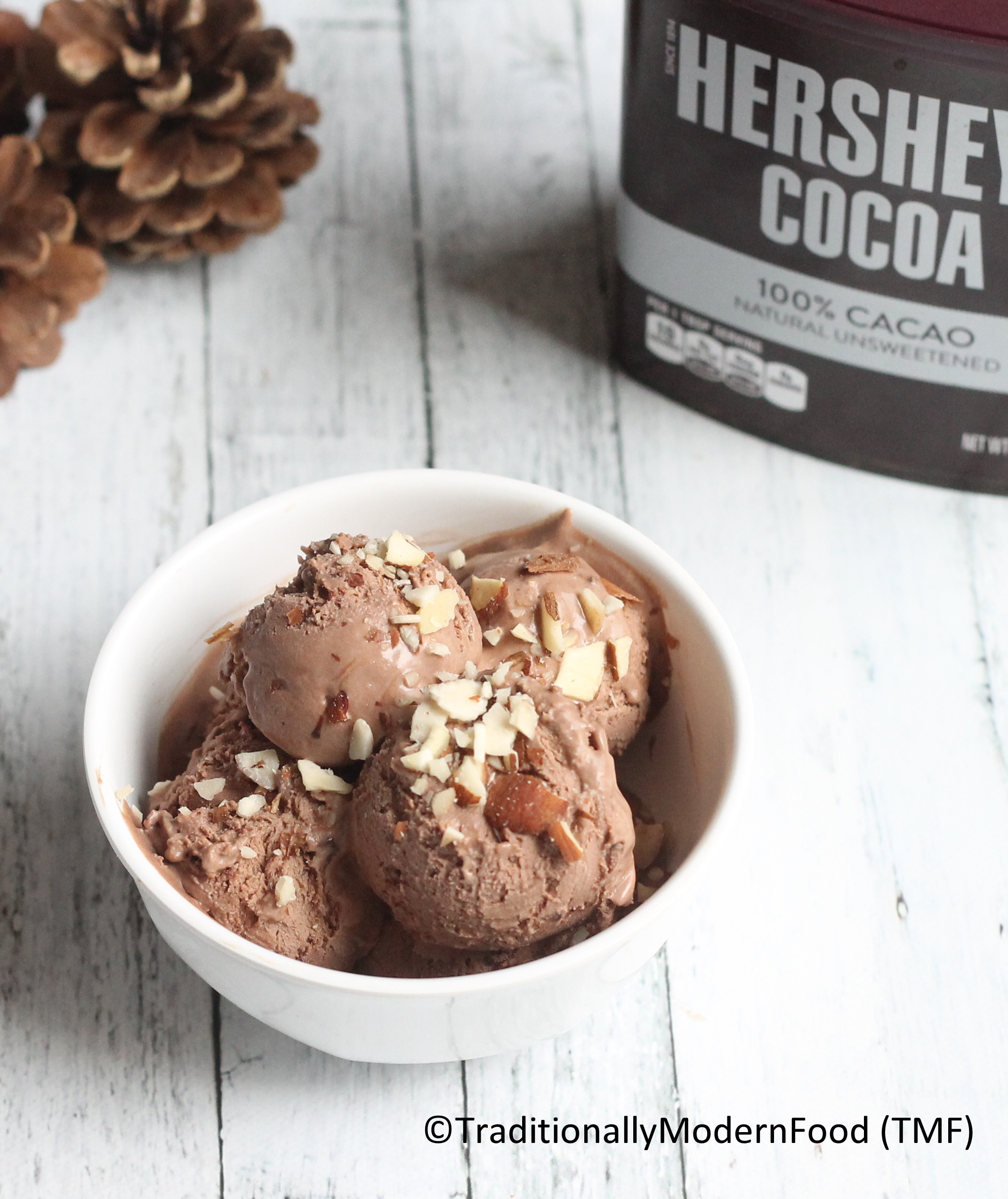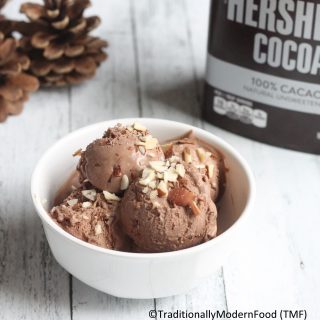 Ingredients
Whipping cream - 2 cup

Condensed milk - 1 can

14 oz

Unsweetened Cocoa Powder - 1/2 cup

Vanilla extract - 1 tsp

Instant coffee powder - 1/2 tbsp
Instructions
In a bowl add condensed milk, cocoa powder, vanilla extract and instant cocoa powder. Mix everything well till you don't see any lumps

In a separate wide mixing bowl add Whipping Cream, whisk it with a electric mixer for 4- 5 mins till you see firm peaks

Add condensed milk - cocoa powder mixture to the heavy cream, and whisk till everything is blended well together

Put it in freezer safe box and Freeze it for overnight or atleast 7-8 hours

Before serving take the ice cream out and let it sit for 5 minutes; scoop and enjoy with your favorite topping
Video
Notes
Make sure instant powder is well blended
Adding coffee powder doesn't make the ice cream tastes. Offer but it enhance the chocolate flavours
Keep the ice cream out for 5 minutes before serving. As soon as you pull out from the fridge it is difficult to scoop. No ice crystal will be there in the ice cream
Top the ice cream with chocolate chips, chocolate syrup, sprinkles, nuts etc.
I used electric mixer, you can use whisk but it will be bit tiring for hands
Evaporated milk can be used instead of heavy cream. Grind the ice cream mixture once in 2 hours for 4-5 times in that case
If you don't have Electric mixer use glass or stainless steel container with a solid sealed lid. Add chill heavy cream and shake, shake, shake. Shake till the cream thickness. Be careful not to spill the heavy cream. Add condensed milk and vanilla extract and make ice cream
wash the ice cream scoop in hot water. Discard the water and scoop the ice cream for easy scoop
Ingredients:
Whipping cream - 2 cup
Condensed milk - 1 can (14 oz)
Unsweetened Cocoa Powder - 1/2 cup
Vanilla extract - 1 tsp
Instant coffee powder - 1/2 tbsp
Method:
In a bowl add condensed milk, cocoa powder, vanilla extract and instant cocoa powder. Mix everything well till you don't see any lumps

In a separate wide mixing bowl add Whipping Cream, whisk it with a electric mixer for 4- 5 mins till you see firm peaks
Add condensed milk - cocoa powder mixture to the heavy cream, and whisk till everything is blended well together

Put it in freezer safe box and Freeze it for overnight or atleast 7-8 hours
Before serving take the ice cream out and let it sit for 5 minutes; scoop and enjoy with your favorite topping