Godhumai rava pulav |Dalia rava upma | broken wheat pulao with step by step detailed photo and video recipe is healthy and tasty tiffin up a recipe made from the broken or cracked wheat. Call it pulav/pulao/biryani/upma/brinji/pilaf it is one healthy nutritional alternative to the traditional rava.

Healthy gothumai raca can also be served for diabetes patients/ elders /people who want to diet. It is also a tasty kids as lunch box tiffin variety for kids and office lunches. Pressure cooker one pot meal is super easy and quick, perfect for busy days.
Gothumai rava is one ingredient I often use it in our home. We prefer avoiding rice for dinner, so at least once a week cracked wheat dish will be in my routine menu
My Amma used to make cracked wheat pongal. Inspired by that,I generally make Pongal. Other than Pongal upma is my go to option. Today for a change thought of making pulav. Added some masala and now this Godhumai rava upma/pulav is our favorite.
I usually make Godhumai rava pulav in a pan and I posted that few years ago. Busy days calls for a easy meal so these days started making it in pressure cooker and this is super quick. Love this version.
When it is a low carb meal my dear friend paneer joined the show to make it yummy and to take care of the protein part for the Godhumai rava pulav. I have skipped paneer in my YouTube video.
Godhumai rava pulav is a great low Cal tiffin varies for diabetes patients. It is one good option if you are looking for healthy dinner options.
Check my other cracked wheat recipes
Cracked Wheat and Oats Kozhukattai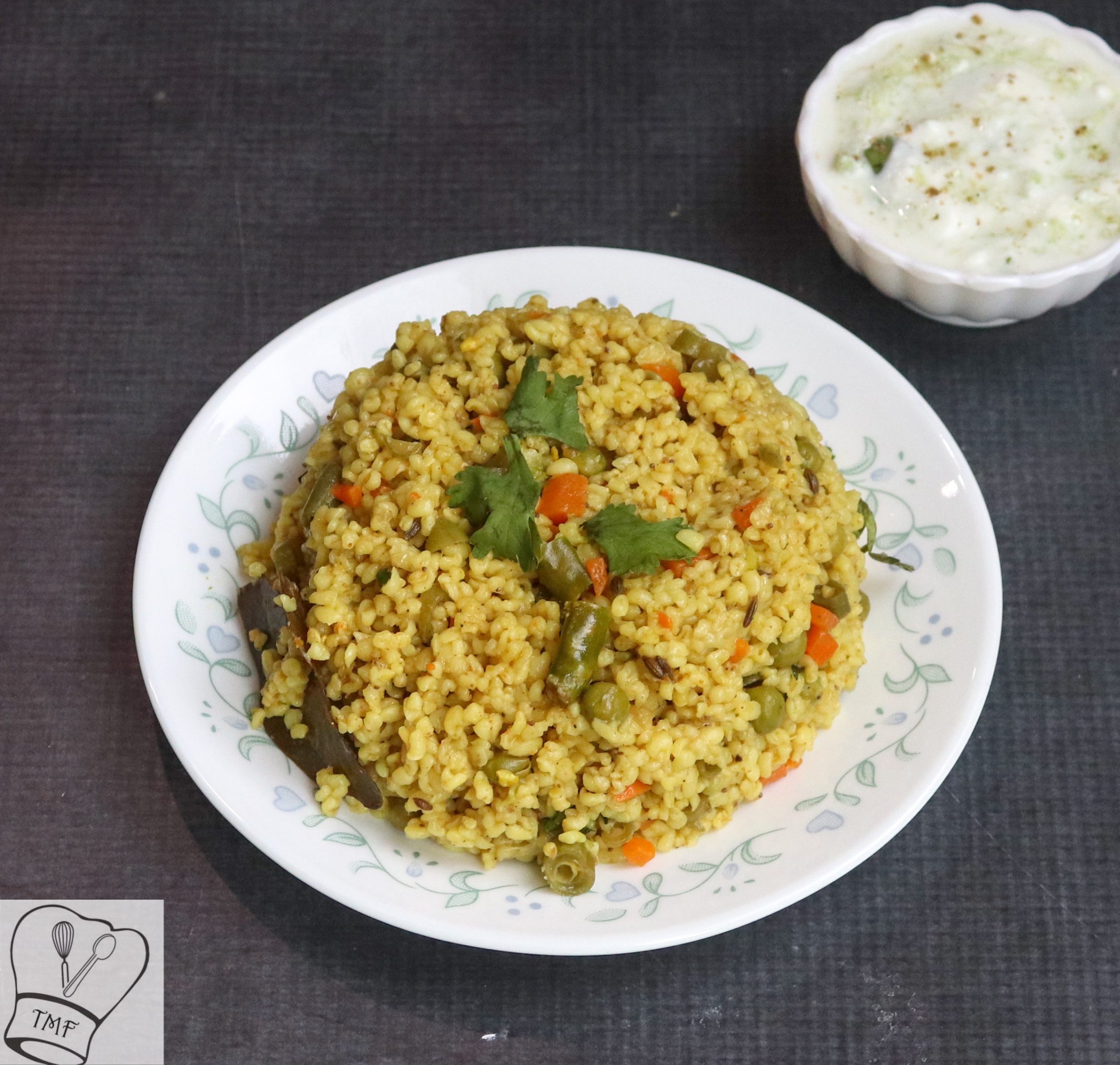 Ingredients
Cracked Wheat/Dalia/Bulgar - 1/3 cup

Onion - 1/4 cup

mixed vegetables - 1/2 cup

I used carrot, beans and peas

Paneer - around 1/4 cup

Ginger - 1/4 tsp

garlic

2, finely chopped

Water - 1/3 cup + 1/3 cup + 1/3 cup

Coriander leaves - a handful

optional

Garam masala - 1/4 tsp

kitchrn king masala - 1/2 tsp

green Chilli - 1

1

Bay leaf

Cloves 1

Bay leaves - 1

Fennel seeds - 1/4 tsp

poppy seeds - 1/4 tsp

salt - as needed

Oil - 1 tsp

ghee - 1/4 tsp
Instructions
Soak paneer in hot water for 5 minutes and drain the water

Add oil to pressure cooker and when it hot add clove, bay leaf, poppy seeds, fennel seeds and let it crackle

Add onion and sauté for 2/3 minutes. Add ginger garlic paste and sauté

Add the mixed vegetables and paneer; give a quick mix

Add spice powder and salt; sauté for a min

Add cracked wheat and water; let the water boil

Pressure cook for 2 whistles and let the pressure releases naturally

Fluff it with fork and enjoy
Video
Notes
For instant pot version cook the pulav in high temperature for 4 minutes
Paneer can be skipped
Potatoes can be added
Coconut milk can be added for extra flavour
I used 1:3 water as my cracked wheat was big. The amount of water may vary based on the kurunai size
If you are not a big fan of masala make it a khichdi without masalas
Cook it medium flame. Avoid high flame
Ingredients:
Cracked Wheat/Dalia/Bulgar - 1/3 cup
Onion - 1/4 cup
mixed vegetables - 1/2 cup (carrot, beans, peas )
Ginger - 2, small finely chopped
Ginger - 1/8 tsp, finely chopped
Water - 1/3 cup + 1/3 cup + 1/3 cup
Coriander leaves - Few
Garam masala - 1/4 tsp
kitchen king masala - 1/2 tsp
turmeric powder - 1/8 tsp
green Chilli - 1
Cloves - 1
Bay leaves - 1
Fennel seeds - 1/4 tsp
poppy seeds - 1/4 tsp
Bay leaf - 1
salt - as needed
Oil - 1 tsp
ghee - 1/4 teaspoon (optional)
How to make godhumai rava pulav with step by step pictures
Pressure cooker Method:
Soak paneer in hot water for 10 minutes
Add oil to pressure cooker and when it hot add clove, bay leaf, poppy seeds, fennel seeds and let it crackle
Add onion and give a quick saute
Add ginger, garlic and green chilli and mix well
Add pinch of salt and sauté
Add the mixed vegetables and paneer; give a quick mix
Add turmeric powder, kitchen king masala, garam massla and salt; sauté for a min
Add cracked wheat and water; let the water boil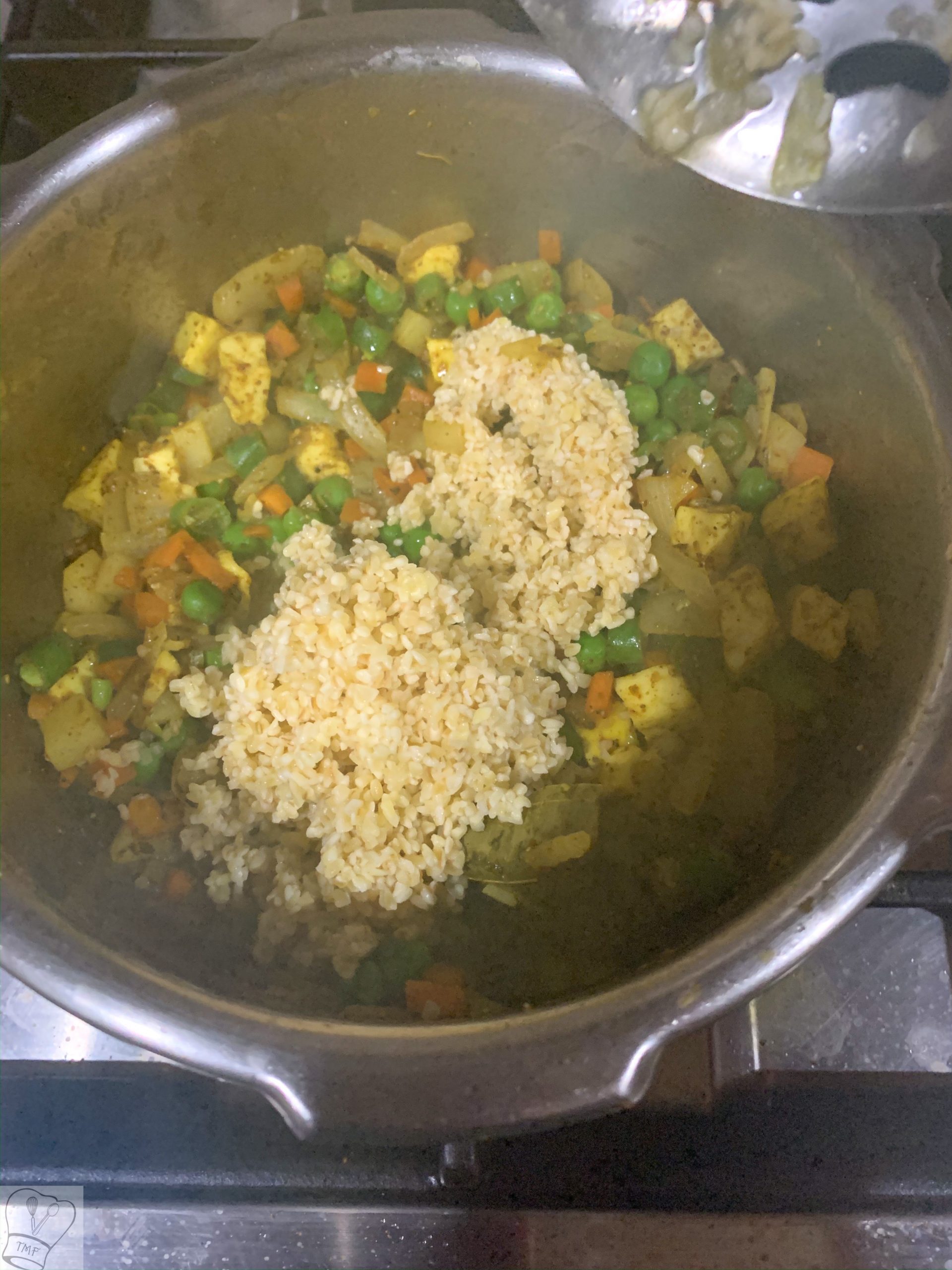 Add 1/4 teaspoon of ghee or oil
Pressure cook for 2 whistles and let the pressure releases naturally
Fluff it with fork and enjoy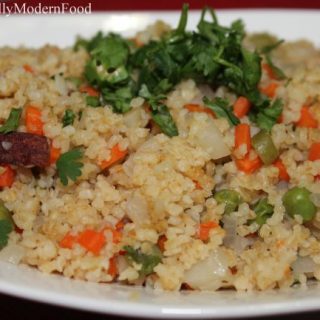 Ingredients
Cracked Wheat/Dalia/Bulgar - 1/3 cup

Onion - 1/4 cup

mixed vegetables - 1/2 cup

carrot, beans, potatoCarrot - 2, finely chopped

Ginger

2

garlic

Coriander leaves - a handful

optional

Garam masala - 1/4 tsp

turmeric powder 1/8 tsp

kitchen king masala - 1/2 tsp

green Chilli - 1

Cloves

- 2

Bay leaves - 1

Fennel seeds - 1/4 tsp

poppy seeds - 1/4 tsp

salt - as needed

Oil - 1 tsp

ghee - 1/4 tsp
Instructions
Add oil/ ghee to frying pan and add whole spices. Add and saute onion with ginger,garlic and green chilli, When the onions turn translucent, add vegetables and saute till vegetables are cooked

Add garam masala, kitchen king masala, turmeric powdert and salt; mix well. Let it cook for 2-3 min

Add cracked wheat and mix well

Add 1 + 1/4 cup of water and 1 drop of oil/ghee ( My Amma tells me that adding oil/ghee at this stage enhances the consistency of pulao). After the ingredients are cooked, take off the heat. Serve hot with any Raita
Video
Add oil/ ghee to frying pan and add whole spices. Add and saute onion with ginger-garlic paste. When the onions turn translucent, add vegetables and saute till vegetables are cooked
Add garam masala, cumin powder, coriander powder, cracked wheat and salt. Let it cook for 2-3 min
Add 2 1/2 cups of water and 1 drop of oil/ghee ( My Amma tells me that adding oil/ghee at this stage enhances the consistency of pulao). After the ingredients are cooked, take off the heat. Serve hot with any Raita