Dal Makhani | Restaurant style recipe | Punjabi dal Makhani | instant pot Dal makhani | best dal makhani in instant pot | dal makhani Dhaba style | how to make dal makhani | easy dal makhani | Indian creamy lentil | curried lentil Check out the detailed recipe Dal Makhani video recipe or 1 minutes Dal makhani shorts. If you like the video pls SUBSCRIBE to my channel.


restaurant style Dal Makhani
Creamy protein-rich dal makhani is a popular dish served in all Indian restaurants. It tastes best when served as a rice accompaniment or as a side for roti variety.
Instant pot Dal Makhani
Traditionally dal is soaked separately then we add cooked dal to onion- tomato base and cook in low flame for around 40 minutes for the best flavor. One-pot Dal makhani with instant pot is super to make. Since we cook everything together it turns so flavorful with less cooking time.
Can I skip soaking and cook for additional time?
Yes, the dal will get cooked but overnight soaking helps for easy digestion and gives the best dal texture so I would highly recommend that.
Why should I wash dal till the water turns clear?
dal tends to have a strong aftertaste if it is not washed well. Always wash well till the water turns clear then prepare IP Dal makhani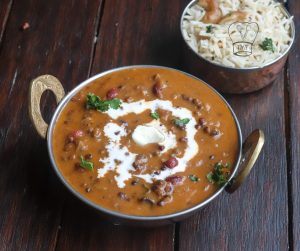 Can I add salt while cooking?
When I experimented dal makhani recipe I felt dal cooks best if we add salt after cooking so I would recommend adding salt after cooking
Can I use store-bought tomato puree instead?
Yes, but to make homemade dal makhani preservative free I prefer grinding tomatoes and adding to the dal. Always use tomato puree for dal as it gives the best texture to the dal
Can I prepare vegan Dal makhani?
yes, you can add vegan butter but the taste might slightly differ.
Can I make a pressure cooker dal?
Yes follow the rest of the recipe but pressure cook for 18-20 whistles till both dal are cooked well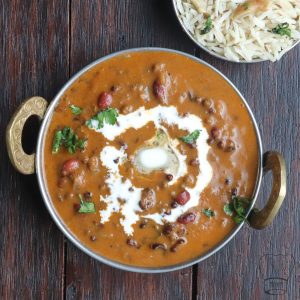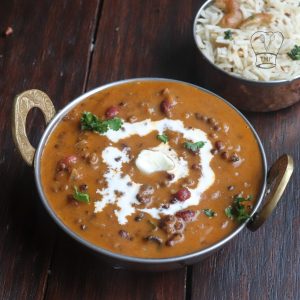 Ingredients
Soak lentil
black whole urad dal 1/2 cup

rajma 2 tbsp
Temper
softened butter 2 + 1/2 tablespoon + serving

clove

1

bay leaf 1

cardamom 1

Small piece of cinnamon
Dal Makhani
Big onion 1 finely chopped

Ginger garlic paste 1 tbsp

gram

masala 1 tsp

Kashmiri chilli powder 2 tsp

dal makhani powder 1 tbsp

Pinch

of turmeric powder

Water 2 + 1/2 cup

Required salt

Pinch

of sugar

Heavy cream 2 tablespoon + serving

Coriander leaves
Instructions
Firstly measure and take black urad dal and rajma; wash well until the water turns clear

Soak them overnight

Take 2 ripe tomatoes into the small mixie jar and grind without adding water

Turn on instant pot in "saute" mode

Add softened butter and mix well

When the display shows "hot" add items under "to temper"

Furthermore, add onion and ginger-garlic paste; saute well till onion turns translucent

Add tomato puree and mix well bring to boil

Furthermore add garam masala, Kashmiri chilli powder, dal makhani powder, and a pinch of turmeric powder; mix well cook till the raw smell goes off and tomato thickens

Furthermore, add dal and mix well; bring to a boil

Add water and mix well and make sure nothing is stuck to the pan

Close the lid and cook for 40 mins; do natural pressure release

Carefully open the lid and mix well. Make sure both dals are perfectly cooked

Add water, required salt, and pinch of sugar and boil for 4 minutes

Furthermore, add 1 tablespoon of butter and cook for 5 more minutes

Finally, add 2 tablespoon of heavy cream; mix well and press "Cancel"

Serve Dal makhani with butter, cream, and sprinkle coriander leaves
Video
Notes
You can use store-bought tomato puree instead of homemade
Alwayssoak dal overnight for best texture and easy digestion
Butter Makes the dal rich and tasty so don't reduce
Always wash both dal well then soak
Adjust the spices according to your taste
Preferably add salt only after cooking dal
Adjust the water according to your desired consistenc
The cream makes it rich and tasty so don't skip it
For Dal makhani in a pressure cooker, cook for 18-20 whistles
You can also cook dals separately then cook them in onion- tomato base
Ingredients:
Soak lentil
black whole urad dal 1/2 cup
rajma 2 tablespoon
Tomato puree
Big tomatoes 2, ripe
Temper
softened butter 2 + 1/2 tablespoon + serving
clove 1
bay leaf 1
cardamom 1
Small piece of cinnamon
Dal Makhani
Big onion 1 finely chopped
Ginger garlic paste 1 tbsp
gram masala 1 tsp
Kashmiri chilli powder 2 teaspoon
dal makhani powder 1 tbsp
Pinch of turmeric powder
Water 2 + 1/2 cup
Required salt
Pinch of sugar
Heavy cream 2 tablespoon + serving
Coriander leaves
How to make instant pot Dal makhani with step
Firstly measure and take black urad dal and rajma; wash well until the water turns clear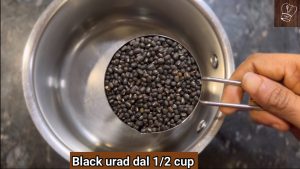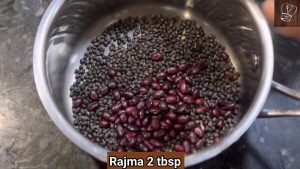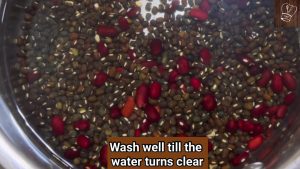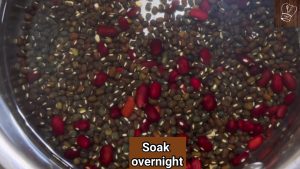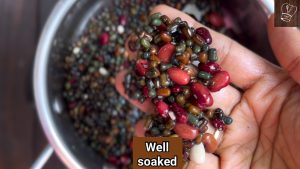 Take 2 ripe tomatoes into the small mixie jar and grind without adding water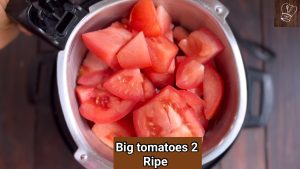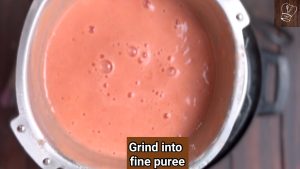 Turn on instant pot in "saute" mode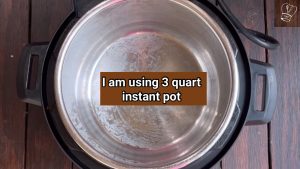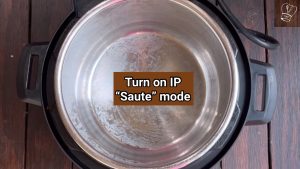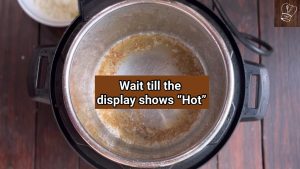 Add softened butter and mix well
When the display shows "hot" add items under "to temper"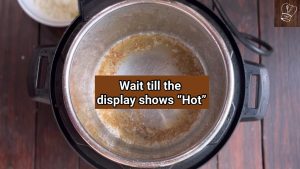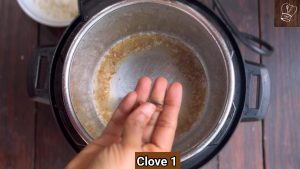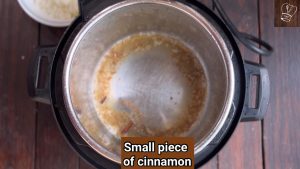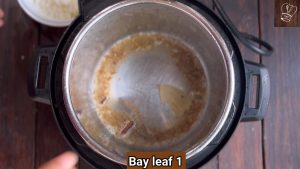 Furthermore, add onion and ginger-garlic paste; saute well till onion turns translucent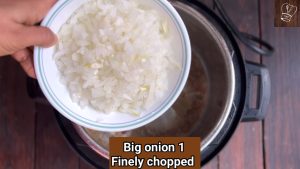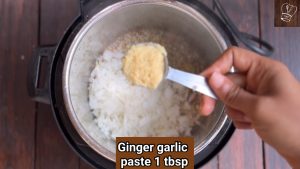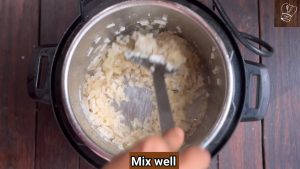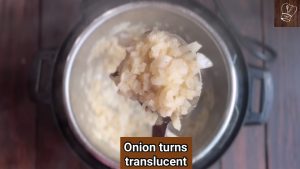 Add tomato puree and mix well bring to boil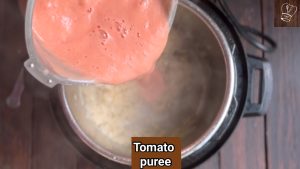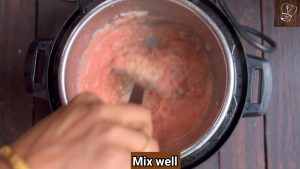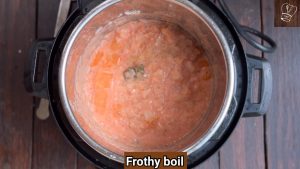 Furthermore add garam masala, Kashmiri chilli powder, dal makhani powder, and a pinch of turmeric powder; mix well cook till the raw smell goes off and tomato thickens
Furthermore, add dal and mix well; bring to a boil
Add water and mix well and make sure nothing is stuck to the pan
Close the lid and cook for 40 mins; do natural pressure release
Carefully open the lid and mix well. Make sure both dals are perfectly cooked
Add water, required salt, and pinch of sugar and boil for 4 minutes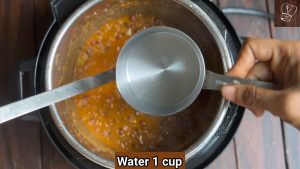 Furthermore, add 1 tablespoon of butter and cook for 5 more minutes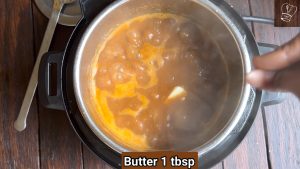 Finally, add 2 tablespoon of heavy cream; mix well and press "Cancel"
Serve Dal makhani with butter, cream, and sprinkle coriander leaves