Double Chocolate Chip Cookies | Brownie cookies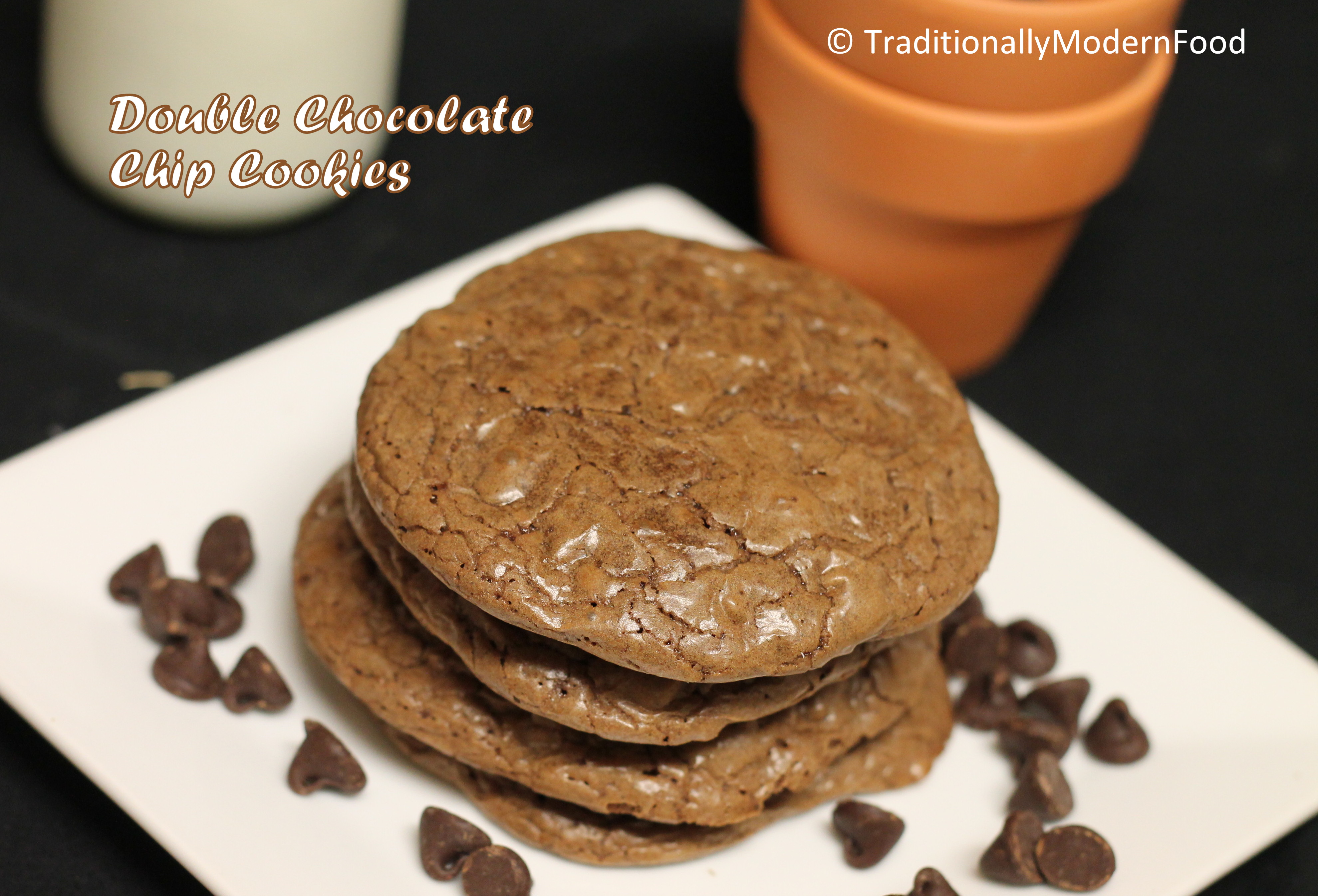 Loaded with chocolate these Double Chocolate chip cookies are treat for kids. Chocolate sauce along with chocolate chip make this cookies addictive. With brownie like texture these melt-in-mouth cookies are so addictive. If you like chocolate this is the cookie for you:-)
Before getting into the Double Chocolate Chip Cookies recipe, I have a big confession to all my close friends and immediate family, "I baked chocolate cookies". Well there is a reason to start this way, people who know me can tell how much I hate chocolate.
For me definition for chocolate is "White Chocolate". I used to tell I will get headache if I eat semi-sweet /dark chocolate. You can think I am crazy but it's true😂 During our trip to California my Bro-in-law took us to Ghirardelli factory, even there I didn't have anything chocolate.
They say things change after becoming a Mother. I have argued with my mom for many days not to sacrifice anything for me and my sister, but now I am on other side of the coin.
"Kisses" is my sons favorite chocolate. After seeing the way he likes chocolate I wanted to bake something for him. I was seeing Giada's show and her double chocolate chip cookies recipe attracted me. I noted down the recipe and tried that weekend. Whenever I make something for my son I taste it many times to make sure its good.
I tasted the batter, then double Chocolate Chip Cookies, my hubby was surprised to see me eating Chocolates:-) Now a days I started preparing brownies, cookies, chocolate cake, eggless chocolate mousse, chocolate ice cream, almond flour chocolate cookies, eggless chocolate muffin,and other chocolate based recipes. I have to thank my son for making me eat chocolate:-)
Checkout other cookie recipes in TMF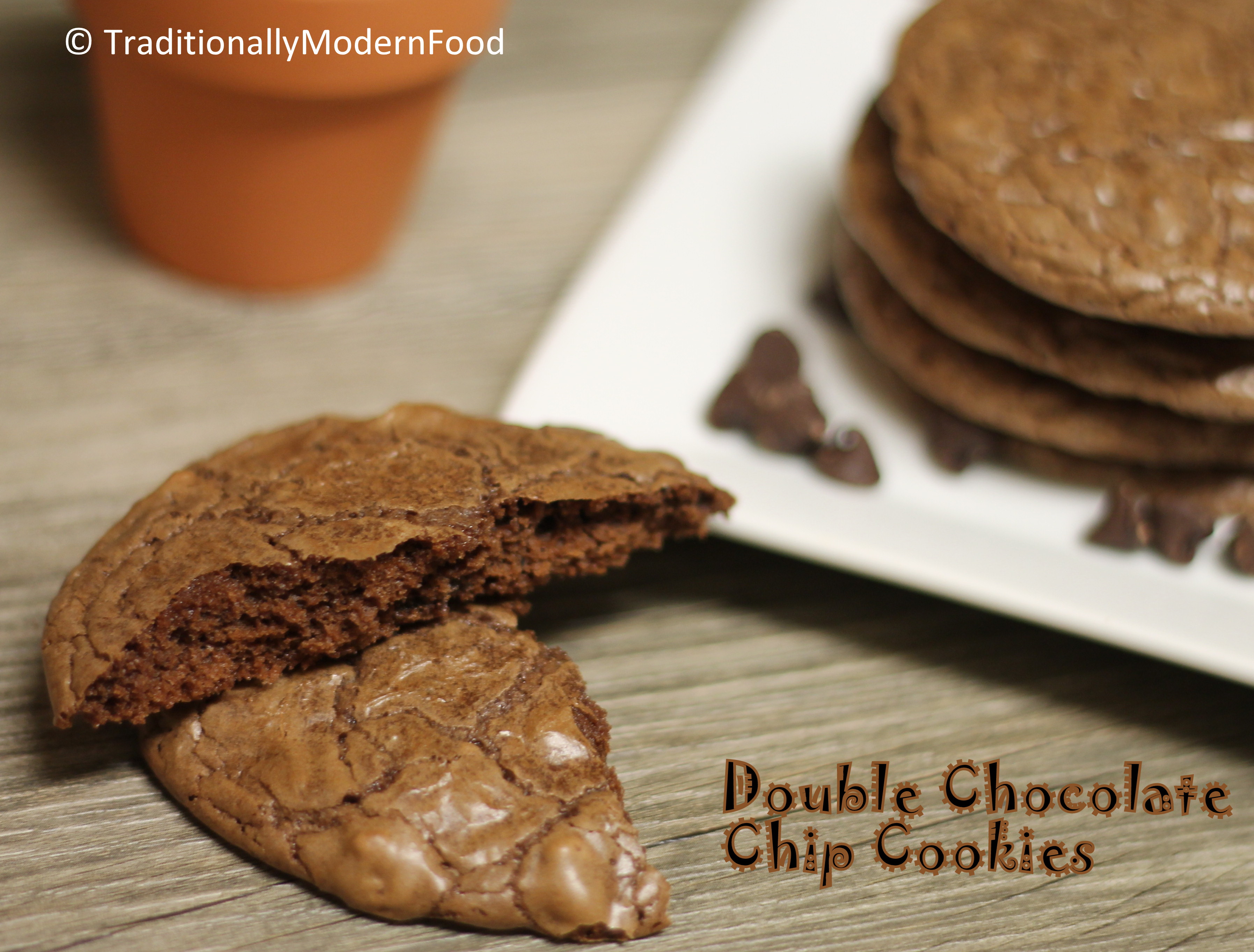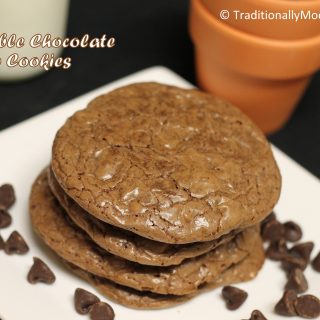 Double Chocolate Chip Cookies | Brownie cookies
Loaded with chocolate these Double Chocolate chip cookies are treat for kids. Chocolate sauce along with chocolate chip make this cookies chocolatiiiiiii. With brownie like texture these melt-in-mouth cookies are so addictive. If you like chocolate this is the cookie for you:-)
Print
Pin
Comment
Ingredients
Chocolate sauce:

Semisweet/ bitter

dark sweet chocolate - 6 ounces (I used Ghiradelli as it was used in original recipe)

Butter - 2 tbsp

room temperature

Dry Ingredients:

All-purpose-flour/maida - 1 cup

Cocoa powder - 2 tbsp

unsweetened

Baking powder - 1 tsp

Salt - 1/8 tsp

Wet ingredients:

Instant coffee Powder - 1/8 tsp

optional

Sugar - 3/4 cup

Vanilla extract - 1 tsp

Water - 2 tbsp

Eggs - 2

room temperature

Semi-sweet chocolate chip - 1 cup
Instructions
Preheat the oven to 300 degrees Fahrenheit. Place parchment paper/aluminum foil over the tray and Grease it with butter/baking spray

In a small wide bowl, add the semi-sweet chocolate and butter. In medium heat, boil water in a sauce pan, Place the chocolate - butter bowl over a pan and stir occasionally until the chocolate melts and becomes a smooth sauce

In a separate bowl add the wet ingredients; mix well

In a medium bowl add the dry ingredients and mix well

Gradually add the dry ingredients to the wet ingredients in small portions and mix until the mixture is smooth. Add the melted chocolate to the cookie dough and combine well. Finally add the chocolate chips and mix well

Using a cookie or ice cream scoop, scoop the dough onto the prepared baking sheets and bake for 17 - 20 minutes. Allow the cookies to cool completely on the baking sheets and enjoy
Notes
I have used unsalted butter. If you are using salted butter, skip the salt
Peppermint, mint, coffee or any other flavored chocolates can be used (Suggested by Giada)
I have tried the same recipe with whole wheat and cookies tasted great
Ingredients:
Chocolate sauce:
Semisweet/ bitter(dark) sweet chocolate - 6 ounces (I used Ghiradelli as it was used in original recipe)
Butter - 2 tbsp, room temperature
Dry Ingredients:
All-purpose-flour/maida - 1 cup
Cocoa powder - 2 tbsp, unsweetened
Baking powder - 1 tsp
Salt - 1/8 tsp
Wet ingredients:
Instant coffee Powder - 1/8 teaspoon (optional)
Sugar - 3/4 cup
Vanilla extract - 1 tsp
Water - 2 tbsp
Eggs - 2, room temperature
Semi-sweet chocolate chip - 1 cup
Method:
Preheat the oven to 300 degrees Fahrenheit. Place parchment paper/aluminum foil over the tray and Grease it with butter/baking spray
In a small wide bowl, add the semi sweet chocolate and butter. In medium heat, boil water in a sauce pan, Place the chocolate - butter bowl over a pan and stir occasionally until the chocolate melts and becomes a smooth sauce
In a separate bowl add the wet ingredients; mix well

In a medium bowl add the dry ingredients and mix well

Gradually add the dry ingredients to the wet ingredients in small portions and mix until the mixture is smooth. Add the melted chocolate to the cookie dough and combine well. Finally add the chocolate chips and mix well

Using a cookie or ice cream scoop, scoop the dough onto the prepared baking sheets and bake for 17 - 20 minutes. Allow the cookies to cool completely on the baking sheets and enjoy