Garlic bread | best homemade garlic bread | cheesy garlic bread with step-by-step pictures and video recipe. Check out the cheesy bread with garlic video If you like the video pls SUBSCRIBE to my channel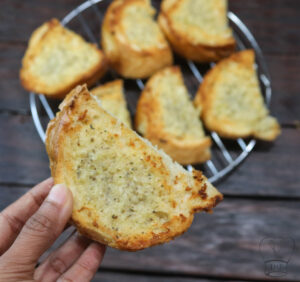 Best bread
I always use french bread. It gives perfect texture. You can use Italian or any variety of bread.
Should I cover the bread in cling wrap?
Yes, if you are slicing the bread in advance for a party/get-together. bread might turn dry if you didn't cover it.
softened butter
Always use softened butter, it gives the best crispy and tasty bread. Avoid oil. Also, avoid melting the butter and spread.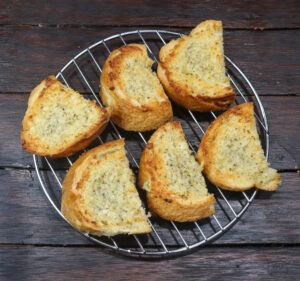 Can I use garlic powder?
Yes but freshly crushed garlic gives the best taste so I would highly recommend it.
Can I prepare bread immediately after mixing the garlic-butter
Yes but just make sure the butter is in spreadable consistency. If you are planning to make this for dinner parties/get-togethers, mix the garlic- butter and keep it at room temperature till we use it. I have kept it for 6 hours. Mix the cheese just before baking.
Can I skip cheese?
Yes cheese is optional but gives good texture and taste to homemade garlic bread
This is a batch of bread I made without cheese
Cheese variety to use
I use parmesan cheese. The texture and taste of the bread might vary based on the cheese you use.
Tricks to keep it crispy for a few hours
tastes best when served immediately. If you are planning to bake in advance, keep it inside the oven till you serve so that it tastes crispy and best.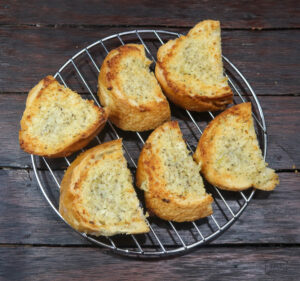 Ingredients
half loaf of french bread, sliced around 1-inch of bread
7 big garlic, finely chopped
5 tablespoon butter softened butter
1/2 teaspoon Italian seasoning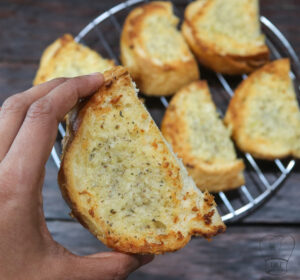 How to make cheesy bread with step-by-step pictures
First Combine minced garlic, butter, and Italian seasoning; mix well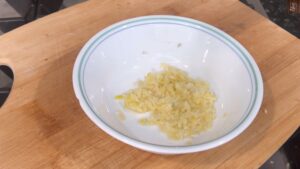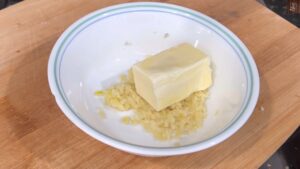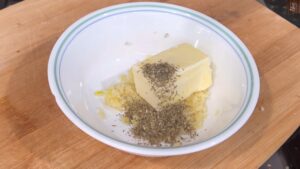 If the butter is in spreadable consistency you can prepare the garlic bread immediately else keep the mixture at room temperature till it comes to that stage
Preheat the oven to 375 degrees Fahrenheit
Cut the bread around 1-inch pieces. To make it kids friendly I have halved each 1-inch piece
Just before baking, add parmesan cheese; mix well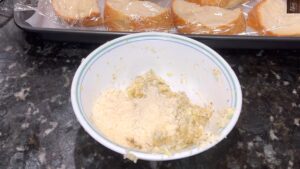 Spread the garlic butter spread on one side of each bread piece
Cook for 10 -11 minutes. serve hot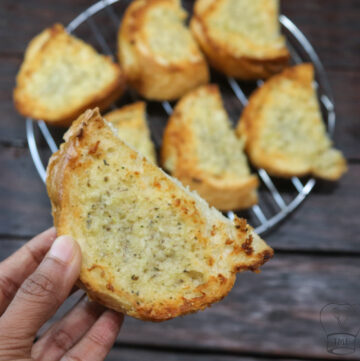 Ingredients
half loaf of french bread

sliced around 1-inch of bread

7

big garlic

finely chopped

5

tablespoon

butter softened butter

1/2

teaspoon

Italian seasoning
Instructions
First Combine minced garlic, butter, and Italian seasoning; mix well

If the butter is in spreadable consistency you can prepare the garlic bread immediately else keep the mixture at room temperature till it comes to that stage

Preheat the oven to 375 degrees Fahrenheit

Cut the bread around 1-inch pieces. To make it kids friendly I have halved each 1-inch piece

Just before baking, add parmesan cheese; mix well

Spread the garlic butter spread on one side of each bread piece

Cook for 10 -11 minutes. serve hot
Video