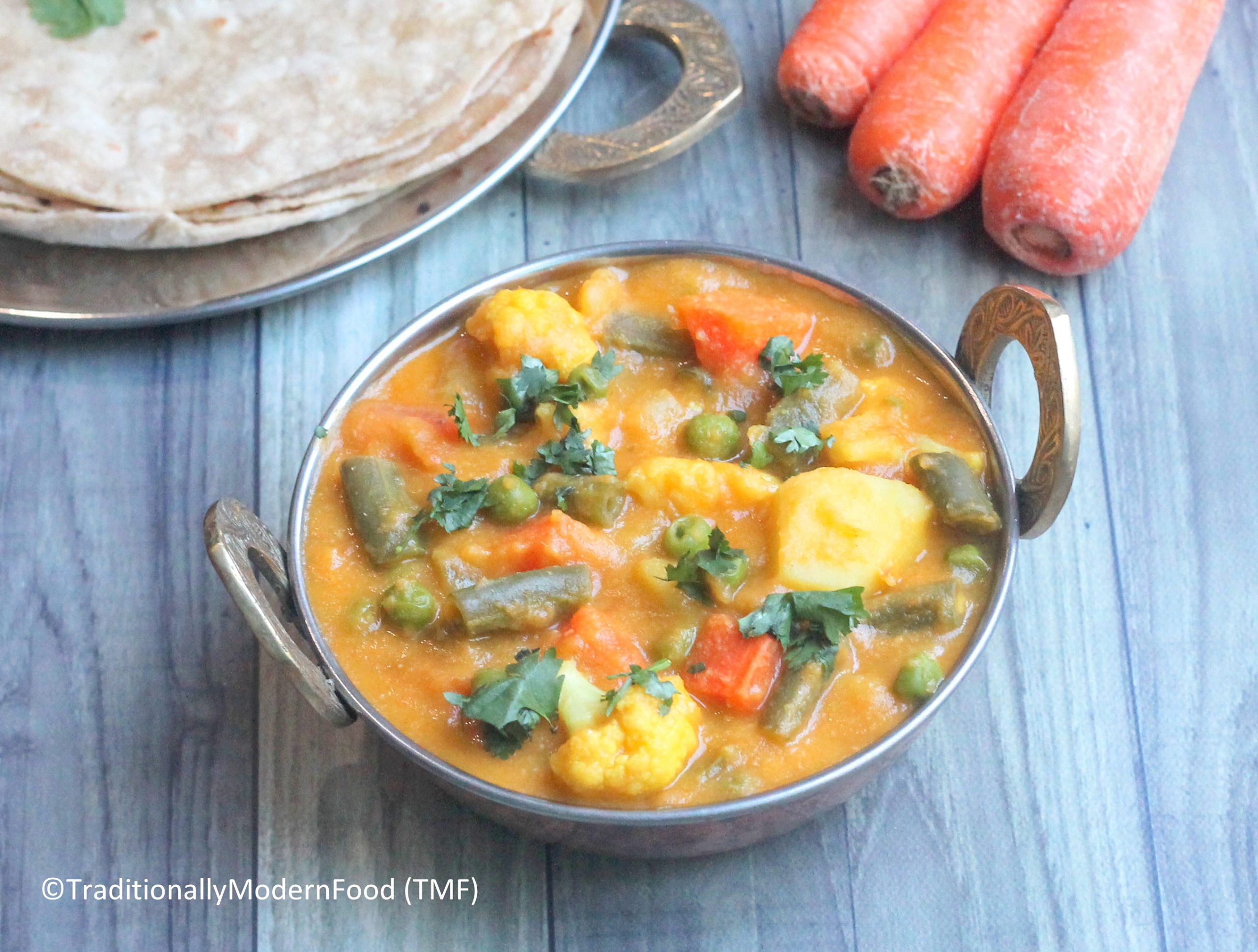 Veg kurma is a tasty side dish preoared with mixed vegetables, coconut and freshly ground spices. kurma tastes delicious sit chappati/roti/parotta varieties.
Veg kurma is one of our favorite and frequent side dish for Chappati. Ever once childhood days I am a big fan of Veg kurma. It is prepared wit Lot of variation but I love the way my Aamma prepares o we just follow it till date.
Growing up Chappati is not a common tiffin in home. Now a days we eat Chappati almost everyday but those days we use to eat rice regularly. Whenever Amma makes Chappati this Veg kurma, Moong dal tadka, onion- tomato gravy are certain recipes that happen in home.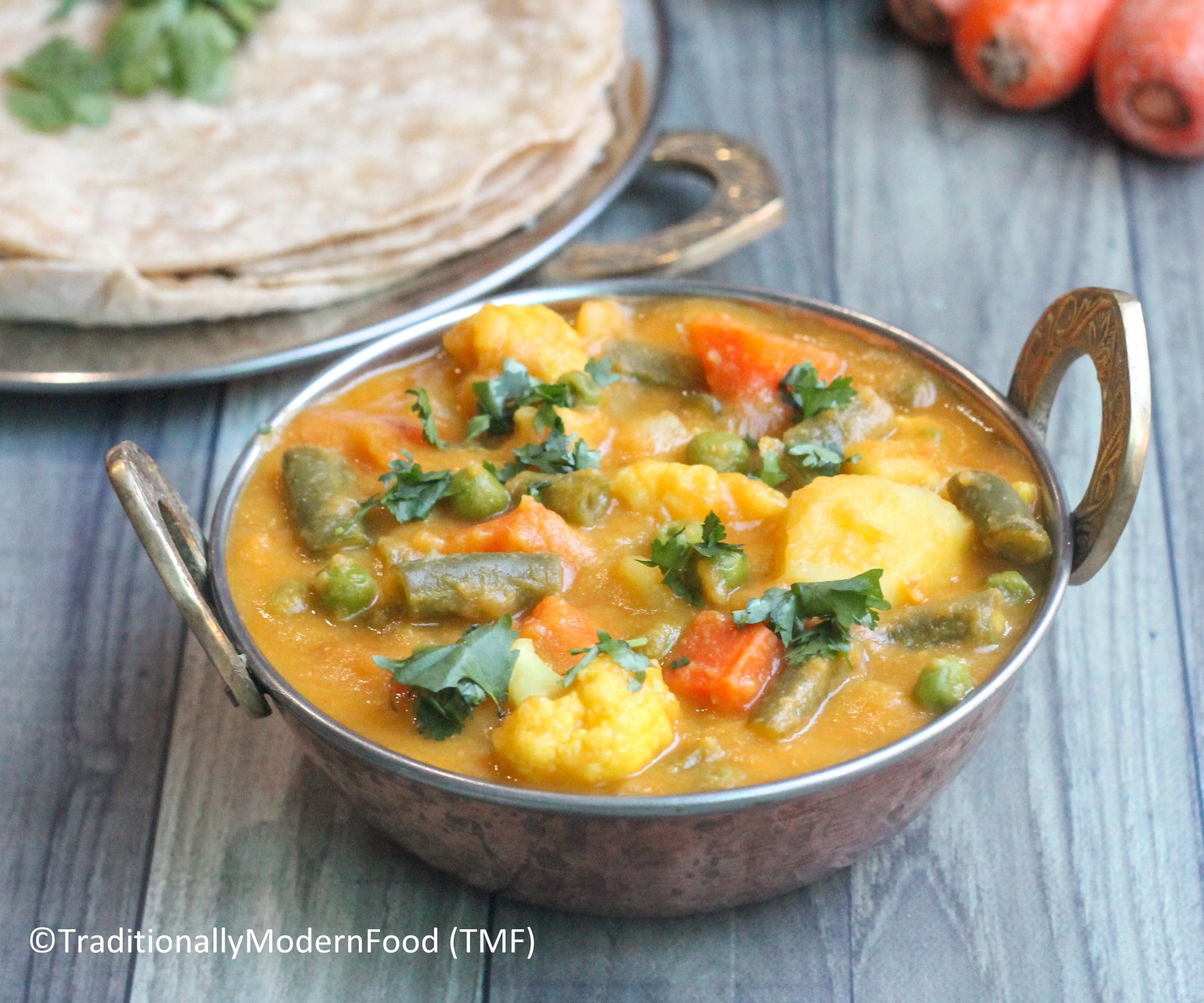 My sister is not a big fan of onion but this Veg kurma is acceoatabke as we grind onion for these kurma. Now a days this kurma is my son's favorite and he started asking me to make Veg kurma regularly.
For biryani variety checkout tomato kurma
Kurma also tastes good with Appam
Ingredients
Carrot - 2

Beans - around 15

Potato - 2

peeled and diced

Cauliflower - 1 + 1/4 cup big florets

Peas - 3 tbsp

Coriander leaves - handful

Coconut Oil - 1 tbsp

Salt - to taste

Sugar - one pinch

To grind:

Onion - 1

roughly chopped

Tomato - 2

green Chilli - 2

Ginger - 1/4 tsp

peeled and chopped

Garlic - 4 cloves

Cashewnuts - 3

Fried Gram

Pottukadalai - 1 tsp

Fennel seeds - 1/4 tsp

Poppy seeds - 1/4 tsp

Peppercorns - 1/8 tsp

Coriander powder - 1 tsp

Cumin powder - 1/2 tsp

Garam masala - 1/2 tsp

Cardamom - 2 pods
Instructions
Add 1/2 tablespoon oil to the pan when the oil is hot add fennel seed, poppy seeds, pepper and cardamom pods; let fennel seed crackle

Add onion and sauté till onions are translucent

Add ginger and garlic;mix well and sauté for a minute

Add tomatoes and green Chilli; cook till tomatoes are mushy

Add turmeric powder, coriander powder, garam masala and cumin powder;sauté for 2 mins

Add coconut and sauté for a min. switch off

Add pottukadalai and cashew and let it cool down

Add all the veggies in a vessel, little salt and 2 tablespoon of water. Close it with a lid and pressure cook for 1 whistles

After the tomato onion mixture is cold grind it without water

Add 1/2 tablespoon of oil and add the ground paste and salt(if required)

Cook for 3-4 mins

After pressure subsides transfer the cooked vegetable to the pan

Add 1 cup of water and pinch of sugar; mix well

Cover and cook for 5 minutes

Sprinkle coriander leaves and switch off

in a medium flame, saute the ingredients listed under 'to grind' (including the masala powders, except coconut and fried gram). Once tomato shrinks, add coconut and saute for 2 mins. Switch off and cool down. Once it comes to room temperature, transfer the roasted ingredients to a mixer, add little water and grind to coarse paste. Set aside
Ingredients:
Carrot - 2
Beans - around 20
Potato - 2, peeled and diced
Cauliflower - 1 /2, cut into big florets
Peas - 1/2 cup
Chow chow - 1, peeled and diced
Coriander leaves - handful
Coconut Oil - 1 tbsp
Salt - to taste
Sugar - 1/4 tsp
To grind:
Big Onion - 1, roughly chopped
Tomato - 3
green Chilli - 2
Ginger powder - 1/4 tsp
Garlic - 4 cloves
Cashewnuts - 5
Fried Gram (Pottukadalai) - 1 tbsp
Fennel seeds - 1/4 tsp
Poppy seeds - 1/2 tsp
Pepper powder - 1/8 tsp
Garam masala - 1/2 tsp
Chilli powder - generous pinch
Turmeric powder - 1/2 tsp
Cardamom - 1/8 tsp
Method:
Add 1 tablespoon oil to the pan when the oil is hot add fennel seed, poppy seeds; let fennel seed crackle
Add garlic and saute till they starts browning
Furthermore add onion and sauté till onions are translucent. Sprinkle little salt for fast cooking
Add green chilli and cashews, give a quick saute
Add tomatoes andlittle salt, cook till tomatoes are mushy
Add turmeric powder, coriander powder, garam masala and cumin powder;sauté for 2 mins
Add coconut and sauté for a min. switch off
Add pottukadalai and cashew and let it cool down
Add all the veggies in a vessel, little salt and 2 tablespoon of water. Close it with a lid and pressure cook for 1 whistles
After the tomato onion mixture is cold grind it without water
Add 1/2 tablespoon of oil and add the ground paste and salt(if required)
Cook for 3-4 mins
After pressure subsides transfer the cooked vegetable to the pan
Add 1 cup of water and pinch of sugar; mix well
Cover and cook for 5 minutes
Spnkle coriander leaves and switch off