Godhumai Rava Adai | Samba Rava Adai | Cracked wheat adai | gothuma rava adai | adai dosai without rice | protein-rich adai dosai | Adai recipe | Adai dosa | how to make Adai dosa | healthy adai recipe | protein and iron-rich breakfast recipe | south Indian Adai dosai | crispy south Indian dosa | lentil dosai | Ada | south Indian tiffin recipe with step by step pictures and video recipe. Check out the Adai dosai recipe in Tamil and Adai recipe in English. If you like the video pls SUBSCRIBE to my channel. Also, check the Adai Aviyal combo
Godhumai Rava Adai is a tasty and healthy Adai with mixed dal and Godhumai Rava perfect for breakfast /dinner Adai batter comes so handy for a quick tiffin.
I have been exploring my option to skip rice for dinner. Recently we have started eating cracked wheat/Godhumai Rava/bulgar and quinoa a lot.
One of our frequent favorite dinners is Cracked Wheat Idli
Recently I thought of preparing Cracked Wheat Pongal and was about to soak moong dal. That is when I realized I have leftover soaked toor dal in the fridge. In the morning I soaked toor Dal for Sambar but since the quantity was more have kept some uncooked dal in the fridge.
That is when I realized instead of making Pongal it is better to make Adai. I have tried Quinoa Adai but never tried Godhumai rava.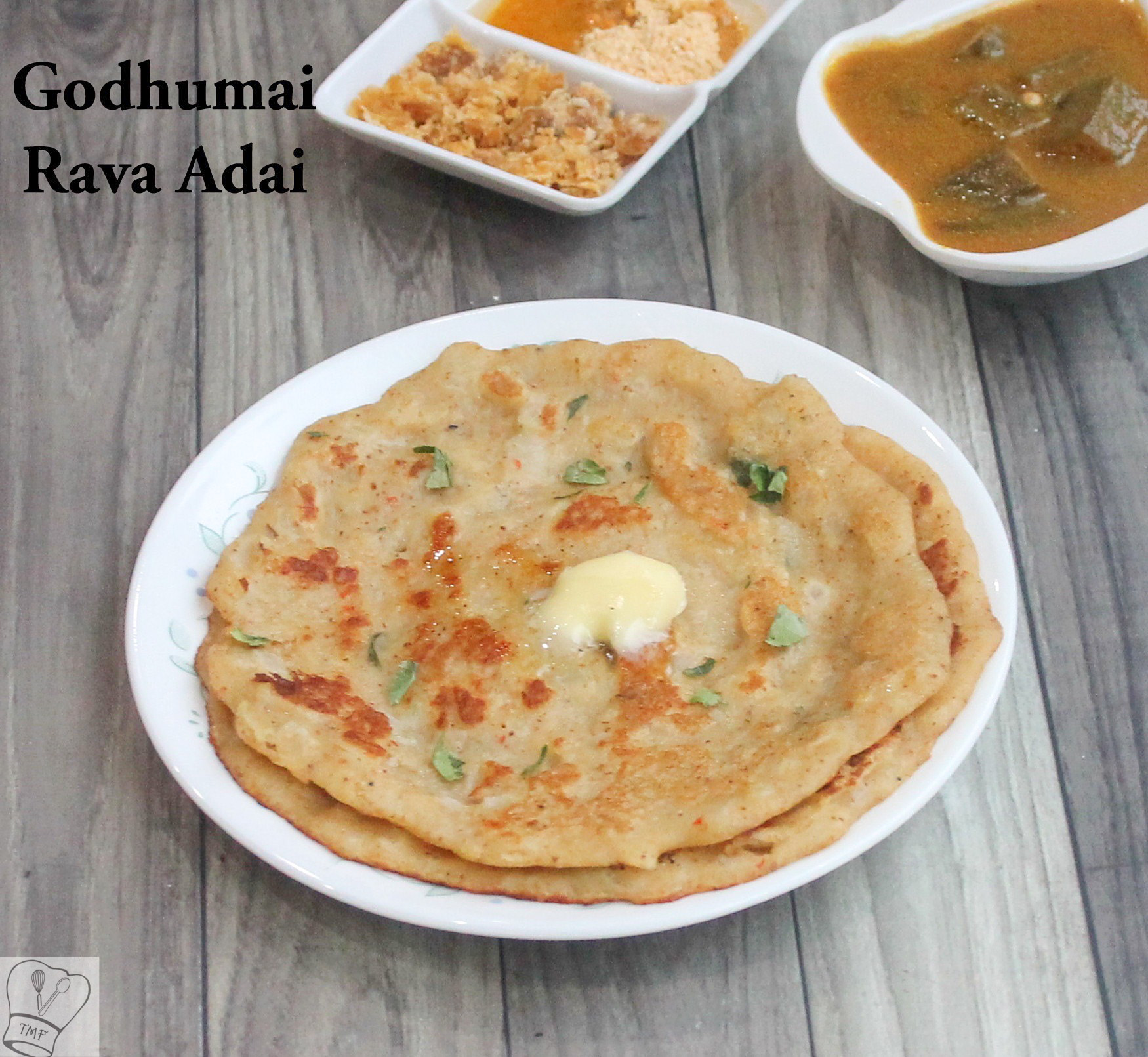 I was very doubtful about how it will be but still thought of giving Godhumai rava Adai a try. Had Idli batter in the fridge so worst case if it didn't work. I have palm B🤣
Have soaked everything for Adai and till I made gothumai rava Adai I was all thinking about how it would turn out. Without telling anything I served Adai to my husband after serving the first Godhumai rava Adai I waited like a student who wait for the result. After tasting it hubby said it was different. I don't know what he meant by that. After some time I heard a voice next to Adai Enga. Then I was like Yesss pass.
I told him it was godhumai rava Adai. He said it tasted good and if it is without rice you should make it often 😊
Check out other Godhumai rava recipes in TMF,
Cracked Wheat and Oats Kozhukattai
Adai can be served with Aviyal/chutney varieties/tomato thokku/chilli thokku/onion tomato thokku/jaggery.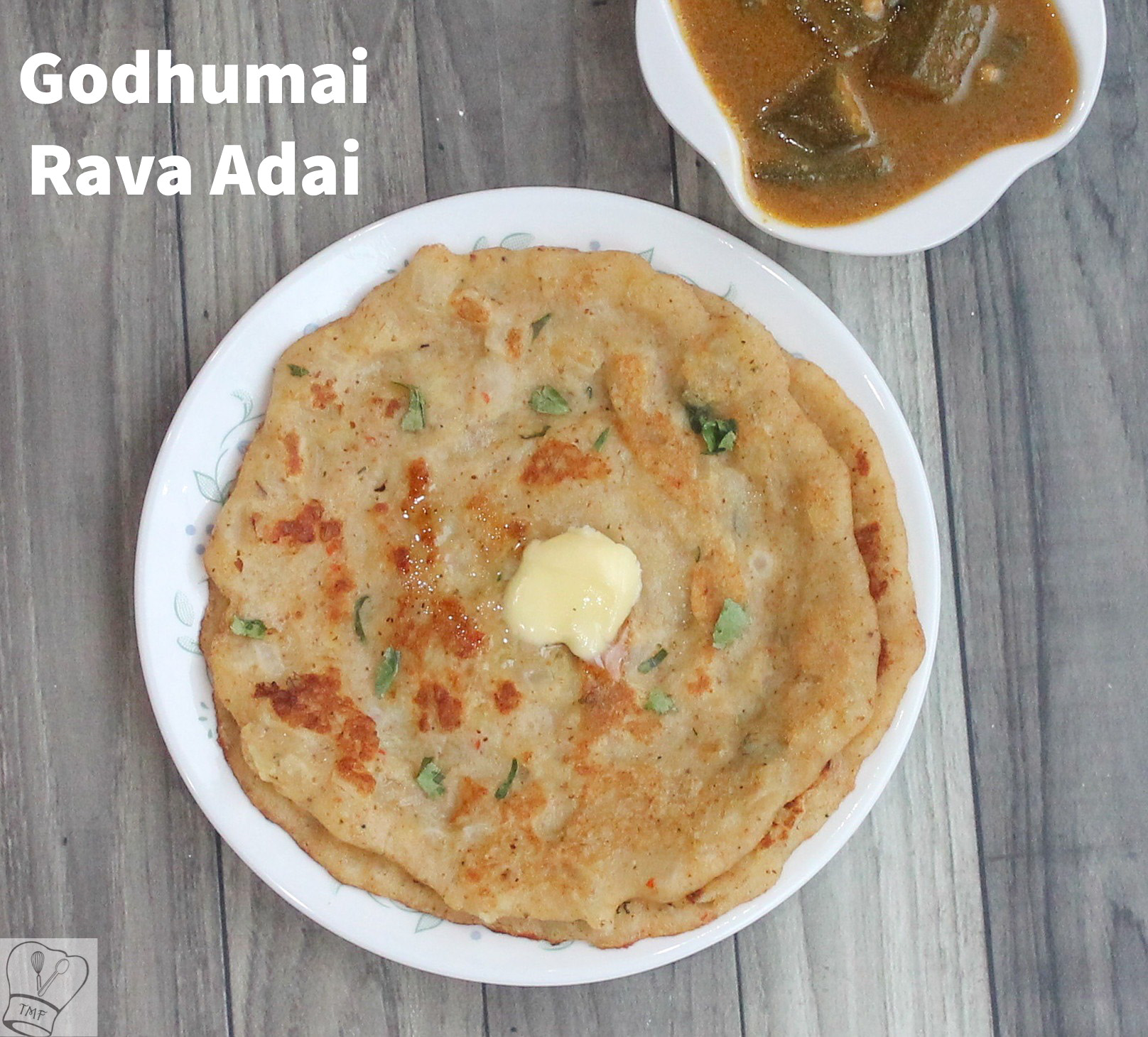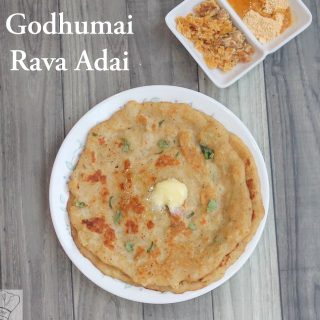 Ingredients
To soak
Cracked Wheat - 1 cup

Toor dal – 1/4 cup

Channa Dal - 1/4 tbsp

Moong dal - 3 tbsp

Urad dal - 3 tbsp

Fenugreek seeds - 1/4 tsp

Red Chilli - 1

Ginger - 1/4 tsp

Salt - as needed
To sauté:
Curry leaves - few

Salt - pinch

Onion - 1/2

finely chopped

Hing - a generous pinch
cook adai
coconut oil - 1/2 tsp

Coconut Oil – as required to grease the tawa
Instructions
Wash and Soak the ingredients listed under "to soak" for at least 3-4 hours with the required water

Drain the excess liquid in the soaked dal

Grind the batter with little water. add salt towards the end and grind it once. Keep the batter for at least one hour

In a pan add coconut oil and when the oil is hot add onion, curry leaves, and a little salt. Cook till onion is translucent

Add the onion to the Adai batter

Heat the skillet. When it is hot, add a little coconut oil and pour the batter into the skillet

Spread the Adai and make a hole in the center. Drizzle oil around the Adai and in the center

After one side is cooked well, turn and drizzle oil

Cook another side
Notes
1. Keep the batter for at least one hour before making Adai
2. Batter can be kept in fridge used for already 2 days
3. If you prefer crispy Adai used less Urad dal
Ingredients:
To soak:
Cracked Wheat - 1 cup
Toor dal – 1/4 cup
Channa Dal - 1/4 tbsp
Moong dal - 3 tbsp
Urad dal - 3 tbsp
Fenugreek seeds - 1/4 tsp
Red Chilli - 1
Ginger - 1/4 tsp
Salt - as needed
To sauté:
Curry leaves - few
Salt - pinch
Onion - 1/2, finely chopped
Hing - a generous pinch
coconut oil - 1/2 tsp
Coconut Oil – as required to grease the tawa
Method:
Wash and Soak the ingredients listed under "to soak" for at least 3-4 hours with the required water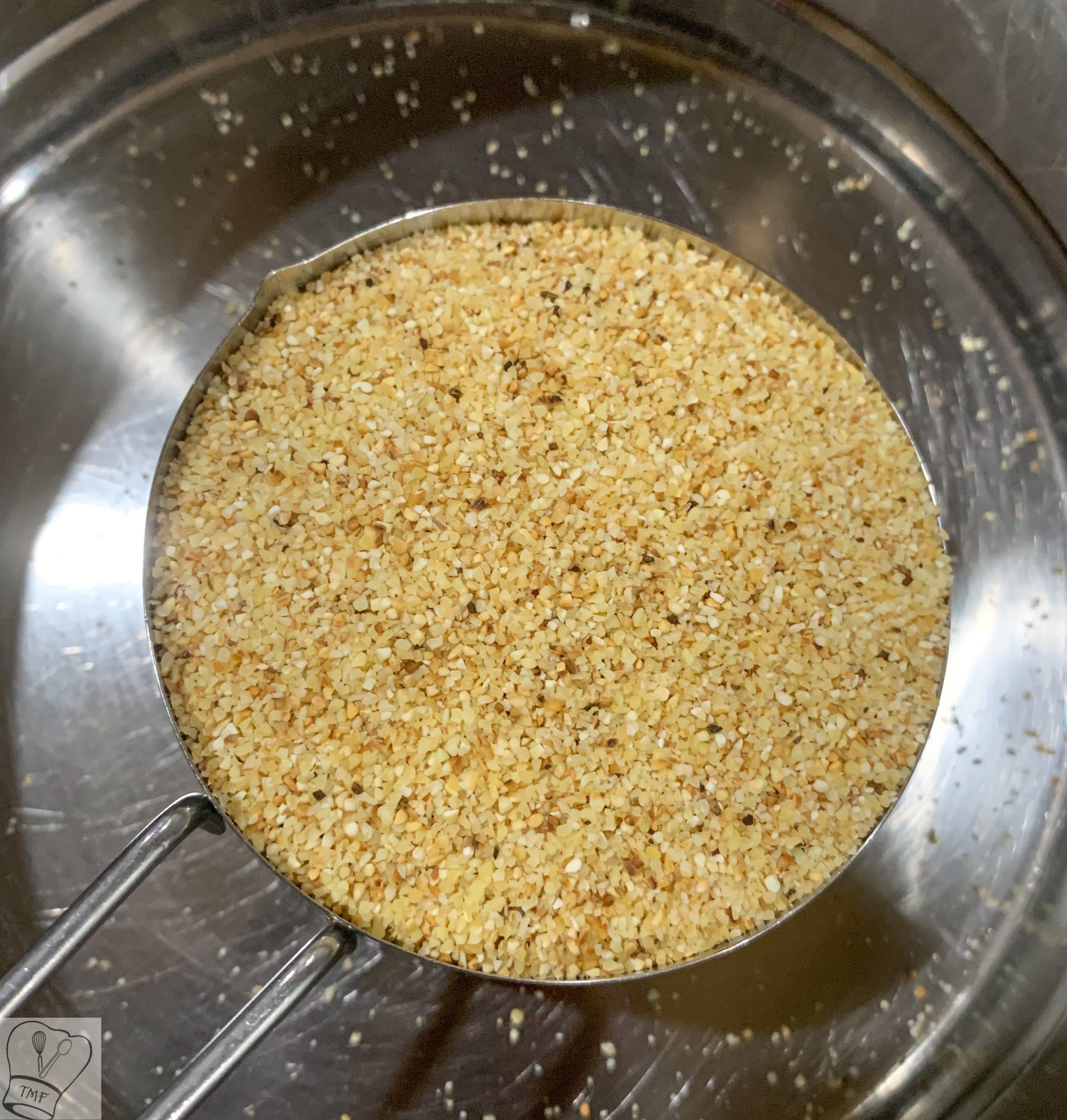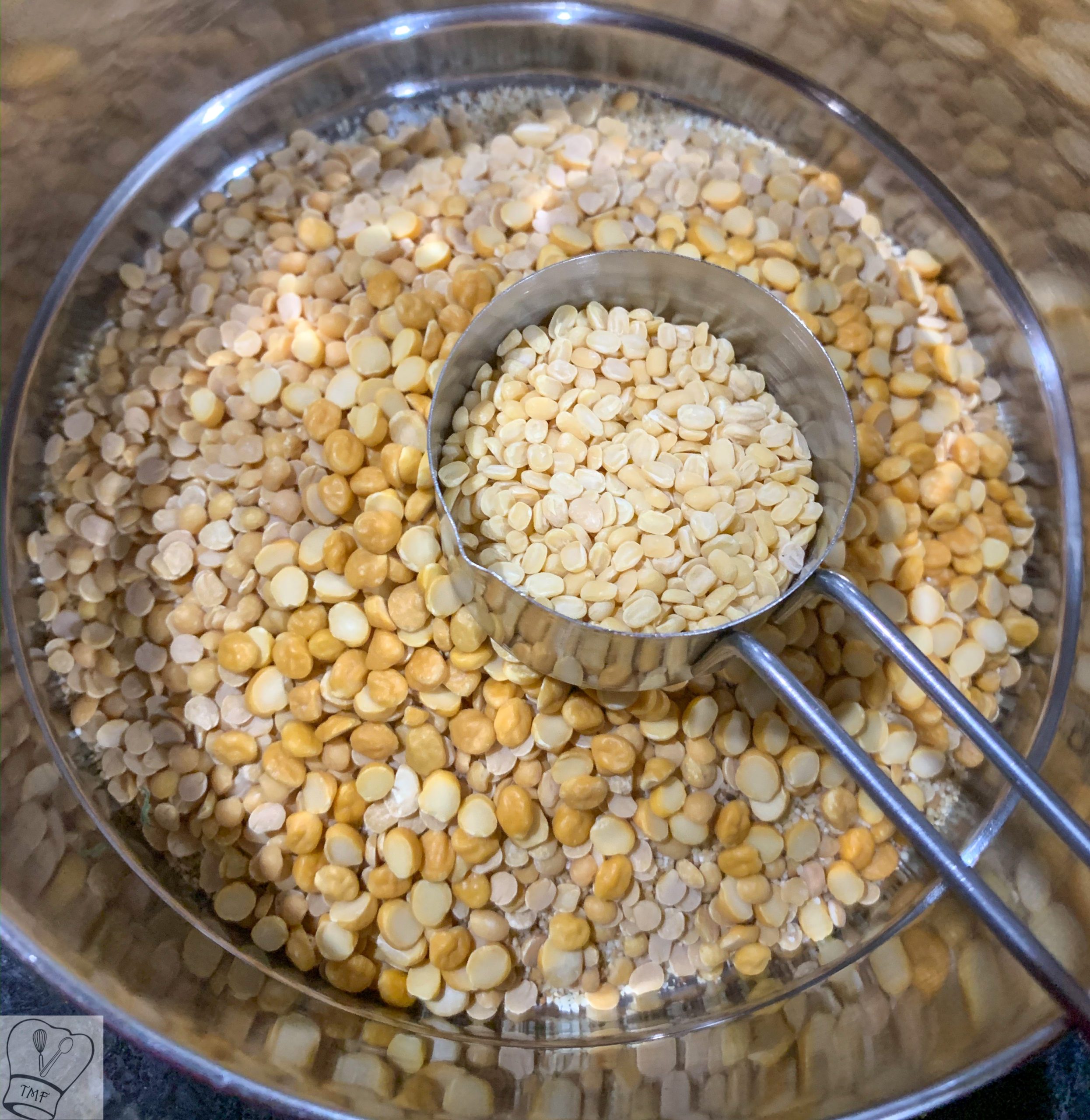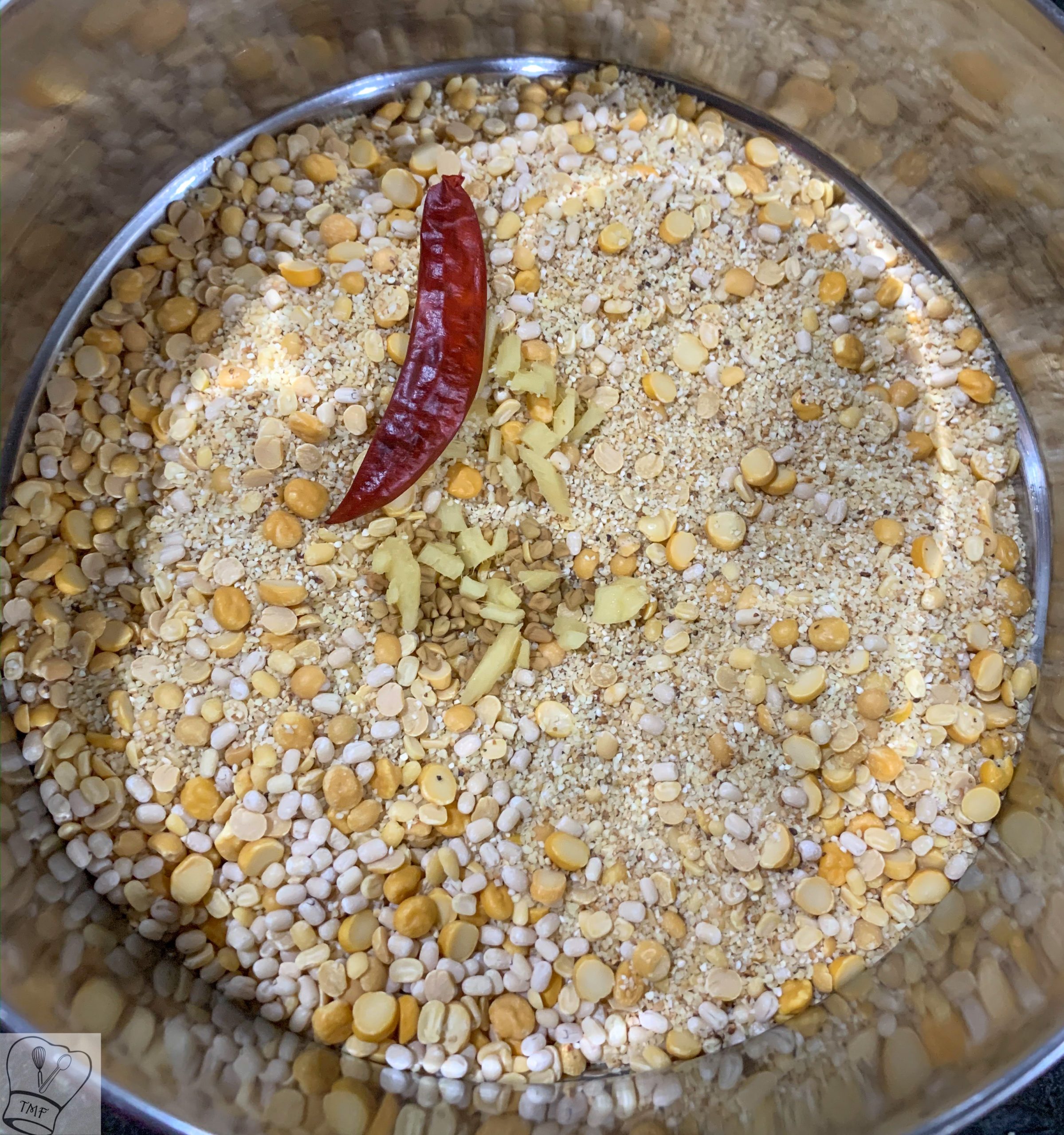 Drain the excess liquid in the soaked dal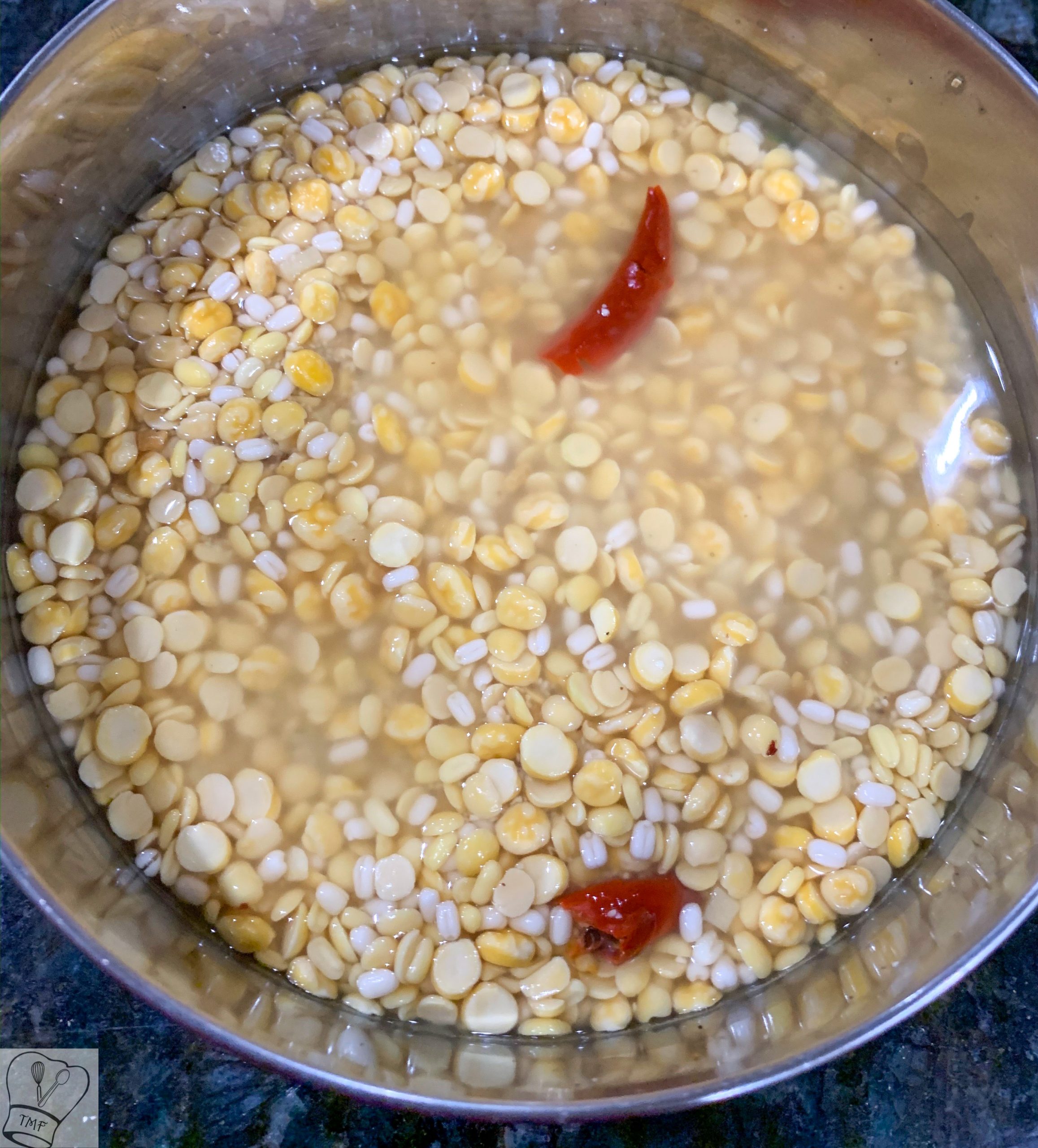 Grind the batter with a little water. add salt towards the end and grind it once. Keep the batter for at least one hour
In a pan add coconut oil and when the oil is hot add onion, curry leaves, and a little salt. Cook till onion is translucent
Add the onion to the Adai batter
Heat the skillet. When it is hot, add

a little coconut oil and pour the batter into the skillet

Spread the Adai and make a hole in the center. Drizzle oil around the Adai and in the center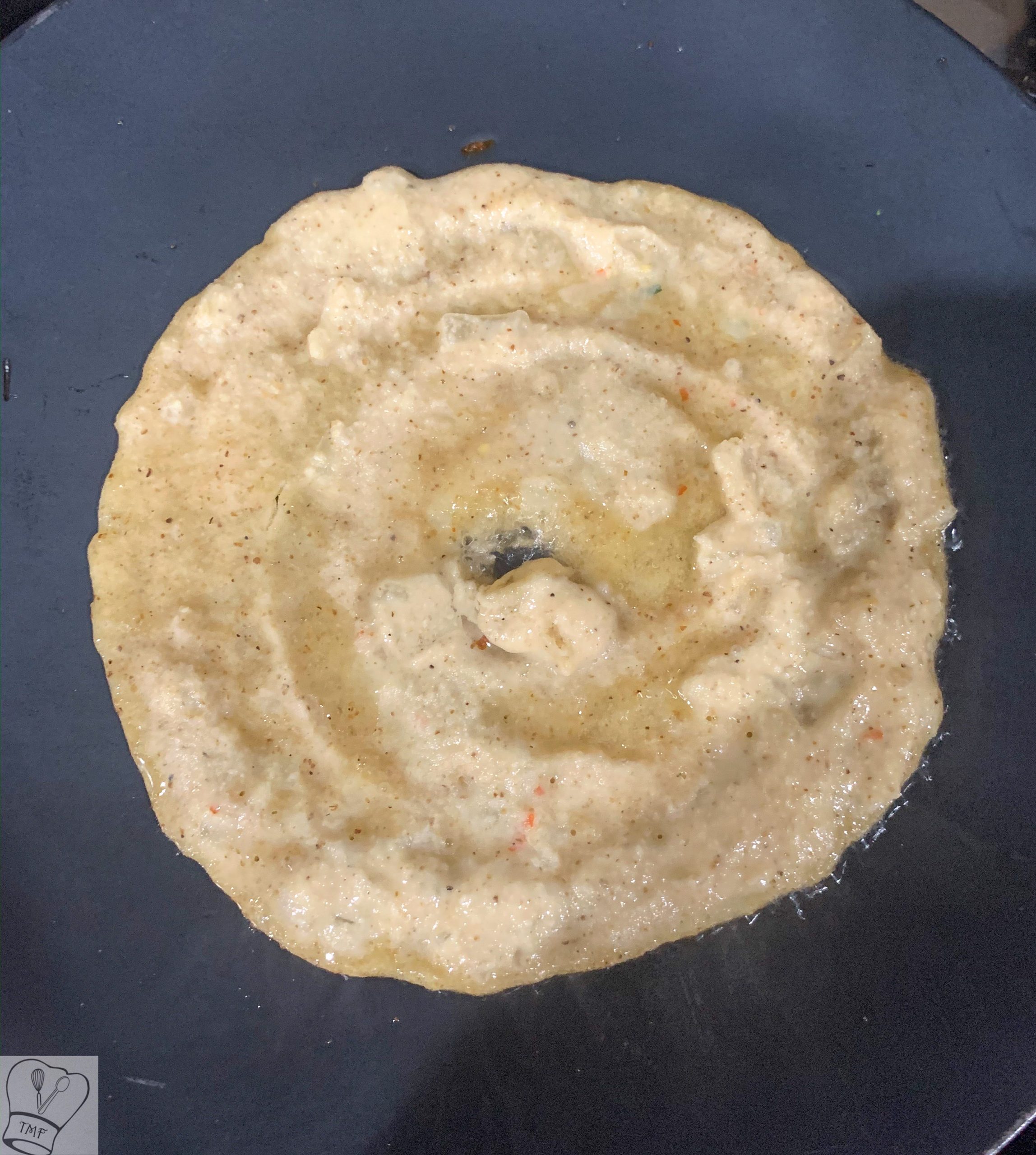 After one side is cooked well, turn and drizzle oil