Soya chunk curry | Instant pot Soya curry | curry recipe with step by step pictures and video recipe. Check out the detailed Soya chunk curry video. if you like the video pls SUBSCRIBE to my channel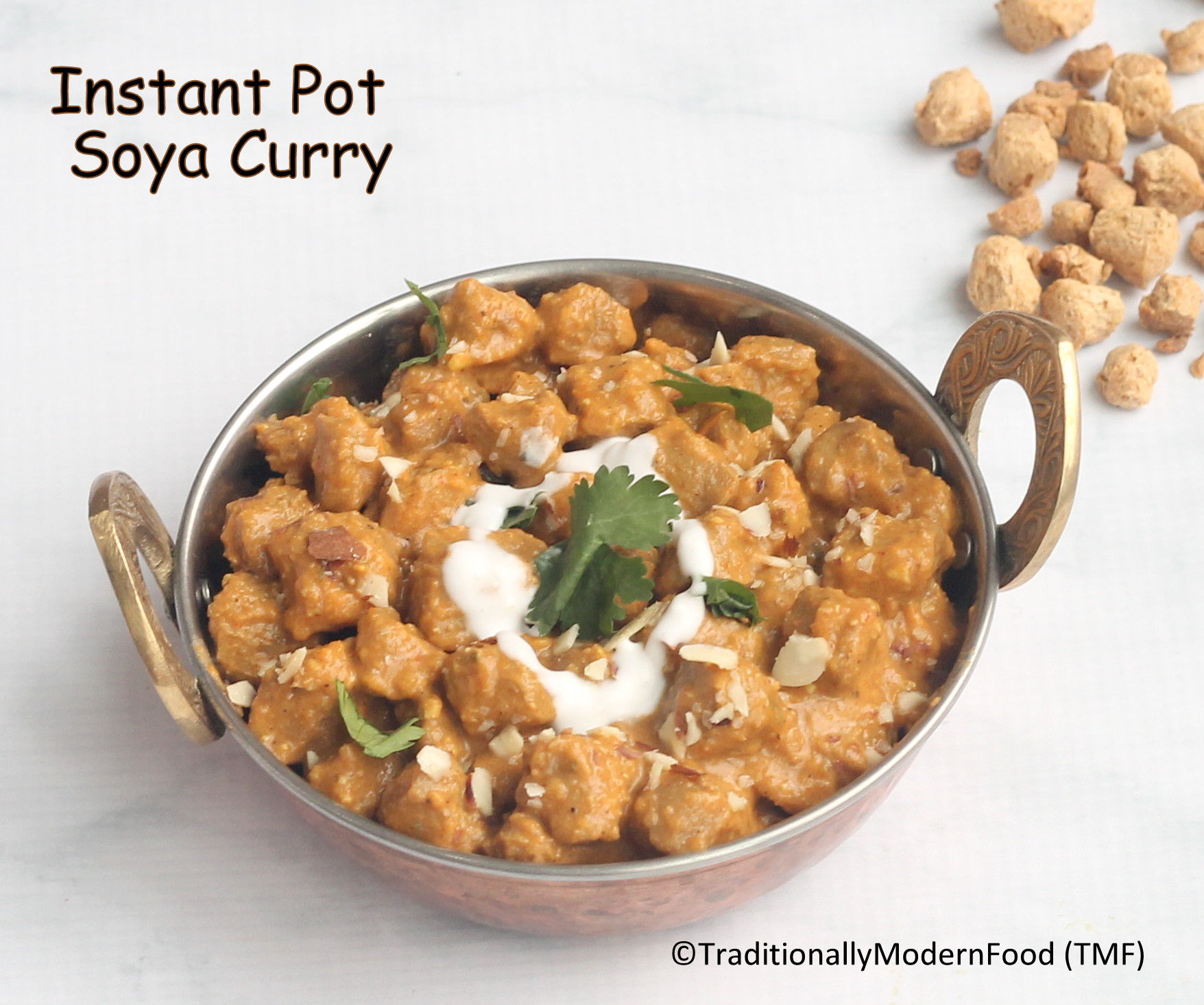 Flavorful Soya chunk dry curry -Instant Pot (Electric Pressure Cooker). Protein rich healthy side - goes well with rice/Chappati/Idli/Dosai.
During my school days I happened to taste soy chunks for the first time when my chennai Neighbour Aunty brought brinji for me. That time I was not familiar with it and had second thoughts to try something new. My sister tasted and said it had all the brinji flavours and told me to try.
When I started cooking, I got a pack of soya chunks and tried making Soya Chunk curry with it. I should say my first attempt was a super flop show. I didn't wash and squeeze the soya water. How much ever I tried to alter the gravy it was taste-less and ended up throwing it.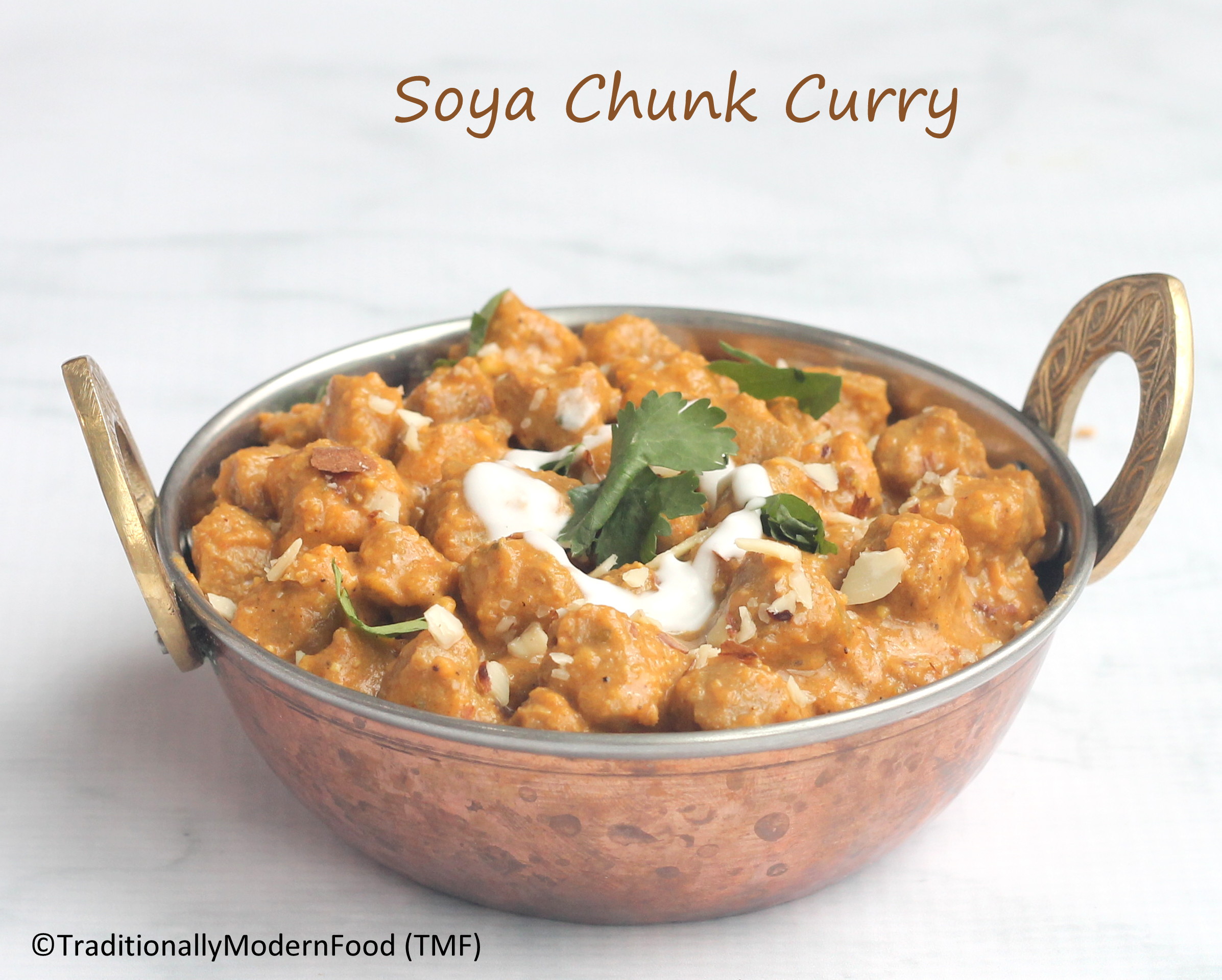 When I discussed with Amma she told not to skip that step and now a days Soya chunk has become one of the common ingredients in my kitchen. Off late I try to add some protein into everyday meal. Usually dal will be present most of the days. If it is variety-rice day either paneer/soya will be present.
We started eating chappati regularly for dinner. I suddenly remembered Amma's Soya chunk curry. She does a stove top version of that. I tried a same with my Instant pot.
Soya chunk curry is one of the easiest Indian recipes with IP. Within 20 minutes curry can be prepared. Coconut oil not only makes it vegan also gives a aromatic flavour for the curry. The tomato onion base gets well coated with soya and every piece of soya will have a nice flavour.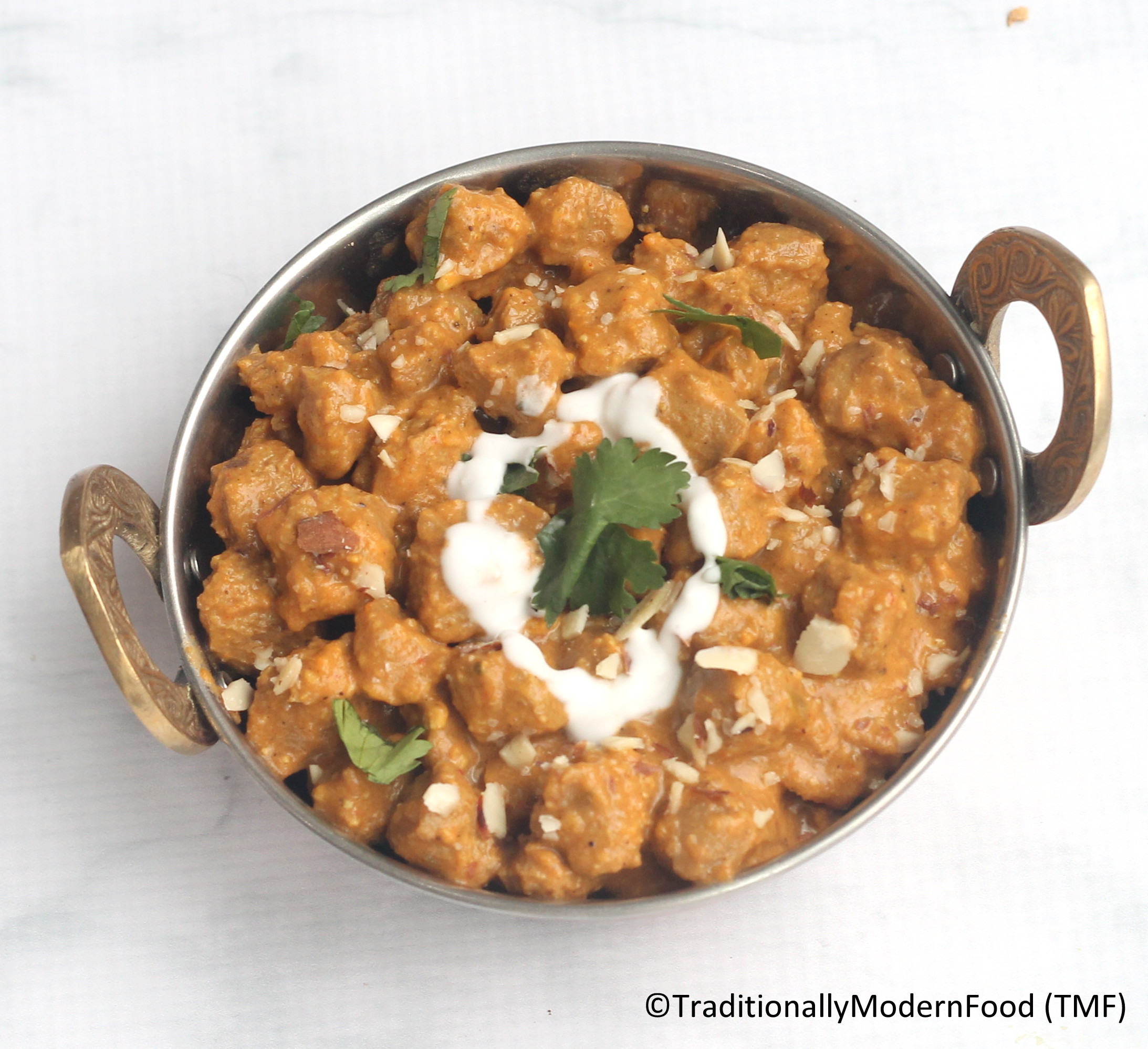 Instant Pot Soya Curry | Electric Pressure Cooker Soya Chink dry curry
Flavorful Soya curry using Instant Pot (Electric Pressure Cooker). Protein rich healthy side goes well with rice/Chappati/Idli/Dosai.
Print
Pin
Comment
Ingredients
Mini Soya chunks - 1 cup

Tomato - 1

Onion - 3/4 cup

Garlic - 1 tsp

Turmeric powder - 1/8 tsp

Garam masala - 1 tsp

Chilli powder - 1 tsp

Cardamom powder - 1/8 tsp

Ginger powder - 1/8 tsp

Green chilli - 1

Salt - as needed

Roasted almond flakes - 1 tbsp

Coconut - 1 tbsp

Thick Coconut milk - 2 tbsp

Coconut Oil - 1/2 tablespoon + 1 tsp

Fennel seed - 1/8 tsp

Poppy seed - 1/8 tsp
Instructions
Turn on the instant pot in sauté mode and add oil. Once when the oil is hot add fennel seed and poppy seed and let it crackle

Add onion, and garlic and sauté for a minute

Add 1 teaspoon of water and little salt and cook for a minute

Add tomato, a little salt and 1 tablespoon of water; cook for 2 minutes stirring once in a while

Add turmeric powder, garam masala and chili powder and sauté for a minute

Add green chilli, 1 teaspoon of water and mix well and turn off the up

Add coconut and almond flakes and let it cool

In a bowl add soya chunks and pour hot water. Let it soak for 5 minutes. In a colander strain the soya and run the tap water on the soy. Squeeze the soya well with your hands 2-3 times

Pulse the onion-tomato mixture without water into a coarse mixture

In the IP vessel add 1/2 teaspoon of oil, ground mixture, 1/2 cup of mixie water (add 1/2 cup of water to the mixie jar and shake well), 3/4 cup of water, required salt, soya chunks and mix well and put the lid

Turn on the IP in manual mode and cook for 3 minutes and do a quick pressure release

Add coconut milk and 1/4 of water to the curry and mix well. Serve with rice / Chappati/Idli /dosa
Video
Notes
Squeeze the soya water well before cooking in IP
Cashew can be used instead of roasted dominos flakes
Soya curry can made in a gravy form. Add extra water after cooking and also adjust the spices accordingly
Curry can be cooked in stove top. Cover with a lid and cook
I have used mini soya chunks with regular ones cooking time may vary
Pressure needs to be immediately released otherwise the curry will get burnt
Before closing the lip make sure the tomato mixture is not sticking to the pan
While cooking onion, tomato if the onion tomato stick to pan sprinkle some water and cook
Add extra spicy otherwise soya might make the curry blunt
I didn't have ginger so used ginger powder. If you using fresh ginger add it with garlic
Onion - tomato can be be used without grinding
In the video I have turned on the IP after addind water and onion - tomato mixture. instead IP can be turned on after adding everything and closing the lid
Regular milk can be added instead of coconut milk
Ingredients:
Mini Soya chunks - 1 cup
Tomato - 1
Onion - 3/4 cup
Garlic - 1 tsp
Turmeric powder - 1/8 tsp
Garam masala - 1 tsp
Chilli powder - 1 tsp
Cardamom powder - 1/8 tsp
Ginger powder - 1/8 tsp
Green chilli - 1
Salt - as needed
Roasted almond flakes - 1 tbsp
Coconut - 1 tbsp
Thick Coconut milk - 2 tbsp
Coconut Oil - 1/2 tablespoon + 1 tsp
Fennel seed - 1/8 tsp
Poppy seed - 1/8 tsp
Method:
Turn on the instant pot in sauté mode and add oil. Once when the oil is hot add fennel seed and poppy seed and let it crackle
Add onion, and garlic and sauté for a minute
Add 1 teaspoon of water and little salt and cook for a minute
Add tomato, a little salt and 1 tablespoon of water; cook for 2 minutes stirring once in a while
Add turmeric powder, garam masala and chili powder and sauté for a minute
Add green chilli, 1 teaspoon of water and mix well and turn off the up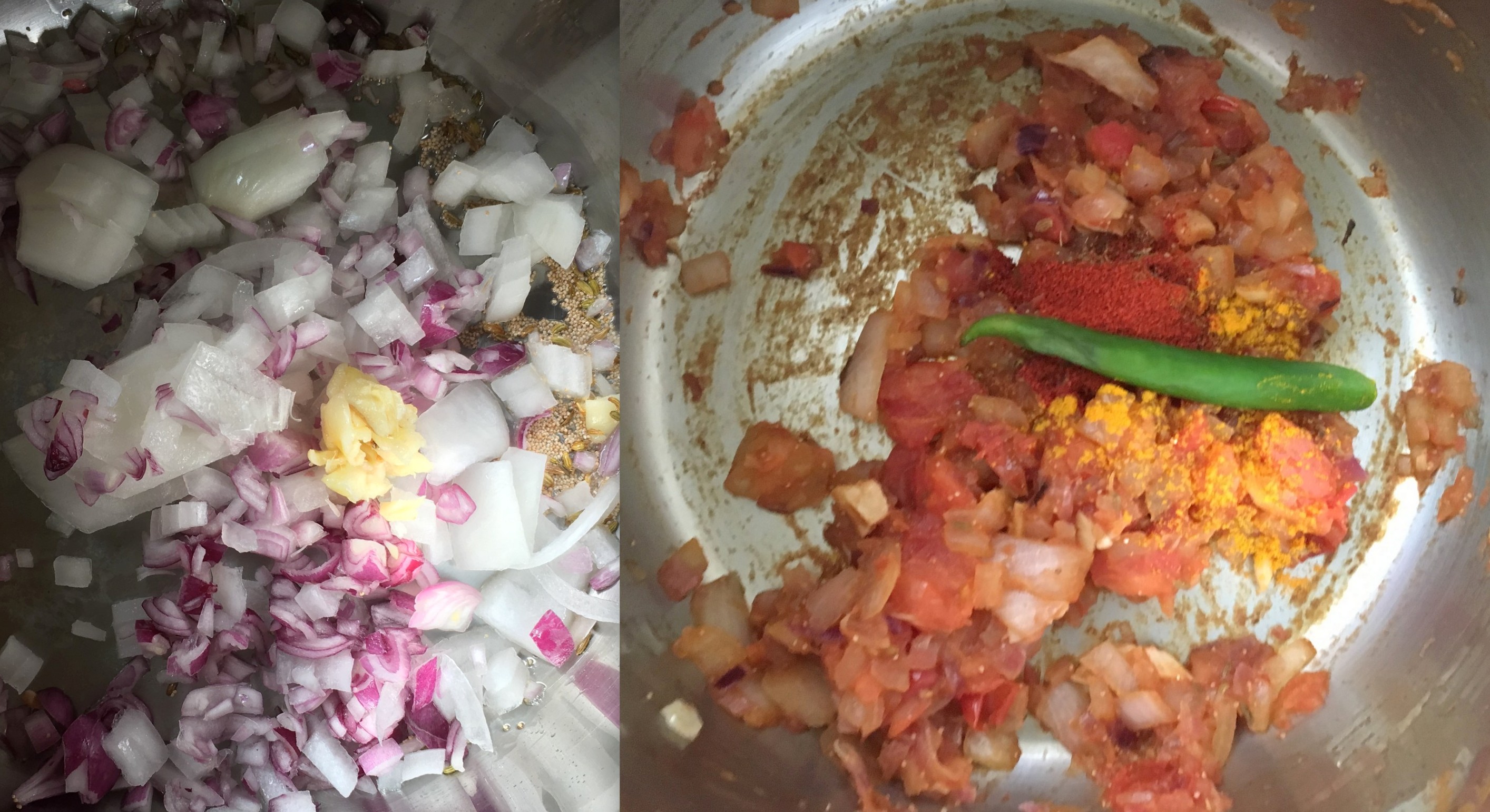 Add coconut and almond flakes and let it cool
In a bowl add soya chunks and pour hot water. Let it soak for 5 minutes. In a colander strain the soya and run the tap water on the soy. Squeeze the soya well with your hands 2-3 times
Pulse the onion-tomato mixture without water into a coarse mixture
In the IP vessel add 1/2 teaspoon of oil, ground mixture, 1/2 cup of mixie water (add 1/2 cup of water to the mixie jar and shake well), 3/4 cup of water, required salt, soya chunks and mix well and put the lid
Turn on the IP in manual mode and cook for 3 minutes and do a quick pressure release

Add coconut milk and 1/4 of water to the curry and mix well. Serve with rice / Chappati/Idli /dosa
Pls. Follow TMF socail media for recipes upates,
Facebook | Instagram | Pinterest | Twitter | Youtube